Posts Tagged 'hurricane'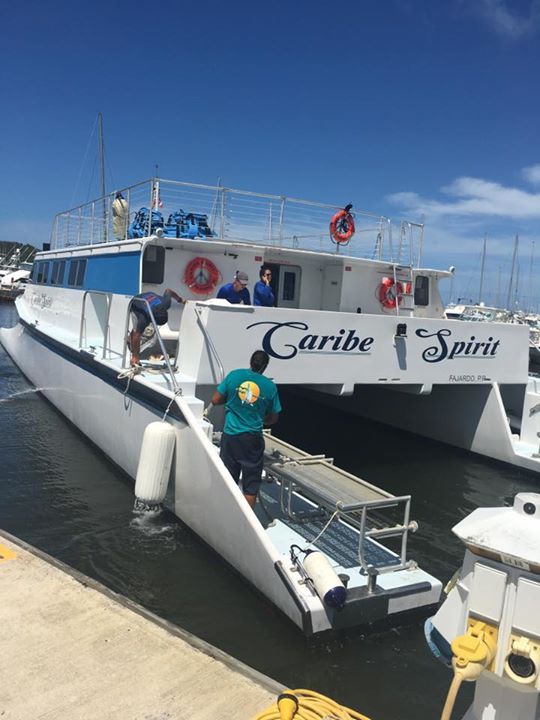 After what has seemed like months of churning, Hurricane Irma is no more. Downgraded to a Tropical Storm on her inland jaunt through Trump country, Irma's legacy will be years of rebuilding throughout the Caribbean and Florida.  While most of the Sunshine State escaped the worst-case scenarios, we all understand that a small shift in her track could have decimated the built-up centers of Tampa or Miami on an unprecedented scale.
Unfortunately, that decimation happened in St. Martin, Anguilla, Barbuda, St. Barts, the Turks and Caicos, and the US and British Virgins (and a few other islands), and the effort is just getting underway to help people who won't have communications, power or water for weeks. We've been following several relief efforts, but the most awesome info comes from Gunboat exec Nils Ericson and the folks at East Island Excursions, who've organized a Virgin Islands to Puerto Rico evacuation effort they've nicknamed 'Operation Dunkirk'.  Please donate here to help the effort, and here's an update from last night.  UPDATE: The New York Times picked up the PR rescue story here. UPDATE 2: A smaller effort led by yacht hauler John Woodruff is on its way south to begin digging out Florida boats and yacht clubs; donate money or gear here.
By today's end we will have organized a total of 7 trips to STT/STJ, delivering over $20k in supplies and evacuating about 300 people. Tomorrow, we have 6 (!) more boats delivering supplies and evacuating another +/-300 folks.
We have set up tents to serve as staging areas for supplies. If anyone wants to send supplies, send it to us here at Puerto del Rey marina in Fajardo. We'll make sure it gets to the right island. We depart daily around 8am and can transport whatever or whoever is going (more or less). PM me for details.
Alright St. John, we are coming to get you! We have departures organized throughout the day, and throughout the week. Be patient, be kind, work together, women and children first. You will ALL get off, we aren't stopping until everyone is safe and secure. To stateside family, do what you can to spread the word to your loved ones on island. If anyone on island gets this message, spread the word. We won't get everyone at one time, so please be patient. We want to fill every seat, but we want it to be a safe process for everyone. Love city.
September 11th, 2017 by admin

We've been accused of being a little morbid with all the damage posts, but that's not it at all – we're mostly stunned at just how much worse the damage is from Irma than any other Caribbean hurricane we can remember, and how long it will take to rebuild. Especially as so many of the spots are those that we – and tens of thousands of Anarchists – have enjoyed every winter for decades.
The drone video above is a difficult look at Nanny Cay (and thanks a ton to Adam Dell for publishing it), the haulout location for hundreds and hundreds and boats of all sizes and the long time HQ for one of our favorite regattas of all.   Click on the BVI Spring Regatta link for a look at Nanny in much better times.
There are literally hundreds of heartbreaking images from all over the Caribbean that you can find linked in the Irma thread, so please head over there if you want to share your own story or offer help to others.  We send our best hopes and wishes to all of you affected by this disaster of a 'cane season in the Leewards, Virgins, Puerto Rico, and Cuba (some of whom are about to get battered again by the Southerly side of Cat4 Jose), and to the millions throughout Florida, Georgia, SC and Tennessee who might lose everything before this thing is over.  A special thought to all of you with property or boats n the Florida Keys, which look perilously close to armageddon in the latest forecast maps.
And now a word from Caribbean charter skipper and former Sailor Chick of the Week Lucy Jones – along with the folks at Performance Yacht Charters, she's responsible for thousands of sailors enjoying the Caribbean over the past decade, and we listen:
Lucy and the team of Performance Yacht Charter are shocked and saddened by the devastation that has taken place in the Caribbean in the wake of Hurricane Irma.

These Islands hold a very special place in our hearts, we have been sailing and racing in these waters for so many years it truly is a second home for us, and so many of our sailing family.  It will take many months to understand the full effect of this hurricane.  

In the short term we can support with financial donations, to the Red Cross and other charities supporting those most in need. But in the long term it is imperative that their economy has a future and that the Islands are kept alive. These islands are dependent on our tourism and as sailors we can do this by supporting the Caribbean regatta season and booking our holidays. 

Accommodation may be difficult, the selection of boats might be reduced but if you can go to the Caribbean this year and spend out pennies in their bars restaurants and shops. This will fund the rebuilding of our much loved Caribbean for a long time after Hurricane Irma has left our memory.

Donating through JustGiving is simple, fast and totally secure. Your details are safe with JustGiving – they'll never sell them on or send unwanted emails. Once you donate, they'll send your money directly to the charity. So it's the most efficient way to donate – saving time and cutting costs for the charity.
September 9th, 2017 by admin
Per, of all people, Richard Branson's kid Sam. He's written a solid damage report for the BVIs that's frightening, though perhaps most frightening is that we cannot find a single current report or photo from all of Anegada, which would have taken some of the worst conditions of all.  Branson writes:
I'm just updating as we learn more…No cell, power or wifi coverage in Virgin Gorda. East End of Tortola without power.  [Cell providers] LIME, CCT, and Digicel partially up on Tortola.  Road Town is flooded with many roofs ripped off.  Moorings looks bad from pics I've seen, and Paraquita Bay is really bad.  Heard Marina Cay is bad too, but people starting to mill around. Lots of debris, so with the wind everyone needs to still be careful.  Even Scotial Bank and Pusser's in Road Town are destroyed.  Branson is OK on necker, but lots of damage to the island.  Ivan's on Jost Van Dyke is destroyed, as are adjacent buildings it appears.  Trellis bay damaged but people are safe.  Sugar Mill Beach Bar is gone, and the hotel roof is off, but thankfully bpeople are safe.  Tamarind Club people are safe at Josiah's Bay.  Virgin Gorda has no power, wifi, or cell, but Oil Nut Bay has a bunker of people that are safe.  Peter Island peeps are OK but island is wrecked.  All at Scrub Island are safe.  Everyone evacuated to police station during the eye [not sure where he is referring here].  Roof is off Myett's and Quito's is gone.  Carrot Bay is flooded.  Nanny Cay has boats piled atop each other.  Leverick Bay dock in VG is gone.  Eustacia Island [wrecked, but peeps safe].
September 7th, 2017 by admin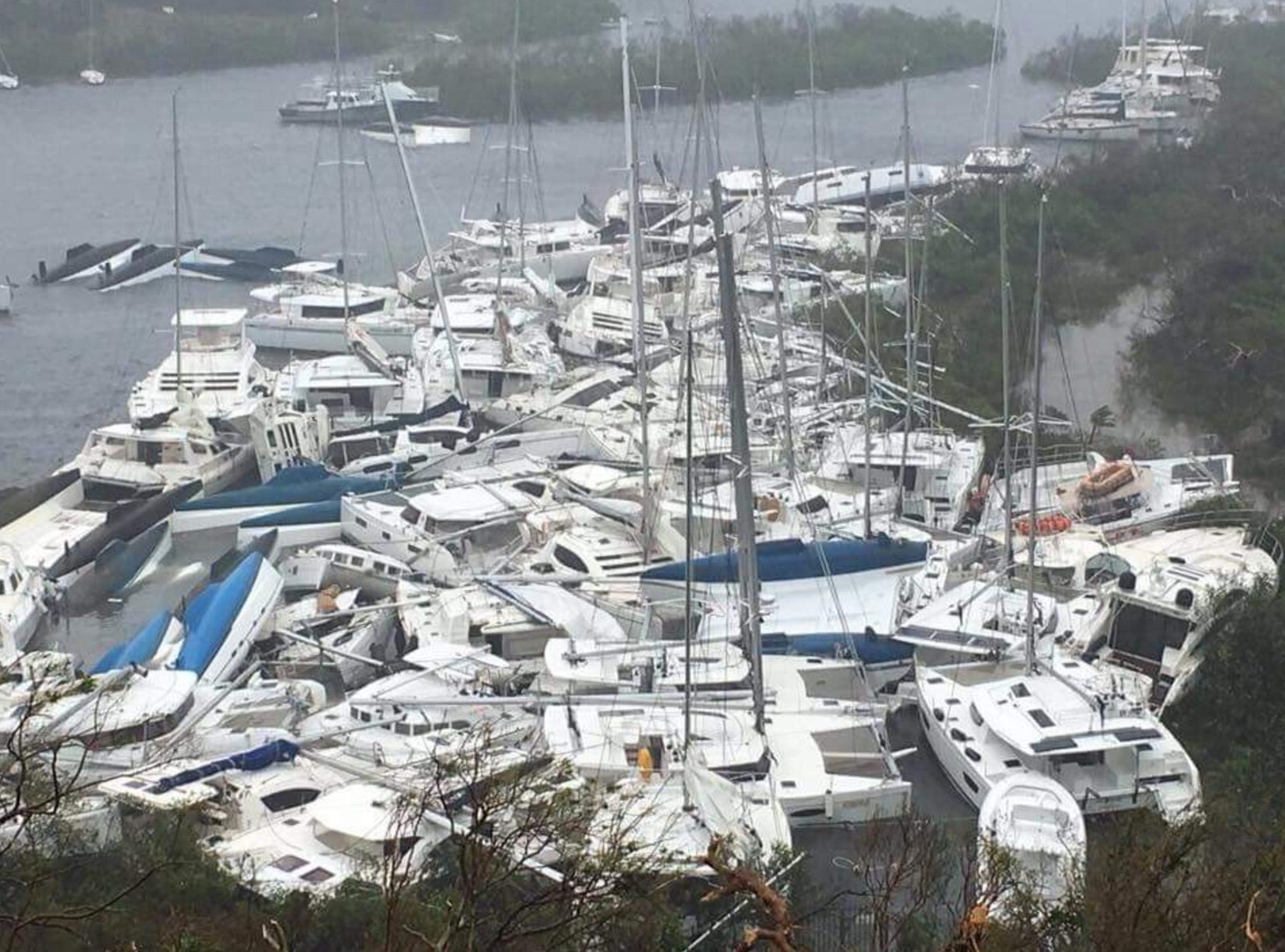 The BVI charter companies loaded up well-known Tortola hurricane hole Paraquita Bay over the past few days, and here's how it looked this morning.  Goddamn.
September 6th, 2017 by admin
With Antigua and Barbuda getting a glancing blow, St. Maarten and St. Barts taking direct eyewall hit, and the BVIs, St. Thomas and Puerto Rico all sitting inside the 100+ knot zone right now, it's almost like Hurricane Irma hates Caribbean yachting and is teaching it a lesson.  It's a sad day for St. Barts (seen in the photo to the left), which local officials called 'apocalyptic' and SXM, where locals
said most of the boats are 'just gone.'  We've had reports from the East side of Puerto Rico, where winds are just starting to get serious, and St. Thomas, where the worst is now overhead, and locals are less worried about boats and marinas than they are about how to deal without water and power for the days or weeks it may be gone.
South Florida is also a chaotic mess, with precisely zero outbound plane tickets left from MIA and FLL for any location, and all interstates loaded up with outbound traffic.  We send our thoughts to all of you in the shit – or about to be – and encourage you to post in the SA forums to share your experiences with the others dealing with it.
September 6th, 2017 by admin
Caribbean, Bahamas, or Eastern Seaboard: Any or all of you could be in the path of a beastly storm, so plan ahead: Get your stuff out of the water or tied up in a mangrove, get your home ready, and make sure you have a way out for you and your family.  Thanks to physicist and meteorologist Levi Cowan for the web's best hurricane forecasts.
Updates in the thread.
September 3rd, 2017 by admin
Just a day after 12 died and hundreds of thousands are without power in Macau and China, the great high-wind sailing destination of Corpus Christi as well as much of the Southern Lone Star State is squarely in the crosshairs of the rapidly intensifying and already-long-lived Hurricane Harvey.  The storm should make a slow landfall not far from the site of the deadliest  natural disaster in US history, but the worst news of all for Gulf coasters may be the Cat 3 storm's likelihood of heading back out to sea after beating the piss out of Galveston and Corpus to re-intensify in the hot water possibly returning to Texas or Louisiana for a second shot.
If you've been on Mars for the past couple of days and are still in the area or if you're staying around for a look at nature's power, good luck to you and please post info as you're able.  DryUV and the rest of the Anarchists are sharing and parsing the data in the thread.  Look at the last sentence of the forecast for the truly troubling bit.
THE HURRICANE WARNING HAS BEEN EXTENDED NORTHEAST OF MATAGORDA TO
SARGENT TEXAS.

SUMMARY OF WATCHES AND WARNINGS IN EFFECT...

A STORM SURGE WARNING IS IN EFFECT FOR...
* PORT MANSFIELD TO HIGH ISLAND TEXAS

A STORM SURGE WATCH IS IN EFFECT FOR...
* SOUTH OF PORT MANSFIELD TEXAS TO THE MOUTH OF THE RIO GRANDE

A HURRICANE WARNING IS IN EFFECT FOR...
* PORT MANSFIELD TO SARGENT TEXAS

A TROPICAL STORM WARNING IS IN EFFECT FOR...
* NORTH OF SARGENT TO HIGH ISLAND TEXAS
* SOUTH OF PORT MANSFIELD TEXAS TO THE MOUTH OF THE RIO GRANDE

A HURRICANE WATCH IS IN EFFECT FOR...
* SOUTH OF PORT MANSFIELD TEXAS TO THE MOUTH OF THE RIO GRANDE

A TROPICAL STORM WATCH IS IN EFFECT FOR...
* SOUTH OF THE MOUTH OF THE RIO GRANDE TO BOCA DE CATAN MEXICO

A STORM SURGE WARNING MEANS THERE IS A DANGER OF LIFE-THREATENING
INUNDATION...FROM RISING WATER MOVING INLAND FROM THE COASTLINE...
DURING THE NEXT 36 HOURS IN THE INDICATED LOCATIONS. FOR A
DEPICTION OF AREAS AT RISK...PLEASE SEE THE NATIONAL WEATHER
SERVICE STORM SURGE WATCH/WARNING GRAPHIC...AVAILABLE AT
HURRICANES.GOV.  THIS IS A LIFE-THREATENING SITUATION.  PERSONS
LOCATED WITHIN THESE AREAS SHOULD TAKE ALL NECESSARY ACTIONS TO
PROTECT LIFE AND PROPERTY FROM RISING WATER AND THE POTENTIAL FOR
OTHER DANGEROUS CONDITIONS.  PROMPTLY FOLLOW EVACUATION AND OTHER
INSTRUCTIONS FROM LOCAL OFFICIALS.

A HURRICANE WARNING MEANS THAT HURRICANE CONDITIONS ARE EXPECTED
SOMEWHERE WITHIN THE WARNING AREA.  A WARNING IS TYPICALLY ISSUED
36 HOURS BEFORE THE ANTICIPATED FIRST OCCURRENCE OF TROPICAL-STORM-
FORCE WINDS...CONDITIONS THAT MAKE OUTSIDE PREPARATIONS DIFFICULT
OR DANGEROUS.  PREPARATIONS TO PROTECT LIFE AND PROPERTY SHOULD BE
RUSHED TO COMPLETION.

A TROPICAL STORM WARNING MEANS THAT TROPICAL STORM CONDITIONS ARE
EXPECTED SOMEWHERE WITHIN THE WARNING AREA WITHIN 36 HOURS.

A STORM SURGE WATCH MEANS THERE IS A POSSIBILITY OF LIFE-
THREATENING INUNDATION...FROM RISING WATER MOVING INLAND FROM THE
COASTLINE...IN THE INDICATED LOCATIONS DURING THE NEXT 48 HOURS.

A HURRICANE WATCH MEANS THAT HURRICANE CONDITIONS ARE POSSIBLE
WITHIN THE WATCH AREA.

A TROPICAL STORM WATCH MEANS THAT TROPICAL STORM CONDITIONS ARE
POSSIBLE WITHIN THE WATCH AREA.

IN ADDITION...INTERESTS IN SOUTHWESTERN LOUISIANA SHOULD CONTINUE
TO MONITOR THE PROGRESS OF THIS SYSTEM.

HURRICANE CENTER LOCATED NEAR 24.7N  93.9W AT 24/2100Z
POSITION ACCURATE WITHIN  15 NM

PRESENT MOVEMENT TOWARD THE NORTH-NORTHWEST OR 330 DEGREES AT   9 KT

ESTIMATED MINIMUM CENTRAL PRESSURE  976 MB
EYE DIAMETER  20 NM
MAX SUSTAINED WINDS  75 KT WITH GUSTS TO  90 KT.
64 KT....... 20NE   0SE   0SW   0NW.
50 KT....... 30NE  20SE  20SW  30NW.
34 KT....... 80NE  40SE  30SW  60NW.
12 FT SEAS..120NE  75SE  75SW  75NW.
WINDS AND SEAS VARY GREATLY IN EACH QUADRANT.  RADII IN NAUTICAL
MILES ARE THE LARGEST RADII EXPECTED ANYWHERE IN THAT QUADRANT.

REPEAT...CENTER LOCATED NEAR 24.7N  93.9W AT 24/2100Z
AT 24/1800Z CENTER WAS LOCATED NEAR 24.4N  93.6W

FORECAST VALID 25/0600Z 25.5N  94.8W
MAX WIND  95 KT...GUSTS 115 KT.
64 KT... 30NE  15SE  10SW  15NW.
50 KT... 50NE  40SE  30SW  40NW.
34 KT...110NE  70SE  50SW  80NW.

FORECAST VALID 25/1800Z 26.7N  96.0W
MAX WIND 110 KT...GUSTS 135 KT.
64 KT... 35NE  30SE  20SW  30NW.
50 KT... 60NE  50SE  40SW  50NW.
34 KT...130NE 100SE  70SW 100NW.

FORECAST VALID 26/0600Z 27.8N  96.7W
MAX WIND 105 KT...GUSTS 130 KT.
64 KT... 35NE  30SE  30SW  35NW.
50 KT... 60NE  60SE  50SW  60NW.
34 KT...140NE 110SE  80SW  90NW.

FORECAST VALID 26/1800Z 28.5N  97.1W...INLAND
MAX WIND  85 KT...GUSTS 105 KT.
50 KT... 50NE  50SE  40SW  40NW.
34 KT...130NE 110SE  80SW  80NW.

FORECAST VALID 27/1800Z 28.7N  97.2W...INLAND
MAX WIND  45 KT...GUSTS  55 KT.
34 KT... 90NE  70SE  60SW  50NW.

EXTENDED OUTLOOK. NOTE...ERRORS FOR TRACK HAVE AVERAGED NEAR 150 NM
ON DAY 4 AND 200 NM ON DAY 5...AND FOR INTENSITY NEAR 15 KT EACH DAY

OUTLOOK VALID 28/1800Z 28.5N  96.5W...INLAND
MAX WIND  35 KT...GUSTS  45 KT.

OUTLOOK VALID 29/1800Z 29.0N  95.0W...OVER WATER
MAX WIND  35 KT...GUSTS  45 KT.
August 25th, 2017 by admin
Hurricane Matthew is close to finishing up his best impression of a Worrell 1000 race course, and the storm has now killed some 900 people (overall), done billions in damage, and left millions without power as he works his way up the Carolina Coast.  The footage above comes from the AP, and is mostly of a very wet Charleston SC.  Those gorgeous new James Island Yacht Club docks that made Charleston Race Week launching so much easier last year are smashed to pieces, while cars, boats and anything else with westerly exposure got slammed.  Fortunately the worst of the surge in CHS came with low tide, but there's plenty of rebuilding to be done everywhere Matthew has already touched.  Incredible that the US has only seen four deaths (two tree strikes and an elderly couple due to generator/carbon monoxide) despite it all.  We'll have more pics and stories of this direct hit soon, but with Matthew still lashing the southeast coast with nastiness, give a call to your friends near the water – they will appreciate it!
And for something really cool, watch the Frying Pan Shoals live stream right NOW!
October 8th, 2016 by admin
Tropical Tidbits gives us one of the best hurricane forecasts anywhere, here's the 8 PM update on huge Hurricane Matthew.  Watch it all, and if you're on an island, in low-lying areas, or in a situation where extended loss of power could be dangerous, get out.
Grab your important shit and your kids and animals and head west until you find something interesting to do.
If you're not sure why, look at the forecast visualization to the left from the nullschool Earth map, or play with the tool yourself to see how screwed your house will be.
Those of you who stay in your homes, post your pics and links to videos in the thread, and try to do it before the cellphone antennas fly away so we can all live (or die) vicariously through you.
Who are we to judge?
October 5th, 2016 by admin
Still reeling from the 2010 earthquake that displaced hundreds of thousands, Haiti is now underneath the first Cat 4 hurricane to make landfall on the unlucky island since 1963.  Matthew roared ashore early today with winds near 150 mph, and he's laying waste to a piece of coastline already facing a cholera epidemic, zika, and some of the worst poverty in the entire world.
Cuba's next in the crosshairs, and our thoughts go out to another island nation that can ill afford the nastiness they are about to see.  For a really excellent daily forecast on these storms, head over to Tropical Tidbits.  For more forecast, read on.
The Show Must Go On?
Our own resident 'cane 'caster, Mark "DryArmour" Michaelsen writes, "the 11AMs are in and at the top of the track there has been another adjustment to the left. At this time NHC has Wilmington, NC as ground zero. The trend at the top has been to the left the last few runs. That trend may continue and put Myrtle Beach, SC on the hit parade.  This has major implications for the US Sailboat Show this weekend in Annapolis, MD."
This latest 'up the coast' forecast also has major implications for the thousands of sailors making the annual run down the Intracoastal Waterway.  Whether you're headed to the show or planning on being on the water anywhere on the US Atlantic coast, be safe and ask Mark or the community for help in the Matthew thread.
October 4th, 2016 by admin