Posts Tagged 'hurricane'
Despite the fun of pop-culture references to Hurricane Joaquin, the third big storm of the Atlantic season ain't fucking around, and Joaquin will hit parts of the Bahamas today and tonight as a Cat 3 or 4 monster.  The storm may not stop her destruction there, either; some of the latest tracks still have it teeing off on a possibly wide swath of Mid or Northeast coast with winds well over 100 knots.  So get your dinghies stowed, triple all your lines, and make sure your premiums are paid up – and post video to SA Facebook if you're brave and/or dumb enough to get some.
Good luck, especially to all the boys and girls setting up the US Sailboat Show in Naptown, and monitor the thread for the latest, including forecasts from SA'er DryArmour.
October 1st, 2015 by admin
A pair of big storms is set to drench the US, but without a major hit in some time, you can smell most of America (aside from the Weather Channel and Home Depot) getting complacent.  Are we so programmed to quickly forget the current tragedy that we're doomed to repeat it?  A look at New Orleans' rebuilt levee system says 'probably.'
Meanwhile, Florida Governor (and Midnight Oil frontman impersonator) Rick Scott declared an emergency today for the already homicidal Tropical Storm Erika, though she's likely to do little more than make a muddy state muddier.  Erika updates from the Anarchists are in the forums here.
And on the Left Coast, Hurricane Ignacio is teeing up on the Hawaiian Islands, where ancient crumbling stormwater systems, infected sewage discharges, and widespread beach closures threaten to turn American indignation at the Brazilian Olympic venue pollution into a discussion of first-world hypocrisy.  Monitor Ignacio over here.
August 28th, 2015 by admin
Does anyone else find it amazing that only 24 people died during one of the nastiest cyclone landfalls ever on one of the world's poorest islands?  We're all damned lucky to live in a time when most natural disasters are well known ahead of time, and everyone on the planet owes a debt to the multitudes of engineers and scientists who've made modern forecasting and observation possible. Check out this view of Pam as she hit Vanuatu, and head here for a high res gallery of the aftermath.
March 20th, 2015 by admin
Homicidal monster supercyclone Pam is tearing through Vanuatu today with gusts to a stupefying 175 knots (while an amazing 3 more cyclones are sweeping the Southern hemisphere) and she's now headed towards Aotearoa.  It confuses the hell out of us – we thought killer storms were consigned to Australia, just like venomous jellyfish/toads/reptiles, giant man-eating crocodiles, surfer-loving Great Whites, and debtor's prison exiles. It turns out that New Zealand tropical cyclones are now (or since 2011, anyway), a thing.
After consulting with team skippers and Boatyard leadership, Volvo Ocean Race Control has delayed the start of the Auckland to Brazil leg until at least Tuesday.  This throws a logistical wrench into the works for both Auckland and Brazil, but in the meantime, we get spectacular conditions for today's Auckland In-Port Race.  Above you'll find a short promo, and check back here in about 5 hours for the live link to some great racing.  Join a few hundred of your closest friends to discuss it here. 
If you really need your sailing fix, here's some day 3 Extreme Sailing Series analysis and a preview to tomorrow's finale for their Oman stop.
March 13th, 2015 by admin
We're not sure how long the webcam will hold up, but for the moment we have the rare luxury of watching a hurricane as it rolls into Bermuda.  Our thoughts are with all the Anarchists on island – stay safe.  Click the pic to see the live camera, and now for the PSA from SA Weather Bureau Chief (and tech shirt guru) Mark Michaelson.
Now would be the time to move you and your family to a three story or elevated steel reinforced concrete structure. This one is for real.
My hunch is that the island could be without power for up to a month so make sure you have plenty of cash on hand. Let me know if you have any questions.Winds will be Tropical Storm force this morning becoming Storm and then quickly becoming hurricane force this afternoon. Seas will rapidly build to 35-40 feet. Heavy surge will accompany high tide around 5PM. Structurally this is on the large side for a Category 3 storm. It is moving NNE @15 so there is not a lot of time left to get to a safe shelter before movement will not be possible without risk of severe injury or death from flying debris. I expect the next advisory will maintain the intensity (Roughly) but change the trajectory to more NE. Bermuda lies in the NE quadrant of the storm which is the worst place to be. Good luck to all on the island. You are always welcomed to call or text me to get eyes on the storm from the outside for as long as you have the ability to communicate.
October 17th, 2014 by admin
Cat 4 Hurricane Gonzalo visited many of our favorite sailing destinations yesterday, and Antigua, Anguilla, St. Martin and St. Barths are all reeling.  Despite accurate forecasts days ago, dozens of yachts were tossed onto land in SXM and sunk in its lagoon.  It wasn't just boats damaged, either – the 120 knot winds tore roofs off homes and sent shanties toppling, one person lost his life in the lagoon and at least two people are missing…thus far…and there's still no power and therefore not a ton of information.  There are some decent damage reports, pics, and video on local Yana Gibbs' Facebook Page and keep an eye on the thread for more.  And if you have some info, please post it - because Gonzalo ain't finished by a long shot.
The NHC's warning map makes the tiny island nation of Bermuda look like a slow pitch down the middle for Gonzalo's 140 knot bat, and he's taking aim tomorrow with no real weakening in the forecast.  If you're visiting or living in Bermuda, don't take the laissez faire attitude many did in the French caribbean; get your shit tucked away, be sure you have potable water and food, and get to high ground long in advance.
And if you're a fan of the America's Cup, now's the time to figure out what to do when a hurricane comes straight at your fleet of AC62s, cruise ship hotels, and super yachts.  Our suggestion: Ask Russell.
October 16th, 2014 by admin
In 2006, the Pindar team launched the most powerful Open 60 ever built – a title the boat would never relinquish.  Unfortunately for Mike Sanderson (for whom the boat was designed and built) and later Alex Thomson, the boat was never a contender.  Too powerful and draggy, too hard to sail, and too physically demanding for even the strongest IMOCA men, Pindar was plagued by drama, failure, and weak results.  
Even in the hands of Alex Thomson, the JuanK boat was a dog (imagine that, a JuanK boat being a dog), relegated to corporate and PR sailing duty while Alex and his team sourced other boats for his racing.  And while losing a racing boat is never a good thing, we have to say that the world may be a better place without more JuanK grand prix boats around.  The embattled Argentine has to be relatively happy with this calamity; at least this one didn't break in half, lose a keel, or kill anyone.  More on the wreck from Alex Thomson management team 5West boss and long time Anarchist Stew Hosford:
The boat had been laid up in LA since the end of a tour last year for our sponsor, and we chartered the boat to a new IMOCA team in Europe to who were going to enter this winter's Barcelona World Race. Our team were bringing her back to Europe via Panama for a re-fit when TS Odile started to appear in the Pacific. We had worked out a number of stopping-off points in case of hurricanes with the team securing her in Cabo San Lucas well in advance of the hurricane strike, and given the forecasts, it was a massive shock to the team, city, and nation when the storm intensified into a hurricane and bore straight down on Cabo.
By all accounts, the storm was brutal; "The End of the Earth", as locals called it, shocked the entire region, and the morning after the storm hit, the picture you see above is what greeted our delivery team.  The boat was remarkably still in her berth, but took serious damage from flying debris and boats that had come loose, floating around while still attached to big chunks of dock and pontoon.
For the first few days, the team used what they could salvage – freeze dried food, water, diesel, and satphones – to help locals near the marina.  But without comms, electricity, or any way to get off the peninsula, the situation began to deteriorate badly into the looting and later, military response that's been widely reported.   It rapidly became a crisis situation for us, and the guys on the ground somehow managed to get a small plane out of Cabo and return safely to the states.
So now what?  To be honest, it is not clear; while we are used to dealing with crisis at sea, this is something of a new problem for us.  The boat is most definitely not seaworthy and remains tied to her slip, but until the local government gets control over security and infrastructure, there's not much we can do besides work on a plan for what happens next.  Given the intensity of the hurricane, the loss of life and property, and the fact that there are many people still trapped there, it is a stark reminder of what can quickly go wrong.  Everyone here has great hopes for the people still on the ground, and we wish them all the best of luck.
September 21st, 2014 by admin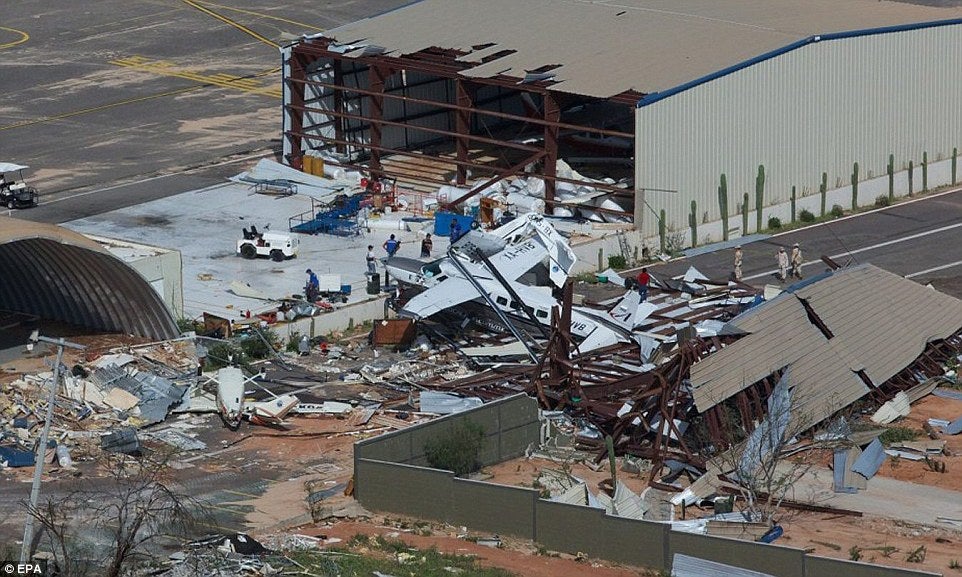 Missing cruisers, busted boats, widespread looting, stranded tourists and destroyed infrastructure (including big parts of the Cabo airport, left) are Hurricane Odile's legacy for much of the coastal Baja Peninsula; our thoughts and hopes for a quick recovery go out to everyone affected by the storm. For reports and photos of the chaos, hit the Odile thread here.
Megayacht humanitarian aid worker Mark Drewelow pleaded with yachties for help.  "Every yacht big or small that intends to head south to Cabo needs to bring aid," Drewelow said. "Recovery will take months. YachtAid Global is coordinating some efforts with Marine Group Boat Works, which also has a facility in Cabo San Lucas. The Marine Group Boat Works yard in Chula Vista is collecting items that are of critical immediate need: drinking water, basic first-aid stuff, food with a long shelf life, temporary shelters, small line. If you want to help, contact Leah Yam, Cabo Relief, at Marine Group Boat Works in Chula Vista at (619) 427-6767."
Donate via YachtAid here.
September 18th, 2014 by admin
UPDATE:  This morning at 6:20AM the fabled Wedge in Newport Beach is checking in with 20-25 foot swells and occasionally, a 30-footer! Now go be safe, people. for those of you going in and out of channel entrances please pause and make certain you are between sets before you make the charge in or out in the impact zone. For a real-time camera feed of some major surfing wipeouts, go here. 
Hurricane and extreme weather boffin Mark Michaelsen continues to take time to report on severe weather events for Anarchists (This time, from SoCal) while his company DryUV is filling all those 60% off DryArmour orders.  Keep the orders coming: Long or short sleeve Pro-Tech for under $20, including your logo.
As BIG WEDNESDAY approaches (Major swell from previously Category 5 hurricane Marie) one has to wonder how many more seasons we here in SO CAL can go without at least a slap on the wrist from a major hurricane. This September 21st will mark the 75th anniversary of the 1939 Long Beach cyclone. As the winter storm fronts begin to influence the steering patterns of Eastern Pacific hurricanes as we wind toward fall, several factors are coming into alignment that may make this the year we finally get a system to come visit us.  Warmer than normal Sea Surface Temperatures from Santa Barbara to Cabo San Lucas are in theory making it the most likely year in decades for us to see a tropical cyclone or at least the remnants of one here in the normally arid Southwest. Above is the SST anomaly for the Eastern Pacific and you can see that the beltway between the formation area to the south of Baja and So Cal is wide open for storms at the moment.
Cyclone after cyclone is traveling by to the West the water temperatures are being driven up.  We may see a cool down between now and the weekend however as a low pressure system over the interior southwest will bring brisk 15-20 knot winds Wednesday through Thursday in the late afternoon and evening hours. This should make for some great sailing this week. For those of you sailing Wet Wednesday and Thirsty Thursdays entering and exiting the South or Southwestern facing channels may prove dangerous at times. Low tide in the area is around 5PM and this will represent the great chance of waves breaking at the harbor entrances.  Bring your GoPro or Camera Phone to capture the scene as it should be EPIC. Post the footage here please as there are sure to be lessons learned from this surf event and how mariners deal with it. Here is a shot from Oceanside Harbor which is one of the south facing harbor entrances that is likely to be affected by this swell. The Orange County Harbors will likely feel the greatest effects though.
Other factors that may improve our chances to get a hurricane or what is left of one include but are not limited to:
-Reduced shear
-Ample ACE (Accumulated cyclone energy) in the incubation area to our south
-Plenty of start-up energy in the form of tropical wave after tropical wave entering the far southeast Pacific.
We haven't had much in the way of natural disasters here lately (At least in So Cal) and after living here thirty years I know that trend cannot continue.
Several municipalities have seen fit to let the drainage system become silted up in many areas and have even turned a few areas in to parks (Yes, it has been that dry for years). We had less than 6" of rain in the last 12 months. A whopping total of 11 days of any rain during those same 12 months. The lack of maintenance to these critical drainage systems could prove literally fatal if not remedied before  even a tropical storm comes to visit. Murphy's Law at work.
I for one look forward to a visit from a tropical cyclone as the weather here is far too mundane for my taste but the quality of the weather for the family and sports is hard to beat.
Unless you are an expert waterman, stay on the beach and watch as one of the more epic surf events in recent history unfolds and if you must go to sea, watch the channel entrances VERY* carefully and time your sets both going out and coming back in.
As always, drop me a note with any questions, and check the thread for the latest.
Mark Michaelsen
August 27th, 2014 by admin
Hurricane Iselle's forecast strength has increased over the past 12 hours to over 100 knots currently, and she looks set to roll straight through the Hawaiian islands in the middle of the week.  Now's the time to pull boats from the water and batten down everything, though it might not be as bad as it looks.  We go to SA Hurricanologist "DryArmour" for the morning update (and stay on the "Boiling Pacific" thread for the latest):
Overnight Iselle has improved her structure and cloud tops have cooled.  There is still some debate over whether Iselle has formed into an annular hurricane but in my mind there really isn't much to debate. The shape is symmetrical, there is no real banding outside of the tightly wrapped core of cold cloud tops and dry air does not appear to be making much of a difference to this storm as it pushes through the dry environment surrounding it.
The new shift to the north in the model consensus is good news for Hawaii as there is  a finger of significantly cooler water in the path as the system approaches the Big Island of Hawaii. A forecast of increased shear should also impact the tenacity of this hurricane but as mentioned before, annular storms can often defy the models and maintain a robust internal structure despite environmental conditions that might normal cause weakening or dramatic weakening on a traditional hurricane. My fingers are crossed that once again Pele is watching over the islands and her people and will cause the system to substantially unwind before going over the islands later this week.
-DryArmour
August 4th, 2014 by admin