Posts Tagged 'hurricane'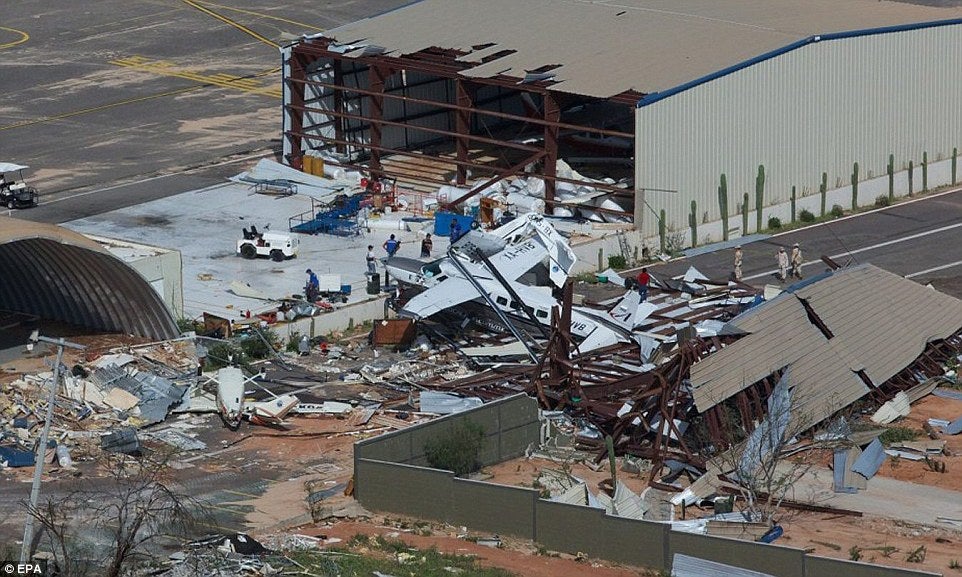 Missing cruisers, busted boats, widespread looting, stranded tourists and destroyed infrastructure (including big parts of the Cabo airport, left) are Hurricane Odile's legacy for much of the coastal Baja Peninsula; our thoughts and hopes for a quick recovery go out to everyone affected by the storm. For reports and photos of the chaos, hit the Odile thread here.
Megayacht humanitarian aid worker Mark Drewelow pleaded with yachties for help.  "Every yacht big or small that intends to head south to Cabo needs to bring aid," Drewelow said. "Recovery will take months. YachtAid Global is coordinating some efforts with Marine Group Boat Works, which also has a facility in Cabo San Lucas. The Marine Group Boat Works yard in Chula Vista is collecting items that are of critical immediate need: drinking water, basic first-aid stuff, food with a long shelf life, temporary shelters, small line. If you want to help, contact Leah Yam, Cabo Relief, at Marine Group Boat Works in Chula Vista at (619) 427-6767."
Donate via YachtAid here.
September 18th, 2014 by admin
UPDATE:  This morning at 6:20AM the fabled Wedge in Newport Beach is checking in with 20-25 foot swells and occasionally, a 30-footer! Now go be safe, people. for those of you going in and out of channel entrances please pause and make certain you are between sets before you make the charge in or out in the impact zone. For a real-time camera feed of some major surfing wipeouts, go here. 
Hurricane and extreme weather boffin Mark Michaelsen continues to take time to report on severe weather events for Anarchists (This time, from SoCal) while his company DryUV is filling all those 60% off DryArmour orders.  Keep the orders coming: Long or short sleeve Pro-Tech for under $20, including your logo.
As BIG WEDNESDAY approaches (Major swell from previously Category 5 hurricane Marie) one has to wonder how many more seasons we here in SO CAL can go without at least a slap on the wrist from a major hurricane. This September 21st will mark the 75th anniversary of the 1939 Long Beach cyclone. As the winter storm fronts begin to influence the steering patterns of Eastern Pacific hurricanes as we wind toward fall, several factors are coming into alignment that may make this the year we finally get a system to come visit us.  Warmer than normal Sea Surface Temperatures from Santa Barbara to Cabo San Lucas are in theory making it the most likely year in decades for us to see a tropical cyclone or at least the remnants of one here in the normally arid Southwest. Above is the SST anomaly for the Eastern Pacific and you can see that the beltway between the formation area to the south of Baja and So Cal is wide open for storms at the moment.
Cyclone after cyclone is traveling by to the West the water temperatures are being driven up.  We may see a cool down between now and the weekend however as a low pressure system over the interior southwest will bring brisk 15-20 knot winds Wednesday through Thursday in the late afternoon and evening hours. This should make for some great sailing this week. For those of you sailing Wet Wednesday and Thirsty Thursdays entering and exiting the South or Southwestern facing channels may prove dangerous at times. Low tide in the area is around 5PM and this will represent the great chance of waves breaking at the harbor entrances.  Bring your GoPro or Camera Phone to capture the scene as it should be EPIC. Post the footage here please as there are sure to be lessons learned from this surf event and how mariners deal with it. Here is a shot from Oceanside Harbor which is one of the south facing harbor entrances that is likely to be affected by this swell. The Orange County Harbors will likely feel the greatest effects though.
Other factors that may improve our chances to get a hurricane or what is left of one include but are not limited to:
-Reduced shear
-Ample ACE (Accumulated cyclone energy) in the incubation area to our south
-Plenty of start-up energy in the form of tropical wave after tropical wave entering the far southeast Pacific.
We haven't had much in the way of natural disasters here lately (At least in So Cal) and after living here thirty years I know that trend cannot continue.
Several municipalities have seen fit to let the drainage system become silted up in many areas and have even turned a few areas in to parks (Yes, it has been that dry for years). We had less than 6" of rain in the last 12 months. A whopping total of 11 days of any rain during those same 12 months. The lack of maintenance to these critical drainage systems could prove literally fatal if not remedied before  even a tropical storm comes to visit. Murphy's Law at work.
I for one look forward to a visit from a tropical cyclone as the weather here is far too mundane for my taste but the quality of the weather for the family and sports is hard to beat.
Unless you are an expert waterman, stay on the beach and watch as one of the more epic surf events in recent history unfolds and if you must go to sea, watch the channel entrances VERY* carefully and time your sets both going out and coming back in.
As always, drop me a note with any questions, and check the thread for the latest.
Mark Michaelsen
August 27th, 2014 by admin
Hurricane Iselle's forecast strength has increased over the past 12 hours to over 100 knots currently, and she looks set to roll straight through the Hawaiian islands in the middle of the week.  Now's the time to pull boats from the water and batten down everything, though it might not be as bad as it looks.  We go to SA Hurricanologist "DryArmour" for the morning update (and stay on the "Boiling Pacific" thread for the latest):
Overnight Iselle has improved her structure and cloud tops have cooled.  There is still some debate over whether Iselle has formed into an annular hurricane but in my mind there really isn't much to debate. The shape is symmetrical, there is no real banding outside of the tightly wrapped core of cold cloud tops and dry air does not appear to be making much of a difference to this storm as it pushes through the dry environment surrounding it.
The new shift to the north in the model consensus is good news for Hawaii as there is  a finger of significantly cooler water in the path as the system approaches the Big Island of Hawaii. A forecast of increased shear should also impact the tenacity of this hurricane but as mentioned before, annular storms can often defy the models and maintain a robust internal structure despite environmental conditions that might normal cause weakening or dramatic weakening on a traditional hurricane. My fingers are crossed that once again Pele is watching over the islands and her people and will cause the system to substantially unwind before going over the islands later this week.
-DryArmour
August 4th, 2014 by admin
Mark Michaelsen, our resident hurricane hunter, brings you up to date on both the developing Atlantic storm and a broader look at the action affecting the Pacific and Southern California this summer.  ATTENTION ANARCHISTS IN THE OBX, CHESAPEAKE, AND LONG ISLAND/NEW ENGLAND:  Get your shit sorted out and ready for some nastiness.  Hat tip to Sir Thomas Malory for the title.
Tropical Storm Arthur
In the last two satellite frames and from the radar signature you can clearly see that Arthur has developed a fairly distinct eye to the north of the upper level circulation but that ay all becoming  into alignment through tomorrow. Arthur has 29/30′ F water available to him and that is in the form of the Gulf Stream to some degree so despite Arthur's anemic forward speed the storm will be fed constantly renewing warm to very warm water giving him plenty of energy to develop off.  Sheer values are low trough 60 hours.  What does this all mean?  Potentially somewhat explosive intensity growth.  For now, he is a very small storm…but Hatteras didn't get the nickname "Graveyard of the Atlantic" for nothing.
The guidance envelope is unusually tightly grouped so there is better than average confidence that he will go where he is told on his trip up the coast.  Stay tuned with the thread here.
Pacific/SoCal Outlook
The coastal waters here in Southern California have very cold here for the last three years. So cold most of the local fisherman have lost interest as migratory paths have followed the warmer water. When I lived back East I had a poster on my wall as a kid with three surfers on long boards with the phrase "It's warmer in California". I always wanted to share in that California lifestyle. I moved my sophomore year of High School to Hawaii (Dad got a new job). We had been there before so I knew the water was a balmy 80′F most of the year.
I moved to California in 1984 during the summer. My GF at the time took me to Manhattan Beach and I ran down the beach and dove head first into the water…. HOLY$HIT*** was it COLD***! (65′F)
I have watched the trends in coastal water temps for the last thirty years and this is about as warm a start to Summer Coastal Waters as I can remember.  Cold water is one of the main factors in keeping SOCAL off the Eastern Pacific Hurricane path since 1939. I checked up and down the coast about an hour ago and San Diego was checking in with 74′F water. 73 in Huntington Beach. Santa Monica Bay was 71′F. This is a dramatic departure from the norm which is 3-5 degrees cooler on average from what we are seeing right now. Warmer waters also mean less of a temperature differential between the coastal areas and the low deserts which is what drives the daily sea breeze. Less sea breeze less upwelling. Less upwelling means warmer and warmer waters. Could this be the year we actually get some tropical system(s) in So Cal?  No one can predict that for sure but when I walked out of the grocery store last night it felt a lot more like Miami or Honolulu than it did like the normally dry and warm or cool and damp southern California evening air mass. Something is changing.  I like it.  Talk about it in the Pacific thread.
July 2nd, 2014 by admin
Cat 4 hurricane Christina may be headed for a harmless jaunt out into the Pacific, but she might be a sign of things to come for 2014; Christina marks the first time in recorded history that we've seen two major Eastern Pacific hurricanes before July 1.
While the El Niño is not yet certain to be making his appearance, we're thinking this could be a hell of a year for storms in the US and Mexico.  Check out all the NOAA data here, and tip o' the hat to our granola-eatin' pals at Grist for the shout.
June 13th, 2014 by admin
The National Transportation Safety Board spent 15 months deciding that the loss of the Bounty along with her skipper Robin Walbridge and crew Claudene Christian was indeed the Captain's fault, and that the organization that owned her contributed by failing keep proper safety oversight over her condition.  We'll never know just what kind of craziness got into Walbridge's head, unless he wanted so badly to be from another era that he chose to die like so many thousands did before modern weather forecasting; by sailing into a hurricane.
We're not sure anyone really needed to re-leard those lessons, but here they are.  1) Stay out of hurricanes.  2) Stay out of hurricanes in leaky boats, and 3) Stay out of hurricanes in leaky boats with unreliable pumps and generators and engines.  And if you're an organization, hire a Captain who knows at least the rules above.  The full text of the investigation report is here, and the 800-post thread is always interesting reading…
February 11th, 2014 by admin