Posts Tagged 'hugo boss'
With both foils extended and the Open 60 getting almost entirely airborne as she gets healthily into the 30+ knot range, Alex Thomson Hugo Boss looks as much like a huge bird as she does an oceangoing yacht.  Hitting a top speed of nearly 34 knots on this reach with never a hint of nosediving, this vid is a great example of the conditions where so-called 'Dali foils' absolutely destroy a non-foiler setup.  The video is an instant classic; a great antidote for those who are already tired of the VO65's somewhat more ponderous ways, and the shoot's location makes us think that perhaps the Hugo Boss organization has another 'walk' coming?
November 26th, 2017 by admin
UPDATE: French sailor Armel Le Cléac'h has today won the Vendée Globe, setting a new record for the solo non-stop round the world race in the process. Le Cléac'h, 39, from Brittany, crossed the finish line of the race in Les Sables d'Olonne, France, at 1537hrs UTC after 74 days, 3 hours, 35 minutes and 46 seconds at sea on his 60ft racing yacht Banque Populaire VIII.
His time sets a new record for the race, beating the previous record of 78 days 2 hours 16 minutes set by French sailor Francois Gabart in the 2012-13 edition by 3 days, 22 hours and 41 minutes. Le Cléac'h, the runner-up in the 2008-09 and 2012-13 editions of the Vendée Globe, covered 24,499.52 nm at an average speed of 13.77 knots during the race, which began from Les Sables d'Olonne on November 6 last year.
Armel benefitted significantly from the early-race foil breakage of what most believe to be a much faster design in Hugo Boss, but despite Alex Thomson pushing Armel as hard as maybe any human could have, we once again will have to wait another four years for the chance of a non-French winner to emerge from this quintessentially French race.
We continue to be amazed at Thomson's ability to remain glued to Le Cle'ach's transom for the better part of 70 days despite the damage to his boat, but Le Cle'ach played the game more as a wise owl than a sneaky jackal, and sailed a masterful covering match race from Cape Town all the way home.
While Armel had all the pressure of the favorite, once again, Alex has proved he belongs in the solo racing Hall of Fame with the performance of a lifetime.  Beating his own 2012 race time by nearly 10 days and setting the Vendee Globe and outright solo monohull 24 hour distance record in yet another edition (only exceeded by four crewed boats in the record books), Thomson really is the only hope for taking the title away from the French – and only if he comes back and gets it right, this time without the bad luck.  Photo © Jean-Marie Liot / DPPI / VENDEE GLOBE
Ask Alex and Armel ANYTHING!  We are 99% sure that we'll be doing audio or video with both these top dogs in the next day or two for the Sailing Anarchy Podcast, and as usual, we like your questions better than our own.  Ask Alex and Armel your own questions in this new thread and we'll see if we can get them answered.
Join the Vendee thread for the latest chatter.
Title should to the movie adaptation of a classic Forsyth spy thriller.
Tags: alex thomson, armel le cle'ach, banque populaire, finish, hugo boss, imoca, open 60, record, Vendee Globe, verdier, VPLP
January 19th, 2017 by admin
We suspect this little nugget is simply yet another example of the mess that is the Vendee Globe's official English coverage, but maybe – just maybe – there's more to the lower/thirds title slip up caught by an observant Anarchist watching the 28 Dec "Vendee Live" show on Facebook.
Look carefully under Alex Thomson team member "Neal McDonald" and you'll note it says "Alex Thomson Racing Volvo Race Skipper", and we're not quite sure why.  Did the VG producer simply forget to put Mac's 'title' on another line, or did someone sending over title graphics make a freudian slip because they know too much?  Could it be possible that Alex – and Hugo Boss's – next big challenge will be a crewed one?  VOR boss Mark Turner and Thomson go way back and there's precious little going on in IMOCA world for quite some time…and of course, much stranger things have happened.  What do you think?
January 2nd, 2017 by admin
The Hugo Boss team's 'replacement rudder' headfake failed to effect a charging Armel Le Cle'ach, but Alex is happily hurtling along towards Cape Horn in the hopes that the Jackal will find some bad luck along the way.  In the meantime, illustrator Francois Denis and our friends at Ino-Rope continue to memorialize this Vendee Globe in cartoons, one of the latest featuring Denis's take on said spare rudder.
The caption reads "Sailing Anarchy knows the truth!"
Check out more of Denis's amazing cartoons over here.
December 9th, 2016 by admin
Clean Report
Finally, we get the answer to the all-consuming question of whether or not Hugo Boss is carrying a spare foil.  If so, how will he fit it and when?  If not, how will he deal with 'ol' stumpy'? How does Alex feel about getting passed by Armel Le Cle'ach for the lead (while we speak to him live)?  How did he hold him off for so long?  All that and much more in this half hour more worth of questions from the Anarchists and Clean. It's Hugo Boss skipper Alex Thomson, live from the Southern Ocean!
EDIT: We've brought up Alex's audio for those of you who had issues with the Facebook Live vid or those who just can't stand Clean's face – you can listen in loud stereo over here.
Title shout to the bubblegum punk that is Eve6.
November 27th, 2016 by admin
Our own Mr. Clean and RailMeat get bylines in an excellent short vid that gives you a real taste of the Vendee Globe from the perspective of New York Times sailing editor Chris Museler.  Watch it in the original spot here.
November 26th, 2016 by admin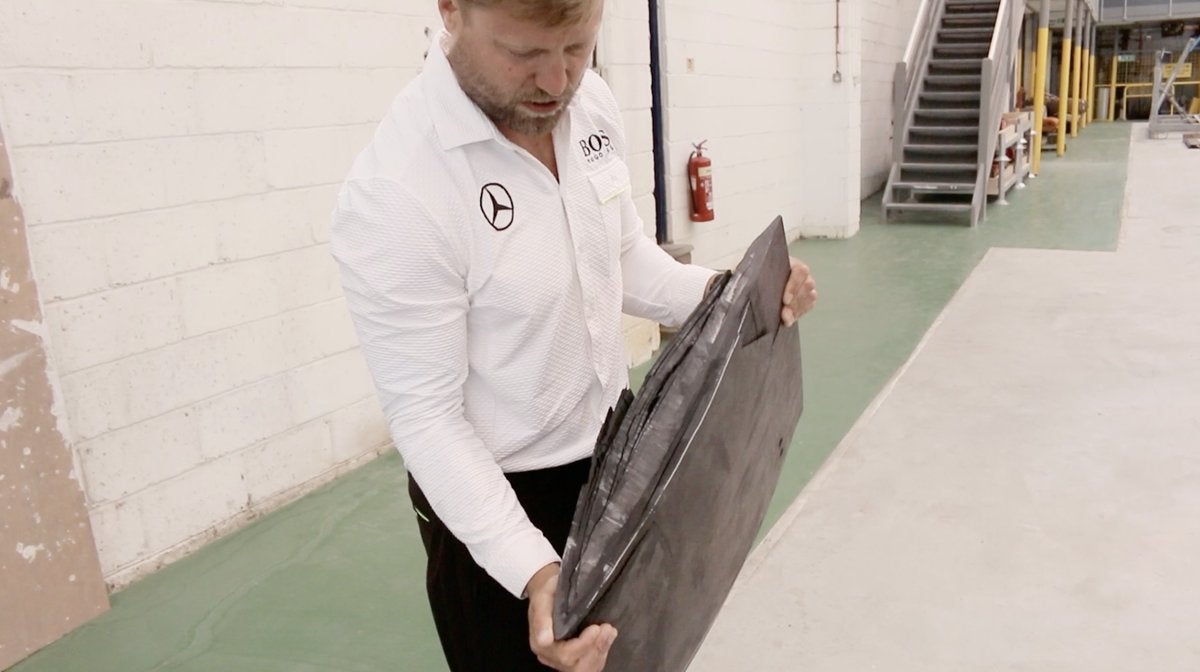 Our exclusive comment from the Hugo Boss team regarding Alex Thomson's replacement foil has lit a fire of speculation from all over the world, and we have to emphasize that we do not have any first-hand knowledge of a spare foil aboard the boat – it's all just words from an ATR source for now.  But a sharp-eyed Anarchist caught some of those words before they were deleted from the VG website; the conversation was between VG headquarters and Alex via satphone, and here is the text that's since been scrubbed:
VG: Do you have a spare foil?
AT: "It's an interesting question. One of the benefits of going for the design that we went for is that you have the ability to be able to push out what was there, and we'd be the only boat in the fleet that could put a foil in through the deck. It was certainly part of our consideration when we chose to go for this foil.
VG: Do you have a spare foil onboard?
AT: "One of the major problems with these foils is that they're very heavy. They're north of 100kgs each so the reality of being able to put another one in – getting it up on deck, and jiggling around with it – is that it would be very, very difficult. It's not an easy thing to try to do – I guess you'd have to have perfect conditions for it.
VG: Do you have a spare foil onboard?
AT: "Do I have a spare foil onboard? That would be telling, wouldn't it."
VG: Do you have a spare foil onboard?
AT: "No comment."
It may all be academic anyway, as Armel Le Cle'ach is just 12 miles from rolling Thomson as we speak.  It's head to head in the Southern Ocean for now in a race where anything can – and does – happen.  Anyone bored yet?
We're speaking to Alex tomorrow via satphone; we just put up a thread to ask your questions directly – post yours and if they're good, we'll get the answer straight from the leader of the Vendee Globe.
BONUS: For a crazy amount of data on the distances, speeds, and much more from the fleet, check out this cool page.
November 26th, 2016 by admin
Our continued coverage of the Vendee Globe is brought to you by Musto, Torqeedo, Doyle Sails New Zealand, And Ocean Planet Energy.
With Vincent Riou limping off to safety after cracking his keel, Seb Josse losing hours to repair UFO-damaged rudder linkage last night, and Alex Thomson somehow holding on to a 100+ mile lead with just a stub of a starboard foil, it's clear that the biggest hurdle to winning the 2016 Vendee Globe may very well be floating – or swimming – in the water.  With PRB down it's also clear that it ain't just a foil thing, and don't forget the famous secrecy of some teams; we may only be hearing a portion of the actual damage reports.
With Thomson seeming to easily hold off Banque Populaire at sustained speeds of 20+ knots, we asked his team for a photo of the Hugo Boss damage to address some of the speculation that Alex is playing head games with other teams and that there was no collision.  We were told there were no pics yet because the stump is under water and spray at 20 knots, and said we'd all see pics and video of Thomson's foilectomy when the weather moderated.  We've also just learned exclusively that the non-French ocean racing world's biggest hope may not be over at all, thanks to a spare starboard foil aboard the Boss!  Alex will attempt to cut away and jettison the remaining stub and insert the spare downward from the deck openings ; it is a very tricky operation but they've practiced it at least once, and it's the reason for their unique deck/foil exit configuration.
The reality of the situation is dramatic enough, but we loved SA'er 'nedev's explanation of Thomson's problem way more.
To be honest, structural failure and hitting stuff in the open ocean both seem quite unlikely to me… After all, the engineers know what they are doing right? And in that vast ocean, what is the chance to hit a teeny tiny floating object?

If you ask me, I think the most likely thing that has happened is that aliens visited AT and try to abduct him and perform scientific experiments on him. In his blind panic, AT ripped off his own foil with his bare hands and used it as a blade to fight off the extraterrestrial intruders. Stunned by this display of will power and strength, the aliens didn't know what to do and decided that there would probably be easier test subjects to be found elsewhere on this weird planet. What they didn't know was that during their stay on the big black boat, one of the landing lines of the UFO got wrapped around the rudder. So when they tried to fly away, the rudder got pulled up and the UFO got destabilised mid flight, causing it to crash into the ocean and sink into the depths.

So I think we should all be grateful for Alex's heroic actions, saving humanity from the alien invasion. Quite possibly, humanity would have been wiped off the planet if AT hadn't sacrificed his own foil to save us all!
Talk about these discoveries and more in the Vendee Globe thread.
November 23rd, 2016 by admin
With jagged bits falling off his now-wrecked starboard side foil, Alex Thomson has tapped into his inner Brit, keeping the proverbial 'stiff-upper lip' despite watching his huge 120NM+ lead erode sched by sched.  How long can he hold the charging Armel and Seb off?  It all depends on the wind direction, and the closer they charge toward the Antarctic Exclusion Zone, the less choices Alex will have to make.
Western France is collectively breathing a huge sigh of relief to see the rosbif's game-changing race begin to falter, but they shouldn't count their Maitre Coq before it hatches; this edition of the Vendee has been noteable not only for the dominance of Old England, but for the incredibly lack of attrition up to this point.  It won't last, and if one foiling 60 can wreck a foil, they all can…
Meanwhile, we're not sure who made it, but props to the Anarchist who brought the beautiful Windyty streamlines to the Vendee Globe tracking data to produce this 'world's best' tracker for the VG.  Check that link here, go over here for a full-fleet performance graphing option, and of course wade into the thread if you love the Vendee.
November 21st, 2016 by admin
You've watched the live coverage and the Dock Walk, now check out the summary from day one of the Vendee Globe.  And yeah, we know the English-language voiceover sounds like a SNL skit; the shots are worth it.  The tracker is almost as bad as that dub, but click here to see Hugo Boss headed inshore slowly while her competition blazes by on the outside (at this moment, anyway). Latest race analysis here.
November 7th, 2016 by admin