Posts Tagged 'hugo boss'
Reviving a famous rivalry between the Royal Galway and Royal Cork Yacht Clubs; the 2015 Galway Plate was a brilliant race between two IMOCA 60s. Kilcullen Voyager, skippered by Enda O'Coineen faced off with Alex Thomson's Hugo Boss in Cork Harbour.
July 15th, 2015 by admin
One of the well-proven adages in business is to spend, spend, spend during a recession.  Marketing hard and growing fast when the markets are down is a great way to build market share, and it seems that the big names in the United Kingdom sailboat racing business are doing just that, despite all kinds of fears about austerity measures and deficit problems.  Here are three quick bits to illustrate.
The Great Contender
Russell Coutts chased off the most serious challenger for the next America's Cup.  Then he pulled the rug out from both his own hometown and the team that came a couple of minutes away from ending his run at AC34.  Just one of those is fully funded by a billionaire, but it's the less well-funded one – Ben Ainslie Racing – who currently has the best chance of ending Larry Ellison's reign of bullshit and the constantly waffling hypocrisy from the Russell Coutts Flying Circus.
Why, you ask?
Because Ben and his team are genuinely not in it for cash, but for nation, for country, for all those things that the rest of the world finds quaint and anachronistic.  Their hashtag is #BringTheCupHome, and that resonates like a motherf&%*ker.
That's how he got longtime Mclaren Formula 1 team boss Martin Whitmarsh involved, and that's where Red Bull Formula 1 designer and aerodynamic wunderkind Adrian Newey came in.
And perhaps most importantly, Ben will have home field advantage, as we'll see during next month's ACWS event in Portsmouth.  Bermuda is unfailingly British, and there are we cannot find anyone from the United States who wants to see the betrayal of Ellison and Coutts go unpunished.
Don't underestimate the power of the crowd; unlike the almost entirely mercenary teams (and Oracle Team NOT-USA just added yet another non-american to the mix), Ben can get talent like Whitmarsh and Newey to help him despite being unable to pay them what they made when they worked for the F1 juggernaut.  And the more one-design the boat, the more cerebral the game becomes – and the more morale and confidence come into the mix.  If you don't know what we mean, head over to Portsmouth and listen to what an estimated half a million people sound like when they are cheering.  The biggest questions remain about Ben himself; is he a fast enough driver in foiling boats?
Longtime pommie sailing boffin Matt Sheahan wrote a solid profile of the team and its obstacles over at howtospendit.  Check it out here.
Long Overdue
The Extreme 40 has been long in the tooth for the better part of 5 years, but much of that time was devoted to ensuring the Extreme Sailing Series survival and OC Events future cash flow.  As the rest of the world's catamarans innovated, the Extreme Sailing Series looked more every season like a race for lorries in a downtown parking lot.  But Mark Turner's stature as one of the sport's best organizers doesn't come from his generosity; he is a master of spending only when necessary.  Thanks to a few years of downturn and the ineptitude of his ostensible competitors, the X40 got a bit of breathing room – but not anymore.
And while Turner has been saying for years that 'foiling is not for them,' on Wednesday the ESS announced just the opposite; 2016 and beyond will likely see the new Extreme boat flying.  Turner says they have 'four options' that they haven't distilled down yet, but the clock is a-ticking.  The X40 hulls are a mess, with dozens of repairs adding weight and reducing stiffness throughout the fleet, and one-design something of a joke.  The design itself is as dated as you'll see in a modern event, as you'd expect from a boat created more than a decade ago for the 2005 Volvo Ocean Race; the event that re-launched stadium sailing (though not a new concept; cf. the Formula 40 series in the 90s, the wildly successful 150,000-person Match Cup Sweden in the late 90s and early 2000s, the One-Design Grand Prix circuit, the…well, you get the point).
So there are a lot of reasons for a new boat and it's almost imperative for it to happen quickly, but it is already pretty late for one of the brand new designs being evaluated by OC to impact the 2016 season.  Enter the GC32, currently the front-runner for the Extreme series next year.  It's a bit small for much of the corporate PR and VIP work that's the bread and butter for Turner, but Martin Fischer's flying boat is furious and exciting in anything over 8 knots of breeze.  Perhaps more importantly, two years of now-solved foil issues has taken much of the value out of the GC32, and having spent millions on the creation of his dream boat and a relatively low-budget series, GC32 creator Laurent Lenne is ready to get back to racing instead of running a sailboat marketing company.  That could mean 'bargain' to the famously cost-conscious Turner, solving all his problems for 2016.  The only other option for next year is to modify the truck-like X40 for foils, but that's crazy talk.
And for 2017, look for an all-new X36/X37/X38 – a straight or foiling daggered monster that looks as modern as possible.  Whether you are talking about markets, boat types, or formats, the world is a-changing, and Mark Turner and his group will continue to be one of the most important drivers of those changes.
Watch the final day of ESS racing from Cardiff today.
He's Got The Look
Since we couldn't get a new rendering from the Alex Thomson Racing team, we'll keep this one short, but a monster piece of sailing sponsorship news hit the wire this week providing further evidence that a good look, a strong marketing team, and a few successful PR stunts are far more important than performance when it comes to finding big money for sailing.  Thomson's team announced on Thursday that Mercedes-Benz had joined the Hugo Boss/ATR racing program as a 'Core Sponsor' in advance of this summer's launch of Thomson's brand new VPLP/Verdier Open 60 HUGO BOSS.  The move comes on the heels of last years defection of Hugo Boss from the McLaren F1 team to the all-conquering Mercedes Silver Arrows, marking the end of F-1′s longest team sponsorship deal.  The best part about it?  Thomson doesn't even need to change his color scheme.
With Alex scoring a 3rd in the last Vendee in a last gen boat, and telling us numerous times that he's getting a bit old for all this noise, and with golden boy Francois Gabart sitting this one out in favor of a much faster singlehander, 2016 will mark Thomson's best chance ever at the biggest win ever for an Englishman since Sir Robin beat Moitessier in 1969, nearly 50 years ago.  That is, if he can finish, unlike the last BWR, or the one before that, or…
June 21st, 2015 by admin
SA Special IberianCorrespondent Jen Edney gives us some great insight from the Barcelona World Race start.  Enjoy it, and check back towards the end of the week for our first look at what she can do with a video report. Track the fleet here, and get all the latest chatter in the thread.
"Bye Oscar!"
"Bye!"
"Bye, Oscar!"
"Bye, Dad!"
IT was one of the most touching scenes I've seen in my coverage of the sport; Alex Thomson and his 4-year old son Oscar, seeing who could shout the loudest as Hugo Boss team headed out to the race course for their third Barcelona World Race.  Boss is the only team to sail all three editions of the race, and that same young Oscar is a big reason they're the odds-on favorite for this one: They've got unfinished business.
Oscar was born just before the 2011 race, and then Alex developed apendicitis days before the start, sending him to hospital and the strong Hugo Boss team scrambling for a last-minute replacement skipper. Wouter Verbraak, there to help with last-minute weather routing, was recruited, and he and Andy Mikeljohn never were able to get on the pace. The HB team's high expectations for a strong second edition turned into a disappointing mid-fleet finish despite a faster boat and bigger budget than many of the boats ahead.  It was tough for the team to handle, and it's a big part of what motivated them to put everything they had into winning this race.
The long goodbye is an emotional and touching sight, and when combined with Boss's BWR saga, it's enough to give me goosebumps.  These sailors are waving goodbye to their family, friends and fans for the next 100-odd days, with all the dangers that entails.  So many nonsailors ask me 'why would they do something so crazy?' I'd never really thought about it, and it seemed like a great question to put to the racers.
We Are Water's Bruno Garcia:"I really don't know! I've never considered it a sport, it's something more…"  Garcia thought about it for a minute, then gave me a modified version of Everest trailblazer's answer about mountain climbing.  "Because the sea is there."
Bruno will be sailing with his brother Willy around the world, and their 'family affair' highlights one of the nice things about this edition of the race; the accessibility of communications between the boats and their families, friends, and fans. "I have two kids. One daughter, 12 yrs. old and a 10-year old son," said Bruno. " Four years ago, it was not that difficult. Now they are older, they ask you about the dangers of the race, and 'what will you do if you fall in the sea. You have to be quite clever to discuss with them what happens on the boat and what you will be doing. But I know they support me a lot and I can I count on them."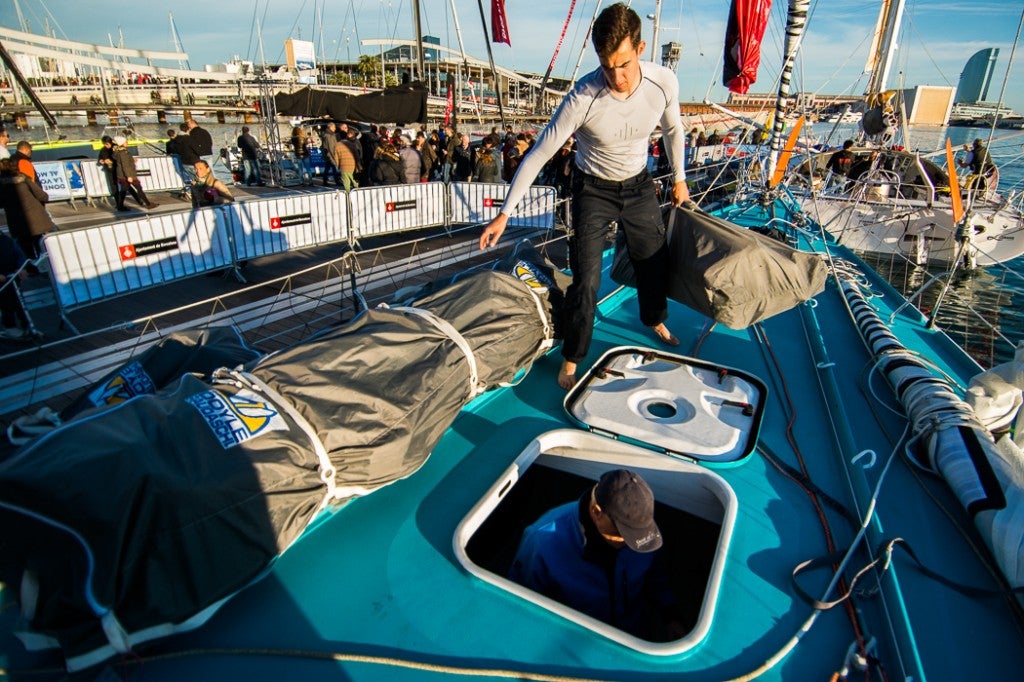 Sailing together is not new for the Garcia brothers, they grew up cruising with their parents and have been racing together since the 90s, but the world Barcelona World race is new for them. "My brother is one of the best gifts I've ever had in my life. He is a very good friend, a great brother and is also a great sailor. I trust him both on the sea and in the mountains. With him I have done many miles, many peaks, many courses..and trust we have is phenomenal…Since the last edition with Jean Le Cam I have learned that this type of racing is not just for those who go and sail but it is also for people like the shore crew and those who follow us. And there are many out there and my brother and I hope to reach out to them and have the public enjoy and share our adventure."
For some, like Nandor Fa's Spirit of Hungary, the entire team is a family affair, with his wife and daughter working full time for the project. "When I decided to return for racing, the family was the first I asked 'what do you think?' And they told me they supported me completely."  Nandor's wife is his media manager, and 22 year old Lili – a baby the last time he went racing – is now an adult and part of the support team.  Nandor's 'third daughter' is Spirit – the only home-built boat in the fleet. Lili says she is so busy that they have less time for worrying. "It is much better to be involved then watching from the outside, biting our nails!"  Lili has mixed emotions on his departure.  "I am going to miss him, but at the same time I am so happy for him because I know that this is his life, his passion and he's been stuck in Hungary for so long working hard and supporting his family…he really deserves to be at sea again."
Nandor is the oldest skipper in the fleet, and he's sailing with the youngest – Conrad Coleman, and they are already well in back of the fleet.  For them and many of the teams on the much slower Open 60s, winning isn't even a possibility; the journey, the challenge, the adventure – that's the victory for them.
For others, like Alex Thomson and Pepe Ribes on Hugo Boss, winning is everything.
And for me, watching and shooting and reporting on this human drama is winning too.  A huge thanks to all the teams for the unfettered access they provided, and an even bigger thanks to Isabel and Daniel and everyone at the FNOB for their constant support this week.
-Jen
January 4th, 2015 by admin
OG Open 60 gangsta and Hugo Boss Skipper Ryan Breymaier hits the Sunday New York Times today, thanks to longtime Anarchist and NYT journalist Chris Museler.  Ryan, Pepe Ribes, and Museler head to Barcelona today; all the details are here.  Photo from Thierry Martinez/Sea&Co.
At 3 a.m. Wednesday, Ryan Breymaier had been prone on a two-inch foam pad for barely 30 minutes when the call came for him to get up. He was delivering the 60-foot racing sailboat Hugo Boss from Newport, R.I., to Manhattan as training for the Imoca Ocean Masters New York to Barcelona race, in which he and Pepe Ribes of Spain will sail across the Atlantic against four other teams starting Sunday.
Breymaier, a tall American with a mop of blond curls, winced as he sat up, keeping his head low to avoid the raw carbon fiber ceiling only inches above.
"You're going to have to get someone else on the grinders," he calmly transmitted above the banging of waves against the hull, referring to the shore crew that came along to help test equipment. "I don't know what I did to my back."
June 2nd, 2014 by admin
"Back" as in back sailing again! A quick repair of Hugo Boss' broken spar gets Ryan Breymaier and Pepe Ribes ready for the start of the OCEAN MASTERS New York to Barcelona Race on June 1. Great to see them back on their feet so quick. Here's the Tuesday morning update from Ryan, with nice photos from mstrsail, and be sure to check Ryan's search for Vendee Globe partners here.
Since breaking the rig about 400 miles from Newport, it has been a stressful journey to get back on the water.  We were very lucky the break happened where it did, as the spreaders and most of the rigging remained sound, and allowed us to reuse them, and there was not one broken stitch on any of the sails.
Fortunately we were coming to Newport; if you have to break a mast, this should be the destination.  When we arrived at Newport Shipyard, all the concerned parties were there and ready to help.  Jimmy and Jay from the Shipyard have been great, Scott and Dave from Composite Rigging, Chuck, Mike, and the rest of the Southern Spars team, and Stew, Vinny, and Dan from Al Fresco composites are all great guys at the top of their respective games, and each put in long hours to see us back on the water as soon as possible.
Of course, there is no way any of this would have happened without the Hugo Boss shore team, who are each expert in their field, and have been above and beyond, putting in many 20 hour days.  You cannot say enough about these guys and their dedication to our success.
It has been a great sojourn here in Newport, irrespective of the rigging problems, and I can honestly say that the Hugo Boss has never been in better shape.  As you can see from the photos, we have been out for our first sail, and are confident in the repair.  The mast sets up beautifully, the sail shape is even better than before, and we are ready to leave this morning for New York City and our pro-am race on the 29th.
It looks like 15-20 upwind for the trip, (as expected) which should be fine, as it allows us to make good time getting there.
This whole process has been a drag for everyone involved, but positive thinking and hard work are putting us in a great position to still win the NY-Barcelona!  I am looking forward to putting on that Hugo Boss suit as we cross the finish line in first place.  With everything that the team has dealt with here, that will be the ultimate success.
It is a few days off, but it looks like a very classic North Atlantic crossing at present, riding low pressure system across in 30 knots of breeze, just what Boss loves and is set up for.  We can then tackle the Med, which is Pepe's home turf, and I know quite well.  The race is ours to lose.
Please do not hesitate to come down to North Cove Marina in Manhattan to check out the boats.  If we are not super busy (or if you have kids along), you might just get a look around."
Ryan Breymaier
May 26th, 2014 by admin
The exciting news that our good friend Ryan Breymaier would be taking Alex Thomson's place aboard Hugo Boss for the upcoming NY-Barcelona double handed race is a bit less exciting today after news came in this morning that they've broken their mast.  Alex, Ryan, co-skipper Pepe Ribes and preparateur Willy Altadill (Guillermo's boy) will sail directly to Newport and, we imagine, get some of the Hall guys down to see just how much work it'll be to get the boat ready for the June 1 departure from the Big Apple.  The boat was in plenty of breeze – well over 40 knots, according to weather files, but this is not a common failure point for Open 60 rigs.  Maybe Alex should quit running up and down the mast?  Here's the official news:
The shore team were contacted by the boat early this morning and were informed that the Southern Spar mast is broken above the top spreader. We are relieved to announce that the four crew members on-board are safe and we have notified their families and our sponsors.
We could not have a better team on the boat to deal with this and members of the shore team are planning to meet the boat upon its arrival to Newport this weekend, and will carry out an assessment to determine if the boat can be repaired in time to enable us to take part in the New York to Barcelona race.
May 8th, 2014 by admin
When good things happen to good people and we have a hand in it, that makes us smile…here's some excellent news from our pal Ryan Breymaier.  Mark Lloyd photo.
Thanks in large part SA's support and promotion, everyone here knows I have been working with Alex Thomson Racing's management company 5 West in my search to find a partner for my Vendee Globe Project USA. Our cooperation took another step recently, when I was asked to race onboard HUGO BOSS for the upcoming Ocean Masters race, a double-handed transatlantic from New York to Barcelona, starting on June 1st.
Alex needs to be home for the birth of his second child, due in the first week of June and has asked me to take his place. This is an incredible opportunity for me, and I am very proud to have Alex and HUGO BOSS put their trust in me to fill his shoes in such an important way.
The boat is the ex Virbac-Paprec 3, sailed to 4th place by Jean-Pierre Dick in the last Vendee Globe. It's a latest generation VPLP-Verdier design; the same hull as winner Macif with a different deck layout.
It is a quantum leap ahead of Neutrogena that Boris and I sailed to fifth place in the 2010 Barelona World Race, and one of the fastest boats in the fleet today.  Each time we have been out sailing I am just floored by its sheer speed and ease of handling.
Along with such an incredible boat, I have the privilege of sailing with Pepe Ribes, who really does not need much introduction here.  FOUR times around the world in the Volvo Ocean Race, at least TWO Americas Cup campaigns, and 4th place (just ahead of me) in the last Barcelona World Race, Pepe is a wealth of knowledge and experience. He's hugely competitive and a great guy to go sailing with.  As serious on the water as he is relaxed off it, I could not ask for a better team mate.
I have been in Gosport, UK at the Alex Thomson Racing base working with the team for the past few weeks, training and helping prepare the boat. We are due to leave for the US on April 22nd.
We will be in New York at North Cove Marina from approx. May 11th -19th and will arrive in Newport on May 20th to prepare for the warm up race from Newport back to New York starting on May 24th. From May 26th there will be a race village set up at North Cove and on the 29th we have another 'friendly' race on the Hudson.  If you are in the area, come and see the boats, and feel free to say hello!  I am happy to answer questions, and I'm very serious when I say that I would love to meet every NYC and Newport anarchist, sailing enthusiast, singlehanded hopeful, ambitious junior sailor – whatever.  Come and say hello, please.
As for the race itself, what an awesome racetrack;  leaving iconic New York City to hook into a depression, ride it to the Portuguese trades, and then through the tactically challenging Mediterranean to my favorite European city of Barcelona, which also happens to be Pepe's current hometown.
We're going to be gunning for a HUGO BOSS win, and all the pieces are in place to make it happen!
April 15th, 2014 by admin
It took us longer than we thought to get this up and we thank you for your patience, but it's worth it; this hour-long Sailing Anarchy Innerview with Hugo Boss skipper Alex Thomson tells the secrets behind his mast walk stunt (and whether it was a stuntman who did the big dive) and gets into dozens of other subjects thanks to your excellent questions; Alex shares his plans for 2014 and the next Vendee Globe, tells us who has new boats coming in the IMOCA world, and gives us the low down on his Caribbean 600 race on a Beneteau 40.  You can grab audio only via your smartphone or browser here on the Mixcloud, or download an MP3 file for later listening here.
We highly recommend you check out the "Behind the Mastwalk" video here as well; it's even better than the other one.
March 20th, 2014 by admin
With his his excellent mast walk video rapidly approaching a million Youtube views, long time Sailing Anarchy fan Alex Thomson wants to answer all of of our reader's questions, and there's always plenty to ask the charismatic British offshore racer.  He's agreed to do an exclusive AMA (Ask Me Anything) with us on Friday, with questions coming via the SA Forum, Facebook, and Twitter, so here's your chance to get all the info on the mechanics of the mast walk,  the value of PR Stunts, how to keep a sponsor happy, what it's like being the top Brit in a Frenchman's game, what his plans are for the various IMOCA/Ocean Master events this year, what's the goss on the UK's chance at an America's Cup, and anything else you like. We'll add up all the questions and get AT to hit them one by one in a Skype chat with Mr. Clean that we'll have up and running by the end of the weekend.
Post questions right here in the forum, or send them in to our Twitter page or on Facebook with the hashtag #mastwalk before Friday at 0900 GMT/0500 EDT.  And while you're at it, we highly recommend you have a look at the Aussie Sailing Team's video piss-take of AT's mast walk posted a few days back.  Hilarious stuff, and a good example of why Sailing Anarchy gets along so well with Australia.
March 12th, 2014 by admin
Alex Thomson and the Hugo Boss team have proven masters at the art of the publicity stunt.  With the widespread success of his various suit-adorned keel walking stunts, you'd think the rest of the yachting media would've long ago caught to this extremely effective PR tool.  But the severe lack of creativity in those circles means no one else has, and that leaves us waiting every year to see how the Boss boys will outdo themselves.  That brings us to this coming week, when we'll see the full video of Alex Thomson doing something none of you has ever seen; a deck-to-masthead run and exit aboard the Farr-designed Hugo Boss that AT brought to an unlikely and hard-fought podium finish in the last Vendee Globe.  Keep your eyes right here for the movie shot in Cadiz, Spain and first reported by Voile.  Mark Lloyd photo.
Title from a TV show that you might've never seen, but you should have.  Here's a hint.
March 2nd, 2014 by admin