Posts Tagged 'hobie'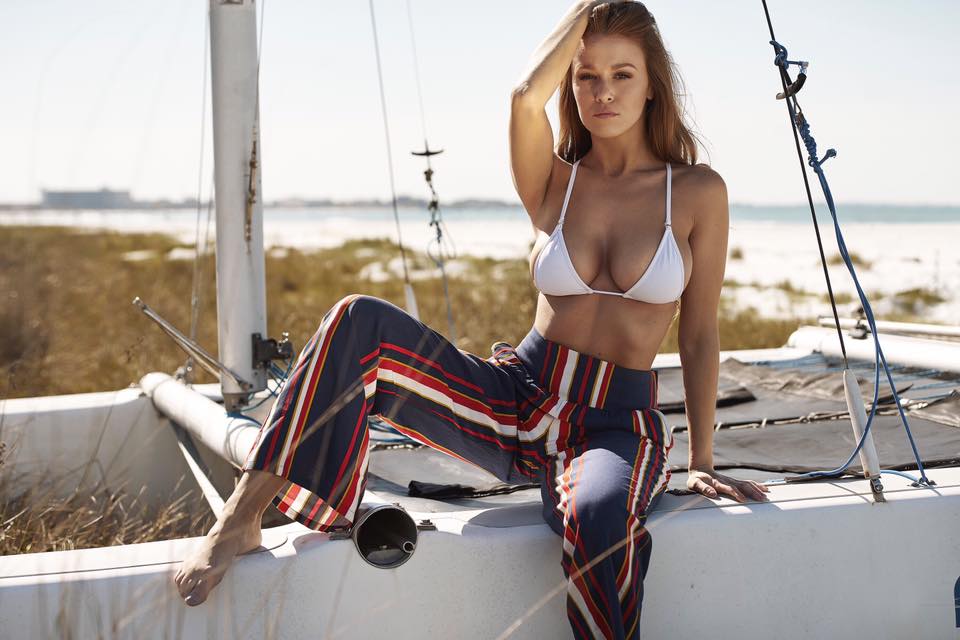 She probably doesn't sail, but one can dream (or fantasize!).  Pic of Vegas-based model Leanna Decker from her FB page, with thanks to "Les Behan" for the find of this week's long overdue SCOTW!.
April 12th, 2017 by admin
With a solid list of interesting guests and a good location in Miami, John "Worldwide" Casey's podcast continues to impress as he ramps up to the ultimate sailing talker – our own Mr. Clean.  That one won't drop until Wednesday, but you road warriors and bored bastards can listen to today's chat between JC and Enrique "Quique" (pronounced "KeeKay") Figueroa.
Quique is a cat sailing pioneer.  The multiple world champ took his first world title (Hobie 14) at 17 years old, and he's one of a handful of Puerto Ricans who've competed in multiple olympics in any sport, and maybe the only human being on Earth who was able to make a living sailing Hobie 16s.
This interesting Boriqueno has had a chance to see the evolution of Olympic sailing over the years and has truly lived the 'Have a Hobie Day" mantra.  Catch up with the pair as they explore erectile dysfunction in Puerto Rico, domestic wildlife, extreme nighttime cat sailing, and how he just missed out on Rio after losing the Nacra 17 trials in Miami last week.
February 1st, 2016 by admin
As so famously documented in a brilliant article in Sports Illustrated (back when a brazillion men read it) and followed by hundreds of thousands of fans over the years, the Worrell 1000 was one of America's most iconic races.  It was 1000 miles (or quite a bit more, at times) of bone-crushing, soul-bruising beach cat sailing, surf-launching, and high-speed crash-landing along the Atlantic Coast, with tons of old legends and unknown-but-now-familiar names showing their sack and insanity.
The Worrell died through a combination of the naivete of its creator, the now-deceased Mike Worrell, and some bloodsucking lawyers; it lives on in our hearts, and in today's post from Anarchist "DryArmour":
I still have this Hobie 16 mainsail from the 1983 Worrell 1000. My dear friend Carlton Tucker was one of the team members along with Hobie [Alter, -ed] Junior and Miles Wood. The sail is in great shape.  Pretty amazing for a sail that is more than 32 years old…The format used that year was non stop round the clock racing alternating team members at each stop. Brutal.
Share your Worrell 1000 memories here.
January 26th, 2015 by admin