Posts Tagged 'hobart'
Clean Report
The story of Anthony Bell's road to the ultimate Aussie racing prize is epic and quintessentially Australian.  Picked up for a firesale price after nearly killing her entire crew in the Fastnet, this beast of a boat would throw obstacle after obstacle at Bell and his team over the past three years, until finally, the Perpetual Loyal (nee Speedboat) got it right this past week.  Bell picks up not only the first-to-finish trophy but also the overall Hobart race record, smashing Wild Oats' 2012 time by more than four hours – something not even the mighty Comanche could pull off.  WOXI was knocked out for the second straight year.
We've enjoyed Bell and his crews' attitude over the years, and we're intrested to hear about the 'different sailing challenges' he has said he's moving on to now that he is ready to sell the big JuanK beast – at what is probably a much higher price than she'd have fetched before the team's excellent performance…
Always precisely where the action is, Nic "Sailor Girl" Douglass sat down with a guy that embodies the kind of sacrifice and work ethic exemplified by the campaign.  The above video features Loyal boat captain Brad Kellett – the youngest sailor to participate in 25 consecutive Hobarts and one of the most respected boat captains in the Southern Hemisphere – and he talked all kinds of pre-race prep with Nic and even let her have a sneaky look around.
She also covered the finish of Perpetual Loyal (she was right on the pin), the dock arrival, champagne, press conference and banter, and interviewed Kellett, Bell & Slingsby live on the dock.  A few hours later, when the sun had come up, Brad was still on the boat, spending time with "his girl" when everyone else was in the pub. Champion.
You can see Sailor Girl's full coverage, including her full pre-start show with over 30 boats, her start commentary, live with the first 14 boats home, Customs House action, and be in the draw to win some free stuff here.
A quick note about media: We've long criticized the CYCA and Rolex for years of weak coverage and a resulting lack of international exposure for this exceptional race as well as a lack of interest in improving – or even acknowledging – the problem. We're glad to see things are changing.  While race organizers and their media partners continue to lag other events in understanding how the internet works, their content and media outreach have improved significantly for this year.  Even where they are behind, they are lucky to have a spark plug like the Sailor Girl showing them exactly how to do it right.  Why they aren't just paying her to run their social media, podcast, interview world…we have no idea at all.
December 31st, 2016 by admin
Sydney's sailing scene adds another sad bit of news today with the passing of a true Harbour legend.  Roger Hickman won the Hobart last year and was a long time sailing crew with recently passed yachting icon Bob Oatley, but he'll be remembered more for the hundreds of young sailors he helped inspire and mentor to become offshore racers.  From the Daily Telegraph:
Just over two months after skipper Roger Hickman collapsed at the end of the Sydney to Hobart yacht race, one of Australia's greatest ocean racers has passed away.  The Sydney skipper, 61, contested his 37th Sydney to Hobart on his yacht Wild Rose in December. But just hours after the finish of the race he collapsed and was rushed to hospital in Hobart where numerous brain tumours were discovered.

"He was well loved and a special man,'' said long-time friend and sailor Matt Allen, president of Australian Sailing.
Look for more info or share your thoughts about the indomitable Hicko in here.  Video interview above from our 2013 Hobart coverage in conjunction with McConaghy Boats.
March 1st, 2016 by admin
We're still not sure if Jim Clark's monster-maxi logo is a Comanche or Keith Richards, but with her never-say-die ingenuity overcoming major appendage damage, Kenny Read and the big indian's crew made mincemeat of the previously all-conquering Wild Oats XI. This despite a decade of design and redesign from the Oatley's skinny recordholder specifically for this race – and only this race – and we remain confused and slightly shocked that the all-star crew of they Sydney boat was defeated by something as pedestrian as the failure of her $200,000 3DI mainsail.  Was it a brand new sail, and if not, why wasn't it?  Was it poor crew work?  A 'white squall'?
We already know that Comanche
We'd tell you more, but there ain't much – and of course the best place in the world for all the news is right here on our forums.  Sailor Girl's live feed from Constitution Dock ain't bad either – here's her interview with Ken Read and the rest of the Comanche crew earlier this morning.  Thanks entirely to Nic, we know Comanche's victory was far from easy even with the silver arrow crawling home with her tail between her legs.  Ken explained that Comanche broke her board near the hull, hanging on the uphaul and banging around threatening the hull.  They cut the board free, but it collected the rudder on its way back, and after the shunt, the steering system was broken with the rudder facing backward.  Toolboxes came out, the steering was repaired, and they decided it was safe to continue.  For the rest of the story, hit Nic's link above.
Pretty pictures of Comanche's domination above from Crosbie Lorimer.
December 28th, 2015 by admin
In the best Aussie tradition of having the biggest, sharpest knife in the bush, the legendary machete that is Bob Oatley's Wild Oats XI is going back under the knife for a massive refit before the 2015 Hobart.  And when we say massive, we mean cut in half and rebuilt from the mast forward, with a huge DSS-style fin at the beam…and that's only part of the job.  Will the WOXI boys continue to stay just ahead of the new curves from VPLP, Verdier, and the Juank?  Apparently, all it takes is money, hard work, money, great crews, money, skilled boatbuilders, and a little more money.  Gotta do something will all that cash meant for an Aussie AC team, perhaps? (A team which, hilariously, continues to publish a website, hosted on the Americascup.com domain, that loads with a huge image of the Harbour with the words "2017 – Australia Gets Back In The Ring" as of a few minutes ago).
Check out the details over here, and WOXI's Facebook is always good for something interesting.
August 7th, 2015 by admin
SCOTW
We promised to show you what newbie sailor chick Sally Fitzgibbons had to say to our Senior Editor yesterday, and here's your delivery.  Big thanks to Land Rover Sailing, the Extreme Sailing Series, and the M32 Series for helping us put this short shoot together.  And a huge shout out to Petey Crawford for working overtime to convert some shitty iPhone video into something pretty – Sally's looks certainly helped that, and she'll be our Sailor Chick of the Week at least until the Hobart!
Learn more about this awesome athlete (and check out lots of bikini pics) over here.
December 11th, 2014 by admin
Silently she glides toward the Harbour City, with one aim: Beat the mighty WOXI.  Game on.
November 29th, 2014 by admin
Australia's Brad Blanchard gave us some info on the kind of charity work we love.  Check out this amazing program; if you can help them out, do it.  If not, get over to Facebook and like them.  We'll be following this one closely right through the 2014 Hobart, and we expect a major sponsor announcement today.
Ocean racing is a long way from the landlocked and war-torn country of Afghanistan, but it's certainly helping some of our country's wounded veterans heal their physical and psychological wounds.  Australia's Soldier On charity was established in April 2012 by John Bale following the death of a mate, and the program is all about the Australian community coming together to show support for our wounded and ensuring they know we will always having their backs. It's about giving those who have served our country the dignity they deserve and the chance to do and be whatever they choose through; providing access to inspirational activities, supporting rehabilitation and providing opportunities that empower them.
As a Soldier On volunteer and Veteran of modern conflicts including Iraq and Afghanistan, I developed my interest in sailing following retirement from the military.  After returning from combat, I craved adventure, excitement, competition, and competitive sailing and ultimately participation in the Rolex Sydney-Hobart Race was just the thing to scratch that itch. Recognising that a lot of other Veterans weren't coping well after their service in conflict areas, I leapt at the chance to get involved with the Soldier On organisation. I realised that my involvement in sailing had helped me successfully transition out of the military and I wanted to inspire those who were struggling to get back into life, particularly those who had been injured, by helping introduce them to a sport I have become so passionate about.
After the first Soldier On Sailing Program was successfully run in 2013 out of Royal Perth Yacht Club, the organisation has now scheduled courses across Australia to help our Wounded Warriors get involved in the great sport of sailing. Incredibly, plans are now well under way to take one of these Veterans from sailing virgin to Category 1 ocean racer in less than a year by taking part in the 2014 Rolex Sydney to Hobart.
Any sailor worth his salt knows that the Rolex Sydney to Hobart is one of sailings' great ocean races and 2014 should see a huge and massively competitive fleet with the running of the 70th iteration. In thinking about how we could best capture the spirit of Soldier On's Sailing Program and the resilience of wounded Veterans, we felt the Sydney to Hobart would be the perfect platform to raise awareness for such a great cause. As a fundraising event our venture will not only help Wounded Warriors recognise that there is life after service and injury but encourage wider participation in our great sport.
For the 70th Hobart, one 'newbie' wounded veteran and I will be crewing along with the Volvo 70 Southern Excellence II.  If you would like to follow our Soldier On 2014 Sydney to Hobart Challenge please head over to our Facebook Page here, and share it with anyone in the world who might appreciate it. To discover more about Soldier On and how they help our wounded Veteran community please visit them at www.soldieron.org.au. The official launch for this massive undertaking is today at the Royal Perth Yacht Club, and we are still looking for sponsors for this worthy program.

February 19th, 2014 by admin
Ironically it wasn't Perpetual Loyal's righting moment or hull shape that launched her into the lead of the Sydney-Hobart; it was Stan Honey and his incredible ability to avoid the kind of hole that swallowed Wild Oats XI for a couple of hours about 100 NM south of Sydney.  Giacomo (ex-Groupama 70) is hanging OK with the big-assed Loyal, while WOXI and Black Jack (ex Telefonica 70) are only now making their way offshore in the moderate downwind conditions, and they'll cross Loyal's wake about 12 NM astern.  It's a bitter pill to swallow after so much work on the aging R/P 100 to keep her competitive, but there's still a long way to go.  Just two boats have pulled out thus far; the TP52 Dodo blew her mainsail up (listen to navigator David Chapman's explanation here), while the Audi Sunshine Coast – one of the most immaculately prepared in the race – blew up a headsail sheave, letting some lovely 6mm Dux zipper the rig open for a meter and a half.
We'd direct you to the starting video as broadcast by Yahoo!7 but apparently it doesn't actually exist, and if it does, it's some kind of state secret.  Even the 3-minute clip on the event website is a secret – unsinkable and unembeddable…but hey – at least the tracker works again!  Fortunately, you've got the full start sequence above from the lens of Mr. Clean's little Canon, and it ain't as bad as you might think.  For the good stuff – a full gallery of 100+ photos from the CYCA docks and the starting line, get on over here to the McConaghy Boats Facebook Page and take a gander.  Clean and the team are headed down to Hobart in the morning with the goal of filming, still shooting, and interviewing just about everyone that comes into the finish line – a first for the race – so keep an eye on that page, and hit the thread for a more stream-of-consciousness style.  And if you want to be eligible to win a Gill laptop bag or one of about a dozen SA hats, be sure to like that McConaghy page – only Facebook fans of both Sailing Anarchy and McConaghy can win.
December 26th, 2013 by admin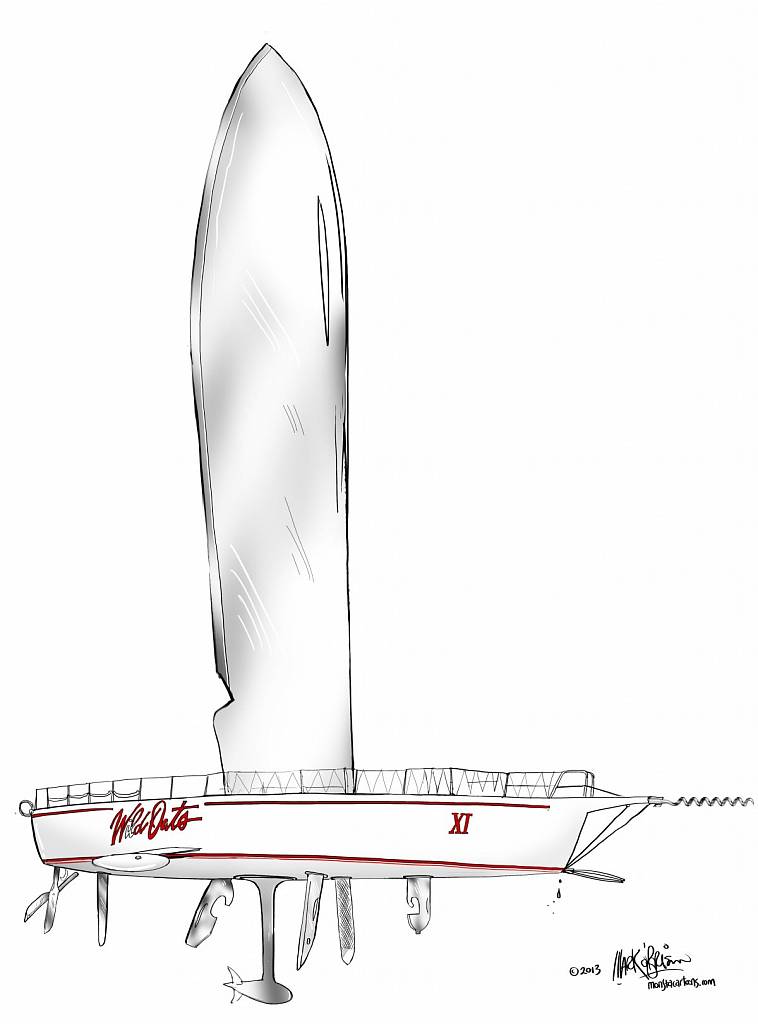 Mark O' Brien put his Monstacartoon pen to the Wild Oats XI appendage package, and as usual, it's awesome.  Wanna buy a print of any of his work, or a cartoon of your own boat?  Hit him up here!  Credit to the great composer Kurt Weill (via Louis Armstrong here).  And get in the Sydney Hobart thread to post your own predictions for the race, and win brand new SA swag, and don't forget our McConaghy Boats-sponsored coverage of the 69th Sydney Hobart Race, coming at you live from Oz in just a few days.  Like McC's Facebook Page now, or you might well miss something….
December 19th, 2013 by admin
Post Of The Week
The annual Sydney-Hobart 'Let Multihulls Race' thread is raging nicely in the forums, and the rambling discussion turned to the reasons behind the Hobart fleet's shrinking trend, both in fleet size and worldwide stature.  Compared to the record fleets of recent Fastnets, Caribbean 600s, and Middle Sea races the Hobart is stagnant, even with one of the best Maxi/Canter/Mini Maxi fleets in recent memory on the line.  
Longtime SA'er and master debater 'Chris 249' got deep into the reasons for the Hobart's decline, and his opinion is our Post Of The Week.  Continue the debate in the thread.
The Hobart is very much a big-boat fest these days, whereas when it was more popular the fleet was mainly composed of much smaller boats. That means that very few people can now afford to run a "competitive" boat, as in one that will finish close enough to the bulk of the fleet and among a group of similar boats.
The change can be seen by looking at the Hobart itself over time, and in comparison with the Fastnet both now and then. The fleets used to look quite similar in terms of the proportion of big boats to small boats; now the Fastnet has a vastly stronger small-boat and medium-size boat fleet.
Looking at the last races (and throwing Hobart PHS boats and Fastnet 2H IRC boats in their respective divisions) we see that there is a striking similarity in the number of boats of TP52 size and speed and more in each race. The Fastnet had 24 starters in the Canting and Zero classes (One 100′ supermaxi, TP52s, fixed keel mini maxis, Volvo 60, Swan 60, Farr 52 OD etc) whereas the corresponding classes in the Hobart attracted 23 boats, including three 100′ canters and a 100′ fixed keeler.
But in the next size down (39-46′ IRC racers like Rogers and Kers and big cruisers) the Fastnet had 52 boats, the Hobart just 17. The class after that (Beneteau 45s and 40s, etc) had 89 boats in the Fastnet and 19 in the Hobart.
In the smallest boats the disparity is even more marked; once you get under IRC 1.05-ish, (10m IRC racers, J/109s, Beneteau 36.7, Sydney 36, J/35, old IOR boats of 47′ or less) there's a staggering 184 boats in the Fastnet compared to 17 in the Hobart!
If you add in the Class 40s and Figaro IIs (one designs I left out of the above calcs as there is no comparable scene in Oz) the proportion of 'small' boats in the Fastnet increases even more.
It's also interesting to look at long-term trends. I found the '79 Fastnet and '77 Hobart fleets to compare their composition with the current fleets. At the time, the Hobart fleet (132 boats) was much healthier (compared to today and to populations) compared to the record Fastnet fleet (303 boats).
The Hobart fleet's composition was also strikingly similar to that of the Fastnet, in terms of boat size and design apart from the fact that Class I (50 to 43 foot racing boats and big old cruisers) was miles bigger in the Fastnet, partly because of the 50-ish boats that did it because of the Admiral's Cup*. For example if we look at (roughly) IOR 34-30 footers we see 116 boats in the Fastnet and 53 in the Hobart; pretty close to the ratio between overall fleet sizes.
Over time, though, the races have diverged to the Hobart's cost. In the Fastnet it looks as if the number of "raceboats" over 38′ has actually declined as the fleet has grown and people move to cruiser/racers. The number of boats of 36′-ish and less has stayed static. The growth has been in the 40 foot cruiser/racers like Benny 40s….the sort of boat so many slag off but which keep so much of the sport going.
In contrast the Hobart has a larger number of big race machines, but a vastly smaller number of small boats and a much smaller overall fleet. If the Hobart had maintained the same sort of fleet composition as it used to have, and the same sort of composition the Fastnet still has, we'd see dozens of boats like J/109s, Archie A 31s etc bouncing down to Hobart.
And why have the small boats stopped? Not sure. The Cat 1+ safety requirements have hurt. The accent is also all about the big boats, and there's no real stepping stone from small boats and small races like there used to be. I think in the last days of the "small boats to Hobart" scene there was a strong (and often expressed) feeling that anything under 36 feet just was not welcome. As another example the CYCA, which used to have a JOG division (= MORC, for boats under 31′) AND a separate half ton class, now bans any boat under 30′ from even doing day races offshore. We have nothing like the Euro/UK quarter ton and half ton scenes or UK JOG, or the smallish OODs of the USA; there's no replacement for the JOG and half/quarter scenes of yore. No owner-measured IRC certs are allowed so almost no small boat owners spend the extra bucks for full measurement and there's no PHRF, so for the small-boat owner there's only golf handicap and therefore no reason to try hard or sail well.
I sold an investment property a few months back and thought of chucking the cash into a boat for the Hobart etc, but decided there was no point when the small-boat numbers have dwindled so much that there's no one to play with. It's a vicious circle, especially when no one seems to give a fuck about stopping the spiral. So I race dinghies and boards and will do some local racing; ironically now I've moved away from Sydney's big boat oriented scene I can race my 4kt "SB" again. CBF crewing on big boats as I don't want to specialise in doing just one thing.
What the Hobart and Fastnet analysis does show, IMHO, is that increasing the proportion of big fast boats, and the emphasis on them, really does nothing to increase the race's status, viability, fleet size or competitiveness. The idea that putting in big multis will increase interest and therefore numbers falls down, IMHO, when we see that putting in big canters has done nothing to increase fleet sizes and may have reduced them. People are not getting into the race because the fast boats are getting faster….. in fact they are no longer turning up like they used to. It's no fun getting to Hobart to find that the party is over.
As is so often the case, it's the much-abused practical boats like Beneteaus that are keeping the sport strong and healthy, and the scene that concentrates on spectacular boats is the one that is sick.
And the Fastnet shows that people WILL still sail offshore in fairly small and cheap boats if they are encouraged, rather than bagged out for sailing 5 knot shitboxes. But there seems to be a big cultural difference between the RORC and CYCA these days.
All just my 2¢ worth, it'd be interesting to hear from Fastnet and Bermuda racers and guys who still do the Hobart.
* 57 boats did the AC but at least 9 or 10 of them were chartered UK boats or boats from France, Holland, Ireland etc which would have done the Fastnet even if there had been no AC.
November 1st, 2013 by admin