Posts Tagged 'hawaii'
Ronnie Simpson breaks down the 49th Transpac fleet for you ocean racing junkies. 
While the America's Cup hangover subsides, it's easy to forget that the West coast's most famous yacht race is already underway. Back for it's 49th biennial edition, Transpac kicked off yesterday with the slowest boats starting in perfect weather, while the faster boats starting tomorrow and Thursday, respectively.   While the race won't set any entry records this year with just fifty-five boats signed up, off a tick from year's past, the fleet more than makes up for it with quality entries from top to bottom.
The world's fastest monohull, the West coast's lone supermaxi, a pair of MOD 70s (and two of their progenitors) and a Gunboat headline this year's race which, if mother nature plays ball, should see both the monohull and multihull race records fall. Behind the big boats that grab the lion's share of the media coverage, we'll see battles amongst the west coast sleds, a revitalized Santa Cruz 50/ 52 division, the trans-Pacific debut for the Pac 52 fleet, several interesting handicap divisions, and more.
As usual, Anarchists will be embedded throughout the fleet to bring you some strong on-board coverage, but until then here's SA's form guide for the 2,225 mostly-downhill classic from Long Beach to Honolulu:
All-out assault on the records
As we're all well aware by now, Bruno Peyron and Explorer's two-decade old multihull record in Transpac is incredibly soft, and has been outright obliterated on multiple occasions by both Lending Club 2 and Phaedo's sub 4-day runs. Both of those were course record attempts run outside of the race; the official multihull race record stands at 5 days 9 hours and 18 minutes. While the record may be a bit long in the tooth and inevitably waiting to fall, it has thus far proven to be an elusive target. Lending Club's 2013 attempt was marred by Japanese tsunami debris and repeated collisions, while Lending Club 2′ came up against decidedly atypical el niño conditions which forced them to abandon the race two days before the start, to instead get ideal conditions to break the outright course record.
For 2017, a quartet of ultra-quick trimarans stand ready to finally break the race record, should they get anything other than sub-optimal conditions. Lloyd Thornburg's world-conquering MOD 70 Phaedo 3 recently sailed the course in a record breaking 3 days 16 hours 52 minutes, some 40 hours under the race record, so we know she's got the goods. She'll line up against Giovanni Soldini and crew aboard Maserati, whose MOD 70 is equipped with lifting foils and just last week hit a new top speed record of more than 44 knots in San Francisco. Making matters even more interesting, H.L. Enloe's ORMA 60 Mighty Merloe has been nipping at Phaedo's heels – especially in lighter airs during some of the West coast's offshore regattas – and will have none other than Jacques Vincent and Loick Peyron onboard for the Transpac. She's the ORMA that was so quick she killed the class (ex-Groupama 2), so no one should count this dark horse out. While all eyes will be on those three, former Waterworld prop boat Loe Real looks to play the role of ultimate spoiler. With legendary west-coast navigator Jon "the Hippie" Shampain onboard and a group of funny talkers from down under, Loe Real is bound to have a trick or two up her sleeve…. She's not likely to break any records, but will surely be one to watch.
In addition to Transpac's burgeoning fleet of multihulls, the monohull record is under attack as well. The world's fastest monohull – Jim and Kristy Hinze Clark's VPLP 100 Comanche – is loaded with her usual group of rockstars and ready to take on Alfa Romeo's 2009 monohull race record of 5 days 14 hours and 36 minutes. If the breeze is heavy enough during the first third of the race, when it typically backs from northwesterly to northeasterly, Comanche may even be able to take a crack at her own 24-hour monohull record of 618 miles. Should Comanche falter in any way, Manouch Moshayedi's fixed-keel Bakewell-White 100 Rio 100 has shown that she certainly has the pace to break the record as well. In last year's breeze-on Pacific Cup race, she stormed into Kaneohe in a time of just 5 days 3 hours and 41 minutes to claim a course record in that race. A shorter race track to be sure, but she was nearly half a day quicker to Hawaii than the Transpac record – and that was before Moshayedi signed up Bouwe Bekking to make sure he left no stone unturned.
Division 1
In addition to the 100-footers listed above, Division 1 encompasses a wide range of yachts which should prove to be exciting, though practically impossible to handicap fairly. Fresh off her Vic-Maui triumph of last year, David Sutcliffe's Vancouver-based TP 52 Kinetic V joins two brand-new Pac 52's, who this year make their Transpac debut. Frank Slootman's SF-basd Invisible Hand squares off against Tom Holthus' So Cal-based Pac 52 Bad Pak for a highly anticipated battle that could go down to the wire. Steve Meheen's R/P 63 Aszhou won this division last time she raced in Transpac (as Invisible Hand), and with a proven and thoroughly optimized platform, she should hang tough both on the water and on handicap, though she struggled against the new, smaller Hand in a breezy So Cal 300.
Division 2
Headlined by the return of Bill Lee's 68-foot Merlin, a hearty fleet of 8 sleds have entered this year in a division that frequently produces the overall winner. Re-fit and more thoroughly optimized from her canting-keel days up on the Great Lakes, Merlin has been modernized with the fitment of a TP 52 keel and a higher-aspect ratio rudder. With top-tier talent like Morgan Larson onboard, Merlin hopes to hang tough against the competition which includes James McDowell's Santa Cruz 70 Grand Illusion; the most successful syndicate to ever enter this race, having won it overall three times, including two of the last three races. ('11 and '15) Defending J/70 World Champ Joel Ronning has entered the fray with his SC 70 Catapult, which recently claimed overall victory in California Offshore Race Week. John Sangmeister's OEX and Roy Disney's Pyewacket, both class stalwarts, have returned for '17 with ultra wicked-up crews that make their intentions clear. Division 2 should be a barn-burner all the way to the islands.
Division 3
Essentially the HPR/Fast 40 division of Transpac, six quick 40-something's are on the line for 2017. J/125's are notorious for their success offshore and on the way to Hawaii. Two are on the line, including Tim Fuller's Resolute, which has been winning hardware for years and has some top-tier talent on board. Chris Hemans' Rogers 46 Varuna always puts up a good fight, and with recent optimizations that include a lighter keel and longer bowsprit, look for the stealthy black boat to find another gear downwind in her long-fought battle against the J/125's. They'll all have their hands full with Naomichi Ando's R/P 45 Lady Kanon VI (ex-Criminal Mischief). The "wet pussy" is back, this time with a group that includes some strong talent from both the USA west coast and Japan. Last time she entered Transpac, she took the division win by just 3 minutes and 47 seconds, underscoring how closely these boats are likely to race. Coming up from behind, keep an eye on John Raymont's Andrews 40 Fast Exit, the slowest-rated boat in division.
Division 4
The largest division in this year's race, 2017 Transpac sees an impressive fleet of 10 Santa Cruz 50's and 52's on the line, in what is always one of the most hotly contested divisions. With a good mix of both amateur and professional talent dispersed throughout the fleet, and a large group of well sorted and evenly paired boats, Division 4 often produces some of the closest racing in the fleet. No clear favorites emerge in this fleet, though John Shulze's Santa Cruz 50 Horizion has historically done extremely well in Transpac and most other west coast offshore races. Bill Guilfoyle's Santa Cruz 52 Prevail, another class stalwart, has been going well as of late, and it's from this good ship that i'll be sailing and logging onboard reports during the race. Michael Moradzadeh's SC 50 Oaxaca is hoping to rely on girl power to help power them to a division win, acquiring the talents of both Liz Bayliss and Volvo Ocean Race skipper Dee Caffari. By our math, something like 5 to 6 boats entered in this division could realistically win. Blink and you'll miss it.
Divisions 5-7 encompass a wide range of handicap divisions including mostly racer/ cruisers with the odd Hobie 33 or J/105 thrown in the mix. There's also a 1-boat cruising multihull division and a 5-boat performance multihull division which includes the four trimarans listed above plus John Gallagher's quick Gunboat 62 Chim Chim
With quality battles throughout the fleet from top top bottom, Transpac 2017 is shaping up to be epic. Start dates are July 3, 5, 6. Head to https://2017.transpacyc.com for more info, and stay tuned to SA's front page throughout July for all the dope on this biennial classic.
-Aloha from Ronnie
Gorgeous finish photos from 2015, props to the one and only Lauren Easley
July 4th, 2017 by admin
It's a little mindboggling to realize that it's been 35 years since the beginning of the "Asymmetric Era."  The fact that people are still sailing the most beastly of all symmetric pole dinghies is even more amazing. Photo from Hawaiian Anarchist "Eric!" in the thread he started to get some help sailing her.
March 28th, 2016 by admin
A pair of big storms is set to drench the US, but without a major hit in some time, you can smell most of America (aside from the Weather Channel and Home Depot) getting complacent.  Are we so programmed to quickly forget the current tragedy that we're doomed to repeat it?  A look at New Orleans' rebuilt levee system says 'probably.'
Meanwhile, Florida Governor (and Midnight Oil frontman impersonator) Rick Scott declared an emergency today for the already homicidal Tropical Storm Erika, though she's likely to do little more than make a muddy state muddier.  Erika updates from the Anarchists are in the forums here.
And on the Left Coast, Hurricane Ignacio is teeing up on the Hawaiian Islands, where ancient crumbling stormwater systems, infected sewage discharges, and widespread beach closures threaten to turn American indignation at the Brazilian Olympic venue pollution into a discussion of first-world hypocrisy.  Monitor Ignacio over here.
August 28th, 2015 by admin
Fresh off the obliteration of a decade-old Transpac record, Ryan Breymaier sat down with Mr. Clean for another of their excellent Skype chats about life, liberty, and the pursuit of speed.  Listen to the details of their incredible 3 day run from California to Hawaii, get the goss on their even crazier trip ahead – basically, a race back to Europe via the Panama Canal to get a few more records in before the Lending Club goes to her new owner. And perhaps most interestingly, listen to Ryan's take on the major monohull records, and what kind of boat will be necessary for mono records to really start falling.
One of the brightest stars for the future of American sailing, and we're lucky to get another great 36 minutes from him, with big thanks to Petey Crawford/Penalty Box Productions for the late night editing assist.
July 24th, 2015 by admin
Mothie, sportboat, skiff sailor, and occasional softball shortstop Eric Aakhus gets us up to speed on some of the shenanigans happening over in the 50th State.  And while you might not be a classic rock or AC/DC fan, we guarantee you that you'll like this version of the title song that inspired Eric and his team last weekend.
Lahaina Yacht Club wasn't prepared for the thunderstorm that pummeled the West Coast of Maui this Labor Day weekend.  And no – we aren't talking about yet another hyperbolic hurricane warning.  We're talking about the Oahu Thundercocks!
Many are aware of the downwind race from Lahaina to Waikiki that takes place every Labor Day, but the real battle goes down on the Lahaina softball field between teams from Oahu and Maui. For the last 17 years this game has been dominated by the Maui team, with Oahu taking the prize only once during what was deemed to be a fluke year. 2014 wouldn't go down the same way.
This year, Oahu came prepared. Armed with 1,000 Thundercock temp tattoos, a battle flag made by the Honolulu Ullman Sails loft, and a mercilessly rowdy crowd, the team saw Lahaina transformed into a scene from Dante's Peak by Monday morning.   The T-Cock entourage spent the days leading up to the game tramp-stamping the town with their logo – everyone from bartenders to the weathered local cougars with expired bolt-ons sported tattoos in places that would make any sailor blush.
Come game time, the Cocks came out swinging and lit up the scoreboard in the first inning. With a visiting crowd that humiliated the local team's fans, Oahu never looked back, going on to win by a score of 56-3 (or something similarly embarrassing, though no one can apparently remember the final score). Immediately after the game the Cocks celebrated in historic fashion, exchanging contact info with local law enforcement and getting cut off from the Lahaina YC bar by 5pm – something that would never have happened at Kaneohe Yacht Club.
Sometime after dark the party moved to Maui Atomic Tattoo where a couple Thundercocks had to pony up a piece of their soul. Lets just say for these two players, sitting on the rail during a 12 hour race the next day would be a burning reminder of the glory.
In past years the Thundercocks have been known to show up to the field still firing from the night before, full of excuses including exhaustion, lack of practice, and biased local umpires. But this year the difference came in the form of a new Head Coach, Bill Riddle. Bill is a multiple time Softball World Series champion from the 70's (apparently this is a thing), and a local KYC legend who whipped our boys into winning shape (think Patches O'Houlihan with a sailboat).  When asked what was different about the team on that particular Sunday morning Riddle replied, "We're not that drunk…"
*Let it be known that the Lahaina YC team is not built from sailors, but adult softball league Cat 3 from a nearby Maui league. The winning Thundercocks are just a bunch of degenerate yachties (and definite Cat 1 softball players) from Kaneohe YC.  As any local (or America's Cup competitor -ed] will tell you, ya can't spell 'Dynasty' without 'Nasty'!
September 4th, 2014 by admin
Hurricane Iselle's forecast strength has increased over the past 12 hours to over 100 knots currently, and she looks set to roll straight through the Hawaiian islands in the middle of the week.  Now's the time to pull boats from the water and batten down everything, though it might not be as bad as it looks.  We go to SA Hurricanologist "DryArmour" for the morning update (and stay on the "Boiling Pacific" thread for the latest):
Overnight Iselle has improved her structure and cloud tops have cooled.  There is still some debate over whether Iselle has formed into an annular hurricane but in my mind there really isn't much to debate. The shape is symmetrical, there is no real banding outside of the tightly wrapped core of cold cloud tops and dry air does not appear to be making much of a difference to this storm as it pushes through the dry environment surrounding it.
The new shift to the north in the model consensus is good news for Hawaii as there is  a finger of significantly cooler water in the path as the system approaches the Big Island of Hawaii. A forecast of increased shear should also impact the tenacity of this hurricane but as mentioned before, annular storms can often defy the models and maintain a robust internal structure despite environmental conditions that might normal cause weakening or dramatic weakening on a traditional hurricane. My fingers are crossed that once again Pele is watching over the islands and her people and will cause the system to substantially unwind before going over the islands later this week.
-DryArmour
August 4th, 2014 by admin
If you thought watching a yacht racing tracker was fun, just wait til you get your hands on this shit!  It's the Smartmine Whale Watching Map, and it tracks a dozen species of whales around the Hawaiian islands all the time.  With wind and current streamlines and three different views of the ocean, it's got plenty to play with for those of you cruising the islands or just cruising your desk.
Check it out here, and learn more about these awesome animals at Cascadia, the supplier of the map's whale data.  Thanks to Giz for the heads up.
May 8th, 2014 by admin
Some of us were extremely excited at the possibility for a Hawaii America's Cup.  Hot bodies, perfect weather, great weed, and locals that hate everyone – it would have been the ultimate 'fuck you' to the mainstream spectator so desperately sought out during AC34 and like San Francisco, the distance helps keep those pesky Euro-riffraff out.
Unfortunately for lovers of the Rainbow State, a strangely worded piece with a missing story link from the Maui News appears to put 'paid' to the idea, with blogger Robert Collias telling the tale of GGYC bigwig Norbert "The Mechanic" Bajurin and his speaking junket in Hawaii last week.  Bajurin confirmed to at least one Hawaiian journalist that, between the lack of infrastructure and lack of a protected sailing venue, it wasn't going to happen, and that 'Perhaps, we'll have a training thing."
The smart money says San Francisco's leaders need to hold the line against GGYC's now-familiar venue-shopping charade.  No one on the team wants to move again, especially not to light air San Diego or Chicago.  What does Grant Dalton think?  Get those answers in this great interview with RadioTalkNZ's Tony Veitch.
The Protocol Watch continues…join in here.
May 5th, 2014 by admin
Ronnie Simpson continues with the bad luck, as well as with the perseverance that keeps seeing him through.  Another great story from our West Coast (and now world) wanderer.  As always, you can follow Ronnie's adventures on his page at Open Blue Horizon, and we encourage everyone who's enjoyed Ronnie's great writing and enthusiasm for the sport over the past few years to send him a few shekels via Paypal – just go here and type in [email protected] as the recipient.  Dig deep, please!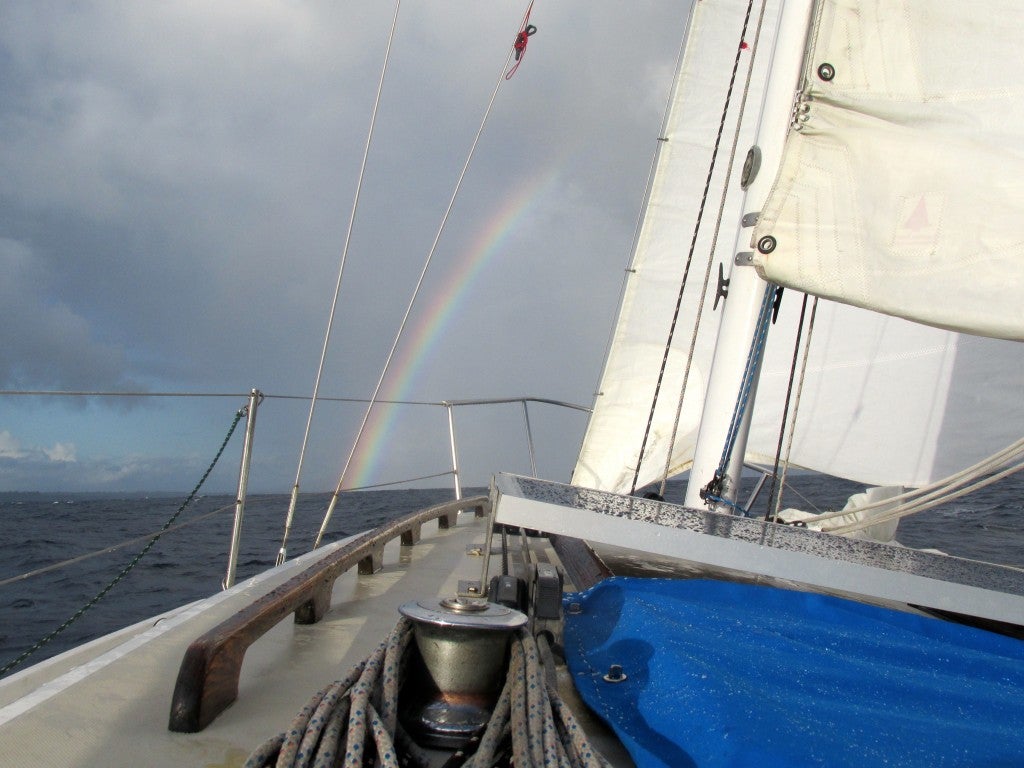 It's the thing that every sailor who sails engineless fears most; dismasting or other major problem with a lee shore, big swell running and breeze-on conditions. Unfortunately, that's exactly the situation that I found myself in yesterday off of Maui's east side while sailing my cruising boat; the Cal 2-27 MONGO.
While en route from the West coast to Australia, MONGO and I had just completed a picture-perfect early season passage from San Diego to Hilo, Hawai'i and were now cruising downwind through the islands looking for surf. After three days in Hilo, MONGO and I charged the Alenuihaha Channel from Hawai'i to Maui; known as the most treacherous in the Hawaiian Island chain. The little boat reveled in the big breeze and big waves of Hawai'i, averaging 7 knots VMG for hours, deep-reefed and all. After a brief 22-hour passage, MONGO sailed into Kahului Harbor and dropped a hook.
A strong Pacific high and stalled upper atmosphere low threatened the islands with reinforced trade winds, heavy rain and a lot of swell. Anchored in Kahului, I sought the relative safety of a mooring ball on the leeward side of the island (in Lahaina) as opposed to anchoring on the windward side with a beach park serving as a lee shore. I would sail to Lahaina in the morning, hoping to hit the Pailolo Channel in between Maui and Moloka'i in the morning before the trades built to their daily max.
Up came the anchor and within minutes, MONGO was clearing Kahului's breakwater and heading north up the coast of Maui under single-reefed main. Taking the scenic route, I stayed relatively close in to shore, watching the waves break on the rocky beach, sending white spray high into the air. Having become an avid surfer in the past two years, I am fascinated by viewing different bits of swell-exposed coastline. Engaging my self-steering wind vane "Francois" (named after VG winner Francois Gabart), I made a cup of coffee and then came back on deck to enjoy my private boat tour of Maui and another tropical morning.
With a coffee in one hand and the tiller in the other, I watched on in horror as the mast broke below the spreaders and immediately came crashing down. Why it occurred, I do not know, but all indicators lead to the starboard lower shroud's toggle failing on my 4-month old standing rigging. The entire dismasting happened in the blink of an eye and was as unexpected as it was brief. Having now put the boat through its paces for 4,000 miles of coastal and offshore cruising, 2 haul-outs and a thorough re-fit that included new standing rigging, new rudder and all of the safety gear amongst many others boat bits, I felt that MONGO was battle tested, well maintained and imminently sea worthy. Why did the mast fail?… I was in disbelief at what had happened.
Close in to a lee shore with pounding surf and a steady 18-20 knot onshore trade wind blowing, I had no time to ponder what had failed or why. It simply had. I looked at the rig, saw that we weren't holed and called "mayday" on VHF 16. I then grabbed the hand held VHF and immediately ran to the bow to begin trying to anchor my engineless, dismasted boat. While anchoring, I continued to confer with the Coast Guard on the radio. I dropped the rig in about 80-90 feet of water, unsuccessfully attempted to anchor in 62 feet of water and finally got the hook down in 50 feet of water. Now to gather the rig back on board.
With 9-11 foot pounding surf rolling under the boat and one wave breaking over the bow, MONGO rode the seas like a bucking bronco making the task of recovering the rig exponentially harder, while also inducing a serious rig-on-hull thrashing. I used a couple of halyards led to winches to begin winching the rig back up next to the boat. With the spar full of water and the main sail impeding my efforts, I struggled to get the rig back on board. An hour had passed since the dismasting. My anchor had held, the Coast Guard was on the scene and the rig was secured to the side of the boat. Had I had more time, perhaps another hour, I believe I could have gotten the rig back on board. But I didn't. The Coast Guard was circling a disabled sailboat that was anchored just outside of big surf. They were ready to get the rescue under way.
With the rig secured to the side of the boat, the Coasties threw over a heaving line with two tow lines on its end. I caught the line and rigged up for tow. The USCG wanted me to cut my anchor rode, but I pleaded for them to help me retrieve my anchor. I was just dismasted; losing my primary ground tackle seemed unnecessary. The Coast Guard indulged me and powered forward so that I could retrieve the anchor and chain. We towed east to get into deeper water and then south towards the harbor. Halfway back to Kahului Harbor, a wave broke into the side of the boat and began ripping the mast away. The bottom section, which was pointed at the sky, swung precariously around the cockpit, missing my head by inches and ripping the front of the stern pulpit off. The top section of the mast began ripping stanchions out of the deck as the bottom section began to threaten not only myself, but my wind vane Francois as well. The port side of the boat was oil-canning and flexing horribly and there were already two holes in the boat by the hull-deck joint. I feared being holed worse, so I grabbed a rigging knife, cut the halyards and jettisoned the entire rig and the main sail. The man had been kicked while he was down.
With no rig over the side, we could tow at 5 knots, the helm was neutral and MONGO felt like a boat again. I cracked a luke warm Coors Light. It was the first thing to go right all morning. Back into Kahului Harbor, we towed up to the commercial wharf next to the harbor's lone Pilot Boat and tied up. I was boarded by the Coasties, cleared and then we moved the boat to its own side-tie. My boat had been dismasted, but all's well that ends well and we were back in port safely with minimal injury to myself, and despite MONGO getting pretty trashed, she's salvageable. This hectic morning was finally starting to normalize. I began cleaning up the boat in an effort to restore order. An hour and a half later, an 8.2 earthquake hit Chile. Tsunami alerts were issued and the port began buzzing with activity. I was informed that the harbor closed at 6 pm and that if the tsunami posed a real threat, the area would be evacuated. The man was getting kicked again while he was down!
Side-tied to the leeward side of the wharf, I inflated my kayak (my dinghy) and rowed two anchors, chain and rode out to leeward about 40 feet. I then tied two old halyards to massive tires that acted as fenders on the wharf. I eased off on the halyards and took up slack on the anchor rode. MONGO was now secured at four corners some twelve feet to leeward of the wharf and 20 feet to windward of two anchors. Theoretically, she could rise up and down ten feet if need be. Whether or not she would push her keel through the hull remained uncertain. "Be brave, MONGO", I whispered to the boat as I left. I took one last look and then pushed off with my skate board headed for the nearest bus stop.
I grabbed a bus and went to Lahaina; in part to get away from the boat, in part to head for the hills in light of a potential tsunami and in part to begin sorting out the logistics of what will come next. The tsunami never materialized in Hawai'i, much to my relief. A million thoughts ran through my mind as I tried to evaluate the situation and come up with a plan to move forward. I thought of the one thing that I didn't have on board that I needed; a hacksaw. I realized I didn't have one on board halfway between Cali and Hawai'i and added it to my list of things to buy in Honolulu. Not having this saw nearly caused me to lose the boat as the mast was pinned to the port side at a precarious angle and threatened to be holed more severely than she was, as I couldn't remove the port lower shroud. I eventually managed to break the turnbuckle, freeing the rig.
I thought of the irony of sailing 4,000 miles (originating in Tacoma, WA) on my boat that I purchased for $4,000 only to lose the rig in 18 knots of breeze with only a reefed main up, less than a mile from land. I also thought of the irony that my friend Ruben and I left Kahului in 2012 and rescued the abandoned Bela Bartok and sailed her to Honolulu, only to be rescued myself two years later and towed into the very same harbor we had left from; Kahului Harbor, Maui. I thought of the fact that I had lost the rig on April Fool's Day. Murphy was clearly a sailor although his sense of humor fell on deaf ears this time.
After much thought and reflection, I realize that MONGO and I were dealt a serious blow and my journey to Australia has run into its first major roadblock. Rather than throwing in the towel and abandoning the voyage, my resolve has been solidified. I will continue to sail my boat to more land falls, both near and far.
First things first, I will source an outboard motor bracket and bolt on a borrowed 4-horse outboard from the Alameda-based Valiant 32 Horizon. I then plan to head to Home Depot to purchase wood, screws and glue to build a temporary box-section mast and then set sail for Honolulu next week. Once in Honolulu, I will re-build. I will re-rig and continue on my journey, stronger than before.  Hopefully you'll follow along, and of course if you want to send any mail, I'd love to hear from you at [email protected]
I also want to extend my sincerest gratitude to the US Coast Guard out of Ma'alea Bay, Maui, the Kahului harbor masters, Zach Streitz of s/v Horizon, my friend Leah whose couch I crashed on last night, and everyone else that has sent me messages of support. Let the next phase of this journey begin.
Aloha and mahalo,
Ronnie Simpson, s/v MONGO
April 3rd, 2014 by admin
Assisted by some tenacious questioning from TV3 (NZ) host Paul Henry, Dean Barker quite clearly lays much of the blame for ETNZ's America's Cup loss right at the feet of Grant Dalton, and not just as the guy with the reins.  Barker blames Dalton for allowing Oracle to take the famous 'lay day' and says Winnie MacFarlane was a far better grinder, and goes even deeper – though they did not get into the single biggest reason they lost the Cup – ETNZ's acceptance of the 'post-Bart' safety recommendations that allowed a ten-knot wind speed to be simply too low to allow the boats to finish a race under the time limit.  This one is worth watching, and tomorrow we'll have part two of this excellent interview.  Click the pic or go here for the full ten-minute chat. The America's Cup Anarchy thread is already blowing up…add your comment here.
Hawaii 3-5
In other AC news, we hear that Hawaii is actually getting real consideration for the next America's Cup, and for the first time, we're not discounting it as yet another negotiation ploy by Ehman and Co. to get a better deal out of San Francisco – especially with SF recently announcing that the loss to the City from providing services to the Cup is more than double that initially thought.   Pros?  You're virtually guaranteed a massive crowd thanks to easy flights from Australia and New Zealand, it's never cold and wet and foggy and nasty, you have a local government that desperately needs the tourism dollars, and Larry already owns an island there.  Cons:  American and European fans will be in the firm minority…but thanks to Youtube and Stan Honey and the fact that Louis Vuitton never wants to be seen in the same zip code as Red Bull anyway, no one really cares…do they?
February 12th, 2014 by admin