Posts Tagged 'guillermo altadill'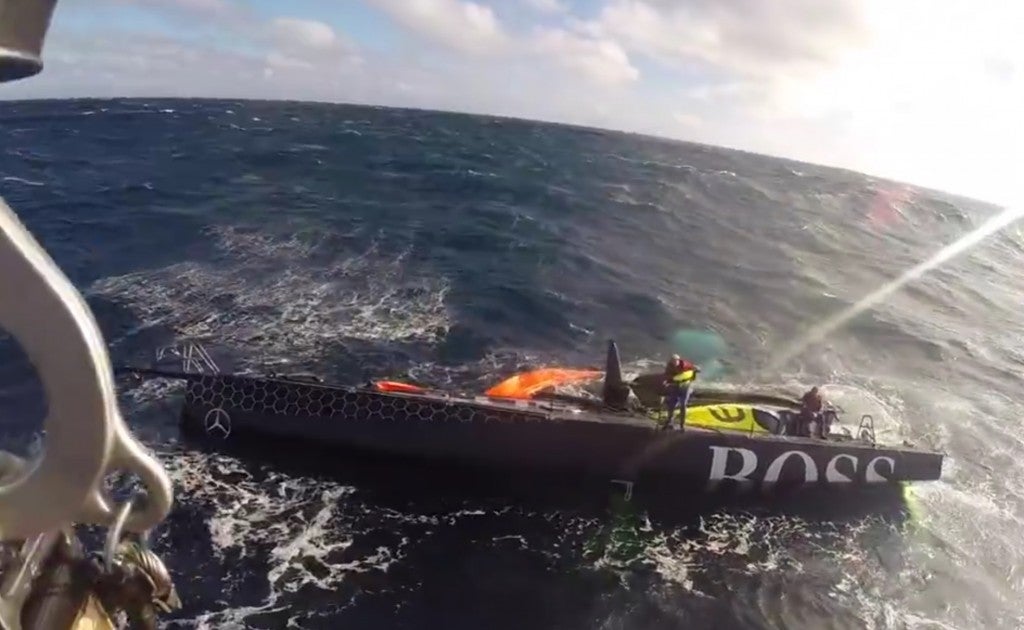 Sinking, dismasted – basically, fucked!  That's the Hugo Boss as shot by the Spanish Salvamento Maritimo crew who winched the IMOCA duo to safety.  First look at the boat is a screenshot from the video – complete with random rockin' soundtrack – of the rescue, shot from the sky.
Jump in the discussion thread here.
October 31st, 2015 by admin
UPDATE: After unsuccessfully attempting a repair for several hours at sea, Alex Thomson and Guillermo Altadill onboard HUGO BOSS have made the difficult decision to proceed to Vigo. This partial repair will not allow the duo to cross the Atlantic serenely.The technical team is currently en route to Vigo, Spain, to join the crew and try to consolidate repairs.More information tomorrow.
With two of the newest VPLP/Verdier foiling 60s already out of the TJV, it comes as no surprise that a third is now on the ropes.  With just a few days of sailing under her keel before the start of the race, Alex Thomson's Hugo Boss is the newest of all of 'em all, according to Facebook, Alex and Guillermo Altadill will spend the next few hours hove to in the North Atlantic as they dig into unspecified technical issues and try to save their race.  On one hand, the attrition rate of the new boats is a big failure for the teams; on the other hand, reliability is never great at the extreme edges of any development box…especially on the first real outing as they build up to the big dance next year.
Our Senior Editor sat down with Thomson just before the Boss left for France earlier this month to chat about everything Open 60, with questions mostly provided by you Anarchists.  It's another great chat between Clean and AT, and there's plenty to listen to as you wait to see if they get back in the race.  You can download the full video from Vimeo here to play later. Track the TJV fleet here.
October 28th, 2015 by admin