Posts Tagged 'germany'
The fastest Olympic boats have joined forces for their European Championship (and beyond, we expect), and with our own Mr. Clean moonlighting as their broadcast host, there's bound to be some interesting stuff coming from the site of the 1972 Olympics in Kiel.  The first three days feature a morning show and some social media content, while full tracking, live video with commentary, and the rest of the bells and whistles will come in on Wednesday for the important half of the regatta.
The 49er or Nacra 17 Facebook Pages are probably the best place to keep track of it all.
July 29th, 2017 by admin
Big Pimpin'
The Star Sailors League continues on its merry way 180 sailors, 90 teams, 100,000 dollars on the riverfront in Hamburg, Germany.  Live, big money, knockout format monohull sailing may be right up your alley.  Check it out all week, right here on the front page.  Full schedule here.
May 3rd, 2016 by admin
One more stop for your Editor at the Dusseldorf boat show today. Here's a shot the perpetually sweet-looking Esse 7.50.
January 29th, 2016 by admin
Well, against all odds, your Ed made it to the Düsseldorf boat show; not where you'd expect his GF Raina to learn sailing for the first time ever. It was pretty damned fun to watch an indoor sailing lesson, but the main show starts tomorrow.
We are astounded by the size of this show, which is so much bigger than anything comparable in this hemisphere that is easily amazes.  There are a number of current SA advertisers here and a bunch who are soon to be, but the coolest part of the show so far is the huge number of boats and brands  that we've never even seen before.
We don't know whether European yachting is as healthy as it appears to be, but things seem like they're humming along just fine from here.  We'll have a more in-depth look a bit later during the show, so stay tuned!
January 24th, 2016 by admin
A crazy pic showing the aftermath of a horrible collision with an unknown ship.  The full story is in the 2003 accident report, and as far as we know, the killer ship has never been found.  Got more info?  Check the thread.
December 14th, 2015 by admin
While there's still plenty of International Star racing around the globe, the end of the Olympic career for the venerable keelboat means plenty of extra hulls laying about, and up in Hamburg, Germany, they came up with a great re-use for a pretty hull with no mast; it's now a launch for the local club.  Pics courtesy of Norddeutscher Regatta Verein Hamburg (NRV).  Here's an even prettier pic from above.
August 22nd, 2015 by admin
Despite plenty of organizational touting of 'a new world record' fleet of nearly 200 F-18s for this week's Kiel Worlds, the actual fleet fell far short, but you've gotta love the strength of a fleet that's disappointed by 'just' 167 entries.
Meanwhile, it's a real battle royale at the front between 7 different nations, but after 6 races, it's the Spanish-flagged father/son team of Mitch and Ruben Booth leading reigning World Champ Gunnar Larsen on the tiebreak.  The Booths are on a fresh-from-the-factory Wildcat; if you're looking for a fast fleet that allows out-of-the-box boats and decade-old designs to race competitively, this is the one.
There's live tracking here, decent but low-res photos over on the event Facebook page, and some truly awful videos here.  Find our title inspiration over here, and if you have daddy issues, bring a tissue.
July 16th, 2015 by admin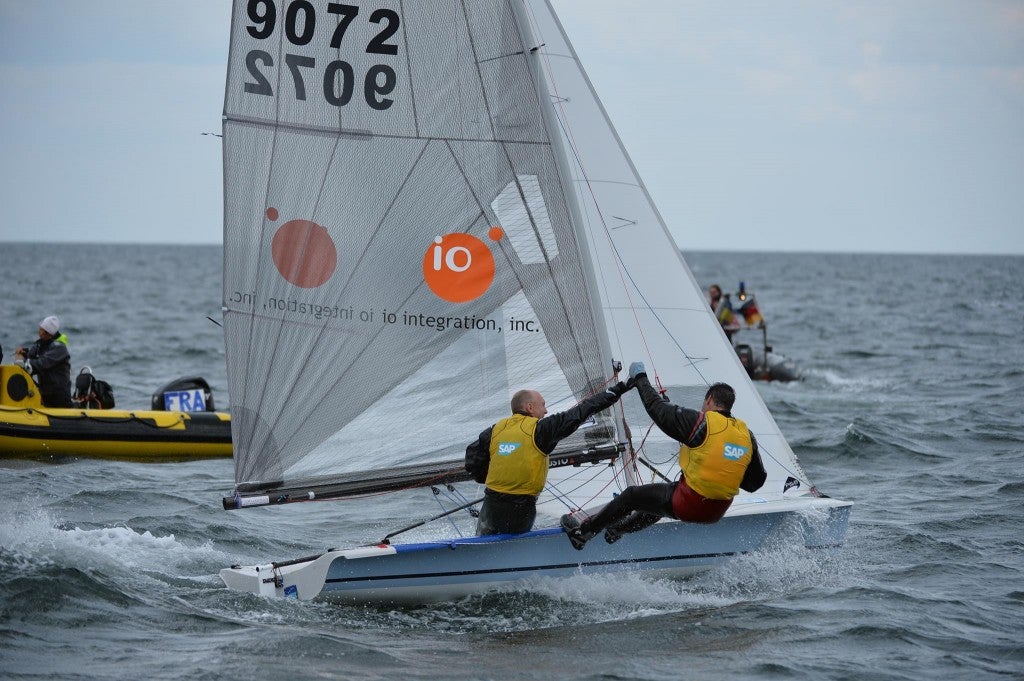 No Germans made it to the podium in their home 5O5 Worlds at Kiel this week, with 5-time world champ Dr. Wolfgang Hunger stuck in fourth.  Longtime SA'er Mike Holt has been close to winning a 5O5 Worlds for years, and a masterful performance with crew Rob Woelfel included taking the final bullet this morning to take their first World Championship by just two points.  Nice shot at the finish from Christophe Favreau, with a big gallery of pics here, and lots of video and replays at the event site.  UPDATE/EDIT:  The good Doctor Wolfgang has indeed squeaked into a final podium spot with a 3rd in the final race, making much of our report above wrong.  Our apologies for the false info; that's what happens when your communications staff thinks the whole world gets their news from Facebook and forgets to update the event site for half a day…
August 22nd, 2014 by admin