Posts Tagged 'GC32'
In the latest example of how not to place a photo RIB on a race course, a driver on Lake Garda carrying Italian photographer Carlo Borlenghi was nearly sliced in half by Monaco's Prince Casiraghi at the helm of a GC32 yesterday during Foiling Week racing.  This photo thanks to Phantom Of The Oscar. UPDATE: Boot Dusseldorf has reposted the crash video.  Sit down and have a look.
Foiling event organizers, take note: We've now seen fairly experienced folks like Dave Reed (Sailing World wrecks the G4), Shirley Robertson (CNN Mainsail wrecks Bora's moth), and a VOR volunteer RIB driver in Lorient (amputated by the Spindrift 2) all putting themselves in dangerous positions leading to massive damage or injuries.  Our suggestion is a new rule: All support boat drivers at ultra-high speed events MUST BE TRAINED in the specific techniques and dangers of the boats they're covering or they cannot work the event.  If this policy is not adopted, it'll only be so long before the first death by foils. To point out the obvious, and despite what Sailing World and Robertson may have claimed, when a boat under power is in a wreck with a sailboat, it is the motorboat's fault.  Get educated.
July 9th, 2016 by admin
With the M32/World Match Tour, AC World Series, Extreme Sailing Series, and what seems to be an unending cascade of new and old ultraperformance racing to do and watch, you'd be forgiven for overlooking the owner/driver foiling GC32 series.  After all, it was the promising GC that looked to be taking over the world a few years ago until engineering and quality control issues nearly killed off the Class.
Rather than try to compete with the marketing and media budget of some of the other classes – especially with the blemishes on the GC's safety record, the Class has taken a more subtle approach; keep quiet so billionaire owners don't get cold feet, provide good racing in windy venues, and steal away RC44, Melges and America's Cup skippers looking to sail a half-million dollar toy that can hit 40 knots.  They've also shitcanned whoever was hacking their way through the GC video editing, and the boys and girls over at Fraglia della Vela Riva did a great job with this edit from the last days of May.
More GC Racing info over here, and you can see these foilers slicing through the water off Malcesine next week during The Foiling Week.
June 29th, 2016 by admin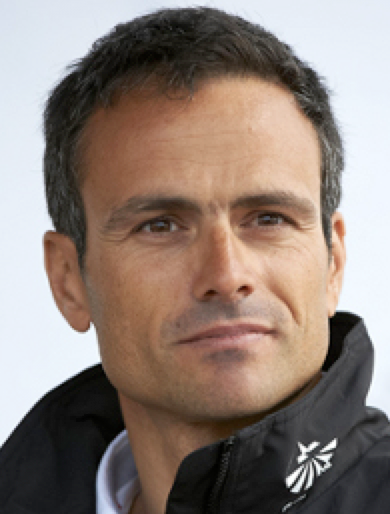 AC Breaking
One of the things you try not to think too much about when you're sailing a GC32 cat is the foils.  It's the same way surfers in Western Australia or South Africa avoid thinking about the 5 meter-sharks swimming beneath them; and a modern cat's foils are at least as dangerous as a Great White.  And now, they've taken first blood out of one of the world's top sailors in Quiberon, France.
Team France/Groupama skipper Franck Cammas fell overboard from his GC32 today during a training session for prospective Team France AC sailors, and according to Breton periodical Ouest France, his ankle was partially severed by the knife-like rudder as the boat sailed past.
Whether you're sailing a GC32, AC45/50, Flying Phantom, Nacra FCS – it doesn't matter.  All the helmets, spare air, and kevlar spine supports in the world won't save you from several meters of carbon-fiber blade cutting off your own appendages – or worse.  If it can happen to one of the quickest and most dexterous sailors in history, no one is really safe, and with the Extreme Sailing Series moving to the GC32 for 2016, organizers are going to have to think long and hard about just how many severed limbs they can tolerate.  Or maybe...it's not a problem after all!
We'll have more on this breaking story as soon as we have it, and we send our best wishes for a speedy recovery to the one of the sport's most influential sailors and a longtime friend to SA and to sailing everywhere. Head over to the Team France thread for the latest.
November 30th, 2015 by admin
Two of the most impressive one-designs of the past decade, head to head in big breeze on the Cote D'Azur.  Which is quicker? Watch and learn (and chat here).
September 30th, 2015 by admin
A broken hand for OMAN skipper Leigh MacMillan saved the 5-boat Cowes GC32 event from the same kind of runaway win the British Tornado vet has been known for in the Extreme Series over the past few years.  Team BAR's Paul Campbell James subbed in for LeighMac to save the second just ahead of Ernesto Bertarelli on Alinghi, but longtime Swiss Starboater (and GC32 Class Prez) Flavio Marazzi jumped ahead for his first big win in the class with Armin Strom.  There's some low-budget video and news on the web, but the Sander Van Der Borch photos are top quality as always, as you can see from the shot above.  More of Sander's work is coming up from our exclusive coverage of the J/70 Worlds next week in La Rochelle, France.
June 27th, 2015 by admin
If we're talking about foilers vs. floaters and record-breaker monohulls vs. the rest of the world, we must be talking about Saint Barth, and outright World Sailing Speed Record holder and longtime SA'er Paul "Larso" Larsen checks in from the ORMA-60 inspired racer/cruiser Paradox at Les Voiles.  Most of the chatter from St. Barths can be found here.
It was an interesting day with a wide range of conditions. Big, heavy rain squalls coming over the island on the preceding night with big calmish periods afterwards.  We put the Code Zero on the boat in the morning in prep. Another big squall washed over the fleet during the start sequences for the first classes (we were last off after the big Maxis).
Loick Peyron sailed on Phaedo today, but with big wind shifts and start line corrections, her timed run didn't really work out. They haven't really appreciated our "high mode" off the line previously so we considered that with Loick potentially changing their gentle start strategy (and with their handicap and speed they can afford to be gentle), I was worried they might try and get under us and squeeze us out at the start. Loick helmed our first start masterfully the other day… so full respect ( he's done some other s**t too, apparently).  Anyway, they were miles late.
We started mid line on a fairly even line and were happy with clean air and options. The chartered GB62 Elvis [world champ owner Jason Carroll is racing his Viper 640 in Charleston -ed] made a good start to leeward of us and we had the GC32 and G4 back and to windward. Phaedo tacked off once across the line and took a long beat out to sea (East) whilst we went in towards the island shore. I think we did pretty well to ride through the lulls and gusts. We sailed over the GC and the G4…which are just not that fast upwind yet. I fully respect the challenges of Mk1 development and I'm really enjoying watching this one done to this high level. It seems like it's being sailed very well. Putting it around a course not of your choosing really highlights the reality of the compromises though. The fact is, your dragging a lot of excess up the course with you. We had full main hull-flying conditions up the shore from time to time (not so easy on Paradox i.e. 19-20 knots) which were followed by 10 knot lumpy stuff trying to lay the top of the island. We weren't that far behind Phaedo when they hit the layline but they just tear chunks out of us when it gets lighter. They are two tons lighter with much more sail area and are only getting better and better with the tools.  Things even up a little more as it gets stronger (handicap wise at least).
We had managed to also put good distance between us and the GC (which was sailing under full rig today). I think Elvis may have been ahead of the G4 on this part of the race. The next short reach had us debating whether to hoist the zero or stay with the solent and peel straight to the big gennaker at the corner. We chose the latter but hated the short period sailing undercanvassed. We chased down "Lucky" on the next downwind, but it took a while in a light spot.  The GC joined us on the leg, promptly jumping onto foils and sailing away from us faster and deeper on a long starboard gybe. We sailed against two of the quick foilers in last years RTIsland race and we know how quick they can be! We were sailing pretty clean but they gracefully sailed through. We couldn't even see who was fourth.
On the following beat we were still in touch with the GC, past Lucky and chasing Lupa. We got to watch the G4 heading downwind. It looked like hard work in the marginal foiling conditions (i.e. sailing whatever angles it takes and trying everything to get on the foils). It wasn't a good day for a heavy foiling boat!  We rounded the next mark still behind the GC and cracked off onto a tight reach which turned into more of a beam reach. The wind had finally returned so that we had full foil down and could sit around 20-23 knots. We caught up and passed the GC pretty quickly… but it was obvious they had some problem on port tack. They should have been smoking us, but were still lowriding.  Anyway… as they say in the classics… "stiff s**t":)
So we pushed on, rounded the island further and went to the big gennaker/staysail combo. The GC came around the corner, gybed onto starboard and sure enough… popped onto the foils and took off again. We could see Bella Mente parked up in the distance and knew the race was far from over. There was one mark to round before the 3/4 mile or so beat up to the line. It all looked very light and random in there so we stood offshore.
The GC had overtaken us again and the big Swan Odin had somehow managed to slide down the inside gifted by it's own personal breeze. We stayed away from the mass of boats as we sailed from one swirl of wind and velocity header to the next. Somehow we rounded the mark just ahead of most of them and then fought our way upwind finally using the 0 in anything from 5-15 knots of wind. After a long period in those super light and fickle conditions we knew the handicap was a lottery but were very happy with the way we sailed through the bunch to claim our own little victory. The GC was a wounded bird so no big conclusions can be drawn there. Phaedo is in another league and I have no idea what they experienced at the finish. Elvis sailed very well and the G4 was a long way back. The G4 really is an interesting boat… so was the Hobie/Ketterman tri-foiler. I'm glad both of them exist. So basically, there was a lot of randomness on todays course. It's a great course and event and a very interesting collection of boats. I'm very much enjoying sailing on Paradox. She's a great ride.
-Paul
April 18th, 2015 by admin
Last week we asked our friends Jacques Taglang and Francois Chevalier if they could put together one of their awesome line drawings comparing the various AC multihulls, and they did us one better – here's a look at the 'evolution' of the fastest inshore racing boats in existence; the BMW/Oracle 90, AC72, stillboard AC62, AC45, and GC32, simply to compare them with a more mortal boat (that still goes 38 knots and only costs $300k or so).
We'll have an update on Russell Coutts' Flying Circus tomorrow; use the time to troll Stingray in AC Anarchy.  For the more cultured, read up on Jacques and Francois' awesome project "The Impressionists and Yachting On The Seine" here.
March 29th, 2015 by admin
Photojourno Jen Edney got her flight wings today on a trip out to the course for Quantum Key West Race Week, and got this beautifully playful shot of the Team Argo boys, who lead Flavio Marazzi by just a point after two races.  GC32s are doing a little reporting over here.
January 20th, 2015 by admin
That's longtime SA'er Flip Werheim hanging off the side of Alex Jackson's chartered GC32 foiler yesterday, one of four fast cats down here at the end of the world for Key West Race Week.  Speedboat and Melges 32 Leenabarca vet Jackson is already flying around the course after just three days of practice; we've heard he nailed a full-foiling gybe yesterday before nearly putting it in the piss in the pic on the left.
It's yet another down year (that's 12 in a row) for what was once America's premier regatta, with just 110 boats registered (though the contorted scratch sheet goes to great pains to hide the overall numbers) and only one sizable class at all; the ubiquitous J/70. Keep an eye on SA Facebook for some on-the-water reports between races from SA's Mr. Clean as he and the B-Squared team endeavor to win the party (and maybe the Corinthian class) at what is quite possibly the final KWRW ever.  Photo thanks to the Leenabarca boys and a few rum drinks worth of editing…
January 19th, 2015 by admin
As the days grow short, foiling Great Cup 32 sailors grow impatient, and last weekend, both the Hungarian team and the shiny new American team took advantage of autumn breeze to go record-hunting…
On Friday, Hungarian team RSM DTM (owned by Zsolt Kalocsai) smashed the 'cross Lake Balaton' record – also known as the Hungarian Sea – previously held by the Pauger P50 double masted cat.  The GC32 took less than two hours to complete the 49 NM course, and their time of 1h57m shaves almost a half hour, or more than 25% of the time off the long-standing record. Sure it was cold, but nothing warms like victory…and rum.   5000 miles away, the first-ever US-based GC32 Argo also had a strong first weekend despite landing a week earlier in Newport straight from the builder in Dubai.  As a Moth racer, two-boat Melges 32 campaigner, past M32 World Champ, and high-performance monohull guy, new owner Jason Caroll finally came over to the dark side with the GC32, and he didn't waste any time.  Their first assault was the Around Jamestown Island Record and not because the season victor takes home his weight in rum.  Well, not entirely.  Thanks to its location just a few miles from the yachting wonders of Newport this record gets constantly attacked by some of the world's best sailors, so it makes sense that it was a major goal for the Newport-based Argo team.  And attack they did: On just their third day sailing the boat, Argo notched the first sub-1 hour time ever recorded for the busy record.
With 16-22 knots from the West, Argo hit a top speed of over 37 knots enroute to a new record of 58 minutes and change for the AJIR, and here is the report from Argo program manager Chad Corning.
All it took was a two-day test session in La Baule, France last month for Jason to press 'GO' on a GC 32 of his own.  These boats are truly next-level stuff, with balanced power, adjustability and top end speeds that defy belief.  Our immediate goal would be the around Jamestown Island record which had been set in perfect conditions earlier this year by the Marstrom 32 Bronco.  
Once all the bits had arrived in Newport from around the globe, we had just four days to build the boat with Jim, Mischa, Macca and Mikey all working huge days to get it done.  We made it into the water Friday, and had a three day window to work to take a crack at the record.  
Conditions were fairly benign as we worked the boat up, but we still topped 30 knots of boat speed.  We took a stab at a lap of the island, but inconsistent pressure and a sub-optimal direction left us with a 1:20 time – 17 minutes short of glory.  Saturday was another great day with a near-vertical learning curve going and another bump in top speed to 33 knots.  Our attempt time came out about the same as Friday, as conditions remained just too light to get it done.  
Everyone was licking their chops though as we looked at the forecast for Sunday.  Fresh westerlies were on tap which would make for reaching on both long legs of the course – perfect.    
Sunday dawned with more wind than forecast but from the right direction.  GAME ON!
A quick test run prior to starting proved that the boat was a absolute beast in the breeze-on conditions.  The first leg out to Beavertail was slightly cracked from upwind on starboard and we skimmed or foiled at 16-18 knots.  A quick tack and we were off on a broad reach down the back side of the island, a condition that the GC 32 likes, to say the least.  Our hair was fully on fire on this leg, though we had to take a two minute pit stop at the north tip of the island to repair the rudder down line which had broken.  After nailing a jibe it was all on to the finish.   The moment of the day came when we rode a big lifting puff to 37 knots of boatspeed.  With board-flat water, the boat just wanted to go, and we all foresaw a 40-knot ride.  But the puff faded, and as we neared the Newport Bridge, the boat dug its nose in heavily.  With the port foil hitting a lobster pot, the horizontal element of the foil quickly became vertical at 30+ knots and the bottom half cleanly sheared away.  With the record in hand, we low-rode into the finish eventually stopping the clock at 58 minutes and 31 seconds, the first sub 1-hour lap of the island.   On board for the record – Jason Carroll, Mischa Heemskerk, Cameron Appleton, Mike Kuschner, Michael Barnes and Chad Corning while Andrew Macpherson from GC and our boat captain Jim "Grande" Condon manned the chase boat.  Team Argo has a lot to learn in this new world, but our first taste was extremely satisfying.    
The Argo GC32 heads south for the winter and will be joined by more GC32's from Europe for some winter foiling – we'll have some more news on that program soon.  Short vid of the Opti fleet flyby here, and a bit of post-crash non-foiling here.
October 28th, 2014 by admin