Posts Tagged 'g4'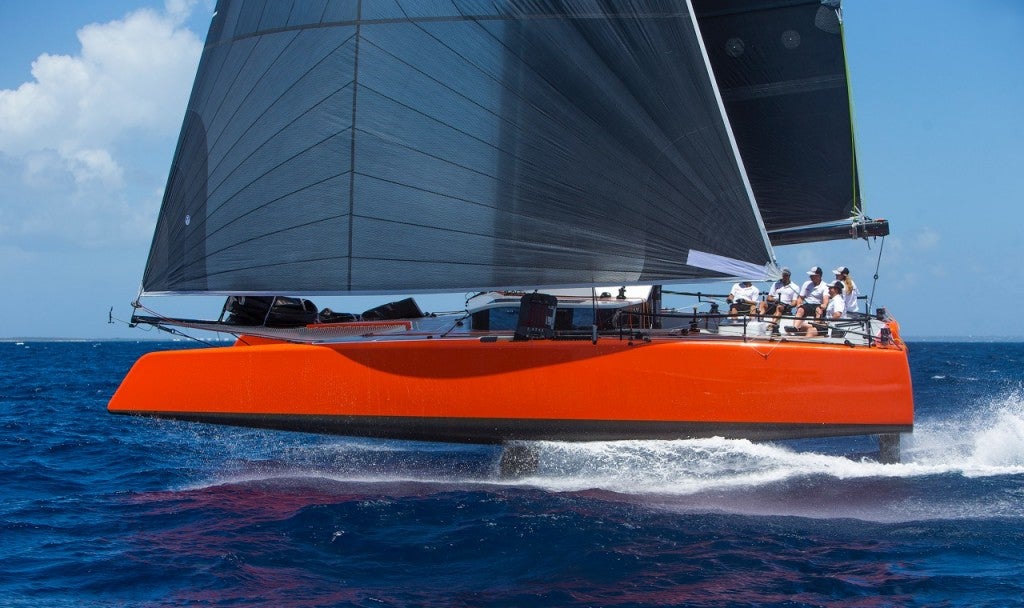 A stoked Peter Johnstone reports that the hard-working design and build team at Gunboat have done it!  The full-foiling G4 cruiser/racer is ticking all the test boxes during her St. Martin sea trials, and here's today's sailing report directly from test pilot and mast builder Ben Hall:
"An epic day of sailing the new Gunboat G4!  The orange rocket handled the 18-20 kt breezes off St Maarten with ease.  Foiling was fast and steady. I got to drive upwind and hit 15.4 kts…incredible!
Downwind with R1 we peaked out at 25.7. On the foils we had really good VMG with TWA of about 160. On the final burn into the harbor with the solent and full main the top speed was 29.7.
Probably one of the best days of sailing ever for me…all on a boat with a cruising interior, a nice fridge and stove, electric sail drive and cockpit for the best of parties.
Truly remarkable!"
Screw the AC48 – they should just do the America's Cup in these things.
Watch the G4 thread in Multihull Anarchy and Gunboat's Facebook Page for the latest photos and reports, and check back here later in the week for the full video.  Photo courtesy of Rachel Jaspersen/Ocean Images.
April 6th, 2015 by admin
big pimpin'
Our pals at Gunboat continue to work on the super-sexy coastal racer/cruising G4, but with a twist:  Now, you can get them with J-foils.  Flight of fancy or flight for real?  We grabbed team member and design dude Rudo Enserink for a quick update.
SA: With the J-boards and T-rudders, this is looking like a full foiler.  Is that really possible on a boat with bunks and a kitchen?
RE: Yes and no. We're first going to build high-lift C-foils for safe but very fast foil-assisted sailing.  The mildly asymmetric C-boards can be raked from -1 to +7 degrees and will be set at the factory for safe cruising.   The lift of these foils maxes out at 80% of displacement, and advanced owners can play with the rake adjustment to optimize for purpose and conditions.  One of the great things about C-foils is that you can leave the windward daggerboard deployed in all tacks.
The hull and daggerboard casing structure is prepared for full foiling, as are daggerboard bearings and rudder bearings.
If there's enough interest from the market we'll develop an electronically stabilized full foiling package that will be available as aftermarket upgrade. The current concept for this is an L-foil and auto-leveling T-rudders.
SA: Who is building/designing the foils?
RE:  Foils are designed jointly by Doug Schickler from Schickler Tagliapietra, with Davide Tagliapietra, Pieter Jan Dwarshuis, Mischa Heemskerk and Rudo Enserink.  They will be built in by Holland Composites (also builder of DNA A-cats), in their autoclave, and you can see some progress at their Facebook page.
SA:   That's a pretty serious VPP chart.  Is that with the C-foils or with the new J/L foils?
RE: This VPP is with the C-foils.
For more info on the very hot Gunboat G4, check out the full details here or ask questions in the thread here.  Title shout to the best cartoon of the 80s.
May 14th, 2014 by admin