Posts Tagged 'g4'
If we're talking about foilers vs. floaters and record-breaker monohulls vs. the rest of the world, we must be talking about Saint Barth, and outright World Sailing Speed Record holder and longtime SA'er Paul "Larso" Larsen checks in from the ORMA-60 inspired racer/cruiser Paradox at Les Voiles.  Most of the chatter from St. Barths can be found here.
It was an interesting day with a wide range of conditions. Big, heavy rain squalls coming over the island on the preceding night with big calmish periods afterwards.  We put the Code Zero on the boat in the morning in prep. Another big squall washed over the fleet during the start sequences for the first classes (we were last off after the big Maxis).
Loick Peyron sailed on Phaedo today, but with big wind shifts and start line corrections, her timed run didn't really work out. They haven't really appreciated our "high mode" off the line previously so we considered that with Loick potentially changing their gentle start strategy (and with their handicap and speed they can afford to be gentle), I was worried they might try and get under us and squeeze us out at the start. Loick helmed our first start masterfully the other day… so full respect ( he's done some other s**t too, apparently).  Anyway, they were miles late.
We started mid line on a fairly even line and were happy with clean air and options. The chartered GB62 Elvis [world champ owner Jason Carroll is racing his Viper 640 in Charleston -ed] made a good start to leeward of us and we had the GC32 and G4 back and to windward. Phaedo tacked off once across the line and took a long beat out to sea (East) whilst we went in towards the island shore. I think we did pretty well to ride through the lulls and gusts. We sailed over the GC and the G4…which are just not that fast upwind yet. I fully respect the challenges of Mk1 development and I'm really enjoying watching this one done to this high level. It seems like it's being sailed very well. Putting it around a course not of your choosing really highlights the reality of the compromises though. The fact is, your dragging a lot of excess up the course with you. We had full main hull-flying conditions up the shore from time to time (not so easy on Paradox i.e. 19-20 knots) which were followed by 10 knot lumpy stuff trying to lay the top of the island. We weren't that far behind Phaedo when they hit the layline but they just tear chunks out of us when it gets lighter. They are two tons lighter with much more sail area and are only getting better and better with the tools.  Things even up a little more as it gets stronger (handicap wise at least).
We had managed to also put good distance between us and the GC (which was sailing under full rig today). I think Elvis may have been ahead of the G4 on this part of the race. The next short reach had us debating whether to hoist the zero or stay with the solent and peel straight to the big gennaker at the corner. We chose the latter but hated the short period sailing undercanvassed. We chased down "Lucky" on the next downwind, but it took a while in a light spot.  The GC joined us on the leg, promptly jumping onto foils and sailing away from us faster and deeper on a long starboard gybe. We sailed against two of the quick foilers in last years RTIsland race and we know how quick they can be! We were sailing pretty clean but they gracefully sailed through. We couldn't even see who was fourth.
On the following beat we were still in touch with the GC, past Lucky and chasing Lupa. We got to watch the G4 heading downwind. It looked like hard work in the marginal foiling conditions (i.e. sailing whatever angles it takes and trying everything to get on the foils). It wasn't a good day for a heavy foiling boat!  We rounded the next mark still behind the GC and cracked off onto a tight reach which turned into more of a beam reach. The wind had finally returned so that we had full foil down and could sit around 20-23 knots. We caught up and passed the GC pretty quickly… but it was obvious they had some problem on port tack. They should have been smoking us, but were still lowriding.  Anyway… as they say in the classics… "stiff s**t":)
So we pushed on, rounded the island further and went to the big gennaker/staysail combo. The GC came around the corner, gybed onto starboard and sure enough… popped onto the foils and took off again. We could see Bella Mente parked up in the distance and knew the race was far from over. There was one mark to round before the 3/4 mile or so beat up to the line. It all looked very light and random in there so we stood offshore.
The GC had overtaken us again and the big Swan Odin had somehow managed to slide down the inside gifted by it's own personal breeze. We stayed away from the mass of boats as we sailed from one swirl of wind and velocity header to the next. Somehow we rounded the mark just ahead of most of them and then fought our way upwind finally using the 0 in anything from 5-15 knots of wind. After a long period in those super light and fickle conditions we knew the handicap was a lottery but were very happy with the way we sailed through the bunch to claim our own little victory. The GC was a wounded bird so no big conclusions can be drawn there. Phaedo is in another league and I have no idea what they experienced at the finish. Elvis sailed very well and the G4 was a long way back. The G4 really is an interesting boat… so was the Hobie/Ketterman tri-foiler. I'm glad both of them exist. So basically, there was a lot of randomness on todays course. It's a great course and event and a very interesting collection of boats. I'm very much enjoying sailing on Paradox. She's a great ride.
-Paul
April 18th, 2015 by admin
It has been a long time since we've seen this much excitement around a new boat launch, but we reckon if ever a boat deserved it, it's the world's first fully foiling cruiser/racer.  Sick work from all the Gunboat G4 build/design team, and we're proud to host this World Premier of the beautiful film of Timbalero 3′s sea trials earlier this week (thanks to Richard and Rachel).
Mr. Clean heads down to Antigua at the end of the month for his in-depth, Anarchy look at the G4; in the meantime, head to the thread for all the news and analysis here.
April 11th, 2015 by admin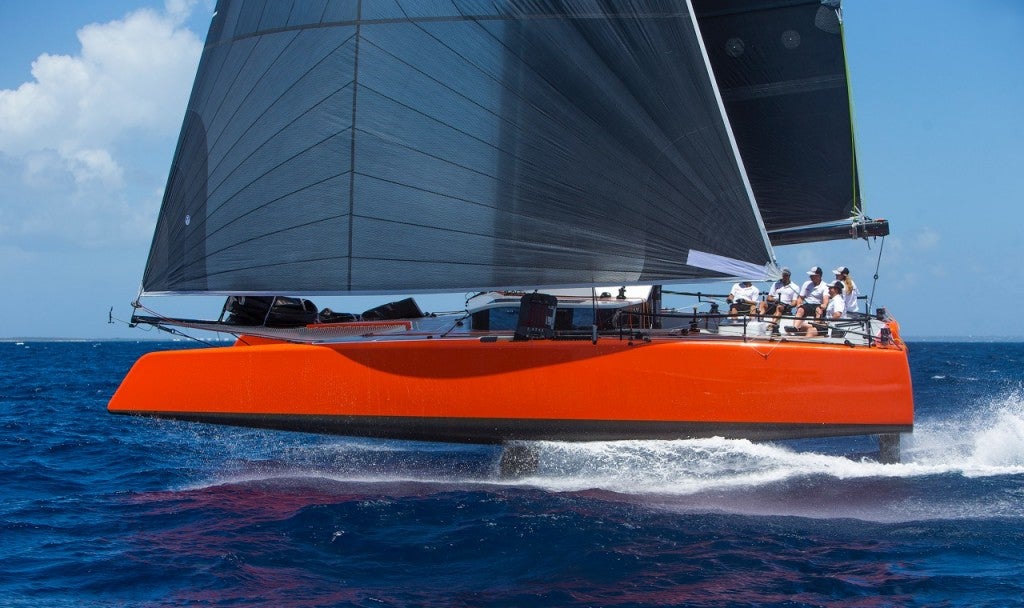 A stoked Peter Johnstone reports that the hard-working design and build team at Gunboat have done it!  The full-foiling G4 cruiser/racer is ticking all the test boxes during her St. Martin sea trials, and here's today's sailing report directly from test pilot and mast builder Ben Hall:
"An epic day of sailing the new Gunboat G4!  The orange rocket handled the 18-20 kt breezes off St Maarten with ease.  Foiling was fast and steady. I got to drive upwind and hit 15.4 kts…incredible!
Downwind with R1 we peaked out at 25.7. On the foils we had really good VMG with TWA of about 160. On the final burn into the harbor with the solent and full main the top speed was 29.7.
Probably one of the best days of sailing ever for me…all on a boat with a cruising interior, a nice fridge and stove, electric sail drive and cockpit for the best of parties.
Truly remarkable!"
Screw the AC48 – they should just do the America's Cup in these things.
Watch the G4 thread in Multihull Anarchy and Gunboat's Facebook Page for the latest photos and reports, and check back here later in the week for the full video.  Photo courtesy of Rachel Jaspersen/Ocean Images.
April 6th, 2015 by admin
big pimpin'
Our pals at Gunboat continue to work on the super-sexy coastal racer/cruising G4, but with a twist:  Now, you can get them with J-foils.  Flight of fancy or flight for real?  We grabbed team member and design dude Rudo Enserink for a quick update.
SA: With the J-boards and T-rudders, this is looking like a full foiler.  Is that really possible on a boat with bunks and a kitchen?
RE: Yes and no. We're first going to build high-lift C-foils for safe but very fast foil-assisted sailing.  The mildly asymmetric C-boards can be raked from -1 to +7 degrees and will be set at the factory for safe cruising.   The lift of these foils maxes out at 80% of displacement, and advanced owners can play with the rake adjustment to optimize for purpose and conditions.  One of the great things about C-foils is that you can leave the windward daggerboard deployed in all tacks.
The hull and daggerboard casing structure is prepared for full foiling, as are daggerboard bearings and rudder bearings.
If there's enough interest from the market we'll develop an electronically stabilized full foiling package that will be available as aftermarket upgrade. The current concept for this is an L-foil and auto-leveling T-rudders.
SA: Who is building/designing the foils?
RE:  Foils are designed jointly by Doug Schickler from Schickler Tagliapietra, with Davide Tagliapietra, Pieter Jan Dwarshuis, Mischa Heemskerk and Rudo Enserink.  They will be built in by Holland Composites (also builder of DNA A-cats), in their autoclave, and you can see some progress at their Facebook page.
SA:   That's a pretty serious VPP chart.  Is that with the C-foils or with the new J/L foils?
RE: This VPP is with the C-foils.
For more info on the very hot Gunboat G4, check out the full details here or ask questions in the thread here.  Title shout to the best cartoon of the 80s.
May 14th, 2014 by admin