Posts Tagged 'Franck Cammas'
Two of France's most successful racers ever share the nickname "Le Professeur", and both of them – former F1 World Champ Alain Prost and 2-time Vendee Globe winner Michel Desjoyeaux – were on hand for the baptism of Groupama Team France's new AC45 Turbo/Test platform on Monday.  Designed by a team led by our old friend Martin Fischer (who co-designed Franck Cammas' C-Class killer), this thing almost looks more at home on the Mulsanne Straight than it does in Bermuda.
While only the biggest upset chaser would be betting on GTF to take Larry's bauble away, we can dream…go here for the very cool launch video.
July 13th, 2016 by admin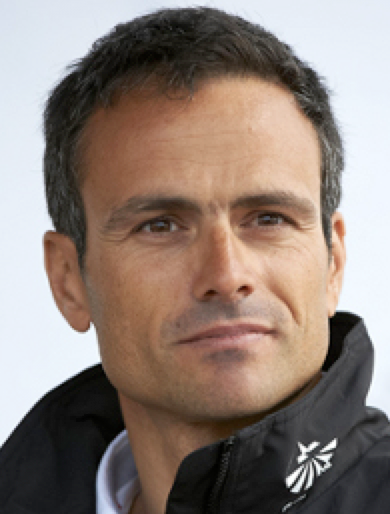 AC Breaking
One of the things you try not to think too much about when you're sailing a GC32 cat is the foils.  It's the same way surfers in Western Australia or South Africa avoid thinking about the 5 meter-sharks swimming beneath them; and a modern cat's foils are at least as dangerous as a Great White.  And now, they've taken first blood out of one of the world's top sailors in Quiberon, France.
Team France/Groupama skipper Franck Cammas fell overboard from his GC32 today during a training session for prospective Team France AC sailors, and according to Breton periodical Ouest France, his ankle was partially severed by the knife-like rudder as the boat sailed past.
Whether you're sailing a GC32, AC45/50, Flying Phantom, Nacra FCS – it doesn't matter.  All the helmets, spare air, and kevlar spine supports in the world won't save you from several meters of carbon-fiber blade cutting off your own appendages – or worse.  If it can happen to one of the quickest and most dexterous sailors in history, no one is really safe, and with the Extreme Sailing Series moving to the GC32 for 2016, organizers are going to have to think long and hard about just how many severed limbs they can tolerate.  Or maybe...it's not a problem after all!
We'll have more on this breaking story as soon as we have it, and we send our best wishes for a speedy recovery to the one of the sport's most influential sailors and a longtime friend to SA and to sailing everywhere. Head over to the Team France thread for the latest.
November 30th, 2015 by admin
Try as they might, French marketeers just don't have a handle on the art of the publicity stunt.  Brian Hancock mentioned it the other day, and now the video is in of Julbo eyewear and Franck Cammas becoming the first humans to foil around the Horn. While they accomplished their goal, is it wrong for us to be completely underwhelmed?  'Cause we are.
We also wonder what it says about the Flying Phantom that Cammas chose to go with the Nacra 20 FCS instead of the boat he helped to develop.  Was the FP not up to the task for the first stunt we've ever seen from the Man in Green?
Hey – at least they added their names to the record books – and got a nice big spread in GQ-France.  Clicky above for the video.
November 23rd, 2015 by admin
After the ass-kissing statement of support released last week by the 'Euro 4' AC35 challenger heads (Ainslie, Sirena, Percy, Cammas), we're unsurprised to learn that, according to AC authority and AP writer Bernie Wilson, Russell Coutts specifically told ETNZ to stay home from a major, confidential Challenger/Defender summit meeting later this week in London.
According to Wilson's piece, "the event authority is working with the teams "to further define an event based on the published protocol." Coutts said that after he heard from another team [emphasis ours -ed] the Kiwis didn't want to want to proceed on that basis, "I rang them up and said, 'It's best that you not come.' We have four other challenging teams and the defender that want to work together to have a great event this time and in the future."
We're not quite sure what Coutts' offered to get formerly logical and critical guys like Sirena on board with whatever failure-doomed plan Coutts is trying, now that his greed and hubris sent Iain Murray and Team Australia into the void previously occupied by Vincenzo Onorato.  Discounted entry fees?  Access to some of OTUSA's old data archives? It's gotta be something, because they all know that Australia's Challengus Interruptus makes Russell Coutts and Larry Ellison look like some of the biggest buffoons in international sport.
Coutts' latest bit of nastiness to his countrymen is just one more folly from a guy who is almost comically bad at the business of sport, and the same question is on every AC watcher in the world's lips:  Why would one of the world's best businessmen keep Russell Coutts at the head of the AC organization when he has failed at every single AC-related business decision he's ever made, including the most costly boondoggle in the history of modern sport?  It ain't the biggest newspaper in the world, but the Otago Daily Times has one possible answer: They say Coutts' contract may have a 'Bertarelli Clause', guaranteeing Coutts the top job until he gives it up himself.
Golden Gate Yacht Club members are not happy.  Notwithstanding their recent "support", Challengers are not happy.  Sponsors are not happy (or nonexistent).  And fans are not happy.  Hell, even Obama has a 40% approval rating.  But how long will the notoriously headstrong Larry Ellison continue to allow his reputation and the sport he loves to be screwed over by a piss-poor businessman who's proven that he is terrible at everything…except for one skill:  Winning the America's Cup?
Unless this is all part of the plan…screw everyone and you might not come so close to losing the next one?
Is there anyone in the world left that supports Russell Coutts?
July 28th, 2014 by admin
The secrets are gradually dissipating; Franck Cammas says his Groupama C is already hitting 27 knots downwind and 15 up, and 'lots of development is ahead'.  Check the Little America's Cup thread for the full translation and endless conversation; we've been given the 'all-clear' to reveal all the secrets on the Canadians' Fill Your Hands and Penalty Box Productions Petey Crawford is working on it…it's getting good in the land of the C!
August 15th, 2013 by admin