Posts Tagged 'France'
A coiled-up fireball of enthusiasm and intensity and one of the smartest sailors you'll ever meet, Matt Scharl defies labels; the 43 year old commodities trader and math wiz is also a fitness freak and adventurer – and he looks about 20 years old.  Despite his financial acumen, Matt spends much of the months between June and October farming soybeans on his own acreage in the middle of Michigan.  The longtime shorthander has either won or broken a record for just about every singlehanded race in the Great Lakes, mostly on his neon-green former ride Gamera, an F-25C Corsair. He's also done well in the double handed Atlantic Cup, winning the last edition in a hard-fought battle and setting up his next big adventure – the Route Du Rhum.
With SA Favorite Mike Hennessey (Dragon) pulling his long-anticipated RdR plug after losing months due to his well-publicized prang of a well-known brick, just two American skippers are left to represent the USA in the world's most famous singlehanded transoceanic race, both in the Class 40.  Since one of them sounds French, we'll focus on Matt's attempt at the ultimate singlehanded glory outside the Vendee Globe.  He checked in with us a few hours ago from due East of Newfoundland; track Matt right here.
Picture the scene: Lying back on your Fatboy thinking about taking a nap, but it just won't come. Pan out a bit and you realize that you're on the ocean, on a boat with every ounce of weight stacked in the back, beam reaching at 13-18 knots on a Farr designed Kiwi Class 40…it's a Bodacious Dream, no doubt, and the song with the line "How Did I get Here?" comes to mind.
Flash back to Nov, 2012, while Dave Rearick was prepping for the round-the-world Global Ocean Race.  I had lunch with Jeff [Urbina, BDX co-founder] one day, mentioning the Route Du Rhum as a possibility once Dave finished his circumnavigation. He thought "Why not? The boat will be there anyway."  When the GOR got pushed back a year or two and Dave went off to fulfill his lifelong dream of solo circumnavigating,  I figured the Route Du Rhum opportunity was gone for four years, at least.  Then I was told that Dave would be finished in time for me to do the Route Du Rhum.
Upon Dave's return, the boat's been gone through with a fine-toothed comb.  Parts replaced, fixed, and purchased to get up to snuff for the most competitive race on the calendar.  I worked hard to secure sponsorship, getting some personal support and help from friends and family as well as Chicago's excellent Skyway Yacht Works, but was disappointed to find that, other than those mentioned above, none of the many companies I spoke to saw the value in such a sponsorship.  To those who did, I thank you from the bottom of my heart.
I left alone (not counting my monkey mascot) on Monday for my qualifying passage between Rhode Island and France, and it gives me some time to learn the boat better, test sail combinations and in general get a feel for longish time spent alone. Anyone who knows me knows I spend plenty of time alone, but this time it's been a little different – I'm leaving behind someone recently met but very special, thankfully she is very close to me in spirit even if I cannot feel her touch.
It took a few days to get in a rhythm, but I'm starting to feel it, moving well, motivated by making as much speed as possible. Thanks to an overheating generator I am learning to love the whine of the hydro-generator, even if that's had mounting issues too – fortunately, my Macgyvering skills are up to snuff thus far!  I generally hate deliveries – hence the trailerable trimaran I owned for years – but this is different.  I am not delivering to St. Joe's or Mackinac City – I am delivering to the Queen of solo racing; to crowds of over a million spectators; to the land where tiny frenchmen race 140-foot trimarans across the ocean alone.  I am delivering to the Route Du Rhum, and that's just fine.  I couldn't really believe it before, but I can now.
A final note: Without the extreme generosity of Gaye and Jeff, there's a whole pile of guys around the world – as far away as Finland and New Zealand – who are able to do some of the greatest adventures and races in the world. None of us – especially me – will be able to ever thank you enough.  We'll try, but it will still never be enough.  So thank you.
I'll be speaking to Mr. Clean later in the week via Satphone for a Sailing Anarchy Innerview, so feel free to post in the Route Du Rhum thread or hit my Facebook Page if you have anything you'd like me to address.
-Matt Scharl, Skipper
Class 40 Bodacious Dream 
September 4th, 2014 by admin
While The Tour De France a la Voile has history, a great name, and a format that people understand, it's on the verge of death, with just nine boats competing in the edition running now and almost zero worldwide interest in the race.  There isn't one reason for the Tour's; there are several; add up the massive bungling of the selection process/transition from the beloved Farr/Mumm 30 to the unloved Archambault M34 with France's economic woes and a failure of the organizers to control cost and you have a recipe for failure.
Tour organizer ASO is looking to fix the problem, and Ouest France writes that they will announce an entirely new concept for the Tour on the 27th of July, speculating that the sexy, VPLP-designed DIAM 24 one-design trimaran might get the nod for a new inshore and coastal raid-style Tour format.  We've also heard rumors of a similar concept but driven by the GC-32 fouling cat; could these small racing cats really handle the huge variety of obstacles that coastal France, Britain, and Spain throw at them?  We'd like to find out.
You can find some video of the DIAM and a good discussion underway in the thread over here. 
July 17th, 2014 by admin
Lagoon Catamarans Director Yann Masselot gives us the corporate view of the "Creature From The Sunk Lagoon" story we published yesterday about the sinking of a 50′ cat near Brisbane, Oz.   
Lagoon has built one hundred fifty Lagoon 500 catamarans between 2005 and 2012, when we replaced this popular model with the Lagoon 52.  Many of the Lagoon 500s have sailed around the world with their owners, and the boat is widely recognized as a seaworthy, safe and good performance catamaran.  We do not know yet what happened to One World and we hope that the investigation will bring more information. The important matter is that the crew is safe, thanks to the efficient intervention of the Australian coastguards.
Regarding your statement about the Thai Lagoon 500 Nipper, we would like to supply you with the truth about this story: Nipper was abandoned by its inexperienced new Thai captain after catching the Dyneema dinghy painter in its propellor, tearing the engine off its bed, and creating a huge leak.  This captain never closed the connecting valve between the engine bilge and the main bilge, and he never started the bilge pumps.  He got scared, abandoned the vessel on a nearby sand bank, leaving all windows open.  At the next tide, the waves flooded the grounded vessel and sank her with no one aboard.
The owner of the vessel sued our dealer in Singapore and lost the case. He then tried to escape Singapore with his money to avoid paying the court fees and expenses he was ordered to by the judge.  This owner was upset about his own bad decision to choose a cheap insurance plan with a high deductible (that he asked us to pay) that he is trying to blame Lagoon for what transpired.  Of course the court in Singapore did not see it that way.  If you read the content of his website, you'll find all pertinent documents that prove our version.
Thank you for sharing this information with the readers of your great website.  Many thanks, and best regards,
-Yann
May 9th, 2014 by admin
The battle at the back of the Transat AG2R fleet was almost better than at the front with Michel Desjoyeaux and Corentin Horeau on Bretagne- Credit Mutuel Performance just barely nipping 3-time Figaro Champ and 3-time Vendée Globe vet Jean Le Cam to the line for 10th place with a delta of just under 3 minutes after 24 days at sea! Fellow IMOCA star Kito de Pavant sailed into Gustavia less than 40 minutes later on Made in Midi, bringing this 12th AG2R well and fully to a close with just one boat left on course.
If you have the same tracker-following addiction that we do and you dig the Figaros, don't despair – the circuit has lined up an encore with the Solo Concarneau- Trophée Guy Cotten beginning today! Sailing a 370-mile course that encompasses much of the Solitaire du Figaro's third and fourth legs including passage of the notorious current-intensive Raz de Sein, Solo Concarneau is as tactical as it is important. With most of the big Figaro players including VG star Jérémie Beyou, two-time defending 'Solitaire' champ Yann Elies, the indomitable Isabelle Joscke and legendary Alain Gautier, the Figaro fleet continues to provide. Combine the cast of regulars with the ever-present contingent of living legends, an Artemis-supported British invasion and the average bloke with a dream, the Solo Concarneau guarantees to be a thriller from start to finish.
-Ronnie Simpson, Open Blue Horizon
May 1st, 2014 by admin

We are both stoked and scared about the just-round-the-corner 2015 Little America's Cup; stoked to see ultra-enthusiast Jeremie Lagarrigue (Hydros.CH) making so much happen in advance of next summer's event on Lake Geneva – a sexy new logo, sweet promo videos like this one above, an ultra-organized committee pulling in sponsorship and working to encourage competitors, and plenty of behind-the-scenes work to make the event as interesting as Jeremie and his team.  But we're very afraid after seeing that this morning's Press Conference – the first thrown by the Organizers for next year's event – was almost entirely in French.
By this time, all SA readers will know that your Editors are avowed Francophiles.  Thanks to Mr. Clean, Ryan Breymaier, Ronnie Simpson, and dozens of other contributors, no English-speaking website has done more in-depth coverage of major French races than we have over the past 5 years, and more than 100,000 Frenchmen click on SA every month whether they can speak English or not.  And of course, no culture has done more for the advancement of high-performance multihull development than the Franco-Suisse; they are responsible for more big racing multihulls than any other; without them, we'd never have the ORMA 60, the MOD-70, the BOR-90, the Alinghi 90, the America's Cup 72, or dozens of other world-leading and groundbreaking boats.  But there's a real danger in letting things "turn Franco-Suisse," especially in the context of one of sailing's most historic classes.  With all due respect to the original slogan so enjoyed by the urban aware, "once you go French, very few come back."
Note the Open 60 and its governing body IMOCA; founded by an American, a Swiss man, a French woman, an Italian, and an Englishman, it was originally intended to be a truly international group to govern the sport's premier solo racing class.  Within 8 years, it had been almost entirely taken over by French-speakers, with a tiny handful of non Franco-Suisse ever getting to the table – a problem so grave it forced IMOCA to bring in Sir Keith Mills' OSM organization last year to try to internationalize and invigorate the stagnating class. Note the MOD-70; a brilliant idea and a spectacular boat at a surprisingly low price, killed almost before it began by it's developer and the Franco-Suisse organizing body's overreliance on French marketing and sponsorship infrastructure during trying times. Note the ORMA-60; a perfect example of too many eggs in one basket, with a fleet almost entirely destroyed in one race along with a dozen sponsors' goodwill and interest in ever sponsoring big oceanic multihulls again.  ORMA's death led to the new prominence of the record-breakers, because there weren't enough good sponsors left to build another big multihull circuit.
With Jeremie and team putting major effort into winning the next Little Cup, Cammas joining the Lake Geneva fleet to defend his title, and few credible non-French challengers waiting in the wings, we're definitely afraid of the Little Cup becoming Le Petite Coupe forever.  Selfishly for our Senior Editor, it would mean a few nice trips to France or Switzerland every few summers to cover some great racing in one of the world's most interesting boats.  Democratically, it would mean a major loss to the world of the truly 'international' competition that's marked the Little AC for more than half a century.  If you want to bone up on that history, have a look at the Team Invictus page here.  And if you'd like to skip ahead to Steve Clark and the English-language portion of this morning's press conference, go here.
Confused by the title?  Damned kids these days don't know shit.
April 30th, 2014 by admin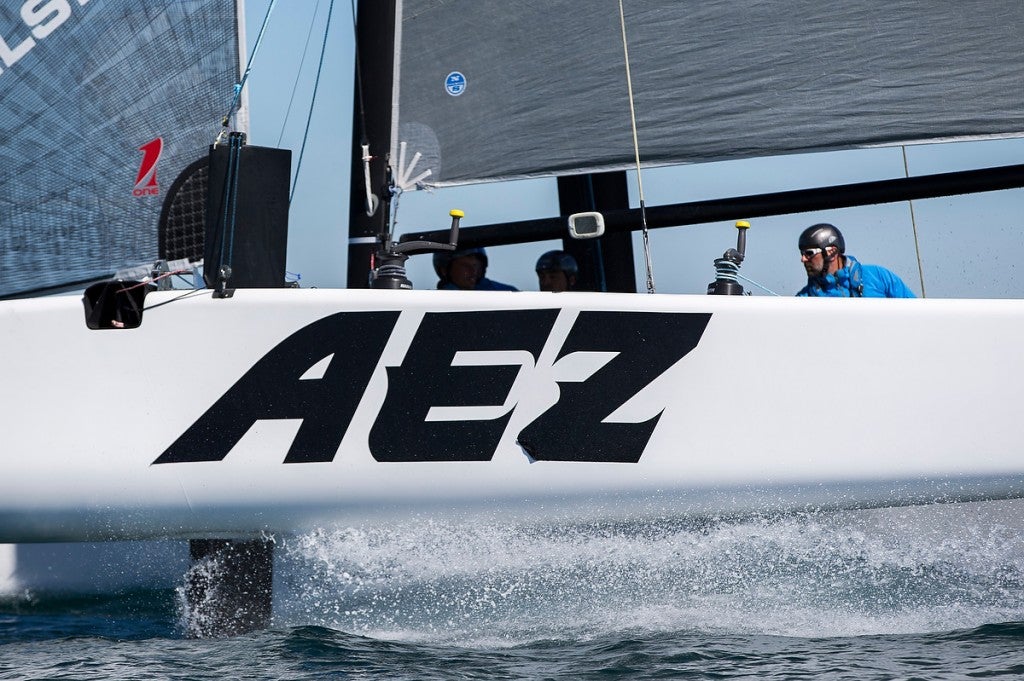 Clean Report
More than 18 months ago, just a month after ETNZ revealed their AC72 was a flying boat and lured by the potential for a 32-foot version of it, I spent 12 hours flying to Dubai just to check out the brand new GreatCup 32 catamaran from F-18 sailor Laurent Lenne and designer Martin Fischer.  I took a cab straight to the Dubai Marine Center, and an hour later, we were sailing the sleek carbon cat in 8 knots of Arabian breeze.  And 20 minutes after that, the boat was broken.
Needless to say, I was underwhelmed.  The Southern Spars-built spine of the boat wasn't right, and I wasted a couple of days in a plane to find it out.  To compound matters, it was pretty clear that the intricate, Alinghi 90-style S-shaped foils were cool-looking, but lacked true foiling ability.  They reduced displacement, but only in very specific conditions would they lift the boat out of the water and create anything that could be called stable flight.
But Fischer, Lenne, and Aussie project manager/COO (and longtime SA'er) Andrew "Macca" McPherson had just seen the future in the form of a flying red-and-black carpet in Auckland, and they were already planning on meeting it.  They spent much of 2013 studying, learning, and redesigning the foil system for the GC32, and while they didn't put a ton of effort into selling a boat they knew was in the midst of a big change, they quietly sailed a 4-boat, 4-event Great Cup series in Europe.  And they kept working.
Fast forward to April, when I got a call from Lenne.  "They're ready," he told me.  "And you should get your butt over here."  Hours after Charleston Race Week ended, I jumped on a plane from Charleston to JFK to Paris to Marseilles, and made my way to one of Europe's biggest marinas in La Grand Motte, France.
An intense design process had led Fischer to a ETNZ72/Flying Phantom/Groupama C-Class style foil solution, with acute-angled, rake-adjustable J-boards with a massive 1.2m span, and adjustable t-foil rudders like a Moth.  Built by Heol, supplier of foils for just about every major French racing multihull for the past decade, the foils are serious pieces of machinery – a single dagger supports almost the entire weight of the nearly one-ton cat and its crew, is built under a massive 8 Bar of pressure, and weighs some 50 KG.  The good news is that you don't often take them out; they insert from the bottom and retract up to the hull, allowing you to beach or ramp launch the boat with no hassle.
But even if they were a big hassle, it would be worth it, because after three days of sailing the GC-32, I can honestly say that this boat has the potential to change multihull racing forever – all of a sudden, non-foilers just seem kind of silly.  They're slower, less forgiving, harder to sail, more loaded up, and just nowhere near as fun.  I'm leaving for the airport in just a few minutes and there is a long, comprehensive video being put together next week with all the details, so I'm going to keep this short, but after crewing, driving, filming, and spectating for the past 3 days in winds from 5 knots to 30 knots, it's very clear that this boat is something entirely new.
What do I mean by that?  How about some numbers:  22 knots upwind at 44-50 degrees TWA, with more than 5 degrees of windward heel – almost like a moth.  32.7 knots downwind on the boat's fourth day in the water, with too much sail area and old sails designed for a skimmer.  And our gybing angles, confirmed by Velocitek GPS replay?  40 degrees.  In other words, this boat sails downwind at roughly the exact same angles as an AC-72, and 80% of the speed, with a quarter the crew.  And at 235K Euro, it's around 1% of the cost.
Far more importantly, a no-talent hack like me can EASILY drive the thing.  This is no joke – the GC32′s huge vertical lifting surfaces are nearly as big as those on the Oracle 72, and that means when you do something stupid – which I did plenty of – you don't crash down like a Moth or AC72, and if you press too hard and get too much heel on, the boat gently slips sideways rather than pitching you over into the piss.  I hit 24.4 knots yesterday in 14 knots of wind, heating up to pass a fleet of Fireballs rounding the top mark off Montpellier beach…the lead boat just stopped and stared and let his competition sail by him.  An excellent driver like Macca or Adam Piggot only got to 26 – if I can do 90% of their speed, truly anyone can.  In other words, you don't need to have Bora Gulari's cat-like reflexes, Jimmy Spithill's iron balls, or Larry Ellison's mountains of money.  Just a couple hundred grand and a desire to fly.  The Daily Sail's James Boyd hit 20.2 on Monday, so at the moment I am the fastest 32-foot foiling cat driving media person in the world –  a title I will wear with pride.  Back on you, Boydie.
More to come, and big thanks to Sander Van Der Borch for the gorgeous shots.  There's more info and some data in the thread.
April 18th, 2014 by admin
If you read Sailing Anarchy regularly, then you know that we have a major hard-on for all things related to the French shorthanded offshore racing scene; from the larger than life Vendée Globe to the ultra-extreme Mini Transat to the pinnacle-of-boat-porn-cool maxi trimaran scene to the biggest spectator scene in the sport at the Route du Rhum, we love it all and go out of our way to bring it live to your web browser.
That includes the biennial Transat AG2R which currently sees a fleet of one-design, 33-foot Beneteau Figaro II"s racing doublehanded from Concarneau in Brittany to St. Barth in the Caribbean, some 3,890 miles away. The single most competitive ocean racing fleet on the planet, the Figaro class has put 15 boats on the line for this AG2R with a smattering of former Figaro winners, Vendée Globe vets and even 'Le Professeur' himself, Michel Desjoyeaux.
Departing Brittany on Sunday, the fleet navigated a 10.5-mile coastal route before putting to sea and immediately beating into the leading edge of a cold front. Upwind on port tack in big breeze, defending champs Gildas Morvan and Charlie Dalin on Cercle Verte assumed their position at the pointy end of the fleet alongside Mich Desj before suffering a port lower shroud failure and dismasting. The defending champs are safe after cutting the rig away and have motored to Port La Forêt.
Almost in unison, all 14 remaining Figaro's tacked to starboard on the passage of the front and began reaching south in westerlies which gradually backed to northwest and finally to the prevailing north/ northeast flow. Currently sailing downwind off of Cape Finisterre, this AG2R has seen it's first major tactical gamble, almost splitting the difference to the east and west of the infamous Finisterre Traffic separation scheme.
The five inshore (easterly) boats are making out ahead for the time being with Classé MIni standout Gwenolé Gahinet and former MACIF Figaro skipper Paul Meilhat stretching out to a small lead over Made in Midi, co-skippered by former Groupe Bel IMOCA skipper Kito de Pavant who's surely relieved to make it past Biscay and the separation scheme after being haunted by the region in the last two VG's. Long-term forecasts show that the fleet will battle light air to reach the mandatory turning mark at La Palma before sailing downwind in the northeast trades to St. Barth. Mich Desj and Corentin Horeau on Bretagne-Credit Mutuel Performance currently lie in 7th, some 15 miles back from the leaders (and far west), while Roland Jourdain and Martin Pope on La Cornouaille are currently in fifth place at the tail end of the leading (easterly) group.
Check the front page and read the official Transat AG2R thread to stay hip to the latest on this under-appreciated and almost unknown race.
Transat AG2R site here, tracker here, standings here, Facebook here.  Photos from Dom Bonobo with more on his FB page.
-Ronnie Simpson
April 9th, 2014 by admin


Thousands of sailors are following the Flying Phantom project to see whether Alex Udin and his group have created the holy grail of high-performance sailing; a full-foiling boat that's easy and stable to sail.   Based on this short video with some words from French multihull supercoach Philip Presti, (and admittedly in very flat water), it looks like they have succeeded.  Enjoy, and get in on the Phantom discussion in Multihull Anarchy.
April 7th, 2014 by admin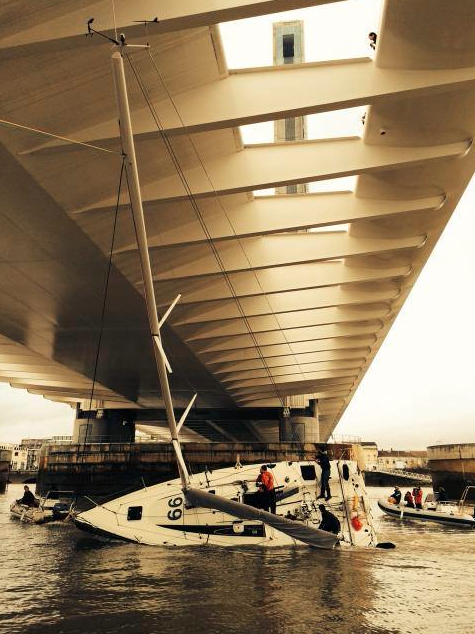 If you've got a big French season ahead of you, now's the time to get started.  Never mind that it's still winter, that half your country's flooded, or that a great big bridge is in the way; just get it going.  Clement Salzes shows us how it's done enroute to his 2014 Figaro campaign, and there's even a short but very pretty little video about it here.

February 17th, 2014 by admin
IMOCA's Open 60 rule has a maximum width rule for the front of the boat; its goal is to prevent the 'scow-bowed' type of design that has proven so successful (at both racing and raising hackles amongst sailors) on David Raison's TeamWork Mini.  We're not sure why IMOCA felt the need for the rule other than the fact that most sailors find blunt noses fugly, but to that, we say 'speed is beauty', and we salute German Class 40 performer Joerg Richers for having the balls to get it done.
We're told that you're looking at Joerg's last-generation Farr-designed Open 60 Mare (ex-Foncia) under refit at the old stomping grounds of the recently departed Hubert Desjoyeux – CDK Technologies, which recently announced they won the build contracts for the new Safran (now without quick-release keel!) and Banque Populaire.  And here we thought France was broke!
Mare will sail the singlehanded Route Du Rhum this November as well as the doublehanded Barcelona World Race a month later.  Will a blunt weapon be a dangerous one?  We'll find out this winter.  Stay in tune with the latest and greatest coming out of IMOCA world in the thread.  Big thanks to secretive Anarchist "Kalitmotxo" for what we think is a world's first look at the scowbilly Open boat.  More discussion in here.
February 7th, 2014 by admin
Vendee Globe winner Francois Gabart keeps going smaller as he prepares to go huge; the French IMOCA skipper is now racing F-18s and other little multihulls in preparation for the arrival of the first all-new, record-breaking sized maxi multihull to hit the water in years – the 100′ Macif.  In the meantime, Fran is enjoying some time on his Flying Phantom – the newest and most interesting one-design to hit the market in ages.  We've been telling you about this thing for almost a year now, and we promised that it would be easy, fast, and might very well change the landscape for one-design cat sailing.  With dozens already ordered (despite the steep price), and many going to prospective AC teams, we think this thing will probably stick, and early adopters might even get a good deal…
Thanks to Nicolas and the Flying Phantom buys for getting an exclusive, subtitled version of this out to us for the Anarchists first, with credit to Husband for the soundtrack and Wanaii Films for the production.
January 20th, 2014 by admin
The most interesting part of this video isn't the fact that it's a new Beneteau Sense 43 powered by a factory OEM wing.  Nope:  The amazing part of this one comes from the incredible hand-eye coordination of the Voiles et Voilers review staff.  We won't spoil the video for you; watch it for yourself to see what we mean.
January 10th, 2014 by admin

We promised you Ryan Breymaier's look at the newest racing trimaran on the market, and here it is; it's the Diam 24, a 'mini MOD-70′ from the desk of the guys who gave you some of the biggest big boat racing successes of the past decade.  Be sure to check out what Breymaier's up to lately over here.
Imagine a Melges 24-sized boat that sails 14 knots upwind instead of 7, and 30 downwind instead of 18.  And all without any nerve-damaging hiking at all!
Meet the Diam 24; a beautifully built, impressively simple trimaran designed by multihull masters VPLP and built in Port La Foret, France, about 10 minutes from my house.
Vianney Ancelin is the man behind the project; I met him about 5 years ago while looking for a place to keep my newly acquired beach cat. Turns out that my Diam F-18 was built by him, and his factory is right next to a beautiful launch ramp, while his parking lot is full of small multihulls, Tornados, F-18s, A-Cats, Multi 23s, whatever you can imagine, all within minutes of my front door.
Anyway, Vianney's trapezing days at the helm of an F-18 are over, and he had always dreamed of building an easily launched, easily sailed trimaran; something to race, to raid, or just to island hop through the Glenans.
The Diam 24 OD is the result, and it doesn't disappoint.  Carbon beams and mast, glass/pvc sandwich hulls, 3 sails, and a beach dolly, and with the minimum of extra equipment and the maximum of design know-how from VPLP. In looks and performance, this boat is a baby brother of the MOD.   Overall dimensions: 24 feet x 18.5 feet, with a 37-foot mast. It weighs 1000 pounds, with 515 square feet of sail downwind.
The amas and beams are demountable for trailering and storage; set up is quick and easy, and the two-piece mast completes the easy-to-move package.
The foil package is simple; kick-up, transom hung float rudders and a central dagger board. The boat deliberately does not have lifting foils in an attempt to keep it simple while sailing, as well as to keep the price down to a bare minimum.
Sail handling is easy as well, the jib and gennaker on Karver KF2  furlers, and the mainsail on a conventional halyard with clutch at the mastbase.
Jibsheet is 4:1 self tacking, mainsheet is a 7:1 gross tune on the traveller car connected to a 3:1 fine tune under the boom for a total of 21:1, all while keeping the block sizes and prices to a minimum. There are two winches, one on each floater, used only for the gennaker sheets.
As this is a one-design race boat, there has been no attempt to create usable interior, simply a storage space under the foredeck, and a trench cockpit from the mastbase to the aft beam.  Again – think of it as the triple hulled version of a Melges 24.
One thing that annoys me about many dinghies and small race boats is the time it takes to set them up and break them down; it often seems like you spend as much time building and dismantling as you do sailing!  Designers of the Diam 24 have taken extra care to keep that time to an absolute minimum. Each beam bolts into place with 4 bolts, with a locating pin to keep them in place.  The floater/beam connection is a highly engineered double cone to keep it stiff, but uses just one fastener to keep it in place. The trampolines have loops at 2 corners, along with track on the central hull so that they can be done up without any knot tying.
All in all, I am confident that the whole boat can be fully rigged in the same or a bit less time than an F-18 or other beach cat, and this is quite a bit more boat.
The Diam is sold with everything one needs, right down to the Kevlar/membrane sail package, for 49,900 euros.  For 5400 euros extra, you can pick up the custom trailer with ramps that allow you to load the beach dolly directly onto it.
If I was looking for a great boat to race in the light airs of my native Chesapeake, or I wanted speed with the occasional high-speed family picnic, I would be seriously considering this one.
DIAM and Vianney can be contacted at avianney@adhinotec.com, or check out the builder's website here.
December 23rd, 2013 by admin
Ryan Breymaier doesn't just do huge trimarans and Open 60s; he's also got an F-18 and loves hauling ass in little boats as well as big.  Last week, the Annapolis native and now adopted French super-rigger hopped over to Paris's massive boat show – the Nautic  – for a few meetings and round table discussions with the IMOCA and Barcelona World Race folks.  While there, he checked in on a couple of extremely cool small-boat projects we've been following from afar, and he gives us a real pro's look at the first of them below.  Be sure to Like Ryan's Facebook Page here, and if you think your company might benefit from the kind of exposure Ryan's prospective Vendee Globe bid would produce, get in touch with him today!
Other than the two C-Class cats on display at the Salon Nautique De Paris, the most interesting boats by far were the Flying Phantom and the Diam 24 OD trimaran.  At first glance they may seem competitors in the small racing multihull segment, they are in reality aimed at two very different skippers.
The Diam is for the F-18, A-Cat, or sportboat skipper looking to still go fast, but to do it with a bit more comfort; in other words, no trapeze.  Next week, I'll give you my take on that sexy little trimaran from VPLP.
Today though, I'll focus on Alex Udin's flying catamaran, and it's definitely for the 'young gun' beach cat sailor ready to step up to the next level – the foiling level.  Developer and creator Alex Udin (Sail Innovation) is quoting speeds of up to 30 knots downwind and sailing upwind at 55 degrees TWA, skimming the surface like the AC72s at the end of the San Francisco fun.  Want to foil upwind?  Crack off in a breeze to around 14 knots of boat speed and pop it up, then go upwind a few feet above the surface.
Since I tend to look at things through somewhat cynical and very specialized eyes, I like to get my wife Nicola's opinion first.  She sails the F-18 with me and is a keen observer, and to her eye, the Phantom is a really, really nice looking boat!  They've followed some of the recent trends in cars; lots of graphics options and a matte paintjob that's very cool and even a bit non-skid.  Of course the bottom will be wet-sanded and polished to a mirror sheen by any serious racer, but Alex clearly spent a lot of time making sure the Phantom looked just as good as it's meant to sail.
With the subjective out of the way, I had a long look at the technical side of the Phantom.  The hulls are all carbon with a nomex core, carbon mast and carbon boom, with the hulls connected by huge alloy beams from the Cirrus F-18.  This guarantees a super-stiff platform without a lot of weight.
The hulls have a sweet profile with no distortion and plenty of volume in the bows; perhaps not so important for a boat designed to stay on the foils the vast majority of the time, but still pretty good to have when inevitable splashdown happens.
Test pilot Gurvan Bontemps is a top F-18 sailor who recently raced the Patient Lady at the Little AC in Falmouth, and he said without a smile that the boat is up on the foils in 7 knots of TWS (though he looked at my frame and said 'maybe 8 with you aboard'), and that, contrary to what you might think, it's just a bit more twitchy than a stock F-18.  A foiler for mere mortals?  It could be.
The rudders are high aspect ratio, with ultra high aspect ratio elevators that bring to mind a moth's T-rudders.  The rudders are mounted in lifting cassettes; not for adjustment underway, but for beaching and launching.  The rake adjustments come via the cassette mounts; instead of normal pintles and gudgeous, the cassettes attach to the boat with uniballs to allow the boat to be properly balanced with angle-of-attack adjustments to the entire rudder and elevator.
One of the keys to the supposedly straightforward foiling performance of the Phantom is the angle of the J-foil to the daggerboard upright; it's quite closed instead of a right angle or something even more open; combined with the increased beam of the boat (compared to the F-18), this means stable foiling, meant for mere mortals rather than just the Franck Cammases and Mischa Heemskerks of the world.
Unlike the Oracle, ETNZ, or Team Hydros boats there is no cant adjustment for the boat (inboard/outboard foil movement); the Phantom only allows fore/aft rake adjustment with an endlesss string/worm gear moving the upper foil and thereby changing AoA on the main foil.  This sets the median speed of the boat and to some extent, the ride height, with the boat self-levelling as more of the foil comes out of the water.  In a great innovation and something we saw on the gorgeous Groupama C boat, the weather board is lifted not by a block and tackle, but by the weight of the crew as he or she wires up on the new tack.  Anyone who's pulled up loaded boards knows this is a huge labor saver, and these boards are around 12 kg of pure carbon!
In the photo to the left, you can also see the camcleat for the 4:1 board downhaul – a necessity for foils developing enough lift to support the entire platform plus two crew, plus all the power generated by the very high aspect rig.  I couldn't even get a good picture of the full mast; it was well into the rafters of the Nautic convention center. Attached is a sail plan drawing that shows it off well, and in person, the sails are beautiful.
I asked the obvious question as to what happens when you 'yard sale', and Gurvan says that a high speed capsize isn't much worse than on an F-18 other than one thing: You fly a lot further through the air because you start so much higher up. In any case, the platform is as solid as can be, and according to the test sailors, it can easily take plenty of abuse.
At the boat show the cost is 32,000 Euro, which seems like a lot for a 20-footer.  But remember that this includes VAT and other shipping fees.  And when you add up the latest foil technology, the excellently-finished carbon construction, and all the design and testing work that has gone into it, I am sure it would be a bargain at twice the price.
2 boats have already been sold to one America's Cup team,  and several other prospective AC teams are negotiating for more.  TNZ were at the booth when I was, and they were at least as interested as anyone I saw.  Udin took 13 paid orders overall at the Nautic; not a bad start at all.
Will it really be easy enough to sail to gain mass acceptance?  The jury is still out on that one for a few more weeks.  But if so, I can imagine some incredible racing and a real game changer.
Get in touch with Alex Udin for more info or to order your Flying Phantom at alex@sail-innovation.com.
December 17th, 2013 by admin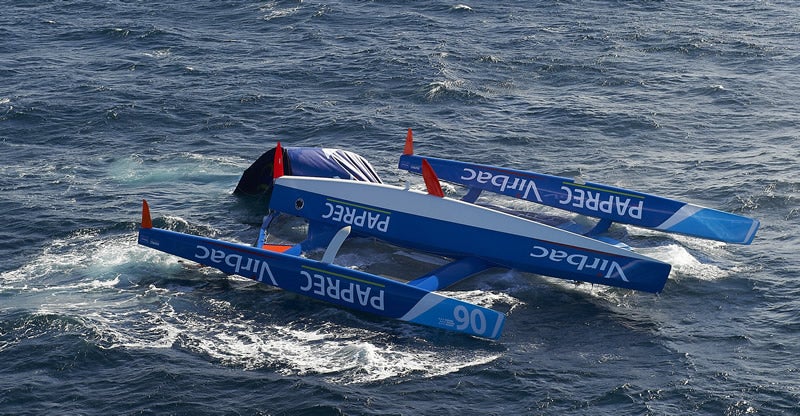 France's Equipe and Voiles-Multihull blogs are sadly reporting that Jean-Pierre Dick's MOD 70 Paprec-Virbac is up for sale after her nasty capsize before last month's TJV.  It should be the final death knell of a class that now has 7 boats built and at least 3 on the market, with no real buyers at all.  A casualty of poor management and communication by the hodgepodge Franco-Suisse bosses as much as a dire economy in parts of Europe, JPD learned what most suspected and the MOD Class discussed before the first boat was ever built:  These things really are just too much for shorthanded or singlehanded sailing.
So if you were thinking about picking up one of those ORMA trimarans, or maybe just looking for a record-breaker, and you fancy owning one of the fastest sailboats ever built, it's a buyer's market…especially if you have a spare rig lying around.  Get your wallets out!
December 10th, 2013 by admin
UPDATE: This morning the Race Director posted an amendment regarding a postponement of fifteen hours to the start of the race from Sada to Pointe-à-Pitre. The new warning signal will be given on Wednesday 13 November at 9am. There are two reasons behind this new start: first, according to the race meteorologist, the fleet might encounter strong winds with a risk of winds gusting over 40 knots off Cape Finisterre. More importantly, the passage of a front overnight will cause heavy rain and very low visibility. To send a fleet of over 70 boats out at night into in a high traffic area where many fishing boats do not have AIS was an added complication in the circumstances. 
While you wait, (and stay on the thread for the latest news), have a read of one of the most frightening accounts of solo ocean racing we've read in some time below.  It's from French Minista Arthur Leopold Leger, when last week he came within an inch of losing his life shortly after the start to the now-abandoned first leg of the Mini Transat.  Extra special thanks to Europe's best sailing site – Voiles et Voiliers – for the piece, to Anarchist "BitBrace" for the translation, and to Jaques Vapillon/Sea&Co for the photo.
Tueday the 29th of October: 5:45 am Douarnenez. It's still dark out. I open the latest weather report. The system we have been watching for several days that will let us take the start of the Mini Transat is finally here. However the window seems even smaller then predicted; to round Cape Finisterre before the heavy weather we will need to give it everything from the start. I hope the Series boats will make it around in time as well… Maybe they wont and will get hammered, or will Denis delay the start again? Back to bed? Don't think about it, its time to send it.
7.30 am, dawn. It's blowing, the first boats leave the harbor. 709 and me are blocked in the end and we are the last to leave. These last moments are long, I am surrounded by my family which is nice, I see other competitors that are here alone, their families unable to come, or are waiting in Lanzarote…
Saying 'farewell' to my loved ones is an emotional moment, not much is said, not much is needed. We have all waited for this moment with lots of impatience. So much work, so much time, so much help, I think of those who couldn't be here, thank you, what we have achieved is huge, even though our boat is small!
8.30, I leave the dock and the shelter of the harbor, and we are quickly in the thick of it, a steady 20 knts, swells, and occasional squalls, the start is going to be intense!

9 am, The start is off. I am at the extreme right end of the line, I  start a little late because I don't want to be over early, or involved in a collision, and most importantly I want to have room to tack as soon as I am over. Everything goes well and I am alone in taking the right hand option, giving me an added safety margin against collision.
After a few minutes, I tack and head towards the middle of the course, seems to be going well; even very well because I seem to be in the lead with the 2nd place boat crossing about 100 m behind me! A big squall with rain and a important gust arrives while we tack our way towards the mouth of the bay. Behind me is now Gwenole and his boat, Logways, his sail selection seems  better suited to the building breeze, and he starts making gains on me, but we are still a ways ahead of the rest of the fleet.
Noon, We have covered 2/3rds of the bay, Gwenole and I are in touch, the wind drops a bit however, and I extend. It is now time to tack and lay the point of Raz. Gwenole and the next closest group continue on the right side. I find myself alone on layline to the Raz de Sien, positive for the moment, I even ask myself why they continue so far. They finally tack, and I am still happy with my position, they seem to have sailed much farther then needed. The minutes pass, and now they look very fast, their progress on the horizon is impressive. I understand now that they found a different breeze which allowed them to ease their sails a bit and accelerate. I have a good lead but is it enough to get me out of the bay in first place? Well no, just before I reach the Raz de Sien, Gwenole and another boat pass me, and the rest are right behind me. Still not bad!
Ahead of us the Atlantic opens up. Direction: Lanzarote
As soon as I am clear of the Raz, I hoist the gennaker, and we start to fly at about 12knts sustained. Our group of frontrunners start to spread out, some stay high while others turn down and to the south, I chose the middle option. For the moment, the focus is on boatspeed. It's blowing about 20, and a nasty sea state with 5m swells. A new squall is approaching, and I finally have to douse the gennaker, but continue to go as fast as possible.
We are now in the middle of the afternoon, the squall is passed, but seasickness starts to set in, I force myself to vomit quickly but difficultly, I haven't eating anything all day, but I just take a pill and redeploy the gennaker. I lost some ground while dealing with my nausea, and my closest rivals continue their attacks, so the gennaker is out and we are off.
The sea is powerful and the sky filled with big cumulus, behind us rainbows appear and disappear, nothing short of magical. The only downside is the firehosing on deck, not 30 seconds go by without a wave exploding in my face.
Dusk approaches, with 2 reefs in the main, one in the solent and the gennaker up. The wind weakens a bit. I hesitate to shake out a reef in the main so I finally decide to shake out the solent.
Before going forward, I ease the main slightly to slow the boat a little, I clip into the rooftop safety line, and unclip from the cockpit floor. I crawl on to the foredeck and loose the reef in the solent and start my return across the boat. At this moment, my back is to the wind and I have a hand on the lifeline, I feel the boat suddenly take off a wave top and I feel myself go up and over my hand holding the lifeline, I fall past it and that force of the boat movement and my weight make me let go.  I land pretty much head first into the water, and feel my harness go taut while my life vest inflates. A fraction of a second later, I am on my back being towed by the boat still underway. Quickly I reach for the autopilot remote to put the boat head to wind. Shit, its stuck under the life vest. I struggle a long moment with the waves that smack my back, and regularly slam into the windward daggerboard with my shoulder. The leading edge is painful and I start to lose strength and hope. Everytime I get my hand under the jacket a wave rips it out.
After about 5 minutes of effort, I manage to grab it, and finally I am saved. I push the button and don't let go, the boat is supposed to go head to wind. Instead it tacks violently. I feel myself trapped under the boat. The sails all backwind, and I am now stuck behind the stays. The boat is heeled over because the keel is canted to leeward and the whole stack below is to leeward.
The boat drifting quickly which traps my legs under the boat, I feel the lifelines cut into my stomach,  the harness is still holding me forward,  the life jacket keeps my head above the water; well, more or less out of the water!
But the situation isn't much better than before. Impossible to pull myself from under the boat.  A hope comes to me, even though the boat is mainly moving laterally, it still has some forward movement. I feel the tension in the harness, so I decide to attach my 2nd leash to the lifeline against which I am, while releasing the other one, this should push me to the back of the boat and hopefully release me from under the side of the hull.  This works more or less as I thought because after considerable effort I manage to reach the stern. Then fatigue hits me and I stop moving. I  lose hope for an instant, but realize that within arms reach of my left hand is backstay cleat. I pop it, it hoping that it will ease the main and flatten the boat somewhat.  In the following second, I feel the boat right itself, I even stay hooked on the lifeline and am almost lifted out of the water. But I immediately crash back in.
In a big moment of despair, I realize that when I blew the backstay, the mast fell. I almost forget that I am in the water with 4-5 meter waves, exhausted, and starting to feel the cold.
I am now at the back of the boat and try to get back in the cockpit using the semi-step built into the stern, but I can't get my foot on it. Its moving too much and I am just too tired.
Finally I decide to try and enter the boat using escape hatch on the stern.  I open it and pull out the liferaft with much difficulty.  Once it's out, I have to remove my life jacket to get through the hatch, because inflated it is too big.  But impossible to unbuckle it under tension. In hindsight I did have a knife within arms reach that I could have used to cut it off, but I didn't think of it at the time…   cold and exhausted, I start to capitulate and resign myself to the hope that someone passes close to me soon.
A few minutes go by, and I realize that the boat is listing and low in the water, the escape hatch isn't closed. At the same moment I see that the starboard side is under water, so I slide over it and into the cockpit. I turn on my emergency beacons, and tell myself that it would be good to free the rig to protect the rest of the boat.  Barely through the first stay, I am almost tossed overboard again. So I wisely crawly back into the cockpit and don't move.
At the same moment I see the top of a Mini sail about 50 m away, heading straight at me.  He furls his gennaker and I see it's Tanguy le Turquais, who was in the lead pack of the series boats. He slows down and passes close to me. I learned later that when he saw the look in my eyes, he immediately called in a VHF rescue, then stayed at my side so they could find me in the waves.
Ten minutes later they arrive, and despite the conditions, put out a tender to come get me. It is night and I am happy to see them and feel the heat upon boarding the PSP Cormoran!
So a huge thank you to Tanguy, to Commander Lore of the PSP Cormoran and the rest of her crew! I spent the next few days in their company as we followed the rest of the minis. They were very attentive and preoocupied with the safety of the fleet, as to be as available as possible within the capacity of their ship.
I am now on my way to La Rochelle. Our boat waits for me in the yard Loctudy were I will meet Wednesday morning with the experts…. 
What next? We will see!
The lessons? The drysuit kept the cold out. The harness kept me attached to the boat. The lifevest kept my head out of the water. The rescue came when the situation was dire. If only one of these was missing, or faulty, I am not sure I would be writing these lines.
November 11th, 2013 by admin
Today we give you the best Video Friday we've had in quite a while! We've got launching Optis, dancing Minis, crashing SB20s, a massive storm, and the final Little AC wrap.  Enjoy them all, and enjoy your weekend from everyone here at Sailing Anarchy.  Got an awesome video for next week?  Send it in.
The Mothosphere

More foiling.  More crashes.  More interviews with some of the world's fastest men and women.  And of course, more Gretta.
You've been waiting for it patiently, so here's the full, 20 minute long, 2013 McDougall + McConaghy International Moth World Championship final highlight reel from Penalty Box Productions.  Enjoy!
Opti Crush
We don't know who he is, but this Seattle grommet has bigger balls than we do!  Check this Opti-crusher out on a 30-knot day in Shilshole Bay last week, and note his smile.  Also note the distinct lack of helmets, lawyers, and nanny-state, helicopter-parent sensibility.  And someone, please let us know who this grom is; he needs some SA gear and we're gonna get him some.
Hey Jude

The same St. Jude storms that threw the Mini Transat and TJV into such disarray also did a number on Scandinavia.   The storms were the most powerful to hit Northern Europe in more than a decade, and billions in property damage, hundreds of boats destroyed, and 16 deaths are the weather's legacy.  Here's a look at what 120 knot winds look like on the Svenburg Sund in Denmark, and there's more video here.
Target Rich Environment
Sometimes, hitting those puffy inflatable tubes is just too tempting.  This from last month's SB20 Worlds in Hyeres, where someone must have painted targets all over the RIB at the pin end of the line.  Chat here and thanks to Presuming Ed for this one.
Nothing To Do But Dance

With about 6 weeks of delays, postponements, and other misadventures, the Minis are indeed restless – none more so than the handful of prototype skippers who made it to Sada while the rest of the fleet ended up…elsewhere.  They put together this little tribute to the Mini Transat Race Committee; it's sort-of called "Where's The Race Committee" and it should crack you up even if you don't speak French.  Latest on the Mini fleet (including another boat lost on the delivery) here.  Thanks to the Moody Frog for this one.
November 8th, 2013 by admin
Not every minista gets Roland Jourdain aboard for last minute prep, but not every minista is a long-time trusted Veolia staffer.  Here's a hauntingly pretty look at Pifou Dargnies' final hours before the (now aborted) first leg of the Mini Transat.  If you're looking for news, go here, and if you're looking to see what huge waves look like on a little mini in Biscay, here's another vid.
UPDATE:  Winning the 'ultimate masochist' award is Jeff MacFarlane, who is now trying to recover his abandoned and dismasted Mini while sourcing a new mast and sails.  This guy doesn't even know how to spell 'give up.'
November 4th, 2013 by admin
Open 60-obsessed Ronnie Simpson gave us his look at the IMOCA fleet on Friday; Ryan Breymaier gets into the rest of the fleet below in a great 'insider' view of the Transat Jacques Vabre fleet, which is now postponed until at least Thursday with yet more nasty depressions battering the Atlantic.  Remember to get in touch with Ryan's Project USA if your company is looking for a new way to get some prime exposure, or some of your or contacts might be interested in helping fund his Vendee Globe bid.  TJV thread is over here if you want to talk about the race.
The TJV start in Le Havre has been very similar for the last several years.  Rain, with periods of clearing, windy, and squalls of hail.  In between dodging hailstones, there are plenty of interesting boats on display, attracting huge crowds of French fans  (mostly there for the crepes and pommes frites with a celebratory beer at the end of a lap of the huge basin), directly in the center of town.
The fleet this year includes 2 MOD 70s, 6 Multi 50 trimarans, 9 IMOCA 60s, and 25 Class 40s.   While the other classes are interesting in their own right, the 25 strong class 40s are the most interesting, with a large variety of designers  and boats.  They are also interesting because they represent the type of boat that most of the SA readers would have the easiest chance of getting involved with.
In a mirror of the situation facing the class today, the easiest way to have a look at the 40s is to split them into the pro teams with experience, boats and budgets allowing the possibility of a podium, and the largely amateur teams who are there to participate, but who either are missing one of the three factors above to get on the podium.
In alphabetical order, here are the teams in the first category:
| | | |
| --- | --- | --- |
| Campagne de France | Halvard Mabire, Miranda Merron | Pogo S2 |
| Concise 8 | Ned Collier Wakefield, Sam Goodchild | Ker Custom |
| DUNKERQUE-PLANETE ENFANTS | Bruno Jourdren, Thomas Ruyant | Tyker 3 |
| GDF SUEZ | Sébastien Rogues, Fabien Delahaye | Mach 40 |
| Mare | Jörg Riechers, Pierre Brasseur | Mach 40 |
| Tales Santander 2014 | Alex Pella, Pablo Santurde | Botin Custom |
Campagne de France  is perhaps the closest to the original spirit of the class.  Halvard and Miranda live aboard the boat much of the time, while still keeping it in pure racing trim, and have a very limited budget.  The huge experience of the two skippers and the careful tuning of a very strong  boat keep them in the leading pack.
Concise 8 is the newest boat in the fleet, and its two young English skippers will be giving it their all to be first to the line in Brasil.  Ker's first Class 40 design is notable for its huge batwings on the transom corners.  This feature is taken from the latest generation Volvo 70 designs as a way to dodge the average freeboard demanded by the rules,  as well as creating a better sheeting position for the gennakers.  The lower CG created by getting the freeboard down and the ACC style interior structure have allowed the Concise team to create a very powerful hull shape, which should, if they can keep it together for the first couple days of the race, stand them in good stead on the way to Itajai.  Teething troubles in a variety of areas have hampered their sailing days pre race, and Ned and Sam have been feverishly working to be in good shape come start day.
Dunkerque-Planete Enfants is the first example of the latest Verdier series design, the Tyler Evo 3.  Bruno Joudren and Thomas Ruyant are two very accomplished Class 40 sailors, and the Tyler is a great boat from French open designer Guillaume Verdier.  This boat is capable of winning the TJV, with perhaps a slightly easier passage through the waves than the Mach 40, which is the favorite of most observers.  The roof also offers significantly more protection than the Mach, which should allow the skippers to spend a bit more time outside monitoring boatspeed.
Skipper Seb Rogues has taken the experience of the first two Mach 40's and tried to improve on it with his GDF Suez  He has taken the same hull as Mare, moved the keel aft a little, added a bit more rake to the mast, and has eliminated the central winch, island and twin companionways in favor of just 2 winches on each side deck, with all lines lead around the roof through friction organisers.  He has also gone for a classic swept spreader rig, eliminating the controversial adjustable headstay and straight spreader rig that the two first boats featured.  His boat also lacks the kick up rudders of the first two; a lighter solution, but possibly a race ending choice in the event of a collision with debris.
Mare is the Mach 40 of German skipper Jorg Reichers and Pierre Brasseur, an excellent mini and Multi 50 sailor.  This is the most successful Class 40 of the last several years,  with wins in the Solidaire du Chocolat and Atlantic Cup [which Ryan was aboard for -ed], as well as a second in the Quebec St. Malo.  While not underestimating their skill and will to win, Jorg and Pierre have their work cut out for them against the other top boats, as Jorg's concurrent IMOCA 60 campaign has taken much of his time and resources, while the competition has been training hard and working continually on improving their boats.
Last but certainly not least is TALES Santander 2014, which combines the first effort off the drawing board of Marcelino Botin with a deck including a carbon copy of the Mach 40 cockpit.  This is intentional, the team came to the Solidaire start in 2012, and found the layout which they felt was the most ergonomic and efficient, and used that as a basis for the new design, having been new to the class.  An immaculate build, strong team, and great pedigree saw them far ahead of most of the fleet in this years Fastnet, with only Suez able to keep up.  In fact, they beat a custom IRC 46 to the rock upwind!  One to watch for sure.
These boats all have a great chance of being on the podium; the designs are all similar enough to keep up with one another, and the pre race preparation and skill of the skippers in mitigating problems along the way will be the deciding factor in the final rankings.
 Boat Porn
The two most interesting things I have seen in the Class 40 were the electric motor in ERDF – Des pieds et Des mains (see
pic).  The motor is the white Oceanvolt cylinder in the middle, and half of the 8 green batteries are visible in front of it.
It produces the same power as the diesel it replaces, and with the batteries, weighs the same.  It is recharged at the dock, and is nearly silent in operation.  It can be recharged by hydrogenerator or solar panels, and actually can recharge the batteries itself while sailing.  Obviously this is not done while racing as it produces significant drag, but is perfect for deliveries.  Best of all a lower center of gravity, and no fooling around with diesel tanks.
The other interesting thing is a new instrument system found on the Austrian entry Vaquita:
The displays look like Ipads but are not, and can change colors for night sailing, they are hard wired only for power, and the data transmits wirelessly.  They can take input from any NMEA source, and have their own dedicated brain.  Power drain is 1amp at 12 volts per display.  More at Sailmon.com.
As for the multihulls, the TJV start in Le Havre showcases the best of the French offshore scene for this year, with the notable exception of a couple MOD 70 teams who are recovering from capsizes.
MOD MODS
Remember that the MOD 70 is not really designed for shorthanded sailing, and a few modifications have been made to the two remaining boats to keep them from suffering the fate of the two MODs that have capsized already this season.
On deck, they have added constrictor rope clutches to the gennaker tack lines in order to not have to go on the bow to open the t-bone loop holding the 3:1 tackling.  As well, around the cockpit they have added diverter sheaves and camcleats on the fronts of the grinders and at each helm station for the headsail sheets.  This puts them in easy reach of the helmsman while on deck alone.
Virbac 70 was trialling a system (before her capsize) that included a 2:1 jibsheet of much smaller diameter, which would allow a much easier and more controlled ease of the jib in the event of sudden gusts.
In safety terms they have come up with one-line 'failsafe' to prevent any more capsizes; they now have a single line to pull to open the valves for both the mainsheet and rig transfer hydraulics, so that if they pull the line at the helm, the mainsheet eases, the canting rig transfers to leeward, and the valves remain open (easing) until the system is physically reset in the cockpit under the roof.  It's taken a couple of high-profile tips to get it working, but this system should make capsizing a much less frequent occurrence for the MOD.
They have also added a 350 liter water ballast tank in the transom of each boat, in the interests of keeping the bows out.  Unfortunately this might encourage the teams to push harder downwind!
They have also added curtains around the roof and repeater nav screens to the inside of the roof, allowing the skipper not driving to "live" under the roof and be in closer communication with the guy on deck.
The match race between Gitana and Oman Air will should be worth watching.
The Multi 50 class is enjoying a nice period of growth as well, testament to the low-tech class rule, and good management, as well as interest from many skippers in a boat which goes faster than an IMOCA 60, for less than half the price. (1.2-1.5m euros as opposed to 3.5-4m)
There are a wide variety of designs in the class, mostly from VPLP, with the most recent boat being an interesting looking and quick design from Neyhausser/Verdier, Region Aquitaine/Arkema.  This boat won this years Route des Princes, and its notable features are a complete lack of foredeck forward of the front beam, and a crazy looking, but probably very protective roof.  The foredeck is replaced by a net going from the bow pulpit to the front beam, with the hull coming to a point under the net with lashing connections for the headstays.
November 4th, 2013 by admin
Update: the TJV is postponed to now start Monday at 2:15pm France time – Hannah Jenner took us through the weather here…
As ocean racing classes get more and more powerful, their wind range continues to shrink; first the 'bulletproof' minis lose an entire month to 'waiting for the weather' only to see their race abandoned after the start and a total clusterfuck of minis spread across Biscay.  Now, a TJV organization already feeling the pinch after JP Dick's MOD went over has thrown in the towel for the Saturday start of the world's biggest double handed race, hoping for a Tuesday reprieve, while the MODs are doing some kind of 'coastal' thing while they wait for something less than terrifying for the ultra-fast trimarans to sail off in.  The start was already kind of strange; the huge Classe 40 fleet lobbied the TJV organization for a much earlier start than the rest of the fleet for this edition; finally they might get to the finish in time to see the faster boats.  
It was a nice dream, anyway!  Most of the skippers are happy with the call, but a million-odd fans and hundreds of French media that help keep this event at the forefront of French sport won't be.  Is this the new reality of the French shorthanded scene, or just an incredibly unlucky autumn for North Atlantic racing?  We don't know, but we do know that you now have time to read Ronnie Simpson's excellent form guide to the TJV, which follows.  Photos from Christophe Launay, with a gallery here.
With no Vendée Globe, Barcelona World Race or Volvo Ocean Race this winter it would be easy to think that there's not much going on in the world of top-flight professional ocean racing right now. Fortunately for all of us Anarchists, you would be sorely mistaken with this assumption as the Transat Jacques Vabre is preparing to begin its thrilling 11th edition on Sunday. With a fleet of 44 boats spread out amongst four one-design and box rule classes, this classic Transatlantic throwdown is celebrating it's 20th anniversary with twenty-six class 40's, ten IMOCA 60's, six Multi 50 trimarans and two MOD 70's racing doublehanded from Le Havre, France to Itajal, Brazil.
One of the premier offshore yacht races on the planet, this year's TJV fleet reads like a who's who of sailing while boasting one of the most technical, challenging and tactical courses in all of ocean racing. Beginning from the famed Paul Vatine Basin in Le Havre, France, the course takes sailors first through the English Channel which can be downright gnarly this time of year with intense weather, massive tides and fully one-fifth of all the world's shipping traffic all positioned within one narrow, confined passage between two major coastlines. If the fleet manages to survive this first daunting test, they must next brave the often treacherous and boat-breaking Bay of Biscay, which has been battered by intense gales and low-pressure systems all season long, with more on the way as the fleet heads out. Once rounding Cape Finisterre, if they're lucky, the fleet can turn downwind and begin running before the Portuguese trades.
Don't assume it's all fun and games from here on out though. Not only must the fleet navigate more heavily-trafficked waters, but they must do it in what is often a carnage filled heavy-air downwind romp, all the while battling their competitors through the first major tactical challenge of the race; negotiating the Azores High. After this first major battle of wit and strategy, the fleet will finally see some tradewind sailing before entering the doldrums near the equator, which is oftentimes a complete crap shoot. If the boys and girls in the race are lucky enough to escape without losing, or even better yet, gaining positions, then they will lock into a tradewind drag race in the southeast trades south of the equator.
Concentrating on boat speed, boat speed, boat speed, this fleet of nearly four dozen boats will then face one final challenge from Cabo Freo to Rio and beyond to the finish in Itajal as small low-pressure systems oftentimes rip across these waters, wreaking havoc on competitors both due to challenging conditions and the painfully slow glass-off calms left in their wake. Only one thing is for sure in this 11th edition of the Transat Jacques Vabre; there will be drama, action and suspense from start to finish. Here's SA's class by class guide of who to watch and why.
IMOCA/Open 60
There is a clearly defined "A" fleet and "B" fleet in the TJV. The top 5 programs (MACIF, Maitre Coq, PRB, Safran, Cheminees Poujoulat) have all been training doublehanded out of Port La Foret over the past couple of months and the class winner will almost surely come out of this group. Of these 5 boats, 4 are VPLP's with Cheminees Poujoulat being the exception. (Juan K design)
MACIF: With two Vendée Globe winning sailors on one Vendée Globe winning boat, MACIF is the boat to beat in the premier IMOCA 60 fleet. Reigning VG champ Francois Gabart has again teamed up with his Barcelona World Race partner and mentor Michel Desjoyeaux onboard the VPLP designed rocket. The duo recently won the Open 60 division in the Rolex Fastnet and have been training their asses off with 4 other boats out of Port La Foret (PRB, Maitre Coq, Safran, Cheminees Poujoulat).
Maitre Coq: Having acquired Armel Le Cleac'h's VG runner-up Banque Populaire as the new Maitre Coq, Jeremie Beyou has a point to prove in this race. The two-time Figaro winner now has a sistership to MACIF and is keen to prove that he can win in the IMOCA class. Finishing an über-close second in the Fastnet race and putting in some solid work during the "pre-season", Jeremie looks to exorcise the demons that have plagued hims since entering the class.
Cheminees Poujoulat: Just like in last year's Vendée predictions, Bernard Stamm and "the sooty pussy" are again our dark horse pick. (The boat's logo is a black cat sponsored by a chimney company…) The Juan K-designed boat was hampered by hydrogenerator problems in the last VG, but aside from that, has shown some serious potential. In the extreme and gnarly upwind and close-reaching conditions of the English Channel and Biscay, CP could excel and may prove to have an advantage over the VPLP's, while also being notoriously fast when the shit hits the fan in the potentially heavy-air downwind Portuguese trades. Besides, Stamm is the man and an avowed Anarchist. Gut instincts tell us that Bernard likes the heavy air forecast for the start and may be able to push extra hard where other boats are throttling back a bit.
PRB: Many in the IMOCA scene believe PRB to be the fastest boat in the fleet, owing much to its light weight. The big question remains whether or not the boat is "too" light and fragile; a question we asked in Les Sables d'Olonne last year and are still asking after PRB broke in the VG. Skipper Vincent Riou is a tactical genius and Vendée Globe winner, and in teaming up with Jean Le Cam and his incredible hair, the duo may present the single biggest challenge to MACIF. If they can keep the boat together, watch for them to seriously contend for the win.
Multi 50
One of the most exciting divisions in this year's TJV will be that of the Multi 50's. With their biggest fleet for a major race in a while; six boats on the startling line; any of three or four could realistically win, making this fleet a fantastic one to track. Picking a favorite is no easy task in this class. The newest and arguably fastest boat in the fleet is Arkema-Région Aquitaine. A 2013 build in which Guillame Verdier had a hand, Arkema won the inaugural Route des Princes, besting three of the other Multi 50's that will contest the TJV. Defending TJV champ Actual is also in it to win it. Skipper Yves Le Blevec has teamed up with VG star Kito de Pavant to form a formidable challenge at a title defense onboard their four year old boat. The third major contender is that of FenêtréA Cardinal. Also a 2009 build, the crew consists of skipper Erwan La Roux and two-time Figaro winner Yann Elies. Having mounted one of the greatest comebacks in all of sport to win two consecutive Solitaire du Figaro's (2012 and 2013) just a few years after breaking his femur in the Southern Ocean and being rescued in the 2008-09 VG, Elies is an SA sentimental favorite any time he shows up to a starting line.
MOD 70
Arguably the most high-profile boat in the race is the one that won't be sailing, after JP Dick and Roland Jourdain's dramatic capsize onboard Virbac Paprec 70 a few weeks back. With their capsize, dismasting and resulting withdrawal from the race, just two MOD 70's will be taking to the start in Le Havre on Sunday. No worries, if this summer's AC taught us anything, it's that two 70 foot multihulls can provide incredibly close racing and the TJV should be no different. The two MOD's in this race are fortunately the cream of the crop, having finished 1-2 in the Route des Princes this summer. Skipper Sébastian Josse and crew Charles Caudrelier just won the TJV prologue onboard Edmond de Rothschild while their sole competitor OMAN AIR-MUSANDAM need no introduction. Skipper Sidney Gavignet and co-skipper Damian Foxall are arguably the two most accomplished ocean-going multihull sailors in the entire TJV. While short on boats, the MOD 70 class may ironically end up being the most exciting.
Class 40
Not only is the Class 40 division big, but it's also full of quality. Boasting the biggest fleet in the race and with any of probably twelve or more boats that could win, expect the leading Class 40's to gross gybes all the way to Itajal. The odds-on favorite certainly has to be Sebastian Rogues and his current generation Manuard designed GDF SUEZ. The former Minista has been on an absolute tear this season, winning five of the last six Class 40 events leading up to the TJV. But don't count out class standouts like last year's Atlantic Cup winner Jorg Reichers aboard MARE, who is likely sailing in one of his final Class 40 events before moving into the IMOCA class. Another SA favorite will be that of 11th Hour Racing. Skipper Hannah Jenner is not only one of the most beautiful women in all of sailing, but she is also one hell of an ocean sailor. Having teamed up with an American to claim a hard-fought podium in the last TJV, she is using that same recipe for success this year in teaming up with another American; Rob Windsor. Windsor has established himself as a Class 40 guru and top-tier ocean sailor. We expect big things from them. Another one to watch will be the entry of DUNKERQUE – PLANETE ENFANTS. Winner of the last Route du Rhum in a 44-boat Class 40 fleet and '09 Mini Transat winner Thomas Ruyant is co-skipper alongside skipper Bruno Jourdren and the duo will present a major challenge from the get go. The slowest fleet in the race, the Class 40's will likely be battling a major incoming tide with up to 7 knots of current during the first night in the English Channel. Blink and you may miss a world class 26-boat navigational face off before Biscay. Stay tuned to SA for all your updates over the next three weeks as the drama and suspense unfolds in real-time. -
Ronnie Simpson
November 2nd, 2013 by admin