Posts Tagged 'France'
The horror show in Paris has shaken up much of Europe, and thanks to some of our French readers, we've got this well-remembered cover from more than 40 years ago to pay tribute to the spirit of the shit-stirring mag and yachting.  It's the mag's response to Pen Duick IV's dismasting during the Whitbread back in January 1974, a backhanded compliment to Eric Tabarly's massive male genitalia (figuratively, and we've heard literally) and ego.
Our thoughts go out to our frères et soeurs in and around Paris effected by this horrible attack; Charlie Hebdo remains typically defiant, though they'll sell some 50 times their regular circulation for the next issue – featuring cartoons of Mohammed himself.  Nice.
Leading VOR 65 skipper Charles Caudrelier had some comments about the massacre a few days ago; check 'em.
January 12th, 2015 by admin
Solo Figarists Nick Cherry and Henry Bomby continue with Sailing Anarchy's 2014 Route Du Rhum coverage, sponsored by Bruce Schwab Energy Systems. Please get in touch with the Vendee veteran to find out how his energy storage, solar power, and charging systems can benefit your cruising or racing boat today, and enjoy Nick and Henry's latest analysis.  Hit the thread for all the latest news, photos, videos, and analysis.
Big conditions meant a premature end to the huge 'thank f*** they're gone' party for Route Du Rhum shore crew and race staff in St. Malo on Sunday night, just as it has for some 13 official abandonments on the race track.  A further 20-odd boats are in less-dire-but-still-bad shape, headed to port or to find some shelter in order to fix damaged sails, rudders, and bodies.  Obviously the weather has been heinous, with two solid fronts kicking the fleets in the face with gusts reported up to 60 knots and some nasty seas, especially rounding the corner at Brest. The most high-profile casualty has been Thomas Coville, who managed to prang a cargo ship in the night just in front of the TSS off Ushant. With closing speeds between the ship and trimaran of 40 knots, dark skies, and awful visibility, it's a wonder that more of these guys haven't hit anything. It's yet another blow for the Sodeb'o campaign, which adds this failed attempt to something of a pile of them over the past few years.  Coville may be one of the world's best, but we wonder if he didn't piss off an old gypsy woman sometime over the past decade…
Perhaps most worrying amongst the early dropouts are two keel losses/failures on the new Sabrosa Mk II Class 40 sisterships of Francois Anglouvant (picked up by a chopper from his capsized hull) and Marc Lepesqueux, who managed to fill ballast, drop sails and sail downwind to Guernsey. I'm no mathematician but the chances of both these guys hitting a submerged object seems pretty low, and we guess their design and build team (which included Anglouvant) is trying to figure out what happened right now, while thanking their lucky stars that no one was killed.
The decision by race director Gilles Chiorri to send the fleet off into this storm is refreshing in the light of so many big races being delayed in recent years. Many skippers – particularly in the handicap Rhum class –  chose to do something we rarely see these days; they waited out the worst of the storm before going yachting.
Ultimate Update
All the fleets have spread out by now, but none more so than the Ultimes, where Loic Peyron is having an absolute blinder aboard BPVII, steadily pulling out a sixty mile lead over Yann Guichard on the Spindrift (who isn't showing any signs of using his extra nine meters of length to catch up). Watching these guys go off the start was jaw dropping, with Coville looking picture perfect early on and Sydney Gavignet giving the spec fleet some 'oohs' and 'aahs' flying his center hull as he weaved through the spectator boats.   We caught up with Sidney here; click the link for a video interview where we chatted about 'Oh, Sheet' release systems and weather routing.
Given that sailing a big multi alone is a full-time job, these guys are aiming not to go downstairs at all during the race. Yann Ellies on Paprec has a staff of three top guys holed up in a house in Brittany running a watch system looking at forecasts and on-board data basically playing a full-on version of the virtual race game. He's planning to have Skype messenger on 24/7 and regular sat phone calls, leaving him free to ease sheets off one of these bollard/cleat arrangements at any time. Whatever you think of shore-based routers they are here to stay, and this race pits the best weather guys against each other across the Ultime fleet.
Macif Attack
Francois Gabart is, once again, showing why no one has been able to touch him for the past couple of years; 30 miles over Jeremie Beyou in a sistership and 50 over Marc Guillemot aboard Safran. Vincent Riou and Tanguy De Lamotte are all but out of this race with mainsail track issues and rudder damage respectively. These guys are in for a fast crossing with few passing lanes; look for Gabart to continue to push his lead right through the finish line.
Rogue Racing
True to form over the last couple of years, Seb Rogues in GDF Suez is leading the way as the 40s reach down towards Cap Finisterre. There's been a definite split in this class, with the first fifteen or so boats who made it out of the channel in good shape having put some serious miles on the B fleet of stragglers as they get into better and better breeze.
Fifty First Dates
The prize for most dropouts goes to the Multi 50 fleet, where currently only six out of eleven starters are left in the running, with the three favourites occupying the top spots. On the dock some of these boats looked like they might be better off in a museum than a storm and it seems that maybe Neptune agreed!?
Fast Forward
Looking ahead at the weather, things are starting to calm down for the big trimarans and IMOCA fleet, and with the Azores high still located quite far north, these skippers should be able to sail a fairly direct route for the next few days before the wind drops a little and goes further aft.  Then it'll be lots of gybing to line up their approach to Guadeloupe.  The slower boats will have to negotiate another (hopefully less violent) front toward the end of the week, which could create some lanes for some of the early losers.  We'll keep you posted.
-Nick and Henry
UPDATE: DAMAGE REPORT FROM DAYS 1-3
Sunday 2 November
-9h00 : Luc Coquelin (Classe Rhum) hit by dive boat when at anchor, damaged bowsprit.
-13h15 : Jean-Édouard Criquioche (Class40) rig problems, starts at 1900hrs.
-15h00 : Ricardo Diniz (Classe Rhum) diesel problem and other issues. Arrived back in Saint-Malo at 1800hrs left Monday 1700hrs
-19h00 : Charlie Capelle (Classe Rhum) stops in Saint-Quay Portrieux to let worst of weather go, restarts Monday 0800hrs
-19h45 : Jean Galfione (Class40) strikes unlit buoy off Bréhat and damages hull. Arrives Saint-Quay Portrieux at 5h30 Monday, aims to leave 19h Monday
-20h15 : Giancarlo Pedote (Class40) sail problems heads for Roscoff. Arrives at 7h, leaves Monday 11h
-23h00 : Marc Lepesqueux (Class40) loses keel fills ballast heads to Guernsey under engine arrives 10h Monday Abandon.
-23h30 : François Angoulvant (Class40) loses keel, helicoptered off at 00h40 Monday to Brest. Abandon.
-23h35 : Loïc Féquet (Multi50) float damaged, towed by SNSM to l'Aber Wrac'h at 8h Monday. Abandon.
-23h45 : Thomas Coville (Ultime) hits a cargo ship. Damages main bow and starboard float. Arrives Roscoff at 11hrs Monday. Abandon.
Monday 3 November
-0h30 : Bertrand Delesne (Class40) has problems with sails halyards and headsails. Heads to Perros-Guirec then Roscoff. Arrives 9h, depart 13h.
-1h15 : Bob Escoffier (Classe Rhum) sail and rig problems. Heads to Roscoff, arrives 08h Monday. Aims to leave Tues 06h.
-1h45 : Thierry Bouchard (Class40) wrist injury, heads to Saint Malo. Arrives 16h Monday. Abandon.
-4h20 : Brieuc Maisonneuve (Class40) pilot problems, heads to Roscoff arrives 10:45 Monday.
-5h35 : Gilles Buekenhout (Multi50) breaks rudder, towed by SNSM to Roscoff arrives 16h Monday
-6h30 : Nicolas Troussel (Class40) twists ankle, routes to Brest arrives 15h Monday. Abandon.
-7h00 : Hervé de Carlan (Multi50) breaks daggerboard, heads to Saint-Brieuc.
-7h15 : Erik Nigon (Multi50) shreds mainsail, heads to La Rochelle, Abandon.
-8h10 : Pierre-Yves Lautrou (Class40) loses two wind vanes. Heading to Camaret. Arrives 17h Monday.
-8h45 : Alan Roura (Class40) water ingress, other varied problems. Heads to Roscoff, ETA 19h
-9h45 : Tanguy de Lamotte (IMOCA) rudder damage, route towards Brest since 1400hrs.
-10h00 : Vincent Lantin (Class40) various problems, heading to Camaret.
-10h10 : Patrick Morvan (Classe Rhum) various problems heading to Camaret. due 18h30 Monday
-10h15 : Alain Delhumeau (Multi50) dismasted, heading to Brest Abandon.
-10h45 : Julien Mabit (Classe Rhum) pilot and electronics problems heading to l'Aber Wrac'h. Arrives 14h00.
-12h00 : Bertrand de Broc (IMOCA) pilot problem and injured elbow. Heading to Lorient. Abandon.
-14h00 : Arnaud Boissières (Class40) crack on deck and other pbs heading to Les Sables d'Olonne. Abandon.
-15h00 : Philippe Fiston (Class40) technical problems. Arrived Camaret at 17h Monday
-14h00 : Benjamin Hardouin (Classe Rhum) arrived Roscoff to repair leak, plans to restart Tuesday 06h
-16h00 : Conrad Humphreys (Class40) arrives Camaret 16hrs sail problems, batten car damaged
-16h30 : Nils Boyer (Classe Rhum) arrives at Roscoff to replace life-raft
-17h15 : Vincent Riou (IMOCA) damaged mainsail track mounting, heading downwind slowly to repair.
Tuesday 4 November
-Afternoon: Pierre Antonie (Multi 50) lightning strike; holed.  Airlifted to safety.
November 4th, 2014 by admin
Solo Figarists Nick Cherry and Henry Bomby begin our 2014 Route Du Rhum coverage with a great form guide for the fleets.  Follow Nick here, learn more about his Figaro campaign here, and tune in for all the info when the race starts in less than two days.  There's always the Ocean Racing Anarchy thread for the very latest.  Huge thanks to Bruce Schwab Energy Systems for supporting our coverage of this great race.  Please get in touch with the Vendee veteran to find out how his energy storage, solar power, and charging systems can benefit your cruising or racing boat today.  Photos from Christophe Launay.
Anyone who's never been to the start of this race needs to go, and it seems like most of France has. The population of St Malo swells from 45,000 to around 2 million over the ten-day period before the race, with massive park-and-ride car parks set up outside of town; getting to and from the boats is an absolute nightmare for the shore crews. There's something about the simplicity of this 3500-mile solo race across the Atlantic every four years that really captures the nation's hearts. Walking around town and jostling with thousands of the non-sailing public just to get around is cool and rare in our sport, and seeing just how rock-starrish the 91 skippers are – and how real a return they can offer to their sponsors – offers solo skippers hope of what may be achievable.
Beat Down?
At the moment it looks like the fleet will be starting in post-frontal westerlies, beating out through the chops of the channel before cracking sheets a little and heading across Biscay into quite a lot of pressure. Early indications are that the trades are developed quite a long way north and most of the boats should have a fairly straightforward and fast run to Guadeloupe. Things are still fairly unstable with some models predicting a very fast race and others showing a lot of the boats having a tough time due beating towards Cape Finisterre in some mildly heinous conditions.
Run Down
Ultime Class
This is the blue ribbon, main event, 'real deal' part of the race. Eight proper rockstars of the French sailing world lining up in, without a doubt, the filthiest boat porn on the planet (hopefully as a precursor to an imminent race around the planet, but more on that in a future installment).
In the last edition in 2010 'Petit Franck' Cammas showed us the light (albeit in fairly straightforward conditions) by going against conventional wisdom that said that the smaller, more manageable tris would probably beat his 105-ft Jules Verne trophy winner Groupama 3 when it came down to a solo race. Pundits say Yann Guichard will have a hard time handling Spindrift (ex-BPV) all by himself, that this time (with 200tm of righting moment compared with 160tm in BPVII and 28 in an IMOCA) it really is too big. He has the fastest boat, that's for sure; can the Jules Verne Trophy holder be handled by a lone, mortal man, or is the old G3 the maximum?
Sticking my neck out a little bi,  I'm going to put Thomas Coville in the new (to him) Sodebo (the heavily modified ex-Geronimo) as favourite. He will benefit from a lot of up-to-date design work on the floats and foils as well as plenty of time sailing these sorts of boats alone thanks to his 4,5 failed attempts.  Or is it 6???! Watching him go through the start line on his last failed RTW record attempt with all three rudders well clear of the sea shows that he certainly isn't lacking for balls for this race – almost a sprint in monster-multi terms.
Loick P is the final podium bet, having already done this race 7 times! On top of about 45 transats in total. Seriously.  And he's a nice chap. Many are sad we didn't get the incredible story of him racing across in his little yellow boat 'Happy' which would have gone down a storm in France, being the man he is and the name he has there. But he was the only man Banque Pop (the Ex-G3) could go to after Armel hurt his hand (in a freak car washing accident?), the boat is fast, it's been breaking records throughout 2014 and may be the best optimized for a solo run.
Never to be discounted, in his somewhat conservative (by modern standards), Nigel Irens-designed 105 footer, we have Francis Joyon. Probably the hardest man in sailing and a true solo obsessive. We have been wowed by stories of his solo transatlantic records attempts for years, and by solo we mean no shore team whatsoever, sailing on and off mooring bouys in New York harbour all by himself. (Is this true or just a rumour?!) If this race gets rough and decimates the fleet like the 2002 storms that destroyed piles of ORMA 60s, IDEC and Joyon are the combo I would back to be the last one standing.
Watch out for the race-within-a-race in this fleet between the three somewhat modified MOD 70s. These boats have shown they can be pushed hard with a crew and hopefully the improved emergency sheet release systems mean that Sydney Gavinet's prediction that he has a 50% chance of capsize won't come true. The other two MOD-touting skippers Seb Josse and Yann Ellies both have a reputation for pushing hard, and whilst it would take something odd to happen for a MOD to come in first you can be guaranteed a good old battle going on here. Yann has the least time in the boats and the least modified, but he has been smashing the Figaro Circut for the last 3 years, and could pull something impressive out of the bag. As a pair of Figaro sailors ourselves, we would love an underdog victory from Paprec in this one. It would probably be rude not to mention the race record holder from 2006 Lionel Lemonchois in his deeply modified former Orma 60 'Prince de Bretagne'. If the four more powerful boats have some sort of major calamity or follow each other into a meteorological black hole then Lionel is our man! He should really beat the MODs, but they've shown themselves to punch well above their weight…
The extra dimension is this class compared to the others is that outside weather routing is allowed, which to us, makes sense – you wouldn't want to be stuck at a computer for any length of time downloading the latest gribs whilst the boat careens down a wave at 35 knots into a full somersault. All the big French names in French Meteorology are on the payrolls here and it will be interesting to see how the different approaches pay off once things kick off on Sunday.
IMOCA 
There are 9 boats in this fleet. Four favourites in order are: Francois Gabart, Vincent Riou, Jeremie Beyou and Marc Guillemot. It would be brave to bet against Vendee Globe golden boy Francois, but rumours from recent training sessions in Port La Foret have Riou's PLB being right on form with a lot of caginess surrounding modifications to aft ballast arrangements in relation to the new rule; IMOCA is the land of big secrets, and nothing is easy to call in this class as a result! There's no doubt Jeremie has a good boat in Maitre Coq, sister ship to Macif and he delivered the goods again in the world's toughest one-design race – the Solitaire du Figaro. Guillemot's Safran certainly has form in the transatlantic races of recent years and I'm sure he'll be keen to make a mark in his last race before Morgan Lagraviere takes over the new boat next year.
The most interesting thing here is dock gossip regarding the six new Vendee-bound boats due off the drawing board of VPLP next year under the new rule, and the wide variety of foil solutions they've come up with.  DSS, outward-facing J and L foils, canting, raking, in and out and up and down and potentially adding a few more letters to the foiling vocabulary.  As in every new generation of Open 60, these new boats are going to be a big jump faster, and when reaching in big breeze, they could be light years faster.  Hopefully older boats can be retrofitted, and even more hopefully, the new one-design mast spec will be able to handle the added load of a faster, foiling boat. No one wants to let their cat out of the bag too soon in the build up to the all-important Vendee and we will have to wait for this exciting installment a bit longer.
For a potential spoiler, we'd love to see one of the nicest guys in sailing, Tanguy De Lamotte, get some real speed out of his new 'Initiatives-Coeur' (ex-Foncia, ex-Mare).  This older boat was heavily modified by Class 40 sailor Joerg Richers before he pulled out of the project, and she's potentially quite quick.
Class 40s
Loads to choose from here, and special props to youngest competitor in the race Paul Hignard who slept in and missed a big sponsor/press do on Tuesday after rumours of a big night on the sauce/with some chick.  Legend! Otherwise, there's a load of good boats, good skippers and not a lot of recent bust ups to show form.
Seb Roues is undefeated in his Mach 40 GDF Suez in 2014, although some questions remain regarding his solo skills. A lot of people rate Spaniard Alex Pella highly in his sexy looking Botin designed Tales 2 but there are plenty of boats with a reasonable shot at the top spot. Yannick Bestaven has a very new Verdier boat and a reputation for pushing hard, Halvard Mabire is sailing a new Pogo s3 and has a lot of experience and a good track record. Stepping down from his laughing cow Open 60, Kito de Pavant should be in the mix and whilst he's had a bit of a break from solo sailing, brit Conrad Humphreys seems to have a good sponsor in Catphones and plenty of motivation.
Our wildcard favourite is Nicholas Troussel in his Humphrey's designed Credit Mutuel de Bretagne. A real last-minute campaign but this guy has a record of winning two Figaros with well-judged flyers. His boat is quick enough and if there is a good corner to be banged, expect Nico to be right in there, making it work.
Multi 50s
A walk down the Multi 50 dock in St Malo is quite interesting, a history lesson in the development of offshore trimarans over the last thirty years. It would also be interesting as a standalone race but I think we'll be too busy following the big tri's and the 40s to get too bogged down here once the race starts. Four top contenders here based on previous form and newness of boat are: Erwan La Roux, Yves Le Blevec, Lalou Roucal and Loic Fequet. Fair play to everyone involved in this class as sailing solo across the Atlantic in a 50ft tri takes some proper balls, and it's great that there's 11 of them out there doing it. Interestingly, this class prevents foils, and you can't argue with their numbers, but would it certainly kick off big time if foil development was allowed? Imagine these lightweight 50 foot tris flying solo across the Atlantic. There is definitely some Frenchman out there crazy enough for it.
The Rhum Class

As far as we're concerned, it's cool that the race has this class. They might not look as cool as the big tris and the 60s but it does allow retired doctors from La Trinite, bearded blokes with odd looking cruising boats, and the living legend that is Robin Knox-Johnson to add some colour to this French classic. We won't be watching too closely to see who wins this fleet but expect some nice stories and that. Shame Loick isn't here with his Happy project, but hopefully he'll be back in 2018.
The start on Sunday morning is set to be a massive affair with literally thousands of spectator boats predicted, and the major viewing headlands along the Brittany coast rammed with fans. Due to tidal constraints in the St Malo Basin, the boats will be docked out by shore crews under cover of darkness before the sailors rib out after breakfast to race across an ocean. We'll be standing by to cover the start and offer a bit more insight into goings on as the race unfolds.
October 31st, 2014 by admin
A coiled-up fireball of enthusiasm and intensity and one of the smartest sailors you'll ever meet, Matt Scharl defies labels; the 43 year old commodities trader and math wiz is also a fitness freak and adventurer – and he looks about 20 years old.  Despite his financial acumen, Matt spends much of the months between June and October farming soybeans on his own acreage in the middle of Michigan.  The longtime shorthander has either won or broken a record for just about every singlehanded race in the Great Lakes, mostly on his neon-green former ride Gamera, an F-25C Corsair. He's also done well in the double handed Atlantic Cup, winning the last edition in a hard-fought battle and setting up his next big adventure – the Route Du Rhum.
With SA Favorite Mike Hennessey (Dragon) pulling his long-anticipated RdR plug after losing months due to his well-publicized prang of a well-known brick, just two American skippers are left to represent the USA in the world's most famous singlehanded transoceanic race, both in the Class 40.  Since one of them sounds French, we'll focus on Matt's attempt at the ultimate singlehanded glory outside the Vendee Globe.  He checked in with us a few hours ago from due East of Newfoundland; track Matt right here.
Picture the scene: Lying back on your Fatboy thinking about taking a nap, but it just won't come. Pan out a bit and you realize that you're on the ocean, on a boat with every ounce of weight stacked in the back, beam reaching at 13-18 knots on a Farr designed Kiwi Class 40…it's a Bodacious Dream, no doubt, and the song with the line "How Did I get Here?" comes to mind.
Flash back to Nov, 2012, while Dave Rearick was prepping for the round-the-world Global Ocean Race.  I had lunch with Jeff [Urbina, BDX co-founder] one day, mentioning the Route Du Rhum as a possibility once Dave finished his circumnavigation. He thought "Why not? The boat will be there anyway."  When the GOR got pushed back a year or two and Dave went off to fulfill his lifelong dream of solo circumnavigating,  I figured the Route Du Rhum opportunity was gone for four years, at least.  Then I was told that Dave would be finished in time for me to do the Route Du Rhum.
Upon Dave's return, the boat's been gone through with a fine-toothed comb.  Parts replaced, fixed, and purchased to get up to snuff for the most competitive race on the calendar.  I worked hard to secure sponsorship, getting some personal support and help from friends and family as well as Chicago's excellent Skyway Yacht Works, but was disappointed to find that, other than those mentioned above, none of the many companies I spoke to saw the value in such a sponsorship.  To those who did, I thank you from the bottom of my heart.
I left alone (not counting my monkey mascot) on Monday for my qualifying passage between Rhode Island and France, and it gives me some time to learn the boat better, test sail combinations and in general get a feel for longish time spent alone. Anyone who knows me knows I spend plenty of time alone, but this time it's been a little different – I'm leaving behind someone recently met but very special, thankfully she is very close to me in spirit even if I cannot feel her touch.
It took a few days to get in a rhythm, but I'm starting to feel it, moving well, motivated by making as much speed as possible. Thanks to an overheating generator I am learning to love the whine of the hydro-generator, even if that's had mounting issues too – fortunately, my Macgyvering skills are up to snuff thus far!  I generally hate deliveries – hence the trailerable trimaran I owned for years – but this is different.  I am not delivering to St. Joe's or Mackinac City – I am delivering to the Queen of solo racing; to crowds of over a million spectators; to the land where tiny frenchmen race 140-foot trimarans across the ocean alone.  I am delivering to the Route Du Rhum, and that's just fine.  I couldn't really believe it before, but I can now.
A final note: Without the extreme generosity of Gaye and Jeff, there's a whole pile of guys around the world – as far away as Finland and New Zealand – who are able to do some of the greatest adventures and races in the world. None of us – especially me – will be able to ever thank you enough.  We'll try, but it will still never be enough.  So thank you.
I'll be speaking to Mr. Clean later in the week via Satphone for a Sailing Anarchy Innerview, so feel free to post in the Route Du Rhum thread or hit my Facebook Page if you have anything you'd like me to address.
-Matt Scharl, Skipper
Class 40 Bodacious Dream 
September 4th, 2014 by admin
While The Tour De France a la Voile has history, a great name, and a format that people understand, it's on the verge of death, with just nine boats competing in the edition running now and almost zero worldwide interest in the race.  There isn't one reason for the Tour's; there are several; add up the massive bungling of the selection process/transition from the beloved Farr/Mumm 30 to the unloved Archambault M34 with France's economic woes and a failure of the organizers to control cost and you have a recipe for failure.
Tour organizer ASO is looking to fix the problem, and Ouest France writes that they will announce an entirely new concept for the Tour on the 27th of July, speculating that the sexy, VPLP-designed DIAM 24 one-design trimaran might get the nod for a new inshore and coastal raid-style Tour format.  We've also heard rumors of a similar concept but driven by the GC-32 fouling cat; could these small racing cats really handle the huge variety of obstacles that coastal France, Britain, and Spain throw at them?  We'd like to find out.
You can find some video of the DIAM and a good discussion underway in the thread over here. 
July 17th, 2014 by admin
Lagoon Catamarans Director Yann Masselot gives us the corporate view of the "Creature From The Sunk Lagoon" story we published yesterday about the sinking of a 50′ cat near Brisbane, Oz.   
Lagoon has built one hundred fifty Lagoon 500 catamarans between 2005 and 2012, when we replaced this popular model with the Lagoon 52.  Many of the Lagoon 500s have sailed around the world with their owners, and the boat is widely recognized as a seaworthy, safe and good performance catamaran.  We do not know yet what happened to One World and we hope that the investigation will bring more information. The important matter is that the crew is safe, thanks to the efficient intervention of the Australian coastguards.
Regarding your statement about the Thai Lagoon 500 Nipper, we would like to supply you with the truth about this story: Nipper was abandoned by its inexperienced new Thai captain after catching the Dyneema dinghy painter in its propellor, tearing the engine off its bed, and creating a huge leak.  This captain never closed the connecting valve between the engine bilge and the main bilge, and he never started the bilge pumps.  He got scared, abandoned the vessel on a nearby sand bank, leaving all windows open.  At the next tide, the waves flooded the grounded vessel and sank her with no one aboard.
The owner of the vessel sued our dealer in Singapore and lost the case. He then tried to escape Singapore with his money to avoid paying the court fees and expenses he was ordered to by the judge.  This owner was upset about his own bad decision to choose a cheap insurance plan with a high deductible (that he asked us to pay) that he is trying to blame Lagoon for what transpired.  Of course the court in Singapore did not see it that way.  If you read the content of his website, you'll find all pertinent documents that prove our version.
Thank you for sharing this information with the readers of your great website.  Many thanks, and best regards,
-Yann
May 9th, 2014 by admin
The battle at the back of the Transat AG2R fleet was almost better than at the front with Michel Desjoyeaux and Corentin Horeau on Bretagne- Credit Mutuel Performance just barely nipping 3-time Figaro Champ and 3-time Vendée Globe vet Jean Le Cam to the line for 10th place with a delta of just under 3 minutes after 24 days at sea! Fellow IMOCA star Kito de Pavant sailed into Gustavia less than 40 minutes later on Made in Midi, bringing this 12th AG2R well and fully to a close with just one boat left on course.
If you have the same tracker-following addiction that we do and you dig the Figaros, don't despair – the circuit has lined up an encore with the Solo Concarneau- Trophée Guy Cotten beginning today! Sailing a 370-mile course that encompasses much of the Solitaire du Figaro's third and fourth legs including passage of the notorious current-intensive Raz de Sein, Solo Concarneau is as tactical as it is important. With most of the big Figaro players including VG star Jérémie Beyou, two-time defending 'Solitaire' champ Yann Elies, the indomitable Isabelle Joscke and legendary Alain Gautier, the Figaro fleet continues to provide. Combine the cast of regulars with the ever-present contingent of living legends, an Artemis-supported British invasion and the average bloke with a dream, the Solo Concarneau guarantees to be a thriller from start to finish.
-Ronnie Simpson, Open Blue Horizon
May 1st, 2014 by admin

We are both stoked and scared about the just-round-the-corner 2015 Little America's Cup; stoked to see ultra-enthusiast Jeremie Lagarrigue (Hydros.CH) making so much happen in advance of next summer's event on Lake Geneva – a sexy new logo, sweet promo videos like this one above, an ultra-organized committee pulling in sponsorship and working to encourage competitors, and plenty of behind-the-scenes work to make the event as interesting as Jeremie and his team.  But we're very afraid after seeing that this morning's Press Conference – the first thrown by the Organizers for next year's event – was almost entirely in French.
By this time, all SA readers will know that your Editors are avowed Francophiles.  Thanks to Mr. Clean, Ryan Breymaier, Ronnie Simpson, and dozens of other contributors, no English-speaking website has done more in-depth coverage of major French races than we have over the past 5 years, and more than 100,000 Frenchmen click on SA every month whether they can speak English or not.  And of course, no culture has done more for the advancement of high-performance multihull development than the Franco-Suisse; they are responsible for more big racing multihulls than any other; without them, we'd never have the ORMA 60, the MOD-70, the BOR-90, the Alinghi 90, the America's Cup 72, or dozens of other world-leading and groundbreaking boats.  But there's a real danger in letting things "turn Franco-Suisse," especially in the context of one of sailing's most historic classes.  With all due respect to the original slogan so enjoyed by the urban aware, "once you go French, very few come back."
Note the Open 60 and its governing body IMOCA; founded by an American, a Swiss man, a French woman, an Italian, and an Englishman, it was originally intended to be a truly international group to govern the sport's premier solo racing class.  Within 8 years, it had been almost entirely taken over by French-speakers, with a tiny handful of non Franco-Suisse ever getting to the table – a problem so grave it forced IMOCA to bring in Sir Keith Mills' OSM organization last year to try to internationalize and invigorate the stagnating class. Note the MOD-70; a brilliant idea and a spectacular boat at a surprisingly low price, killed almost before it began by it's developer and the Franco-Suisse organizing body's overreliance on French marketing and sponsorship infrastructure during trying times. Note the ORMA-60; a perfect example of too many eggs in one basket, with a fleet almost entirely destroyed in one race along with a dozen sponsors' goodwill and interest in ever sponsoring big oceanic multihulls again.  ORMA's death led to the new prominence of the record-breakers, because there weren't enough good sponsors left to build another big multihull circuit.
With Jeremie and team putting major effort into winning the next Little Cup, Cammas joining the Lake Geneva fleet to defend his title, and few credible non-French challengers waiting in the wings, we're definitely afraid of the Little Cup becoming Le Petite Coupe forever.  Selfishly for our Senior Editor, it would mean a few nice trips to France or Switzerland every few summers to cover some great racing in one of the world's most interesting boats.  Democratically, it would mean a major loss to the world of the truly 'international' competition that's marked the Little AC for more than half a century.  If you want to bone up on that history, have a look at the Team Invictus page here.  And if you'd like to skip ahead to Steve Clark and the English-language portion of this morning's press conference, go here.
Confused by the title?  Damned kids these days don't know shit.
April 30th, 2014 by admin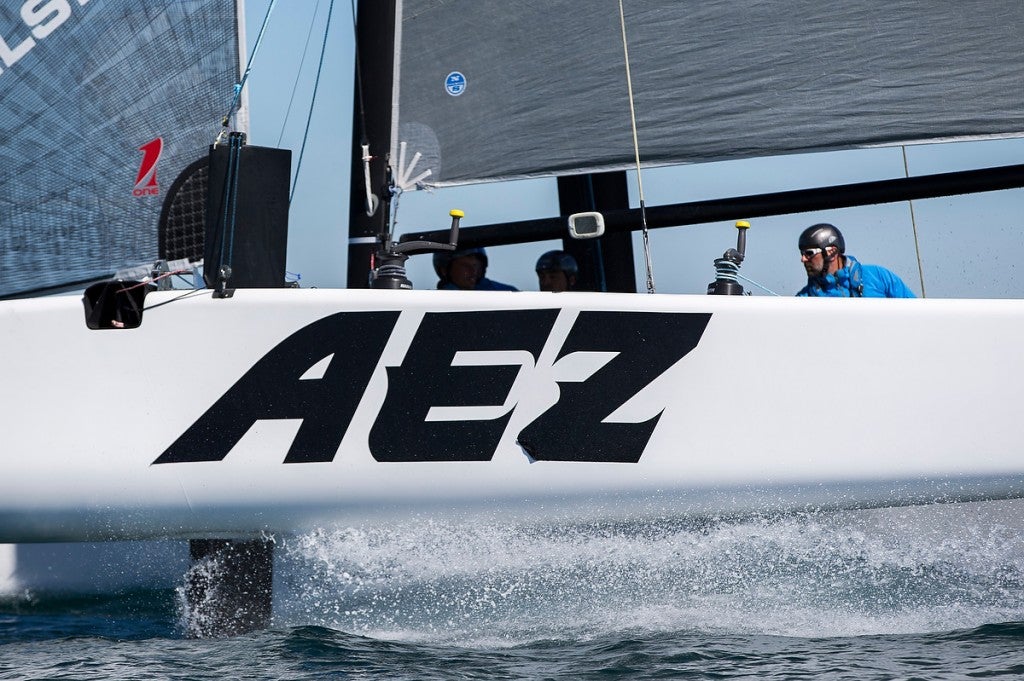 Clean Report
More than 18 months ago, just a month after ETNZ revealed their AC72 was a flying boat and lured by the potential for a 32-foot version of it, I spent 12 hours flying to Dubai just to check out the brand new GreatCup 32 catamaran from F-18 sailor Laurent Lenne and designer Martin Fischer.  I took a cab straight to the Dubai Marine Center, and an hour later, we were sailing the sleek carbon cat in 8 knots of Arabian breeze.  And 20 minutes after that, the boat was broken.
Needless to say, I was underwhelmed.  The Southern Spars-built spine of the boat wasn't right, and I wasted a couple of days in a plane to find it out.  To compound matters, it was pretty clear that the intricate, Alinghi 90-style S-shaped foils were cool-looking, but lacked true foiling ability.  They reduced displacement, but only in very specific conditions would they lift the boat out of the water and create anything that could be called stable flight.
But Fischer, Lenne, and Aussie project manager/COO (and longtime SA'er) Andrew "Macca" McPherson had just seen the future in the form of a flying red-and-black carpet in Auckland, and they were already planning on meeting it.  They spent much of 2013 studying, learning, and redesigning the foil system for the GC32, and while they didn't put a ton of effort into selling a boat they knew was in the midst of a big change, they quietly sailed a 4-boat, 4-event Great Cup series in Europe.  And they kept working.
Fast forward to April, when I got a call from Lenne.  "They're ready," he told me.  "And you should get your butt over here."  Hours after Charleston Race Week ended, I jumped on a plane from Charleston to JFK to Paris to Marseilles, and made my way to one of Europe's biggest marinas in La Grand Motte, France.
An intense design process had led Fischer to a ETNZ72/Flying Phantom/Groupama C-Class style foil solution, with acute-angled, rake-adjustable J-boards with a massive 1.2m span, and adjustable t-foil rudders like a Moth.  Built by Heol, supplier of foils for just about every major French racing multihull for the past decade, the foils are serious pieces of machinery – a single dagger supports almost the entire weight of the nearly one-ton cat and its crew, is built under a massive 8 Bar of pressure, and weighs some 50 KG.  The good news is that you don't often take them out; they insert from the bottom and retract up to the hull, allowing you to beach or ramp launch the boat with no hassle.
But even if they were a big hassle, it would be worth it, because after three days of sailing the GC-32, I can honestly say that this boat has the potential to change multihull racing forever – all of a sudden, non-foilers just seem kind of silly.  They're slower, less forgiving, harder to sail, more loaded up, and just nowhere near as fun.  I'm leaving for the airport in just a few minutes and there is a long, comprehensive video being put together next week with all the details, so I'm going to keep this short, but after crewing, driving, filming, and spectating for the past 3 days in winds from 5 knots to 30 knots, it's very clear that this boat is something entirely new.
What do I mean by that?  How about some numbers:  22 knots upwind at 44-50 degrees TWA, with more than 5 degrees of windward heel – almost like a moth.  32.7 knots downwind on the boat's fourth day in the water, with too much sail area and old sails designed for a skimmer.  And our gybing angles, confirmed by Velocitek GPS replay?  40 degrees.  In other words, this boat sails downwind at roughly the exact same angles as an AC-72, and 80% of the speed, with a quarter the crew.  And at 235K Euro, it's around 1% of the cost.
Far more importantly, a no-talent hack like me can EASILY drive the thing.  This is no joke – the GC32′s huge vertical lifting surfaces are nearly as big as those on the Oracle 72, and that means when you do something stupid – which I did plenty of – you don't crash down like a Moth or AC72, and if you press too hard and get too much heel on, the boat gently slips sideways rather than pitching you over into the piss.  I hit 24.4 knots yesterday in 14 knots of wind, heating up to pass a fleet of Fireballs rounding the top mark off Montpellier beach…the lead boat just stopped and stared and let his competition sail by him.  An excellent driver like Macca or Adam Piggot only got to 26 – if I can do 90% of their speed, truly anyone can.  In other words, you don't need to have Bora Gulari's cat-like reflexes, Jimmy Spithill's iron balls, or Larry Ellison's mountains of money.  Just a couple hundred grand and a desire to fly.  The Daily Sail's James Boyd hit 20.2 on Monday, so at the moment I am the fastest 32-foot foiling cat driving media person in the world –  a title I will wear with pride.  Back on you, Boydie.
More to come, and big thanks to Sander Van Der Borch for the gorgeous shots.  There's more info and some data in the thread.
April 18th, 2014 by admin
If you read Sailing Anarchy regularly, then you know that we have a major hard-on for all things related to the French shorthanded offshore racing scene; from the larger than life Vendée Globe to the ultra-extreme Mini Transat to the pinnacle-of-boat-porn-cool maxi trimaran scene to the biggest spectator scene in the sport at the Route du Rhum, we love it all and go out of our way to bring it live to your web browser.
That includes the biennial Transat AG2R which currently sees a fleet of one-design, 33-foot Beneteau Figaro II"s racing doublehanded from Concarneau in Brittany to St. Barth in the Caribbean, some 3,890 miles away. The single most competitive ocean racing fleet on the planet, the Figaro class has put 15 boats on the line for this AG2R with a smattering of former Figaro winners, Vendée Globe vets and even 'Le Professeur' himself, Michel Desjoyeaux.
Departing Brittany on Sunday, the fleet navigated a 10.5-mile coastal route before putting to sea and immediately beating into the leading edge of a cold front. Upwind on port tack in big breeze, defending champs Gildas Morvan and Charlie Dalin on Cercle Verte assumed their position at the pointy end of the fleet alongside Mich Desj before suffering a port lower shroud failure and dismasting. The defending champs are safe after cutting the rig away and have motored to Port La Forêt.
Almost in unison, all 14 remaining Figaro's tacked to starboard on the passage of the front and began reaching south in westerlies which gradually backed to northwest and finally to the prevailing north/ northeast flow. Currently sailing downwind off of Cape Finisterre, this AG2R has seen it's first major tactical gamble, almost splitting the difference to the east and west of the infamous Finisterre Traffic separation scheme.
The five inshore (easterly) boats are making out ahead for the time being with Classé MIni standout Gwenolé Gahinet and former MACIF Figaro skipper Paul Meilhat stretching out to a small lead over Made in Midi, co-skippered by former Groupe Bel IMOCA skipper Kito de Pavant who's surely relieved to make it past Biscay and the separation scheme after being haunted by the region in the last two VG's. Long-term forecasts show that the fleet will battle light air to reach the mandatory turning mark at La Palma before sailing downwind in the northeast trades to St. Barth. Mich Desj and Corentin Horeau on Bretagne-Credit Mutuel Performance currently lie in 7th, some 15 miles back from the leaders (and far west), while Roland Jourdain and Martin Pope on La Cornouaille are currently in fifth place at the tail end of the leading (easterly) group.
Check the front page and read the official Transat AG2R thread to stay hip to the latest on this under-appreciated and almost unknown race.
Transat AG2R site here, tracker here, standings here, Facebook here.  Photos from Dom Bonobo with more on his FB page.
-Ronnie Simpson
April 9th, 2014 by admin