Posts Tagged 'France'
Clean Report
The MUSTO + Torqeedo "Cleanin' Up Europe" report continues with this hour-long jaunt in Western France.
If there's two things I spend most of my pre-regatta time on, it's dock walks and form guides.  So with one day to go until the Vendee Globe begins, I decided to create some efficiencies and combine these two indispensible tools for following the world's best race.  The result is this video tour of every one of the 29 entries for the VG.
We grabbed the most knowledgeable English speaker we could for this one; Ryan Breymaier is the rigger for overall contender SAFRAN, and he never pulls punches – listen to Ryan's analysis of each boats' strength and weakness and each skipper's history and chances.  Wanna know the best foils, the dark horses, the hopeless dreamers, and the real podium contenders?  This is the place to go.
Thanks also to Bruce Schwab and Ocean Planet Energy for his support of our coverage.
November 5th, 2016 by admin
The odds-on favorite for the 2016/17 Vendee Globe checks out an entirely novel use for his foiling j-board aboard Banque Populaire.  Photo dug up by whoever the hell Nolimit Team 972 is…and there's already a pile of great Race Village photos on the VG site…T minus 18 days!
October 19th, 2016 by admin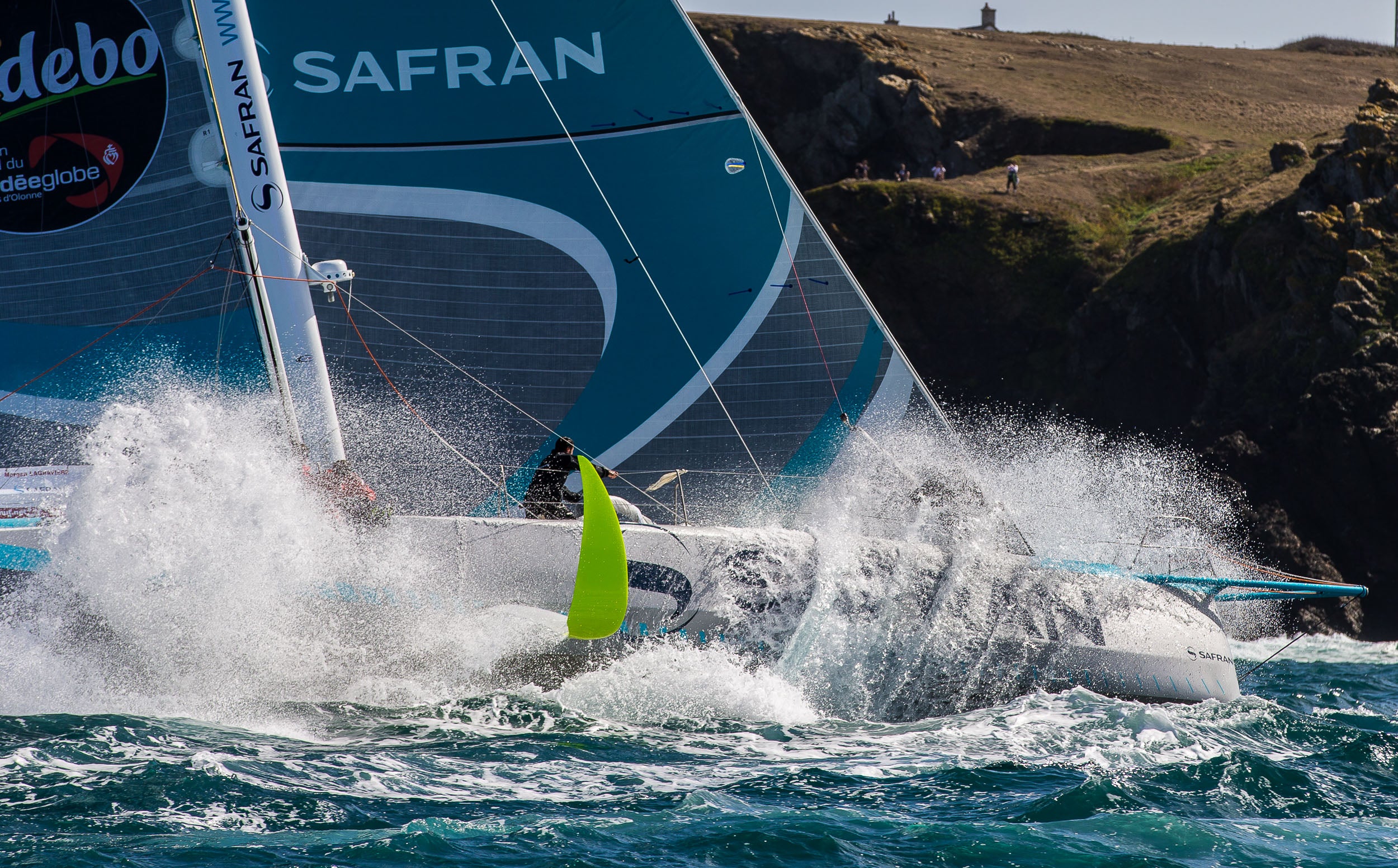 There's never been anything quite like the latest generation of Open 60s, and in just a couple of months, we'll learn how they perform in anger when the Vendee Globe kicks off.  We haven't been this excited by a monohull class in years, and we recommend you take some time to catch up with the latest; here's the Ocean Racing Anarchy forum thread, full of info.  Here's the most reliable Facebook Page under the Vendee umbrella.  Here's the latest promo/trailer video for the race, and here's a pretty good Conrad Colman documentary from the NY-Vendee Race. Brian Carlin photo, with more from this past weekend's Azimut Race here.
September 26th, 2016 by admin
We stand with our brothers and sisters across the ocean, and we cry for you.  At this time, we needn't say much more. If you are not yet aware, Paris has been attacked by gun and bomb-wielding terrorists on Friday night, with several gunmen possibly still on the run.  Facebook has a a 'safety check' feature to check on your friends and family if you're worried.  Love, and strength, from the entire Sailing Anarchy community.
November 13th, 2015 by admin
Welcome to the 2015 Tour De France a la Voile, the seminal series barely rescued from an ignominious death last year and entering its final days of action down in Nice.  The new TdF is all about beaches, babes, trimarans, and action rather than sportsyachts, distance racing, and student teams.  Wanna see the balls-deep T-bone this shot comes from?  Click here for the full video of the crash.  For more links and discussion of the all-new event, hit the thread.
July 24th, 2015 by admin
When Sperry told us they wanted to support coverage of events we thought made a difference to the sport of sailing, we instantly thought of the J/70 Worlds.  Sure, there was a 95-boat Melges 24 Worlds two weeks ago in Denmark and a 100-boat SB20 Worlds in Lake Garda last week, but with nearly a thousand boats sold in three years, nothing comes close to the impact on racing made by the new and exploding class from the J0hnstones. And as evidenced by the 16-nation field in the boat's second-ever Worlds in La Rochelle, the effect is spreading far, and fast.
So we put together a 6-man crew to bring live video of all the racing to you guys, and we didn't skimp.  The live feed included commentary from SA's Senior Editor and Adventures of a Sailor Girl's Nic Douglass, along with daily highlight reels from Petey Crawford, and huge high-quality photo galleries from Sander Van Der Borch.  Why'd we go so big? Because we want to see more of the family-friendly, female-inclusive, youth-engaging vibe this little boat is giving to people all over the world, and the infrastructure J/boats have created to deliver well-built, good-looking, quick-ish little racers that are all damned similar to one another is something we admire.  And we felt privileged to be able to document it all.
Above you'll find our final movie from last week's Championship, and we really, really hope you'll sit through it until the end.  And don't be drinking coffee near the end.  If you laugh as much as we did, share the link with your friends. For the full interview with new World Champ Julian Fernandez, hit this link.  The full chat with Marty Kullman including the drama with North's DNE request is in here.  You can grab any one of the dozen-plus interviews and highlight reels in our Vimeo index.
As always, huge thanks to Sperry for their support, and to J/Composites Europe for all their support on the ground and on the water.  More thanks at the end of the video.
July 17th, 2015 by admin
Aussie Mini sailor Katrina Ham says her boat was smashed to bits and she was left to die by an official Mini-Transat rescue boat two years ago during the stormy and poorly-managed 2013 race.  Now that she's qualified for the 2015 MT, those same organizers have now rejected her entry.  Here's the story, with thanks to Conrad Colman for the heads up.  Head over to Katrina's fundraising page to give her a hand, read more about her story over here, and blow up the MT organizers with the link to this story on Facebook until they quit acting like assholes.
Katrina, 27, from Brisbane has been working for years to get to reach her goal: the Mini Transat. Having moved to France 3 years ago, she lives in a van on the submarine base in Lorient and teaches English to survive. But this is not the first time Katrina has come up against hurdles. After finishing all the qualification requirements and getting to the start in 2013, the race was delayed and the fleet was diverted to northern Spain. During an organised delivery to the re-start, Katrina was taken under tow by an official accompanying boat which towed her into dangerous breaking waves. Her boat was let loose after she was rolled by a wave and she was hurtled into the water. Fortunately she was attached to her boat, but the boat that was towing her was nowhere to be seen. Katrina was discovered by chance by the harbour pilot who ended up swimming for his life as well! While Katrina was eventually brought back to shore, her boat was left drifting, to be smashed to pieces.
Proving that she's not one to give up, Katrina stayed in France, acquired another mini, and set out to get qualified again. Even though she completed all the requirements again, her entry has been rejected because they organizers want her to pay €2000 for the tracker that was apparently damaged when her boat was lost. Katrina has given the tracker back and has no legal obligation to pay for it but without the means to fight given the time restrictions Katrina's dream is threatened to be crushed again. It is crunch time at the end of the week, when entries close she either coughs up and gets to race (assuming they accept her and she finds the means to get to the start) or she misses out altogether…..not an easy choice given the circumstances.
Please help Katrina so that she can be on the start line. She won't win the race, but she has demonstrated for years that she has the skills and mental fortitude to overcome all the challenges ahead of her if she has the means. Please lend a hand and help this young adventurer fight back from the unjust position she has found herself in and succeed in realising her dream and sharing this adventure with you.
July 17th, 2015 by admin
Day 3 of the J/70 Worlds saw no more black flags but plenty of hard-charging action, paint-trading, and even a few position changes.  Mexico's Julian Fernandez needs one good race to lock it up, though Carlo Alberini's crew says there will be some firework at the start of Race 9 of the championship.  Meanwhile, in a truly bizarre display of poor sportsmanship, one American team filed to have another American team's black flag turned into a DNE with no benefit to their own scores.  The reason? It was a North sailmaker filing against a Quantum sailmaker – the second US boat in the standings, and they go from 5th to 15th…
Some majorly gorgeous photos from Sander over here, and follow all the live action coming in a few minutes.  You can grab a look at our post-race interviews last night with Helly Hanson's John Mollicone here, from Jud Smith over here, and from Notaro's Benedetto Giallongo here.
July 11th, 2015 by admin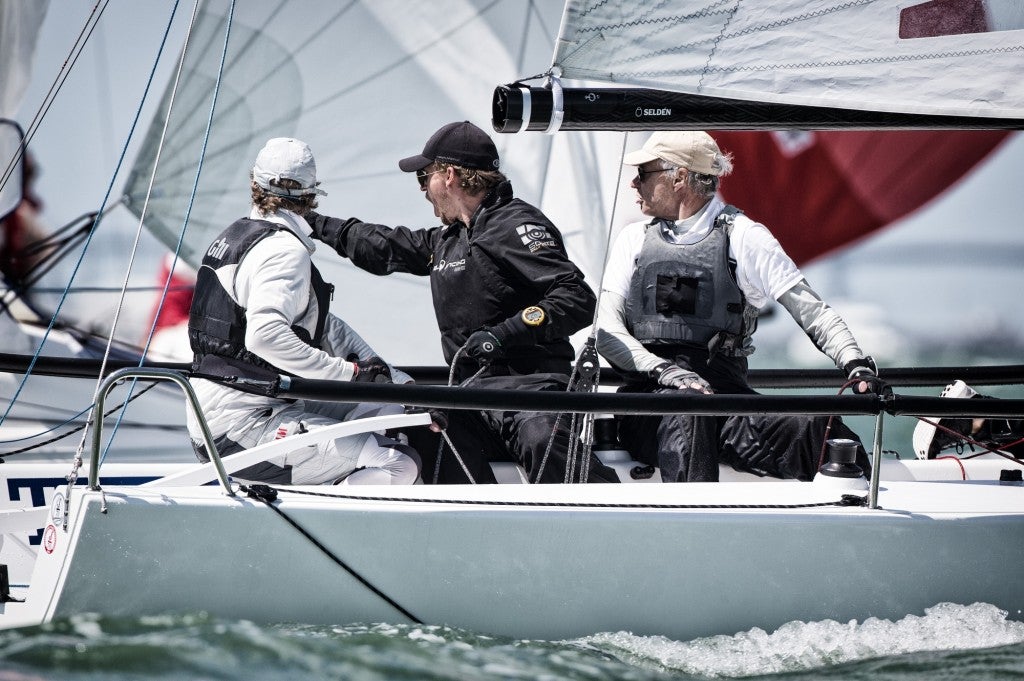 With every one of the 6 starts (and several general recalls) firing off under the black flag, a little bit of conservatism is going a long, long way at the J/70 Worlds.   With current WC Tim Healy dropping a BFD, Julian Fernandez is looking strong for the class's second ever Worlds.  Sander Van Der Borch is making it look simply gorgeous; have a look at the monster jellyfish in this above/below water shot.  And look at the contrast on these spinnakers.  Or maybe you prefer some spray?
Here are the Day 2 Highlights from Penalty Box Productions.
July 10th, 2015 by admin
The first day of the second-ever J/70 Worlds lit up with gorgeous sun and an unexpected 15 knots from the NW.  But when the chop stacked up with almost two knots of outgoing tide running right over the starting line, it was always going to be a bad day for some people.  We just didn't know it was going to be bad for the SA live video team!
As anyone in sailing knows, the French do things just a little bit differently.  That's why their food is so much better than anyone else's – because they keep it the way they like it, and change is the enemy.  That attitude carries over to everything, and on the race course, that meant doing everything a bit differently than most of us are used to in big fleet sportboating.  While nearly every major sportboat worlds over 50 boats has run a midline boat for years, that's not the French way, so rather than a tidy start with three different vantage points to call OCS boats, we saw the exact opposite: 5 general recalls for race 2, with two of them under black flag, and an astonishing 19 boats starting off their Worlds with a BFD, including several championship contenders.  To add insult to injury, at least one top US boat only looked on the first chalkboard for their number, and the Race Committee only called the numbers on the radio in French…at a regatta where english-speaking boats outnumber French by 3 to 1.
A late night saw no redress given for any of the 19 BFDs, which changes the nature of the regatta considerably for quite a few, but unsurprisingly, Julian Fernandes (MEX), Tim Healy (USA), and Carlo Albierini (ITA) are mixing it up for the lead after three.
Our live coverage was dotted by French internet issues, but that was nothing compared to our full electrical loss a minute into Race 3; a quick check at the inverters revealed 50 gallons of water sloshing around in the bilge, flowing in via a blow out raw water pump seal.   Our broadcast ended with no power, no stream, and a last-second anchoring practice to keep us off the beach before a two-hour tow-in from the RC.
Fortunately none of that kept Sander Van Der Borch from putting together a gorgeous gallery of the day just like his photo above (and the less gorgeous one on the left).
Watch it all unfold live today (with a bit less drama behind the lens, hopefully) over here, or check back on the front page for the embedded vid.
July 9th, 2015 by admin