Posts Tagged 'France'
We stand with our brothers and sisters across the ocean, and we cry for you.  At this time, we needn't say much more. If you are not yet aware, Paris has been attacked by gun and bomb-wielding terrorists on Friday night, with several gunmen possibly still on the run.  Facebook has a a 'safety check' feature to check on your friends and family if you're worried.  Love, and strength, from the entire Sailing Anarchy community.
November 13th, 2015 by admin
Welcome to the 2015 Tour De France a la Voile, the seminal series barely rescued from an ignominious death last year and entering its final days of action down in Nice.  The new TdF is all about beaches, babes, trimarans, and action rather than sportsyachts, distance racing, and student teams.  Wanna see the balls-deep T-bone this shot comes from?  Click here for the full video of the crash.  For more links and discussion of the all-new event, hit the thread.
July 24th, 2015 by admin
When Sperry told us they wanted to support coverage of events we thought made a difference to the sport of sailing, we instantly thought of the J/70 Worlds.  Sure, there was a 95-boat Melges 24 Worlds two weeks ago in Denmark and a 100-boat SB20 Worlds in Lake Garda last week, but with nearly a thousand boats sold in three years, nothing comes close to the impact on racing made by the new and exploding class from the J0hnstones. And as evidenced by the 16-nation field in the boat's second-ever Worlds in La Rochelle, the effect is spreading far, and fast.
So we put together a 6-man crew to bring live video of all the racing to you guys, and we didn't skimp.  The live feed included commentary from SA's Senior Editor and Adventures of a Sailor Girl's Nic Douglass, along with daily highlight reels from Petey Crawford, and huge high-quality photo galleries from Sander Van Der Borch.  Why'd we go so big? Because we want to see more of the family-friendly, female-inclusive, youth-engaging vibe this little boat is giving to people all over the world, and the infrastructure J/boats have created to deliver well-built, good-looking, quick-ish little racers that are all damned similar to one another is something we admire.  And we felt privileged to be able to document it all.
Above you'll find our final movie from last week's Championship, and we really, really hope you'll sit through it until the end.  And don't be drinking coffee near the end.  If you laugh as much as we did, share the link with your friends. For the full interview with new World Champ Julian Fernandez, hit this link.  The full chat with Marty Kullman including the drama with North's DNE request is in here.  You can grab any one of the dozen-plus interviews and highlight reels in our Vimeo index.
As always, huge thanks to Sperry for their support, and to J/Composites Europe for all their support on the ground and on the water.  More thanks at the end of the video.
July 17th, 2015 by admin
Aussie Mini sailor Katrina Ham says her boat was smashed to bits and she was left to die by an official Mini-Transat rescue boat two years ago during the stormy and poorly-managed 2013 race.  Now that she's qualified for the 2015 MT, those same organizers have now rejected her entry.  Here's the story, with thanks to Conrad Colman for the heads up.  Head over to Katrina's fundraising page to give her a hand, read more about her story over here, and blow up the MT organizers with the link to this story on Facebook until they quit acting like assholes.
Katrina, 27, from Brisbane has been working for years to get to reach her goal: the Mini Transat. Having moved to France 3 years ago, she lives in a van on the submarine base in Lorient and teaches English to survive. But this is not the first time Katrina has come up against hurdles. After finishing all the qualification requirements and getting to the start in 2013, the race was delayed and the fleet was diverted to northern Spain. During an organised delivery to the re-start, Katrina was taken under tow by an official accompanying boat which towed her into dangerous breaking waves. Her boat was let loose after she was rolled by a wave and she was hurtled into the water. Fortunately she was attached to her boat, but the boat that was towing her was nowhere to be seen. Katrina was discovered by chance by the harbour pilot who ended up swimming for his life as well! While Katrina was eventually brought back to shore, her boat was left drifting, to be smashed to pieces.
Proving that she's not one to give up, Katrina stayed in France, acquired another mini, and set out to get qualified again. Even though she completed all the requirements again, her entry has been rejected because they organizers want her to pay €2000 for the tracker that was apparently damaged when her boat was lost. Katrina has given the tracker back and has no legal obligation to pay for it but without the means to fight given the time restrictions Katrina's dream is threatened to be crushed again. It is crunch time at the end of the week, when entries close she either coughs up and gets to race (assuming they accept her and she finds the means to get to the start) or she misses out altogether…..not an easy choice given the circumstances.
Please help Katrina so that she can be on the start line. She won't win the race, but she has demonstrated for years that she has the skills and mental fortitude to overcome all the challenges ahead of her if she has the means. Please lend a hand and help this young adventurer fight back from the unjust position she has found herself in and succeed in realising her dream and sharing this adventure with you.
July 17th, 2015 by admin
Day 3 of the J/70 Worlds saw no more black flags but plenty of hard-charging action, paint-trading, and even a few position changes.  Mexico's Julian Fernandez needs one good race to lock it up, though Carlo Alberini's crew says there will be some firework at the start of Race 9 of the championship.  Meanwhile, in a truly bizarre display of poor sportsmanship, one American team filed to have another American team's black flag turned into a DNE with no benefit to their own scores.  The reason? It was a North sailmaker filing against a Quantum sailmaker – the second US boat in the standings, and they go from 5th to 15th…
Some majorly gorgeous photos from Sander over here, and follow all the live action coming in a few minutes.  You can grab a look at our post-race interviews last night with Helly Hanson's John Mollicone here, from Jud Smith over here, and from Notaro's Benedetto Giallongo here.
July 11th, 2015 by admin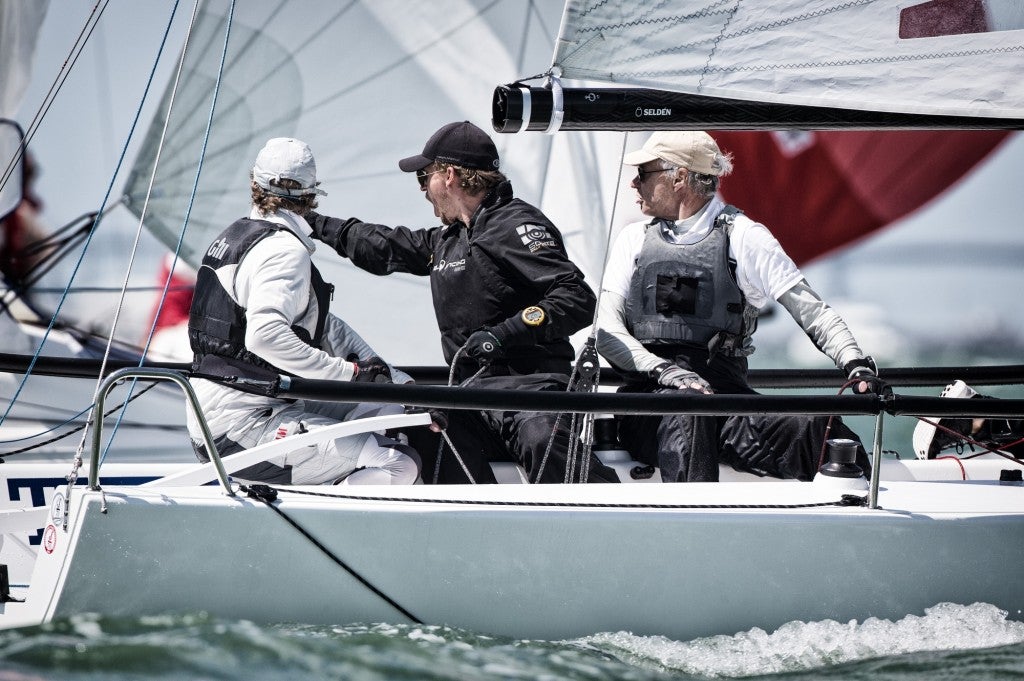 With every one of the 6 starts (and several general recalls) firing off under the black flag, a little bit of conservatism is going a long, long way at the J/70 Worlds.   With current WC Tim Healy dropping a BFD, Julian Fernandez is looking strong for the class's second ever Worlds.  Sander Van Der Borch is making it look simply gorgeous; have a look at the monster jellyfish in this above/below water shot.  And look at the contrast on these spinnakers.  Or maybe you prefer some spray?
Here are the Day 2 Highlights from Penalty Box Productions.
July 10th, 2015 by admin
The first day of the second-ever J/70 Worlds lit up with gorgeous sun and an unexpected 15 knots from the NW.  But when the chop stacked up with almost two knots of outgoing tide running right over the starting line, it was always going to be a bad day for some people.  We just didn't know it was going to be bad for the SA live video team!
As anyone in sailing knows, the French do things just a little bit differently.  That's why their food is so much better than anyone else's – because they keep it the way they like it, and change is the enemy.  That attitude carries over to everything, and on the race course, that meant doing everything a bit differently than most of us are used to in big fleet sportboating.  While nearly every major sportboat worlds over 50 boats has run a midline boat for years, that's not the French way, so rather than a tidy start with three different vantage points to call OCS boats, we saw the exact opposite: 5 general recalls for race 2, with two of them under black flag, and an astonishing 19 boats starting off their Worlds with a BFD, including several championship contenders.  To add insult to injury, at least one top US boat only looked on the first chalkboard for their number, and the Race Committee only called the numbers on the radio in French…at a regatta where english-speaking boats outnumber French by 3 to 1.
A late night saw no redress given for any of the 19 BFDs, which changes the nature of the regatta considerably for quite a few, but unsurprisingly, Julian Fernandes (MEX), Tim Healy (USA), and Carlo Albierini (ITA) are mixing it up for the lead after three.
Our live coverage was dotted by French internet issues, but that was nothing compared to our full electrical loss a minute into Race 3; a quick check at the inverters revealed 50 gallons of water sloshing around in the bilge, flowing in via a blow out raw water pump seal.   Our broadcast ended with no power, no stream, and a last-second anchoring practice to keep us off the beach before a two-hour tow-in from the RC.
Fortunately none of that kept Sander Van Der Borch from putting together a gorgeous gallery of the day just like his photo above (and the less gorgeous one on the left).
Watch it all unfold live today (with a bit less drama behind the lens, hopefully) over here, or check back on the front page for the embedded vid.
July 9th, 2015 by admin
While SA's live coverage team was fighting to stay afloat, Petey was doing what he does, and here's the Day 1 Video Report from the J/70 Worlds.  Enjoy, and stay tuned for another full day of live coverage from LaRo – this time, hopefully without the sinking part.
July 8th, 2015 by admin
The horror show in Paris has shaken up much of Europe, and thanks to some of our French readers, we've got this well-remembered cover from more than 40 years ago to pay tribute to the spirit of the shit-stirring mag and yachting.  It's the mag's response to Pen Duick IV's dismasting during the Whitbread back in January 1974, a backhanded compliment to Eric Tabarly's massive male genitalia (figuratively, and we've heard literally) and ego.
Our thoughts go out to our frères et soeurs in and around Paris effected by this horrible attack; Charlie Hebdo remains typically defiant, though they'll sell some 50 times their regular circulation for the next issue – featuring cartoons of Mohammed himself.  Nice.
Leading VOR 65 skipper Charles Caudrelier had some comments about the massacre a few days ago; check 'em.
January 12th, 2015 by admin
Solo Figarists Nick Cherry and Henry Bomby continue with Sailing Anarchy's 2014 Route Du Rhum coverage, sponsored by Bruce Schwab Energy Systems. Please get in touch with the Vendee veteran to find out how his energy storage, solar power, and charging systems can benefit your cruising or racing boat today, and enjoy Nick and Henry's latest analysis.  Hit the thread for all the latest news, photos, videos, and analysis.
Big conditions meant a premature end to the huge 'thank f*** they're gone' party for Route Du Rhum shore crew and race staff in St. Malo on Sunday night, just as it has for some 13 official abandonments on the race track.  A further 20-odd boats are in less-dire-but-still-bad shape, headed to port or to find some shelter in order to fix damaged sails, rudders, and bodies.  Obviously the weather has been heinous, with two solid fronts kicking the fleets in the face with gusts reported up to 60 knots and some nasty seas, especially rounding the corner at Brest. The most high-profile casualty has been Thomas Coville, who managed to prang a cargo ship in the night just in front of the TSS off Ushant. With closing speeds between the ship and trimaran of 40 knots, dark skies, and awful visibility, it's a wonder that more of these guys haven't hit anything. It's yet another blow for the Sodeb'o campaign, which adds this failed attempt to something of a pile of them over the past few years.  Coville may be one of the world's best, but we wonder if he didn't piss off an old gypsy woman sometime over the past decade…
Perhaps most worrying amongst the early dropouts are two keel losses/failures on the new Sabrosa Mk II Class 40 sisterships of Francois Anglouvant (picked up by a chopper from his capsized hull) and Marc Lepesqueux, who managed to fill ballast, drop sails and sail downwind to Guernsey. I'm no mathematician but the chances of both these guys hitting a submerged object seems pretty low, and we guess their design and build team (which included Anglouvant) is trying to figure out what happened right now, while thanking their lucky stars that no one was killed.
The decision by race director Gilles Chiorri to send the fleet off into this storm is refreshing in the light of so many big races being delayed in recent years. Many skippers – particularly in the handicap Rhum class –  chose to do something we rarely see these days; they waited out the worst of the storm before going yachting.
Ultimate Update
All the fleets have spread out by now, but none more so than the Ultimes, where Loic Peyron is having an absolute blinder aboard BPVII, steadily pulling out a sixty mile lead over Yann Guichard on the Spindrift (who isn't showing any signs of using his extra nine meters of length to catch up). Watching these guys go off the start was jaw dropping, with Coville looking picture perfect early on and Sydney Gavignet giving the spec fleet some 'oohs' and 'aahs' flying his center hull as he weaved through the spectator boats.   We caught up with Sidney here; click the link for a video interview where we chatted about 'Oh, Sheet' release systems and weather routing.
Given that sailing a big multi alone is a full-time job, these guys are aiming not to go downstairs at all during the race. Yann Ellies on Paprec has a staff of three top guys holed up in a house in Brittany running a watch system looking at forecasts and on-board data basically playing a full-on version of the virtual race game. He's planning to have Skype messenger on 24/7 and regular sat phone calls, leaving him free to ease sheets off one of these bollard/cleat arrangements at any time. Whatever you think of shore-based routers they are here to stay, and this race pits the best weather guys against each other across the Ultime fleet.
Macif Attack
Francois Gabart is, once again, showing why no one has been able to touch him for the past couple of years; 30 miles over Jeremie Beyou in a sistership and 50 over Marc Guillemot aboard Safran. Vincent Riou and Tanguy De Lamotte are all but out of this race with mainsail track issues and rudder damage respectively. These guys are in for a fast crossing with few passing lanes; look for Gabart to continue to push his lead right through the finish line.
Rogue Racing
True to form over the last couple of years, Seb Rogues in GDF Suez is leading the way as the 40s reach down towards Cap Finisterre. There's been a definite split in this class, with the first fifteen or so boats who made it out of the channel in good shape having put some serious miles on the B fleet of stragglers as they get into better and better breeze.
Fifty First Dates
The prize for most dropouts goes to the Multi 50 fleet, where currently only six out of eleven starters are left in the running, with the three favourites occupying the top spots. On the dock some of these boats looked like they might be better off in a museum than a storm and it seems that maybe Neptune agreed!?
Fast Forward
Looking ahead at the weather, things are starting to calm down for the big trimarans and IMOCA fleet, and with the Azores high still located quite far north, these skippers should be able to sail a fairly direct route for the next few days before the wind drops a little and goes further aft.  Then it'll be lots of gybing to line up their approach to Guadeloupe.  The slower boats will have to negotiate another (hopefully less violent) front toward the end of the week, which could create some lanes for some of the early losers.  We'll keep you posted.
-Nick and Henry
UPDATE: DAMAGE REPORT FROM DAYS 1-3
Sunday 2 November
-9h00 : Luc Coquelin (Classe Rhum) hit by dive boat when at anchor, damaged bowsprit.
-13h15 : Jean-Édouard Criquioche (Class40) rig problems, starts at 1900hrs.
-15h00 : Ricardo Diniz (Classe Rhum) diesel problem and other issues. Arrived back in Saint-Malo at 1800hrs left Monday 1700hrs
-19h00 : Charlie Capelle (Classe Rhum) stops in Saint-Quay Portrieux to let worst of weather go, restarts Monday 0800hrs
-19h45 : Jean Galfione (Class40) strikes unlit buoy off Bréhat and damages hull. Arrives Saint-Quay Portrieux at 5h30 Monday, aims to leave 19h Monday
-20h15 : Giancarlo Pedote (Class40) sail problems heads for Roscoff. Arrives at 7h, leaves Monday 11h
-23h00 : Marc Lepesqueux (Class40) loses keel fills ballast heads to Guernsey under engine arrives 10h Monday Abandon.
-23h30 : François Angoulvant (Class40) loses keel, helicoptered off at 00h40 Monday to Brest. Abandon.
-23h35 : Loïc Féquet (Multi50) float damaged, towed by SNSM to l'Aber Wrac'h at 8h Monday. Abandon.
-23h45 : Thomas Coville (Ultime) hits a cargo ship. Damages main bow and starboard float. Arrives Roscoff at 11hrs Monday. Abandon.
Monday 3 November
-0h30 : Bertrand Delesne (Class40) has problems with sails halyards and headsails. Heads to Perros-Guirec then Roscoff. Arrives 9h, depart 13h.
-1h15 : Bob Escoffier (Classe Rhum) sail and rig problems. Heads to Roscoff, arrives 08h Monday. Aims to leave Tues 06h.
-1h45 : Thierry Bouchard (Class40) wrist injury, heads to Saint Malo. Arrives 16h Monday. Abandon.
-4h20 : Brieuc Maisonneuve (Class40) pilot problems, heads to Roscoff arrives 10:45 Monday.
-5h35 : Gilles Buekenhout (Multi50) breaks rudder, towed by SNSM to Roscoff arrives 16h Monday
-6h30 : Nicolas Troussel (Class40) twists ankle, routes to Brest arrives 15h Monday. Abandon.
-7h00 : Hervé de Carlan (Multi50) breaks daggerboard, heads to Saint-Brieuc.
-7h15 : Erik Nigon (Multi50) shreds mainsail, heads to La Rochelle, Abandon.
-8h10 : Pierre-Yves Lautrou (Class40) loses two wind vanes. Heading to Camaret. Arrives 17h Monday.
-8h45 : Alan Roura (Class40) water ingress, other varied problems. Heads to Roscoff, ETA 19h
-9h45 : Tanguy de Lamotte (IMOCA) rudder damage, route towards Brest since 1400hrs.
-10h00 : Vincent Lantin (Class40) various problems, heading to Camaret.
-10h10 : Patrick Morvan (Classe Rhum) various problems heading to Camaret. due 18h30 Monday
-10h15 : Alain Delhumeau (Multi50) dismasted, heading to Brest Abandon.
-10h45 : Julien Mabit (Classe Rhum) pilot and electronics problems heading to l'Aber Wrac'h. Arrives 14h00.
-12h00 : Bertrand de Broc (IMOCA) pilot problem and injured elbow. Heading to Lorient. Abandon.
-14h00 : Arnaud Boissières (Class40) crack on deck and other pbs heading to Les Sables d'Olonne. Abandon.
-15h00 : Philippe Fiston (Class40) technical problems. Arrived Camaret at 17h Monday
-14h00 : Benjamin Hardouin (Classe Rhum) arrived Roscoff to repair leak, plans to restart Tuesday 06h
-16h00 : Conrad Humphreys (Class40) arrives Camaret 16hrs sail problems, batten car damaged
-16h30 : Nils Boyer (Classe Rhum) arrives at Roscoff to replace life-raft
-17h15 : Vincent Riou (IMOCA) damaged mainsail track mounting, heading downwind slowly to repair.
Tuesday 4 November
-Afternoon: Pierre Antonie (Multi 50) lightning strike; holed.  Airlifted to safety.
November 4th, 2014 by admin