Posts Tagged 'France'
There's only one place in the world where you'd see an 60-foot racing yacht hoisted up on a nation's most recognizable landmark, and it's no surprise that place is France.  Go here to find out what's going on with Initiatives Coeur and the Eiffel Tower this coming May.  Head to the finally-winding-down Vendee Globe thread for more info.
March 22nd, 2017 by admin
One of five sailor chicks (out of 35) entered in the all-important Solitaire Du Figaro, rigger, pro sailor, and former minista Alexia Barrier is one of a new breed of sailor who understands marketing, social media, and the web.  Above is Episode 1 of what we hope will be a long-running series, bringing her audience into the folds of an event that has remained mostly hidden from non-French eyes.  Alexia is a daily SA reader and an extremely cool Sailor Chick of Week, and she gives us a reason to give a shit who wins the Figaro.  Then again, with Justine Mettraux and Cecile Laguette on the line, we're gonna have a hard time deciding who to pull for.  If she keeps entertaining us with capsizes in other boats, we'll never get bored. Follow Alexia here on Twitter and here on Facebook.
Title thanks to solo women everywhere.
February 15th, 2017 by admin
With the Solitaire Du Figaro (née Course L'Aurore) getting close to it's half-centennial birthday, the brilliant illustrators at Chevalier Taglang have put together a beautiful pictorial history of the of the world's most prestigious solo coastal race.  The post itself (with thanks to  Donan Raven for the translation) includes line drawings and more on every winning Figaro design since the beginning way back in 1970, while above you'll find drawings of the three one-designs that have made up the competition since 1989.
Most top sailors we've spoken to have expressed reservations about the effectiveness of the brand new VPLP Figaro design that we've coined the "Figaro FF" (for Fishhook Foil), but you can't say it doesn't look like a goddamned weapon.  Here's an excerpt, and we encourage you to head over to Raven for the smart, comprehensive look at the history-making race.
Class rules often prevent more than they allow innovation. They are continuously created and adjusted to avoid rulebeaters that would obsolete the existing yachts in a racing fleet. Those yacht designers that would have established themselves in a given fleet but had least success in establishing their latest ideas are sometimes the first to limit the rise of new trends in the class where they have achieved popularity. History gives us plenty of ideas which seem new, whilst they are in fact more often the result of a greater freedom allowed by the class rules that have the fewest limitations.

The race was first named Course de l'Aurore, after the French newspaper for which the founders of the race, Jean-Michel Barrault and Jean-Louis Guillemard, worked. The guidelines of the competition were very simple and achieved immediate success in her first edition in 1970. It was an offshore race, raced in single-handed 9 metre yachts on elapsed time only. On August 6th of that year, twelve series production yachts took the start in Brest (France), and eight completed all three legs, with Joan de Kat winning the overall event on a Super Challenger, ahead of runner-up Michel Malinovsky.

From 1977 onwards, the race used either Half Ton cup yachts, series production yachts, or custom International Offshore Rule (IOR 21.7 raters) with an overall length of about 9 metres. Gilles Gahinet won the event on Rally, designed by New Zealander Ron Holland. In 1980, French newspaper Le Figaro became the title sponsor of the event, when Jean-Michel Barrault was a news correspondent for the company. That year, Gilles Gahinet won the race on Port de Pornic, his own design.   Young French yacht designers won all the races from from 1978 to 1990: one victory each for Jean Berret, Jean-Marie Finot, Gilles Gahinet and Jacques Fauroux, five victories for Michel Joubert and his partner Bernard Nivelt, and three victories for Daniel Andrieu. However, the sophistication of Half-Ton Cuppers had become a real problem, with team budgets skyrocketing and the IOR rule coming to an end.

For the 1990 event, the race organisers submitted a call for tenders to shipyards to enter a design competition: the race would now be a strict one-design. The winners of the competition, French shipyard Bénéteau, the World's largest builder of sailing yachts, made two proposals: The overall design of Jean-Marie Finot, which included water ballast tanks, was retained, whilst the jury gave special mention to Jean Berret for the elegance of his design's sail plan. Subsequently the jury asked both designers to team up to design the future Figaro Solo.
January 30th, 2017 by admin
Clean Report
The MUSTO + Torqeedo "Cleanin' Up Europe" report continues with this hour-long jaunt in Western France.
If there's two things I spend most of my pre-regatta time on, it's dock walks and form guides.  So with one day to go until the Vendee Globe begins, I decided to create some efficiencies and combine these two indispensible tools for following the world's best race.  The result is this video tour of every one of the 29 entries for the VG.
We grabbed the most knowledgeable English speaker we could for this one; Ryan Breymaier is the rigger for overall contender SAFRAN, and he never pulls punches – listen to Ryan's analysis of each boats' strength and weakness and each skipper's history and chances.  Wanna know the best foils, the dark horses, the hopeless dreamers, and the real podium contenders?  This is the place to go.
Thanks also to Bruce Schwab and Ocean Planet Energy for his support of our coverage.
November 5th, 2016 by admin
The odds-on favorite for the 2016/17 Vendee Globe checks out an entirely novel use for his foiling j-board aboard Banque Populaire.  Photo dug up by whoever the hell Nolimit Team 972 is…and there's already a pile of great Race Village photos on the VG site…T minus 18 days!
October 19th, 2016 by admin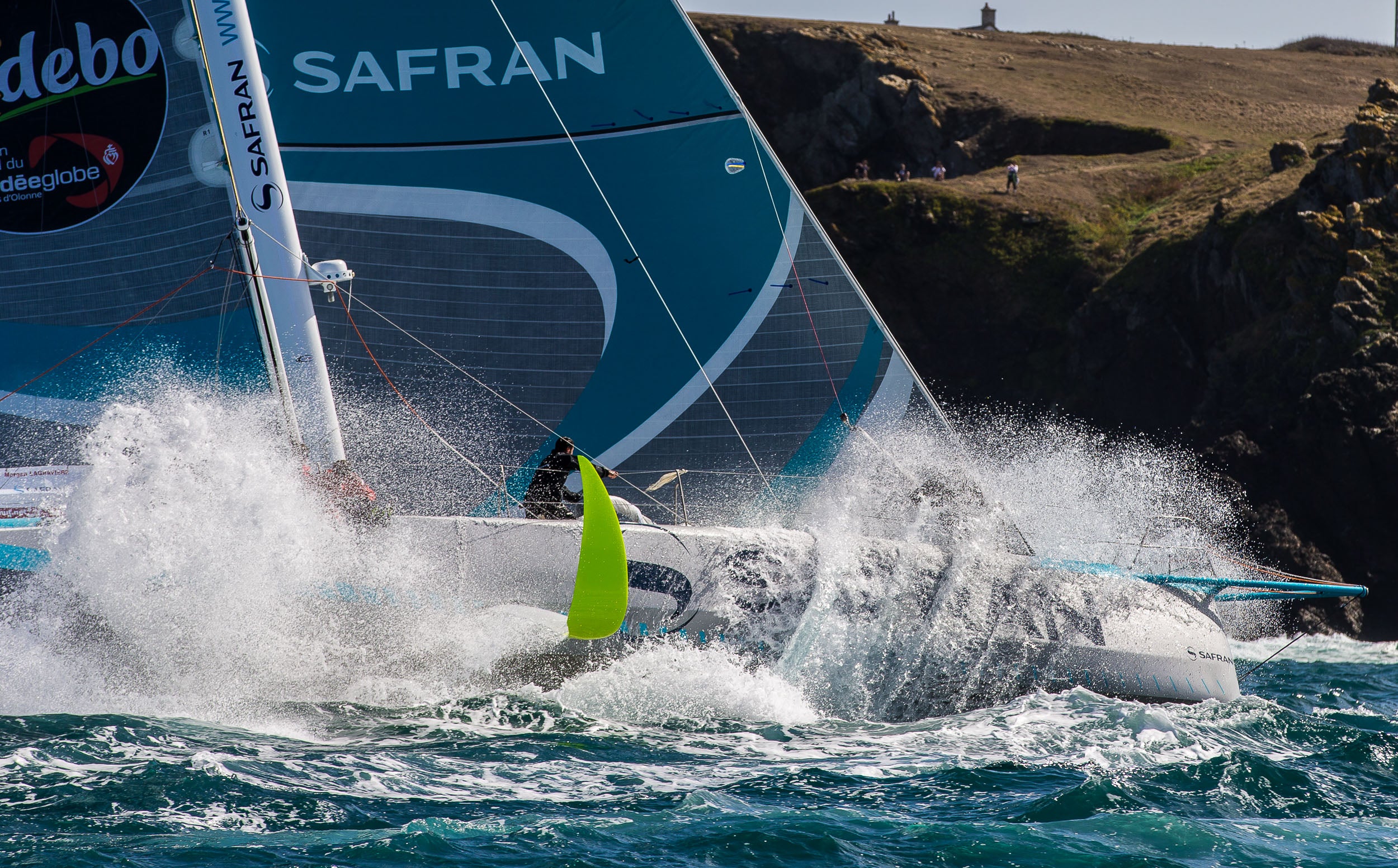 There's never been anything quite like the latest generation of Open 60s, and in just a couple of months, we'll learn how they perform in anger when the Vendee Globe kicks off.  We haven't been this excited by a monohull class in years, and we recommend you take some time to catch up with the latest; here's the Ocean Racing Anarchy forum thread, full of info.  Here's the most reliable Facebook Page under the Vendee umbrella.  Here's the latest promo/trailer video for the race, and here's a pretty good Conrad Colman documentary from the NY-Vendee Race. Brian Carlin photo, with more from this past weekend's Azimut Race here.
September 26th, 2016 by admin
We stand with our brothers and sisters across the ocean, and we cry for you.  At this time, we needn't say much more. If you are not yet aware, Paris has been attacked by gun and bomb-wielding terrorists on Friday night, with several gunmen possibly still on the run.  Facebook has a a 'safety check' feature to check on your friends and family if you're worried.  Love, and strength, from the entire Sailing Anarchy community.
November 13th, 2015 by admin
Welcome to the 2015 Tour De France a la Voile, the seminal series barely rescued from an ignominious death last year and entering its final days of action down in Nice.  The new TdF is all about beaches, babes, trimarans, and action rather than sportsyachts, distance racing, and student teams.  Wanna see the balls-deep T-bone this shot comes from?  Click here for the full video of the crash.  For more links and discussion of the all-new event, hit the thread.
July 24th, 2015 by admin
When Sperry told us they wanted to support coverage of events we thought made a difference to the sport of sailing, we instantly thought of the J/70 Worlds.  Sure, there was a 95-boat Melges 24 Worlds two weeks ago in Denmark and a 100-boat SB20 Worlds in Lake Garda last week, but with nearly a thousand boats sold in three years, nothing comes close to the impact on racing made by the new and exploding class from the J0hnstones. And as evidenced by the 16-nation field in the boat's second-ever Worlds in La Rochelle, the effect is spreading far, and fast.
So we put together a 6-man crew to bring live video of all the racing to you guys, and we didn't skimp.  The live feed included commentary from SA's Senior Editor and Adventures of a Sailor Girl's Nic Douglass, along with daily highlight reels from Petey Crawford, and huge high-quality photo galleries from Sander Van Der Borch.  Why'd we go so big? Because we want to see more of the family-friendly, female-inclusive, youth-engaging vibe this little boat is giving to people all over the world, and the infrastructure J/boats have created to deliver well-built, good-looking, quick-ish little racers that are all damned similar to one another is something we admire.  And we felt privileged to be able to document it all.
Above you'll find our final movie from last week's Championship, and we really, really hope you'll sit through it until the end.  And don't be drinking coffee near the end.  If you laugh as much as we did, share the link with your friends. For the full interview with new World Champ Julian Fernandez, hit this link.  The full chat with Marty Kullman including the drama with North's DNE request is in here.  You can grab any one of the dozen-plus interviews and highlight reels in our Vimeo index.
As always, huge thanks to Sperry for their support, and to J/Composites Europe for all their support on the ground and on the water.  More thanks at the end of the video.
July 17th, 2015 by admin
Aussie Mini sailor Katrina Ham says her boat was smashed to bits and she was left to die by an official Mini-Transat rescue boat two years ago during the stormy and poorly-managed 2013 race.  Now that she's qualified for the 2015 MT, those same organizers have now rejected her entry.  Here's the story, with thanks to Conrad Colman for the heads up.  Head over to Katrina's fundraising page to give her a hand, read more about her story over here, and blow up the MT organizers with the link to this story on Facebook until they quit acting like assholes.
Katrina, 27, from Brisbane has been working for years to get to reach her goal: the Mini Transat. Having moved to France 3 years ago, she lives in a van on the submarine base in Lorient and teaches English to survive. But this is not the first time Katrina has come up against hurdles. After finishing all the qualification requirements and getting to the start in 2013, the race was delayed and the fleet was diverted to northern Spain. During an organised delivery to the re-start, Katrina was taken under tow by an official accompanying boat which towed her into dangerous breaking waves. Her boat was let loose after she was rolled by a wave and she was hurtled into the water. Fortunately she was attached to her boat, but the boat that was towing her was nowhere to be seen. Katrina was discovered by chance by the harbour pilot who ended up swimming for his life as well! While Katrina was eventually brought back to shore, her boat was left drifting, to be smashed to pieces.
Proving that she's not one to give up, Katrina stayed in France, acquired another mini, and set out to get qualified again. Even though she completed all the requirements again, her entry has been rejected because they organizers want her to pay €2000 for the tracker that was apparently damaged when her boat was lost. Katrina has given the tracker back and has no legal obligation to pay for it but without the means to fight given the time restrictions Katrina's dream is threatened to be crushed again. It is crunch time at the end of the week, when entries close she either coughs up and gets to race (assuming they accept her and she finds the means to get to the start) or she misses out altogether…..not an easy choice given the circumstances.
Please help Katrina so that she can be on the start line. She won't win the race, but she has demonstrated for years that she has the skills and mental fortitude to overcome all the challenges ahead of her if she has the means. Please lend a hand and help this young adventurer fight back from the unjust position she has found herself in and succeed in realising her dream and sharing this adventure with you.
July 17th, 2015 by admin