Posts Tagged 'Fort2Battery'
Clean Report
For episode # 20, we caught up with three guys who represent some of the brave new thinking in the sport of sailing.  Longtime SA'er Chris Woolsey runs the reborn Miami Havana Race for a reborn SORC, and we get into the whys and hows of recreating this complicated international race to one of the world's most unique race destinations.  After that, we catch up with Tim Fitzgerald, founder of Charleston's Fort2Battery Race, to talk about his motivations for creating the successful harbor sprint.  We also get into Tim's experience as one of the drivers behind Selden Masts growing dinghy business, discuss the first new hardware change in the 420 in years, and learn what Tim's learned about getting millennials and Gen Z excited about sailing.  Finally, we turn to one of those Z'ers, young Peter Cronin of the Mudratz.  This clever kid discusses the team's experience sailing amongst the big dogs in the Melges 24 and J/70 Class and the philosophy behind their growing Mudratz youth sailing movement in the Northeast.
Our next Sailing Anarchy Podcast will come to you from Havana Cuba, and you won't want to miss that one!  Don't forget to subscribe to the SA Podcast for instant notifications when each one drops.  (iTunes   Stitcher)
March 14th, 2017 by admin
Another sailing podcast joins the fray, and this one is hosted by 20-something ex-college sailor Brooks Clark.  He grabbed another (relative) grommet – our longtime pal Tim Fitzgerald, creator of the biggest foiling event in North America – for this 40 minute chat about the Charleston Fort2Battery Race.  Dig it.
If you don't get the title of the podcast, kill yourself.
December 18th, 2016 by admin
What do you get when you cross a 24 year old kiteboarder from the Great Plains, an insane creative genius videographer, and a loudmouth Sailing Anarchy editor?  It's called the Charleston Fort2Battery, and it's one of the big successes in ultra-performance sail racing of the past few years.  Watch the video for the full story, and go here to find out about the 2017 edition.
May 17th, 2016 by admin
With 25-30 knots of NW wind cranking down the City of Charleston, the foilboards, moths, cats, skiffs and other ultra-quick rides are set to destroy all the records in today's Fort2Battery Race.  And with results now automatic and instant like marathon scores, you can find out who's the King of the Harbor in real time.  And if you want to watch it all live, on video, including Mr. Clean's Beach Walk before the start, keep an eye on the SA Facebook Page.
Beach Walk is at 1300, while the official start of this incredibly short race (which was won last year at an average speed of something like 34 knots!) is 1400 ET/1100 PT/1900 UTC.
April 9th, 2016 by admin
April in Charleston is one of the world's sweetest sailing destinations, and as you may already know, it ain't all about Charleston Race Week!  The weekend before the big event is a mess of racers who do not give a shit what your PHRF number is, or how many inches of prebend you carry in your stick – no, they're all about speed, speed, and more speed (with some partying mixed in).
It's the fourth running of the Charleston Fort 2 Battery, founded with the help of Sailing Anarchy in 2014 and already at over 80 racers in 2015, just its second year. For this race, if you can't hit 20-plus in your boat, you may as well grab a camera and join hundreds of spectators who fill the harbor rain or shine. 4KSB's need not apply.
Hardworking founder and anarchist Tim Fitzgerald pulled in some 'sweet' sponsors to fule the beach bonfire party – Sweetwater Brewing and Charleston Distillers are on board for the libations, as is Holy City Helicopters for the aerial shots.
Last year over 5000 people tuned in as Sailing Anarchy brought the race to you LIVE and you can see it again this year if you've got 20 minutes and an internet connection. It's like no sailing you've ever seen before and it happens fast! There were high speed wrecks, a destroyed catamaran, some bruised moth pilots and PLENTY of wind.
The 2016 F2B also scores a 'world first' for any sailing sprint race – just like a marathon or Ironman, all competitors will be 'chip-timed' for perfect accuracy, so you'll see the results the instant they cross the finish line.
On Fort 2 Battery weekend, James Island will become the first place to hold a mixed-foil regatta, when the moths and kites go head to head Friday on the slalom course, with course racing over the weekend. From local talk it sounds like many plan to spectate the 60mph closing speeds and 30mph NASCAR style wipeouts when some of the fastest sailors in the country go head to head with few rules. We don't even know what to expect, but if racers decide to weaponize you could see mothies running over downed kiters, and kiters boosting to chop moth sails to bits with their foils. The possibilities are endless and you may be seeing the start of something new.
Mac Dickson photo.
March 21st, 2016 by admin
If ever a boat died with its boots on, it was this one – David Wallace and Richard Grantham's ancient Nacra 6.0 has lived through several Worrell 1000 races and countless hours on the Georgia Coast, but a 3.8 mile sprint in 20-25 knots on Charleston Harbor was the end of her days.  Wallace and Grantham drove up from St. Simon's Island, GA, and they said there's no question they will be back.  They didn't say whether they'd be racing or spectating!
Big congrats to St. Pete's Zack Marks for absolutely destroying Bora Gulari's record run from last year – official time is 6:10 for the 3.8 mile course. We're not great at math, but that sounds like somewhere around a 33-knot average to us.
Billy Goldsberry gets the Rescue of the Week award for this one, and you can see a gallery of really cool land-based and sky-based shots of this unique race here.
April 13th, 2015 by admin
Young Tim Fitzgerald shares his experience as the founder of the first drag-race style speed sailing event on the East Coast; the 3.8 mile Fort2Battery Race in Charleston, SC.  Photos from Els Sipkes; her blog is here with more, and there are hundreds more in her SmugMug gallery.  
60 days ago I didn't know if Charleston wanted a drag race sailing event, and after today I can only say "WOW" when I see how much they do! Today I saw 150 people line up on the Battery to watch kites and boards and boats on a 9-minute sprint down Charleston Harbor. Elderly people stopped me in the park to confirm the start time. People in golf carts tailgated on the points of land on James Island to watch the watery wipeouts that equate to "the big one" in a NASCAR race. The only time in my sailing career I've ever heard of more than 100 people coming out for an American sailing race was the America's Cup or the Olympics and today we accomplished that with little more than the economical low-end of sailing's high speed Band of Brothers.
Charleston is the perfect place for a sprint like this; with the beaches, breeze, and boating community, it's a playground for those who chase the wind, and with North America's biggest regatta, the biggest Sportboat regatta in the world, and the East Coast's biggest kiting community, the "Sailing Capital of the South" has emphatically stuck its pin in the world of high-performance sailing.  With an oversubscribed field of 55 entrants in the first ever running of the Fort 2 Battery Race, you can consider that pin the size of a railroad spike driven in with the overhead swing of a sledge hammer.
Anyway, it went like this:  At 3 PM on Sunday, a new battle took place in the shadow of Fort Sumter; the site of the Civil War's opening salvo.  A ragtag fleet of foiling moths, kite board, catamarans, sailboards, and skiffs went on a downwind blast to the Battery in 13-18 knots of Northeasterly breeze for a cash prize, bragging rights, and the new title of "King of the Harbor."  Bora Gulari, fresh off his win in last weekend's Moth North Americans, led from wire to wire on a starboard-tack favored run; his time of 8m58s for the 3.8 NM course equates to an average VMG of nearly 26 knots – even more incredible when you account for the 2-3 knot outgoing tide and a gybe.  The first four finishers were moths, with the fastest course-race kite board about a minute behind; importantly, there were no foil boards in the inaugural Fort2Battery Race; we're told they will most definitely be back next year, as will the Moths.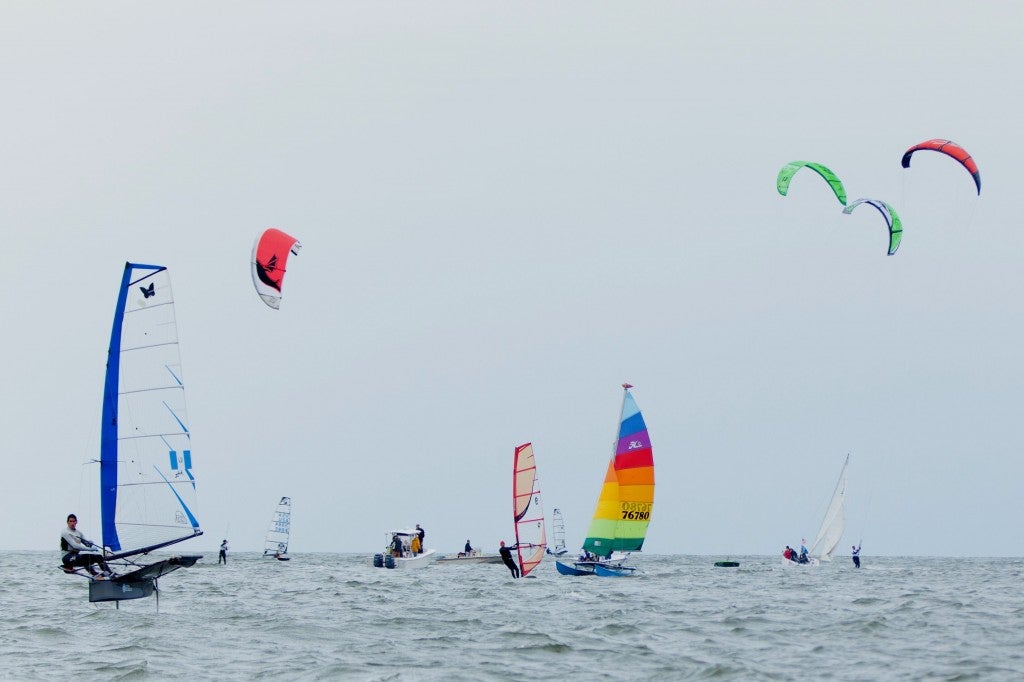 Of course there were obstacles along the way, but you'd be amazed at what a great community there is here around the water. The kind of roadblocks you'd expect for a new race with a new format and extremely high speeds just didn't exist; the USCG, Department of Natural Resources and local governments all shared the same message when I approached them; "That sounds awesome – go for it!" was their almost unanimous response, and thanks in large part to Sailing Anarchy, the entries rolled in from the moment we announced the race right here on the front page.
Now that it's finished, I find myself why there aren't events like this one everywhere; people were so eager to jump up and support a speed sailing event that it blew my mind, and confirmed what I had suspected; the only thing keeping people from doing more of this stuff is a lack of events.  The format – one start, one finish, and a short course – makes the racing incredibly accessible to both competitors and the public, just like the hundreds of easy 5K runs that happen every weekend all over the country.  We had a perfect mix of sailors; from full-family programs on a Hobie 20 to 65 year-olds on sailboards to the Moth World Champion, and everyone had a smile on their face afterwards.  The simple format was a relief to the journalists and spectators we spoke to; people who often struggle to understand the details of more complicated sailing formats
When it comes to gaining the attention of young people and our communities, high performance sailing is where it's at. This is exactly what kids need to put down the X Box and pick up a mainsheet, and I guarantee you that if you or your club or association wants to make it happen on your harbor, river, lake, or bay, you'll find it absolutely worth the effort.  And if you are interested in organizing a sprint race in your home town, hit me up through my website and I'll share any tips I can with you.
A huge thanks to Mr. Clean and Sailing Anarchy for all their help and support; without you guys, this would definitely never have happened.  Also a big thanks to Dave Pritchard at Gill North America for helping us out with competitor vests, and much love to James Island Yacht Club for your support and RC work; please can check out the rest of the sponsors at the Fort2Battery site, and we'll see you next year!
April 7th, 2014 by admin