Posts Tagged 'formula 1'
Two of France's most successful racers ever share the nickname "Le Professeur", and both of them – former F1 World Champ Alain Prost and 2-time Vendee Globe winner Michel Desjoyeaux – were on hand for the baptism of Groupama Team France's new AC45 Turbo/Test platform on Monday.  Designed by a team led by our old friend Martin Fischer (who co-designed Franck Cammas' C-Class killer), this thing almost looks more at home on the Mulsanne Straight than it does in Bermuda.
While only the biggest upset chaser would be betting on GTF to take Larry's bauble away, we can dream…go here for the very cool launch video.
July 13th, 2016 by admin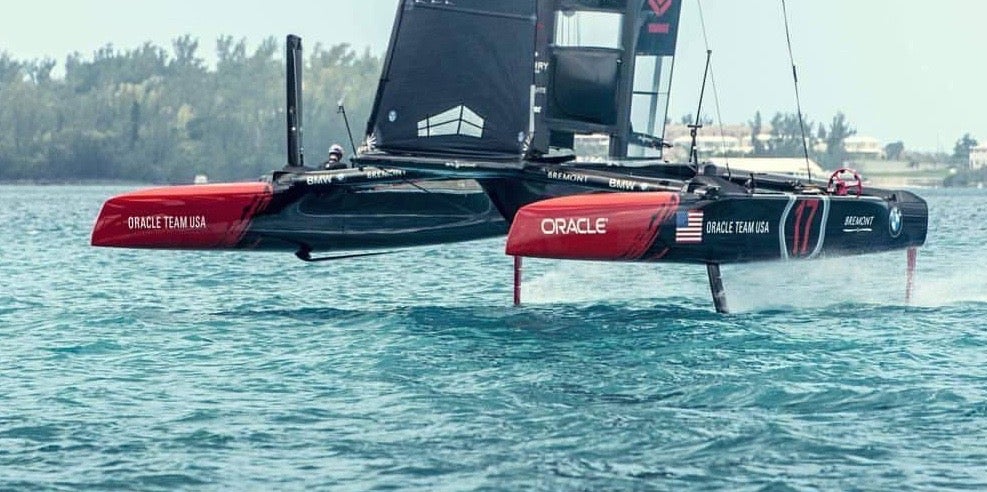 If the America's Cup were a one-design battle, we'd likely see the awesomely talented Pete Burling and his ETNZ boys run away with it, just as Pete has done against largely the same competitors in the past few years of Moth and 49er racing.  But even the highly restricted AC50 box rule allows enough design differences to likely take the ultimate prize out of the hands of the skippers, and the likeliest winner will be the team that can figure out how to get the most out of their foils, aero, and wing controls.
With variable ride control (à la the Moth) and changing foil shapes banned, designers tell us that variable foil bend characteristics may prove the key to the top speed puzzle.  You can see just how much bend the Oracle Team USA trial horse is putting into their foils, as seen above and shot the other day in Bermuda.  There's plenty of carbon bending knowledge inside the sport – see Moth, Finn masts, for example – but could the importance of flexi-foils mean the F-1 connected design team at BAR have a real head start?  After all, Formula One has been playing around with variable bend issues for a long time, most recently earlier this year.
Iron pumpers will recognize from whence comes our story title.  For the rest of you, clicky.
June 20th, 2016 by admin
The M32 Series is shaping up to be the kind of fun that so much of top-level racing lacks.  With plenty of smack talk, apres-sail parties open to the public, an extremely approachable fleet and race village, and the latest live web coverage tech, it's the most modern racing circuit currently in existence.
Wanna know why?  Watch the video above and join the fun, and watch the grand finale today from 1400 CET.  You can always watch the F1 Grand Prix de Monaco on DVR…
May 24th, 2015 by admin
The whole Star Sailors League thing confuses the hell out of us, but we do like their creativity; they used a recent trip by Brazilian Olympic legend and sex symbol Robert Scheidt to the Williams F1 team headquarters to promote their upcoming Nassau Star event.  Whatever – we love F-1 and we love sailing, so here ya go, ladies.  More on Scheidt's trip here.
September 26th, 2014 by admin