Posts Tagged 'foils'
Our own Mr. Clean and RailMeat get bylines in an excellent short vid that gives you a real taste of the Vendee Globe from the perspective of New York Times sailing editor Chris Museler.  Watch it in the original spot here.
November 26th, 2016 by admin
Our continued coverage of the Vendee Globe is brought to you by Musto, Torqeedo, Doyle Sails New Zealand, And Ocean Planet Energy.
With Vincent Riou limping off to safety after cracking his keel, Seb Josse losing hours to repair UFO-damaged rudder linkage last night, and Alex Thomson somehow holding on to a 100+ mile lead with just a stub of a starboard foil, it's clear that the biggest hurdle to winning the 2016 Vendee Globe may very well be floating – or swimming – in the water.  With PRB down it's also clear that it ain't just a foil thing, and don't forget the famous secrecy of some teams; we may only be hearing a portion of the actual damage reports.
With Thomson seeming to easily hold off Banque Populaire at sustained speeds of 20+ knots, we asked his team for a photo of the Hugo Boss damage to address some of the speculation that Alex is playing head games with other teams and that there was no collision.  We were told there were no pics yet because the stump is under water and spray at 20 knots, and said we'd all see pics and video of Thomson's foilectomy when the weather moderated.  We've also just learned exclusively that the non-French ocean racing world's biggest hope may not be over at all, thanks to a spare starboard foil aboard the Boss!  Alex will attempt to cut away and jettison the remaining stub and insert the spare downward from the deck openings ; it is a very tricky operation but they've practiced it at least once, and it's the reason for their unique deck/foil exit configuration.
The reality of the situation is dramatic enough, but we loved SA'er 'nedev's explanation of Thomson's problem way more.
To be honest, structural failure and hitting stuff in the open ocean both seem quite unlikely to me… After all, the engineers know what they are doing right? And in that vast ocean, what is the chance to hit a teeny tiny floating object?

If you ask me, I think the most likely thing that has happened is that aliens visited AT and try to abduct him and perform scientific experiments on him. In his blind panic, AT ripped off his own foil with his bare hands and used it as a blade to fight off the extraterrestrial intruders. Stunned by this display of will power and strength, the aliens didn't know what to do and decided that there would probably be easier test subjects to be found elsewhere on this weird planet. What they didn't know was that during their stay on the big black boat, one of the landing lines of the UFO got wrapped around the rudder. So when they tried to fly away, the rudder got pulled up and the UFO got destabilised mid flight, causing it to crash into the ocean and sink into the depths.

So I think we should all be grateful for Alex's heroic actions, saving humanity from the alien invasion. Quite possibly, humanity would have been wiped off the planet if AT hadn't sacrificed his own foil to save us all!
Talk about these discoveries and more in the Vendee Globe thread.
November 23rd, 2016 by admin
With jagged bits falling off his now-wrecked starboard side foil, Alex Thomson has tapped into his inner Brit, keeping the proverbial 'stiff-upper lip' despite watching his huge 120NM+ lead erode sched by sched.  How long can he hold the charging Armel and Seb off?  It all depends on the wind direction, and the closer they charge toward the Antarctic Exclusion Zone, the less choices Alex will have to make.
Western France is collectively breathing a huge sigh of relief to see the rosbif's game-changing race begin to falter, but they shouldn't count their Maitre Coq before it hatches; this edition of the Vendee has been noteable not only for the dominance of Old England, but for the incredibly lack of attrition up to this point.  It won't last, and if one foiling 60 can wreck a foil, they all can…
Meanwhile, we're not sure who made it, but props to the Anarchist who brought the beautiful Windyty streamlines to the Vendee Globe tracking data to produce this 'world's best' tracker for the VG.  Check that link here, go over here for a full-fleet performance graphing option, and of course wade into the thread if you love the Vendee.
November 21st, 2016 by admin
There's a lot going on in this Emirates Team New Zealand video of the start of the Auckland-Russell Coastal Classic, and whether you're into analyzing AC50 designs, love watching 'old vs. new' shots, or you just want to see one of the world's ultimate sailing destinations in glorious HD drone shots, this short is not to be missed.  And maybe there's fodder for the "Which is better, Auckland or Newport debate" over here?
October 30th, 2016 by admin
Thought you knew what J-foils were supposed to look like? Guess again.  These from Jean Pierre Dick's St. Michel Virbac, currently lying in Les Sables D'Olonne getting ready for the Vendee Globe in just two weeks!  Sailing Anarchy will be there – will you?
Title shout to one of the funniest bits in modern movie history.
October 19th, 2016 by admin
Whether or not foiling kiteboards make it to the Tokyo 2020 Games, long time US sailboarder Steve Bodner is doing his best to get to the top of the heap in the fastest-developing sailing discipline in history.  Here's his update (and watch the sort-of video accompaniment here):
Progress, it doesn't come easy or fast but when you least expect it. Sometimes it doesn't seem to come at all despite everything you'd hoped for. The important thing, is to keep moving forward.
I've been on the kite foil now for just over 18 months, jump starting into the new discipline just after having learned how to kite a year before that. The transition to foiling wasn't swift, but now that I've got some time on the water, things are becoming easier. It's an amazing feeling, a total game changer from the previous 30 years of sailing and windsurfing. I've gone from barely kiting to getting most of my sessions on the foil.  It took me most of last year to learn how to foil and most of this year learning to go downwind comfortably. The sport remains awesome yet humbling in so many ways. I can foil in most conditions from 10-24 knots. However, all that changes when you line up on the race course, especially in San Francisco.
This past August, the Hydrofoil Pro Tour came back to San Francisco for the second time. Last year I entered knowing that it would be a huge learning curve just trying to get around the course, and I barely made it. I found my weaknesses and made huge strides over last year going downwind.  This year, the middle of the fleet is now where the top of the fleet was last year (making most of their transitions), and the top guys are now going around the course 20-30% faster with the improved gear. It's a fast-moving discipline and an even faster moving fleet. I was just one of two guys still using tube kites. Its no excuse for still not being able to tack but this is a sport where you need to devote time to improve your skills and keep up with the equipment just to make it around the course, a difficult proposition for anyone coming up through the fleet.
I still can't make a tack. My gybes, while getting better, still end up like some story of roadrunner cartoon running off a cliff and falling into the abyss. All that recovery time puts me back in the fleet and outside the time limit for an official score. I know it's just a matter of time 'till it comes, but all the meanwhile, getting DNF's in the score sheet is getting pretty depressing. I keep reminding myself it's all about the journey. As I look back at my windsurf racing career, there was a lot of time spent in the back of the fleet at international regattas getting up to speed and gaining experience. I was never the fastest or the most talented but I stuck with it the longest and the persistence eventually paid off. Now that I'm in a similar position, it's hard to see the progress when you've tasted success. Full story over at my blog.
Onward & upward,
Steve Bodner
USA-4
August 25th, 2016 by admin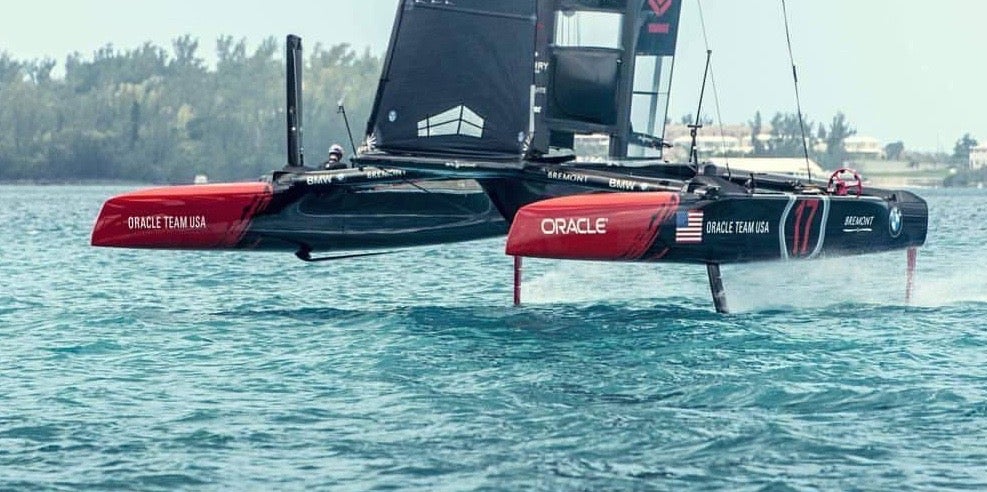 If the America's Cup were a one-design battle, we'd likely see the awesomely talented Pete Burling and his ETNZ boys run away with it, just as Pete has done against largely the same competitors in the past few years of Moth and 49er racing.  But even the highly restricted AC50 box rule allows enough design differences to likely take the ultimate prize out of the hands of the skippers, and the likeliest winner will be the team that can figure out how to get the most out of their foils, aero, and wing controls.
With variable ride control (à la the Moth) and changing foil shapes banned, designers tell us that variable foil bend characteristics may prove the key to the top speed puzzle.  You can see just how much bend the Oracle Team USA trial horse is putting into their foils, as seen above and shot the other day in Bermuda.  There's plenty of carbon bending knowledge inside the sport – see Moth, Finn masts, for example – but could the importance of flexi-foils mean the F-1 connected design team at BAR have a real head start?  After all, Formula One has been playing around with variable bend issues for a long time, most recently earlier this year.
Iron pumpers will recognize from whence comes our story title.  For the rest of you, clicky.
June 20th, 2016 by admin
April in Charleston is one of the world's sweetest sailing destinations, and as you may already know, it ain't all about Charleston Race Week!  The weekend before the big event is a mess of racers who do not give a shit what your PHRF number is, or how many inches of prebend you carry in your stick – no, they're all about speed, speed, and more speed (with some partying mixed in).
It's the fourth running of the Charleston Fort 2 Battery, founded with the help of Sailing Anarchy in 2014 and already at over 80 racers in 2015, just its second year. For this race, if you can't hit 20-plus in your boat, you may as well grab a camera and join hundreds of spectators who fill the harbor rain or shine. 4KSB's need not apply.
Hardworking founder and anarchist Tim Fitzgerald pulled in some 'sweet' sponsors to fule the beach bonfire party – Sweetwater Brewing and Charleston Distillers are on board for the libations, as is Holy City Helicopters for the aerial shots.
Last year over 5000 people tuned in as Sailing Anarchy brought the race to you LIVE and you can see it again this year if you've got 20 minutes and an internet connection. It's like no sailing you've ever seen before and it happens fast! There were high speed wrecks, a destroyed catamaran, some bruised moth pilots and PLENTY of wind.
The 2016 F2B also scores a 'world first' for any sailing sprint race – just like a marathon or Ironman, all competitors will be 'chip-timed' for perfect accuracy, so you'll see the results the instant they cross the finish line.
On Fort 2 Battery weekend, James Island will become the first place to hold a mixed-foil regatta, when the moths and kites go head to head Friday on the slalom course, with course racing over the weekend. From local talk it sounds like many plan to spectate the 60mph closing speeds and 30mph NASCAR style wipeouts when some of the fastest sailors in the country go head to head with few rules. We don't even know what to expect, but if racers decide to weaponize you could see mothies running over downed kiters, and kiters boosting to chop moth sails to bits with their foils. The possibilities are endless and you may be seeing the start of something new.
Mac Dickson photo.
March 21st, 2016 by admin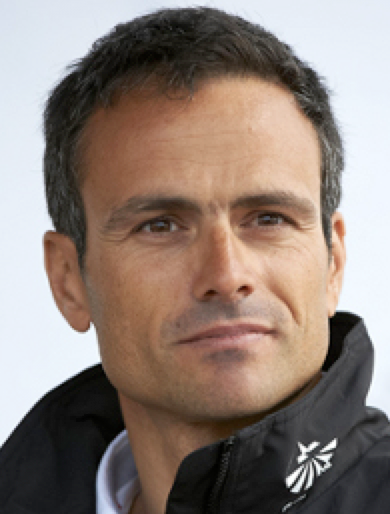 AC Breaking
One of the things you try not to think too much about when you're sailing a GC32 cat is the foils.  It's the same way surfers in Western Australia or South Africa avoid thinking about the 5 meter-sharks swimming beneath them; and a modern cat's foils are at least as dangerous as a Great White.  And now, they've taken first blood out of one of the world's top sailors in Quiberon, France.
Team France/Groupama skipper Franck Cammas fell overboard from his GC32 today during a training session for prospective Team France AC sailors, and according to Breton periodical Ouest France, his ankle was partially severed by the knife-like rudder as the boat sailed past.
Whether you're sailing a GC32, AC45/50, Flying Phantom, Nacra FCS – it doesn't matter.  All the helmets, spare air, and kevlar spine supports in the world won't save you from several meters of carbon-fiber blade cutting off your own appendages – or worse.  If it can happen to one of the quickest and most dexterous sailors in history, no one is really safe, and with the Extreme Sailing Series moving to the GC32 for 2016, organizers are going to have to think long and hard about just how many severed limbs they can tolerate.  Or maybe...it's not a problem after all!
We'll have more on this breaking story as soon as we have it, and we send our best wishes for a speedy recovery to the one of the sport's most influential sailors and a longtime friend to SA and to sailing everywhere. Head over to the Team France thread for the latest.
November 30th, 2015 by admin
Long the place for the dreamers and tinkerers to play, the evolution of top-end sail racing has finally made winged catamarans not only technologically interesting, but actually cool.   How else do you explain all the good looking youth engineers throwing their souls into the Quebecois Rafale Little America's Cup project? Here's an update from Canada, and head over to the thread for the latest likely entry list and chatter about the Little AC.

Our hulls are in the last stage of fabrication, i.e. just adding the daggerboard cases. Plateform assembly should be well advanced by the end of the week, depending on a few missing bits and pieces.  A prototype set of our hydrofoils has been tested by the Mystere Composites team on their Espadon Air Design 20ft catamaran. Results have been very encouraging with some good speed and stability. Our set of foils and rudders are being built as we speak by the Mystere team.  The wing is also at an advanced stage of completion. The front element is 90% complete. The flap / rear element is 60% or 70% complete. Most of the wing assembly should be complete by next weekend.
We are on track to be hitting the water on the weekend of July 4th and 5th. We should have 1 months testing and debugging before we ship the full kit to Switzerland.  There are still some questions marks on some key elements, especially shipping and budget. We are keeping our head down and hoping for the best.
I have to give a big shout to all the people who have supported us and helped us get this far, especially all our sponsors who have trusted us to deliver! We hope to make a good showing in Geneva and make them proud.  Overall I have been really impressed by the resourcefulness of the team and what we have manage to achieve considering where we started from. Few would have given us much chances of making it this far. For sure we have had to make many compromises along the way to save time and/or money. The result will be a boat that is slightly heavier than we would have liked but it's not a bad effort for a first attempt. It will be a tremendous plateform to work from in the future.
-Juls.
July 1st, 2015 by admin