Posts Tagged 'foils'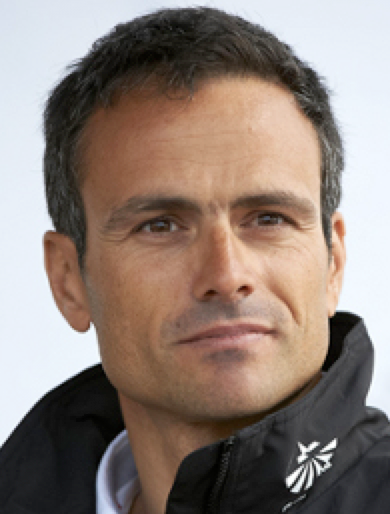 AC Breaking
One of the things you try not to think too much about when you're sailing a GC32 cat is the foils.  It's the same way surfers in Western Australia or South Africa avoid thinking about the 5 meter-sharks swimming beneath them; and a modern cat's foils are at least as dangerous as a Great White.  And now, they've taken first blood out of one of the world's top sailors in Quiberon, France.
Team France/Groupama skipper Franck Cammas fell overboard from his GC32 today during a training session for prospective Team France AC sailors, and according to Breton periodical Ouest France, his ankle was partially severed by the knife-like rudder as the boat sailed past.
Whether you're sailing a GC32, AC45/50, Flying Phantom, Nacra FCS – it doesn't matter.  All the helmets, spare air, and kevlar spine supports in the world won't save you from several meters of carbon-fiber blade cutting off your own appendages – or worse.  If it can happen to one of the quickest and most dexterous sailors in history, no one is really safe, and with the Extreme Sailing Series moving to the GC32 for 2016, organizers are going to have to think long and hard about just how many severed limbs they can tolerate.  Or maybe...it's not a problem after all!
We'll have more on this breaking story as soon as we have it, and we send our best wishes for a speedy recovery to the one of the sport's most influential sailors and a longtime friend to SA and to sailing everywhere. Head over to the Team France thread for the latest.
November 30th, 2015 by admin
Long the place for the dreamers and tinkerers to play, the evolution of top-end sail racing has finally made winged catamarans not only technologically interesting, but actually cool.   How else do you explain all the good looking youth engineers throwing their souls into the Quebecois Rafale Little America's Cup project? Here's an update from Canada, and head over to the thread for the latest likely entry list and chatter about the Little AC.

Our hulls are in the last stage of fabrication, i.e. just adding the daggerboard cases. Plateform assembly should be well advanced by the end of the week, depending on a few missing bits and pieces.  A prototype set of our hydrofoils has been tested by the Mystere Composites team on their Espadon Air Design 20ft catamaran. Results have been very encouraging with some good speed and stability. Our set of foils and rudders are being built as we speak by the Mystere team.  The wing is also at an advanced stage of completion. The front element is 90% complete. The flap / rear element is 60% or 70% complete. Most of the wing assembly should be complete by next weekend.
We are on track to be hitting the water on the weekend of July 4th and 5th. We should have 1 months testing and debugging before we ship the full kit to Switzerland.  There are still some questions marks on some key elements, especially shipping and budget. We are keeping our head down and hoping for the best.
I have to give a big shout to all the people who have supported us and helped us get this far, especially all our sponsors who have trusted us to deliver! We hope to make a good showing in Geneva and make them proud.  Overall I have been really impressed by the resourcefulness of the team and what we have manage to achieve considering where we started from. Few would have given us much chances of making it this far. For sure we have had to make many compromises along the way to save time and/or money. The result will be a boat that is slightly heavier than we would have liked but it's not a bad effort for a first attempt. It will be a tremendous plateform to work from in the future.
-Juls.
July 1st, 2015 by admin
The A-Cats continue their uncertain march toward full foiling despite Class rules specifically formulated to prevent it; To paraphrase Jeff Goldblum, "Flight finds a way", and it certainly has.  And in spite of (or, perhaps, thanks to) the rules rift, the Gunboat A-Cat North Americans at SailNC on the Outer Banks has one of the biggest NorthAm fleets in the Class's history.
While we won't see the illegal but logical bottom-in L-foils that a few Aussies are experimenting with in Sydney, a 60+ boat fleet will include quite a few cassette and J-board foilers and some serious talent on hand.  Our own Senior Editor is on the ground in Manteo, North Carolina to help the Gunboat team provide all sorts of interesting coverage of one of the coolest events in the US this year, and it all begins above with a good look at some of the sailors and some of their rides.
Best place to follow every bit of 5 days of sailing on the breezy Carolina coast, including a pile of pics already? SailNC's Facebook Page.
June 9th, 2014 by admin
The secrets are gradually dissipating; Franck Cammas says his Groupama C is already hitting 27 knots downwind and 15 up, and 'lots of development is ahead'.  Check the Little America's Cup thread for the full translation and endless conversation; we've been given the 'all-clear' to reveal all the secrets on the Canadians' Fill Your Hands and Penalty Box Productions Petey Crawford is working on it…it's getting good in the land of the C!
August 15th, 2013 by admin
For a while at least the continuing legal and PR battle between Bruce Kirby, Performance Sailcraft Australia, and LaserPerformance has been well overshadowed by something that hasn't happened to the Laser in, well, forever. It's new development, something the Laser has been crying out for. But at nearly 6 grand (Oz$), does the Laser foiling package make any sense at all?  Think about it:  $6k is the cost of 5 beat up Lasers or one, nice race-ready Laser.  It's also half the cost of a good used foiling Moth.
We know there are plenty of potential customers amongst the tens of thousands of Laser owners out there; will we see an exciting new LaserFoiler Class in the next couple of years?  Something that could put some pizzazz back in a boat that's suffered from a horrible image, terrible customer service, poor quality, poor availability, legal problems, etc. etc. etc.
Info on ordering, delivery, and development of the Glide Free Kit is all right here.  Let us know when you get yours; it's new boat review time!  Got questions?  Thread is full of info here.
August 13th, 2013 by admin
Multihulls still haven't figured out how to fly upwind, and that means the optimal foil shape for upwind floating is completely different from the horizontal surfaces required for downwind aerial stunts.  That's led to complicated S-shapes, C-shapes, L-foils, and all sorts of hybrids like the Swiss Hydros foiling C, but leave it to two-time Little America's Cup champs Fred Eaton and Magnus Clarke (along with ETNZ designer Steve Killing) to take a step back and do it the right way; with double boards per side.  This lets the C-boats keep their traditional close-windedness and uphill efficiency (Jenny Provan shows how it's done above) while going full flight & fury downwind.
Keep an eye on the already stellar 2013 Little AC thread; every few years, it's the most interesting discussion in sailing – at least for the techno-obsesssed, like us.
July 6th, 2013 by admin