Posts Tagged 'Foiling'


Thousands of sailors are following the Flying Phantom project to see whether Alex Udin and his group have created the holy grail of high-performance sailing; a full-foiling boat that's easy and stable to sail.   Based on this short video with some words from French multihull supercoach Philip Presti, (and admittedly in very flat water), it looks like they have succeeded.  Enjoy, and get in on the Phantom discussion in Multihull Anarchy.
April 7th, 2014 by admin
While they tend to have a national culture that's reserved and restrained, few can outdo the typical British sailor's ability to talk smack.  Most of the real junkies will remember when Rob Greenhalgh and team went down to Sydney to deliver the "Smack down down under", returning home with their tails between their legs (you can still buy this awesome movie!); well it seems from the above video that Robbie and friends haven't learned their lesson…
Have a look at this UK Mothies video throwdown to our favorite Turkish American foiling master, almost daring Bora Gulari to become the first back-to-back Moth World Champion since the foiling began.  Let the games begin – and with an all-time record field at the Hayling Worlds, they've already started.  Title shout very appropriately to Ohioan metalcore band Like Moths To Flames. 
March 27th, 2014 by admin
Sailing Anarchy was launched right around the time when the first Moth – Brett Burville's surface-piercer – went flying.  As the Moth took over the world of ultra high-performance single handing, SA took over the sailing internet, and we've had a special relationship with the Moth ever since.  That explains our joy when we see just how incredibly strong the Moth is, with 2014 likely to mark the strongest year in the history of the foiling Moth.
This year's North American circuit is well underway, with longtime SA'er and two-time World Champ Bora Gulari defending his National title this coming weekend against new US Sailing Team member Brad Funk and a fleet including Star Gold Medalist Freddy Loof, multiple keelboat world champ Anthony Kotoun, and all the rest of the adrenaline junkie crowd.  We'll be there helping the US Class get photos, video, and news out via the US Moth Class Facebook Page this Friday to Sunday.
Meanwhile, the Moth Worlds at Hayling Island in the UK is about to set an all-time record for entries in a Moth WC – with 5 months to go until the event!  We Expect somewhere over 150 boats in Hayling including full teams from a number of America's Cup campaigns – foils will be the key to the next Cup, and the smart designers and sailors know that, with the A-Class split over whether to go forward or backwards, there is only one singlehander that will let them hone their skills for the biggest trophy of them all.
Europe is heating up just as quickly, with the first Act of the EFG MothEuroCup taking place in Bordeaux, France soon. It's the first of six awesome events held all over Europe, including the excellent Delta Lloyd Regatta in Holland in May, the Swiss and German Nationals, Traunsee Week in Austria and of course Europe's best sailing spot in Lake Garda has to be on the calendar as well. In this second year edition of the MothEuroCup, EFG Bank has stepped up to the plate as the series Sponsor, offering more than € 13,000 in total prize money.
With EFG Bank supporting Stars, Vipers, Melges 24s, and now the Moth, we're giving them a shout out; keep it up, bankers!  For a little video teaser of the Europcup, check this out on Vimeo.  Thierry Martinez photo from Hawaii.
March 20th, 2014 by admin
 Our pal Jack from Cornwall checks in with some info on the just-launched double-masted foiling Cobalt Cat. You can check it out in this video as well as at the RYA Dinghy Show this weekend in London – always a great way to blow out the winter blues and get ready for the season ahead.
It was with great satisfaction earlier this month that the Team Cobalt Catamaran made its first leap up onto its hydrofoils in 10 knots of Breeze at Calshot Spit on the Solent.  This was the culmination of a 3 year part time build program for our team which we formed to design and build a 20′ hydrofoil bourne catamaran to take on the Round the Isle of Wight Record. An ambitious project to champion the merits of small multihulls and push the limits of the beach-cat platform.
The boat will be making its public debut at this weekend's RYA Dinghy Exhibition in London where myself and Luke Yeates co-founders of Team Cobalt will be manning the stand in the Palm Court entrance. Come on down to the stand we'll be giving talks on the project and running a "guess the weight of the boat" competition to win a Ronstan sailing watch.
Team Cobalt are now looking for syndicate partners to join the project and take it to the next stage of optimisation and taking on the challenge of the RTI course.  Get in touch with us via Facebook or Twitter.
February 28th, 2014 by admin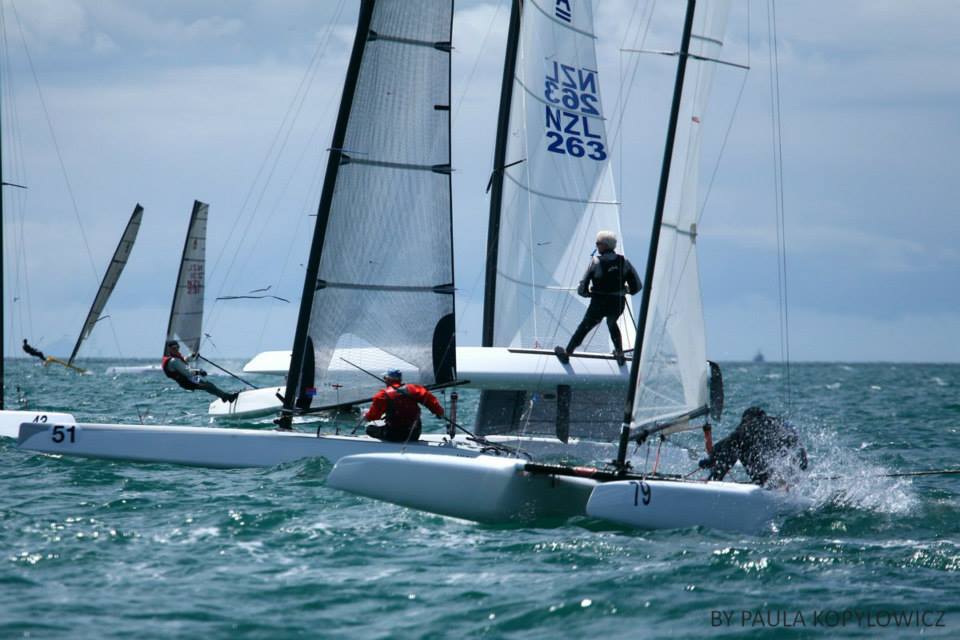 While interest and membership in the International A-Class Cat remains at an all-time high, the just-concluded, semi-foiling Takapuna Worlds brought significant new questions to light in the world's premiere singlehanded multihull.  
The problem isn't necessarily foiling – anyone watching the Worlds saw a fleet where even the very best pro racers could only foil for some of the time, and most of them would be in similar positions if there were no J, L, or C foils at all.  The problem is that the Class is quite neatly split down the middle as to whether they want a foiling boat.
Current A-Class rule 8.1 limits the span of any vertical foil, which means only relatively small "J" or "L" shaped foils are allowed on an A-Cat.  Rule 8.2 requires all appendages to be inserted from the top, which further limits the size of the foils and makes the kind of efficient wand-type controls that make a Moth so effective difficult or impossible to fit on an A-Cat.
None of this is new – in fact, Rule 8 dates back to 2009, and was clearly written to keep boats from flying.  But as America's Cup rules writers quickly learned (and nearly lost the Cup over), it's easier to design around a rule than to design an effective rule.
So has it been with the A-Cat, and the cream of the Takapuna crop came up with huge board-holding cassettes fitting into massive holes in the hulls to circumvent rule 8.2 and a range of innovations to try to fly around rule 8.1, with less than satisfying results for those that think an A-Cat should truly fly.  Meanwhile, a vote taken at the AGM to rescind Rule 8 failed to garner the requisite 2/3 majority, and the half-foilers remain the best option available for the next year.
Many young folks look at the Moth and scratch their head about the A-Cat conundrum.  "The Moth is so successful, why not follow right away with the A-Cat?" is a common refrain.  But unlike the Moth Class of the early 2000s which was on life support and in danger of being delisted by ISAF when John and Garth Illet pioneered the two-bladed foiling moth, the A-Cat Class is extremely healthy throughout Europe, America, Australia, and NZ, and compared to the Moth, the A-Class is a long, heavy and ungainly machine.  It's also an expensive boat already; a top of the line DNA will not leave you a lot of change from $40 grand. A pre-foiling, top-of-the-line Moth cost around US$10k in 2000; today's production Mach 2 is well north of twice that.  Can the A-Class support the additional expense it takes – both in money and weight – to handle foiling loads?
Will the thousands of A-Cat devotees around the world stand for the kind of wholesale obsolescence of their expensive toys that would necessarily follow if someone comes up with the kind of world-beating machine that Andrew Macdougall and McConaghy China have with the Mach 2 Moth?  And perhaps most importantly, what kind of  unintended consequences will follow from the inevitable 30-knot crashes of a boat three times the mass and two or three times the cost of a Moth?
No one knows the answer to these very tough questions, but a group of dedicated A Class sailors in Australia led by Steve Brayshaw and sailmaker Stevie Brewin has a real desire to see stable flight become a reality. After consultation with foil designers, they've realized they can't do this under the current rules, so they're taking the next step:  To see what it will take to make a stable foiling A-Cat.  They believe that if they can prove to themselves and the world that it can be done, the worldwide members of the A-Class will only then have the information they need to be able to support a rule change.
The Steves are calling it the A-Class Speed, and the boats will measure as A-Class cats in all respects with the sole exception of Rule 8.  This will allow them to insert new foils from the bottom into old boats with a minimum of fuss, allowing the kind of testing and development necessary to produce a proper foiling boat.   Brayshaw will make the Speed his main focus as soon as the new foils are available, while Brewin will also sail the current A-Class until the Europeans to continue to provide sails and service to his Brewin Sails customers.  Other A-Catters downunder have already committed to the project and anyone is welcome to get involved.  Various highly-regarded foil designers have shown real interest in the project, with one boat already hastily converted with promising results.  It is certainly going to be an interesting winter down under.
The first A-Class Speed Open Championship will happen on Lake Macquarie during the next Aussie summer, with the exact dates and venue to be announced as soon as possible.  All are welcome, including anyone who wants to compare their existing boats to the new concept.  For further information, hit up Stevie Brewin on Facebook or send a PM to SimonN in the SA forums.
And if you don't know where the title for this piece comes from?  Screw you, kid.
February 24th, 2014 by admin
It's been another interesting week in the wide world of sailing on screen; here are the pieces we liked the most:
brand new friend
The number of Americans going sailing is still very near an all-time low, but as of this week, we're in what may strike you as a surprisingly good mood about the state of the sport here in the good old US of A.  Why?  Because, based on Senior Editor Mr. Clean's time at the 3-day US Sailing Leadership Forum in San Diego, we truly believe that, for the first time since Sailing Anarchy's birth 15-odd years ago, our sport's governing body seems to be on the right track – a track that, if it continues, will lead to real growth in the part of the sport that really matters – the base.
All the Yacht Clubs and all the regional racing authorities and all the 'welcome newbies" programs can't change the fact that we need far more people sailing recreationally to get more people racing, and one of the most impressive parts of the Leadership Forum was the makeup of the 600-odd attendees; almost half were female, with a median age of less than 40.  US Sailing doled out over $7000 in travel subsidies to help dozens of community sailing staffers show up, and they were overwhelmingly young and often female; these are the folks in the trenches bringing thousands of new faces into sailing every year.
If there is one criticism of the event's format, it's that there were perhaps too many seminars and breakouts in too short a time, and while the vast majority consisted of valuable, engaging content and speakers, a handful were nothing more than disguised corporate promotions for various service providers – something tough to tell from the titles of each session, but easy to tell when you sat down and found a business card on your chair.  But aside from that – and perhaps from the Hilton's price-gouging that left the younger folks and community sailing staffers unable to have a single drink at any of the parties or even the hotel bar – Event Director  Katie Ouelette seems to have found a formula for an annual meeting of stakeholders that's fun, exciting, and advances the sport forward in a way that's been both sorely lacking and desperately needed.
Even the Yacht Club crowd was a younger and more vibrant group than we've ever seen at any non-youth US Sailing gathering, and like everyone else, they were treated to an information smorgasbord from a distinguished group of young and old speakers including our very own Mr. Clean.  That fact alone should tell you that US Sailing is clearly on a new path; it's taken more than a decade, but we welcome them to the 21st century.
If you'd like to know what US Sailing is up to, and why we think you should drop the 60 bucks and join them for 2014, watch the 16-minute interview between Clean and US Sailing Executive Director Jack Gierhart above.  Give them a shot at doing good things with your money, and we'll circle back around in early 2015 and tell you if they are living up to their promises – and you can get into the spirited discussion about it all here.  Title shout to Lloyd Cole, and look for the full directory of both the interviews we did and the useful videos posted by US Sailing next week – including Clean's face off with other leading sailing media peeps.
find out why
Until November (and beyond, really), the Volvo Ocean Race is only as good as the stories it tells.  That's why we're overjoyed that they've pilfered one of SA's videographer gems – young Sam Greenfield sucks you into the US/Turkish Team Alvimedica in this excellent piece posted yesterday.  Check it out above, and go and like Sam's page here.  Whether or not the Volvo can handle his unconventional and no-compromise style, he'll always be welcome here.
may the force 10 be with you
Who says you can't sail in a hurricane?  Not the Red Bull Storm Chasers, and after a ridiculous 3rd stop in winds of ludicrous speed, France's Thomas Traversa is the new king of the hurricanes.   There's an excellent full report of the final stage of the three-event world-girdling event here.
mind over matter
Big money and big restrictions flowing from the Cup has stagnated most sailing videography over the past couple of years, and that only makes the sexy stuff coming out of UK production house RedHanded TV look even better; check out this trailer from the upcoming windsurfing movie Brutal Addiction.
neither fish nor fowl
The boys from ETNZ continue to crush the A-Class Cat Worlds fleet, in an odd Takapuna Worlds where some of the fleet is foiling some of the time, and none of the fleet is foiling in anything you'd call 'control'.  This is largely because the daggerboard designs are limited to the non-acute angles of board that can be 'fit in from the top', as required by A-Class rules, and without a stable Groupama C or ETNZ-style 'J' board, or a sophisticated system of controlling the more open "L" boards (like OTUSA or Hydros), the boats fly in fits and starts.  It's still faster to fly than drag in the breeze they've had, and aside from one DNF due to a rudder hardware failure, Ashby is on the verge of adding another one of these to his trophy closet.  This vid from Argentina Marine Media is the best we've seen yet, and you can find some great Cathy Vercoe pics here, and some video from Beau Outerridge here.  Of course there is plenty more first-hand reporting and debate about the recently defeated vote for a proper foiling rule in the thread, which will continue to rage on until someone makes a bold move either towards, or away from, the light. 
Former US A-Class Prez Bob Hodges put together a succinct note summarizing his views:
For those on this thread who are currently not active A-Class sailors and/or who have never sailed the boat.
The decision of the class as a whole to not change the current rules is because we are a cautious and conservative lot that do have a vested interest in how the boat and class evolves. I don't think you can appreciate that perspective until you own an A-Class and you actively sail and race it.
It's important to note that the top five at the WC currently are paid pro sailors. Theyare great guys, very approachable, and very supportive to their fellow sailors. But they do enjoy the advantage of someone else paying the bills when it comes to the equipment they are racing in this event. They understand the implications of what can happen if the class rules are changed to where the average A-Class sailor's financial means cannot keep up with the development. How many of you can afford to race a C-class?
I consider myself in great physical condition for my age (55 years old). We have a huge range of sailors in this class from their 20′s to their 70′s that have been able to race the boat across the wind range of our class rules (5-22 knots). The boats have become much easier, safer, and more enjoyable to sail with the addition of curved daggerboards and rudder winglets. But there is no doubt that foil packages that actually fly the boat will raise the physical requirements to sail the boat. I'm excited but at the same time concerned that I may not have the physical stamina and agility to competitively race the boat at the performance levels I am seeing at this WC. If the physical requirements to sail the boat increase by say 25%, we could see a vacuum created that would need to be filled by younger sailors who probably do not have the financial means to own the boat (a Moth is 1/2 the price if you want to foil).
As the boats start to fly and the speeds increase to the low to mid 20′s, mistakes will be harsh on not only the sailor's bodies but on the structure of the boat itself. The current boats are amazingly strong and durable. If we start to routinely fly, it remains to be seen whether the boat's can handle the different load and torque dynamics on a routine basis. Crashing at over 20 knots of boatspeed will be hard on a boat that only weighs 75 kg and has a 29′ tall lever arm pushing the bows down, totally different dynamics than a Moth going over the cliff. If breakages and failures get out of control as the boats begin to fly, there is the potential for another vacuum to get created both in terms of losing sailors but also builders who get driven out of business because they cannot keep up with the warranty claims. There is also the insurance question. If the A-clas becomes a boat that has the potential for substantial damage in a routine "crash", no insurance company will want to offer coverage. Some will not insure our boats due to mast breakage claims.
From my own standpoint, I don't need to foil for the pure sensation of speed. I own a quiver of sailboards that in 15-18 knots are capable of sailing faster that an A-Cat will ever go even on foils and I can do that at a lot cheaper cost and at much less risk to my body and my financial investment in equipment. That is a perspective that I believe many in our class share.
I'll speculate that it's possible Landy's strategy for racing a "conventional" boat is to not only sail what he is the most comfortable with but also to be a benchmark in this championship that will be important for the direction he leads the class as its class president. Scott Anderson's performance so far is a great reference point as he typically does not trapeze downwind nor is he sailing a foiling package I believe. Scott is also in his late 50′s so represents what is possible competing against the younger guns in the top five that have the financial support of TNZ. If the breeze truly lightens to the 5-8 knot range for racing later this week, it will be very interesting to see how Landy and Scott perform. This is an exciting but kind of scary moment for the class. I hope we make the right choices to keep the class as vibrant as it currently is.
Bob Hodges – A-Class USA 230
February 13th, 2014 by admin
The biggest swell in over a decade is about to slam into Maui, but the world's most famous big wave surf competition – the Eddie Aikau – won't be able to take advantage of it despite the surf falling square in the window of the event that's only been held eight times in its 20-year history.  Such is the nature of big wave surfing, and in this case, onshore winds of 15-20 knots or higher will make the monster waves all but unrideable, so the Eddie will wait for another day.
But there are sure to be plenty of adrenaline-charged, fearless wonders out there, and we'll be expecting the usual emergency room-or-worse news tomorrow morning.  Speaking of fearless, anyone remember when Laird Hamilton promised that foil boards would be the future of surfing, ideal for exactly these conditions?  Was he completely full of shit, or did the lure of selling millions of SUPs and sailing on the PUMA VO70 wash all that big wave ambition off the legendary surfer forever?  Calling Laird…Calling Laird…Come in, Laird…
If you get some shots of the monster waves, or you have the balls to bring a dinghy or sailboard out there to play, send us some pics.  Tip o' the hat to Paragon Sail Charters for the heads up.
January 22nd, 2014 by admin
While organizers struggle with pollution issues for Key West Race Week, 100 miles to the North, entry fees for the first event of the 11th Hour Racing Moth Winter Series were ZERO thanks to the event sponsor, an environmental organization.  That's not the only innovation from a strong US Moth Class that now features crossovers from not just skiffs and sportboat superstars, but A-Cats and even Sunfish – Matt Knowles checks in with the report from day one in Key Largo, with photos from Marco Oquendo and a full gallery here.
17 International Moths descended on the Upper Keys Sailing Club in Key Largo Florida for the first stop in the 2014 winter series. In connection with its partner 11th Hour Racing, the US Moth Class is hosting a three stop winter tour dedicated to great racing and spreading the message of environmental sustainability. Day 1 was slalom racing in a fresh breeze that was forecast to build to frightening. A few sailors permitted discretion to thwart valor and stayed on the beach.
After a 6-race qualification series plus a repechage, 8 sailors advanced to the grand final. Just as the boats started, a 30 knot gust rolled across the course. In the end, only two boats managed to flimp back upwind to finish: Antony Kotoun (ISV) took the win over new class member Patrick Wilson (USA) who showed impressive boat handling in the big air. Tomorrow the class turns to fleet racing using an America's Cup reaching start. Full gold fleet results: 1st Anthony Kotoun (Newport, RI); 2nd Patrick Wilson (Charleston, SC); 3rd Johnny Goldsberry (San Fran, CA); 4th Matt Knowles (Newport, RI); 5th Tommy Loughborough (Barrington, RI); 6th Bora Gulari (Detroit, MI); 7th David Loring (Charleston, SC); 8th Ben Moon (St. Pete, FL).
January 4th, 2014 by admin
Ryan Breymaier doesn't just do huge trimarans and Open 60s; he's also got an F-18 and loves hauling ass in little boats as well as big.  Last week, the Annapolis native and now adopted French super-rigger hopped over to Paris's massive boat show – the Nautic  – for a few meetings and round table discussions with the IMOCA and Barcelona World Race folks.  While there, he checked in on a couple of extremely cool small-boat projects we've been following from afar, and he gives us a real pro's look at the first of them below.  Be sure to Like Ryan's Facebook Page here, and if you think your company might benefit from the kind of exposure Ryan's prospective Vendee Globe bid would produce, get in touch with him today!
Other than the two C-Class cats on display at the Salon Nautique De Paris, the most interesting boats by far were the Flying Phantom and the Diam 24 OD trimaran.  At first glance they may seem competitors in the small racing multihull segment, they are in reality aimed at two very different skippers.
The Diam is for the F-18, A-Cat, or sportboat skipper looking to still go fast, but to do it with a bit more comfort; in other words, no trapeze.  Next week, I'll give you my take on that sexy little trimaran from VPLP.
Today though, I'll focus on Alex Udin's flying catamaran, and it's definitely for the 'young gun' beach cat sailor ready to step up to the next level – the foiling level.  Developer and creator Alex Udin (Sail Innovation) is quoting speeds of up to 30 knots downwind and sailing upwind at 55 degrees TWA, skimming the surface like the AC72s at the end of the San Francisco fun.  Want to foil upwind?  Crack off in a breeze to around 14 knots of boat speed and pop it up, then go upwind a few feet above the surface.
Since I tend to look at things through somewhat cynical and very specialized eyes, I like to get my wife Nicola's opinion first.  She sails the F-18 with me and is a keen observer, and to her eye, the Phantom is a really, really nice looking boat!  They've followed some of the recent trends in cars; lots of graphics options and a matte paintjob that's very cool and even a bit non-skid.  Of course the bottom will be wet-sanded and polished to a mirror sheen by any serious racer, but Alex clearly spent a lot of time making sure the Phantom looked just as good as it's meant to sail.
With the subjective out of the way, I had a long look at the technical side of the Phantom.  The hulls are all carbon with a nomex core, carbon mast and carbon boom, with the hulls connected by huge alloy beams from the Cirrus F-18.  This guarantees a super-stiff platform without a lot of weight.
The hulls have a sweet profile with no distortion and plenty of volume in the bows; perhaps not so important for a boat designed to stay on the foils the vast majority of the time, but still pretty good to have when inevitable splashdown happens.
Test pilot Gurvan Bontemps is a top F-18 sailor who recently raced the Patient Lady at the Little AC in Falmouth, and he said without a smile that the boat is up on the foils in 7 knots of TWS (though he looked at my frame and said 'maybe 8 with you aboard'), and that, contrary to what you might think, it's just a bit more twitchy than a stock F-18.  A foiler for mere mortals?  It could be.
The rudders are high aspect ratio, with ultra high aspect ratio elevators that bring to mind a moth's T-rudders.  The rudders are mounted in lifting cassettes; not for adjustment underway, but for beaching and launching.  The rake adjustments come via the cassette mounts; instead of normal pintles and gudgeous, the cassettes attach to the boat with uniballs to allow the boat to be properly balanced with angle-of-attack adjustments to the entire rudder and elevator.
One of the keys to the supposedly straightforward foiling performance of the Phantom is the angle of the J-foil to the daggerboard upright; it's quite closed instead of a right angle or something even more open; combined with the increased beam of the boat (compared to the F-18), this means stable foiling, meant for mere mortals rather than just the Franck Cammases and Mischa Heemskerks of the world.
Unlike the Oracle, ETNZ, or Team Hydros boats there is no cant adjustment for the boat (inboard/outboard foil movement); the Phantom only allows fore/aft rake adjustment with an endlesss string/worm gear moving the upper foil and thereby changing AoA on the main foil.  This sets the median speed of the boat and to some extent, the ride height, with the boat self-levelling as more of the foil comes out of the water.  In a great innovation and something we saw on the gorgeous Groupama C boat, the weather board is lifted not by a block and tackle, but by the weight of the crew as he or she wires up on the new tack.  Anyone who's pulled up loaded boards knows this is a huge labor saver, and these boards are around 12 kg of pure carbon!
In the photo to the left, you can also see the camcleat for the 4:1 board downhaul – a necessity for foils developing enough lift to support the entire platform plus two crew, plus all the power generated by the very high aspect rig.  I couldn't even get a good picture of the full mast; it was well into the rafters of the Nautic convention center. Attached is a sail plan drawing that shows it off well, and in person, the sails are beautiful.
I asked the obvious question as to what happens when you 'yard sale', and Gurvan says that a high speed capsize isn't much worse than on an F-18 other than one thing: You fly a lot further through the air because you start so much higher up. In any case, the platform is as solid as can be, and according to the test sailors, it can easily take plenty of abuse.
At the boat show the cost is 32,000 Euro, which seems like a lot for a 20-footer.  But remember that this includes VAT and other shipping fees.  And when you add up the latest foil technology, the excellently-finished carbon construction, and all the design and testing work that has gone into it, I am sure it would be a bargain at twice the price.
2 boats have already been sold to one America's Cup team,  and several other prospective AC teams are negotiating for more.  TNZ were at the booth when I was, and they were at least as interested as anyone I saw.  Udin took 13 paid orders overall at the Nautic; not a bad start at all.
Will it really be easy enough to sail to gain mass acceptance?  The jury is still out on that one for a few more weeks.  But if so, I can imagine some incredible racing and a real game changer.
Get in touch with Alex Udin for more info or to order your Flying Phantom at alex@sail-innovation.com.
December 17th, 2013 by admin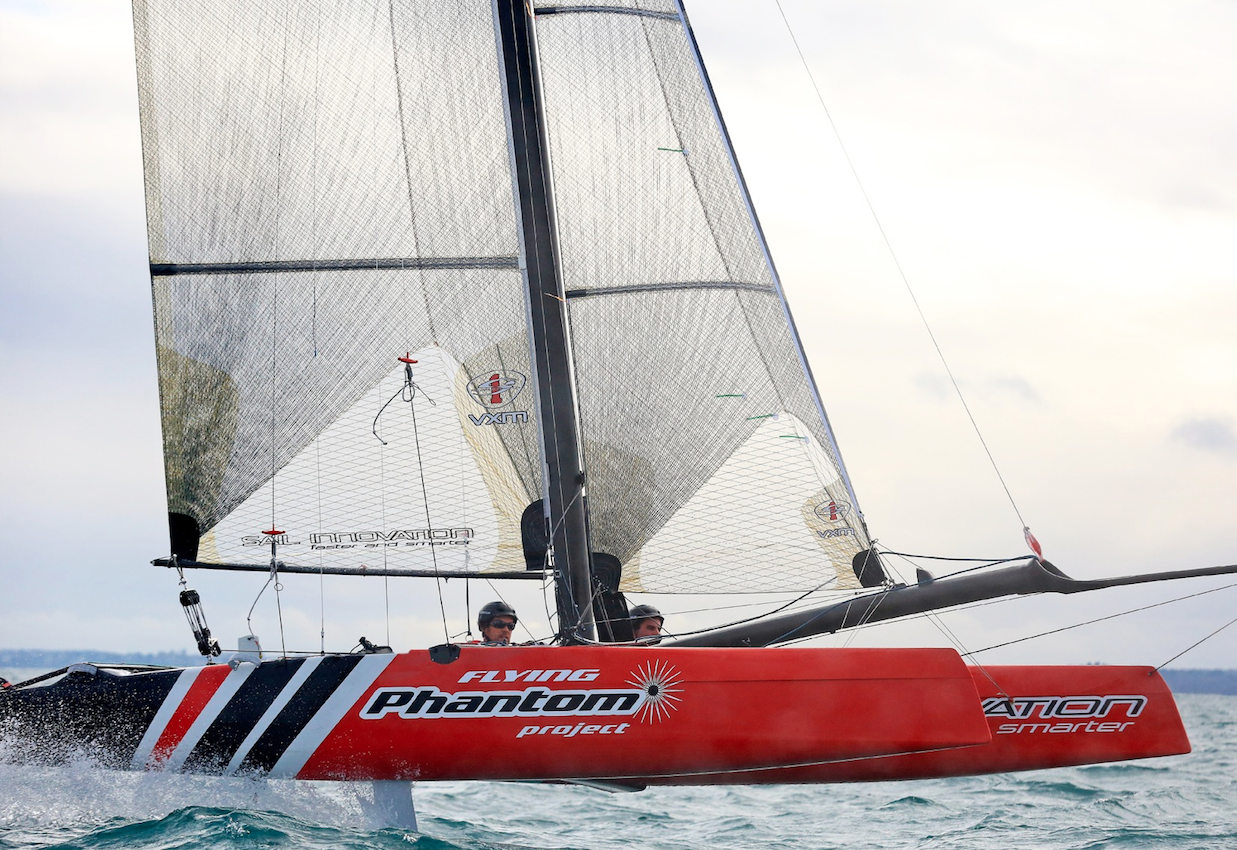 Our old pal Alex Udin officially launches his Martin Fischer-designed, Franck Cammas-tested Flying Phantom at next week's Paris Boat Show; will this sexy, well turned-out 18-footer finally open the floodgates on production foilers for the masses?  It very well might be, especially if, as we've been told, the Phantom is exceptionally stable and easy to fly.  We're also told it won't break the bank,  you can get it in about 17,000 different colors and patterns, and they've got piles of orders from everyone from old mothies to America's Cup teams.
Have a peak at this excellent official promo video out yesterday, and for a more in-depth discussion on the boat and its creator, here's a longer chat between Alex and Mr. Clean last month in England.
November 25th, 2013 by admin
Remember when we announced the 'flying' Great Cup 32 Catamaran more than a year ago?   With its 'compound W' daggerboard shape and L-foil rudders, the Martin Fischer-designed boat looked slick, modern and sexy.  They even sold a few, raced a couple of regattas, and last month, pulled off a demo day in massive waves and 25+ in Nice while the Extreme 40s were sitting at the dock.
The main problem?  High performance foil design changed more in one year than it has in decades. Essentially, if you have a new ultra-performance multihull these days and you're not flying, you're failing – and the GC32 foil package was doing just that.
In the meantime, the AC72 showed everyone the way, and Fischer's work on both the Groupama C foiler and the Flying Phantom project gave him the inspiration he needed to turn the 32 into a full foiler, and you can check it out above and here.  Sea trials will happen in France around the New Year.
November 14th, 2013 by admin
Konstanty Ossowski shows us his idea for a foiling…something.  If nothing else, it's interesting wallpaper.
October 26th, 2013 by admin
The background may be pretty but the forecast ain't; with the trades looking weak to non-existent, the mothies are doing whatever they can to get their boats ready for an unexpectedly light regatta.  Above, Petey Crawford gives you the first HD look at the Worlds fleet; Like the Moth Worlds Facebook Page for a little On-The-Water Social Anarchy from Mr. Clean throughout the week.
October 14th, 2013 by admin
From an Aussie Anarchist, clearly a little overwhelmed at the excitement of a foiling Australian America's Cup team…
We are on the trail of something big here at Sandy. With the approaching summer season rapidly coming at us here in Melbourne, we believe testing with the new J24 foiler has been going on over the winter. The skipper is reported as saying that they have been able to get the boat foiling once they get surfing on a wave and can sometimes keep it on the foils long enough to get onto the next wave and doing that they have been able to actually skip forward, overtaking the wave crests.
'The AC is safe for the moment' is the joke going about down on the hardstand but there are some very serious faces around this project where the foils remain covered away in a padlocked cover to keep prying eyes out (shades of Ben Lexcen). The skipper went on to say that "where we have made real gains though, is reaching, traditionally the J has been a very poor reaching boat due to it's short waterline length, now we are blasting along like a skiff". Apparently the lead in the keel keeps the boat much steadier than a foiling moth or Laser when it is up on the foils. The normal righting moment of the  lead keel would tend to confirm this. Tests continue on foiling upwind which although reported has not been verified by anyone reliable yet. The only picture released so far is a rather poor quality shot showing the boat up on its foils whilst surfing a wave off Sandringham YC. We note that the name has been airbrushed off the hull to mask that actual test boat and the sail number has been blocked out. More when we can break through the security surrounding this amazing breakthrough.
October 8th, 2013 by admin
Did you know you can fit 45 moths in a 40′ container?  Apparently no one did, but that is part of the secret sauce in maxing out your registration at a World Championship on an island in the middle of the Pacific.  It's a brilliant move, really, for the McDougall/Maconaghy Moth Worlds next week in Hawaii.   Kaneohe Bay has perfect weather, flat water, and is about as centrally located as anywhere to the big Moth fleets in Australia, Kiwiland and the US.  And it's an ideal 'bucket spot' for Europeans looking to explore the Pacific; so much so that entrants had to join a waiting list once the fleet reached 80.
The Moth Form Guide has become something of a tradition over the years, and past Moth World Champ and longtime foiling humorist Si Payne – apparently resting his old bones and spectating this time around – gives us his hilarious view at the fast, the furious, and the funked up for the 2013 Moth World Champs.  There's a website, but this is firmly a Facebook Generation event, so go there for what ails ya.
OK here we go! We confidently reveal the top 10 with the same authority and precision as in (ahem) previous years!
Firstly the venue! Kaneohe Bay Hawaii! It's on the windward side of the island, but its inside a bay, so its sheltered and therefore flat water. It's seemingly perfect for Moth sailing with its lovely wind and clear warm water.
However a note of caution. If you're not a good tacker then you are going to struggle. We haven't heard the word "cone" in sailing until this summer but it seems now it's everywhere. We are told that there is a kind of a cone here too, specifically as it gets shiftier and the oscillations get faster and more extreme towards the windward mark.
Clearly it's best to tack on the shifts, but if your tacking is so slow that they play the "Chariots of Fire" symphony every time you put the helm down, then it's going to be a long week.
Still, here we go, our top ten with a hint of fun:
1.     Peter Burling, NZ.  Yes he's on it! Peter is the 2012 49er Olympic silver medalist. He recently cleaned up in the Red Bull Youth AC, and the other week he won the 49er worlds.  Young, gifted and just like his Mach2, All Black!
2.     Nathan Outteridge,  AUS. 2011 World Champion. Will he sail or will he commentate? We assume the former. The 2012 49er gold medalist is back in the Moth class!!  If he shouts "Boundary!" and tacks, for goodness sake just get out of the way…
3.     Anthony Kotoun, ISV. An outstanding worlds last year marked him out as America's best. Unflappable, unconventional and highly likely to be unstoppable.  Rumored to have found a secret short cut through the reef after last year's recce. Would be a highly popular winner.
4.     Josh McKnight, AUS. Current World Champion. Just got on and did it last year as no one said he couldn't. Fast, fit and mature beyond his years on the racecourse. Big but… No one has defended on foils yet, – could he be the one?  Recently been messing about on rafts. Not ideal prep..
5.     Bora Gulari, USA. "Airforce One you have permission to take off" Bora likes home soil. He won at the Gorge in 2009 and so Hawaii could be his turn again. You always feel he might be working on something important. Rarely is.
6.     Scott Babbage, AUS.  Mr Consistent. Sooo close last year in Garda, but 2013 could be his year.  He's the class president though, which means he has to chair the AGM, and it takes a strong man not to let that sap the will to live out of you. Would be a very popular winner though.
7.     Rob Gough, AUS. Rumored to be going very fast. He's the Aussie alternative choice in a "Mac" versus "PC" kind of way. Rob has invested more time and more money than anyone else. He's strong, innovative and with good boat handling.  Rumor has it he's bringing his own personal trainer.
8.     Rob Greenhalgh, GBR.  Been winning things of considerable note across the sailing spectrum for a number of decades. Rob dominated the UK nationals this year. If the first couple of races go well and it's not too windy, the British flag could fly over the Hawaiian Islands for the first time since Captain Cook banged into them.
9.     Chris Rashley, GBR. Current European Champion. If he keeps it together then he will be in the mix. Lots of years left in him. Very organized. In fact the most organized Moth sailor we've ever seen. Find him by following the trail of multicoloured Post-it notes…
10. Iain "Goobs" Jensen, AUS. 2012 49er Gold medalist and straight out of the AC. Will have that trademark "thousand yard" star that all those AC72 guys have. Used to being 12 foot in the air and so he could unwittingly pull his ride height adjuster right off! Timing might be off in a boat 61ft shorter than he's used too.
THE WILD CARDS
Brad Funk, USA. Nanu Nanu! Something funny will happen. He'll either accidently eat his car keys or inadvertently win 6 races.
Eric Arkhus, USA. Fresh from winning Melges 32 world championships, Eric could well break into the top 5. Anyway stay out of his way too! At the US Nationals at Kaneohe last year, he took out a J-105 and ran straight over a Bladerider.
Dave Lister, AUS. Once hailed as the fastest man in the world on foils.  Possibly the first ever to foil tack a moth.  Older than God.
Andrew McDougall, AUS. A freak. Take out the seemingly greater importance of tacking at this event and we'd put him right up there.
THE EXTREMELY WILD CARDS
John Harris, AUS. 2008 World Champion and 18ft skiff legend. Resides in the USA where he's been building a business, and also, we hear, a waistline.
Just not practiced enough to get in the top 10, but form is temporary, and class is permanent.  Could be another great comeback in this iconic summer of 2013.
Julian Salter, AUS. The Charge of the light brigade!  Clever sailor, foils in a Turtles sneeze. If it's a very light week then he's the best equipped to take advantage of it.
So will we be right? Almost certainly not, but it will be a great event!
Good luck to all.
October 7th, 2013 by admin
The first day of actual racing at the Little America's Cup certainly didn't disappoint; a mix of the kind of carnage you'd expect from the most bleeding edge of development classes and incredible high-speed, high-flying action from the dominant Franck Cammas and Groupama C.  The Rev Petey is back in action too, as you can tell from this incredible highlight reel from Races 1-3 of the 2013 C-Class Cat Champs.  Enjoy, and be sure to check out a full day's racing, broadcast live by Clean and team beginning at 1100 GMT – right here. 
The full video from races 1-3 are here.  Part One here, and Part Two here.
September 24th, 2013 by admin
If the last few weeks has contributed to an obsessive need for you to watch foiling catamarans racing through big wind on your computer screen, we're happy to inform you that you'll have a full week of it coming up this Sunday with the Little America's Cup.  Formally known as the International C-Class Catamaran Championship, the Little Cup will feature 11 teams from all over the world with some of the most advanced racing craft ever developed; in some ways far more advanced than the 'real' AC.  
Clean, Mer, Petey and a cast of famous and not-so-famous guests are digging the On-The-Water Anarchy cameras out of the shed to bring you live, hilariously and expertly commentated video action from every race at the 2013 Little Cup, along with our infamous 'Cocktail Hour' live talk shows, piles of interviews, and highlight reels put together by some brilliant folks in the UK.  We expect to have trackers, great photography and plenty of updating on Facebook, too.  So keep watching here, and for everything C-Class, hit the 2013 International C-Class Championship thread and bring yourself up to speed. If Facebook is more your speed, Like the Little AC page here.
Like the Minista below, the UK's Team Invictus have had a tough road to the starting line.  Here's the update from their skipper and the fastest sailor on the water – Paul Larsen:
Sunday: The start line is often the first finish line.
It's past midday on Sunday here in Bristol. The shed is full of various wing parts in heater inflated bubble tents. To say we are a bit late is a massive understatement.
This is yet another big ol' mission just to make it to the start line. I didn't want it, nobody did. I had no idea what I was walking into 13 days ago. Basically, for one reason or another, Helena and I walked in just as things had fallen apart. We had come to hopefully help a little bit to get the last bits together and help the team along. What confronted us was obviously going to require substantially more input. We had a main spar with the ribs attached to it… and that was it! No flaps, no moulds, no leading edge and no control systems/linkages'hinges… just CAD drawings.
My first reaction was to keep walking. This would mean that there would be no British boat at this event. That was unthinkable. We had to have a go. We went to the pub and began hatching plans. As long as there was a chance… we would have a go. We began pushing on.
None of us wanted to stand next to a piece of junk. It's obviously not going to be as good as it could be… but the old girl might be alright. The platform seems OK and there are some aspects of the wing that I am interested to see. We don't have the time to re-design everything to fit the schedule so there has to be some shooting from thew hip and acceptance of what we have.
Keep it in mind that this needs to be in Falmouth getting rigged on Tuesday.
We had to come up with a quick way to make a 3D curved leading edge so we used polystyrene blocks, a skilled carver and then Dan (from Independent Composites) did a great job of fairing and skinning. In fact Dan and the boys have been ripping into it. They made the large lower flap and have let us take over the workshop for the weekend.
Thankfully the National Composites Center (NCC) in Bristol did the MDF tooling for the top flap and Helena and I went and built that there with Nick Hewlings. The mould came off the machine last Wednesday afternoon. We used a quick method of sealing surfacing the mould involving putting the whole thing in a 'envelope' vacuum bag which we then sucked down onto the mould and used as a surface to actually laminate onto. Unbelievably… for some reason this bag sort of dissolved during the cure and is now structural i.e. part of the laminate. We were so lucky that it held its vacuum and that it didn't result in the part being permanently stuck in the mould. None of us have ever seen that before . So we'll be sailing around (hopefully) with a vacuum bag still on the upper flap.
We just don't have any time to get hung up on one process. It's all a bit mad. At times I wonder what the hell I am doing here. We shouldn't still be doing things this way. I guess when it all looked a bit too much I began to wonder if we really could do it. I'm still wondering.
The parts are all coming together. The flaps are a bit heavy but then we haven't finished cutting them down.
Anyway, here we are. It's getting warm in here. I'll let the pictures do the talking. The picture of us cutting out the holes in the lower flap was taken around lunchtime today.
Monday:  All the big pieces are together. The little bits are turning up and the trailer just arrived. The Harken order is on the way direct to Falmouth and the Marlow order is still being chased. The daggerboards are curing under a heater just off camera.
Helena is trying to hook up live tracking. This will all be loaded in the trailer tonight and should be in Falmouth in the morning. It just has to be that way.
Tuesday:   Invictus has once again… left the building. Well, actually there is still quite a bit of building to be done… but she's out of the shed anyway.  This boat and this team, in one form or another, are why the event will be in the UK this year. We felt that she simply had to be down there mixing it up with her Brethren on home waters.
Goodbye Dan, Leighton Mitch and Nick from the NCC, thanks so much for going the extra mile and helping to get rid of us:)  We still have a lot to do but the overall spirit in the team is good. We turned a corner. Let's see what happens now.
Next stop, Falmouth and the 2013 ICCCC.
September 17th, 2013 by admin
Could it really be possible?  A kit that allows the most popular sailboat in the world to foil?  We thought it was a hoax until we saw more photo evidence… Check out what Chris from PSA, at the helm of the foiling Laser Torch Kirby sailboat, had to say: "I had it up with my 96kgs in 10 to 12 knots yesterday morning, I am sure with more practice you could get it going a little earlier, if lighter in weight for sure you can.  Later afternoon session was in 15 to 18 and I was smoking for a Laser…we need to do speed tests, not done that yet, my guess yesterday was close to 20 knots.
Wanna know more?  We do.  Check the thread.
August 4th, 2013 by admin
With full-foiling now an America's Cup and Moth imperative and a near-certainty in the upcoming Little AC, The Anarchists have been asking for some time if foiling will ever be a beach-cat thing, or if it will always be consigned to the big money boats.
Thanks to Alex Udin from Sail Innovation along with a few simple sailors with names like Franck Cammas, Guillaume Verdier, Benjamin Muyl, and Martin Fischer, the answer seems to be yes, and it's called a Flying Phantom.  And christ, is it fast!
May 24th, 2013 by admin
Grant's boys on ETNZ continue to keep the pressure up on the America's Cup defender, and Oracle won't be happy to see that NZ's second AC72 has just been delivered from Cookson's to the Kiwi's Auckland base.  In contrast to the US team, we're quite happy – every day ETNZ gets on Oracle gets them that much closer to an exciting, close match rather than the Defender walkover that many feared.  More details in the AC Anarchy thread.
January 16th, 2013 by admin