Posts Tagged 'Foiling'
SA'er 'Ezra' gives us another disinterested review of the little foiler we dig so much.  Will it live up to the hype? Let's find out.  Photo not of the reviewer…
June 16th, 2017 by admin
A sharp-eyed Anarchist found the Volvo Ocean Race's tender proposal for the inshore foiling multihull portion of the VOR's new format, and it's as forward-thinking as we hoped.  Will the VOR's next in-port series provide the kind of kick start to the sport that the Volvo Extreme 40 did back in 2004-5?  Read the full six pages here, or read on for the bits we found interesting:
"boats must be capable of close, foil borne racing in a wide range of conditions…winds of up to 30 knots."  We likey.
"The design must be capable of stable foiling with minimal adjustment from the sailing team…a design that…provides a stable foiling platform…without complex and/or expensive, constant manual trimming. Stored energy may be considered, as well as the automation of certain trim and foil control."  In other words, these boats will fly without input from the sailing team. It's the 'holy grail' of foiling that some top foilers have been chasing for a decade; powered, automated, electronically controlled flying that removes most of the grinding and foil-driver positions from the boat.  Good for women and younger sailors, great for spectators.
"A 'lake' version should be considered – designed for sailing in considerably lighter winds".  Because Hong Kong.  Also, because something's gotta go racing in a series between VORs?
We will consider a solid wing, mast and sail, or a hybrid combination. Tenderers are encouraged to think 'out of the box' when developing their submission.  Who knows what you get when you ask designers specifically to 'get crazy'?
Maximum cost expected c.750,000 Euros for each of the 8-10 boats of 32-50 feet.  Note the cost of the 33′ DNA TF-10 trimaran is not far off this number…
June 8th, 2017 by admin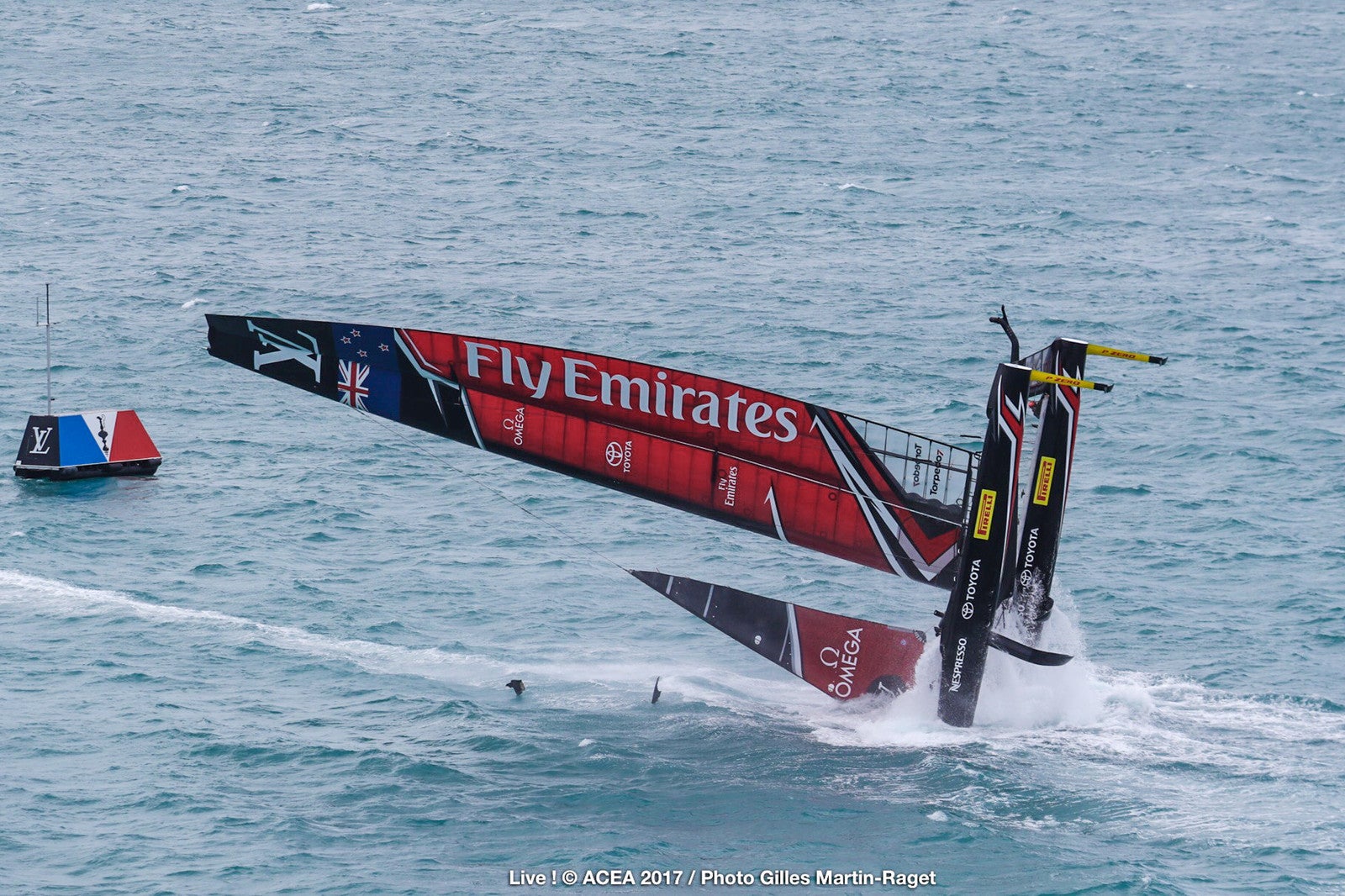 Gilles Martin-Raget was in the right spot at the right time to get this shot of Emirates Team New Zealand in the most stable position possible; on their side with a wrecked wing, destroyed fairings, and likely plenty more damage.  Burling pitched it into the piss at the start of their final race of the day after easily handling Sir Ben in the earlier race, and now we get to see just how their smaller budget has effected the New Zealand spares supply.
Artemis shit the bed a bit, dropping two more to Dean Barker's laid-back bunch in a fun and expletive-laden couple of races that included a 30-knot squall and spectator boats on the race course.  In real breeze, the issues change completely with these boats, and with more dogs-off-chains stuff likely for the rest of the series, those that can stay in one piece may just find themselves battling for some Louis Vuitton jewelry next week.
Analysis and chatter here.  How to watch replays here.
June 6th, 2017 by admin

On the 21st episode of the Sailing Anarchy Podcast, we go straight to the source for an analysis of the new direction announced last week by the Volvo Ocean Race.  First, Clean updates us on the Podcast's status, tells us his story of hunting and killing a 300 pound alligator in Charleston, and gives us his view on the new Volvo plans.  Then VOR big boss Mark Turner explains the reasons for their decision to use foiling monohulls for the offshore legs and foiling multihulls for the inshore legs of the two or three races following the next one.  Listen for Turner's views on what other options they considered, what the new 60 footer will look like and how it is expected to perform, how the new lease model will effect the organization, and why teams have had such difficulty finding major sponsors.  The discussion moves to the timetable for full flying boats to take over the race and safety considerations between mono and multihulls, and finally what kind of events would make up the more permanent annual racing schedule for VOR teams.
Next we spoke to Nick Bice, Director of Boats and Maintenance and founder of the Boatyard, about more technical matters: How, exactly, a new-rules VO60 can be converted to an IMOCA-legal Open 60, what kinds of differences does a Volvo require compared to a singlehanded boat, and a whole lot on foil control systems and logistics for a two-fleet race owned entirely by Volvo.  Clean and Bicey got deep into the subject of the continually shrinking crew component and the impact of this shrinking pool to ocean racing and the sport in general, and plenty more.
Finally, we spoke to pro trimmer and former VO70 crew (ABN AMRO2, 2005) and medical officer George Peet on the anniversary of his crewmate Hans Horrovets' death about a race that remains very close to his heart.  GP and Clean got deeper into crewing issues with a general discussion of the state of professional offshore racing as well as the usual pull-no-punches analysis of the new classes with a guy who always tells the truth.  As a bonus, we got Bear – one of the nation's top Moth racers – to give us his America's Cup picks…
Enjoy, and subscribe to the SA Podcast for more great shit (iTunes, Stitcher) , including our full form guide and preview of the America's Cup dropping today.
May 27th, 2017 by admin
Bermuda and the America's Cup may occupy the Louis Vuitton luggage buyers, real fans of sailing have one of the most interesting races in years on the calendar this summer, and the favorite has just picked his crew – which includes one lifelong Anarchist from France.  We'll be speaking to charismatic Mini and multihull badass Benoit Marie soon about his role on Francois Gabart's Macif in the upcoming Bridge Race, which will pit several "Ultim" maxi-trimarans against the 1750,000 horsepower of the Queen Mary 2 in a race between Saint Nazaire, France and New York City this coming June.
May 4th, 2017 by admin
Fort 2 Battery Race founder Tim Fitzgerald has done it again, attracting another record fleet of kiters, mothies, and fast boat owners to the shortest race in all of sailing.  82 entrants will hit the line to the 6 mile race at full speed at 1400 today, and if you're in town, join the massive spectator fleet (we counted some 150 boats watching last year) on the harbor.  For those who can't make it, head over to Sailing Anarchy Facebook at 1300 ET/1000 PT for the full, bumpy, 40-knot live stream video of the prologue and race.
Here's a video look at last year's race from Petey Crawford/Penalty Box Productions.
April 29th, 2017 by admin
The foiling scow-bowed Arkema Mini has grabbed her first podium, a second-place out of 69 entrants in the Pornichet Select race.  Welcome to the sharp end of the fleet for a boat that barely looks like one. More info at the Arkema site.  Photo credit: Vincent Olivaud/Team Arkema Lalou Multi
April 29th, 2017 by admin
As expected, in any breeze at all, the Bermuda America's Cup will be sailed entirely above the water if Emirates Team New Zealand's most recent practice is any indication.  Watch the 11:30 mark of this video from AC junkie MyIslandHomeBermuda for an incredible sequence of foiling tack/foiling rounding/foiling gybe and note the stability on the Kiwi AC50; is ETNZ once again too stable for speed, or do they finally have it right?
April 24th, 2017 by admin
The future of foiling may be all chicken winged, if the latest from foiling design leaders VPLP is anything to go by.  Called Voilavion, it's a little black windmill of a 16-foot cat designed to be easily foiled by beginners at sailing schools,  clubs, resorts, and the like.
This certainly ain't the first tilting rig, but it would be the first to use a tilted rig to help a boat get – and stay – on the foils in little more than a mosquito fart.  Makes sense in theory and on paper, and time will tell if reality corresponds to the thinking.
It may be a little early to call the thing a success, but it's fun to talk about.  Folks are monitoring the project here…
April 20th, 2017 by admin
 The first edition of Charleston's Fort 2 Battery looked more like a back-alley drug deal than a sailing race. Last-second registrations, lots of confusion, and competitors being distributed "race packs" in overstuffed brown paper bags late at night in the alley behind a downtown Charleston building…
In just three years since the race became the biggest of its type in the hemisphere; it was the first to use chip timing (which captured a .005 second split between the 2nd and 3rd place finishers in 2016), it was the first to provide prize money for the winner, and it led to the spinoff Foil Mania regatta – the first ever to pit foiling kites vs. moths, course racing from the same starting line.  And of course, it's the first to offer a genuine Professional Wrestling Championship Belt as the overall prize! James Island Yacht Club has come along and helped class-up the operation, but fortunately not beyond a 'weekend at the motorcycle track' vibe.  Their welcoming atmosphere is more  'go'n getcha brother a corn dog!' than anything remotely yachtie.
The best Sailing Club in Charleston has stepped it up once again for 2017. On April 29 the college bowl atmosphere among the spectators will be bigger than ever; the competition ain't just on the water – it's at the club, and anyone coming down will be treated to a perfect front-row seat to the mayhem on the Harbor and at the JIYC Barbecue Championship1.  If you think you've seen a "Race back to the dock" before, just wait until these foiling craft pick up the scent of that sweet, sweet swine.  Just like 2016, you can watch Mr. Clean's pre-race beach walk and the whole race LIVE on Sailing Anarchy from around 1pm, with the race start targeted for 2:00.
Last year saw slalom racing on Friday which continues again, and the Intercontinental FOIL MANIA Championship Belt will be on the line through the weekend as the Foiling craft slug it out in a more traditional regatta format. Registration is on pace for another record attendance, and this year could even see an E-Scow or two looking for glory in the "floating boat" grouping. We've seen the Mighty Hobie 20's smoke the E's on a circle track, but it will be interesting should it become a VMG downwind race. Will they show? Or are they allergic to corn dogs?  Find out on April 29 right here on Anarchy.
Gill North America and Charleston's Holy City Helicopters who have both been on board since day 1 will be on hand to keep Fort 2 Battery racers looking sharp. The new Kite-Foil One Design Class CR:X will even be there which allows racers to fly in with a backpack, charter gear and be part of the big weekend! April sure delivers in Charleston with the biggest regatta- Sperry's Charleston Race Week just the weekend before.
With Foil Mania, Fort 2 Battery and a BBQ contest, you can bet this version of Charleston's most exciting race will be "Good enough to slap yo' mamma!"
Relive last year's excitement with the Rev's Penalty Box edit of the 2016 Fort 2 Battery.  Register Here. And if you like our promo poster, there's more pics of that photo shoot over here.
-Tim Fitz, Founder, F2B
April 15th, 2017 by admin