Posts Tagged 'Foiling'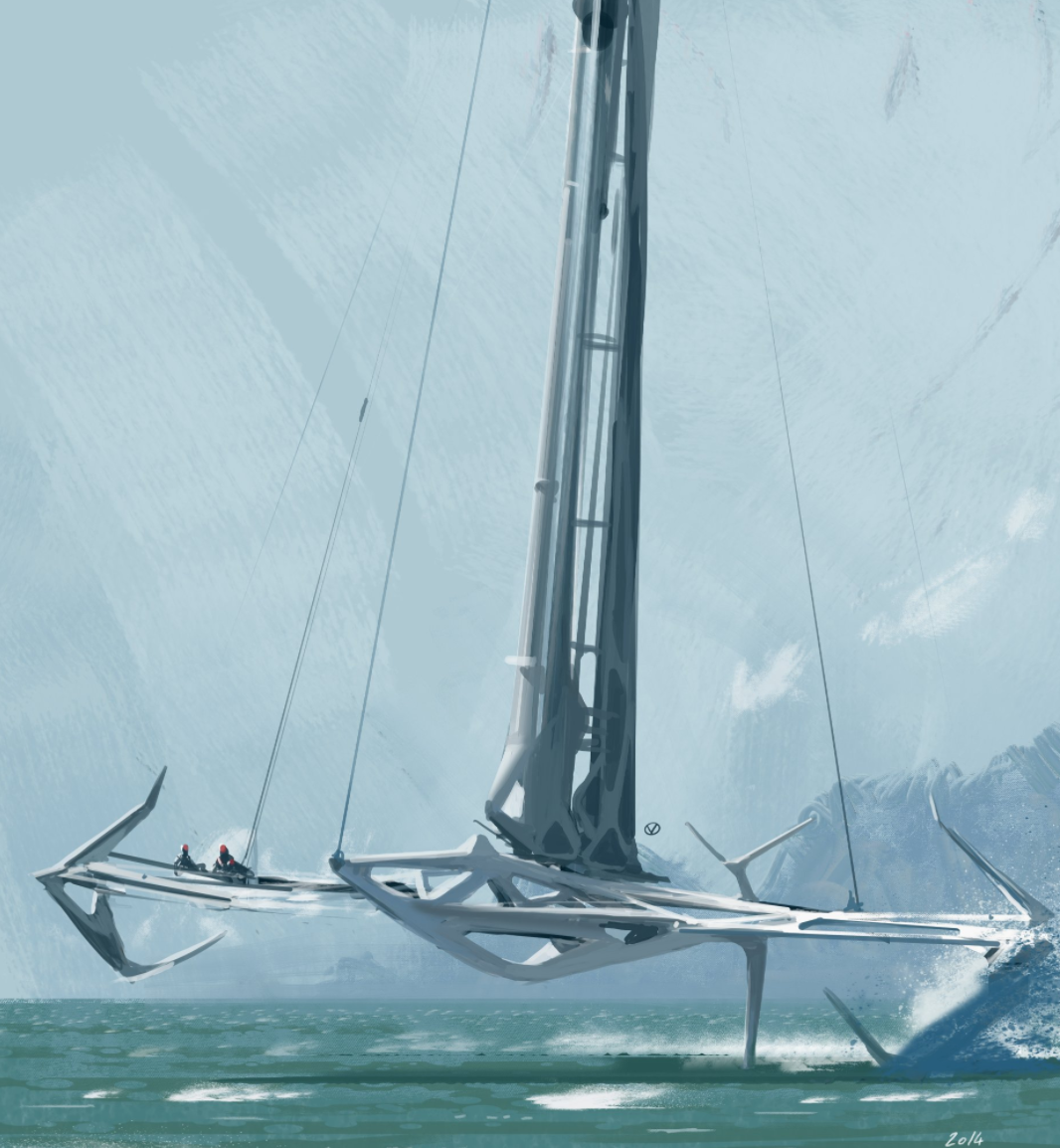 Design concept with application to Auckland or just more [above-the-] water vapor?  Do you know?
January 7th, 2018 by admin
And there's more snow coming…from the UFO thread.
December 8th, 2017 by admin
A cool, multi-cam 360 degree look at the latest-launched Ultim, Banque Pop XXXWTF.  Foiling on the ocean last week to 42 knots in this drone vid.
And Vincent Riou (longtime open 60 PRB skipper) says he's joining the Ultim game too.  The world's fastest fleet of racing boats may soon be the world's biggest offshore multihull fleet!
December 2nd, 2017 by admin
With both foils extended and the Open 60 getting almost entirely airborne as she gets healthily into the 30+ knot range, Alex Thomson Hugo Boss looks as much like a huge bird as she does an oceangoing yacht.  Hitting a top speed of nearly 34 knots on this reach with never a hint of nosediving, this vid is a great example of the conditions where so-called 'Dali foils' absolutely destroy a non-foiler setup.  The video is an instant classic; a great antidote for those who are already tired of the VO65's somewhat more ponderous ways, and the shoot's location makes us think that perhaps the Hugo Boss organization has another 'walk' coming?
November 26th, 2017 by admin
Big Pimpin'
This is the new foiling TF10 trimaran. A high-tech carbon fest, allowing sailors to foil easily in around 8 knots of boatspeed! Designed from scratch as a super fun foiler for mere mortals, we believe that goal has been accomplished!
About this video: A small crew from DNA recently travelled to Barcelona for the new foiling TF10 trimaran to be tested by a jury of 12 European sailing magazines for the 2018 European Yacht of the Year competition – the TF10 is nominated in the category Special Yacht. After the jury testing for EYOTY, we kept on sailing with other media and prospects for their impressions.
Our mission to sail the TF10 trimaran in Barcelona was surrounded by turmoil as the local Catalonia region was passing a resolution for independence from Spain at that time. Low flying helicopters and a big presence from the local military police added a dimension for sure.
Sailing in indigo blue Mediterranean waters with stunning backgrounds was absolutely fabulous. This video captures some of the sailing experience and as the video clearly shows, we had cloudy and rainy days too. The sun came out as soon as the video team went home. Of course.
Learn more about the TF-10 and DNA Performance Sailing here. [and look for Clean's boat review shortly! -ed]
November 17th, 2017 by admin
Sharp is sexy, and this thing is about as sharp as can be.  So what the hell is it?
November 10th, 2017 by admin

IF you missed the live feed of the TJV start, you're SOL for a while thanks to major delays in converting it to an archive, but here's a quick look at the sexiest fleet on the water today as they left the dock.  Monitor the TJV site or the thread for alerts when the excellent start video is posted.
November 5th, 2017 by admin
As we were publishing Gitana's video below, our pals at CDK Technologies sent over pics of the monster Banque Populaire IX on splash day.  135,000 man-hours, canary-yellow foils, and looking more like a Klingon war ship than a sailboat…read the full details of the boat over at CDK or hit the BP Sailing site for videos and other fun facts.  Thanks to CDK for the [now-edited] shed shot.
October 30th, 2017 by admin
The baddest boat in all of sailing goes through her doublehanded qualification for the baddest doublehanded race of them all – this weekend's Transat Jacques Vabres.  See how Seb Josse and Thomas Rouxel get this Verdier-designed 100 foot foiler around the track in yet another gorgeous Gitana-produced film.  Subscribe to their Youtube channel here.
October 30th, 2017 by admin
SA'er Charlie P Mayer couldn't get enough with one foiling cat, so he bought two. Here's why, from the S9 foiling cat thread:
To me it's like the difference between a pleasure boat and a yacht, a large boat and a ship, how much money does a rich person have – all subjective to me anyway, so here goes:
The UFO can be car-topped like most other dinghies, I don't think I've ever seen a modern performance cat car-topped, but it may be possible.
Static stability: like any other dinghy, it is pretty risky to put a lot of weight on any end of a floating UFO – I can pretty much bury the UFO sterns or bows when docking or lowering the rudder – that said, it is much more stable than a Sunfish, Laser, or any other monohull dinghy I am familiar with, foiler or not.  The S9 is the smallest cat I have ever owned, but I can stand on any corner and not worry about a capsize.  So I guess stability at the dock is a difference for me.
Tacking: wasn't one of my metrics, but I can blow a tack on any unirig.
UFO seems aimed at a hiking-happy dinghy sailor and a price point < $8,000.  The S9 at trapeze-happy cat sailors at a price around $18,000.  The dinghy market is much larger than the beach cat market – check any Club parking lot.
I do know I can leave the UFO tied up on the dock and launch it within 5 minutes after walking up to it.  That's why I bought it.
I bought my S9s to learn foiling with my friends – and darn glad I did.
Charlie
October 3rd, 2017 by admin