Posts Tagged 'Foiling'
We haven't seen 'average' sailors so charged up about a new singlehander in a decade, and with UFO production hull # 1 currently in the mold, shit's getting real for the US-designed and built 'people's foiler.'  Get to know the genesis of the project and the latest news right here on SA, and head over to the new builder's website to find out more.
March 22nd, 2017 by admin
Clean Report
For episode # 20, we caught up with three guys who represent some of the brave new thinking in the sport of sailing.  Longtime SA'er Chris Woolsey runs the reborn Miami Havana Race for a reborn SORC, and we get into the whys and hows of recreating this complicated international race to one of the world's most unique race destinations.  After that, we catch up with Tim Fitzgerald, founder of Charleston's Fort2Battery Race, to talk about his motivations for creating the successful harbor sprint.  We also get into Tim's experience as one of the drivers behind Selden Masts growing dinghy business, discuss the first new hardware change in the 420 in years, and learn what Tim's learned about getting millennials and Gen Z excited about sailing.  Finally, we turn to one of those Z'ers, young Peter Cronin of the Mudratz.  This clever kid discusses the team's experience sailing amongst the big dogs in the Melges 24 and J/70 Class and the philosophy behind their growing Mudratz youth sailing movement in the Northeast.
Our next Sailing Anarchy Podcast will come to you from Havana Cuba, and you won't want to miss that one!  Don't forget to subscribe to the SA Podcast for instant notifications when each one drops.  (iTunes   Stitcher)
March 14th, 2017 by admin
Despite the coming of the Foiling Revolution, there remain very few sailboats capable of breaking the 30-knot barrier.  We all know the Moth is one with speeds recorded into the low to mid 30s in the right conditions, but average speeds near 30 are extremely rare.  S'african video specialist Keith Brash managed to find one of those days with Quantum Racing skipper Bora Gulari, ripping together the above video of a 30-knot moth sesh. For more excellent Quantum content, including full time-lapsed TP52 races from Miami this week, head over here.
This Beach Cat Goes To 35
According to most crews who've sailed them, the Diam 24 hasn't lived up to her ultra-sexy VPLP trimaran looks.  Sure, there are some top teams sailing the now-beachy Tour De France, but that's one of the only options for crewed teams looking to race in France.  But thanks to months of testing, design, and construction work and the perseverence of Francois Gabart and his team, the Diam is now a full-flying 35 knot beast they're internally calling the Macif 24.
For more on the flying Diam, head over here.
March 10th, 2017 by admin
The first sighting of the frightening 7-foot tall, red-eyed, ten-foot wingspanned Mothman occurred in Virginia nearly 50 years ago. While the residents of Point Pleasant continue to celebrate the mystery of 'their' creature every September, a shot captured by US Mothie Jonny Goldsberry in Richmond, CA may prove this elusive creature has migrated more than 2000 miles to the West.
Of course, this hairy critter may be sporting the US Moth logo on his way to go rig up his foiler, but we like our explanation better.  Tell Nugs what you think this dude is up to over on Facebook.
March 6th, 2017 by admin
Longtime Anarchist Dave Clark updates all of you foiling freaks on the new UFO.  Ask him specifics in the thread. Check out the latest video of some winter UFO foiling from the air and the water over on Youtube.
Hey Folks,
Time to get excited! Things are coming together over here in Rhode Island. The UFO is finally through the stage of production preparation that I've come to refer to as "Industrial foreplay" and it's go time. The hull and deck molds move back onto the Zim Sailing factory floor this week, where they'll commence to build the first 40 boats. The first 100 sets of foil struts are being finished up at the extruder in New Hampshire. The next 50 sets of spars are on their way from the manufacturer overseas. North Sails is hard at work making the first 20 suits of sails and Schaffer Marine in New Bedford is going full-tilt machining parts. The objective is to build 100 to 150 UFOs in 2017 with the capacity to step up production further as the class grows. This is the start of the period where you folks with deposits will be getting the heads up of the materials nearing the mold and thus the option to opt in or out.
The Tweaks: What's changed since The Foiling Week?
Controls: Every little percentage gain in foil control allows for a truer flight path. While these things aren't noticeable in the beginner or intermediate use ranges, they pay off in spades at the high end, enabling you to fly higher and more aggressively in all conditions.
We added a stiffer all-carbon wand with a carbon paddle, taking all available buffering out of the wand. Buffering does a few beneficial things but also comes with some flaws, especially in extremely gusty conditions. All told the stiffer wand realizes the full benefit of our 'mountain goat' style gearing.
We lengthened the wand sprit. There's been a revolution in the moth class around getting the wand as far forward as possible, as it increases the gain on the sensor and thus responds to pitch changes more immediately. This enables the boat to be flown more confidently in big waves.
Both of these things benefit performance racers and recreational sailors. From a performance racers perspective, the combined effects enable you to race harder. From a recreational perspective, it makes the boat hardier and smoother in challenging conditions.
Sail: We found it necessary to add a full-length batten just above the clew to get rid of a set of creases that propagated upwards from the tack. Further we added a cutout for the clew to add an extra bit of leech tensioning capacity, as a tight leech is critical to going really really fast on foils. We also added a fillet bulb to the bottom of the endplate which assures a solid deck seal. This bumps up the efficiency of the sail by another increment. The front end of the fillet bulb additionally functions as a pouch to stow the halyard and other items, closing with Velcro.
Dolly: While the single-axle beachcat dolly is the best option for a catamaran, keeping the bunks upright and lining them up on both bows is more annoying than it should be. Further, while a retaining strap across the deck does hold the dolly, it's more trouble than it could be to tie on and untie. We found that the easiest usable configuration is a beachcat dolly with cylindrical pads and short tethers on either side, which clip to the gunwales. This makes the dolly easier to put on and take off the bottom. Further we concluded that a wider wheelbase made it easier to pull the boat towards a ramp on a reach, so we moved the wheels outboard of the hull. A tertiary benefit is that the new dolly from Dynamic Dollies packs exceptionally well.
Hiking straps: Outstandingly short sailors and outstandingly tall ones pointed out that the straps were either too far away or too close for them. Making their position adjustable solves this problem easily.  People also wanted the straps to stand up more, so that sliding a foot into one would be easier. To do this, we rigged them with rigid tubing, which causes the straps to stand up.
Cosmetics: While I personally often scoff at considerations like this, it's nonetheless an important feature to a good percentage of people and the UFO has gotten noticeably more spruced-up. While our original hull tooling was incapable of imparting a high gloss finish, the production tooling imparts a polished gleam to the gel-coat. Further, all the aluminum parts are anodized black, there's a little bit more exposed carbon in the package and a few more decals and bright colors.  In line with the UFOs alien aesthetic, the production sails are clear with neon green trim, which together with the white hull and black hardware, foils and spars yields a tri-tone neon green, white and black color scheme. The available deck pad color options are neon green, black and white and the gelcoat options are black or white.
The fully enumerated list of tiny updates, improvements, cleanups is too long to go into. This is merely the shortlist. Beyond that, it's the same old basic fun-machine we know and love.  And with that, I need to get back to the fight.
Cheers,
Dave Clark
President
Fulcrum Speedworks llc.
February 7th, 2017 by admin
Another sailing podcast joins the fray, and this one is hosted by 20-something ex-college sailor Brooks Clark.  He grabbed another (relative) grommet – our longtime pal Tim Fitzgerald, creator of the biggest foiling event in North America – for this 40 minute chat about the Charleston Fort2Battery Race.  Dig it.
If you don't get the title of the podcast, kill yourself.
December 18th, 2016 by admin
Screw the Monster Garage – how about one of the fastest cats of her time in your living room?  We like!
The current owners of Nice Pair took the 40′ Crowther Super Shockwave (made famous by Bruce Geffen's multiple Mackinac wins) on the Race2Alaska, and now they're looking for a smaller, faster ride.  Can you help them make their sleigh fly? From the thread:
Class C Catamaran, under 400 lb. all carbon.  25 feet long, 14 feet beam tall rig.

Who has foils to make her fly?  Thanks, Stephen Marcoe.  R2AK Team Golden Oldies.
The record-setting Pair is for sale, BTW…
December 18th, 2016 by admin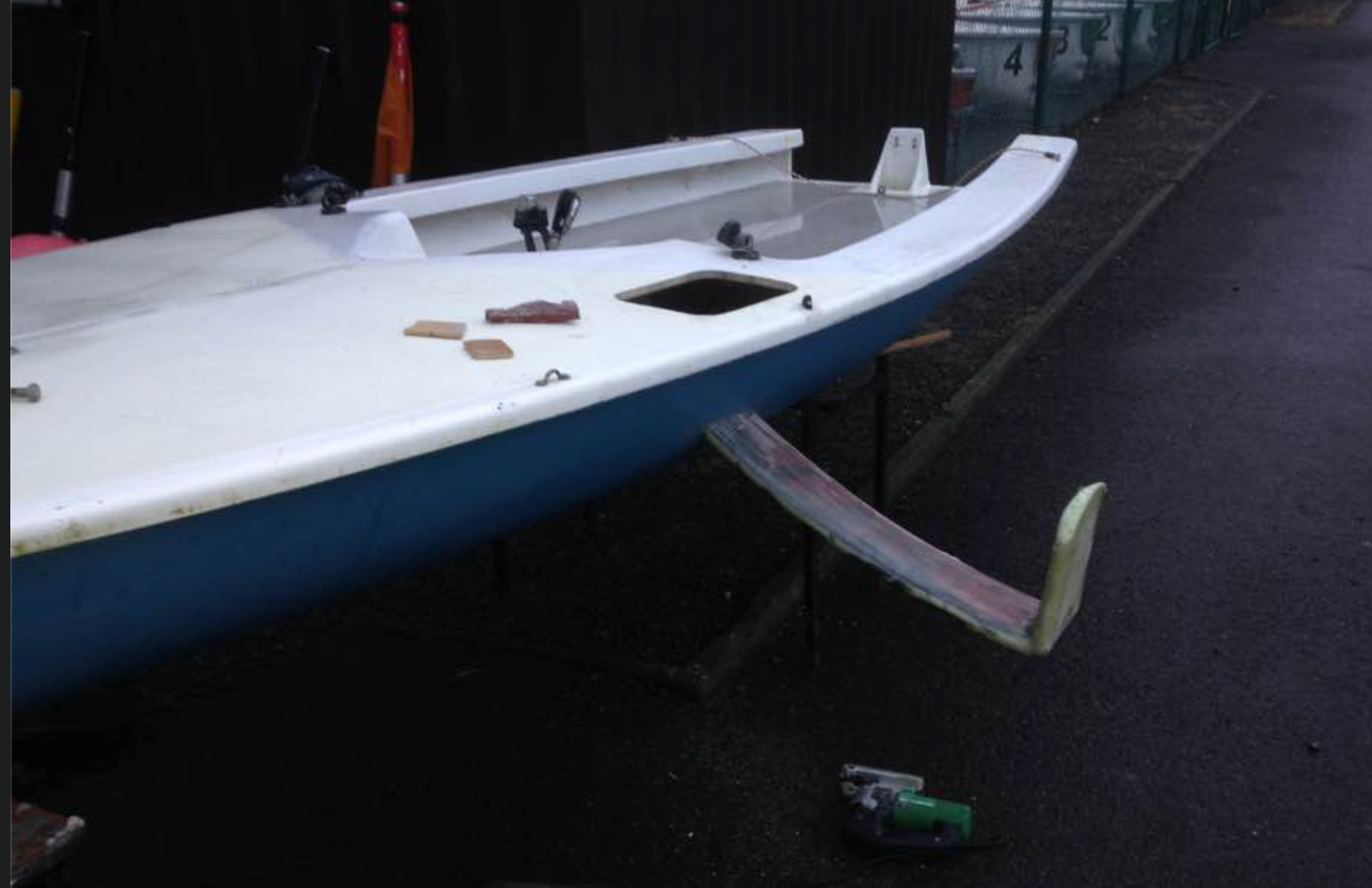 As long as there are humans on this planet, they'll be doing stupid shit with the best selling racing boat of all time.  While the first 'foiling laser' failed to set the world on fire, we knew there would be more, and here it is – from the workshop of crazy Irishman David Harte.  See what he's gonna do with it on his Facebook Page.
December 8th, 2016 by admin
Sailor Chick of the Week
We're not exactly sure how 21 year-old Emily Nagel got the call to cross the stream with Jimmy, Shannon, and an Oracle-tinted crew, but the young match racer and BDA Youth AC team member is clearly on the way to making a name for herself thanks to a Red Bull publicity stunt that just ended last week.
Nagel helped crew Bronco -  Michael Domingez's Newport-based DNA F4 foiling catamaran – on a passage from New York to Bermuda with Spithill, Falcone and several other crew (along with a Red Bull media contingent) on what turned out to be a fairly underwhelming attempt to make some noise.  Their 66-hour trip – that's about three times the outright record -  was only noteworthy for the survival conditions, but Emily does become the first woman to make the crossing on foils, and we're always fans of women – especially young, passionate sailing chicks – getting a 'world first' under their belts.
After watching the surprisingly dull teaser video for the trip, we're mostly struck by just how uninspiring and monotonous 'James' Spithill has become now that age, success, and media overtraining have clearly ended any chance he had of leading the next generation of inspired racer.  Maybe the full-feature movie (dropping in a couple of weeks, we've heard) will show another side, but we doubt it.  It's too bad Red Bull can't hang their sailing hats on someone young, brash, and extreme….like Jimmy Spithill, circa 2005.
Meet Emily in a Red Bull video over here, and if you're allergic to Youtube, there's a full profile of Nagel from the Bermuda News.
If the DNA F4 looks familiar to you and you'd like to understand how it differs from the Gunboat G4 we all know and love (to hate?), take a half hour and watch this full video tour of the Holland Composites/DNA Performance Sailing facility in the Netherlands performed by Mr. Clean this past Thursday.  You'll get a full history of the shop as well as a close look at the world's fastest foiling A-Cats as well as a close inspection of the most advanced electro-hydraulic foil controls ever built.
November 21st, 2016 by admin
There's a lot going on in this Emirates Team New Zealand video of the start of the Auckland-Russell Coastal Classic, and whether you're into analyzing AC50 designs, love watching 'old vs. new' shots, or you just want to see one of the world's ultimate sailing destinations in glorious HD drone shots, this short is not to be missed.  And maybe there's fodder for the "Which is better, Auckland or Newport debate" over here?
October 30th, 2016 by admin