Posts Tagged 'Foiling'
Another sailing podcast joins the fray, and this one is hosted by 20-something ex-college sailor Brooks Clark.  He grabbed another (relative) grommet – our longtime pal Tim Fitzgerald, creator of the biggest foiling event in North America – for this 40 minute chat about the Charleston Fort2Battery Race.  Dig it.
If you don't get the title of the podcast, kill yourself.
December 18th, 2016 by admin
Screw the Monster Garage – how about one of the fastest cats of her time in your living room?  We like!
The current owners of Nice Pair took the 40′ Crowther Super Shockwave (made famous by Bruce Geffen's multiple Mackinac wins) on the Race2Alaska, and now they're looking for a smaller, faster ride.  Can you help them make their sleigh fly? From the thread:
Class C Catamaran, under 400 lb. all carbon.  25 feet long, 14 feet beam tall rig.

Who has foils to make her fly?  Thanks, Stephen Marcoe.  R2AK Team Golden Oldies.
The record-setting Pair is for sale, BTW…
December 18th, 2016 by admin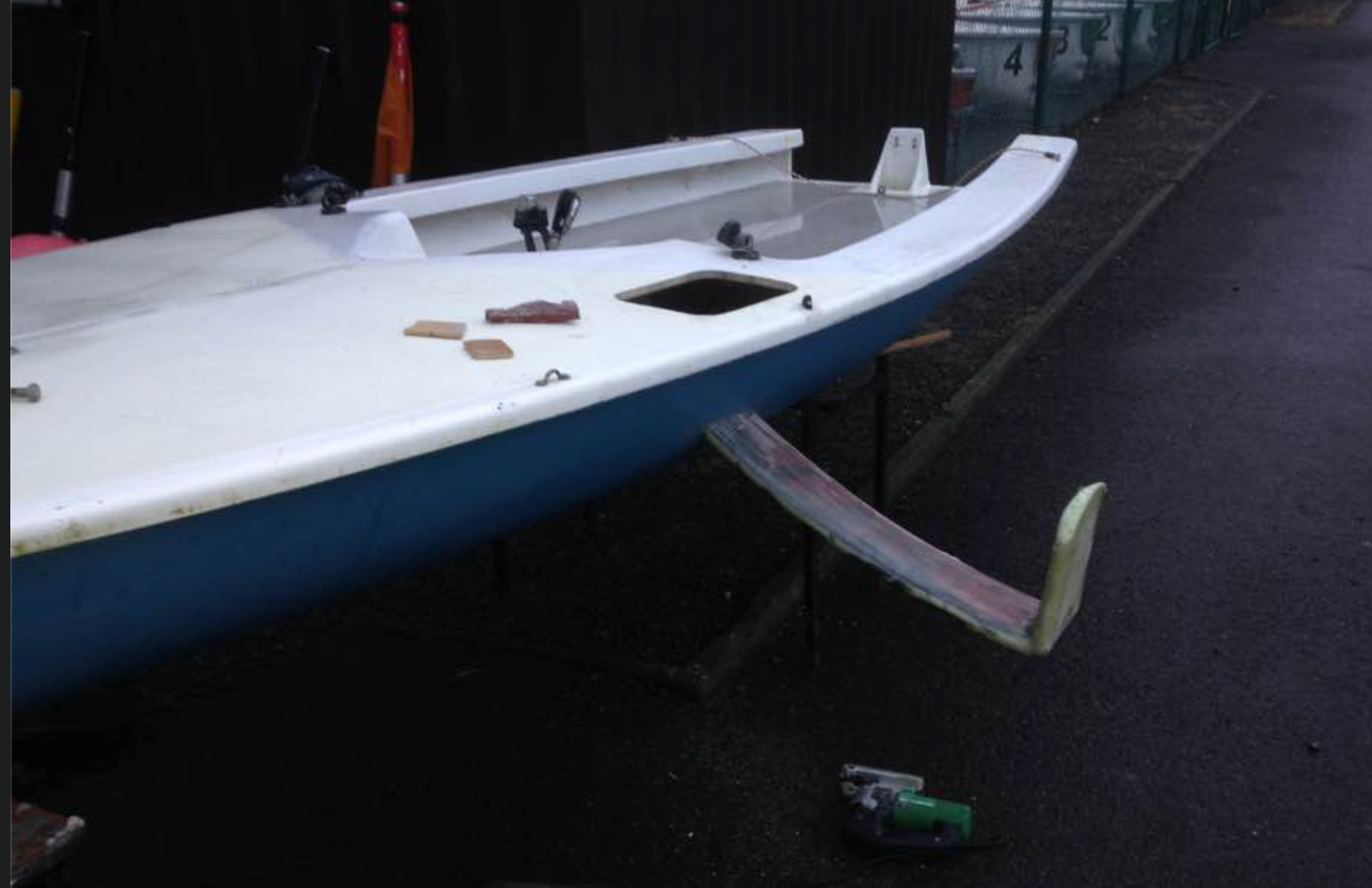 As long as there are humans on this planet, they'll be doing stupid shit with the best selling racing boat of all time.  While the first 'foiling laser' failed to set the world on fire, we knew there would be more, and here it is – from the workshop of crazy Irishman David Harte.  See what he's gonna do with it on his Facebook Page.
December 8th, 2016 by admin
Sailor Chick of the Week
We're not exactly sure how 21 year-old Emily Nagel got the call to cross the stream with Jimmy, Shannon, and an Oracle-tinted crew, but the young match racer and BDA Youth AC team member is clearly on the way to making a name for herself thanks to a Red Bull publicity stunt that just ended last week.
Nagel helped crew Bronco -  Michael Domingez's Newport-based DNA F4 foiling catamaran – on a passage from New York to Bermuda with Spithill, Falcone and several other crew (along with a Red Bull media contingent) on what turned out to be a fairly underwhelming attempt to make some noise.  Their 66-hour trip – that's about three times the outright record -  was only noteworthy for the survival conditions, but Emily does become the first woman to make the crossing on foils, and we're always fans of women – especially young, passionate sailing chicks – getting a 'world first' under their belts.
After watching the surprisingly dull teaser video for the trip, we're mostly struck by just how uninspiring and monotonous 'James' Spithill has become now that age, success, and media overtraining have clearly ended any chance he had of leading the next generation of inspired racer.  Maybe the full-feature movie (dropping in a couple of weeks, we've heard) will show another side, but we doubt it.  It's too bad Red Bull can't hang their sailing hats on someone young, brash, and extreme….like Jimmy Spithill, circa 2005.
Meet Emily in a Red Bull video over here, and if you're allergic to Youtube, there's a full profile of Nagel from the Bermuda News.
If the DNA F4 looks familiar to you and you'd like to understand how it differs from the Gunboat G4 we all know and love (to hate?), take a half hour and watch this full video tour of the Holland Composites/DNA Performance Sailing facility in the Netherlands performed by Mr. Clean this past Thursday.  You'll get a full history of the shop as well as a close look at the world's fastest foiling A-Cats as well as a close inspection of the most advanced electro-hydraulic foil controls ever built.
November 21st, 2016 by admin
There's a lot going on in this Emirates Team New Zealand video of the start of the Auckland-Russell Coastal Classic, and whether you're into analyzing AC50 designs, love watching 'old vs. new' shots, or you just want to see one of the world's ultimate sailing destinations in glorious HD drone shots, this short is not to be missed.  And maybe there's fodder for the "Which is better, Auckland or Newport debate" over here?
October 30th, 2016 by admin
Unlike the messy US Election, the choice for the first-ever Olympic foiler was a much less nasty affair.  Plenty of questions remain about the equipment and event choices for Tokyo 2020, but the odds-on favorite for the first flying boat at the Olympics is now the Nacra 17 in its new 4-point foiling configuration.   A majority of the 89 votes cast during an EGM held over the weekend called for the full 'evolution' of a boat that had more than its share of problems in its first quad, and while no one thinks this will be an easy transition, Anarchists who've tested out the new design have walked away with big, big smiles on their faces.  We'll have more on this in a couple of weeks in Barcelona, but for now, here's the press release from the Class:
On the 19th of October the Nacra 17 class members assembled for an electronic Extraordinary General Meeting (EGM). Three topics debated were
a) an update to the class constitution
b) advertising
c) whether or not class members recommend full foiling for 2020 or not

A presentation covering the proposed changes to equipment, pricing, and procedure was shown to 50 members in attendance over the course of 2 hours. Details of how the boats would be made stronger and more consistent were included. Also shown was three pricing options for a mk 2 Nacra 17 was presented which can be downloaded here.


The three options for equipment going forward are:
a) retrofit a mk1 boat to go full foiling for 7,900 euros
b) Buying a new platform for 14,500 euros, retaining the ability to sell the mk1 platform for a next cost of about 7500 euros
c) Buying a new boat for 24,250 euros, an increase of about 2000 euros from the mk1 price

Following the presentation was a discussion with questions and answers from class members and leadership. At the close the meeting, voting was opened to class members. 89 members voted from the total membership of 132, above the 40% threshold required to form a quorum. All of the motions passed, with the advertising and constitution motions receiving 87% support or higher. the major question of whether to recommend to World Sailing whether Nacra 17 should go fully foiling for the 2020 Olympic or not was a closer vote, but ultimately passed 48 votes to 33, for a 59% support level.

As such, the Nacra 17 class has sent a letter to the head of the Equipment Committee of World Sailing with the class recommendation.  Class president, Marcus Spillane, will convey this position at the World Sailing Conference next month in Barcelona. Equipment of the updated configuration will become available following confirmation from World Sailing Conference of their position on the matter. Team wishing to get onto the waiting list for mk2 equipment should be in contact with the Nacra Sailing head office.
October 24th, 2016 by admin
Perhaps the most likely foiling candidate for Tokyo 2020 is already doing her thang on the water; go here for some good video of the Nacra 17 flying her ass off, and ask Nacra about it in the thread.
October 2nd, 2016 by admin
Steve and Dave Clark's father-son UFO project is perhaps the most exciting thing in singlehanded sailing since, well, the first foiling moth.  Here's the full 45-minute presentation about the affordable, stable, foiling UFO, and it's got some great gems about their development of the boat, some insightful analysis of boat ownership here in the States, and even a lesson or two about parenting.  Go to the thread to ask questions from the designers themselves.
September 12th, 2016 by admin
We'd prefer not to support Oracle Team USA until they either drop the USA or add some American sailors, but we can't pass up this very well-done clip of sexy A-list superstar skier Lindsay Vonn and her day of sailing an AC45 in Bermuda.  Brilliant work from the always brilliant Sam Greenfield (working for the big O).
September 3rd, 2016 by admin
AMAC's long-developed and long-delayed 'Waszp' launch changed the foiling focus from outright speed to ease-of-use. Meanwhile, longtime  A-Cat and Little America's Cup Defender Steve Clark was working on something similar, but very different.  It also promises to be cheaper and far easier to launch and recover than any Moth…Check the thread for the latest on the new foiler, and head over to Newport next weekend to get up close and personal.  Steve sums up:
Wild speculation may now commence.  But a few details:
Weight is 52 Kg.
8 and change square meters of sail.
Two T-foils, wand on main foil.
Foils retract between the hulls for upright launch and recovery.
Floats upright at the dock.
Closer to the Laser price point than the Waszp price point.
Nifty little project which should have commercial legs.  Focus has been on ease of use and handling, not a demonstration of a unique foil configuration.  Plenty of original thinking  and some unique solutions to achieve performance and cost goals.
-SHC
September 2nd, 2016 by admin