Posts Tagged 'foiling moth'
While they tend to have a national culture that's reserved and restrained, few can outdo the typical British sailor's ability to talk smack.  Most of the real junkies will remember when Rob Greenhalgh and team went down to Sydney to deliver the "Smack down down under", returning home with their tails between their legs (you can still buy this awesome movie!); well it seems from the above video that Robbie and friends haven't learned their lesson…
Have a look at this UK Mothies video throwdown to our favorite Turkish American foiling master, almost daring Bora Gulari to become the first back-to-back Moth World Champion since the foiling began.  Let the games begin – and with an all-time record field at the Hayling Worlds, they've already started.  Title shout very appropriately to Ohioan metalcore band Like Moths To Flames. 
March 27th, 2014 by admin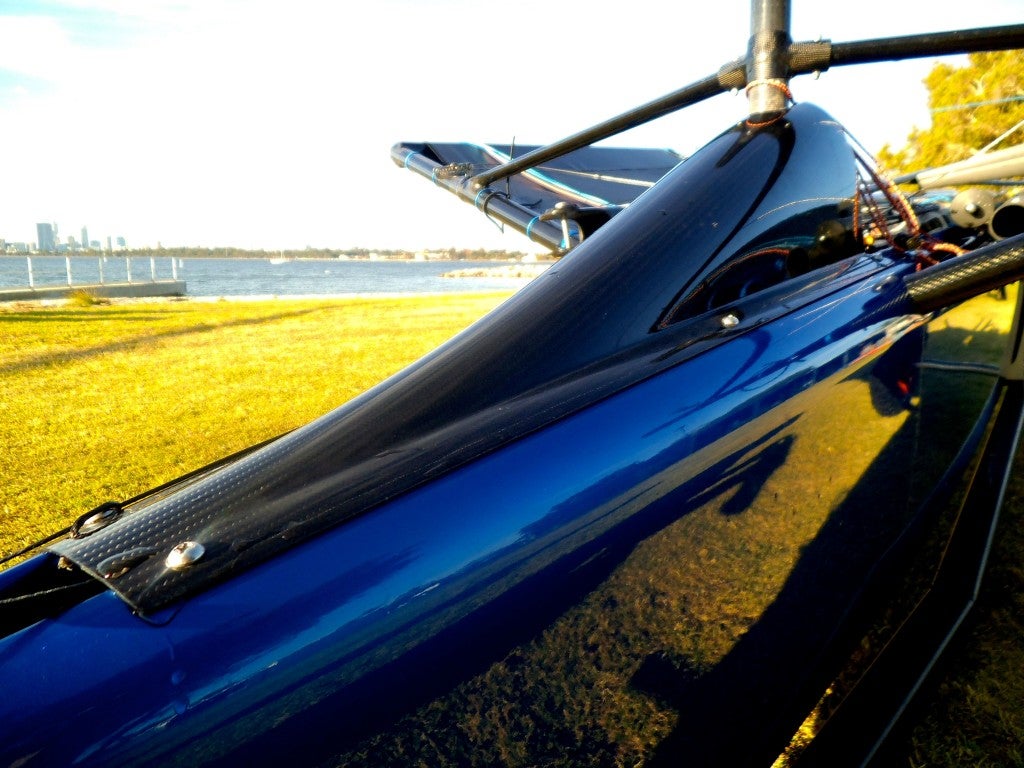 Despite inventing and perfecting the most wand-controlled t-foil flying system used by every Moth and plenty of imitators, John Ilett and his Fastacraft-built Moths were simply out-developed by Andrew McDougall and McConaghy China's Mach 2 Moth in the supremacy of the world's fastest dinghy.  Launched back in 2009, the Mach 2 has dominated every major event for half a decade, with the first real contender – the Exocet in England – getting a couple of top ten finishes at Worlds just this past fall and likely to get on or near the podium this summer at the Hayling Island Worlds.
Meanwhile, many have wondered what the Ilett boys have been up to over in Perth, Australia;  wonder no more; John's been working on this beauty.  It's the new Fastacraft Moth,  and it looks slick, sleek, and aero as hell.  John sent us a note:
March 25th, 2014 by admin
Anthony Kotoun continued to chip away at the faster Bora Gulari in their continued duel in the US Moth fleet this weekend, with the Newport pro beating Detroit's finest in the first Moth Winter event of the year.  The pair makes up the winner list of almost every major US event over the past couple of years, and born just a few days apart (and not particularly recently), it was Bora who brought Anthony into the fleet back in 2010.   With Bora taking his second World Title last October in Kaneohe Bay, he got the right to fly the coveted "USA 1″ sail number for the year while Kotoun barely broke into the top 30, but last weekend it was Anthony's turn to strike back in the 16-boat fleet at the Upper Keys Sailing Club in Key Largo.
Located about an hour south of Miami and a bit of a secret spot for those outside the SE catamaran racing circuit, the venue is perfect for fast little boats: Clear, warm,
and board-flat water coming over the Keys, a small club with members dedicated to sailing, and a broad range of talent across the fleet to make sure everyone had someone to race against.  It was a common sight throughout the weekend to see class veterans helping the newer Moth sailors get rigged and tuned up, sharing gear and tips and of course, trash talk.    The fun continued off the water where the sailors shared a huge house down the road; just another way the Mothies keep costs down and the fun factor up, allowing a solid travel schedule and strong fleets despite few of 'em having three nickels to rub together.
Day 1 was the slalom, and Anthony came out of the gate hot, winning each of the qualifying races before snagging the winner-takes-all final over Charleston's Pat Wilson.  The trend continued on Saturday after a string of equipment problems for Gulari; he broke an inner wing bar just before the start of the first race, broke an outer wing bar before the last, and after sailing slower than a fleet that he usually dominates, learned at the end of the day that his main foil hinge had been partially wrecked for much of the day.  Light winds on the last day meant no racing, denying Bora any comeback hopes and giving Kotoun five points in six races, a horizon job in this fleet.  2008 World Champ and expat Aussie (now Chicagoan) John Harris took second, with George "Bear" Peet taking third.  "It's a good thing this was two sailing days after Worlds and not during", Harris told Gulari at the end of the day…Full results are here.
Both spectators and sailors are welcomed to join the fun at the UKSC next month for the second event in the 11th Hour Racing Moth Winter Series; check the Class Facebook Page for for reports, videos, photos, tuning tips, and a few stream of consciousness ramblings from Mothies who tried to have a long conversation with the remote control at the bar.
Canine pic from Tracy McLaughlin and top shot of Johnny Nugs (looking like the stud he is) from Ben Winkler Photography with a full gallery here.  Thanks to Matt Knowles and the US Mothies for contributing to this report.
January 6th, 2014 by admin
3 more races down, 4 more to go on the final day of the Moth Worlds.  And Bora is sailing the lights out.  Enjoy this reel from Friday's action in 6-9 knots of Hawaiian tropic.  Facebook is where you can find out who wins, who gets interviewed, and how sweet Thierry M's photos are.  Racing starts at noon local time/1500 Pacific/1800 Eastern.  Title shout to Busy Signal.
October 19th, 2013 by admin
You'll be forgiven if you think Victoria's Secret did a sailing shoot for their latest catalog, but it ain't the case: Meet University of Hawaii FJ skipper/crew Kellie Yamada trying her hand at some Moth sailing after Worlds racing finished up last night.  This Hawaiian native is not only one of the most drop-dead gorgeous Sailor Chicks of the Week we've ever had the privilege to show you, but she's a bad-ass sailor chick with no fear and plenty of talent.  She's so fearless that, when Jonny Goldsberry rocked up to the Worlds media boat and offered a ride to the group, Kellie stripped off her shirt and shorts and jumped in the water wearing nothing but lingerie.  "I have GOT to give it a try," she said, ignoring cameras and giving it her all.  Now Kellie just needs a little more breeze…or not…we don't really care so long as she keeps sailing.
Wanna get to know more about the Rainbow sailing team?  Meet them on Facebook.  For more mothy bikini girl pics (yes, you're all lecherous dogs), go here.
October 17th, 2013 by admin
An entire summer without time for practicing hasn't seemed to hurt Nathan Outteridge much, as his 1-2-1 scoreline gives him a massive 12-point lead over Rob Greenhalgh after three marginal-foiling races.  It's a great mixup in the Top Ten, with 3 UK, 3 US, and 4 Aussies showing what the rivalry is all about; read the Worlds news story here.  Check out the video above for the day's action from Penalty Box, with delicious pro kiter Gretta Kruessi on the microphone.  For a more in-depth interview of the former Artemis skipper with Mr. Clean, go here.
ThMartinez photos here.
October 16th, 2013 by admin
Did you know you can fit 45 moths in a 40′ container?  Apparently no one did, but that is part of the secret sauce in maxing out your registration at a World Championship on an island in the middle of the Pacific.  It's a brilliant move, really, for the McDougall/Maconaghy Moth Worlds next week in Hawaii.   Kaneohe Bay has perfect weather, flat water, and is about as centrally located as anywhere to the big Moth fleets in Australia, Kiwiland and the US.  And it's an ideal 'bucket spot' for Europeans looking to explore the Pacific; so much so that entrants had to join a waiting list once the fleet reached 80.
The Moth Form Guide has become something of a tradition over the years, and past Moth World Champ and longtime foiling humorist Si Payne – apparently resting his old bones and spectating this time around – gives us his hilarious view at the fast, the furious, and the funked up for the 2013 Moth World Champs.  There's a website, but this is firmly a Facebook Generation event, so go there for what ails ya.
OK here we go! We confidently reveal the top 10 with the same authority and precision as in (ahem) previous years!
Firstly the venue! Kaneohe Bay Hawaii! It's on the windward side of the island, but its inside a bay, so its sheltered and therefore flat water. It's seemingly perfect for Moth sailing with its lovely wind and clear warm water.
However a note of caution. If you're not a good tacker then you are going to struggle. We haven't heard the word "cone" in sailing until this summer but it seems now it's everywhere. We are told that there is a kind of a cone here too, specifically as it gets shiftier and the oscillations get faster and more extreme towards the windward mark.
Clearly it's best to tack on the shifts, but if your tacking is so slow that they play the "Chariots of Fire" symphony every time you put the helm down, then it's going to be a long week.
Still, here we go, our top ten with a hint of fun:
1.     Peter Burling, NZ.  Yes he's on it! Peter is the 2012 49er Olympic silver medalist. He recently cleaned up in the Red Bull Youth AC, and the other week he won the 49er worlds.  Young, gifted and just like his Mach2, All Black!
2.     Nathan Outteridge,  AUS. 2011 World Champion. Will he sail or will he commentate? We assume the former. The 2012 49er gold medalist is back in the Moth class!!  If he shouts "Boundary!" and tacks, for goodness sake just get out of the way…
3.     Anthony Kotoun, ISV. An outstanding worlds last year marked him out as America's best. Unflappable, unconventional and highly likely to be unstoppable.  Rumored to have found a secret short cut through the reef after last year's recce. Would be a highly popular winner.
4.     Josh McKnight, AUS. Current World Champion. Just got on and did it last year as no one said he couldn't. Fast, fit and mature beyond his years on the racecourse. Big but… No one has defended on foils yet, – could he be the one?  Recently been messing about on rafts. Not ideal prep..
5.     Bora Gulari, USA. "Airforce One you have permission to take off" Bora likes home soil. He won at the Gorge in 2009 and so Hawaii could be his turn again. You always feel he might be working on something important. Rarely is.
6.     Scott Babbage, AUS.  Mr Consistent. Sooo close last year in Garda, but 2013 could be his year.  He's the class president though, which means he has to chair the AGM, and it takes a strong man not to let that sap the will to live out of you. Would be a very popular winner though.
7.     Rob Gough, AUS. Rumored to be going very fast. He's the Aussie alternative choice in a "Mac" versus "PC" kind of way. Rob has invested more time and more money than anyone else. He's strong, innovative and with good boat handling.  Rumor has it he's bringing his own personal trainer.
8.     Rob Greenhalgh, GBR.  Been winning things of considerable note across the sailing spectrum for a number of decades. Rob dominated the UK nationals this year. If the first couple of races go well and it's not too windy, the British flag could fly over the Hawaiian Islands for the first time since Captain Cook banged into them.
9.     Chris Rashley, GBR. Current European Champion. If he keeps it together then he will be in the mix. Lots of years left in him. Very organized. In fact the most organized Moth sailor we've ever seen. Find him by following the trail of multicoloured Post-it notes…
10. Iain "Goobs" Jensen, AUS. 2012 49er Gold medalist and straight out of the AC. Will have that trademark "thousand yard" star that all those AC72 guys have. Used to being 12 foot in the air and so he could unwittingly pull his ride height adjuster right off! Timing might be off in a boat 61ft shorter than he's used too.
THE WILD CARDS
Brad Funk, USA. Nanu Nanu! Something funny will happen. He'll either accidently eat his car keys or inadvertently win 6 races.
Eric Arkhus, USA. Fresh from winning Melges 32 world championships, Eric could well break into the top 5. Anyway stay out of his way too! At the US Nationals at Kaneohe last year, he took out a J-105 and ran straight over a Bladerider.
Dave Lister, AUS. Once hailed as the fastest man in the world on foils.  Possibly the first ever to foil tack a moth.  Older than God.
Andrew McDougall, AUS. A freak. Take out the seemingly greater importance of tacking at this event and we'd put him right up there.
THE EXTREMELY WILD CARDS
John Harris, AUS. 2008 World Champion and 18ft skiff legend. Resides in the USA where he's been building a business, and also, we hear, a waistline.
Just not practiced enough to get in the top 10, but form is temporary, and class is permanent.  Could be another great comeback in this iconic summer of 2013.
Julian Salter, AUS. The Charge of the light brigade!  Clever sailor, foils in a Turtles sneeze. If it's a very light week then he's the best equipped to take advantage of it.
So will we be right? Almost certainly not, but it will be a great event!
Good luck to all.
October 7th, 2013 by admin
You may remember the Mothies making their winter "Moth Camp" home in Miami the past couple of years, but 2013 brings a change of scenery to Moth Camp.  The first race of the season was last weekend, when 13 Moth Sailors gathered in Charleston to kick off the first event of the 2nd Annual Gorilla Rigging Winter Moth Series.
"It's never like this" temps in the 70′s and major high pressure meant light air for the first event of the series; Friday was slalom racing where the moths started upwind and did a 5 buoy downwind slalom that lasted 3-4 minutes. Matt Knowles, Eric Aakhus, Brad Funk and Anthony Kotoun had a great final "battle royal" with multiple lead changes. Anthony found the puff from heaven for the win.
Friday night the Mothies attacked a college house party and later, trolled down King St.  With different sailors having different intensions the inevitable happened and we all got split u, but thanks to the Mothies' love for GPS trackers and the Friend Finder iPhone app, we were able to rescue the wayward from likely tears, expensive cab rides, or walks of shame…The college party didn't go as well as they used to; we got there as the beer ran out, and they quickly figured out that most of us were around twice their ages.
Racing on Saturday went along the same lines as the college party. We were all ramped up with nowhere to go.  We waited until 3 PM before having two "exhibition races"; welterweight USA Class President Matt Knowles took both bullets.
Fearing more failure amongst the playground of beauty and youth downtown, we resorted to beer and pizza at the club, burning up some of our competitive energy with some old guy vs young guys flip cup. The young guys took it two to one; unsurprising, yet depressing.  The fine southern gentleman of host club James Island Yacht Club then treated us to their "Lowrider Lemonade" double bourbon special. Not too bad!
The high pressure kept its grip on Charleston Harbor on Sunday as well, but luckily, a touch of seabreeze filled; enough for us to do six AC reaching start courses. Brad Funk, Anthony Kotoun and Bora Gulari battled it out again and again with lots of lead changes and come-from-behind wins. Brad Funk took the overall with Anthony and Bora rounding out the podium.
The Moth Class continues to grow with each regatta posting better and better numbers. This event had three new sailors as well as competitors from Sweden and Australia. The Gorilla Rigging Series continues here in Charleston with event two in February and the North Americans in April.  For more, check their Facebook page.
Priscilla Parker photo.
January 16th, 2013 by admin