Posts Tagged 'foiler'
The US-built UFO has landed, and Billy Black's video of this excellent little foiler should tell you all you need to know about the boat that might just become this generation's Laser or Hobie 14.  It's got launching procedure (nothing to it), boat creator Dave Clark sailing some basic upwind and downwind, and even a lineup with a Waszp Moth, but don't miss the hilarity of hi-performance legend Steve Clark trying to retrieve some dinghy wheels while trying to keep his shoes dry (4:20 or so).  Title shout to commemorate the return to television of the best UFO show ever, and be sure to ask the Clarks and any number of Anarchist testers in the thread if you have any questions.
October 27th, 2016 by admin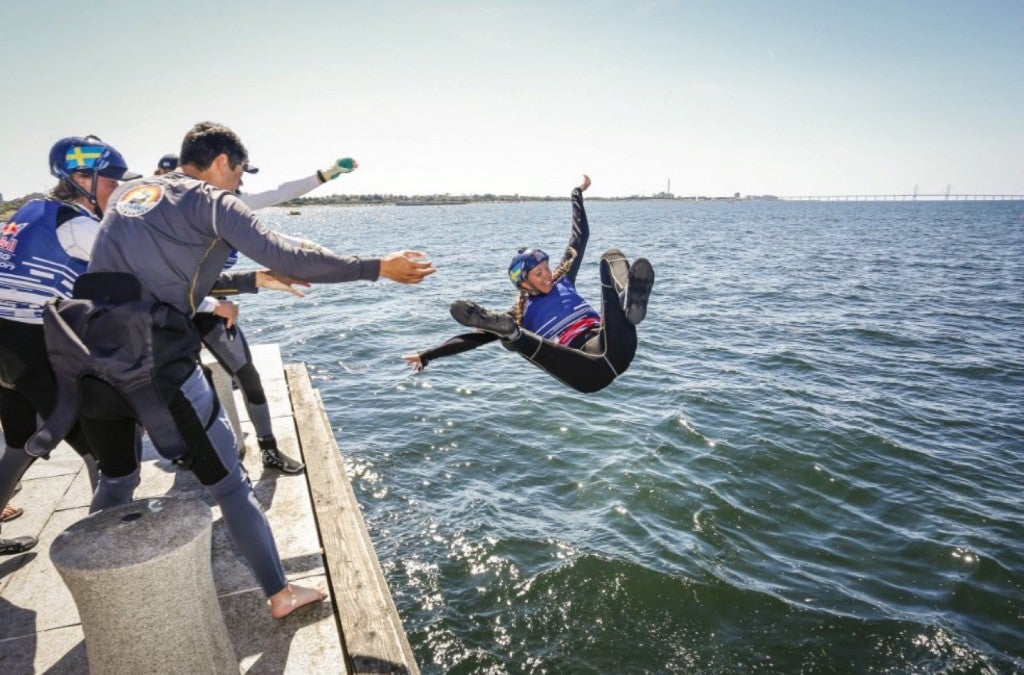 SCOTW
Catamaran crew Celina Burlin became the first chick in history (we think) to win a foiling regatta this weekend, and we salute her as the Sailor Chick of the Week, and we applaud the Red Bull Foiling Generation event that's putting Flying Phantom foilers into the hands of 16-20 year olds to find out if any of them have a future in flight.  We haven't paid much attention to a Red Bull series that seems like more of a carnage hunt or PR stunt than real racing,  but with sailors like Celine in the mix, we just might start.
Congrats to her and skipper Oscar Bengtson on their Malmö victory, and thanks to Mario and the RB boys for the note and Richard Ström for the shot.
August 10th, 2015 by admin
If ever a boat died with its boots on, it was this one – David Wallace and Richard Grantham's ancient Nacra 6.0 has lived through several Worrell 1000 races and countless hours on the Georgia Coast, but a 3.8 mile sprint in 20-25 knots on Charleston Harbor was the end of her days.  Wallace and Grantham drove up from St. Simon's Island, GA, and they said there's no question they will be back.  They didn't say whether they'd be racing or spectating!
Big congrats to St. Pete's Zack Marks for absolutely destroying Bora Gulari's record run from last year – official time is 6:10 for the 3.8 mile course. We're not great at math, but that sounds like somewhere around a 33-knot average to us.
Billy Goldsberry gets the Rescue of the Week award for this one, and you can see a gallery of really cool land-based and sky-based shots of this unique race here.
April 13th, 2015 by admin
It has been a long time since we've seen this much excitement around a new boat launch, but we reckon if ever a boat deserved it, it's the world's first fully foiling cruiser/racer.  Sick work from all the Gunboat G4 build/design team, and we're proud to host this World Premier of the beautiful film of Timbalero 3′s sea trials earlier this week (thanks to Richard and Rachel).
Mr. Clean heads down to Antigua at the end of the month for his in-depth, Anarchy look at the G4; in the meantime, head to the thread for all the news and analysis here.
April 11th, 2015 by admin
Andrew "AMAC" McDougall is always a good chat, and we grabbed him at the end of the Moth Worlds to talk about his umpteenth win as Grand Master (and ignore the fact we thought he won Master as well – that honor went to the newly-turned-45 Dave Lister).  We also took the time to learn the essential bits of what is a far more interesting development – the soon-to-be-revealed Waszp.  At less than the cost of a one and a half Lasers, this fiberglass and alloy 'foiler for the masses' might just provide the engine for an explosion in sailing that we've not seen since the Hobie 16 or the Laser itself.  Reality or hype?  Listen to Amac and decide for yourself, and get psyched for next week's "Moth Worlds: The TV Show" from Penalty Box Productions with support from Sperry.  We're not done yet.
January 30th, 2015 by admin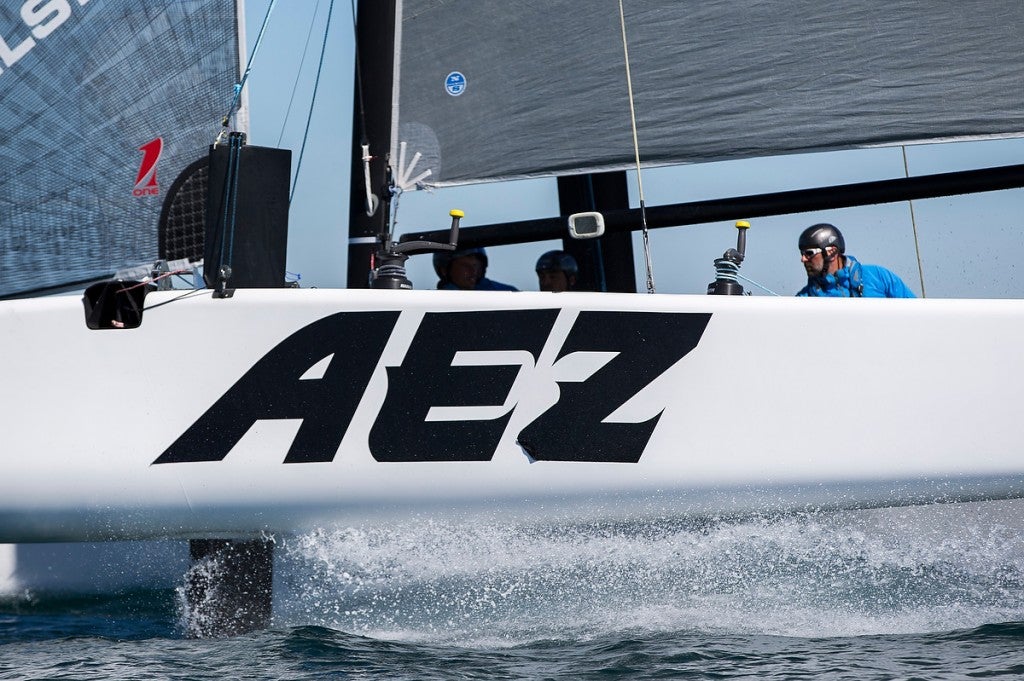 Clean Report
More than 18 months ago, just a month after ETNZ revealed their AC72 was a flying boat and lured by the potential for a 32-foot version of it, I spent 12 hours flying to Dubai just to check out the brand new GreatCup 32 catamaran from F-18 sailor Laurent Lenne and designer Martin Fischer.  I took a cab straight to the Dubai Marine Center, and an hour later, we were sailing the sleek carbon cat in 8 knots of Arabian breeze.  And 20 minutes after that, the boat was broken.
Needless to say, I was underwhelmed.  The Southern Spars-built spine of the boat wasn't right, and I wasted a couple of days in a plane to find it out.  To compound matters, it was pretty clear that the intricate, Alinghi 90-style S-shaped foils were cool-looking, but lacked true foiling ability.  They reduced displacement, but only in very specific conditions would they lift the boat out of the water and create anything that could be called stable flight.
But Fischer, Lenne, and Aussie project manager/COO (and longtime SA'er) Andrew "Macca" McPherson had just seen the future in the form of a flying red-and-black carpet in Auckland, and they were already planning on meeting it.  They spent much of 2013 studying, learning, and redesigning the foil system for the GC32, and while they didn't put a ton of effort into selling a boat they knew was in the midst of a big change, they quietly sailed a 4-boat, 4-event Great Cup series in Europe.  And they kept working.
Fast forward to April, when I got a call from Lenne.  "They're ready," he told me.  "And you should get your butt over here."  Hours after Charleston Race Week ended, I jumped on a plane from Charleston to JFK to Paris to Marseilles, and made my way to one of Europe's biggest marinas in La Grand Motte, France.
An intense design process had led Fischer to a ETNZ72/Flying Phantom/Groupama C-Class style foil solution, with acute-angled, rake-adjustable J-boards with a massive 1.2m span, and adjustable t-foil rudders like a Moth.  Built by Heol, supplier of foils for just about every major French racing multihull for the past decade, the foils are serious pieces of machinery – a single dagger supports almost the entire weight of the nearly one-ton cat and its crew, is built under a massive 8 Bar of pressure, and weighs some 50 KG.  The good news is that you don't often take them out; they insert from the bottom and retract up to the hull, allowing you to beach or ramp launch the boat with no hassle.
But even if they were a big hassle, it would be worth it, because after three days of sailing the GC-32, I can honestly say that this boat has the potential to change multihull racing forever – all of a sudden, non-foilers just seem kind of silly.  They're slower, less forgiving, harder to sail, more loaded up, and just nowhere near as fun.  I'm leaving for the airport in just a few minutes and there is a long, comprehensive video being put together next week with all the details, so I'm going to keep this short, but after crewing, driving, filming, and spectating for the past 3 days in winds from 5 knots to 30 knots, it's very clear that this boat is something entirely new.
What do I mean by that?  How about some numbers:  22 knots upwind at 44-50 degrees TWA, with more than 5 degrees of windward heel – almost like a moth.  32.7 knots downwind on the boat's fourth day in the water, with too much sail area and old sails designed for a skimmer.  And our gybing angles, confirmed by Velocitek GPS replay?  40 degrees.  In other words, this boat sails downwind at roughly the exact same angles as an AC-72, and 80% of the speed, with a quarter the crew.  And at 235K Euro, it's around 1% of the cost.
Far more importantly, a no-talent hack like me can EASILY drive the thing.  This is no joke – the GC32′s huge vertical lifting surfaces are nearly as big as those on the Oracle 72, and that means when you do something stupid – which I did plenty of – you don't crash down like a Moth or AC72, and if you press too hard and get too much heel on, the boat gently slips sideways rather than pitching you over into the piss.  I hit 24.4 knots yesterday in 14 knots of wind, heating up to pass a fleet of Fireballs rounding the top mark off Montpellier beach…the lead boat just stopped and stared and let his competition sail by him.  An excellent driver like Macca or Adam Piggot only got to 26 – if I can do 90% of their speed, truly anyone can.  In other words, you don't need to have Bora Gulari's cat-like reflexes, Jimmy Spithill's iron balls, or Larry Ellison's mountains of money.  Just a couple hundred grand and a desire to fly.  The Daily Sail's James Boyd hit 20.2 on Monday, so at the moment I am the fastest 32-foot foiling cat driving media person in the world –  a title I will wear with pride.  Back on you, Boydie.
More to come, and big thanks to Sander Van Der Borch for the gorgeous shots.  There's more info and some data in the thread.
April 18th, 2014 by admin