Posts Tagged 'foiler'
It's amazing how polarizing Bill and Jack Macartney's Superfoiler Grand Prix has become in such a short time. Supporters love the experimental nature of the incredibly overpowered triple-wired foiler and the big crashes, while detractors can't seem to understand how two years in, no one can really sail the boat in anything but the flattest water – and even then, half the fleet can't keep the boat right side up.
Is this the next 18-foot skiff or 49er, and it'll just take a bit of patience for the world's best sailors to figure it out?  Or is the Superfoiler already an albatross that will never be able to overcome its design deficiencies?
Watch the first-ever livestreamed Grand Prix coverage above and decide for yourself.  Argue here.
February 4th, 2018 by admin
While the Botins and JuanKers of the world are busy making digital finger paintings and programming simulators, Butch Dalrymple-Smith has already taken the America's Cup 75 'jesus lizard' by the horns with this frankenfoiler prototype.  You want Code Zero?  How about this bowsprit?
Plenty of discussion of both the new AC format and boat over in AC Anarchy, and while we may be fans of the new foiler, everyone sure isn't. Longtime SA'er and sportboat racer 'richiec' summed up the naysayers' comments quite succinctly:
"I thought the cats were fucking stupid. This is even more ridiculous. Can't you just sail yachts, for fucksakes? I supported ETNZ for the last 10 years, all in the hope the Cup would come back to the southern hemisphere – and now we are faced with some mongrel/hybrid/vapourware video game shitter. 
"Sail BOATS, you fucktards!"
November 26th, 2017 by admin
As many of us prayed for, the next America's Cup will indeed be a flying one.  No keel, ballasted foils, and a bow profile that looks more like an alien critter than a boat.  All in all, we dig, and how about the fact that it's actually early?  Discuss here, full release from ETNZ here.
To go back and listen to Dalts explaining all about their decisionmaking process, go back to this podcast from earlier in the fall.
November 20th, 2017 by admin
World Exclusive
We've been teasing you for a few months about the unlikely rumor that a brand new fleet of foilers were headed for the New York Yacht Club. Thanks to our pals inside Morelli & Melvin, we just got the first publicly available renders for you to drool over. This weapon is currently on the build floor at Holland Composites (though they hid it from me during my half-hour tour of that excellent shop last month).  Above is a pretty sexy look at the slick boat, here's a sail plan render and here's one showing some more deck.
Known as the TF-10 (TriFoiler 10m), the M&M trimaran isn't quite a production build, at least until the first 5 boats splash.  The design and Class are owned by a partnership of five NYYC owners who will form the nucleus of a one-design class to be based in Newport with winter sailing in the Southeast.
Newport mad scientist Malcolm Gefter is a key figure in the new boat, and as unlikely a character as you can imagine to be leading a charge for one of the quickest boats in the land.  Gefter is a unique guy; he's equal parts mad genius/inventor, big pharma executive, and a guy who likes to wash his own boats.  He also lives in a castle in Newport, but rents out the upstairs to needy sailors.  In other words, he's a bit of a contradiction – as is the TF-10.
We've watched Gefter for the better part of a decade now, as he's climbed from being the marshmellow in the doggy Swan 42 fleet, to a middle pack Melges 32 owner, to a Marstrom/M32 helmsman.  Once the Euros came down to Miami and started beating up on the older American M32 owners, Gefter looked for something equally thrilling without requiring any huge gym rats aboard and found, well, nothing.  And with the help of Morelli & Melvin along with input from Andrew 'Macca' MacPherson – the guy who co-created the GC32 – they came up with the answer.  We asked Gefter a few questions about the new boat.
SA: What are the key features of this beast?
MG: It was essential that the boat be easily foldable and legally trailerable, and that it could be rolled onto the YC lot, put together, and launched with a regular yacht club hoist or ramp.  Just as importantly, you can fold it up on the water and dock the boat in any old 33′ monohull slip.  The cost of doing just that saves huge storage and transport and launch cost each time you want to sail.
SA: What about the foils?  There seems to be plenty of conflict between the tripod/l-foil (AC45, GC32, Phantom) and 4wd/z-foil concept?
MG: One the goal of a truly exciting foiler was reached, the next most important feature was ease of use, and that means z-foils. Both foils are deployed whenever you are sailing, and rake controls for both rudders and foils are electronically controlled by helmsman or trimmer, and there's just no comparison between z and l-foils when it comes to ease of use.

SA: At 10 meters, it's big enough to do coastal races for sure.  Is it safe enough or are you gonna need a full-time safety tender like the GC fleet?

MG: It's 100% pre-preg carbon fiber construction with a good Southern mast, so it is strong enough, and the boat will weigh just 1100 KG; 1500 with crew and gear.  Safety will be in the hands of the crew and skipper, but the light weight and Z-foils really help there compared to a more 'on-the-edge' boat that uses L-foils. Also there is room for a proper bunk, toilet, and  nav station in the center hull.

SA: And when will those 5 boats drop?
MG: All 5 boats are under construction in Holland right now, and the first will splash in late Spring 2017.
SA: The all important question: How much?
MG: The goal is under $500k
SA: That's a fuck ton of money for a 33-foot boat, no?
MG: It's all relative!  While multihulls are clearly dominating the discussion at the very highest levels of performance racing, they still haven't really caught on with high-end racing in the US; think of all those mini-maxi, TP52, Carkeeks, Fast40/Melges 32/40 guys still paying for 8-15 crew to sail around at 8 knots upwind and 15-20 downwind, and almost all of those boats costing many times more than a TF-10.  We believe that foiling is a MUST for the future, but only if it can be done safely and without professional racers.  Otherwise, it just won't catch on!
SA: So why does the TF bring in all those guys?
MG: We all love the way a GC32 looks, but the only one sold to an American (Argo) competes only in Europe.  Even a relatively inexpensive non-foiling multihull like the M32 has sold just 9 boats here in four years.  That is a great boat (I own one) but it can be scary and is always extremely physical.  The solutions we have with the TF10 answer all those questions, but they do cost money.
SA: Can you explain how?
MG: Accessibility to the masses (of high-end sailors) is the key to this thing, and when we consulted a number of the world's top designers, we realized that all ocean-racing multihulls are trimarans for one reason only: Safety.  As I have found out numerous times on the M32, CATS CAPSIZE EASILY and pitchpole for real, and they are not capable of racing seriously and safely in a real sea state.  Converting a 33 foot cat into a wider, more technologically advanced trimaran increases the cost substantially.

SA: What about running costs? This thing is seriously high tech; does it need a high-tech support crew?
MG: It needs nothing!  Remember that guys in top Melges 20 or Melges 32 classes are already spending 300k a year easily on pros, sails, transport to regattas, etc.  TP52 guys are spending a small fortune to build their boats (which only last a year or two on that circuit) and a large fortune to race them.  The TF-10 has just 2 fully-battened sails, and unlike monohull sails, they can last for years [not if you want to win -ed].
SA: You say you won't need pros for this boat in contrast with a GC or M32.  Why not?
MG: Most of the energy needed to sail a foiling boat goes into raising and lowering of foils during maneuvers. Like the Olympic Nacra 17, the A-Cat, or the original Hydroptère, this boat is designed to sail with all foils down so you don't need a 1500 dollar/day Star crew to pull them up and down.  Since it is sailing on four points it is MUCH more stable than a GC, and the owner drives from the center hull all the time, so the driver need not be Usain Bolt to get across the deck in a quick gybe.  The traveler is behind the tiller, meaning you never need to let go, adding more safety at the most common time for things to go wrong.
SA: Will it still get up and go despite being designed primarily for safety?
MG: Polars are well in excess of 35 knots on some points of sail…when the crew are ready!
SA: What do you do until the crew are ready?
MG: Lift the foils slightly and you can sail just like a Corsair or Farrier for beer can races or leisure sailing with friends and family on the wide platform.  Think 'Ferrari' – it can go on the street, it can sit in traffic, but it can still get on a race course and put in some serious hot laps against real competition.  We can mess around in the bay or do boring old windward/leeward racing, or we can do stadium sailing, coastal racing, record attempts – and we can do a lot of this doublehanded!
SA: Thanks a lot Malcolm, and good luck with the boat.
MG: No problem.  We'll see you when it splashes.
Title shout to one of folk/rock's all time classics, as reimagined by a troubled legend.
December 13th, 2016 by admin
The US-built UFO has landed, and Billy Black's video of this excellent little foiler should tell you all you need to know about the boat that might just become this generation's Laser or Hobie 14.  It's got launching procedure (nothing to it), boat creator Dave Clark sailing some basic upwind and downwind, and even a lineup with a Waszp Moth, but don't miss the hilarity of hi-performance legend Steve Clark trying to retrieve some dinghy wheels while trying to keep his shoes dry (4:20 or so).  Title shout to commemorate the return to television of the best UFO show ever, and be sure to ask the Clarks and any number of Anarchist testers in the thread if you have any questions.
October 27th, 2016 by admin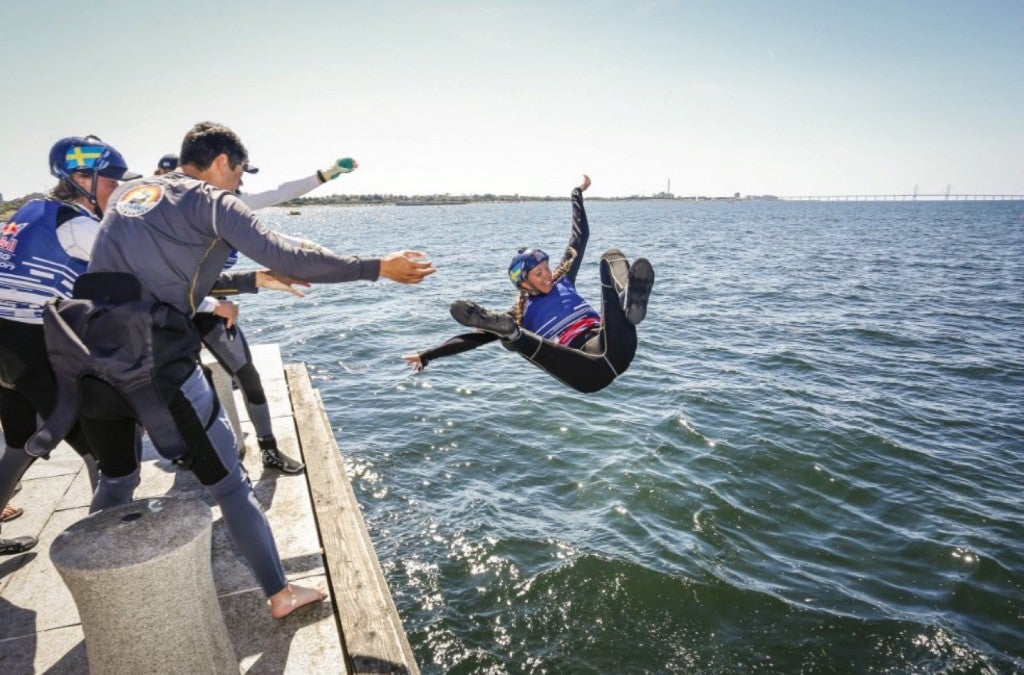 SCOTW
Catamaran crew Celina Burlin became the first chick in history (we think) to win a foiling regatta this weekend, and we salute her as the Sailor Chick of the Week, and we applaud the Red Bull Foiling Generation event that's putting Flying Phantom foilers into the hands of 16-20 year olds to find out if any of them have a future in flight.  We haven't paid much attention to a Red Bull series that seems like more of a carnage hunt or PR stunt than real racing,  but with sailors like Celine in the mix, we just might start.
Congrats to her and skipper Oscar Bengtson on their Malmö victory, and thanks to Mario and the RB boys for the note and Richard Ström for the shot.
August 10th, 2015 by admin
If ever a boat died with its boots on, it was this one – David Wallace and Richard Grantham's ancient Nacra 6.0 has lived through several Worrell 1000 races and countless hours on the Georgia Coast, but a 3.8 mile sprint in 20-25 knots on Charleston Harbor was the end of her days.  Wallace and Grantham drove up from St. Simon's Island, GA, and they said there's no question they will be back.  They didn't say whether they'd be racing or spectating!
Big congrats to St. Pete's Zack Marks for absolutely destroying Bora Gulari's record run from last year – official time is 6:10 for the 3.8 mile course. We're not great at math, but that sounds like somewhere around a 33-knot average to us.
Billy Goldsberry gets the Rescue of the Week award for this one, and you can see a gallery of really cool land-based and sky-based shots of this unique race here.
April 13th, 2015 by admin
It has been a long time since we've seen this much excitement around a new boat launch, but we reckon if ever a boat deserved it, it's the world's first fully foiling cruiser/racer.  Sick work from all the Gunboat G4 build/design team, and we're proud to host this World Premier of the beautiful film of Timbalero 3's sea trials earlier this week (thanks to Richard and Rachel).
Mr. Clean heads down to Antigua at the end of the month for his in-depth, Anarchy look at the G4; in the meantime, head to the thread for all the news and analysis here.
April 11th, 2015 by admin
Andrew "AMAC" McDougall is always a good chat, and we grabbed him at the end of the Moth Worlds to talk about his umpteenth win as Grand Master (and ignore the fact we thought he won Master as well – that honor went to the newly-turned-45 Dave Lister).  We also took the time to learn the essential bits of what is a far more interesting development – the soon-to-be-revealed Waszp.  At less than the cost of a one and a half Lasers, this fiberglass and alloy 'foiler for the masses' might just provide the engine for an explosion in sailing that we've not seen since the Hobie 16 or the Laser itself.  Reality or hype?  Listen to Amac and decide for yourself, and get psyched for next week's "Moth Worlds: The TV Show" from Penalty Box Productions with support from Sperry.  We're not done yet.
January 30th, 2015 by admin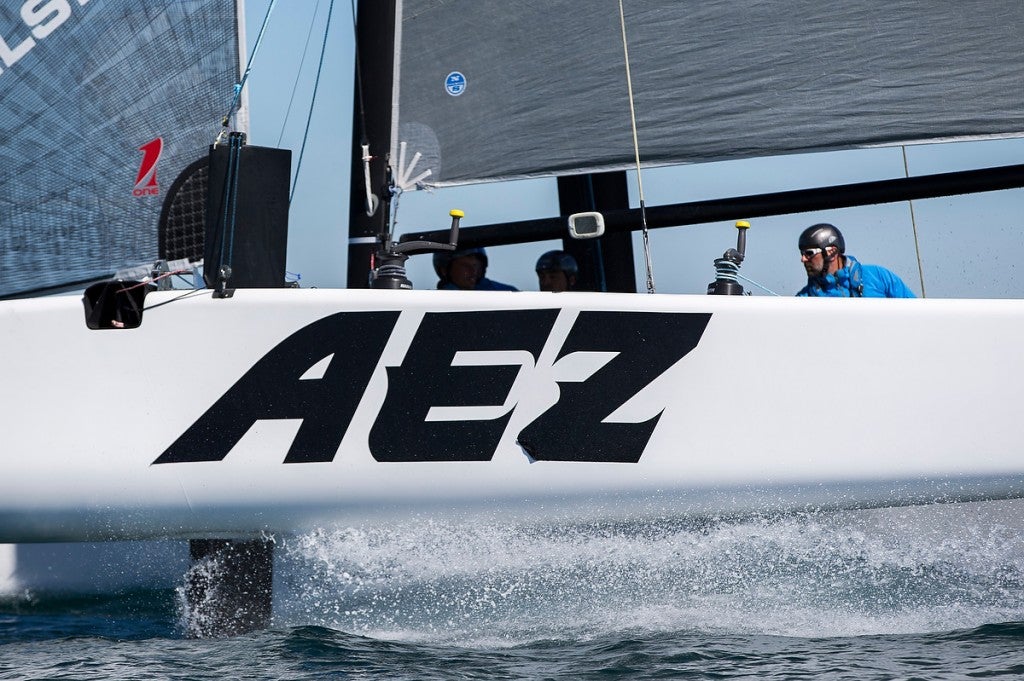 Clean Report
More than 18 months ago, just a month after ETNZ revealed their AC72 was a flying boat and lured by the potential for a 32-foot version of it, I spent 12 hours flying to Dubai just to check out the brand new GreatCup 32 catamaran from F-18 sailor Laurent Lenne and designer Martin Fischer.  I took a cab straight to the Dubai Marine Center, and an hour later, we were sailing the sleek carbon cat in 8 knots of Arabian breeze.  And 20 minutes after that, the boat was broken.
Needless to say, I was underwhelmed.  The Southern Spars-built spine of the boat wasn't right, and I wasted a couple of days in a plane to find it out.  To compound matters, it was pretty clear that the intricate, Alinghi 90-style S-shaped foils were cool-looking, but lacked true foiling ability.  They reduced displacement, but only in very specific conditions would they lift the boat out of the water and create anything that could be called stable flight.
But Fischer, Lenne, and Aussie project manager/COO (and longtime SA'er) Andrew "Macca" McPherson had just seen the future in the form of a flying red-and-black carpet in Auckland, and they were already planning on meeting it.  They spent much of 2013 studying, learning, and redesigning the foil system for the GC32, and while they didn't put a ton of effort into selling a boat they knew was in the midst of a big change, they quietly sailed a 4-boat, 4-event Great Cup series in Europe.  And they kept working.
Fast forward to April, when I got a call from Lenne.  "They're ready," he told me.  "And you should get your butt over here."  Hours after Charleston Race Week ended, I jumped on a plane from Charleston to JFK to Paris to Marseilles, and made my way to one of Europe's biggest marinas in La Grand Motte, France.
An intense design process had led Fischer to a ETNZ72/Flying Phantom/Groupama C-Class style foil solution, with acute-angled, rake-adjustable J-boards with a massive 1.2m span, and adjustable t-foil rudders like a Moth.  Built by Heol, supplier of foils for just about every major French racing multihull for the past decade, the foils are serious pieces of machinery – a single dagger supports almost the entire weight of the nearly one-ton cat and its crew, is built under a massive 8 Bar of pressure, and weighs some 50 KG.  The good news is that you don't often take them out; they insert from the bottom and retract up to the hull, allowing you to beach or ramp launch the boat with no hassle.
But even if they were a big hassle, it would be worth it, because after three days of sailing the GC-32, I can honestly say that this boat has the potential to change multihull racing forever – all of a sudden, non-foilers just seem kind of silly.  They're slower, less forgiving, harder to sail, more loaded up, and just nowhere near as fun.  I'm leaving for the airport in just a few minutes and there is a long, comprehensive video being put together next week with all the details, so I'm going to keep this short, but after crewing, driving, filming, and spectating for the past 3 days in winds from 5 knots to 30 knots, it's very clear that this boat is something entirely new.
What do I mean by that?  How about some numbers:  22 knots upwind at 44-50 degrees TWA, with more than 5 degrees of windward heel – almost like a moth.  32.7 knots downwind on the boat's fourth day in the water, with too much sail area and old sails designed for a skimmer.  And our gybing angles, confirmed by Velocitek GPS replay?  40 degrees.  In other words, this boat sails downwind at roughly the exact same angles as an AC-72, and 80% of the speed, with a quarter the crew.  And at 235K Euro, it's around 1% of the cost.
Far more importantly, a no-talent hack like me can EASILY drive the thing.  This is no joke – the GC32's huge vertical lifting surfaces are nearly as big as those on the Oracle 72, and that means when you do something stupid – which I did plenty of – you don't crash down like a Moth or AC72, and if you press too hard and get too much heel on, the boat gently slips sideways rather than pitching you over into the piss.  I hit 24.4 knots yesterday in 14 knots of wind, heating up to pass a fleet of Fireballs rounding the top mark off Montpellier beach…the lead boat just stopped and stared and let his competition sail by him.  An excellent driver like Macca or Adam Piggot only got to 26 – if I can do 90% of their speed, truly anyone can.  In other words, you don't need to have Bora Gulari's cat-like reflexes, Jimmy Spithill's iron balls, or Larry Ellison's mountains of money.  Just a couple hundred grand and a desire to fly.  The Daily Sail's James Boyd hit 20.2 on Monday, so at the moment I am the fastest 32-foot foiling cat driving media person in the world –  a title I will wear with pride.  Back on you, Boydie.
More to come, and big thanks to Sander Van Der Borch for the gorgeous shots.  There's more info and some data in the thread.
April 18th, 2014 by admin