Posts Tagged 'Florida'
We've all seen it happen, over and over again: A Class/regatta, or area (or judging from sailing's decline since 1979, the entire country of America) judges the temperature of its customers poorly, and that line between 'let's go swap a little gelcoat with great sailors and earn their respect' and 'holy crap, I'll never, ever have the time/money/desire to keep going in this sport' disappears.  The issue is not simply about well-written and conceived rules, though they help; it's more about the kind of perception and atmosphere created by the folks running the show.  No Class has more epitomized this struggle than the Melges 24; despite a feverish period in the 2000s when the M24 saw 100+ boat turnouts for the majors and big regional fleets, the NorthAm fleet went into rapid decline beginning about 2009. Escalating costs, difficulty in finding good crew who could hike as long and hard as the pros who absolutely filled the fleet, and distracted marketing from the builder were the culprits, and half a decade later, the Class is seeing a serious resurgence in the boat we've always considered to be the world's most perfect one-design race boat.  Long time Melges performer and now pro crew Sam Rogers explains why.  Joy Dunigan photos with a sweet gallery over here.  World Champ Brian Porter beat Bora Gulari on the final day in a replay of something we feel like we've seen at about 10 of these Nationals.  Full reports here.
Where do you find that line between keeping top level pros in a fleet to provide that ultimate challenge, and keeping the average racer happy and engaged?  It certainly depends on the fleet you're talking about, but there's no question that for an open class like the Melges 24, the amateur owners and crews are absolutely vital to maintaining a successful fleet – and the overall sport.  Most amateurs want the challenge of sailing with and against the very best, but without the average man/woman making it to the race course, those lines are awfully lonely places.
I'm writing today just after an awesome 31-boat Nationals at Davis Island, FL, to let you know that the US Melges 24 Class seems to have made it through its 're-birth' while really nailing this balance, and without losing its high-performance, grand prix identity.  Nearly a perfect split between open and amateur teams swapping blows over 3 days and 8 races with both overall and Corinthian standings going down to the wire and several all-amateur teams filling out the top ten. Kevin Nixon's Accru+ entry from Australia took the overall Corinthian trophy and 7th overall, competing with his wife, daughter, son and son's girlfriend.  Sounds like a perfect weekend getaway to us!
Roger Counihan's Just Add Water team (Lake Lanier, GA) is a Melges 24 staple, and he finished a solid 3rd Corinthian and 11th overall.  Roger thinks the fleet's new look is awesome: "The Corinthians by themselves are a very strong fleet, and in every race there are Corinthian teams sticking it to the pros.  There's nothing better than seeing an America's Cup sailor or World Champion behind you – those are always great stories for the bar.  At the same time, its great to see what the pros are doing – how are they trimming their jib, where is their traveler, how hard are they soaking.   Plus, as a fan of sailing, watching strong teams full of sailmakers, Olympians, and boat builders go head to head in the same boat we sail is pretty cool."
Part of the Class's rebirth is thanks to the early success of the M24, and the big used-boat market that developed as the economy collapsed.  Enterprising sailors in a few unexpected regions scooped up good boats for great prices, the grassroots growth results are now filtering into the traveling/major regatta fleets.  "There are still new sailors picking up competitive starter boats for surprisingly low prices and quickly learning to mix it up," said Counihan.  "Our fleet is a tight knit bunch of friends who have sailed on everyone else's boats, help everyone get better, and hang out off the race course."
Texas & Gulf Coast District rep Ryan Glaze (Gringo) says it's important to represent his regional fleet on the national stage.  "Our performance this past week at (2nd Corinthian, 8th overall) was important to our team, the Gulf Coast District, and to the USMCA.  We proved that you can get an older boat, put used sails on it, and be competitive with a good team of amateurs.  There are a lot of good sailors out there that would like to race the M24 but might be turned away by the costs. However, over the past couple of years, we have seen more teams in our district take a similar approach to ours; purchasing an older used boat, giving it a little TLC, and putting together a core group as your team."
Through the ebb and flow of fleet growth in the 20 year history of the Melges 24 class and a stronger than usual used boat market, attracting a balanced mix of amateur and pro teams seems to have reach an equilibrium, and the spirit of the class has been renewed. Along with the solid turnout the Nationals, there was a strong sense of community with every sailor leaving with something. With a well attended class debrief led by some of the classes best-regarded pro and amateur helms (Porter, Gulari, Kullman, Madrigali), and an owners' meeting that highlighted the recent growth in the class and previewed a solid 2015/16 schedule (featuring the 2015 Nationals at the awesome Gorge in late August and the 2016 worlds being narrowed down to a location in South Florida) the Melges 24 may be blazing a new trail as a model for successful One-Design fleet growth, just as it did over 20 years ago.
And it's still quite a bit faster than all the 20-something production sporties that have come since…
November 18th, 2014 by admin


We love the fact that one of yachting's most respected veteran photographers has jumped on the video bandwagon; more importantly, it's great to see a guy known for his classic yachting and monohull AC work bringing a different perspective to the kind of high-speed shenanigans we at SA spend most of our time drooling over.  Onne Van Der Wal shot this excellent highlight reel from last month's Line Honors US Moth Nationals in Key Largo, scoring a ride-along for 14 year-old son Adrian (who flies his drones) along the way.  Van Der Wal has been shooting video with Canon DSLRs for about three years now, but this is the first real high-performance reel we've seen from him, and we are most definitely fans.  Judging from young Adrian's reaction to the Moths (and his clear lack of excitement about superyachts and classics), the next generation of Van Der Wal is going to be even better.
For more from the Nationals including interviews with champion Anthony Kotoun, past SCOTW Emma Aspington, world champ Bora Gulari, Swedish gold medalist Freddy Loof, and plenty more, hit up this gallery.  And be sure to check out Onne's Vimeo page for a diverse portfolio of good sailing films.

April 9th, 2014 by admin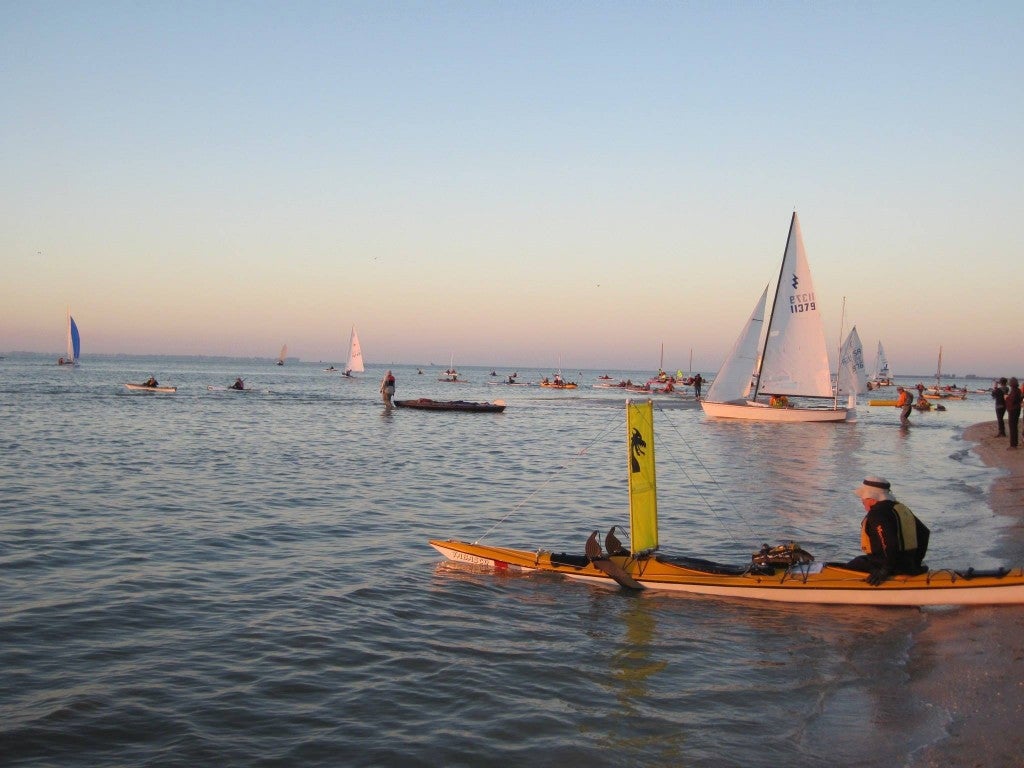 SA'er "zerothehero" filed a number of reports from the most unique race in all of sailing; the paddling, sailing, portaging, and pushing Watertribe Everglades Challenge.  You can see all his reports as well as a pile of other info and video in the thread, and below is a great excerpt.  Photo from another SA'er – Tom Ray.
So dinner in the boat was a bad idea for me.
After clearing the last of the mangroves we settled in on port, and after about an hour, Per got to dinner.  Earlier, my cafe con leche had spilled in the bilge and I had only gotten a few sips.  Oh, well.  The dinner had also fallen in the bilge, but I thought I had saved the top one.  So after Per ate, I opened my container to find it full of water!  One problem with that: Per had been peeing in the bailer which had a crack in it so who knows what was in that water.  Not eating that!
Per analyzes the numbers and says that, under current conditions, we will need to head out 25 miles to lay the cape.  I answer that there's no way I am sailing 25 miles off shore in a Lightning at night.  We analyze the conditions constantly and come up with a theory; the wind will back more and more and we may not have to tack at all.  The wind was strong and we were going to weather, making sleep very difficult.  We both managed a little, but really not enough.  I developed a headache and wasn't feeling great, I was starting to not take care of myself properly and this would become an issue later.
That night I had vivid hallucinations: The stars were traced into made-up constellations.  It was very cool but unnerving at the same time.  I kept thinking I could see shore even though I knew we were well past where we could see it.  There was a phantom palm tree following me just off to port, and we were 11 miles off the Everglades.  While sailing along in the dark we suddenly stopped, and a really weird feeling came over me.  I clicked on my head lamp and looked at the water, we were in the middle of a huge boil of water upwelling from below.  The water was full of sand and grit and had a strange color to it.  Spooky.  We pulled up the centerboard and rudder and drifted off the boil, finally free of its grip.  All-in-all, an unsettling experience in a night of them.  Even as far offshore as we were, the water depths are only around 20 feet or so and there are several currents converging out there.
Our theory on the wind played out and we kept getting lifted.  A little before dawn, we passed East Cape close enough to hear the birds.  As dawn broke, SOS and Poptarp came screaming out of Checkpoint 3 in their tri, Mosquito.  They gybed, and passed us to close to leeward.  Great looking boat.  In our 2 second conversation, we learned they were going outside, the long way around.  Not so painful in a boat that can do 20+ knots!  We continued tacking up into CP3 and a while later we saw Sambasailor leaving the CP.  This put the fire in Per.  We analyzed their course and figured they too were going south.  Per decides we are going to strike out across the bay, it's our only option if we want to try and beat Sambasailor.  We get into the checkpoint, grab some food and caffeine, use the facilities and leave.  Total time in CP3, about 20 minutes.  Up next, the exciting finish…Read on.
March 11th, 2014 by admin
The sexy Ker 43 Ptarmigan got new life this winter as anyone who's seen the well-documented refit thread can attest.  Here's Bill Coates, owner of the new (to him) Otra Vez and his debrief after his first regatta on the boat; Quantum Key West.  Onne Van Der Wal photo.
Overall impression of the boat:  Wow!
This was my first time to Key West, and my major impression of the town, even during the regatta is that it wasn't very busy.
We had set some goals for the week, improve every day, win at least one race, and beat Tonnerre boat for boat at least once.  Given that we had not sailed together as a team since March 2011 and that a week ago Friday (the 17th) was the first time we sailed Otra Vez these were reasonably ambitious goals.  By the end of the week we had achieved them all, although losing the last race by 2 seconds, spoiled a near perfect Friday.  We all finished the week excited, happy and wowed by the boat, but also realizing we have to make great strides in our boat handling and crew work to reach our full potential.  The one thing we wont do is make any significant changes to the boat.  We need to sail her more, understand her modes, and then we will see.
The conditions for the week went from very light on Monday, to rain squall central, to perfect, to breezy, with a bit of chill added in.  The first race on Monday was in very light (3-5 knot) conditions and we finished dead last by a LOT.  Given the light air pedigree of the boat this was a bit surprising, but in reality these are the most trying conditions when you don't know the boat.  We needed a lighter light #1, the rig was too tight, we had too much backstay (meaning we had the runners on at all), and according to the diver, may have been dragging a crab pot for some of the race as there were rope marks on the keel the next morning.  The only upside, it may the "improve" objective much easier.
If you have been following the thread, we went bigger on headsails and kites, changed the mast rake significantly at the suggestion of the the designers and as the breeze picked up we started to see the real benefits of the changes.  From 7 knots and up Otra Vez is powered up and she will her targets easily up and down, and the larger kites had us over target most of the time downwind.  As the breeze continued to build downwind speed at 140 TWA matched windspeed up to 18 knots.  The highest speed we saw was 18.5 knots in 22 knots of TWS.  On friday in 19-24 knots, the average speed on the runs was 17 knots.  Upwind speeds were at or slightly above target.  It is something to be going upwind at 8.9 knots at 35 degrees TWA in 20 knots of wind.  We had a heavy crew and with the righting moment provided by the dramatic hull flair she sailed flatter than i expected.
Other thoughts:
1)  She eats line like no boat i have seen.  Maybe this is the big boat versus small boat, but going through runner tails, spin sheets, vang strops, etc like candy was a surprise.  We changed some cover materials during the week and it seemed to help, but there are a few 600′ reels of line in our future.
2)  The understanding of the rig tune is probably the greatest area of potential improvement (and i include the running backstay trim in this).
3)  The helm is so balanced that even in breeze that there is almost no "feel" in the steering. It took a little while to get used to.  I will say the amount of rudder bite is shocking, there was not a single roundup or near round up for the entire week.
4)  Halyard locks are easy to get "on" lock and nearly impossible to get "off" lock.  We had to send Huey to the top of the rig to release the mainsail every day after racing.  Not a major drama, but a hassle that shouldn't be necessary.  We are pulling the lock from the rig and will see why it works perfectly with no load, but as soon as there is any tension in the halyard it "binds"
5)  String drop spinnaker takedowns are about the "little details" and big grinders.  I lost count of how many takedown patches we pulled out of the spinnakers.  By the end of the week we were better but far from good or confident.  The sequence of tack, halyard, sheet, etc is still a bit of a mystery.  We took some video belowdecks that we are analysing to make changes to the run to the aft bulkhead.
6) The paint job was worth it.  The boat is stunning to see in person and on the water.
7) We started really well, especially the last 3 days.  All credit to Jay Lutz for this.
8) Although the band was wide, IRC worked well.  The racing was tight on the water and corrected.  In the lighter air, the swans did well, and as the breeze picked up the better downwind ability of the ker designs started to work.  At the end of the week, 4 of the top 5 in the class were Ker designs,  Arethusa, the IRC optimized Swan 42,  was the best sailed boat all week and deserved to win.
9) Fast is fun!!!!
-Bill
January 30th, 2014 by admin
Along with Quantum pros Scott Nixon and John Bowden, Virginia's Travis Weisleder and his Lucky Dog/Gill Racing team are showing their name ain't a fluke, crushing the fleet at the first-ever Audi Melges 20 World Championship in Key Largo, FL by some 30 points over second place (and first-time Melges 20 racer) Jason Michas.  It's not like Travis is some kind of hack; the Collegiate All-American (Charleston) and long-time Melges 24 racer has won plenty in his day, but he's never been close to winning a World Championship, and at the moment, with the only non-double digit scoreline in the 52-boat fleet, it's his to lose.
With one of the most insanely pro'd up fleets ever assembled at a non-Olympic event, you'd think the amateurs would love to show up to play, and with probably a dozen past America's Cuppers and more Olympic and Volvo sailors than you can shake a stick at, you'd really expect the sailing publications to send their 'ace' reporters down.  And with an inexpensive boat to move and store, you'd think the Corinthians would come down en masse to pit themselves against the best of the best.  And like any Worlds in almost any class (especially a high-profile one like the M20), you'd expect good video coverage, a website, and some top pro photographers shooting the event.
But none of that happened.  There's really no 'B' fleet at all like you'd see at almost any other Worlds.  In fact there are only 6 "Corinthian" teams with no pros at all – that's just 11% of the fleet (though one of them – Marcus Eagan's Cajun Underwriting - is showing that a great amateur driver with great amateur crew can beat the crap out of most average amateur drivers with rock star crew).  There's no video, no website, and no ace pro photographers.  In fact, other than Clean and Mer showing up for a day of coverage (check out some mark rounding videos from yesterday on our Facebook Page) there is not a single reporter from any sailing publication covering the regatta; they are at home posting press releases and low-res photo galleries.
There's a very simple explanation for this bizarre state of affairs; the 2013 Worlds venue is one of the silliest places ever to hold a World Championship.  It's at the ultra-exclusive Ocean Reef Club, a place where folks don't usually go without an Amex Black Card, an AARP membership, and a golf bag.  There are literally no low-cost options for housing or food within 30 minutes' drive – not a single one – and the resort, one of the world's biggest master-planned communities, has only one hotel, and you can buy a new set of sails for the cost of a week's stay.  Just a handful of the teams are staying offsite on the cheap, and it is quite literally an hour's commute to get back to the boat each morning.    Add the $1800 entry fee to the food, lodging, and transport costs, and it becomes clear why there are just 52 boats competing, and you see why a couple of pro's day rates is just a drop in the bucket – hence the 11% amateur fleet.
The Melges 24 fleet in the US has never really recovered from hosting their 2005 Worlds at the same resort; the 99 boat-starting line is still the biggest non-European Worlds in that class's history.  Our advice to other classes?  Take this one off your list. They don't want you there, and most of your members don't want to go.
But it does accomplish something interesting for us spectators; we get to see a fleet of the best sailors ever assembled for a sport boat regatta.  And we get to watch an old friend and one of the first Anarchists on the cusp of winning his first-ever Worlds.   You can sort-of follow along too; the penultimate day of racing starts now, and you can follow along on the  Audi Melges 20 Facebook Page. 
Meredith Block photo.
December 13th, 2013 by admin
Larger-than-life Floridian Dennis "Buck" Gillette was a staple in SORC's illustrious history, and a major cheerleader for the new and successful SORC that's come to prominence over the past few years.  Buck loved mentoring kids on offshore races, and had about a trillion miles under his keel before falling off his boat and not coming out of the water at a LYC event at Ocean Reef on Sunday.  Here's a pic exactly the way Buck would have wanted it; enjoying a sail with Mimi at his side.  Our thoughts go out to everyone Buck has touched, and here's to hoping the next generation produces another one like him.  Here are the details about the memorial ceremony, and from the obit:  Buck will be greatly missed by his wife of 54 years, Mimi, his 102 year old father Delno, his children Rex (Karin) Gillette, Sarah (Tom) Fox, Rebecca (Marcio) Pancera and his grandchildren Jake, J.T., and Mack Fox, Max and Cole Gillette, and Tess and Siena Pancera. A Celebration of Life gathering will be held at Lauderdale Yacht Club from 2-4 PM 1725 SE 12th Street 33316. In lieu of flowers please send donations in Buck's name to a charity of your choice.   
Share condolences on Buck's Facebook Page.
December 11th, 2013 by admin
Melges 32 World Champ and videographer extraordinaire Petey Crawford checks in with this report from Fort Lauderdale and the entry-challenged US Melges 32 fleet.  It's good to see that there's still some humor and fun in a class that's been decimated by escalating costs and poor class management.
Fort Lauderdale's Melges 32 Gold Cup was the annual regatta that really launched the M32 Class.  Run for years out of a parking lot at the Bahia Mar with a decidedly relaxed and amateur attitude  and sailed in classic South Florida wave and trade winds, it was widely regarded as one of the annual calendar's most reliably good events.  And this year, it was cancelled for lack of interest.  Add that to the cancelled National Championship in Harbor Springs, and you have to scratch your head; what is going on with one of the world's few remaining Grand Prix fleets?  Was the NorthAm fleet just taking the year off after a pricy, tough 2012 Newport Worlds?  Or is something else going on?
Whatever the reason, I have a 'hard time' understanding why we weren't racing in classic Fort Lauderdale conditions.  Wait…I was actually racing in those conditions, but only because  2013 M32 World Champ Jason Carroll had earlier decided that, no matter what the class was doing, Team ARGO would be there to represent.
So, despite the Gold Cup cancellation, The 2013 Team ARGO "Dust Bowl" went off with A-Argo, B-Argo (pronounced BAR-GO), and the boys and girls of the Devos family's Delta.  We had our usual crew with the sole addition of Charlie Ogletree, who replaced a busy Cam Appleton (busy winning his 3rd straight RC-44 season championship).  The Bargo was another story, a motley bunch of past Argonauts: Chad Corning, Danny Pletsch, Julie Howe, Brian Fox, Clay Bischoff, John Baxter, and Patrick Mauro. With additional help from Sam "Rasheed" Rogers, and Charlie Smythe, this bunch came to play with a big attitude and a chip on their shoulders.  DELTA was its normal top notch crew, but with guest skipper and rock star amateur Brian Hill gladly stepping onto this top-notch program to drive the bus.  Rounding out the group was Anderson Reggio as PRO, Matt Knowles as the Match Racing Umpire, and El Grande, Dave and Buzz who served as the OTW support crew.
As would befit such an informal bunch, the format was simple: 2 days of racing, mixed up between match racing round robins and fleet racing, and all I have to say about the first day is 'dust bowl indeed'.  Even the 10 AM dock out was a bit aggressive considering our combined 'dustiness', and much of the crew of both ARGO boats were, let's say, wounded.  As we entered the box for the first match against BAR-GO, it became clear that Jason hadn't match raced much.  Charlie looked at Jase and said "perhaps we should have had this chat yesterday, or at least on the sail out."  A wave of laughter went across the deck as we picked up our first penalty for an early entry.  BAR-GO didn't need any more than that to smoke us in the first race, getting a big enough lead to add a drinking penalty to ARGO's score by completing their own spin before the finish.  Ouch.  BARGO clearly came to play,  and they easily beat Delta to sit on 2-0.  We knocked Delta down and got our first point, but next up was a two-lap fleet race — something we're quite good at — and we won that one.  Back to match racing, though things got sort of fuzzy, memory-wise, and I do vaguely remember getting better as the day wore on, dropping two drinking penalties on BAR-GO compared to the one we copped, and we led the day, followed by the B's and then the D's.  Penalties were exonerated on the dock promptly upon landing, and they didn't cancel out.  We won that battle, too.
A massive group dinner that night at Steak 954 got the ball rolling pretty good; Sam and the restaurant staff even granted me a fake birthday. Sorry to all of you that thought it was actually my birthday, but blame Sam, not me.
Day 2 dawned and somehow I think most everyone felt better than on day 1, we actually felt dusty as opposed to downright filthy. Same set up; match racing followed by fleet racing, after it was all said and done, it was a 3-way tie going into the final race, a fleet race to crown the first ever King of the Dust Bowl. Clearly Delta cheated by feeling better than we all did and easily schooled us to take the win, and the chip carrying BAR-GO got the best of us and took second, but hey we still got a podium spot! All jokes aside, Delta sailed great on the final day and deserved the Crown.
All in all, while it was a shame that nobody else came to play, we had an amazing, competitive, and very enjoyable weekend of racing in classic Lauderdale conditions: big waves, and big breeze.  We all really hope things are headed in the right direction for the M32 Class, with some changes coming down the pike including a scheduled 2014 Winter Circuit, Miami getting some traction, and summer in Newport.  It's one of the most exciting production raceboats ever built, and we're looking to show the world that the Melges 32 is still at the very top of the heap when it comes to great one-design action.
Petey Out.
November 28th, 2013 by admin
Videokid Sam Greenfield continues to bring a fresh look to the classic 'regatta report', and today's installment from the F-18 Championship of the Americas highlights the next generation of high-performance sailing talent coming from its incubator; the Sarasota Sailing Squadron youth sailing program.  Results after 12 races: The Dutch are crushing!  There are Kattack tracks here as well.
October 25th, 2013 by admin
The first-ever Melges 20 Worlds gets underway in just 3 months down in the Florida Keys.  36 are registered, 50+ are likely, with Samba Pa Ti, Mascalzone Junior, Bacio, and Stig the favorites.  Check out this little promo video and tell us again:  Will you be there?  If so, register!
September 4th, 2013 by admin
The Watertribe nutters have their biggest race this coming winter; it's the Ultimate Florida Challenge, and it only happens once every few years.  The UFC - 1200 miles of sailing, paddling, and portaging insanity around the Sunshine State – is no bullshit; it's as big a challenge as you'll find anywhere in sailing, it lasts for a full month, and it costs nearly $2500 to enter if you are a two-man crew.
As you'd expect from a race that requires starts and stops on all kinds of shorelines and goes through thin water, no water, big swamps, alligator alley, big water and, well, everything else on the huge course, the UFC requires a specialized ride and specialized thinking.  Thanks for the heads up from 'zerothehero', we get a look at this spider pig UFC work-in-progress; it's a one-off Flying Sidewalk with racks, cockpit drain, and we presume a host of other modifications to make the ancient beast competitive.
Check the thread for more info on this little beast, and head to Amazon if you want to check out a good read on the subject.
July 23rd, 2013 by admin