Posts Tagged 'Fiji'
Like Webb Chiles, SA's favorite war veteran/solo ocean racer/disaster magnet Ronnie Simpson does shit you never will, and he takes us along for a ride, just around the corner from Chiles, in Fiji.  Check out Ronnie's full story at his blog over here.  Photos are all Ronnie's.
Despite having racked up quite a few miles on fast offshore racing yachts, ocean sailing has never been quite as much of an adventure as it has been this season for me, cruising the wide Pacific on an engineless Cal 2-27 that I bought in Seattle for 4 grand. In yacht racing, when you set off on an offshore race, you generally have an idea of the outcome (to some reasonable degree): you'll sail hard with the boys (or girls, or solo), maybe blow up a kite or two and then you'll get to the club and get on the piss, regardless of your result. It's a good time.
When you set sail solo in a small engineless 4-knot shitbox to remote parts of the globe, without an organized event, the uncertainty and danger factor goes up just a tick, but it's a surprisingly good time. Cruising MONGO is the sailing equivalent of cooking meth: It's cheap, uniquely white trash, and highly addictive, and has the potential to leave me equally fucked in the end. Four months after dismasting near a lee shore on the island of Maui, i've slapped a new rig in MONGO and sailed 1-stop to Fiji, some 3,000 reaching miles away. Rocked up to paradise and moored out amongst the blue-water cruisers and mega yachts, it is Sailing Anarchy at it's finest.
Jokes aside, I take seamanship pretty seriously, and have made every effort to remain safe and self-sufficient during this voyage, which has now reached about 8,000 miles (having started in Seattle, WA). After a picture-perfect early-season passage from San Diego to the big island of Hawai'i and a windy passage to Maui, MONGO lost her rig while sailing out of Kahului Harbor, Maui on April 1 when a 5-month old lower shroud toggle failed. Anchoring in 50 feet of water on a lee shore, I was towed back into port by the Coast Guard an hour later sans rig, fortunate to still own a boat. I wrote a lengthy first-hand account of the ordeal in these very pages, and then the Ed pimped my plight on the Front Page and my PayPal account got hit up to the tune of $1,600 over the following two weeks. A sincere thank you to the SA community for helping me to continue my voyage.
With MONGO docked in a commercial harbor with no rig on Maui's windward side, I ended up finding a new mast on Maui's leeward side the very day after dismasting. 4 days after dropping the rig, the trades went light and with a boom-jury rig and borrowed outboard engine bracket and 4-horsepower short-shaft outboard, MONGO made the voyage over the top of Maui two-handed and with a cruising boat escort to Lahaina. With the boat on a mooring, I went to work for two months; working on the new mast, prepping the boat, freelancing as a sailing writer and helping with odd jobs in exchange for welding on the mast. In late May, I moved the boat into the harbor and myself and a hearty crew stepped my new turbo Morgan 27 rig using the rig of a 35-foot race boat. With a thoroughly prepped spar, all new rigging and hardware and a sprayed-on AwlGrip paint job, I managed to get going again for about $6,000. A bargain and one of my proudest sailing memories. On a larger boat, this would have been a game-ending dismasting for me. On the 27-footer, and thanks to the SA'ers, it was merely a speed bump. A local welder and sailor named Bob and the rest of the Lahaina sailing community taught me the meaning of 'aloha'. I would not have been sailing again so soon without the help of others. Thank you.
After shaking the boat down for 300 miles in Maui, Oahu and Kauai and 3 beer can races in Honolulu, I set off solo for American Samoa. After 9 days of windy easterly trades, the American nature preserve of Palmyra Atoll was 5 miles on the beam and it was mid-day, so I sailed towards the pass where I was met by the G-Men. After a Mexican standoff with Uncle Sam in the Northern Line Islands of the central Pacific, I was granted permission to anchor in the lagoon and work on my boat, but having not jumped through the hoops of an intense bureaucracy in Hawaii, I was not allowed to go ashore. Just like they did with firing rockets when I was in the Marines, the government somehow figured out how to make sailing to a remote central-pacific atoll totally un-cool. The silver lining was the 3/4 mile long, 50-meter wide dead-upwind coral reef pass that I had to negotiate before entering the deep-water, protected lagoon.  Another cheap hit of my meth.
In an ITCZ where I was becalmed for less than 8 hours total, MONGO sailed through the most intense squalls that i've ever witnessed, both during the night, at 8 North and 3 North latitudes. Bare ass naked with a safety harness on, I helmed MONGO through the constantly changing, still mostly easterly breeze, with a warm beer in hand and stereo pumping as I was treated to one of nature's most brilliant displays with intense wind, black clouds, an opening of the heavens and lightning strikes in every direction.
From 2 North to 5 South, MONGO sailed a close-reach to close-hauled course in 25 knots from the south-southeast and big seas, with multiple swells in the water. When the beating stopped, I found that we had sustained mast damage, which had not been there in Palmyra. In what was a stomach-in-your-throat, heart-beating-a-million-miles-per-hour discovery, I discovered two vertical cracks at the base of the mast and that the rig was now moving on the step. The damage occurred precisely in the middle of nowhere. Banding the rig with large hose clamps and sailing the boat more conservatively, I continued towards American Samoa. 200 miles out, I was expecting the breeze to go light and lift to an easterly beam reach. Instead, the wind died died while the barometer steadily declined before I met 15 knots out of the southwest which gradually shifted and built to a sustained 30-35 southeasterly for two days, with 40 knots for 8 hours. On a recently dismasted piece-of-shit boat with more rig damage and a low-grade gale blowing with Samoa upwind, it was clear that  I would not reach my destination. I cracked off and endured a stressful but exhilarating sail to Fiji in 25-30 knots almost the entire way.
MONGO is currently moored out in a surfing/ kite boarding mecca near the famed Cloud Break and conveniently has 4 surfboards and a kiteboard in the engine compartment. If I can manage to not get thumped off the reef too badly, it should be good fun.  And cheap.
Now to pull and repair the mast, Anarchy style, side-tied next to another boat on a mooring, to prepare for the next blue water crossing. I'm 'Straya bound next month with the hope of sailing in another Sydney- Hobart. Any Anarchists out there need experienced crew for Sydney- Hobart? I'm keen.  drop me a line at [email protected].
Bula from Fiji,
-Ronnie Simpson, s/v MONGO
August 13th, 2014 by admin
UPDATE: STATEMENT FROM J/BOATS:
"J/Boats have been in contact with the owner Andy Reid since the incident happened, in fact he will be in Newport soon on a scheduled trip already.  We're sorry to hear about the breakage and have already commenced our own internal review on the circumstances that may have led to the rudder post failure, working with our team of engineers, builders and materials specialists.  In the meantime, our condolences to the delivery crew and hope that all are well and in good health and spirits despite the circumstances."
We got news late last night that our most awesome Kiwi pal AJ Reid lost his new-last-year J/111 Django while on delivery back from Fiji.  You'll probably remember Django as the boat that won its first-ever race while handicapped by our own Mr. Clean aboard, and then went on to some great results in New Zealand and then last week's reported finish from the Fiji Race.  Here's a note we got from crew coordinator and Doyle NZ sailmaker Andy Pilcher late last night, and you can discuss the J/111 over in the thread:
For those that haven't heard, I'm sorry to announce that Django Racing has been abandoned about 300 miles North of Auckland, on her way home from Fiji.  At approx 11:00am NZ Time this morning, in winds averaging over 50 knots and seas over 5 meters, the rudder stock snapped between the two bearings, leaving the rudder swinging underneath the boat, trying to rip itself free.
The delivery crew sent out a request for assistance and set the liferaft up for immediate deployment, keeping in touch with Maritime Operations throughout the day via Satellite phone.  An Airforce P-3 Orion came by the boat to do a flyover, and fortunately,  NZ Navy Frigate Otago was in the region.  The Navy reached Django around 6 PM on Monday evening, when the crew made a hairy but successful transfer via lifeboat onto the Frigate.
We have spoken to the crew and they're safe and well, albeit very relieved and a bit shaken.   I suspect that the reality of the situation may not have set it yet for them.  Delivery skipper Ben Costello along with Bex Heilkema and Andrew Cooke  all responded exceptionally well, and did everything they could have done in the most seamanlike manner.   The boat was still floating when they transferred onto the frigate, and the rudder had not yet sheared off.  But with large cracks appearing around the area of the bottom bearings at the time of rescue and more gales and big seas forecast, we don't know how long she will last.
Otago is heading directly back to Auckland and we expect the crew to be safely back on land shortly.  That's all we know for now, we just wanted to let everyone know the facts as they currently stand.
Thanks for your thoughts and wishes,
Andy
July 8th, 2014 by admin
Our old pal Andy Pilcher from Doyle NZ checks in from aboard the J/111 Django after one of the most exciting ocean racing finishes of the year.  A great yarn from an excellent group; check out the Auckland-Fiji Race results over here. Photos from C Brad Davies/LiveSailDie Media.  Title appropriate to the best song the Beach Boys ever wrote.
Who remembers the 1995 Rugby World Cup Semi-Final between the All Blacks and England?
 The one where Jonah Lomu ran rampant right through the whole team and scored four tries, including that most memorable one where he bowled right over the top of Mike Catt?
  Keith Quinn, the veteran broadcaster with decades of experience, was so lost for words that all he could say – live on air – was "Jonah….. JONAH…..Oh!!!……Oh!!!!!"
Well, try saying this in your best Keith Quinn voice: "Django….. Squealer……. Oh!!!!……..Oh!!!!!!"
That's what we were looking at during the Auckland Fiji Race after almost 1400 miles and nearly a week of racing.  Two middleweights standing toe to toe, slugging it out, neither giving an inch.   In the White corner we have Django Racing, the younger, better looking of the two, dancing and jabbing, sticking and moving, trying to wear their opponent down.
 In the (toxic) Lime Green corner, the clever old veteran, gnarled by age and years of fighting, and looking, searching for the knockout blow.
The bout started off in a typically brutal manner, with both fighters taking a beating during the first four rounds (days). 
Eventually things calmed down a bit, and a searching, tactical battle was underway.  Django scored the first major points with a swift left hook, right across Squealer's nose, early in the fifth. 
They thought this could give them a decent advantage, but you don't get to be older and wiser without learning a few dirty tricks, and sure enough, the pugilists from Tauranga Bridge Marina eventually wore them down and scored a few back themselves. 

Deep into the sixth round, the fighters got up close and personal after fighting blind for most of the bout; after that, it was all on!
The teams stood right in each others faces, neither one wanting to let the other slip away and gain an advantage.  No one let up, with stamina and endurance being pushed to the absolute limit. Both teams pushing harder than they ever thought possible, somehow finding reserves of energy they didn't realize they had. 

Squealer used all their collective years of cunning to gain an advantage late in the seventh, and it looked like this would carry them to a famous victory. 
But Django wasn't giving up that easily, and with barely a minute to the final bell pulled their last move of the fight, launching a straight right across the face of Squealer, seemingly dropping them on their arse for the final time.
 Surely there was nothing left to give…but Squealer had other ideas.
They picked themselves up off the canvas and launched one final assault on the young pretenders. 
Django tried holding them off with a series of jabs, but Squealer countered with a brutal right hook just on the final bell. 

So who won? 
Well, it took a while for the ref's decision to come in and it was eventually announced over the public address system (also known as the VHF Radio) that Squealer had taken out the narrowest of points victories – beating Django by 10 seconds. 

Both fighters fell to the floor, exhausted, before picking themselves up one final time for an embrace that lasted well into the night.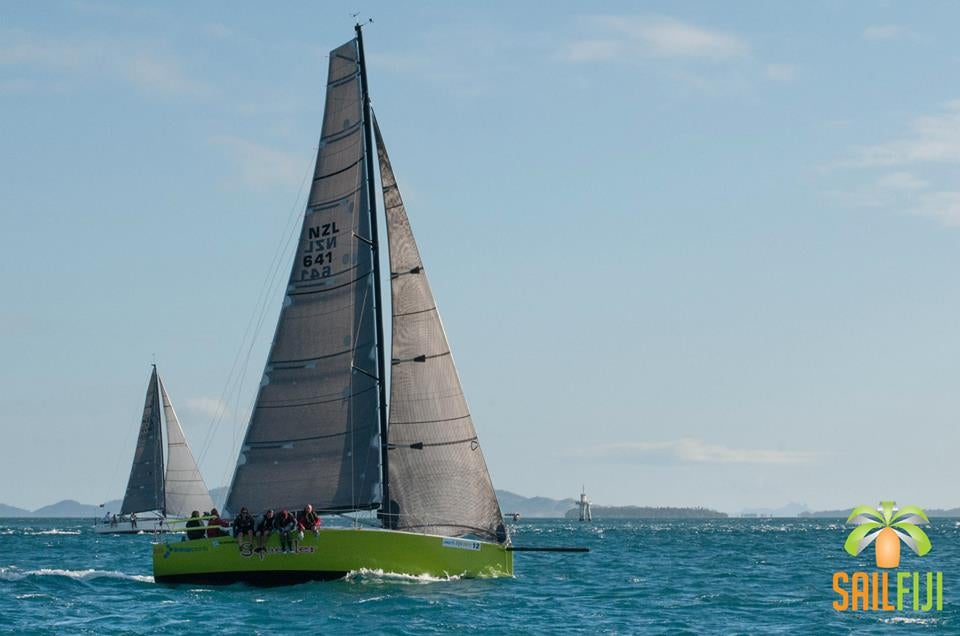 After a race that lasted just a few hours shy of a full weak and some 1370 NM, Squealer really did beat us over the line by 10 seconds. This photo was taken from the finish boat, showing their nose crossing the line, with us barely a boatlength behind. 
It was hard to comprehend at the time what we were involved in, but for all of us, this was the race of a lifetime, and it was only more poignant because of the battle raging between two boats full of good friends.  
I have known some of these guys for the best part of 20 years, and can genuinely say that we could not have hoped to be beaten by a better team.
For those that don't know, the DDF Syndicate that owns Squealer is a team of seven mates, most of whom are old school friends from Tauranga. This is the third boat they've owned, over a period of around 15 years, with their ultimate goal of competing in an offshore race.
That dream was cruelly cut down just 120 miles from the finish of last years race to Fiji, when the mast fell down as they were pushing hard for an overall win. 
So to see the joy on their faces at the finish line really did make everything worthwhile, and (almost) made us forget our awful first half of the race!
Well done guys, it was an absolute pleasure trying to knock the shit out of you, and we cannot wait to do it again.
Django Racing out.
June 25th, 2014 by admin