Posts Tagged 'figaro'
The battle at the back of the Transat AG2R fleet was almost better than at the front with Michel Desjoyeaux and Corentin Horeau on Bretagne- Credit Mutuel Performance just barely nipping 3-time Figaro Champ and 3-time Vendée Globe vet Jean Le Cam to the line for 10th place with a delta of just under 3 minutes after 24 days at sea! Fellow IMOCA star Kito de Pavant sailed into Gustavia less than 40 minutes later on Made in Midi, bringing this 12th AG2R well and fully to a close with just one boat left on course.
If you have the same tracker-following addiction that we do and you dig the Figaros, don't despair – the circuit has lined up an encore with the Solo Concarneau- Trophée Guy Cotten beginning today! Sailing a 370-mile course that encompasses much of the Solitaire du Figaro's third and fourth legs including passage of the notorious current-intensive Raz de Sein, Solo Concarneau is as tactical as it is important. With most of the big Figaro players including VG star Jérémie Beyou, two-time defending 'Solitaire' champ Yann Elies, the indomitable Isabelle Joscke and legendary Alain Gautier, the Figaro fleet continues to provide. Combine the cast of regulars with the ever-present contingent of living legends, an Artemis-supported British invasion and the average bloke with a dream, the Solo Concarneau guarantees to be a thriller from start to finish.
-Ronnie Simpson, Open Blue Horizon
May 1st, 2014 by admin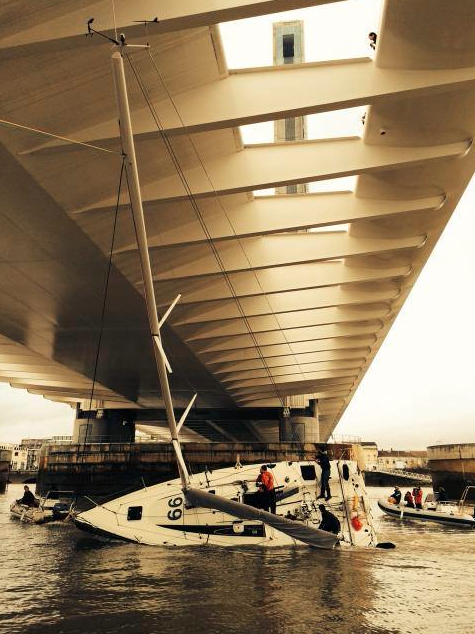 If you've got a big French season ahead of you, now's the time to get started.  Never mind that it's still winter, that half your country's flooded, or that a great big bridge is in the way; just get it going.  Clement Salzes shows us how it's done enroute to his 2014 Figaro campaign, and there's even a short but very pretty little video about it here.

February 17th, 2014 by admin