Posts Tagged 'figaro'
One of five sailor chicks (out of 35) entered in the all-important Solitaire Du Figaro, rigger, pro sailor, and former minista Alexia Barrier is one of a new breed of sailor who understands marketing, social media, and the web.  Above is Episode 1 of what we hope will be a long-running series, bringing her audience into the folds of an event that has remained mostly hidden from non-French eyes.  Alexia is a daily SA reader and an extremely cool Sailor Chick of Week, and she gives us a reason to give a shit who wins the Figaro.  Then again, with Justine Mettraux and Cecile Laguette on the line, we're gonna have a hard time deciding who to pull for.  If she keeps entertaining us with capsizes in other boats, we'll never get bored. Follow Alexia here on Twitter and here on Facebook.
Title thanks to solo women everywhere.
February 15th, 2017 by admin
With the Solitaire Du Figaro (née Course L'Aurore) getting close to it's half-centennial birthday, the brilliant illustrators at Chevalier Taglang have put together a beautiful pictorial history of the of the world's most prestigious solo coastal race.  The post itself (with thanks to  Donan Raven for the translation) includes line drawings and more on every winning Figaro design since the beginning way back in 1970, while above you'll find drawings of the three one-designs that have made up the competition since 1989.
Most top sailors we've spoken to have expressed reservations about the effectiveness of the brand new VPLP Figaro design that we've coined the "Figaro FF" (for Fishhook Foil), but you can't say it doesn't look like a goddamned weapon.  Here's an excerpt, and we encourage you to head over to Raven for the smart, comprehensive look at the history-making race.
Class rules often prevent more than they allow innovation. They are continuously created and adjusted to avoid rulebeaters that would obsolete the existing yachts in a racing fleet. Those yacht designers that would have established themselves in a given fleet but had least success in establishing their latest ideas are sometimes the first to limit the rise of new trends in the class where they have achieved popularity. History gives us plenty of ideas which seem new, whilst they are in fact more often the result of a greater freedom allowed by the class rules that have the fewest limitations.

The race was first named Course de l'Aurore, after the French newspaper for which the founders of the race, Jean-Michel Barrault and Jean-Louis Guillemard, worked. The guidelines of the competition were very simple and achieved immediate success in her first edition in 1970. It was an offshore race, raced in single-handed 9 metre yachts on elapsed time only. On August 6th of that year, twelve series production yachts took the start in Brest (France), and eight completed all three legs, with Joan de Kat winning the overall event on a Super Challenger, ahead of runner-up Michel Malinovsky.

From 1977 onwards, the race used either Half Ton cup yachts, series production yachts, or custom International Offshore Rule (IOR 21.7 raters) with an overall length of about 9 metres. Gilles Gahinet won the event on Rally, designed by New Zealander Ron Holland. In 1980, French newspaper Le Figaro became the title sponsor of the event, when Jean-Michel Barrault was a news correspondent for the company. That year, Gilles Gahinet won the race on Port de Pornic, his own design.   Young French yacht designers won all the races from from 1978 to 1990: one victory each for Jean Berret, Jean-Marie Finot, Gilles Gahinet and Jacques Fauroux, five victories for Michel Joubert and his partner Bernard Nivelt, and three victories for Daniel Andrieu. However, the sophistication of Half-Ton Cuppers had become a real problem, with team budgets skyrocketing and the IOR rule coming to an end.

For the 1990 event, the race organisers submitted a call for tenders to shipyards to enter a design competition: the race would now be a strict one-design. The winners of the competition, French shipyard Bénéteau, the World's largest builder of sailing yachts, made two proposals: The overall design of Jean-Marie Finot, which included water ballast tanks, was retained, whilst the jury gave special mention to Jean Berret for the elegance of his design's sail plan. Subsequently the jury asked both designers to team up to design the future Figaro Solo.
January 30th, 2017 by admin
Offshore obsessive and solo Figarist Henry Bomby turned a little help into a berth delivering the MOD-70 Phaedo (ex-Foncia) from the Canaries to Antigua, and he wrote one of his customarily good reports on the trip.  Follow Henry over here.
Sitting here in Antigua airport waiting for my flight back to London, life is good having just blasted across the Atlantic in just under 9 and a half days on board the new Phaedo3 MOD 70, one of the fastest sailing boats in the world.
I originally joined the team just for the day to help take their race sails over to Portsmouth for painting. When I got back to France however my name was next to a bunch of jobs on the job list! I agreed to help out for the week as I heard talk they were going sailing on the Friday, and I was hoping I could tag along to grind for the afternoon if I was still around!
Tag along I managed to do and the next day I was asked if I fancied joining them for the trip across the Atlantic. I was super excited but hesitant, it would mean missing a weeks training in the Figaro and also (and much more importantly of course) mean missing a long planned Valentines weekend away with my girlfriend.. Fortunately coaches and Soph agreed it was a fantastic opportunity, and so it was sorted!
Arriving in Antigua

We were to be five on board. Skipper Mr Brian 'easy cool, cool easy' Thompson, the most laid back man on the planet, Sam Goodchild fellow Figarist currently enjoying a side project while on standby with Mapfre. Romain Attanasio, another Figarist (and Volvo 'WAG'!), and Warren Fitzgerald (the boat captain fresh off the Hydroptère project) and me. We would be two watches, the roast beefs and the frogs, with Brian floating in between.
The first night we got straight into it and ripped across the Bay of Biscay at over 22kts. Rounding Cape Finistere within 15 hours. The boat as I said, is pretty remarkable…Shortly after leaving the sun went down, and we were straight into the watch system, Sam and I alone on deck of this 70ft machine which quite frankly scared the crap out of us in 25kts of breeze! We joked that Brian clearly had way more confidence in us than we had in ourselves as two young Figaro guys tore across Biscay in the pitch black. I broke my own personal speed record during our first watch, 30.7kts, with two reefs in the main and the J2 up, certainly 'not pushing' hard in anyway. Apparently?! The whole watch all I could think of was Brian's last words before he went down for a nap 'escape is down, escape is down, escape is down..'. On multihull a broach is a capsize, and you always need to know where your escape route is, 125 TWA is down , 95 TWA is up, as a very general rule. Anywhere in between is just terrifying!
After two days motoring South, we passed Spain and Portugal and were soon into the trades, 16-23kts and downwind VMG sailing all the way to Antigua. This thing punches out 500nm days like it's nothing. At the beginning Brian was telling me how on Bank Populaire V during their Jules Verne record attempt, 30kts by the end felt slow, and how in a weeks time, 20kts would feel pedestrian to me too. I couldn't believe him, but it was true. You do get used to the incredible pace these machines chuck out, and it's hugely addictive; you just want more and more.
It's worth noting that the MOD70 is probably the 7th 'ish' fastest boat in the world, and it would absolutely eat up the latest high-tech new 100ft monohull on any angle of sail and in any wind speed.  It struck me massively on this trip: why aren't trimarans more common, especially for offshore racing? I for one, am completely sold on them! Tthey are faster, and definitely more dangerous which suits many offshore events which label themselves 'extreme', meaning they really do need the very best sailors in the world to sail them. They are also dryer, comfier and have the potential for foiling which is definitely the way professional sailing at least, is going. In fact Gitana already has t-foil rudders fitted to their MOD 70 and is currently in the shed to develop full flight for this season.
Maybe now with the Americas Cup in multihulls, the tide is turning, and by the time I am 40 years old, I fully expect the boat taking on the Jules Verne record to be a fully foiling machine, so learning to sail these machines at any possibility is vital experience. I am unbelievably thankful to Brian and the guys for allowing me to jump on board with them. My eyes have officially been opened and dreams now become even bigger! Exciting times ahead in sailing that's for sure.
Aerial photo by Team Phaedo/Rachel & Richard
March 3rd, 2015 by admin
The battle at the back of the Transat AG2R fleet was almost better than at the front with Michel Desjoyeaux and Corentin Horeau on Bretagne- Credit Mutuel Performance just barely nipping 3-time Figaro Champ and 3-time Vendée Globe vet Jean Le Cam to the line for 10th place with a delta of just under 3 minutes after 24 days at sea! Fellow IMOCA star Kito de Pavant sailed into Gustavia less than 40 minutes later on Made in Midi, bringing this 12th AG2R well and fully to a close with just one boat left on course.
If you have the same tracker-following addiction that we do and you dig the Figaros, don't despair – the circuit has lined up an encore with the Solo Concarneau- Trophée Guy Cotten beginning today! Sailing a 370-mile course that encompasses much of the Solitaire du Figaro's third and fourth legs including passage of the notorious current-intensive Raz de Sein, Solo Concarneau is as tactical as it is important. With most of the big Figaro players including VG star Jérémie Beyou, two-time defending 'Solitaire' champ Yann Elies, the indomitable Isabelle Joscke and legendary Alain Gautier, the Figaro fleet continues to provide. Combine the cast of regulars with the ever-present contingent of living legends, an Artemis-supported British invasion and the average bloke with a dream, the Solo Concarneau guarantees to be a thriller from start to finish.
-Ronnie Simpson, Open Blue Horizon
May 1st, 2014 by admin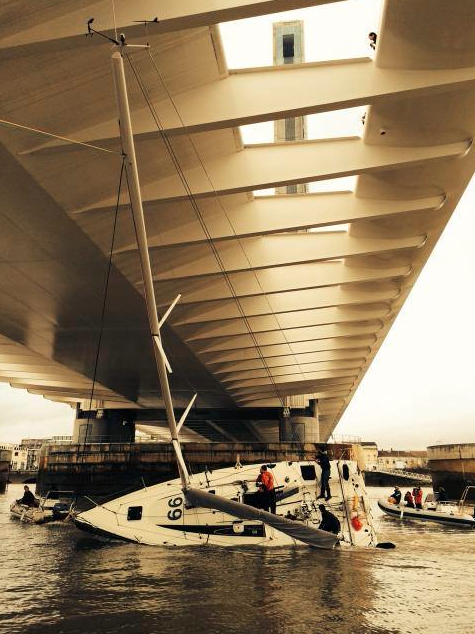 If you've got a big French season ahead of you, now's the time to get started.  Never mind that it's still winter, that half your country's flooded, or that a great big bridge is in the way; just get it going.  Clement Salzes shows us how it's done enroute to his 2014 Figaro campaign, and there's even a short but very pretty little video about it here.

February 17th, 2014 by admin