Posts Tagged 'F-18'
After watching half a dozen aborted attempts to restart the infamous Worrell 1000 over the past 15 years (including our extensive work helping Mike Worrell during his final attempt at redemption before his death), we might just have a bit of PTSD when it comes to another possible relaunch of the race that best reflects American sailing's heyday. Still, we're happy to see that Organizers behind the May 2019 running of the "Worrell 1000 Reunion Race" have at least gotten the ball rolling with a website, Facebook Page, and now Sailing Instructions with more announcements slated for July 1st.
We would, however, counsel you against reserving your hotel rooms just yet.  We're told the same Organizers cancelled the much smaller, easier to run Florida 300 last year, and there just doesn't seem to be much commitment or resources behind the current effort.  Attempting to cash in on the success of the Race2Alaska's popular nickname, organizers are calling their race the W1KRR, which is derivative and stupid.  Their new logo looks like a 4-year old drew it on a napkin.  The randomly capitalized SIs call for two classes of boat that are barely sailed in the US; the box rule F18 and the dinosaur-rare non-foiling version of the NACRA F20 Carbon.
Of course the Organizers could be simply generating noise to gauge whether there's really enough interest in the race, which isn't a great sign, but there's certainly plenty of interest in the race that still generated one of the most widely read and well-written news stories ever written about sailing in the US, and we suggest you get involved in the thread if you want to be part of this thing.  We certainly do!
May 15th, 2018 by admin
Despite plenty of organizational touting of 'a new world record' fleet of nearly 200 F-18s for this week's Kiel Worlds, the actual fleet fell far short, but you've gotta love the strength of a fleet that's disappointed by 'just' 167 entries.
Meanwhile, it's a real battle royale at the front between 7 different nations, but after 6 races, it's the Spanish-flagged father/son team of Mitch and Ruben Booth leading reigning World Champ Gunnar Larsen on the tiebreak.  The Booths are on a fresh-from-the-factory Wildcat; if you're looking for a fast fleet that allows out-of-the-box boats and decade-old designs to race competitively, this is the one.
There's live tracking here, decent but low-res photos over on the event Facebook page, and some truly awful videos here.  Find our title inspiration over here, and if you have daddy issues, bring a tissue.
July 16th, 2015 by admin
Vendee Globe winner Francois Gabart keeps going smaller as he prepares to go huge; the French IMOCA skipper is now racing F-18s and other little multihulls in preparation for the arrival of the first all-new, record-breaking sized maxi multihull to hit the water in years – the 100′ Macif.  In the meantime, Fran is enjoying some time on his Flying Phantom – the newest and most interesting one-design to hit the market in ages.  We've been telling you about this thing for almost a year now, and we promised that it would be easy, fast, and might very well change the landscape for one-design cat sailing.  With dozens already ordered (despite the steep price), and many going to prospective AC teams, we think this thing will probably stick, and early adopters might even get a good deal…
Thanks to Nicolas and the Flying Phantom buys for getting an exclusive, subtitled version of this out to us for the Anarchists first, with credit to Husband for the soundtrack and Wanaii Films for the production.
January 20th, 2014 by admin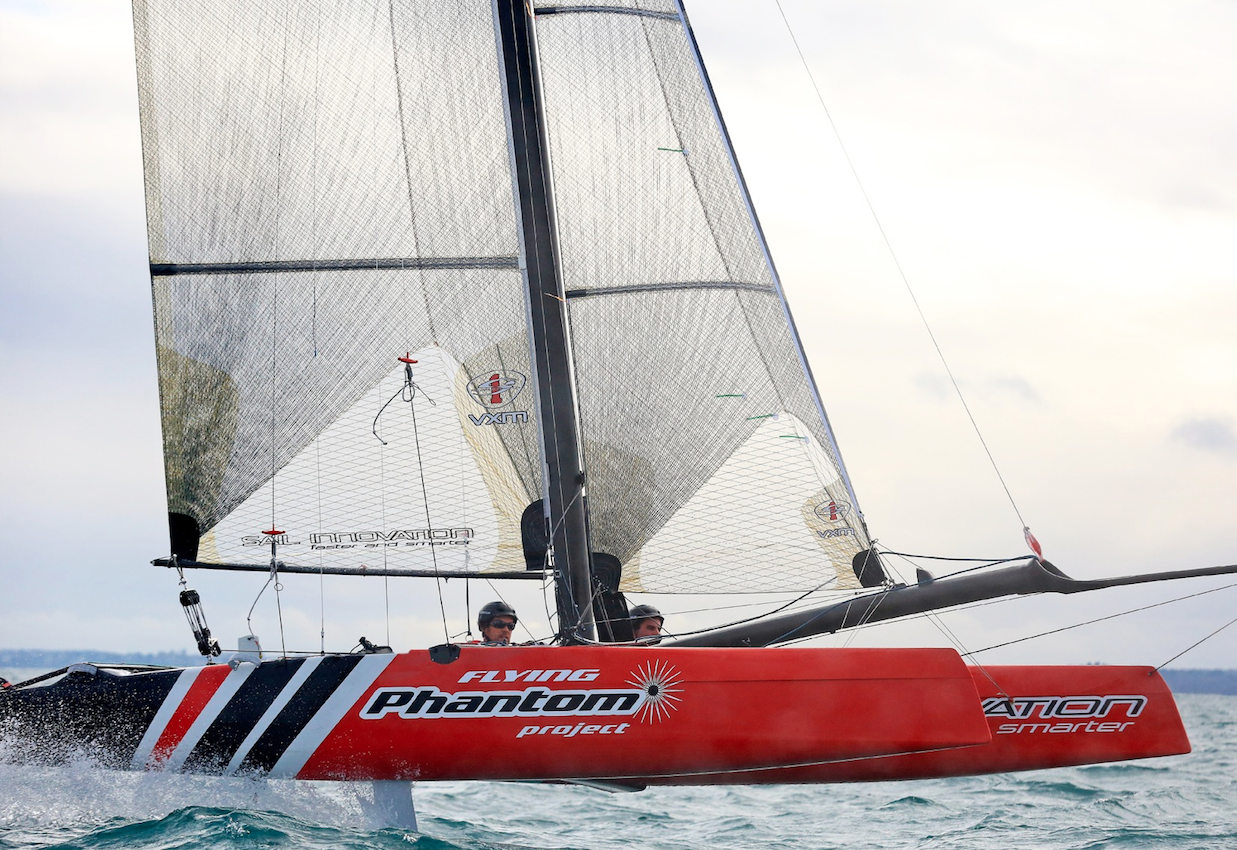 Our old pal Alex Udin officially launches his Martin Fischer-designed, Franck Cammas-tested Flying Phantom at next week's Paris Boat Show; will this sexy, well turned-out 18-footer finally open the floodgates on production foilers for the masses?  It very well might be, especially if, as we've been told, the Phantom is exceptionally stable and easy to fly.  We're also told it won't break the bank,  you can get it in about 17,000 different colors and patterns, and they've got piles of orders from everyone from old mothies to America's Cup teams.
Have a peak at this excellent official promo video out yesterday, and for a more in-depth discussion on the boat and its creator, here's a longer chat between Alex and Mr. Clean last month in England.
November 25th, 2013 by admin
This is how a regatta video is done. Nice work from Easy Ride at the St. Barth Cata Cup.  Here's the report from the US F-18 fleet after day one:
The USF18 fleet has a strong group racing in the tropical paradise of St. Barths this week for the annual Catacup.  With a competitive international fleet and a mixture of distance and buoy racing, the Catacup is a bucket list regatta for many in the F18 world.  Competing from the United States and Canada are:
Jessica Teunis and Sam Carter
Jacopo Bracco and Tripp Burd
Greg Retkowski and Cherie Sogsti
Blair Toland and Maxime Loiselle
Todd Riccardi and Dalton Tebo
Luke Ramsay and John Casey
Annie Gardner and Eric Witte
Anthony Boueilh and Patrick LaRoche
Day one report from Blair Toland on Team Eagle and Moose:
One race yesterday in 12-14 knots, cloudy skies. Local and US racers had some ups and downs, Tripp and Jacopo broke a rudder and flipped, still finished 32 or so, but were in 4th at the time of the damage. Todd started out deep, ended up 13th after clawing his way back. We got a great start, rounded top mark in 10th. Lost a few boats on some downwinds, ended up 17th. Sam and Jess had the worst day of all, got hit on a port/starboard cross, major damage to port hull, definitely out for today. Today's race is sunny 12-14 again and two, maybe even three races! Keep ya posted! Team Eagle & Moose reporting from Paradise 
Day one report from Tripp Burd:
Trouble in paradise during the first day of racing for the US teams.  One race sailed today in maybe 12-18, with some good ground swell to play with.  Sam and Jess got clipped in a port/starboard duck gone wrong, and may be out for a day while undergoing repairs.  Tony went for a swim after the start when his trap line let go.  Enrique broke a board and retired after two marks.  The SF guys had a rough one, though not sure of the cause.  The Ronstan rocket was having a good one for most of the race, until a flip when a rudder folded, towards the bottom of a rippin' downwind.  Dropped from the top 5 to somewhere near the back…

Plenty of racing left to go, though.  Hope everyone can patch up and get out there again tomorrow.
November 21st, 2013 by admin
We love beach cats because they're quick, and we love them because beach cat girls get naked when they change into their wetsuits.  But we also love them because of the crowd they attract, and regardless of where you go for an F-18 regatta, you're bound to have a hell of a time.  SA video kid Sam Greenfield finds a great route into that fun, and his final highlight video from the F-18 Championship of the Americas, last week in Sarasota, is a great look into the beach cat culture.  Congrats to Tripp and Mike on a big win!
October 29th, 2013 by admin
As temperature plummet and ski areas begin to open their lifts, we bring you some interesting movies from the still-beating heart of the sport.
Project USA
We've made no excuses about our enthusiasm for offshore racer Ryan Breymaier, who may just be America's only real hope at a major US sponsor and top US result in the Vendee Globe.  The Annapolis native became the first American to break into the French offshore scene in memory, working as rigger and shore crew during Roland Jourdain's Veolia Open 60 and MOD campaigns, and taking the helm of the generations-old Neutrogena to finish 5th in the non-stop(ish) Barcelona World Race.
Thanks largely to Larry Ellison, America is more attuned right now to sailboat racing now than it has been since 1987.  Between the wonderful AC72 final, a recent HBO Sports documentary on Alex Thomson, and the soon-t0-be-released Robert Redford singlehanded blockbuster "All is Lost", if there has ever been a time for a US-based racer to push for a major sponsor, the time is now.
Fortunately the good folks at 5West know all that — that's the Sir Keith Mills-backed agency that handles Thomson's Open 60 management and the Hugo Boss sponsorship contract — and they're throwing their hat in with Breymaier.  5West hopes to use their contacts and experience to land him a budget for next year's Barcelona and 2016's Vendee Globe, hopefully waking up the largely untapped American market to IMOCA style racing.  Anyone who cares about offshore racing and the US should head over to the Project USA site to find out more.  And if you'd like to see an American effort in the next big race and your company (or an affiliate) is looking for some innovative sports/green marketing, get in touch with them right away!
Americans of the Americas
With just one day left of the first-ever F-18 Championship of the Americas, the Dutch are hanging on to a slim lead over longtime SA'ers Tripp Burd and Mike Easton from New England, who are wicked close to the front as the breeze picks up for Saturday's racing.  Here's Friday's highlight skylight reel from Sam Greenfield.
American Gold
America's continued waning on the world sailing stage is certainly depressing to those who remember the dominating days of the star-spangled banner.  Embarrassing performances at the past few Olympics, yet another Volvo failure, sparse appearances on sailing's biggest podiums, and the sole US players at the recent America's Cup consisting of a tactician who got the flick, a helmsman long since booted, a CEO who disappeared in disgrace, and a lone US grinder who drank from the Cup.
But all is not lost, and America can now claim not only to have the world's best sailing website, some of the world's best sailing videographers, and even a recent Moth World Champ: We've also got the world's best match racer!
We're speaking of course of Taylor Canfield and his USone team.  They didn't repeat as Bermuda Gold Cup champions this year, but they did exactly what they needed to do in order to cement their lead at the top of the WMRT and the ISAF rankings: Crush Ian Williams.  They did it, and here's the video that proves it; produced, shot, and edited by Matt Knighton.
50 Shades Of Greenpeace
By now everyone knows what scumbags the folks at Gazprom are, and while no one thinks that morally-challenged ISAF is going to do anything about the knife-and-bottle-wielding thug and Esimit Europa shore crew who attacked peaceful Greenpeace protesters, it seems international outcry over the Arctic Sunrise arrests has finally accomplished something. Russia announced the imprisoned activists (along with two journalists) would now face charges of 'Hooliganism' instead of the Piracy they previously were threatened with after staging a sit-in on an Arctic drilling rig; while Piracy carries a 15-year sentence, "Hooliganism" presumably carries a different charge – that is, if it is indeed a crime and not just something made up by former KGB officials to suit their needs for the moment.  It's not much of a stretch – time and again, Russian officials show they care about laws only when it suits them – as evidenced last week when they announced they'd boycott next week's hearing into the arrests called by the UN-chartered International Tribunal for the Law of the Sea; the Russians said they 'not intend to take part in the tribunal's hearings'.  How convenient.  Regardless of the outcome of this gas profit-fueled shitshow, Gazprom ain't leaving sailing anytime soon.  Sponsorship hunters: Be careful what you wish for and even more careful who you are linked to.
The silver lining?  All this excitement gives us a nice excuse to show you a gorgeous video of Greenpeace's new sailboat; the one we first  reported on back in 2010. Movie produced by Heath Hanson.
October 26th, 2013 by admin
Videokid Sam Greenfield continues to bring a fresh look to the classic 'regatta report', and today's installment from the F-18 Championship of the Americas highlights the next generation of high-performance sailing talent coming from its incubator; the Sarasota Sailing Squadron youth sailing program.  Results after 12 races: The Dutch are crushing!  There are Kattack tracks here as well.
October 25th, 2013 by admin