Posts Tagged 'Everglades Challenge'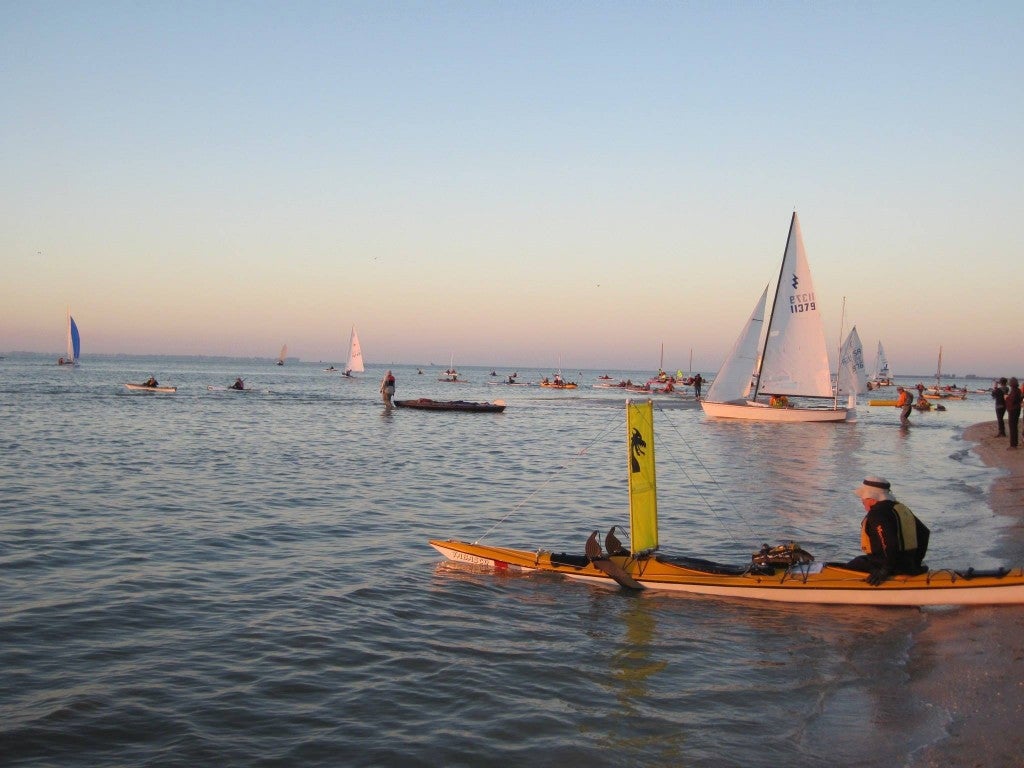 SA'er "zerothehero" filed a number of reports from the most unique race in all of sailing; the paddling, sailing, portaging, and pushing Watertribe Everglades Challenge.  You can see all his reports as well as a pile of other info and video in the thread, and below is a great excerpt.  Photo from another SA'er – Tom Ray.
So dinner in the boat was a bad idea for me.
After clearing the last of the mangroves we settled in on port, and after about an hour, Per got to dinner.  Earlier, my cafe con leche had spilled in the bilge and I had only gotten a few sips.  Oh, well.  The dinner had also fallen in the bilge, but I thought I had saved the top one.  So after Per ate, I opened my container to find it full of water!  One problem with that: Per had been peeing in the bailer which had a crack in it so who knows what was in that water.  Not eating that!
Per analyzes the numbers and says that, under current conditions, we will need to head out 25 miles to lay the cape.  I answer that there's no way I am sailing 25 miles off shore in a Lightning at night.  We analyze the conditions constantly and come up with a theory; the wind will back more and more and we may not have to tack at all.  The wind was strong and we were going to weather, making sleep very difficult.  We both managed a little, but really not enough.  I developed a headache and wasn't feeling great, I was starting to not take care of myself properly and this would become an issue later.
That night I had vivid hallucinations: The stars were traced into made-up constellations.  It was very cool but unnerving at the same time.  I kept thinking I could see shore even though I knew we were well past where we could see it.  There was a phantom palm tree following me just off to port, and we were 11 miles off the Everglades.  While sailing along in the dark we suddenly stopped, and a really weird feeling came over me.  I clicked on my head lamp and looked at the water, we were in the middle of a huge boil of water upwelling from below.  The water was full of sand and grit and had a strange color to it.  Spooky.  We pulled up the centerboard and rudder and drifted off the boil, finally free of its grip.  All-in-all, an unsettling experience in a night of them.  Even as far offshore as we were, the water depths are only around 20 feet or so and there are several currents converging out there.
Our theory on the wind played out and we kept getting lifted.  A little before dawn, we passed East Cape close enough to hear the birds.  As dawn broke, SOS and Poptarp came screaming out of Checkpoint 3 in their tri, Mosquito.  They gybed, and passed us to close to leeward.  Great looking boat.  In our 2 second conversation, we learned they were going outside, the long way around.  Not so painful in a boat that can do 20+ knots!  We continued tacking up into CP3 and a while later we saw Sambasailor leaving the CP.  This put the fire in Per.  We analyzed their course and figured they too were going south.  Per decides we are going to strike out across the bay, it's our only option if we want to try and beat Sambasailor.  We get into the checkpoint, grab some food and caffeine, use the facilities and leave.  Total time in CP3, about 20 minutes.  Up next, the exciting finish…Read on.
March 11th, 2014 by admin
Longtime Anarchist Ned Goss has ticked off most of the boxes a sailor could.  The former owner of Ocean Sailing Academy in Charleston has done his stint in the 49er, the Fireball, and on the pro circuit as a top Melges 24 racer.  Ned now is part of the powerhouse College of Charleston Sailing Team staff, but he's always looking for another challenge.  And now, he's got one as part of the Everglades Challenge – yet another offbeat regatta that's been showing the rest of the world how to grow and thrive all through the recent lean years.  More from Ned:
I have often wondered what's to become of the sailor that has experienced and enjoyed sailing and racing at almost every level, but who feels the joy and excitement ebbing with each regatta.  That's where I found myself not long ago, and when the paid campaigns are gone, what's left to do?  My first move was to buy a Mach 2 Moth, and flying over the water here in Charleston is certainly one way to add fun back to the equation (and, by the way, the BEST thing I have ever bought).  But I was still missing something, and I figured out that it was the teamwork element that comes from sailing with your friends.  So in my own style, I jumped into something others might think crazy: a 300 mile race on a heavily modified dinghy with a partner just as crazy as me.
Here's how it went down:  Last year, my friend Scott Rice called with a whacky idea.  He wanted to take a C-scow and sail it from Tampa to Key Largo, and mentioned the Evergrades Challenge, which Anarchy readers will undoubtedly know all about. I didn't know much, but Scott explained all about the unique folks who take kayaks, paddle boards, catamarans and small sailing dinghies down the coast for the adventure of a lifetime.  I'm pretty sure I was in the middle of teaching a class or fixing a boat at the C of C, so I shuffled him off the phone with a quick, "Sure!"
As I started to research the race and the different boats that had participated in the past, I realized that I had no idea what I'd agreed to, and I began to learn that this 'flock' of EC'ers was an intensely interesting group.  They have to be in order to meet on the beach at Fort Desoto Park and migrate en masses in a race/camping trip all the way down to Bay Cove Motel in Key Largo.  The spate of online videos and articles and forum discussions about the EC hooked me, hard.
I called Scott back to make sure he was for real about this, and he told me he'd already traded his share in an E-Scow for an old Johnson C-Scow, and we started talking modifications.  Some folks sailing down the coast of Florida in an old scow might talk about making it safer and stronger – we talked about how to get more sail area on a boat that is already overpowered in most conditions.  I had a 49er bowsprit and a lot of ideas; Scott had still more ideas and the connections to get it underway.  "Chupacabra"(Scot) and "FlysOnWater"(Ned) were born; the nemesis of the now-famous 'FrankenScot".  The overall monohull record was set by "danceswithsandybottom" and "SOS" – a/k/a Paul Stewart and Alan Stewart. Our goal is to 1) finish, and 2) take that record from them.
Our steed, as mentioned above, is a  modified C-scow.  Our mods, to date:
-Splashguards behind the boom-vang track
-2 more self-bailers behind the leeboards
-Stock mainsail, Code Zero, stock 49er spinnaker, and a symmetric kite from an Etchells.
-11 foot carbon-fiber sculling oars and rowing seat
-7" GPS chart plotter with depth so it can tell us when we are aground
-Running backstays and trapeze
We couldn't make the starting line much less the finish without a few great sponsors:  Military contractor Sesolinc for help with acquiring our curler and new Code Zero, Super Sailmakers and Peter Grim for building our sail and adding reef points and hardware to the big C main, and Barr Batzer for our awesome graphics.
The race starts on March 1.  Follow it here and there is a thread on Sailing Anarchy to get you fired up.
February 21st, 2014 by admin
The Watertribe nutters have their biggest race this coming winter; it's the Ultimate Florida Challenge, and it only happens once every few years.  The UFC - 1200 miles of sailing, paddling, and portaging insanity around the Sunshine State – is no bullshit; it's as big a challenge as you'll find anywhere in sailing, it lasts for a full month, and it costs nearly $2500 to enter if you are a two-man crew.
As you'd expect from a race that requires starts and stops on all kinds of shorelines and goes through thin water, no water, big swamps, alligator alley, big water and, well, everything else on the huge course, the UFC requires a specialized ride and specialized thinking.  Thanks for the heads up from 'zerothehero', we get a look at this spider pig UFC work-in-progress; it's a one-off Flying Sidewalk with racks, cockpit drain, and we presume a host of other modifications to make the ancient beast competitive.
Check the thread for more info on this little beast, and head to Amazon if you want to check out a good read on the subject.
July 23rd, 2013 by admin