Posts Tagged 'Everglades Challenge'
Linda "Gadget Girl" Wright has shown her adventuring and sailing chops by becoming the first woman to finish the quirky but beastly Everglades Challenge on a Weta trimaran.  Nice work, Linda, and apologies to fans of the SCOTW awards for slacking these past few months.  Got a female sailor you find inspiring?  Let us know.
More Everglades Challenge news and info here.
March 14th, 2016 by admin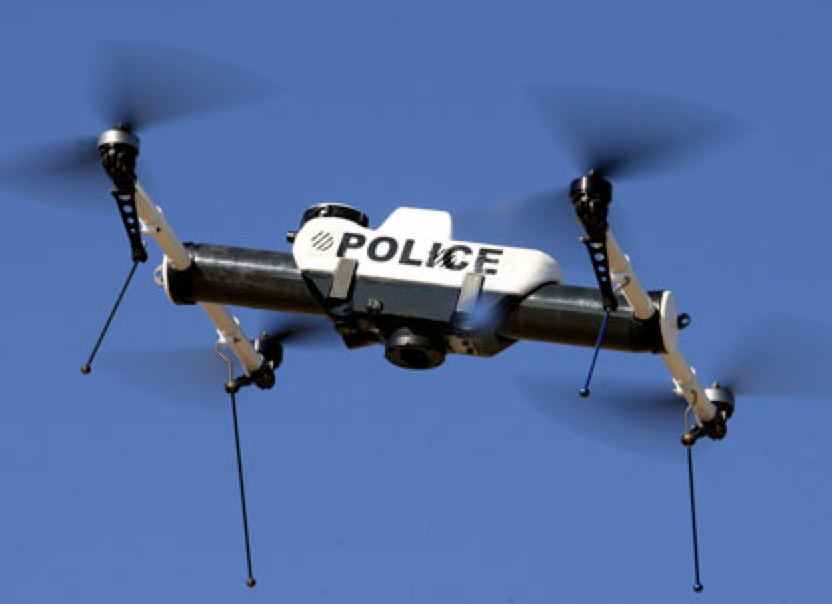 The Everglades Challenge is the gift that keeps on giving, at least if you like the esoteric fields of regatta management, event media, and government overreach.  We supported the USCG's termination of an event that failed to get a required event permit, but now another governmental body – the FAA – is shoving their face into the mix.  According to Motherboard, the dude who shot the Everglades Challenge beach start video with a DJIA Phantom 2 drone received a nastygram from the FAA last week, claiming that his posting of the video to Youtube made him a Commercial Operator under the law.  Apparently, the fact that Youtube puts ads under videos makes Jason Hanes' obviously hobbyist footage makes him some kind of business pilot.
This is the first time we've heard of an enthusiast UAV'er getting dinged by the FAA (as opposed to people actually advertising their drone business), but if one overzealous official can do it, a hundred can.  We love drone footage and it's got major utility for all of us – teams, coaches, the media, marketeers – even RC and juries, and it needs to be regulated in the most sensible, least restrictive manner.  And the line between hobbyists, artists, and commercial pilots is not nearly as bright (or as far-reaching) as Tampa FAA Aviation Inspector Michael Singleton thinks it is.
Sailing Anarchy encourages US Sailing (or in their absence, individual regatta organizers) to come up with a short, sensible framework for UAV operation at regattas; something that should include registration requirements for each drone pilot (and permanent identification marks on each drone), access and safety rules that differentiate between official media-operated drones, outside media-operated drones, and team/coach-operated drones, serious consequences for interference with racing or boat impacts, and strict proximity and altitude limits.  Maybe if we show we've got our shit together, we can help persuade the folks at the FAA to include the maritime sports community as they struggle to come up with rules that make sense for a wide variety of circumstances in a super-rapidly growing field.
You can read the letter here and we encourage you to check out the full article.
March 13th, 2015 by admin
We've watched from afar as the Watertribe Everglades Challenge went from a wacky little raid to the biggest race of its kind anywhere, and we've been massively impressed to see organizer and founder Steve "Chief" Isaac negotiate the fine line between staying off the radar and creating an exciting, interesting format that allows kayaks and canoes to compete with multihull and monohull dinghies.  Isaac made one mistake though – he tried to stay 'pirate' when it was time to get along with The Man, and the result is a pissed off Coast Guard, pissed off competitors, and an event that's now been thrust into the spotlight for all the wrong reasons.  Chief has responded in a pretty solid way (and you can see another movie of the event here) but the conversation rages on (with tons of reports, links, and photos to tell the story).

Longtime SA friends Ron White and Mike McGarry were very much on pace to win this Everglades Challenge until it all went sideways – here's Ron's story.  Following it is his analysis of the race conditions and organization, and remember: Ron would never tell you so, but he's one of the key figures behind the undisputed success of the largest freshwater distance race in the world – the Chicago Mackinac.
As a competitor, I can tell you that I am aggravated almost beyond words.  Since last year's event we have spent an entire year prepping, modifying, and testing our entry, including two training trips to FL.  Just the process of adding a masthead screecher and rowing-seat rig was mind boggling, expensive and fun, but make no mistake: We spent the time and the money to in search of a first-to-finish victory, and we sure wouldn't have done it just to mess around with my Tornado "for fun".
Mike and I have a track record of approaching the kind of stuff methodically and professionally.  We can't afford to screw up since we are both type 1 diabetics.  Not everybody has that dynamic, but for this race, there was nothing surprising or unexpected about the forecast at all.  We knew there would be a flood tide opposing 15ish knots of wind on Tampa bay.  It was a PERFECT day to be on the water, we crushed it at the start and getting out of the Bay, and then we flew down the coast to Stump, arriving at Checkpoint 1 (CP1) 3 minutes behind the Howe brothers at 12:12.  Game on!!!
When we arrived at CP1 expecting to do a 15 minute turn around, we were informed that we had to stay put, and the reasons given were "sketchy" at best.  We then learned that the USCG had "terminated" the race by reading news reports online (more on this later).  We remained at CP1 for about 6 hours with a handful of other sailing competitors, on basis that Chief was trying to get the USCG to allow us to resume racing.
The group at CP1 discussed the situation and several decided to continue down the course to Key Largo, not racing, but a cruise.  The Howes (Loudmouth and SailsFast) decided to do the entire course including checkpoints, for the sake of training.  Mike and I decided to skip CP2 (No reason to battle the 10,000 islands if not racing and we've been there, done that) and proceed directly to Flamingo.  we left CP1 at about 6:15 PM on Saturday and sailed for about 18 hours to Flamingo.  It was a spectacular and physically grueling sail.  When God invented the beach cat it probably wasn't intended to race overnight, offshore in 15 to 25 kts of wind and 6 to 8 foot seas! While grueling, it was fun, and the hardest thing was finding a way to sleep.  We switch off the helm every hour, and the challenge was to find the least uncomfortable but still secure spot – settling on the tramp after numerous other failed attempts.  It was wet but secure and you were able to relax in between getting water-boarded.  Waterboarding = torture?  Wimps.
By the time we were making the turn into Flamingo, the wind was building and gusting to 25 plus, we put in a second reef and landed in Flamingo in the early afternoon.  We decided that since the forecast was for the E/SE wind to continue at 20-25 that we had no reason to spend 13 or so hours punching close-hauled across FL Bay (been there, done that, too).  We called our wives and they brought the truck and trailer to us.
The Howe brothers have another incredible story, earned while going for the full EC course.  Their ride – an ARC 22 cat – is a powerful boat, and they were flying as they approached the 1000 islands having rounded Cape Romano.   The Howes were about 10 miles from Indian Key when their rear crossbeam broke in half at the end of the traveler!  Ryan Howe jumped into action, grabbing both ends of the busted beam, holding the boat together while "Super Todd" dropped the main in about 10 seconds.
In 4-6 foot seas and what seemed like about a one-second period, they pulled off the boom, lashing it to the beam as a splint. Under jib alone, with a 145 degree tacking angle, they only had two choices: Marco Island or Mexico. While Mexico would have been an easier ride, neither Howe had their passport with them, so Marco it was!
We have lots of miles and dozens of races under our belts sailing both with and against the Howes, and they are simply some of the best, toughest sailors and watermen we know.  It took them 12 hours to sail back to Marco, and the entire way they had no idea if the boat would hold together.  True professionals, fully in the spirit of the Watertribe, there was no way they were going to summon rescue unless it was the only option.
The Everglades Challenge provided us with a truly momentous challenge to finish first, which has always been our goal.  Part of our disappointment stems from the fact that given our boat's potential and the Howe's situation, we were actually in a position to accomplish that tough goal – a tiny window that opens rarely and for this year, closed immediately.  Because there was no race.
Some conclusions for now:
1. The weather in no way warranted terminating the event, and conditions didn't deteriorate, they actually went from great to better.  The Watertribe rules call for participants to be "expert" paddlers or sailors, not for them to acquire their expertise during the event.  This is really tough to police with any major event.  At the start we and our wives and friends observed several competitors that appeared ill-prepared for the conditions, but the vast majority were fine.  Given the forecast it was clear how one needed to be dressed and prepared.  The Tribe has to figure out a better method of screening entrants and a better process of pre-race inspection.
2.  I in know way blame the USCG for their action.  Given that there was no Marine Event Permit, and that apparently a  911 call initiated that resulted from an unknown source, when the coast guard arrived and were surprised by what they saw and absent satisfactory answers a decision was made.  I have personally applied for 4 separate MEP's involving the Mac and worked with the USCG for years.  The Mac relationship with the USCG is fantastic.  We honor them at our events, and thank  them officially for their service before and after.  Even when the shit hits the fan as it did a few years ago, they simply work with us as a team to improve when it is necessary.  Facing the truth, there are lots of chuckleheads and morons on the water, and all of us have stories about idiots who don't follow the rules.  Law enforcement at any level deals with them on a daily basis and has a conditioned response, call it boater "profiling".  Had the USCG been informed of what was happening, I don't believe they would have panicked at the sight of 130 or so small boats and kayaks crossing a major shipping channel.  They would have put out information releases to mariners and even policed the area and kept the path clear while the congestion was a factor, which is a relatively brief period.  Some will argue that law enforcement is a bunch of armed jack-booted thugs with an attitude.  I hate generalizations, and that is just not fair.  Maybe in the past the old system has worked but this "perfect storm" has changed the landscape, and there is no question that for the event to survive the USCG will have to be involved and changes will have to be made.
2.  I am a big fan of the "Chief".  He has proven to be a visionary and created something that is now legendary and is watched around the world.  That one guy has carried the load virtually singlehandedly all these years is truly remarkable (no disrespect intended to the many CP captains and folks who assist).  I I stated in my pre-race memo, the event has literally changed my life in regards to the physical conditioning and training I have done to participate.  I would encourage anyone who has the ability to set a goal and go hard for it to make a plan and try it.  However, the event is at a point where it needs a more professional level of management, not to replace the Chief, but to support him.  It is ironic that Chief is now up to his armpits in alligators, but he has posted a very contrite acknowledgment and is already working with the USCG to resolve the issues and make the event survive.  He's a standup guy and he now needs our support.  I have lots of suggestions and will save them for Chief.
And Swampmonkee and ChainSaw will return next year to accomplish our goal…and earn another sharks-tooth necklace.
Coastie and Clam Counter just arrived at the dock in Key Largo at 11:20 AM today 3/10.  We were their welcoming party.  All is well.
-Ron
March 11th, 2015 by admin
As you can see by the huge starting line in this drone video from yesterday, the Everglades Challenge grew too big for its britches this year, and thanks to a number of rescues (including several kayakers and a couple of dinghies) and a failure by organizers to have gotten themselves a Marine Event Permit (MEP) as required by federal law, the Coasties have terminated the regatta.
We hate to come down on the law and order side of things, but despite some of the watertribers' insistence that it's still a mom-and-pop regatta for the fringe, it's time to get real.  There's no longer any complaint about resources; with entry fees at around $400 per person and more than 200 competitors, the money is there – and the Coast Guard makes getting an MEP a fairly smooth, if somewhat time-consuming process.  And getting the permit requires organizers to really think through the possibilities, ensuring that there's a safety and comms plan in place for the good of the fleet.
Discussion, pics, more videos in the forum.
March 8th, 2015 by admin
Longtime SA contributer and multihuller Ron White embarks on one of the more interesting sailing challenges in North America. 
I'm leaving in the morning for the Sunshine State for my third Everglades Challenge, often described as the toughest small boat race in the world.  Starting Saturday morning at 7:00 AM and running 300 nautical miles from Ft. DeSoto Beach on Tampa Bay to Key Largo, the EC has 3 mandatory checkpoints, two inside the Everglades.  It's a multidiscipline race that requires sailing, paddling or rowing, and in some cases, getting off the darn boat and dragging it. The navigational challenges are enormous, and we have once again scouted sections of the course in advance to find the most efficient routes possible.  This is a race where experience with the course and preparation are HUGE, with lots of tough, longtime veterans making their annual pilgrimage to what can be a minefield of a race.  Simply finishing the EC is an accomplishment.
For the second year in a row, I'm sailing with Mike McGarry on a highly modified Tornado that should be faster than last year's, when we were 2nd out of 142 boats.  The only way to improve is 1st!  Just like last year our "Tribe Names" are SwampMonkee and Chainsaw.  I'm often asked what you get for winning or finishing the EC, and unlike most races, eeryone gets exactly the same award…a two foot long wooden paddle with your class name carved into it and a sharktooth necklace.  I've won loads of races over the years, and there's only one trophy on permanent display in my house – the Everglades Channel paddle.
Since starting training for my first EC in 2012 I have lost a total of 37 lbs, it has literally changed my life.  This year I made a goal to drop another 6 and I actually dropped 9, down to a stable 202 which is less than I weighed when I got married almost 36 years ago.
Last year we finished in 57hrs 55 minutes and never stopped to sleep; that's when this photo was taken.  Follow us via tracker or learn more about the race here. Or just click into the SA thread here.
March 3rd, 2015 by admin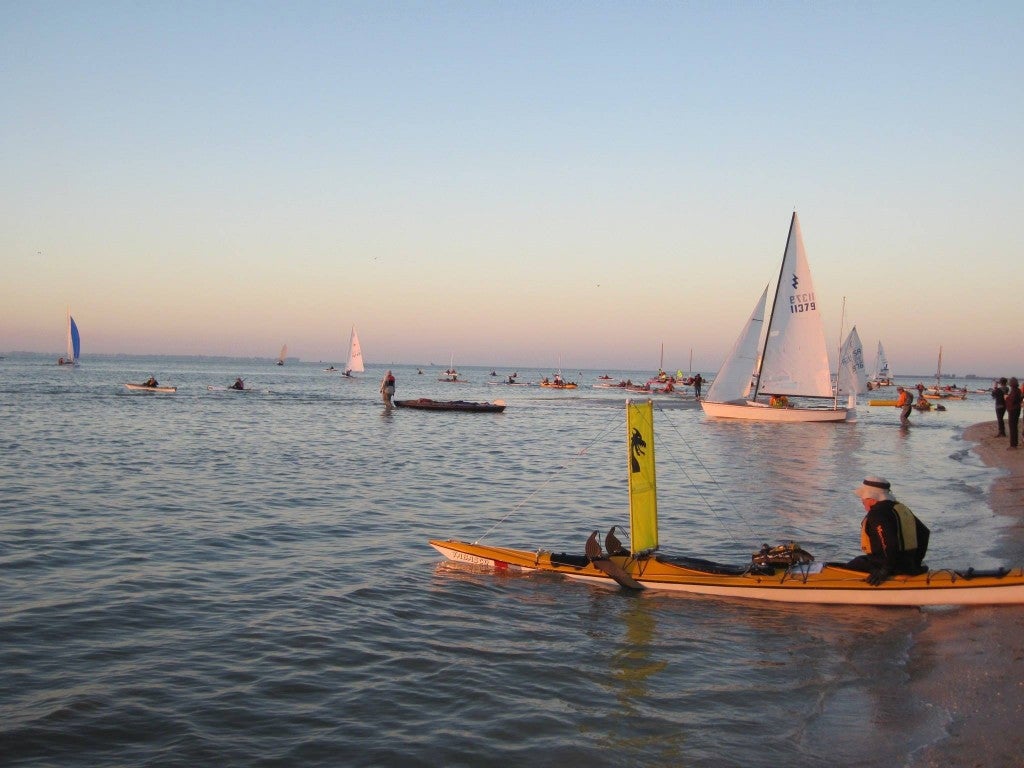 SA'er "zerothehero" filed a number of reports from the most unique race in all of sailing; the paddling, sailing, portaging, and pushing Watertribe Everglades Challenge.  You can see all his reports as well as a pile of other info and video in the thread, and below is a great excerpt.  Photo from another SA'er – Tom Ray.
So dinner in the boat was a bad idea for me.
After clearing the last of the mangroves we settled in on port, and after about an hour, Per got to dinner.  Earlier, my cafe con leche had spilled in the bilge and I had only gotten a few sips.  Oh, well.  The dinner had also fallen in the bilge, but I thought I had saved the top one.  So after Per ate, I opened my container to find it full of water!  One problem with that: Per had been peeing in the bailer which had a crack in it so who knows what was in that water.  Not eating that!
Per analyzes the numbers and says that, under current conditions, we will need to head out 25 miles to lay the cape.  I answer that there's no way I am sailing 25 miles off shore in a Lightning at night.  We analyze the conditions constantly and come up with a theory; the wind will back more and more and we may not have to tack at all.  The wind was strong and we were going to weather, making sleep very difficult.  We both managed a little, but really not enough.  I developed a headache and wasn't feeling great, I was starting to not take care of myself properly and this would become an issue later.
That night I had vivid hallucinations: The stars were traced into made-up constellations.  It was very cool but unnerving at the same time.  I kept thinking I could see shore even though I knew we were well past where we could see it.  There was a phantom palm tree following me just off to port, and we were 11 miles off the Everglades.  While sailing along in the dark we suddenly stopped, and a really weird feeling came over me.  I clicked on my head lamp and looked at the water, we were in the middle of a huge boil of water upwelling from below.  The water was full of sand and grit and had a strange color to it.  Spooky.  We pulled up the centerboard and rudder and drifted off the boil, finally free of its grip.  All-in-all, an unsettling experience in a night of them.  Even as far offshore as we were, the water depths are only around 20 feet or so and there are several currents converging out there.
Our theory on the wind played out and we kept getting lifted.  A little before dawn, we passed East Cape close enough to hear the birds.  As dawn broke, SOS and Poptarp came screaming out of Checkpoint 3 in their tri, Mosquito.  They gybed, and passed us to close to leeward.  Great looking boat.  In our 2 second conversation, we learned they were going outside, the long way around.  Not so painful in a boat that can do 20+ knots!  We continued tacking up into CP3 and a while later we saw Sambasailor leaving the CP.  This put the fire in Per.  We analyzed their course and figured they too were going south.  Per decides we are going to strike out across the bay, it's our only option if we want to try and beat Sambasailor.  We get into the checkpoint, grab some food and caffeine, use the facilities and leave.  Total time in CP3, about 20 minutes.  Up next, the exciting finish…Read on.
March 11th, 2014 by admin
Longtime Anarchist Ned Goss has ticked off most of the boxes a sailor could.  The former owner of Ocean Sailing Academy in Charleston has done his stint in the 49er, the Fireball, and on the pro circuit as a top Melges 24 racer.  Ned now is part of the powerhouse College of Charleston Sailing Team staff, but he's always looking for another challenge.  And now, he's got one as part of the Everglades Challenge – yet another offbeat regatta that's been showing the rest of the world how to grow and thrive all through the recent lean years.  More from Ned:
I have often wondered what's to become of the sailor that has experienced and enjoyed sailing and racing at almost every level, but who feels the joy and excitement ebbing with each regatta.  That's where I found myself not long ago, and when the paid campaigns are gone, what's left to do?  My first move was to buy a Mach 2 Moth, and flying over the water here in Charleston is certainly one way to add fun back to the equation (and, by the way, the BEST thing I have ever bought).  But I was still missing something, and I figured out that it was the teamwork element that comes from sailing with your friends.  So in my own style, I jumped into something others might think crazy: a 300 mile race on a heavily modified dinghy with a partner just as crazy as me.
Here's how it went down:  Last year, my friend Scott Rice called with a whacky idea.  He wanted to take a C-scow and sail it from Tampa to Key Largo, and mentioned the Evergrades Challenge, which Anarchy readers will undoubtedly know all about. I didn't know much, but Scott explained all about the unique folks who take kayaks, paddle boards, catamarans and small sailing dinghies down the coast for the adventure of a lifetime.  I'm pretty sure I was in the middle of teaching a class or fixing a boat at the C of C, so I shuffled him off the phone with a quick, "Sure!"
As I started to research the race and the different boats that had participated in the past, I realized that I had no idea what I'd agreed to, and I began to learn that this 'flock' of EC'ers was an intensely interesting group.  They have to be in order to meet on the beach at Fort Desoto Park and migrate en masses in a race/camping trip all the way down to Bay Cove Motel in Key Largo.  The spate of online videos and articles and forum discussions about the EC hooked me, hard.
I called Scott back to make sure he was for real about this, and he told me he'd already traded his share in an E-Scow for an old Johnson C-Scow, and we started talking modifications.  Some folks sailing down the coast of Florida in an old scow might talk about making it safer and stronger – we talked about how to get more sail area on a boat that is already overpowered in most conditions.  I had a 49er bowsprit and a lot of ideas; Scott had still more ideas and the connections to get it underway.  "Chupacabra"(Scot) and "FlysOnWater"(Ned) were born; the nemesis of the now-famous 'FrankenScot".  The overall monohull record was set by "danceswithsandybottom" and "SOS" – a/k/a Paul Stewart and Alan Stewart. Our goal is to 1) finish, and 2) take that record from them.
Our steed, as mentioned above, is a  modified C-scow.  Our mods, to date:
-Splashguards behind the boom-vang track
-2 more self-bailers behind the leeboards
-Stock mainsail, Code Zero, stock 49er spinnaker, and a symmetric kite from an Etchells.
-11 foot carbon-fiber sculling oars and rowing seat
-7" GPS chart plotter with depth so it can tell us when we are aground
-Running backstays and trapeze
We couldn't make the starting line much less the finish without a few great sponsors:  Military contractor Sesolinc for help with acquiring our curler and new Code Zero, Super Sailmakers and Peter Grim for building our sail and adding reef points and hardware to the big C main, and Barr Batzer for our awesome graphics.
The race starts on March 1.  Follow it here and there is a thread on Sailing Anarchy to get you fired up.
February 21st, 2014 by admin
The Watertribe nutters have their biggest race this coming winter; it's the Ultimate Florida Challenge, and it only happens once every few years.  The UFC - 1200 miles of sailing, paddling, and portaging insanity around the Sunshine State – is no bullshit; it's as big a challenge as you'll find anywhere in sailing, it lasts for a full month, and it costs nearly $2500 to enter if you are a two-man crew.
As you'd expect from a race that requires starts and stops on all kinds of shorelines and goes through thin water, no water, big swamps, alligator alley, big water and, well, everything else on the huge course, the UFC requires a specialized ride and specialized thinking.  Thanks for the heads up from 'zerothehero', we get a look at this spider pig UFC work-in-progress; it's a one-off Flying Sidewalk with racks, cockpit drain, and we presume a host of other modifications to make the ancient beast competitive.
Check the thread for more info on this little beast, and head to Amazon if you want to check out a good read on the subject.
July 23rd, 2013 by admin