Posts Tagged 'ETNZ'
Oracle, Softbank, and Big Ben have now all splashed their AC50s this week, but it's the throwback bicycle grinders that has set the mainstream's tongues wagging all over the world.  Will bicycle power make the difference to help ETNZ overcome the obstacles they face in just a few months' time, and if so, will Oracle or another team have time to catch up to a system the Kiwis have been working on for more than a year?  And will Franck Cammas – well experienced with leg-powered racing yachts - uncover his own spinning class on Groupama Team France?
As the unveilings begin, we're finding ourselves interested again.  Watch the excellent launch video above for a look at New Zealand, head over here to listen to Glenn Ashby discuss the new systems with RAdioSportNZ's D'arcy Waldegrave, and click the player below for Mr. Clean's take on what is finally an interesting week in AC land, also with RadioSport's Waldegrave.
The America's Cup Anarchy forum is heating up as well…chat about any of your favorite teams right over here.
February 17th, 2017 by admin
Clean Report
There's a very basic reason the oldest trophy in international sport continues to attract the attention of the press, the public, and the billionaires who contest it; is the unique nature of the Deed of Gift that controls it and the immensity of the challenge that creates.  A perpetual 'Challenge Cup', the AC Deed provides an absolute prohibition against 'considering other challenges' until the pending event has been decided.  Combined with the clause allowing the winner to set most of the rules of the competition, the anti-consideration clause is the document's most powerful tool preventing the whoring out of the Cup to predictable commercialized interests.  When you reconcile the clause with Schuyler's stated intent of the Cup to recognize and reward advances in sailing technology and boat design, it all makes sense – the America's Cup is not supposed to be just another sport.
Unfortunately for Louis Vuitton, Panerai, and Russell Coutts' bank account, these clauses mean the AC will never become a reliable, consistent sporting property, and it's a struggle that rich sailors and their lawyers have been fighting for a century. That's why Ernesto Bertarelli tried to change the rules – to make the Cup reliable for sponsors and the public – an idea that may have originally come from Coutts in his Alinghi days – the same Coutts who has launched the latest attempt to circumvent the Deed's language and George Schuyler's intent.
Along with the incredibly cheesy photo from posh Garrod's above (where the only one who looks right is the same one with decades of multi-milllion dollar sponsorship success), AC organizers released the news yesterday of a new 'Framework' for the next two cycles of the America's Cup.  Said framework provides schedules, boat types, and most of the important rules for any reliable competitive sporting league, and five of the six current AC teams signed the document, presumably in the room above, and likely with a ruby-and-diamond encrusted pen.  Emirates Team New Zealand notably abstained, writing on Facebook that "Emirates Team New Zealand believe the future America's Cup format should be decided by the Defender and Challenger of Record as it has historically been."
The 'Framework' is eminently sensible for a two-year-cycle sports property, allowing the ACWS to immediately start up at the end of 2017 with a 2019 and 2021 AC competition.  It freezes boat designs and calls for a $30-$40M budget for competitive teams.  But there is one problem with it: It is invalid and unenforceable under the terms of the Deed.
The Deed of Gift provides that "…when a challenge from a Club fulfilling all the conditions required by this instrument has been received, no other challenge can be considered until the pending event has been decided…AND the said party of the second part hereby accepts the said Cup subject to the said trust, terms and conditions, and hereby covenants and agrees to…faithfully and fully see that the foregoing conditions are fully observed and complied with…"
Under laws of the State of New York (which has jurisdiction over any AC rules interpretation and enforcement) any agreement made for a future cup would likely be invalid under the Deed's prohibition against other challenge considerations.  Remember, though, that the Deed is only enforced if someone complains, so practically, this may not mean much.
Say that LRBAR beats Oracle in Bermuda.  They have two choices: They can accept a 'hip pocket challenge' from, say, Groupama, that perfectly reflects the Framework's guidelines, and as long as nobody cares, they're good.  Or they could accept a completely unrelated challenge with no relationship to the Guidelines from, say, Luna Rossa.  In the first instance, an outsider like Luna Rossa could sue Ben for contract breach just like Larry sued Ernesto, and under settled New York Law, the court would probably invalidate any agreement made prior to the end of the current AC.  Whether they would invalidate the entire challenge is another question, but typically Courts are not sympathetic to Trustees who look to benefit from violating the terms of their Deeds of Trust.  If the Challenge was invalidated, all Challenges with provisions from the Framework would be similarly invalidated, leaving whoever sued the winner as the next legitimate challenger.  Bring on the 130-foot ketch super-trimarans!
Alternatively, LRBAR could make a deal with Bertelli or Dalton for a completely unrelated challenge, let's say in big monohulls.   Coutts would be pissed, but if he sued to enforce the terms of the Framework Agreement, they'd laugh him right out of the courtroom – there's simply no way to enforce an agreement that violates the terms of the Deed on its face.
Legally, this means that the Framework is useless, so why would Coutts & Co turn it into a major item of news and publicity when Oracle's lawyers surely know all this?
We believe the Framework came about because of the difficulty the America's Cup has been having in getting people to pay for their series.  Major TV networks have laughed at Coutts' idea of what broadcast rights are worth, major sponsors are unwilling to step up to multi-year deals, and major venues are not going to commit to anything without some reliable information about the future of the event, and Russell and Larry have been unwilling or unable to accept that their never-ending PR and organizational screw-ups have anything to do with it.  Never mind the seemingly endless stream of sponsors burned by the AC. Never mind the cash flow horror stories of venue after venue.  Never mind the non-existent home audience.  Never mind the fact that the ACWS has been an expensive disaster of windless venues and weak competition.  Nope.  To Coutts and Co, all the failures are 100% because of that damned George Schuyler and his obsolete Deed.
Will this Framework assuage the fears of the few big sponsors interested in the AC for multiple cycles?  Will it entice new teams to begin preparing for the next cycle?  Will it gin up the very weak support that exists for the "America's Cup Lite" that Coutts has been gradually transforming the AC into since 2010?
It could, but only for those who don't look into what it really means – which is precisely nothing.
Here's the NZ Herald's take on it, and the argument is already heating up in the forums…
January 26th, 2017 by admin
There's a lot going on in this Emirates Team New Zealand video of the start of the Auckland-Russell Coastal Classic, and whether you're into analyzing AC50 designs, love watching 'old vs. new' shots, or you just want to see one of the world's ultimate sailing destinations in glorious HD drone shots, this short is not to be missed.  And maybe there's fodder for the "Which is better, Auckland or Newport debate" over here?
October 30th, 2016 by admin
Emirates Team New Zealand went into rebuilding mode over the last cycle, tapping the very best of their high speed sailors in the barely-out-of-nappies youngsters Pete Burling and Blair Tuke.  Managing the new energy these kids bring aboard is a guy who's very much a kid himself, despite his age and experience – Glenn Ashby.
The three sat down with Kiwi sports talk host (and longtime Dalts pal) Tony Veitch in a half-hour update on all things ETNZ and 49er Olympic team; Go to the 32nd page of the ETNZ thread in America's Cup Anarchy to talk shit about it.
October 8th, 2015 by admin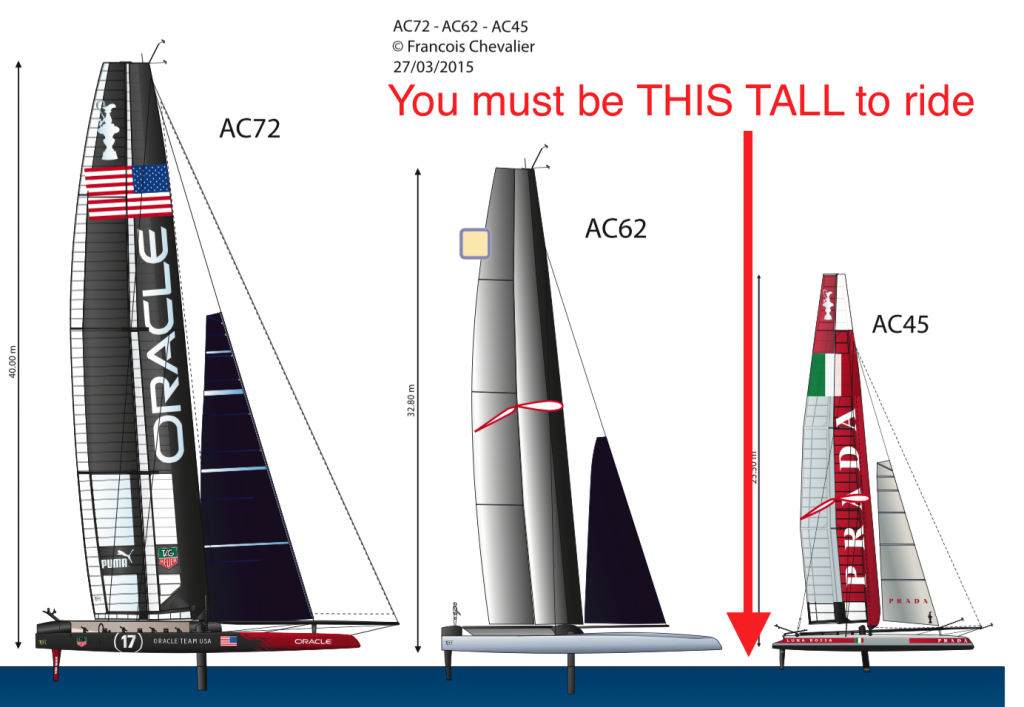 As Ferrari finally gives Italy something to cheer for in top level racing, the fanatical Italian fans are on the verge of losing their maritime standard bearer Luna Rossa thanks to the impending vote on the new America's Cup One-Design 48. That's right, folks, and you heard it here first, of course: The next AC will be sailed in one-design boats – at least if Tuesday's Challenger vote goes the way we forecast.  And Emirates Team New Zealand may follow Prada right out the door, making Russell Coutts the most hated man in New Zealand for the second time, and in Italy for the first.
The SA Army has been working overtime since Coutts' proposal reached the teams on Saturday, and we think we've nailed it thanks to some of our less enthusiastic friends inside (otherwise enthusiastic) teams.  So meet the new boat:
-Strict one-design hull/platform, 48 feet long x 30 feet wide,
-Strict one-design wing, similar proportions as Oracle AC45T,
-Strict one-design daggerboard location and case,
-Strict one-design rudder location and case,
-Open main foil design,
-Open rudder design (minimum horizontal area)
-Hulls and wings to be built by teams with strict ACEA controls (weight, dimension certs, etc.)
It may shock you readers who think we are perpetual AC antagonists, but we actually are fully in favor of the move to a smaller boat.  We have never and will never 'hate' the America's Cup – we're just embarrassed to part of a sport when open, public greed and repetitive incompetence govern the pinnacle event, and that's why we let them know constantly.  But we love fast boats, and we dig foilers, and we're stoked to see flying get so much love.
Meanwhile, the boat will be very sexy, but crucially, having the development dollars go exactly where they can be most effective – the foils – is extremely clever.  There should be no barrier to AC48s hitting similar speeds to the AC72s downwind and upwind, and while open-design foiling AC62s would unquestionably be quicker and a great deal more spectacular than the new 48, the majority of the public wouldn't be able to tell the difference.
While we like the new boat, and we like the idea of a fun regatta in beautiful Bermuda, we are quite sure AC35 will be a flop, if only because it's part of Russell Coutts Flying Circus.  We've learned to always bet against Russell when it comes to business and marketing, and never bet against him in sailing.
In addition, we can't help noticing that ACEA has caught itself in a massive conflict: On one hand, they have an edict from Larry to 'make the event self-supporting', in other words, MAXIMUM CASH INTAKE, and hence, Bermuda's $72M in cash and prizes.  On the other hand, Larry and Russell want to see an event with a long-term future, in other words, maximum public, TV and sponsor interest – which would mean a major population center in a transportation hub with tons of media.  That ain't Bermuda, and that's all you need to know about Ellison's priorities.
Tuesday morning, the five teams of the Challenger Committee will vote on the new design.  If, as we expect, Team France, Ben Ainslie Racing, and Artemis all vote 'yes', we should see another team enter – a Japanese entry that will be a partner to the Oracle boys.  Luna Rossa will probably make good on its promise, killing off the team with by far the most time and money in the next Cup and the AC62 design – something we think Russell has been wanting to do since they made him look like an incompetent boob in San Francisco.  It makes us sad, but we have ZERO pity for Luna Rossa – as the second-in-time challenge, they had the right to take over for the embarrassment that was Team Australia and become Challenger of Record and prevent ALL of this.  Instead, the Italians chose to sit on their ass and be part of a committee, and they have no one to blame except themselves.
As for ETNZ, despite Doc Harvey already saying that ACEA would ignore its written contract to bring the qualifiers to Auckland, we think Coutts will use this tremendous leverage to get ETNZ on board with the change.  Dalts can 'toe the line' for his Italian friends during the vote and still remain part of the new AC48 Cup, if it will get the qualifiers back in Auckland – and his coffers filled.
Many of the die-hards think this move is the death knell for the America's Cup, and if public sentiment depends on a real design competition, they're right.  We think the spirit of the AC died a long time ago, and this move could turn it into something useful, at least.  What do you think?
March 30th, 2015 by admin
As the 35th America's Cup "Deadline Day" hit us here in the US,  The Royal NZ Yacht Squadron became the first team to formally announce that it ponied up the millions required for a challenge to Golden Gate Yacht Club, and that Emirates Team NZ would be their representatives. "We look forward to working with the other teams to create a great event. [emphasis ours]".  
The solo Kiwi news release, along with Dalton's emphasis on 'working with the other teams' tells us that Russell and Grant definitely haven't kissed and made up; you can expect a more coordinated flurry of news today as 'Russell's Four" – the teams that pledged their lukewarm support to Coutts and the Cup a couple of weeks ago – are likely to have worked with AC AlphaWhat on a distribution schedule.  In other words, when the Cup is ready to tell you who challenged and who is the new Challenger of Record, they'll fucking tell you, you impatient twat!
Meanwhile, RadioSport NZ's D'arcy Waldegrave grabbed Mr. Clean for a morning drive time chat about the challenges the Kiwis face on "The Sauce", also known as "New Zealand's Loosest Sports Radio Show".  Listen to it above.
August 8th, 2014 by admin
With just six months left to the start of the Volvo Ocean Race, CEO Knut Frostad is now facing his biggest challenge, because earlier today, Grant Dalton announced that the ETNZ mob will definitely not be competing in the 2014-15 edition of the race.  This sets up a massive problem for Frostad and those, like us, who believed the move to One-Design was a prudent one, and those, like us, who believed a strictly manufactured boat could possible bring costs down enough to see a fully subscribed field of 8 teams.
It looks like both Knut and SA were wrong on this one, and we're not sure why:  Were the cost savings on the VOD65 simply not big enough over a VO70?  Is the corporate world simply not interested in this kind of yacht race?  Did the VOR staff simply not bring enough sponsor development and negotiating skills to the table?  We just don't know.
What we do know is this:  If Pedro Campos and his Spanish VOR team didn't have leverage before in their bargaining for the best price on a Volvo 65, they sure do have some now!  Expect an announcement from them next week, and expect 6 boats on the line in Alicante.
May 2nd, 2014 by admin
UPDATE:  STORY LARGELY CONFIRMED BY DALTS

Once again, Grant Dalton has shown he can get blood from a stone, if Pierre at Valencia-based Vsail's latest Volvo Ocean Race scoop is accurate (and we have every reason to think it is).  Pierre reports that Emirates Team New Zealand has teamed up with Spanish bank Mapfre to get their hands on the sixth Volvo One-Design 65 in a project much like Chris Nicholson's Camper/ETNZ joint that pulled off a stunning second-place the last go-around.
Pierre's sources say the total budget is around 16 million Euros, with 10 of those coming from ETNZ.  A longtime SA source who asked to remain anonymous tells us that was the number to ensure Nicho's role as skipper; 3-time VOR racer Pedro Campos will have a managerial role along with Dalton.
With a number of Spaniards committed to the Barcelona World Race the ETNZ/Mapfre venture's full crew makeup will likely be a mostly Kiwi and Aussie affair.  This means only one or two boats are left for purchase, and if our earlier rumors continue to prove correct, that leaves a British and German team fighting it out for the last spots.  You'll know more when we do, and eventually, the thread knows all.
February 25th, 2014 by admin
It's been another interesting week in the wide world of sailing on screen; here are the pieces we liked the most:
brand new friend
The number of Americans going sailing is still very near an all-time low, but as of this week, we're in what may strike you as a surprisingly good mood about the state of the sport here in the good old US of A.  Why?  Because, based on Senior Editor Mr. Clean's time at the 3-day US Sailing Leadership Forum in San Diego, we truly believe that, for the first time since Sailing Anarchy's birth 15-odd years ago, our sport's governing body seems to be on the right track – a track that, if it continues, will lead to real growth in the part of the sport that really matters – the base.
All the Yacht Clubs and all the regional racing authorities and all the 'welcome newbies" programs can't change the fact that we need far more people sailing recreationally to get more people racing, and one of the most impressive parts of the Leadership Forum was the makeup of the 600-odd attendees; almost half were female, with a median age of less than 40.  US Sailing doled out over $7000 in travel subsidies to help dozens of community sailing staffers show up, and they were overwhelmingly young and often female; these are the folks in the trenches bringing thousands of new faces into sailing every year.
If there is one criticism of the event's format, it's that there were perhaps too many seminars and breakouts in too short a time, and while the vast majority consisted of valuable, engaging content and speakers, a handful were nothing more than disguised corporate promotions for various service providers – something tough to tell from the titles of each session, but easy to tell when you sat down and found a business card on your chair.  But aside from that – and perhaps from the Hilton's price-gouging that left the younger folks and community sailing staffers unable to have a single drink at any of the parties or even the hotel bar – Event Director  Katie Ouelette seems to have found a formula for an annual meeting of stakeholders that's fun, exciting, and advances the sport forward in a way that's been both sorely lacking and desperately needed.
Even the Yacht Club crowd was a younger and more vibrant group than we've ever seen at any non-youth US Sailing gathering, and like everyone else, they were treated to an information smorgasbord from a distinguished group of young and old speakers including our very own Mr. Clean.  That fact alone should tell you that US Sailing is clearly on a new path; it's taken more than a decade, but we welcome them to the 21st century.
If you'd like to know what US Sailing is up to, and why we think you should drop the 60 bucks and join them for 2014, watch the 16-minute interview between Clean and US Sailing Executive Director Jack Gierhart above.  Give them a shot at doing good things with your money, and we'll circle back around in early 2015 and tell you if they are living up to their promises – and you can get into the spirited discussion about it all here.  Title shout to Lloyd Cole, and look for the full directory of both the interviews we did and the useful videos posted by US Sailing next week – including Clean's face off with other leading sailing media peeps.
find out why
Until November (and beyond, really), the Volvo Ocean Race is only as good as the stories it tells.  That's why we're overjoyed that they've pilfered one of SA's videographer gems – young Sam Greenfield sucks you into the US/Turkish Team Alvimedica in this excellent piece posted yesterday.  Check it out above, and go and like Sam's page here.  Whether or not the Volvo can handle his unconventional and no-compromise style, he'll always be welcome here.
may the force 10 be with you
Who says you can't sail in a hurricane?  Not the Red Bull Storm Chasers, and after a ridiculous 3rd stop in winds of ludicrous speed, France's Thomas Traversa is the new king of the hurricanes.   There's an excellent full report of the final stage of the three-event world-girdling event here.
mind over matter
Big money and big restrictions flowing from the Cup has stagnated most sailing videography over the past couple of years, and that only makes the sexy stuff coming out of UK production house RedHanded TV look even better; check out this trailer from the upcoming windsurfing movie Brutal Addiction.
neither fish nor fowl
The boys from ETNZ continue to crush the A-Class Cat Worlds fleet, in an odd Takapuna Worlds where some of the fleet is foiling some of the time, and none of the fleet is foiling in anything you'd call 'control'.  This is largely because the daggerboard designs are limited to the non-acute angles of board that can be 'fit in from the top', as required by A-Class rules, and without a stable Groupama C or ETNZ-style 'J' board, or a sophisticated system of controlling the more open "L" boards (like OTUSA or Hydros), the boats fly in fits and starts.  It's still faster to fly than drag in the breeze they've had, and aside from one DNF due to a rudder hardware failure, Ashby is on the verge of adding another one of these to his trophy closet.  This vid from Argentina Marine Media is the best we've seen yet, and you can find some great Cathy Vercoe pics here, and some video from Beau Outerridge here.  Of course there is plenty more first-hand reporting and debate about the recently defeated vote for a proper foiling rule in the thread, which will continue to rage on until someone makes a bold move either towards, or away from, the light. 
Former US A-Class Prez Bob Hodges put together a succinct note summarizing his views:
For those on this thread who are currently not active A-Class sailors and/or who have never sailed the boat.
The decision of the class as a whole to not change the current rules is because we are a cautious and conservative lot that do have a vested interest in how the boat and class evolves. I don't think you can appreciate that perspective until you own an A-Class and you actively sail and race it.
It's important to note that the top five at the WC currently are paid pro sailors. Theyare great guys, very approachable, and very supportive to their fellow sailors. But they do enjoy the advantage of someone else paying the bills when it comes to the equipment they are racing in this event. They understand the implications of what can happen if the class rules are changed to where the average A-Class sailor's financial means cannot keep up with the development. How many of you can afford to race a C-class?
I consider myself in great physical condition for my age (55 years old). We have a huge range of sailors in this class from their 20′s to their 70′s that have been able to race the boat across the wind range of our class rules (5-22 knots). The boats have become much easier, safer, and more enjoyable to sail with the addition of curved daggerboards and rudder winglets. But there is no doubt that foil packages that actually fly the boat will raise the physical requirements to sail the boat. I'm excited but at the same time concerned that I may not have the physical stamina and agility to competitively race the boat at the performance levels I am seeing at this WC. If the physical requirements to sail the boat increase by say 25%, we could see a vacuum created that would need to be filled by younger sailors who probably do not have the financial means to own the boat (a Moth is 1/2 the price if you want to foil).
As the boats start to fly and the speeds increase to the low to mid 20′s, mistakes will be harsh on not only the sailor's bodies but on the structure of the boat itself. The current boats are amazingly strong and durable. If we start to routinely fly, it remains to be seen whether the boat's can handle the different load and torque dynamics on a routine basis. Crashing at over 20 knots of boatspeed will be hard on a boat that only weighs 75 kg and has a 29′ tall lever arm pushing the bows down, totally different dynamics than a Moth going over the cliff. If breakages and failures get out of control as the boats begin to fly, there is the potential for another vacuum to get created both in terms of losing sailors but also builders who get driven out of business because they cannot keep up with the warranty claims. There is also the insurance question. If the A-clas becomes a boat that has the potential for substantial damage in a routine "crash", no insurance company will want to offer coverage. Some will not insure our boats due to mast breakage claims.
From my own standpoint, I don't need to foil for the pure sensation of speed. I own a quiver of sailboards that in 15-18 knots are capable of sailing faster that an A-Cat will ever go even on foils and I can do that at a lot cheaper cost and at much less risk to my body and my financial investment in equipment. That is a perspective that I believe many in our class share.
I'll speculate that it's possible Landy's strategy for racing a "conventional" boat is to not only sail what he is the most comfortable with but also to be a benchmark in this championship that will be important for the direction he leads the class as its class president. Scott Anderson's performance so far is a great reference point as he typically does not trapeze downwind nor is he sailing a foiling package I believe. Scott is also in his late 50′s so represents what is possible competing against the younger guns in the top five that have the financial support of TNZ. If the breeze truly lightens to the 5-8 knot range for racing later this week, it will be very interesting to see how Landy and Scott perform. This is an exciting but kind of scary moment for the class. I hope we make the right choices to keep the class as vibrant as it currently is.
Bob Hodges – A-Class USA 230
February 13th, 2014 by admin
Assisted by some tenacious questioning from TV3 (NZ) host Paul Henry, Dean Barker quite clearly lays much of the blame for ETNZ's America's Cup loss right at the feet of Grant Dalton, and not just as the guy with the reins.  Barker blames Dalton for allowing Oracle to take the famous 'lay day' and says Winnie MacFarlane was a far better grinder, and goes even deeper – though they did not get into the single biggest reason they lost the Cup – ETNZ's acceptance of the 'post-Bart' safety recommendations that allowed a ten-knot wind speed to be simply too low to allow the boats to finish a race under the time limit.  This one is worth watching, and tomorrow we'll have part two of this excellent interview.  Click the pic or go here for the full ten-minute chat. The America's Cup Anarchy thread is already blowing up…add your comment here.
Hawaii 3-5
In other AC news, we hear that Hawaii is actually getting real consideration for the next America's Cup, and for the first time, we're not discounting it as yet another negotiation ploy by Ehman and Co. to get a better deal out of San Francisco – especially with SF recently announcing that the loss to the City from providing services to the Cup is more than double that initially thought.   Pros?  You're virtually guaranteed a massive crowd thanks to easy flights from Australia and New Zealand, it's never cold and wet and foggy and nasty, you have a local government that desperately needs the tourism dollars, and Larry already owns an island there.  Cons:  American and European fans will be in the firm minority…but thanks to Youtube and Stan Honey and the fact that Louis Vuitton never wants to be seen in the same zip code as Red Bull anyway, no one really cares…do they?
February 12th, 2014 by admin