Posts Tagged 'enloe'
UPDATE: It is no longer if they can – they fucking did it! Mighty Merloe was first to finish at 17:03 HST, smashing the elapsed time record! Pictures coming asap!
If the Mighty Merloe can hold off her much newer (and theoretically much quicker) Transpac competition for another half a day, her crew will have pulled off the greatest upset of the year in offshore racing.  H.L. Enloe's 2004 vintage ORMA-60 gives away 10 feet in length and the better part of a decade in boat design to the 70s – the foiling Maserati and the multiple-record-setting Phaedo – but that doesn't seem to be bothering Merloe.  She sits on 29 knots with just 345 NM to the finish line, and once again our man crush grows for the indomitable Loick "lo-lo" Peyron (enlisted for the trip along with French tri superstars Jacques Vincent and Franck Proffit). And navigator Artie Means is showing what we already knew – the boy can play.
In other news, the boat that weighs and costs more than the entire multihull fleet combined sits a day back.  Chat about the Transpac here.
July 10th, 2017 by admin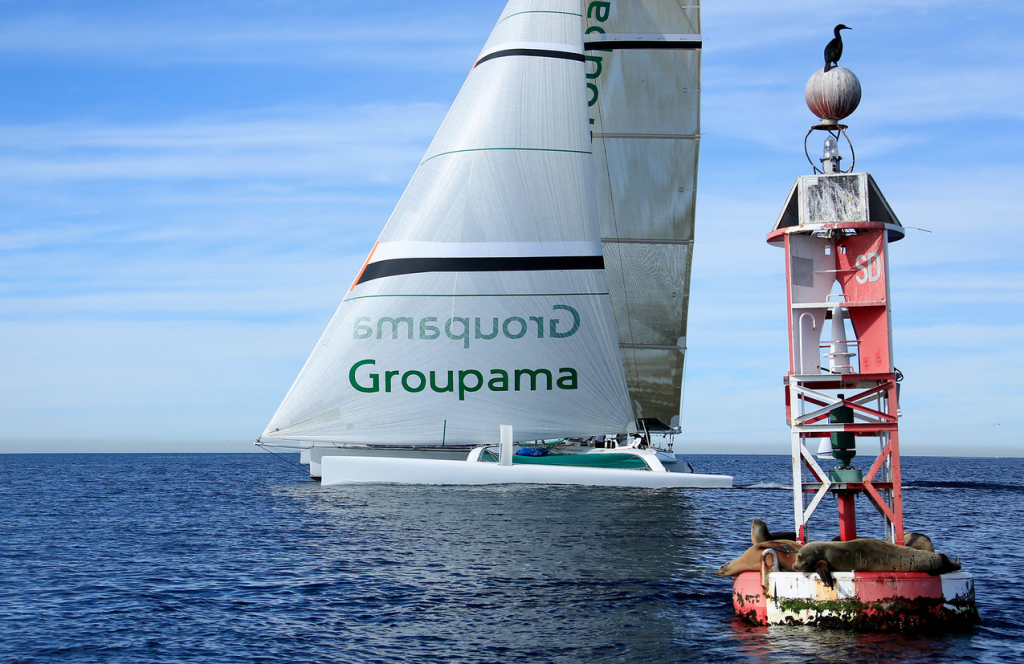 When Franck Cammas and VPLP put together the ORMA 60 Groupama 2 in 2004, the Class was already on its way to extinction.  But Franck's square-dimensioned, canting rig, lifting-foiled trimaran was so much faster, more innovative, and more expensive than the rest of the fleet that her launch pretty much ended the ORMA class right then and there.  The history is more detailed of course (and you can learn almost everything about the ORMA class here) but suffice to say, G2 is the fastest 60 foot pickle fork ever built.  And until the AC72s came around, she was still probably the world's fastest seagoing multihull in light air.
Now that G2 is long past her 'sell by' date, the former BMW/Oracle trainer has made her way to San Diego, where she'll be replacing the ex-Waterworld ORMA of Loe Enloe, who has gotten everything he can out of the ex-Waterworld boat.  That one's on the market for peanuts (pony up, SoCal sailors!), and we can now expect Enloe to crush and smash every West Coast record there is…provided she stays right side up.  Great shot thanks to Dal at Bayshots – plenty more of his excellent San Diego work here.
And hit this link to see just how fast the G2 goes in a moderate breeze.
December 19th, 2013 by admin