Posts Tagged 'england'
Yachting's public image picked up yet another public black eye this week in the UK, where once again, people who sail look like entitled douches. In this case, low-income contract workers at one of the world's most prestigious art galleries were asked in a letter to contribute to buying a yacht for an outgoing executive – gallery director Nick Serota.  Known as a 'leaving gift', the English tradition calls for grateful employees to contribute a few bucks for a usually small office gift to show their appreciation for a job well done.  But in this case, someone thought it was a good idea to ask hundreds of contract employees to buy a yacht for a guy who makes over $200,000 a year while salary and pay negotiations are ongoing for the rest of the company.  As the Times reports:
Pay negotiations have been tense. One trade union claimed that even after wage increases proposed by the museum group, staff pay would range from 15,707 pounds to 23,695 pounds, or about $20,230 to $30,520. By contrast, Mr. Serota made almost £200,000 in 2016-17, a Tate spokesman said.

Trade unions and workers' rights advocates also complain that some people working at the Tate group's museums via outside contracting companies are subject to so-called zero-hours contracts, in which their employers do not guarantee a minimum amount of work a week. As a result, these workers do not have dependable income.

At the Tate Modern art gallery, along the River Thames in London, two employees, who declined to give their names but wore Tate uniforms and identification lanyards, said workers had initially thought the request for donations was a joke.

To mock the letter, one said, workers made a paper boat and affixed it to the note.
April 29th, 2017 by admin
With Twin Peaks (one of the ultimate cult favorite TV shows) set to return this spring after something like a 50-year hiatus, our brains were already tuned to the word "Peak".  Fortunate that a sailing documentary popped up the other day with just one more peak…and a great cast of its own.
Dee Caffari stars as the celebrity with a target on her back in the Barmouth to Fort William Three Peaks Yacht Race – an event that includes both crewed racing and back country runs up some of the UK's biggest peaks.  Enjoy this rare gem of a sailing documentary that looks good, tells a great story, and helps us get to know the characters in a quirky place and a quirky race.  Sign up for the 2017 event here.
January 11th, 2017 by admin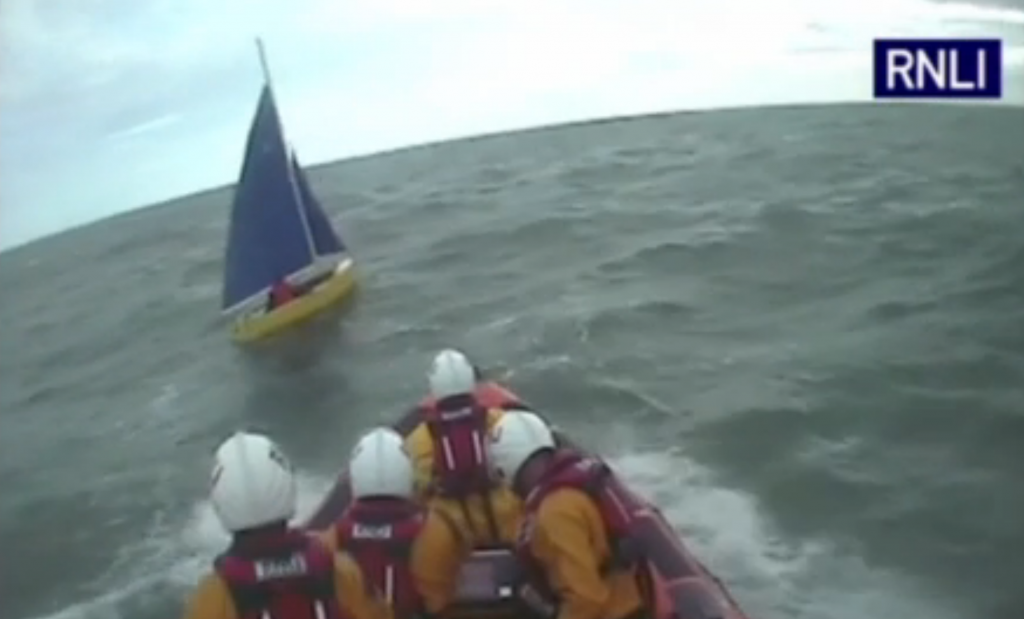 "The man bought the 14-foot dinghy on Saturday and then set off on his 3,500 mile voyage across the Atlantic…not wearing a life jacket, his boat had no lights and his only navigational aid was a street map of Southampton."
Seems like a good kit bag for most major voyages, right?  But wait – that's not all.  "He had a passport containing a US visa, hot dogs, beans and a bag of biscuits." Hot dogs?  Beans and biscuits?  Sounds like a fine transatlantic menu, as long as he's alone!
The Bulgarian man was not interesting in whatever the RNLI was selling. "When we reached the gentleman he didn't want us there, he wanted to carry on his way," refusing assistance for 45 minutes, after which "the crew dragged him on to their boat and took him to shore."
We can't be the only ones who really, really wanted to see how far he could get.  If anyone runs into this guy, let him know that next time, Sailing Anarchy fund your YellowBrick tracker, an EPIRB, and some extra provisions…
Watch the video for the full 'rescue' and thanks to Brad T for the heads up.
August 18th, 2014 by admin
One of the most interesting things to come out of an otherwise uneventful Moth Worlds was their sharing of this poignant story about Hayling Rescue's Frank Dunster.  For an explanation of this enigmatic subject, we go to the film's co-creator, Jack Pollington.  If you're motivated to contribute to such a wonderful effort, hit up Hayling Rescue on Facebook, and for more on the producers, go here.
This was a short documentary created by Alex Forbes and me as part of coursework for Farnham Film School.  Frank runs a completely voluntary, non-profit life saving operation from Hayling Island Sailing Club.  He is a vital part of what keeps that very busy and active club safe and running,  year by year, and in thanks for that, the members of the club contribute to Hayling Rescue's upkeep in an annual fundraiser.
August 15th, 2014 by admin
In heartbreaking news from England's South Coast, the body of one of Britain's top young sailors was found late last week near a car park in the New Forest.  17 year-old Jess Eales uploaded the pic you see at left to Facebook just hours before her death, which neither police nor coroners have explained, though news reports say they are not treating it as suspicious.  There are only a few scenarios where a dead 17-year old in a car park in a forest isn't suspicious, but it shouldn't be long before we all know more so we'll just keep our mouths shut until the government has a chance to explain.  Jess had celebrated her 17th birthday the day before she was found.
Jess had just returned from the Youth Worlds in Portugal, a rising star in skiffs and cats.  We're told her sailing circles in the Lymington and Hayling Island communities are in shock; despite not knowing Jess, we're pretty shocked too.  This shit isn't supposed to happen to 17 year olds.
We will update you when there is more information available.  Until then, share your thoughts in the thread.  As for the title, it's rare that Morrissey and sailing ever mix, but there's a first time for everything.  NOTE: Don't click if you don't want to be even more depressed. It's a Smiths song, after all.
August 5th, 2014 by admin
In what we can only imagine was a creative way to protest his rating, the 82-year old owner of the 31-foot cat Starquest destroyed about a third of the Emsworth Sailing Club's newly refurbished clubhouse last week.  Apparently, Captain Clifford "John" Caughey took two practice runs in his Volvo before backing up and launching his car into the Club at around 70 mph.  Since that was clearly not enough damage, the good Captain then got out of the car with a gas can and proceeded to douse the Volvo before setting it alight.
Caughey was taken to hospital before being arrested, and there were no other injuries besides those to one of the oldest sailing clubs in the world; it's already business as usual though at Emsworth; you just can't keep a good English sailor down.  Full story here at the Telegraph, Mike Walker photo, and thanks to JB for the heads up.
April 28th, 2014 by admin
According to several America's Cup designers, the wing-loving world owes a huge debt to the C-Class.  Were it not for some 40 years of wingsail development in the C, they say, we'd probably still be decades away from wingsails on AC boats.
Fortunately, that's not the case, and here's your final look at the full, 17-minute video story of the 2013 Little America's Cup/International C-Class Catamaran Championship from Petey Crawford/Penalty Box Productions.  Huge thanks to Magic Marine, Team Canada, Paterson Composites, Camera Lens Rentals, and Team Invictus for all your support!
If your interest has been piqued by this most awesome of all catamarans, be sure to hit the 2013 thread and ask the boys how you can get into the Class for the 2015 Little Cup in Lake Geneva.  We'll be there, and we hope you will too.
November 1st, 2013 by admin
With the Youtube video approaching a million views (making it one of the most-viewed sailing videos in the history of the interwebs), a Southampton magistrate yesterday dropped a cool £100,000 penalty on navy officer Roland Wilson for breaking three COLREGS requirements before scratching the Hanne Knutsen's anchor.  (1) He failed to keep an adequate lookout, (2) he impeded a large vessel in a narrow channel, and (3) he impeded a vessel constrained by his draft.
The 100k (called 'costs' by the court) will likely be covered by Wilson's insurance policy, but he'll still need to come up with  another 3 grand in fines.  Wanna know more, or do you know more?  Hit the thread.  And before your next regatta in a TSS zone, you might want to read up on How To Avoid Huge Ships.
October 25th, 2013 by admin
If the last few weeks has contributed to an obsessive need for you to watch foiling catamarans racing through big wind on your computer screen, we're happy to inform you that you'll have a full week of it coming up this Sunday with the Little America's Cup.  Formally known as the International C-Class Catamaran Championship, the Little Cup will feature 11 teams from all over the world with some of the most advanced racing craft ever developed; in some ways far more advanced than the 'real' AC.  
Clean, Mer, Petey and a cast of famous and not-so-famous guests are digging the On-The-Water Anarchy cameras out of the shed to bring you live, hilariously and expertly commentated video action from every race at the 2013 Little Cup, along with our infamous 'Cocktail Hour' live talk shows, piles of interviews, and highlight reels put together by some brilliant folks in the UK.  We expect to have trackers, great photography and plenty of updating on Facebook, too.  So keep watching here, and for everything C-Class, hit the 2013 International C-Class Championship thread and bring yourself up to speed. If Facebook is more your speed, Like the Little AC page here.
Like the Minista below, the UK's Team Invictus have had a tough road to the starting line.  Here's the update from their skipper and the fastest sailor on the water – Paul Larsen:
Sunday: The start line is often the first finish line.
It's past midday on Sunday here in Bristol. The shed is full of various wing parts in heater inflated bubble tents. To say we are a bit late is a massive understatement.
This is yet another big ol' mission just to make it to the start line. I didn't want it, nobody did. I had no idea what I was walking into 13 days ago. Basically, for one reason or another, Helena and I walked in just as things had fallen apart. We had come to hopefully help a little bit to get the last bits together and help the team along. What confronted us was obviously going to require substantially more input. We had a main spar with the ribs attached to it… and that was it! No flaps, no moulds, no leading edge and no control systems/linkages'hinges… just CAD drawings.
My first reaction was to keep walking. This would mean that there would be no British boat at this event. That was unthinkable. We had to have a go. We went to the pub and began hatching plans. As long as there was a chance… we would have a go. We began pushing on.
None of us wanted to stand next to a piece of junk. It's obviously not going to be as good as it could be… but the old girl might be alright. The platform seems OK and there are some aspects of the wing that I am interested to see. We don't have the time to re-design everything to fit the schedule so there has to be some shooting from thew hip and acceptance of what we have.
Keep it in mind that this needs to be in Falmouth getting rigged on Tuesday.
We had to come up with a quick way to make a 3D curved leading edge so we used polystyrene blocks, a skilled carver and then Dan (from Independent Composites) did a great job of fairing and skinning. In fact Dan and the boys have been ripping into it. They made the large lower flap and have let us take over the workshop for the weekend.
Thankfully the National Composites Center (NCC) in Bristol did the MDF tooling for the top flap and Helena and I went and built that there with Nick Hewlings. The mould came off the machine last Wednesday afternoon. We used a quick method of sealing surfacing the mould involving putting the whole thing in a 'envelope' vacuum bag which we then sucked down onto the mould and used as a surface to actually laminate onto. Unbelievably… for some reason this bag sort of dissolved during the cure and is now structural i.e. part of the laminate. We were so lucky that it held its vacuum and that it didn't result in the part being permanently stuck in the mould. None of us have ever seen that before . So we'll be sailing around (hopefully) with a vacuum bag still on the upper flap.
We just don't have any time to get hung up on one process. It's all a bit mad. At times I wonder what the hell I am doing here. We shouldn't still be doing things this way. I guess when it all looked a bit too much I began to wonder if we really could do it. I'm still wondering.
The parts are all coming together. The flaps are a bit heavy but then we haven't finished cutting them down.
Anyway, here we are. It's getting warm in here. I'll let the pictures do the talking. The picture of us cutting out the holes in the lower flap was taken around lunchtime today.
Monday:  All the big pieces are together. The little bits are turning up and the trailer just arrived. The Harken order is on the way direct to Falmouth and the Marlow order is still being chased. The daggerboards are curing under a heater just off camera.
Helena is trying to hook up live tracking. This will all be loaded in the trailer tonight and should be in Falmouth in the morning. It just has to be that way.
Tuesday:   Invictus has once again… left the building. Well, actually there is still quite a bit of building to be done… but she's out of the shed anyway.  This boat and this team, in one form or another, are why the event will be in the UK this year. We felt that she simply had to be down there mixing it up with her Brethren on home waters.
Goodbye Dan, Leighton Mitch and Nick from the NCC, thanks so much for going the extra mile and helping to get rid of us:)  We still have a lot to do but the overall spirit in the team is good. We turned a corner. Let's see what happens now.
Next stop, Falmouth and the 2013 ICCCC.
September 17th, 2013 by admin