Posts Tagged 'emirates team nz'
Big Pimpin'
Over eight years ago, Hakes Marine in New Zealand started building a very special catamaran for a German client. It was called the SL33: 10m in length, weighing only 650kg with a mast over 18m tall. A bit insane in its power-to-weight ratio, the boat was designed and built for the light winds of Lake Constance, where the goal was to fly hulls to victory fly to victory  in the typical 4 knot breeze.  
The SL33 was one of many successful ventures between builder Paul Hakes and designer Gino Morrelli. At the time of construction, Morrelli & Melvin were also contracted by Emirates Team New Zealand to design what would eventually become the very first flying AC72. Impressed by the SL33 project and recognizing it as a good training and development platform, ETNZ purchased two SL33s from Hakes, with Luna Rossa following suit and purchasing one of their own. Using this new, lightweight yet robust platform, ETNZ began daggerboard development and eventually learnt how to foil on the SL33s. This technology and valuable experience was quickly applied to the AC72, which went on to shock the world with the first-full flying America's Cup boat, setting a standard for AC racing that would continue through the exciting event in Bermuda while changing the face of racing forever.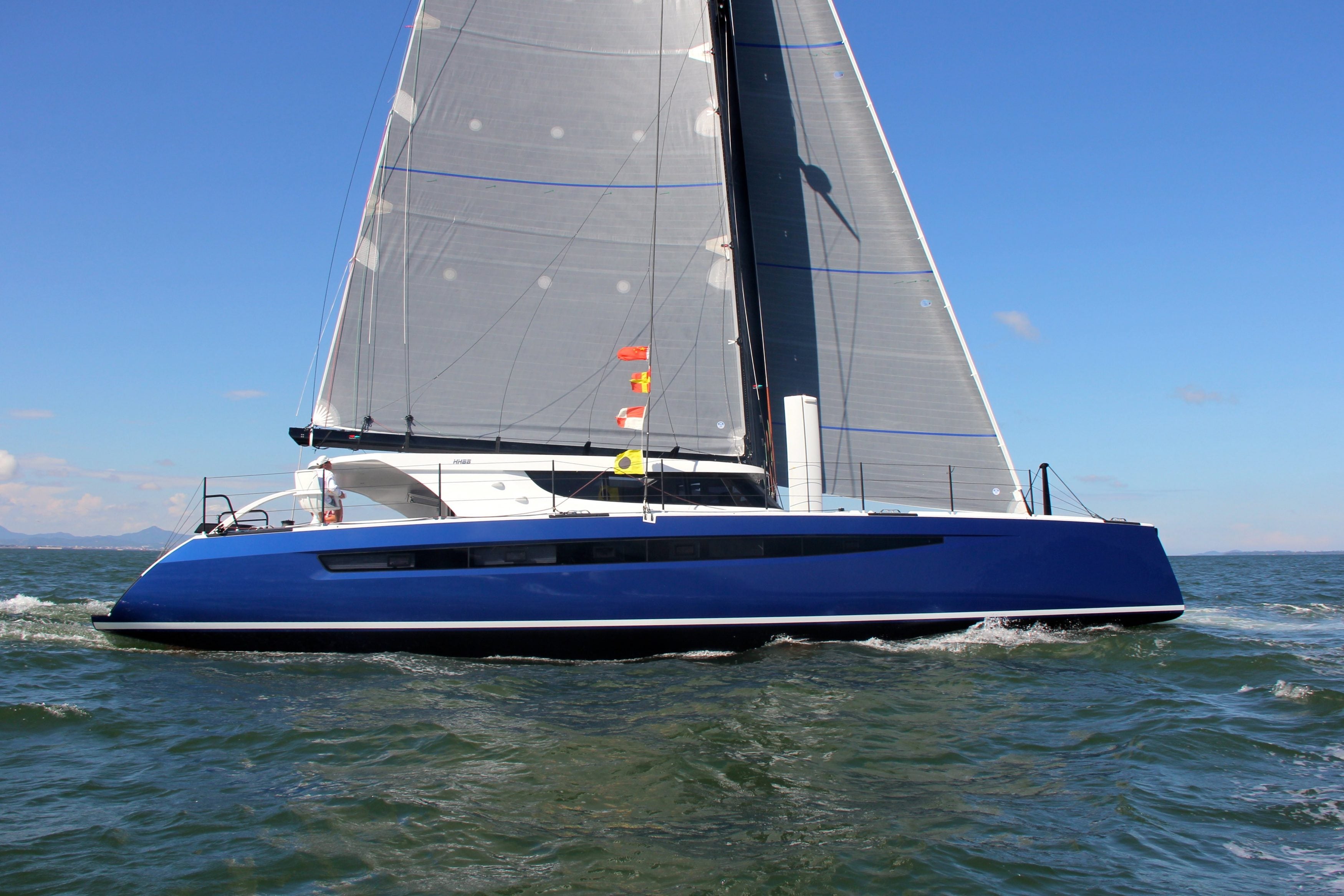 Since that revolutionary day in New Zealand, the world has seen a remarkable number of boats, both multihulls and now even monohulls, flying on foils with incredible speed. It's great to reflect back to one of the foundations to flying multihulls and spectacular America's Cup racing, the SL33. Today there are three SL33s still tearing it up around Auckland's Hauraki Gulf. Black Jack, the original SL33, still dominates lake racing in Northern Europe.
Today, we see Paul Hakes and Gino Morrelli teaming up again, this time on a slightly cushier project! HH Catamarans, the luxury, performance cruising cat line, has commanded the niche market, and considering the shared pedigree: carbon construction, curved C-boards, T-rudders, push button sail controls; and luxuriously comfortable platform, it's easy to see why. HH Catamarans' most recent launch, HH66-05 is currently in the midst of sea trials – check out the video of her launch here. The electric blue hull is already hitting speeds in the high teens in the light Xiamen seabreeze, with plenty left in the tank. With a forward helm inside the salon and ORMA style bucket seats and tillers aft, HH66-05 provides the best of both worlds for the serious dual purpose sailor. Loaded with all the amenities for cruising and entertaining in style, the HH66 will be the perfect platform for spectating the next Cup in Auckland in 2021… Want to get in on the fun? Contact [email protected] to discuss your AC inspired cruising catamaran, and find out more about HH Cats bere.
July 10th, 2017 by admin
Clean Report
Musto and Torqeedo make our European coverage possible this month, please check out their offerings online or at the METS show this week.
At the invitation of onsite project manager Jan Majer, I took a quick side trip yesterday to the industrial wasteland of Burriana, Spain a few hours south of Barcelona.  That's the home of Longitud Cero – Spain's top composite boatbuilder and the temporary home of the new Warrior (ex-Camper).  She's already had all her moving bits stripped off with some modifications scheduled for next week, and will be coming soon to an island regatta near you some time this winter.  You'll barely recognize her when you see her, but you'll never forget the new paint job – we discussed this, the bigger modifications to the boat,  the Warrior Sailing Project, and tons of other subjects in ultra-high performance racing with Jan and rigger Ryan Breymaier during a great SA Podcast that will drop next week.  Will the boat originally nicknamed "Clifford" for her doggish ways become one of the fastest monohulls in the world?  Keep an eye here for the podcast…
Special thanks to Bruce Schwab/Ocean Planet Energy and Doyle Sails NZ for their support of our reporting, and a special note to the media team at ISAF World Sailing; while there's plenty they do poorly, their live streaming of the important Annual Conference is solid and well-considered, and it allowed me to take a side trip to a cool spot rather than sitting in my ass in a meeting all day.  If you have a reason to care about the governance of the Olympics and the sport itself, there's hours and hours of occasionally useful information in the videos here.
Title shout to one of the pioneers of hard core and an appropriate song for all Americans this week.
November 12th, 2016 by admin
Is Oracle's win in danger?  3News reports that ETNZ is preparing a legal challenge to Oracle's win based on their electronic stability system.
At the same time, Facebook gossipmonger and NZ radio personality Paul Veitchy reports:
There's some serious rumours coming out of San Fran that something big is going to come out around Oracle and the pre regatta penalty.. and the improvements made to the boat. The rumour mill is in over drive.. watch this space…. bloody interesting talking to several parties this avo about it…
We also saw this from another source:  The yanks put a computer on board after they were down 8 – 1, and should not have been allowed to make this change mid series. So I said why didn't the Kiwis put one on too, and he said they didn't have the fun tickets. This computer came out of Boeing, and is the latest in technology, and this made the difference to their boat speed, foil angles and all that other shit that navigators used to wank away about, and was implemented automatically on board, where as the poor cousin Kiwis still had to do all theirs manually. So there you go this is what the press is saying in NZ, but don't know how true all of this is. Could be sour grapes…
Watch Veitchy's space to see if this is real or yet more hit counting.  If your Oracle Team USA contract just ran out and you're looking to unload, post your inside knowledge in the thread.
September 27th, 2013 by admin
UPDATE: Thanks to the artificially low wind limits put in place due to the disaster that was the Paul Cayard-led Artemis AC program, today's racing is in delay, and likely not to happen at all…
It would appear that we just don't know what is going to happen in the AC today, but one thing we do know is that the end is near and roughly 75% of every television in NZ is watching.  Splits won't do for Oracle, only sweeps, and they will need three consecutive days of sweeps just to get even. Not gonna happen, but then again, if not for a little divine provenance we might still see ETNZ's second boat being prepped for racing today…
What will happen? If you have NBCSN, you can watch it happen at 1:15 PM, West Coast, and for Proxy Server congoscenti and non-US or Kiwis, here's the Youtube link.  In the meantime, you can watch the media going apeshit with last-second mostly-manufactured controversy here (Oracle Tries To Raise Wind Limits), here (GGYC Vice Commodore Calls ETNZ Cheats), here (Russell Coutts is the new Dennis Conner), here (AC Protests Cancelled Out Of Pity For Ellison) and here (Nationality Rules For AC35).
And above, you can get a little Clean while you're at it, from this morning's Radio NZ drive time show.
September 17th, 2013 by admin
Update: Oracle absolutely dominated race number one today – they owned the start, were faster on every point of sail, and flawless in execution, if you didn't know better, you would think they switched boats! And yet just as soon as Oracle seemed to begin to establish supremacy in race #9, ETNZ snatched it right back with a come from ahead and then behind victory on the final run to once again take control of the AC, 7-1. A split simply won't do for Oracle, they need to win every pair from here on out….
Will the hand of god (or an inverted wing) save the Kiwis from their own errors today?  Will Oracle finally have their first 2-0 day, or will Dalts and the boys re-assert their downunder dominance and get just one race from a silver-studded flight home to Orkland.  Watch it above NOW, if you happen to be in a country that allows it.  If not, just hit the Proxy Server thread and take 60 seconds to work around it.  If you have NBCSN on your cable account, just go online to watch.  Talk about it as it unfolds or ask questions in the R8/9 thread.
September 15th, 2013 by admin