Posts Tagged 'drone'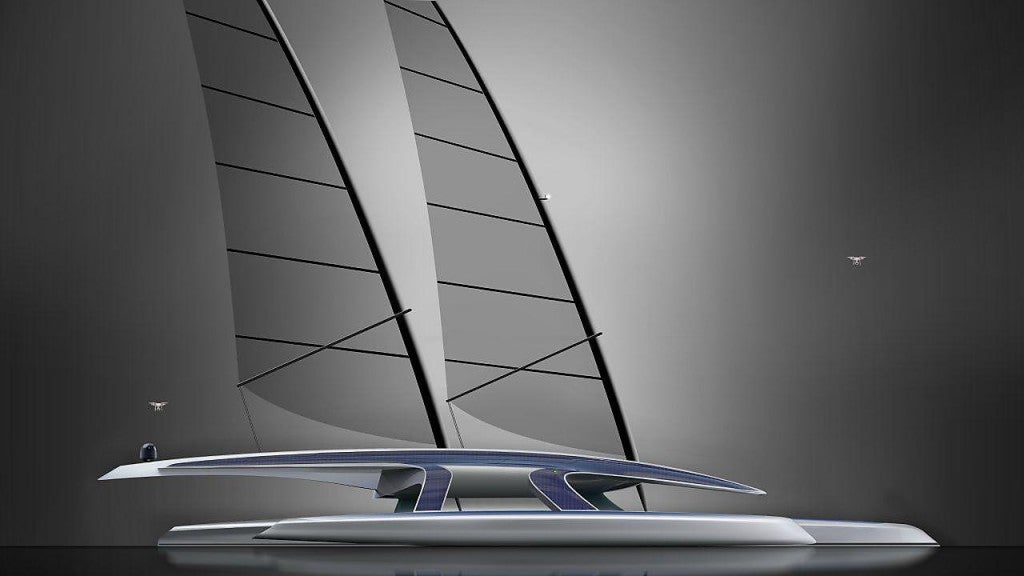 From Plymouth, England to Plymouth Rock on the 400th anniversary of the trip that colonized the New World, the 106-foot Mayflower Autonomous Research Ship (MARS) might make history in 2020 if the right commercial partner can be found by MSubs, Plymouth University, and Shuttleworth Design.  It's the latest (and maybe the prettiest) in a long line of vaporware sailing UAVs, and with a new bag of tricks: Sailing at 20 knots, motoring in light airs with near unlimited range at a quarter of that, and launching and recovering its own aerial drones.  We likey.  More from Giz, and chatter over here.
August 17th, 2015 by admin
Since getting his walking papers along with the rest of the Luna Rossa team, 5-time AC'er Shannon Falcone is playing with some new toys. Having locked up the win on Thursday, a local took his spot on the Gunboat G4 for Friday's race so Shannon could shoot some foiling action from the sky.  Here's a look at this budding videographer's  movie, and you can check out all the week's videos and pics on the Gunboat Facebook Page.
Sick of the G4 yet?  We're not.  It's fast, it's bold, and it unabashedly sticks up the middle finger to the establishment.  More importantly,  the concept works.  And it works better than even the ever-optimistic Peter Johnstone expected.
We'll have a world-exclusive Antigua race report and boat review from our Senior Editor soon, and a comprehensive video walkthrough of the boat and all her systems later this week.  Until then, click HD and watch it big.
May 3rd, 2015 by admin
Good drone video fascinates sailors, mostly because it gives us a view that helicopters have never been able to show us before – a close-up aerial.  For coaching, it's invaluable, but for everything else, UAV's are kind of a pain in the ass.
Drones are expensive when you consider that the average maritime operator loses 2-3 each year.  They're annoying and potentially unsafe – sooner or later, a big one's gonna go through a sail or hit someone in the face, and then they'll be banned from regattas. They're also now regulated throughout Europe, the US, and the Antipodes, and thanks to those regulations, drone pilots have jacked their prices up, often actually costing more than a helicopter rental.  And unless you're a top team with clever coaches and daily video debriefs, the footage really isn't worth much; you don't have the still-photo capability that a dude in a helo does, and a highlight reel editor only needs 20 or 30 seconds of HD aerials for his daily piece – it's just not worth the thousands of dollars that the geeks want to charge for it.
But a balloon?  A controllable blimp?  Cheap and reliable, with minimal battery requirements and the possibility of a long tether with a live HD feed?  Now that's something we can get into, and thanks to Massimo Tomassini and Petey Crawford for the discovery.  Anyone know more about this one?  Get in touch.
March 18th, 2015 by admin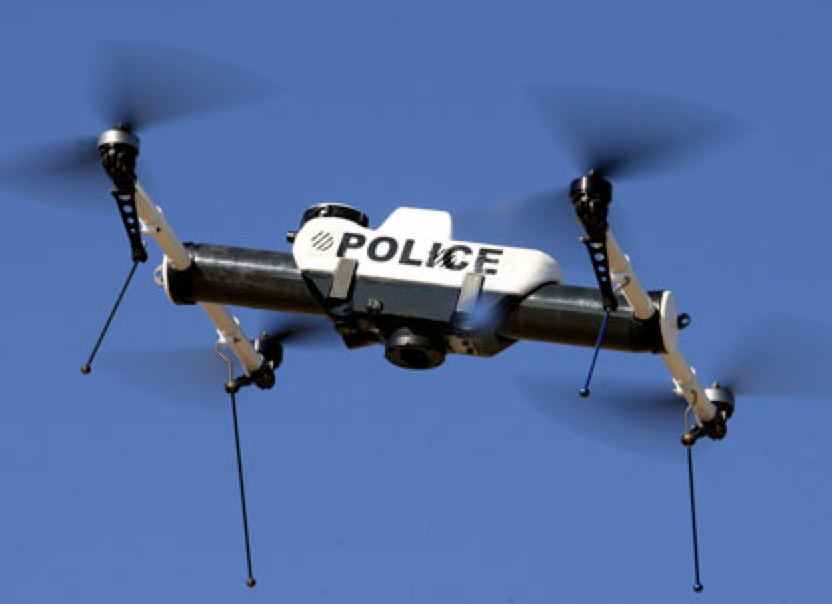 The Everglades Challenge is the gift that keeps on giving, at least if you like the esoteric fields of regatta management, event media, and government overreach.  We supported the USCG's termination of an event that failed to get a required event permit, but now another governmental body – the FAA – is shoving their face into the mix.  According to Motherboard, the dude who shot the Everglades Challenge beach start video with a DJIA Phantom 2 drone received a nastygram from the FAA last week, claiming that his posting of the video to Youtube made him a Commercial Operator under the law.  Apparently, the fact that Youtube puts ads under videos makes Jason Hanes' obviously hobbyist footage makes him some kind of business pilot.
This is the first time we've heard of an enthusiast UAV'er getting dinged by the FAA (as opposed to people actually advertising their drone business), but if one overzealous official can do it, a hundred can.  We love drone footage and it's got major utility for all of us – teams, coaches, the media, marketeers – even RC and juries, and it needs to be regulated in the most sensible, least restrictive manner.  And the line between hobbyists, artists, and commercial pilots is not nearly as bright (or as far-reaching) as Tampa FAA Aviation Inspector Michael Singleton thinks it is.
Sailing Anarchy encourages US Sailing (or in their absence, individual regatta organizers) to come up with a short, sensible framework for UAV operation at regattas; something that should include registration requirements for each drone pilot (and permanent identification marks on each drone), access and safety rules that differentiate between official media-operated drones, outside media-operated drones, and team/coach-operated drones, serious consequences for interference with racing or boat impacts, and strict proximity and altitude limits.  Maybe if we show we've got our shit together, we can help persuade the folks at the FAA to include the maritime sports community as they struggle to come up with rules that make sense for a wide variety of circumstances in a super-rapidly growing field.
You can read the letter here and we encourage you to check out the full article.
March 13th, 2015 by admin
As you can see by the huge starting line in this drone video from yesterday, the Everglades Challenge grew too big for its britches this year, and thanks to a number of rescues (including several kayakers and a couple of dinghies) and a failure by organizers to have gotten themselves a Marine Event Permit (MEP) as required by federal law, the Coasties have terminated the regatta.
We hate to come down on the law and order side of things, but despite some of the watertribers' insistence that it's still a mom-and-pop regatta for the fringe, it's time to get real.  There's no longer any complaint about resources; with entry fees at around $400 per person and more than 200 competitors, the money is there – and the Coast Guard makes getting an MEP a fairly smooth, if somewhat time-consuming process.  And getting the permit requires organizers to really think through the possibilities, ensuring that there's a safety and comms plan in place for the good of the fleet.
Discussion, pics, more videos in the forum.
March 8th, 2015 by admin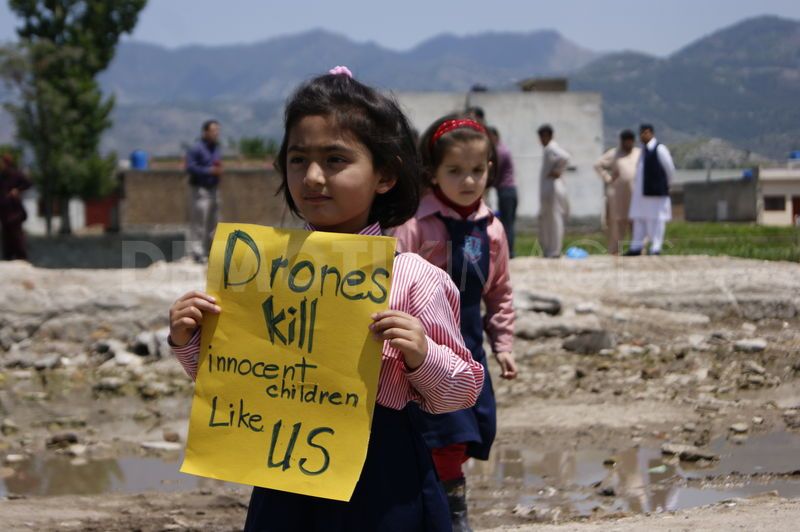 We love the innovation in coverage that we've seen from quadcopter/drone shooters over the past year, but it's time to inject a little common sense into the mix before we see the first inevitable fiery crash.  The problem comes not from your little Phantom crashing into a boat, after which you might need to pay for a sail repair – no, the big issue is something that any drone operator should realize is a REALLY BIG DEAL: Other aircraft.  So here's our Public Safety Announcement:  DO NOT DLY YOUR DRONE ANYWHERE NEAR HELICOPTERS OR SMALL PLANES.  If a bird can take down a jet and a sparrow fart can take down a helicopter, what do you think your quadcopter can do?  It can kill, and if it does, you will end up either in jail or bankruptcy court when they sue you for tens of millions for wrongful death.  Plus, you'll have fucking killed someone!  Don't believe us? Here's a note from a well-known videographer.
Want to know the sketchiest thing that's ever happened to me when shooting from a helicopter?  It happened yesterday, just off Fort Adams, while I was shooting the Alvimedica and Abu Dhabi teams as they set out from Newport for Europe.
While we were flying along chasing boats, the pilot suddenly yelled "FUCKING DRONE!" and threw in a huge turn and began climbing hard.  Suddenly, looking out the open door, I'm staring at a toy that could eviscerate our tail rotor and kill us all.  It passes 50 feet below us in the opposite direction; so close that I can easily see that it is a Phantom 2 with a GoPro Hero aboard.
I'm sure I love my drone just as much as the guy who shot this video, but when helicopters are in the air, all drones should be grounded.
-Near-Miss in Newport
July 11th, 2014 by admin
The Anarchists at Pigeon Vision continue to try new things, and this week, they take a drone's eye look at the unstepping of the 60-meter monster mainmast of the $200,000/week Holland/Perini charter ketch Felicità West.  A cool (if a bit long) look at something most of us will never get very close to, and a hell of an argument for boat brokers and builders to quit spending money on helicopter video when guys like the Pigeon are pulling off stuff this pretty.  More in the thread.
April 25th, 2014 by admin
Les Voiles De St. Barth continues to provide one of the best all-around regattas around, provided you can afford it.  Here's another spectacular drone video from the boffins at Pigeon Vision who are pushing sailing drone coverage further than anyone we've seen yet; be sure to watch it through right to the end or you'll miss the best part of the vid.  There's also a mediocre event-sponsored vid here, and a completely unrelated but awesome drone vid here.  Then check out Sam Roger's story below on the hard-charging team of Gunboaters aboard Jason Caroll's Elvis at Les Voiles.  Carroll, Chad Corning, Scotty Bradford, Dave Allen,  Dave Hazard, Weston Barlow, Anthony Kotoun, John Baxter and Sam Rogers nearly made the headlines for all the wrong reasons, but continued the Elvis tradition of pushing everything – on and off the water – to the redline.  Check out more from Sam at 42 Marine.
Growing up in tornado prone Minnesota, there are a few safety measures engrained in one's psyche when summer weather sirens begin to sound.  If caught indoors, find a stable structure to ride out the storm; a basement, bathtub or when all else fails, a doorway. While racing the 62 ft Gunboat Elvis at Les Voiles de St. Barths this past week, I didn't imagine a scenario where deploying tornado safety measures would be needed, but on a windy Day 3, when danger found us, I found the doorway.
For cruisers and racers alike, Gunboat catamarans are an appealing option. For cruisers, the modern, chic layout and design both inside and out allow the boat to hold its own in the swankiest harbors in the world, with a brand that's known throughout the yachting world. Staterooms are comfy and roomy, there are plenty of nooks for relaxing, and as the many who have stepped foot aboard Elvis know, there is space for a sizeable party, complete with an impressive sound system, disco lights, and a dance-inducing 16-gallon rum tank and tap.
At 62 ft long, 30 ft wide, with carbon fiber throughout and a full compliment of racing sails, Elvis easily goes from Grand Ballroom to Grand Prix, capable of sailing 15 knots upwind and rumbling into the high 20s when cracking sheets.  As a sailor used to fast boats but without the leverage of being 30 ft wide when heeling 10 degrees, or having lead underneath them and simply waiting it out when a wipe-out occurs, the Gunboat sent me accroos to the lap of Anthony Kotoun when lifted 60 foot of starboard hull out of the water for the first time.  The comfortable mix of cruising and white knuckle sailing attracts owners like Jason Carroll who are looking for more than a standard racer/cruiser.
Our practice session and the first two days were in 11-15 kt tradewinds with moderate seas that gave Voiles competitors idyllic Carribean racing in and around the surrounding islands of St. Barths. Racing the Elvis at full steam took the max effort of 9 capable sailors, as we ran the gamut of our sail inventory on the winding courses.  The bow team was busy on the trampoline completing sail changes, as well as the pit/trim team managing sails, dropping and raising boards and pushing to maintain max vmg at all times. With a favorable rating on a Seacart 26, we found ourselves with two 2nds, and 2nd overall heading into the lay day.
The lay day is exciting moment for sailors. For some it provides a relaxing evening followed by a day of exploring which is often not afforded at most regattas, and for others it essentially is a hall-pass for a night on the town without a harsh wake-up for boat call.  After a fun night at Baz Bar, we posted up at noon for a regatta sanctioned "lunch" at the famous Nikki Beach, gawked at the menu listing 30,000€ bottles of champagne, and washed down our body surfing sessions with magnums of Rosé.  Yes, Rosé, its what they do in St. Barths, and we were in no position to question it.  If we knew what was awaiting us on the racecourse the next day, we may have opted for a pot full of calming herbal tea.
Sipping our coffee on the morning of day 3 from the perch of our villa, we could see the Trades were in full effect, and the Carribean at full noise.  With my experiences on Elvis being new, different and very smooth up to this point, I had veiled excitement as we headed to the racecourse; I did not know enough to be nervous.  With the wind instruments reading 25-28 and monster seas rumbling through the straight between St. Barths and St. Maarten, it was enough to drop the rig on the mighty 72 ft. Bella Mente.  Still not fully grasping the potential of the Elvis in this condition, we hoisted sails and put her on the wind.
Once sheeted on, the speed ticked up quickly, and from the comfort of Anthony's lap, I felt our starboard hull lift for a few moments, then gently touch down.  Racing 38 ft scows that can touch 25 kts on a lake and easily capsize, or a Melges 32 down big waves in big breeze does not make me nervous.  The magnitude of racing a 62 foot Gunboat with the potential to tip over in big waves in the Carribean Sea made me nervous, and I instantly felt the weight of this for the first time.  With a monster puff descending on us and entering it unprepared on a fat angle without sheets ready to ease, we lifted off again but this time we kept going, with the heel angle reaching 20, 25, 30, 35, 40 degrees….
It was a forgone conclusion that we were going over as the worst case scenario loomed. With some braver team members reaching for their knives and winches to cut sheets or find a last ditch effort at salvage, others braced for impact, and when we reached the point of what I thought was no return, I found the nearest place to ride out the situation which happened to be the windward cockpit door frame, finally putting my childhood tornado education to use.
From our estimation, and from a handful of other sailors who witnessed our starboard hull rising from the water the heel angle reached somewhere in the low 40s before it stopped, held for a few moments, and quickly descended back into favorable numbers, like 0.  As the Elvis sat for a few moments, sails totally luffing, our team stared at each other in a mix of nervous laughter, and total shock that we were still floating upright.
Seeing steady breeze in the high 20s, the Bella rig go down, and potentially our near capsize, the always fearless Carribean/French RC sent all racing boats to shore for a postponement.  With every crew-member wound like a coiled spring ready to explode at any back-pat, sound or hint of trouble, we motored to Columbie' (a beautiful beach lined natural harbor around the corner from Gustavia). Once we got settled, the team quietly separated to different areas of the boat, reflecting on what went wrong, what could have been, and how fortunate were to have our only damage be bruised egos.
In the end, our momentary lack of respect for the boat and conditions got us close to capsizing.  Being too cavalier, pushing the boat at 100% while not being prepared with having everyone in their racing positions, with someone calling puffs full time, and the driver and trimmers ready to react to the smallest wind increase or direction change was careless, and we fully understood that.  The Gunboat is a very fast, exciting boat that can be sailed in big heavy seas, but if a team is going to push it as hard as we intended, everyone needs to be on high alert any time the sails are trimmed; you can't race this boat in the same way that you party on it.
With a few hours at anchor to calm our nerves, thank our respective spiritual leaders and share some more nervous laughter, we headed back out at 2:30 for a start in a breeze that had died slightly.  Pushing the boat at 85%, we completed the course and slowly got our confidence back to tame Elvis in 20-25 kts.
The final day saw similar conditions, and using our experiences from the day prior, we came to the racecourse more prepared, pushed harder, and enjoyed the sailing.  Once the magnitude of the boat and the conditions were fully understood, the Elvis seemed perfectly at home in similar conditions that caused us trouble a day earlier. With satisfaction that we could push the boat hard and get it back to the harbor in once piece, we returned to our mooring in Columbie', relaxed on the comfortable layout of Elvis, put on some reggae, clicked on the ice maker and watched the gauge on the rum tank slowly go down.
After an amazing week of Red-Lining our sailing and on-shore activities on the Elvis team, it is very apparent St. Barths and Gunboat sailing are a stellar combo.  It might just be the perfect place for the first ever Gunboat World Championships in 2016…who's in?
April 21st, 2014 by admin
The droneistas at Pigeonvision follow up their great work in Sint Maarten with this aerial reel from the St. Barth's bucket. A very pretty view of these jewel-encrusted heavyweights, but they do remind us more than a little of a bunch of hippos wallowing in a watering hole.
April 3rd, 2014 by admin
The boys from DFW Drones give us a glimpse into the future of sailing video aerials with this drone cam action from the VX-One NA Champs in Rush Creek, TX.  Can you see the potential?  We can, and at a couple thousand bucks for the complete package, they are cheaper than a new SLR camera.  Get some.
November 20th, 2013 by admin