Posts Tagged 'drone'
Sam Greenfield may have been the first yachtie to launch a drone off a racing boat, and in just a short time, the world has followed.  Quads have become required equipment for the world's biggest sponsored raceboats, and with good reason: In a race like the Vendee Globe, the ability to shoot yourself from the air at any angle adds an awesome new element to the experience for all of us back home, and the sponsors who pay for it.  Kudos to Conrad Colman for his pilotage; let's hope he has the balls to fly it in some breeze.  Colman's Foresight Natural Energy IMOCA sits midfleet.
Up-to-the-minute links and chatter about the Vendee Globe here.  Tracker here.
November 11th, 2016 by admin
Yacht racing meets The Benny Hill Show, with thanks to some creative editing from Keith Brash/Quantum Sails TV.
January 29th, 2016 by admin
A new eye is sometimes the best antidote to a stale look, and the newest droners to enter the sailing scene have an interesting take on the Moth Aussie Nationals earlier this month in Perth.  Learn more about Perth's Skyworks WA here, and congrats to longtime SA'er Josh McKnight on yet another title.
January 25th, 2016 by admin
There were some grumblings from media pros early in 2015 when we suggested US Sailing or ISAF plan ahead and institute real drone regulations before something bad happened.  After all, it's a big ocean out there, right?  While the government jumped in to at least start things on a path to responsibility, the various nations' rules are a huge mess, and forward looking sporting organizations should already be acting on it.
As of a few days ago, skiing's governing body, the FIS, has absolutely banned drones from its World Cup events, with other levels likely to follow.  If you don't understand why, watch the incredible video above.  Then imagine you're at the top mark at a World Championship with the same thing happening on your foredeck.
We are absolutely in favor of drones being used to help show off sailing to the world.  No technical development will have a bigger impact on the sport since Algore invented the internet.  But drones and drone operators need to be tested, proven and insured under either a credible media organization or the event itself.  Anything else is asking for an expensive, embarrassing, and potentially harmful or fatal problem.  Don't believe us?  Watch that video again.
January 15th, 2016 by admin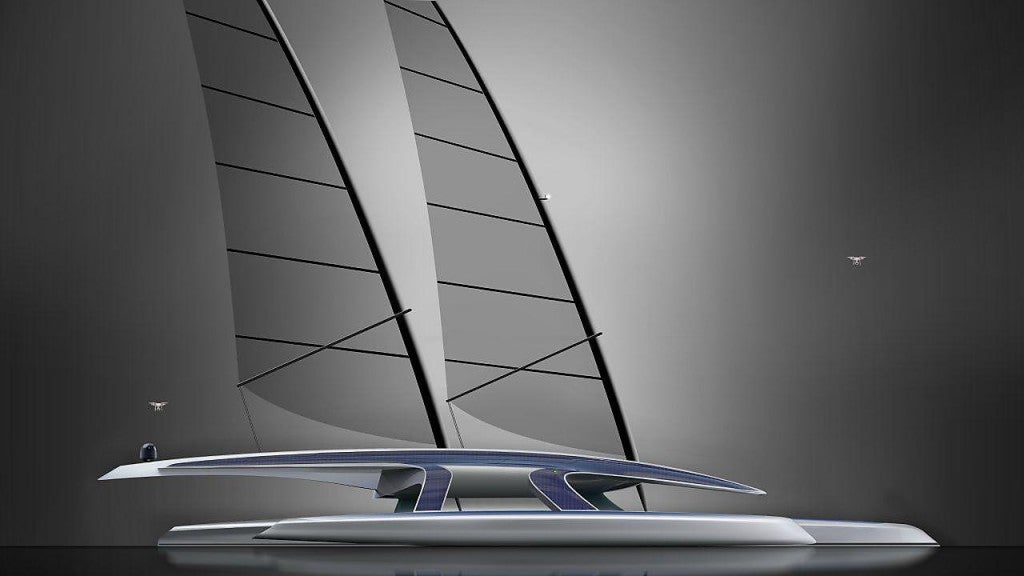 From Plymouth, England to Plymouth Rock on the 400th anniversary of the trip that colonized the New World, the 106-foot Mayflower Autonomous Research Ship (MARS) might make history in 2020 if the right commercial partner can be found by MSubs, Plymouth University, and Shuttleworth Design.  It's the latest (and maybe the prettiest) in a long line of vaporware sailing UAVs, and with a new bag of tricks: Sailing at 20 knots, motoring in light airs with near unlimited range at a quarter of that, and launching and recovering its own aerial drones.  We likey.  More from Giz, and chatter over here.
August 17th, 2015 by admin
Since getting his walking papers along with the rest of the Luna Rossa team, 5-time AC'er Shannon Falcone is playing with some new toys. Having locked up the win on Thursday, a local took his spot on the Gunboat G4 for Friday's race so Shannon could shoot some foiling action from the sky.  Here's a look at this budding videographer's  movie, and you can check out all the week's videos and pics on the Gunboat Facebook Page.
Sick of the G4 yet?  We're not.  It's fast, it's bold, and it unabashedly sticks up the middle finger to the establishment.  More importantly,  the concept works.  And it works better than even the ever-optimistic Peter Johnstone expected.
We'll have a world-exclusive Antigua race report and boat review from our Senior Editor soon, and a comprehensive video walkthrough of the boat and all her systems later this week.  Until then, click HD and watch it big.
May 3rd, 2015 by admin
Good drone video fascinates sailors, mostly because it gives us a view that helicopters have never been able to show us before – a close-up aerial.  For coaching, it's invaluable, but for everything else, UAV's are kind of a pain in the ass.
Drones are expensive when you consider that the average maritime operator loses 2-3 each year.  They're annoying and potentially unsafe – sooner or later, a big one's gonna go through a sail or hit someone in the face, and then they'll be banned from regattas. They're also now regulated throughout Europe, the US, and the Antipodes, and thanks to those regulations, drone pilots have jacked their prices up, often actually costing more than a helicopter rental.  And unless you're a top team with clever coaches and daily video debriefs, the footage really isn't worth much; you don't have the still-photo capability that a dude in a helo does, and a highlight reel editor only needs 20 or 30 seconds of HD aerials for his daily piece – it's just not worth the thousands of dollars that the geeks want to charge for it.
But a balloon?  A controllable blimp?  Cheap and reliable, with minimal battery requirements and the possibility of a long tether with a live HD feed?  Now that's something we can get into, and thanks to Massimo Tomassini and Petey Crawford for the discovery.  Anyone know more about this one?  Get in touch.
March 18th, 2015 by admin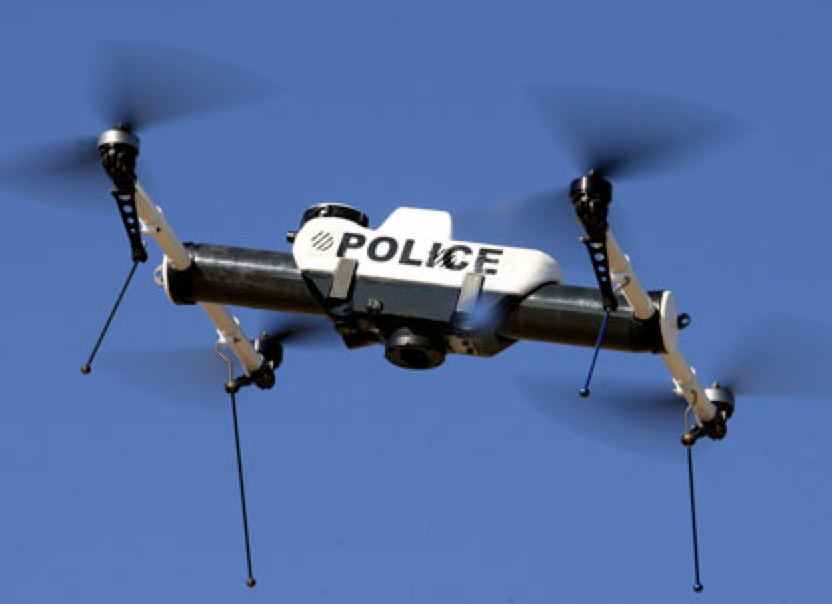 The Everglades Challenge is the gift that keeps on giving, at least if you like the esoteric fields of regatta management, event media, and government overreach.  We supported the USCG's termination of an event that failed to get a required event permit, but now another governmental body – the FAA – is shoving their face into the mix.  According to Motherboard, the dude who shot the Everglades Challenge beach start video with a DJIA Phantom 2 drone received a nastygram from the FAA last week, claiming that his posting of the video to Youtube made him a Commercial Operator under the law.  Apparently, the fact that Youtube puts ads under videos makes Jason Hanes' obviously hobbyist footage makes him some kind of business pilot.
This is the first time we've heard of an enthusiast UAV'er getting dinged by the FAA (as opposed to people actually advertising their drone business), but if one overzealous official can do it, a hundred can.  We love drone footage and it's got major utility for all of us – teams, coaches, the media, marketeers – even RC and juries, and it needs to be regulated in the most sensible, least restrictive manner.  And the line between hobbyists, artists, and commercial pilots is not nearly as bright (or as far-reaching) as Tampa FAA Aviation Inspector Michael Singleton thinks it is.
Sailing Anarchy encourages US Sailing (or in their absence, individual regatta organizers) to come up with a short, sensible framework for UAV operation at regattas; something that should include registration requirements for each drone pilot (and permanent identification marks on each drone), access and safety rules that differentiate between official media-operated drones, outside media-operated drones, and team/coach-operated drones, serious consequences for interference with racing or boat impacts, and strict proximity and altitude limits.  Maybe if we show we've got our shit together, we can help persuade the folks at the FAA to include the maritime sports community as they struggle to come up with rules that make sense for a wide variety of circumstances in a super-rapidly growing field.
You can read the letter here and we encourage you to check out the full article.
March 13th, 2015 by admin
As you can see by the huge starting line in this drone video from yesterday, the Everglades Challenge grew too big for its britches this year, and thanks to a number of rescues (including several kayakers and a couple of dinghies) and a failure by organizers to have gotten themselves a Marine Event Permit (MEP) as required by federal law, the Coasties have terminated the regatta.
We hate to come down on the law and order side of things, but despite some of the watertribers' insistence that it's still a mom-and-pop regatta for the fringe, it's time to get real.  There's no longer any complaint about resources; with entry fees at around $400 per person and more than 200 competitors, the money is there – and the Coast Guard makes getting an MEP a fairly smooth, if somewhat time-consuming process.  And getting the permit requires organizers to really think through the possibilities, ensuring that there's a safety and comms plan in place for the good of the fleet.
Discussion, pics, more videos in the forum.
March 8th, 2015 by admin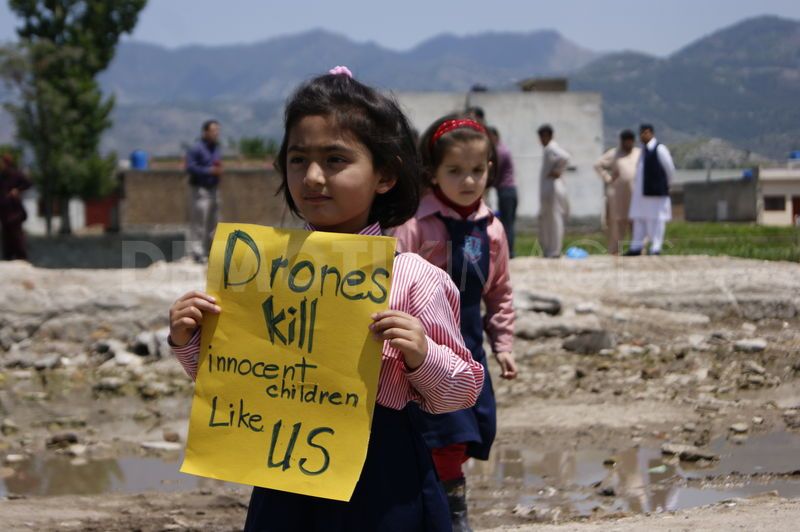 We love the innovation in coverage that we've seen from quadcopter/drone shooters over the past year, but it's time to inject a little common sense into the mix before we see the first inevitable fiery crash.  The problem comes not from your little Phantom crashing into a boat, after which you might need to pay for a sail repair – no, the big issue is something that any drone operator should realize is a REALLY BIG DEAL: Other aircraft.  So here's our Public Safety Announcement:  DO NOT DLY YOUR DRONE ANYWHERE NEAR HELICOPTERS OR SMALL PLANES.  If a bird can take down a jet and a sparrow fart can take down a helicopter, what do you think your quadcopter can do?  It can kill, and if it does, you will end up either in jail or bankruptcy court when they sue you for tens of millions for wrongful death.  Plus, you'll have fucking killed someone!  Don't believe us? Here's a note from a well-known videographer.
Want to know the sketchiest thing that's ever happened to me when shooting from a helicopter?  It happened yesterday, just off Fort Adams, while I was shooting the Alvimedica and Abu Dhabi teams as they set out from Newport for Europe.
While we were flying along chasing boats, the pilot suddenly yelled "FUCKING DRONE!" and threw in a huge turn and began climbing hard.  Suddenly, looking out the open door, I'm staring at a toy that could eviscerate our tail rotor and kill us all.  It passes 50 feet below us in the opposite direction; so close that I can easily see that it is a Phantom 2 with a GoPro Hero aboard.
I'm sure I love my drone just as much as the guy who shot this video, but when helicopters are in the air, all drones should be grounded.
-Near-Miss in Newport
July 11th, 2014 by admin