Posts Tagged 'Dragon'
By Saturday, Michael Hennessey's Class 40 Dragon was finally on a roll in the Atlantic Cup.  Tied for first place going into the final weekend of inshore racing in Newport, Dragon got a great start in the first inshore race today, with a great kite hoist leading to a 7 boatlength lead at the turning mark off Beavertail.  And then disaster struck; Dragon clipped a big rock just as bowgirl and former SCOTW Emma Creighton went out on the bowsprit to set up the douse.  The boat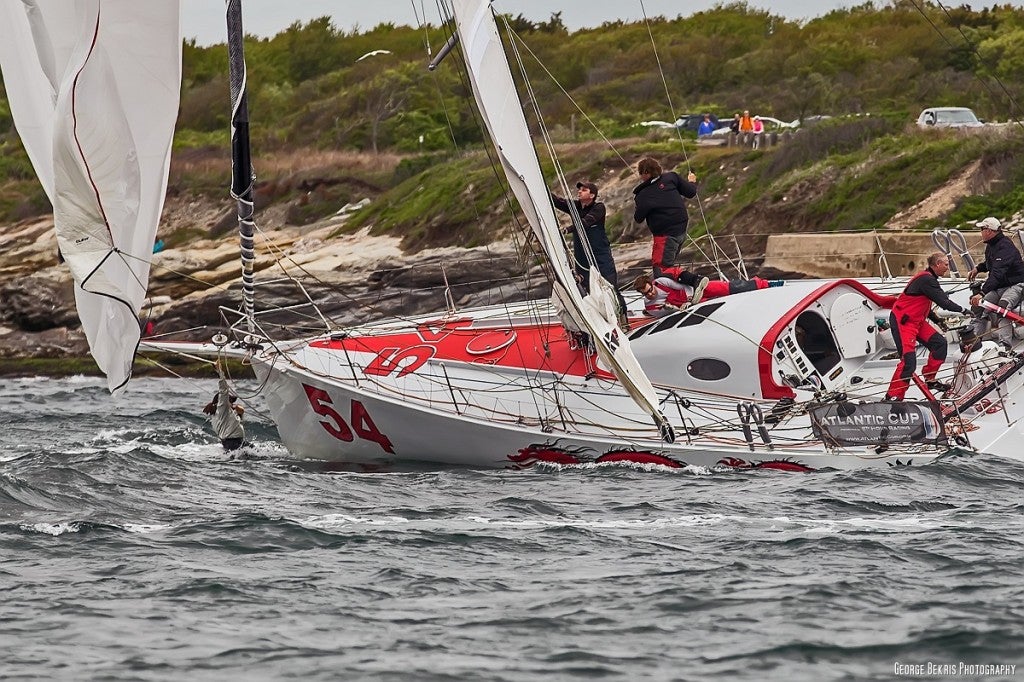 went from 12 knots to zero, knocking the crew off its feet and launching Emma off the bow, though the young Maine native's badassery knows no bounds, and somehow she held on, and no one was injured on the crew.
The boat is another story however; have a look here and you'll see what we mean.  Cracked keel box, cracked grid frames, wrecked fairing, and cracked glass around the keel entry.  Huge bummer on a beautiful Memorial Weekend sailing day, but it could have been much worse.
More info at the Atlantic Cup site here, huge thanks to SA'er "Mister Sail" for the shot of Emma to your left, and to Julianna for the keel shot.
May 24th, 2014 by admin
Our old friend Mike Hennessy – owner/driver of Class 40 Dragon is one of at least two Americans to be sailing one of our all-time favorite races this year. It's a race named after booze, and every four years, the world's best offshore singlehanders use the race, known as the the Route Du Rhum, to test themselves against the Autumnal gales of the Atlantic.  
If you don't yet know Mike, he's been a member of the SA family for ages, and we've watched right here from the very beginning of his Dragon's racing program; Mike has shared the highs and the lows with all of us, and we will be there in St. Malo to wish him off again this coming November.  If you have some vacation time, it's one spectacle every sailor should see; not just because of St. Malo's beauty, the mouth-orgasmic seafood/wine/desserts/women, the offshore racing history, or the ability to see and touch everything from Tabarly's legendary yachts to the biggest racing trimaran every built – which will also be sailing to Guadeloupe with just one guy aboard.  No, the reason you go to St. Malo in November is for the crowd; nearly 1 and a half million people make their way through the race village in a week, with some 500,000 watching the start in person on race day.  It's a site worth seeing, and you only get it once every four years.

As Mike gears up for his biggest year yet, he's sharing the branding with aspiring Anarchist Henry Clemens.  The young Norwegian – (Hennessy is his godfather) - is going to be tearing it up in the Oslo fjords in his new Opti this spring, and like any good Viking, he knows that intimidation can bring advantages in combat, including port-starboard crosses.  Mike had his graphics guys whip up a drawing, and young Henry's dragon will be hard to miss this summer.  Keep your eyes on this page for Mike's reports from the various pre-RdR events in 2014, and check out last year's stuff on his FB page.
March 14th, 2014 by admin