Posts Tagged 'Dragon'
Michael Hennessey and Tristan Mouligne hit up the the irie-est race in the world aboard the Class 40 Dragon.  Results here, and more info on the Pineapple Cup/Mo Bay Race on the SORC Facebook Page. Nigel Lord Photo.
Here I sit on the beach of the Secrets resort next door to the Mo Bay Yacht Club, watching my boat sail off across the horizon towards the western tip of Cuba,  musing what marketing genius thought it was a smart idea to call a resort "Secrets".  Is there really that big a market for illicit affairs that they need 800 rooms and a full resort for them?   Or does 'Secrets' refer to the secrets that couples keep from one another; things like, "I'd rather be on that boat, eating freeze dried pasta and shitting in a bucket, than sitting on this white-sand beach?"
It really is a nice resort.  A collection of buildings, pools and beach that is hermetically walled off from the real Jamaica by concrete, iron, and security guards.  Plush rooms, plush towels, plush seat cushions.  The days seem to be centered around the tidal movement of people from food to beach to bar to food to pool to food.  Its a lot like what I would imagine a very nice cruise ship to be, but with trees, no kids, and apparently, lots of Secrets.  And I'd rather be on the boat.
Delivery crew Dan Valoppi and Kyle Hubley flew in yesterday and shoved off this morning, delivering Dragon back to Charleston.  A good number of boats departed yesterday, Oakcliff bound for Antigua and the C600, then Amhas and Miss Maris for Charleston.  Dragon will likely catch Miss Maris tonight, and then everyone will end up tied up in Lauderdale around Tuesday as they sit out a low that is going to fill in south of Hattarras.  Other than the stopover, it looks like a run down the Caribbean, a short motor off Key West as the wind flips around and then a reach up the Keys.  It's delivery mode, so they have books and music and long naps to look forward to.
This was my second time sailing the Pineapple Cup/Jamaica Race, and it is still my favorite race.  The course is unique and just long enough to feel like an ocean race. The vibe is low-key fun, warm hospitality and a welcome relief from the cold that has the Northern climes' balls in its icy grip.  We woke up on race day knowing that it was going to be an 'athletic' start, with most of us holding off our departure from under the bridge to spend as little time as possible being whipped around in the pre-start.  We already had our main loaded and our trinquette (staysail) plugged in before leaving the dock, so it was a fairly simple matter of slapping our way out of the breakwater and getting far enough the beach to know what the wind conditions really were all about for the first part of the race.
Which was a very, very shy reach.  Or rather, close hauled and fetching on port tack (ok, 55 degrees TWA in 25-30) with two full tanks of water ballast.  The start was uneventful for us, not so much for a few others that had some issues getting their headsails under control.  But the rust was showing, and it took us a good 2 or 3 hours of tweaking before we really got the boat moving close to its polars.  In that time, we fought off Oakcliff but let Amhas pick up a couple of miles on us.  The sea state coming across the Gulf Stream was a mess, with short steep waves coming from almost every direction until we got across.
Our bigger mistake was footing off a bit too much, ending up South of our first mark, Great Isaac.  So when we got there around midnight, we ended up having to put a 3 mile tack to the north – something none of our competition had to do.  Silly, stupid mistake on our part, followed by a much bigger one when I accidently auto-tacked the boat, and in doing so, dropped the bagged A2 in the water. Those bad boys get massively heavy when they get wet, and I still have the bruises from the lifelines where I leaned against them to get the kite back on the boat.   Then, proving that I am much less smart than I think I am, I managed to auto tack the pilot again an hour later.
Those three mistakes set the table for our entire race – a bummer, because we really didn't make any more for the remaining 800-odd miles.  But the first three mistakes put us behind Amhas by a good 15-20 miles, with the wind clocking the entire time. Once we got past Issac we were able to put a bit more South in, and then more once we got past Stirrup, but the entire time the wind kept clocking forward which kept us on the wind and going slow.   Meanwhile, the boats in front of us were able to get a little bit of cracked off sailing across the top of the Bahamas, and then once they got past Eleuthra, onto a full-on blast reach for five hours while we were still tight on the wind – translating into a 30 mile lead by the time we were able to crack off.   And when we got to the corner on Saturday night, the wind had already clocked forward, so while we got a reach, they'd had a broad reach.   It was a rich-get-richer story, most notably for the near record-setting Shockwave, but also for Amhas, Renegade, Vortices, and Oakcliff.
Down the east side of the Bahamas, it was a decent reach but never far enough back to get a code sail up.  The wind settled a bit at 18 to 25 and as a result it was a very wet ride, by the light of a giant moon that had just started to wane.  By Sunday morning we were down to the bottom of Cat Island – we chose to take it to the outside – then we had more wet, fun near-reaching through Sunday and into Sunday night.  Demonstrating how much better that point of sail is for high-stability Class 40s compared to conventional boats, we managed to erase a 15-mile lead that SC52 Renegade and J/145 Vortices had and pull in front of them by early on Monday morning.  This was as we approached Cuba, and judging from the thundercells building in the moonlight, we knew we were going to get plastered.  Nighttime cells in the Caribbean are always interesting; with too much wind on the edges and no wind in the middle and all of it shifting over 360 degrees.
That, however, was not really the bad news – which, instead, was a big shift on the other side.  We managed to get enough breeze to pull us within 2 miles of the eastern tip of Cuba by 7 am, but then the breeze shut off for 3 hours before it filled in from south west.  Seriously… we had been upwind for 550 miles only to literally reach the part of the course were we would make a 90 plus degree turn to the west and we end up with a wind shift that put the wind blowing straight out of our destination. Meh.
The tracker showed Amhas and Oakcliff as having gone South into the Caribbean, and the forecast called for less breeze down there. We were going to get no leverage out of following them, so we decided to rock hop down the Cuban coast.  In the end, they got about the same pressure that we got, and the tactic did not yield any meaningful results for us, but we did get to have a full day of sailing along one of the most beautiful coasts I have ever seen.  Well worth the price of admission, and something that maybe a lot more Americans will be able to see soon.  Throughout Monday, we continued to play tacking games with Vortices, the one boat that followed our lead down the coast.  Not surprising for a J145, they pointed a hell of a lot better than us and gradually legged it out in front of us.
Monday night gave us a chance to get to know our American servicemen as we ended up within two miles of the base at Guantanamo Bay.  The boys at Gitmo were unamused at our proximity to their exclusion zone, and they let us know via in no uncertain terms via VHF.  I suspect that had it been daylight, they probably would have paid us a personal visit.
Tuesday morning saw the sun rise behind clouds, and saw the breeze clock back to the East, freeing us to finally make some better VMC towards Montego Bay.  That continued to midday, when we had the front move through, the sky clear and the wind shift back to the WSW.  Yet another solent reach, and we started to chip away at the 14-mile lead that Vortices had built on us.  We caught one last tack to the West and then banged the layline from 80 miles out.  In an effort to keep up boat speed, Vortices footed off to below the finish line, while we were still making a knot on them, drag racing to the finish.  We thought for sure that we had them when they got to the beach a mile or so east of the finish line, but somehow they got lifted at the same time they went into some magical high point mode and they just pipped us at the line.
After a short motor to the dock (did I mention, free dockage?), we were met by our host family carrying a bucket of ice cold Red Stripe…at 3 Am in the morning.  I think it is that moment that best shows what this race is all about.  Jamaica is one of the most hospitable places anywhere in the world, and the members of the Montego Bay Yacht Club may be the best of all.  The restaurant stays open all night as boats arrive, every boat gets a host family that helps out with anything that might be needed, the members staff all the finish line duties, and they throw a cocktail party or dinner for the week of arrival to make sure that you have a chance to hang out and tell tall tales of your seafaring adventures.  It is the warmest, nicest bunch of people that I have had the chance to meet in sailing.
The Ocean Racing Anarchy thread on this race started out with a question about the state of this race and its relatively small size this year, and it's a good question.  The state of big boat racing in Florida, the longsuffering economy, and the RORC C600 have all conspired to pull a number of boats away from the bi-annual Jamaica Race.  Couple that with – let's face it – a weak marketing and communication effort over the past few years, and what you have is a decent little fleet – but not what it could or should be.
The reality is that the eastern Caribbean winter circuit is very enticing, but it is also a huge commitment of time and money.  In the meantime, the (hopefully) imminent opening of Cuba should create an opportunity to  build a mid-Caribbean circuit of three or four races that could follow Key West Race week and offer a lower cost, easier option to get winter racing in awesome waters.  I know there are some Anarchists working towards this end, and that the Montego Bay folks are keen to figure out a solution, and I look forward to seeing what they come up with.
I can confirm that the miles down here make it a lot easier to get through a cold winter, and while the Eastern Caribbean would be great, it just doesn't fit into my schedule or budget.  But the Pineapple Cup does, and I'll be back to do it all over again.
Until next time – Walk good and likkle more.
February 18th, 2015 by admin
By Saturday, Michael Hennessey's Class 40 Dragon was finally on a roll in the Atlantic Cup.  Tied for first place going into the final weekend of inshore racing in Newport, Dragon got a great start in the first inshore race today, with a great kite hoist leading to a 7 boatlength lead at the turning mark off Beavertail.  And then disaster struck; Dragon clipped a big rock just as bowgirl and former SCOTW Emma Creighton went out on the bowsprit to set up the douse.  The boat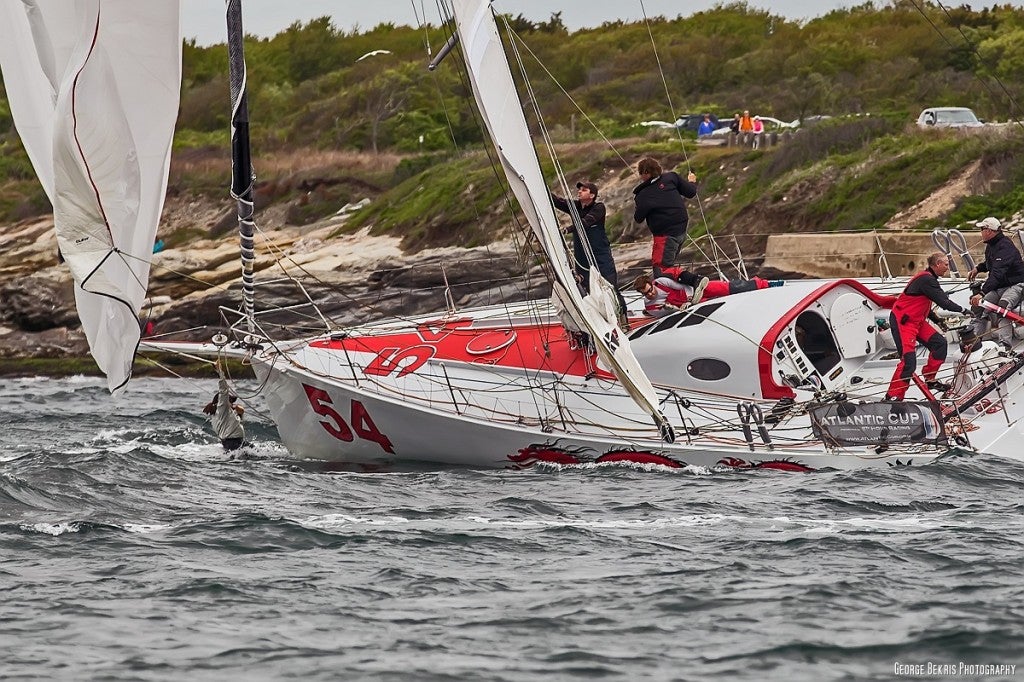 went from 12 knots to zero, knocking the crew off its feet and launching Emma off the bow, though the young Maine native's badassery knows no bounds, and somehow she held on, and no one was injured on the crew.
The boat is another story however; have a look here and you'll see what we mean.  Cracked keel box, cracked grid frames, wrecked fairing, and cracked glass around the keel entry.  Huge bummer on a beautiful Memorial Weekend sailing day, but it could have been much worse.
More info at the Atlantic Cup site here, huge thanks to SA'er "Mister Sail" for the shot of Emma to your left, and to Julianna for the keel shot.
May 24th, 2014 by admin
Our old friend Mike Hennessy – owner/driver of Class 40 Dragon is one of at least two Americans to be sailing one of our all-time favorite races this year. It's a race named after booze, and every four years, the world's best offshore singlehanders use the race, known as the the Route Du Rhum, to test themselves against the Autumnal gales of the Atlantic.  
If you don't yet know Mike, he's been a member of the SA family for ages, and we've watched right here from the very beginning of his Dragon's racing program; Mike has shared the highs and the lows with all of us, and we will be there in St. Malo to wish him off again this coming November.  If you have some vacation time, it's one spectacle every sailor should see; not just because of St. Malo's beauty, the mouth-orgasmic seafood/wine/desserts/women, the offshore racing history, or the ability to see and touch everything from Tabarly's legendary yachts to the biggest racing trimaran every built – which will also be sailing to Guadeloupe with just one guy aboard.  No, the reason you go to St. Malo in November is for the crowd; nearly 1 and a half million people make their way through the race village in a week, with some 500,000 watching the start in person on race day.  It's a site worth seeing, and you only get it once every four years.

As Mike gears up for his biggest year yet, he's sharing the branding with aspiring Anarchist Henry Clemens.  The young Norwegian – (Hennessy is his godfather) - is going to be tearing it up in the Oslo fjords in his new Opti this spring, and like any good Viking, he knows that intimidation can bring advantages in combat, including port-starboard crosses.  Mike had his graphics guys whip up a drawing, and young Henry's dragon will be hard to miss this summer.  Keep your eyes on this page for Mike's reports from the various pre-RdR events in 2014, and check out last year's stuff on his FB page.
March 14th, 2014 by admin