Posts Tagged 'django'

After the loss of their J/111 Django, owners AJ and Atka Reid turned lemons into lemonade and commissioned a brand new raceboat, and their stoke is complete today with this gorgeous Bakewell-White 37 launched today as Anarchy.  We'll have the story from AJ himself as soon as he's got a few hours in, but in the meantime, go check out this great gallery from our friends at Livesaildie.  This shot from Brad Davies.   Like the Anarchy Sailing Team here for a very entertaining bunch of guys and gals.
March 15th, 2015 by admin
Remember Kiwi skipper AJ Reid, skipper of the ill-fated and now very waterlogged J/111 Django, which sank on delivery after the Auckland-Fiji Race?  As we mentioned in September, Reid is building a brand new Bakewell-White rocket ship at Yachting Developments, and he sent us a note this morning about her progress.
"Hiya Clean, you'll be amused to know that the new boat is called Anarchy!  Check out our Facebook Page for updates on the build, and yes, you're welcome aboard even though you're clearly bad luck!"
Big thanks to sailing/adventure photojourno Jen Edney for a little last second photoshop work, and head over here to see her latest work from the VOR in Cape Town.
November 17th, 2014 by admin
UPDATE: STATEMENT FROM J/BOATS:
"J/Boats have been in contact with the owner Andy Reid since the incident happened, in fact he will be in Newport soon on a scheduled trip already.  We're sorry to hear about the breakage and have already commenced our own internal review on the circumstances that may have led to the rudder post failure, working with our team of engineers, builders and materials specialists.  In the meantime, our condolences to the delivery crew and hope that all are well and in good health and spirits despite the circumstances."
We got news late last night that our most awesome Kiwi pal AJ Reid lost his new-last-year J/111 Django while on delivery back from Fiji.  You'll probably remember Django as the boat that won its first-ever race while handicapped by our own Mr. Clean aboard, and then went on to some great results in New Zealand and then last week's reported finish from the Fiji Race.  Here's a note we got from crew coordinator and Doyle NZ sailmaker Andy Pilcher late last night, and you can discuss the J/111 over in the thread:
For those that haven't heard, I'm sorry to announce that Django Racing has been abandoned about 300 miles North of Auckland, on her way home from Fiji.  At approx 11:00am NZ Time this morning, in winds averaging over 50 knots and seas over 5 meters, the rudder stock snapped between the two bearings, leaving the rudder swinging underneath the boat, trying to rip itself free.
The delivery crew sent out a request for assistance and set the liferaft up for immediate deployment, keeping in touch with Maritime Operations throughout the day via Satellite phone.  An Airforce P-3 Orion came by the boat to do a flyover, and fortunately,  NZ Navy Frigate Otago was in the region.  The Navy reached Django around 6 PM on Monday evening, when the crew made a hairy but successful transfer via lifeboat onto the Frigate.
We have spoken to the crew and they're safe and well, albeit very relieved and a bit shaken.   I suspect that the reality of the situation may not have set it yet for them.  Delivery skipper Ben Costello along with Bex Heilkema and Andrew Cooke  all responded exceptionally well, and did everything they could have done in the most seamanlike manner.   The boat was still floating when they transferred onto the frigate, and the rudder had not yet sheared off.  But with large cracks appearing around the area of the bottom bearings at the time of rescue and more gales and big seas forecast, we don't know how long she will last.
Otago is heading directly back to Auckland and we expect the crew to be safely back on land shortly.  That's all we know for now, we just wanted to let everyone know the facts as they currently stand.
Thanks for your thoughts and wishes,
Andy
July 8th, 2014 by admin
Our old pal Andy Pilcher from Doyle NZ checks in from aboard the J/111 Django after one of the most exciting ocean racing finishes of the year.  A great yarn from an excellent group; check out the Auckland-Fiji Race results over here. Photos from C Brad Davies/LiveSailDie Media.  Title appropriate to the best song the Beach Boys ever wrote.
Who remembers the 1995 Rugby World Cup Semi-Final between the All Blacks and England?
 The one where Jonah Lomu ran rampant right through the whole team and scored four tries, including that most memorable one where he bowled right over the top of Mike Catt?
  Keith Quinn, the veteran broadcaster with decades of experience, was so lost for words that all he could say – live on air – was "Jonah….. JONAH…..Oh!!!……Oh!!!!!"
Well, try saying this in your best Keith Quinn voice: "Django….. Squealer……. Oh!!!!……..Oh!!!!!!"
That's what we were looking at during the Auckland Fiji Race after almost 1400 miles and nearly a week of racing.  Two middleweights standing toe to toe, slugging it out, neither giving an inch.   In the White corner we have Django Racing, the younger, better looking of the two, dancing and jabbing, sticking and moving, trying to wear their opponent down.
 In the (toxic) Lime Green corner, the clever old veteran, gnarled by age and years of fighting, and looking, searching for the knockout blow.
The bout started off in a typically brutal manner, with both fighters taking a beating during the first four rounds (days). 
Eventually things calmed down a bit, and a searching, tactical battle was underway.  Django scored the first major points with a swift left hook, right across Squealer's nose, early in the fifth. 
They thought this could give them a decent advantage, but you don't get to be older and wiser without learning a few dirty tricks, and sure enough, the pugilists from Tauranga Bridge Marina eventually wore them down and scored a few back themselves. 

Deep into the sixth round, the fighters got up close and personal after fighting blind for most of the bout; after that, it was all on!
The teams stood right in each others faces, neither one wanting to let the other slip away and gain an advantage.  No one let up, with stamina and endurance being pushed to the absolute limit. Both teams pushing harder than they ever thought possible, somehow finding reserves of energy they didn't realize they had. 

Squealer used all their collective years of cunning to gain an advantage late in the seventh, and it looked like this would carry them to a famous victory. 
But Django wasn't giving up that easily, and with barely a minute to the final bell pulled their last move of the fight, launching a straight right across the face of Squealer, seemingly dropping them on their arse for the final time.
 Surely there was nothing left to give…but Squealer had other ideas.
They picked themselves up off the canvas and launched one final assault on the young pretenders. 
Django tried holding them off with a series of jabs, but Squealer countered with a brutal right hook just on the final bell. 

So who won? 
Well, it took a while for the ref's decision to come in and it was eventually announced over the public address system (also known as the VHF Radio) that Squealer had taken out the narrowest of points victories – beating Django by 10 seconds. 

Both fighters fell to the floor, exhausted, before picking themselves up one final time for an embrace that lasted well into the night.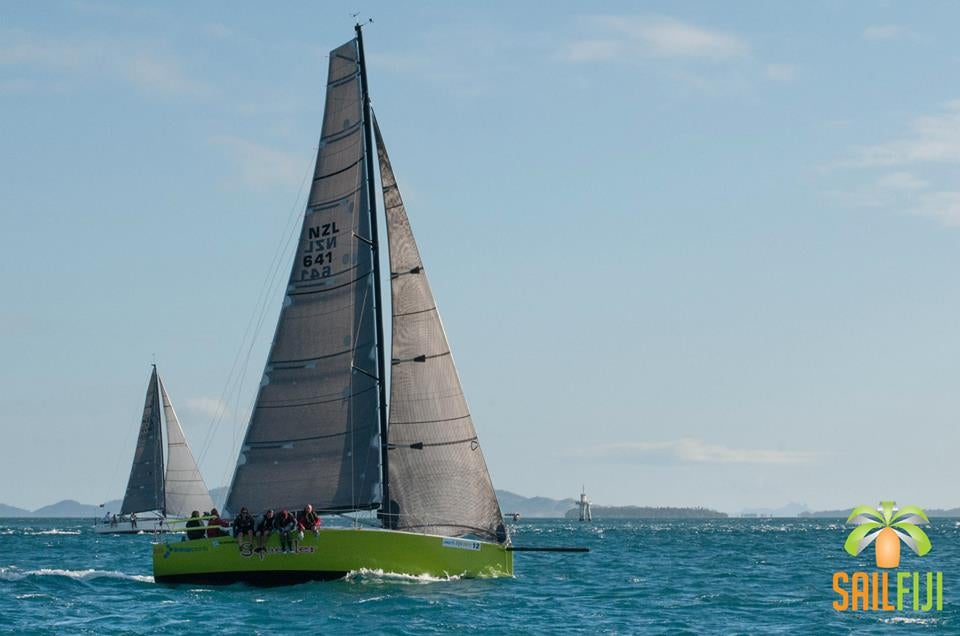 After a race that lasted just a few hours shy of a full weak and some 1370 NM, Squealer really did beat us over the line by 10 seconds. This photo was taken from the finish boat, showing their nose crossing the line, with us barely a boatlength behind. 
It was hard to comprehend at the time what we were involved in, but for all of us, this was the race of a lifetime, and it was only more poignant because of the battle raging between two boats full of good friends.  
I have known some of these guys for the best part of 20 years, and can genuinely say that we could not have hoped to be beaten by a better team.
For those that don't know, the DDF Syndicate that owns Squealer is a team of seven mates, most of whom are old school friends from Tauranga. This is the third boat they've owned, over a period of around 15 years, with their ultimate goal of competing in an offshore race.
That dream was cruelly cut down just 120 miles from the finish of last years race to Fiji, when the mast fell down as they were pushing hard for an overall win. 
So to see the joy on their faces at the finish line really did make everything worthwhile, and (almost) made us forget our awful first half of the race!
Well done guys, it was an absolute pleasure trying to knock the shit out of you, and we cannot wait to do it again.
Django Racing out.
June 25th, 2014 by admin