Posts Tagged 'dismasting'
Here's a look at a Vessel Assist 'rescue' from Seattle, with some details from local rigger Chris Tutmark.  Plenty of chat about it here.
Note that the masthead was lodged into one of the small trussed boxes along the bridge edge. One of these can be seen in the black and white pic in the link below as one of the vertical members of the bridge. If they had gotten the boat free quickly when things first got stuck, the mast "may" have survived. As it was, the only question was how many pieces it was going to be in once the boat was freed. And it was a keel stepped mast, so dropping shrouds would have only changed where it broke, not whether it broke. 
For this spot, the surface water almost always runs to the west (going left) as it is fresh water coming from the Locks and the spillway.  For those who do not live near the bridge, here is some history.  
August 1st, 2014 by admin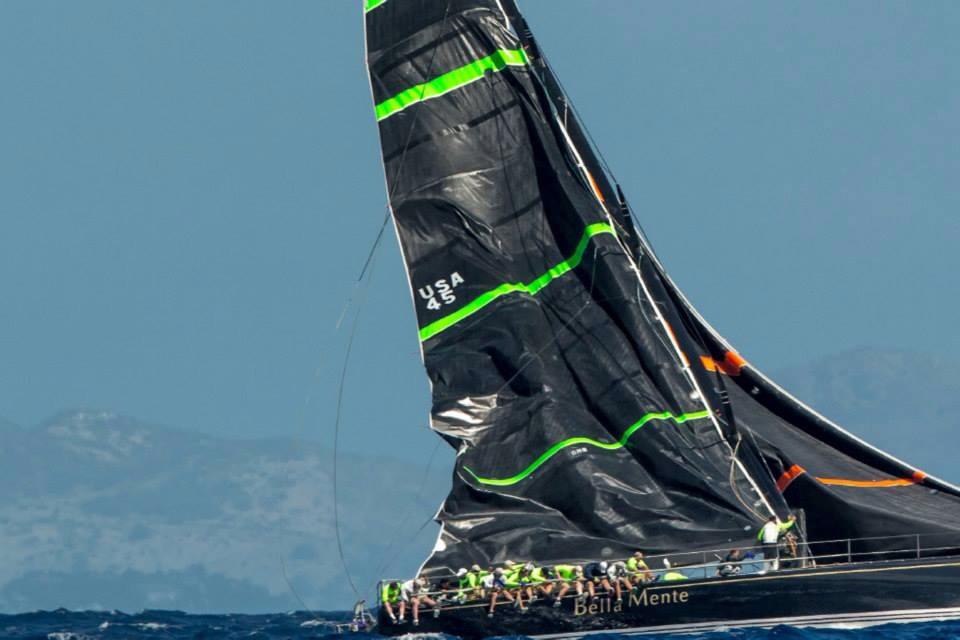 We reported on Bella Mente's dismasting in St. Barths last week, but we know that shots of dismasted boats are a dime-a-dozen.  But shots of dismasting boats, especially when it happens on the way to the course rather than mid-race?  Well that's a horse of another color – in this case, a very expensive black, neon green, and orange horse.  Awesome work (with a few more in the sequence on his Facebook Page) from Quentin De Rosny.  We haven't been able to learn the cause of this expensive fuckup just yet, though one crew tells us the 'mast failed rather than the standing rigging' though that's not official, another says he thought the headstay failed.  We went to the source and builder of the big spar – Ben Hall from Hall Spars, who told us there's no smoking gun for this one.  "This mast has had a lot of serious racing on it over the past two years without a single issue, some of the best shore crew and sailing crew in the sport with no expense spared on maintenance or upkeep, and the crew has told us that it's seen 'much worse' over the past couple of years – so we're all a bit baffled. Hall said. "There's always some contributing factor to a breakage like this, and thanks to the quick thinking crew of the BM and the fact that they recovered the rig, we hope either the BM team or our team can get to the bottom of it."
April 25th, 2014 by admin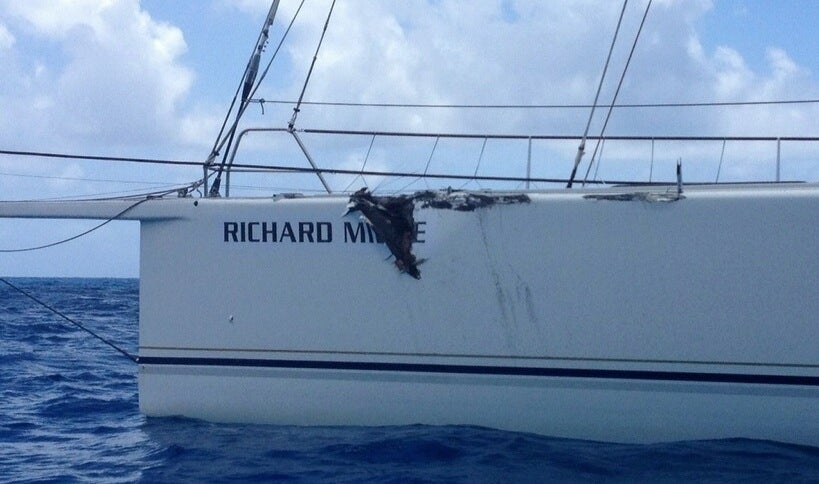 Bite One:  With a new one in the oven, It's the swan song for George David's much-conquering Rambler 90.  David's gotten more out of the big water-ballasted beast than could ever have been expected, though not at Les Voiles de St. Barths, where light air early in the week meant a distant second place behind the Aussie-stacked 69′ CAOL…something we can't pronounce.  This little boat bite was an easy early morning epoxy-and-tape fix, apparently a powerboat just had to get a closer look while the Rambler was on her mooring before Les Voiles.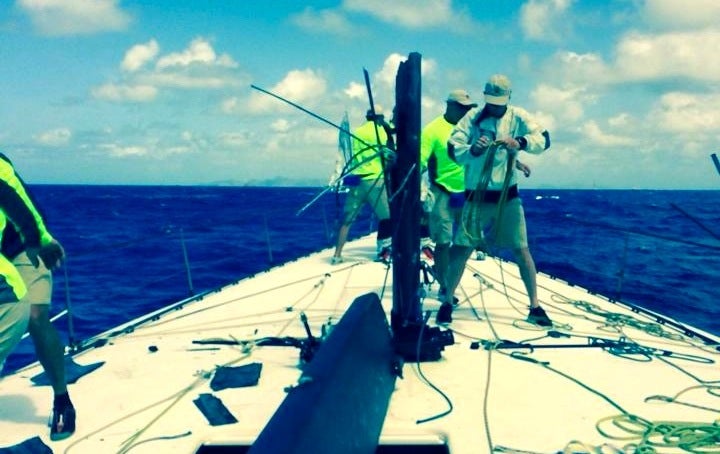 Bite Two: Last month Hap Fauth's big Bella Mente ran off to a Caribbean 600 win as explained right here by Mike Sanderson.  This month, she loses her rig on the way out to the race course on Day 3 of Les Voiles.  Fauth had a good shot to win, but not without a rig!  An expensive week for maxis at the very expensive island of St. Barths.  More in the thread.
April 21st, 2014 by admin
SA'er 'sailingkid' blew his rig out at around the 2:45 mark of this video; can you figure out why (other than having 400 pounds on a 29er in 30 knots of breeze)?  No olympic campaign, no world championship – just a little fun on a breezy day.  Imagine that!
October 7th, 2013 by admin