Posts Tagged 'dismasting'
We're not suspicious types, but it's hard to keep calling it 'coincidence' when a yacht seems downright cursed.  Ever since the blue Banque Pop colors were replaced with the black and gold Spindrift livery, the former Jules Verne-owning Spindrift has gone from one catastrophe to another.
The boat has seen broken bit-ending record runs, an awful injury (and criminal charges) from a collision with a RIB, and one failed or barely started round-the-world effort after another, and as of an hour ago, she's just dismasted on the way to yet another Jules Verne attempt.
Yann Guichard, skipper of the Maxi Spindrift 2 said: "The crew is safe and sound. Everything happened so fast. The mast fell to the leeward of the boat. The conditions were not so extreme. It's too early to know exactly what happened. We had to drop the rigging to save the boat and prepare it for towing.  Operations are currently underway to recover it."
Here's the problem: The next generation of bit RTW trimarans is much, much quicker than Spindrift's generation, and now that she's lost a million-dollar mast, doesn't it make more sense for the Dona Bertarelli-funded team to just buy or build a new one?
It has to be more successful than the old – or at least, less cursed… Picture thanks to Chris Schmid / Spindrift racing.
January 15th, 2018 by admin
Day One of the Tartan 10 North American Championship sponsored by Skyway Yacht Works in Chicago, IL came to a screeching halt when a microburst unleashed on the fleet two miles offshore. Ron Kallen's M*A*S*H was dismasted when winds peaked at 67.3 knots. The storm developed only minutes after the fleet completed the second race of the day.
"We saw the storm developing to the north and it started raining lightly, but then it clocked back around and the wind shifted 180 degrees from south to north," described Regatta Co-Chair and co-owner of Meat, Brian Kennalley. "Some of the fleet didn't even have time to take their sails down before the rain started blowing sideways. You couldn't see anything past your own bow after that. We're just thankful that everyone is okay."
M*A*S*H has had a streak of bad luck over the past month when they were dismasted in the Chicago Race to Mackinac after a line of storms blew through causing two thirds of the fleet to retire. "During the Mac, it was just the forestay that broke and we were able to simply replace that," said Kallen. "Today, we didn't even have a chance to take our main down before the storm hit. So, we just kept running down on it with the boom getting sucked into the water. We think the pressure of the boom and main dragging in the water is what caused the mast to snap in four places." Race Committee abandoned racing for the day after the first squall rolled through and the radar showed that more were to follow.
After two races, 2016 North American Champion Perfect, is currently sitting in first two points ahead of Don Wilson's Convergence. "This morning we sailed out and it was pretty light from the south with some leftover swell then it built and continued to move to the right. We were excited to win the first race today and we actually had it right from the start," said Pinkerton. "We took the pin at the start with a couple boats on our hip and we continued to point higher and faster than them."
"I've had my fair share of carnage in my T-10 career," continued Pinkerton. "The boats that experienced it need to isolate the biggest problems first and try to move on the best you can. Sometimes the carnage is fixable and sometimes it's beyond control. I look forward to seeing everyone who is able back out on the water tomorrow."
The forecast for Day Two is calling for sustained winds out of the west at 25 knots. Accompanying the breeze is a 20-degree temperature drop into the 50s and 60s. "Tomorrow will be a day where people who can handle their boats will make moves on the fleet. It'll be a challenge, and we're ready for it," said Regatta Co-Chair and co-owner of Meat, Craig Roehl.
August 3rd, 2017 by admin
20 M32 teams went through an entire high-pressure season of big wind sailing on the World Match Racing Tour without a single dismasting, but that didn't mean shit to mother nature in Miami as she took two rigs down in the space of 6 seconds; Petey Crawford got some good video and pics of the event here, and be sure to follow his FB page for coverage of everything Miami this winter.  Rick DeVos took M32 Miami Event # 1 over Don Wilson…
Title rip to one of the best NSFW songs ever for the racially challenged.
January 11th, 2017 by admin
Armel Le Cle'ach rounded Cape Horn on a sunny summer day, once again showing he can do no wrong in this edition of the Vendee Globe.  His 47-day tally from France to the Horn shaves an incredible 5 days off Francois Gabart's record-destroying benchmark of just four years ago, and with Hugo Boss more or less useless upwind on one tack, it's all over but the cryin' for him – and in fact, Jeremie Beyou on the Master of Cock has a real chance of reeling in the unlucky Thomson.
Stephane LeDiraison got the worst of recent bad luck, and he blames his dismasting quite specifically on a shattered Harken runner block.  Here's some of his words as translated by SA'er Laurent:
It is middle of the night, there is 6 Beaufort, The sea state is already well-developed; I am ahead of a cold front. The boat is doing about 16-17 knots.  The boat speeds up in a gust, and I hear something like a gun shot. A very violent noise, something very sudden, very short, very loud.

I run outside, and when I turn around and look forward, I realize that…the mast is gone.  Almost nothing is left. There is a 1 meter piece of the mast still tied to the deck and another 4 meter long piece, with shrouds and spreader attempting to punch holes in the deck.  Everything else, the rig and the sails are dragging in the water.

So I go back inside, put on my survival suit, a harness, take with me some spotlights and go back on deck to do a quick assessment, which ends up very dire, of course. Not only the rig is gone, but I have damaged the daggerboards, stanchions are gone…and the rig is threatening to hole the hull.

It takes me several hours to clean up the mess. You have to understand the conditions: breaking waves washing the deck, wind is getting stronger and stronger…Very cold water, all in the middle of the night. It is really not easy to manage…First, I keep the rig and the sails attached to the transom, thinking that I will be able to recover some sails. After several trials, it is obvious that it is impossible to do. It is even dangerous, because the whole rig behaves like a sea anchor, attached to the transom, stopping the boat in the breaking waves. The wind is now 8 Beaufort, the swell is about 5 to 6 meters high, so each breaking wave is crashing in the cockpit, sinking the rear of the boat. It is now puting the boat, and therefore myself in danger. So I decide, heartbroken, to cut off everything and let the rig go.
Watch it all unfold in the thread here.
December 24th, 2016 by admin
As the first of the widely anticipated Irens-designed Gunboat 55's, Rainmaker was always going to get a lot of attention, and owner Brian Cohen spent much of last season cruising and racing (and getting Forbes magazine press) around the New York area under the watchful eye of a guy we've sailed with ourselves and consider one of the best; Yachtmaster and USCG-licensed Captain Chris Bailet. At the end of the season, Rainmaker headed back to the Gunboat factory in Wanchese for winter upgrades and warranty work, and when that was done, the waiting began for a good trip to the Caribbean.
When the weather window came in on January 29th, they set off, and the next day, Rainmaker dismasted 200 miles off the Carolina coast, her crew rescued by a USCG helicopter.  We spoke to Bailet for the details.
SA: Before we even talk about the boat, let's talk about the weather.  Tell us about your decision making leading up to the trip.
CB: We'd been monitoring weather along with Commanders for some time, and the forecast when we left it looked like high pressure across the stream into a downwind sleigh ride.  We expected up to 40 knots in squalls when the front came through, but all from behind us.
SA: So what was your routing, precisely?
CB: The plan was to cross the stream with a SW'ly while the high pressure held, then turn to the South as the wind went NW'ly and ride it quickly down to the islands.
SA: Were you sticking with it?
CB: We spoke to them on the morning after we left around 1000 – we were 5 nm North of rhumb to their Waypoint 1 for our route.
SA: And is 40+ knots in the North Atlantic in winter really Gunboat weather in your opinion?
CB: I've sailed about 30,000 NM on Gunboats in winds up to 65knots, and always come through.  We were extremely careful in our preparations and felt ready for anything, and I wouldn't hesitate to take a Gunboat into that forecast again.
SA: Okay, so let's talk about the crew.  We understand that Brian Cohen had little offshore experience, and he brought his 24-year old son Max, who had less.  Was this really the trip for them?
CB: Brian had done the maiden delivery on the boat from, NC-NY and then sailed the hell out of the boat – we went out pretty much every day last summer.  Max spent loads of time on the boat – he was comfortable too – though this was his first offshore experience. But a sleigh ride on a Gunboat with three pros wasn't something treacherous or frightening – it was a great chance at a cool voyage.
SA: Who were the rest of the crew and what is their experience level like?
CB: George Cahusac and Jon Ollweather, who are probably the two offshore sailors I would most trust with my life or my boat. Both are impeccable seamen. Both hold multiple licenses.
SA: Ok, so we've done crew and weather.  Let's talk about the boat.  Were there any majors done during the NC visit?
CB: Not really – a few small issues and the addition of a rollerfurling Solent and J1, a new spinnaker, some electronic upgrades and a prop change.
SA: And did you have time to check everything before you left?
CB: Yep – we spent a week pushing the boat pretty hard inshore and testing the new sails, electronics, and engine/generator systems.
SA: So everything's good but the boat is taking her first major offshore trip in some shit.  What's on the safety checklist?
CB: Jon and I made about a hundred runs to prepare the ditch bags, life raft, MREs.  Specifically, we made a rig ditch kit with a battery operated grinder with spare grinding wheels for carbon, a hacksaw with spare blades, a handful of ceramic knives, a few Leathermens, some underwater epoxy, and a set of wire cutters.
SA: Pretty comprehensive.  What about the life raft and other safety gear?
CB:We organized all the safety gear under the aft day bed, assuming this would be the easiest accessed place if the boat were to turn over or an emergency. Under the day bed was the life raft, a drybag full of MRE's to last 5 people 4 days, complete offshore medical kit, our primary ditch bag (full of hand held flares, aerial flares, glow sticks, first aid, water bottles, heat blankets, mirrors, smoke, water dye, solar panel 12v charger, sat phone charger, hand held VHF and a hand held gps), and our rig ditch kit.
SA:So you set off in light air on the 29th.  Tell us about that day.
CB: After checking all systems, seatrial list completed and the boat loaded up, RAINMAKER departed the dock around 0130. I split watches 2 hours on, 4 off with the experienced sailors teaming with Max and Brian. Jon and Brian took the first watch until 0000, then George and Max until 0400, and I until 0600, planning for me to be the one on watch when we arrived Hatteras at sunrise. We expected to motor the entire way down, about 45nm. Before entering Pimlico sound, I conducted a safety meeting with all crew in the salon. Covering where all fire extinguishers were, safety gear location, medical, and duties in case of emergency, along with our planned route and weather conditions.
SA: So then what?
CB: Everything was chill, wind variable for a while, then coming in gradually from the SW and building through the night.  We took our first reef before nightfall and had a great sail all night long under 1st reef and solent in 15-20 TWS, running down waves to 18-20 knots of boatspeed, heading around 100-120 to keep the wind on our starboard hip.  The boat felt great and balanced.  Brian had brought a bunch of serious fishing gear aboard, and we'd nailed a monster yellowfin tuna in the stream – I mention that because we were all feeling quite lucky to be cruising so calmly at 18-20 knots that night while eating fish tacos that had been swimming a few hour earlier.
SA:When did it start to get ugly?
CB:In the morning, we knew the shit was coming, and we tucked in the third reef and set the little storm jib.  We were felling a little underpowered sailing 7-10 knots, the wind built to an average of maybe 27-35 by noon, with waves to 14 feet.
SA:Hairy?
CB: Not really. We felt very controlled, checked the rig for any pumping action and then going through a rig check after the reef was tucked. All seemed cool, the mainsail clew locks were set in to help keep the belly contained and we let the autopilot sail 100-110 AWA.
SA: You were woken up by the dismasting.  What's the last thing you remember before you went to sleep?
CB: At noon on the 30th, Jon is on watch after a 20 minute handover. TWS is between 25-40 kts, seas are between 12-15 ft. TWD of 220. Heading is 100, autopilot is steering to an apparent wind angle of 110. The boat was feeling stable, waves were starting to slap the wingdeck and the leeward hull. George stayed topside with Jon, so I could head down to catch some sleep.
SA: So you wake up to all hell breaking loose.
CB: At 1350, I wake up to a gust hitting the side of the hull like nothing I've ever heard, and I spring out of my bunk.  I see nothing out the starboard porthole except for white.  I run topside and see Jon at the wheel, eyes wide. By the time, I'm topside it's a complete white out around the boat. We couldn't make out the orange storm sail 10ft in front of us.  It sounds like we're being run over by a freight train.
Check back soon for Part 2 of the Loss of the Rainmaker to find out about the attempted rescue, the actual rescue, the salvage attempts, and to watch video of the conditions just prior to the dismasting.   Big thanks to Bailet, Commanders, Gunboat, and Brian and Max Cohen for bringing us the story.
February 23rd, 2015 by admin
Here's a look at a Vessel Assist 'rescue' from Seattle, with some details from local rigger Chris Tutmark.  Plenty of chat about it here.
Note that the masthead was lodged into one of the small trussed boxes along the bridge edge. One of these can be seen in the black and white pic in the link below as one of the vertical members of the bridge. If they had gotten the boat free quickly when things first got stuck, the mast "may" have survived. As it was, the only question was how many pieces it was going to be in once the boat was freed. And it was a keel stepped mast, so dropping shrouds would have only changed where it broke, not whether it broke. 
For this spot, the surface water almost always runs to the west (going left) as it is fresh water coming from the Locks and the spillway.  For those who do not live near the bridge, here is some history.  
August 1st, 2014 by admin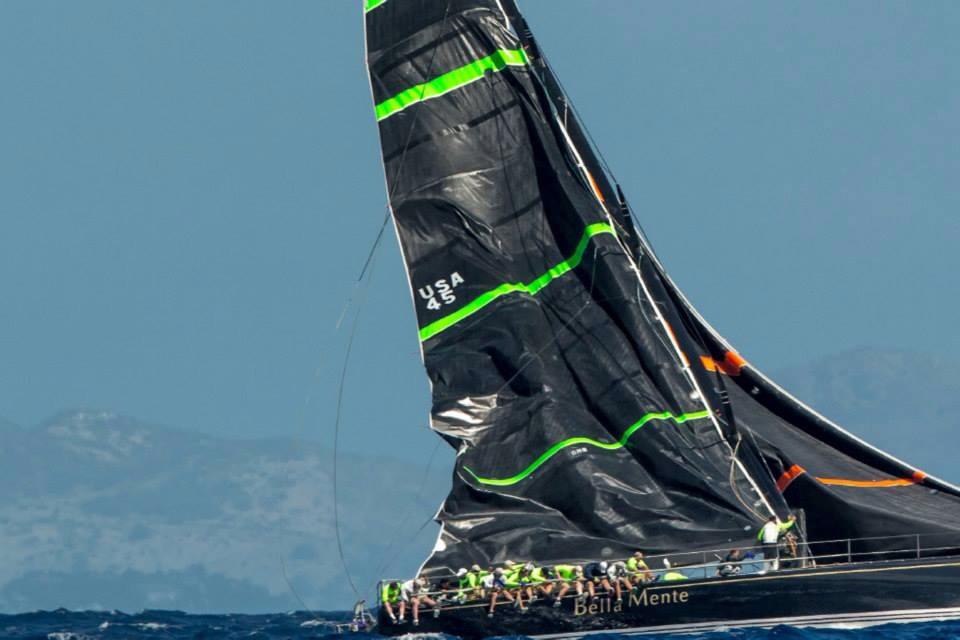 We reported on Bella Mente's dismasting in St. Barths last week, but we know that shots of dismasted boats are a dime-a-dozen.  But shots of dismasting boats, especially when it happens on the way to the course rather than mid-race?  Well that's a horse of another color – in this case, a very expensive black, neon green, and orange horse.  Awesome work (with a few more in the sequence on his Facebook Page) from Quentin De Rosny.  We haven't been able to learn the cause of this expensive fuckup just yet, though one crew tells us the 'mast failed rather than the standing rigging' though that's not official, another says he thought the headstay failed.  We went to the source and builder of the big spar – Ben Hall from Hall Spars, who told us there's no smoking gun for this one.  "This mast has had a lot of serious racing on it over the past two years without a single issue, some of the best shore crew and sailing crew in the sport with no expense spared on maintenance or upkeep, and the crew has told us that it's seen 'much worse' over the past couple of years – so we're all a bit baffled. Hall said. "There's always some contributing factor to a breakage like this, and thanks to the quick thinking crew of the BM and the fact that they recovered the rig, we hope either the BM team or our team can get to the bottom of it."
April 25th, 2014 by admin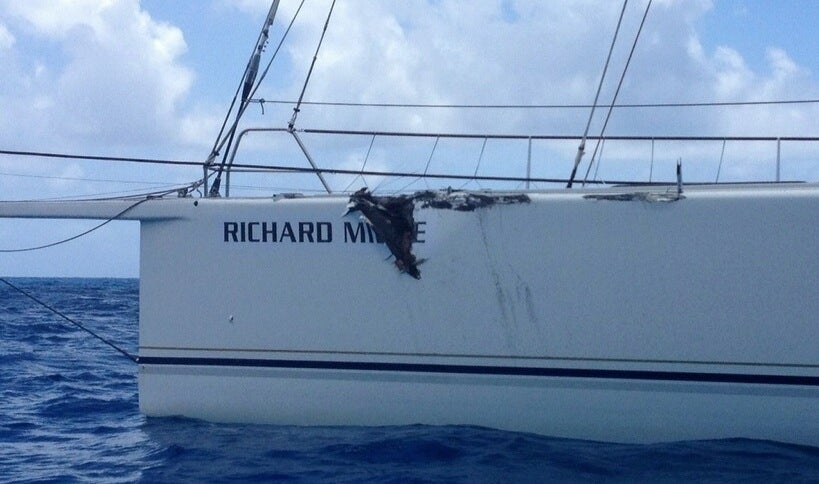 Bite One:  With a new one in the oven, It's the swan song for George David's much-conquering Rambler 90.  David's gotten more out of the big water-ballasted beast than could ever have been expected, though not at Les Voiles de St. Barths, where light air early in the week meant a distant second place behind the Aussie-stacked 69′ CAOL…something we can't pronounce.  This little boat bite was an easy early morning epoxy-and-tape fix, apparently a powerboat just had to get a closer look while the Rambler was on her mooring before Les Voiles.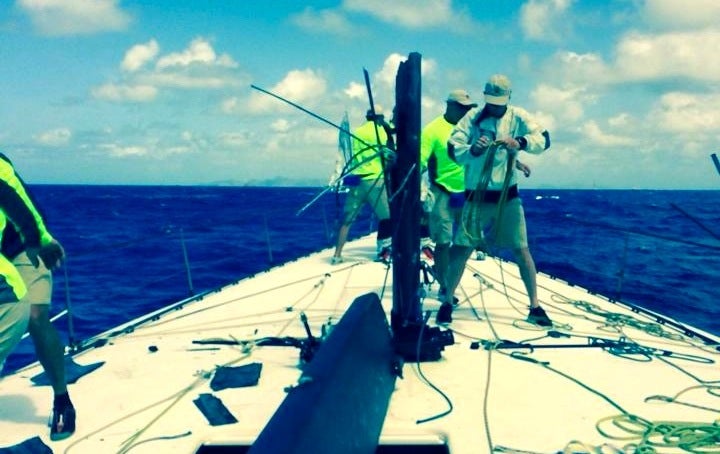 Bite Two: Last month Hap Fauth's big Bella Mente ran off to a Caribbean 600 win as explained right here by Mike Sanderson.  This month, she loses her rig on the way out to the race course on Day 3 of Les Voiles.  Fauth had a good shot to win, but not without a rig!  An expensive week for maxis at the very expensive island of St. Barths.  More in the thread.
April 21st, 2014 by admin
SA'er 'sailingkid' blew his rig out at around the 2:45 mark of this video; can you figure out why (other than having 400 pounds on a 29er in 30 knots of breeze)?  No olympic campaign, no world championship – just a little fun on a breezy day.  Imagine that!
October 7th, 2013 by admin