Posts Tagged 'dinghy'
Longtime Anarchist Dave Clark updates all of you foiling freaks on the new UFO.  Ask him specifics in the thread. Check out the latest video of some winter UFO foiling from the air and the water over on Youtube.
Hey Folks,
Time to get excited! Things are coming together over here in Rhode Island. The UFO is finally through the stage of production preparation that I've come to refer to as "Industrial foreplay" and it's go time. The hull and deck molds move back onto the Zim Sailing factory floor this week, where they'll commence to build the first 40 boats. The first 100 sets of foil struts are being finished up at the extruder in New Hampshire. The next 50 sets of spars are on their way from the manufacturer overseas. North Sails is hard at work making the first 20 suits of sails and Schaffer Marine in New Bedford is going full-tilt machining parts. The objective is to build 100 to 150 UFOs in 2017 with the capacity to step up production further as the class grows. This is the start of the period where you folks with deposits will be getting the heads up of the materials nearing the mold and thus the option to opt in or out.
The Tweaks: What's changed since The Foiling Week?
Controls: Every little percentage gain in foil control allows for a truer flight path. While these things aren't noticeable in the beginner or intermediate use ranges, they pay off in spades at the high end, enabling you to fly higher and more aggressively in all conditions.
We added a stiffer all-carbon wand with a carbon paddle, taking all available buffering out of the wand. Buffering does a few beneficial things but also comes with some flaws, especially in extremely gusty conditions. All told the stiffer wand realizes the full benefit of our 'mountain goat' style gearing.
We lengthened the wand sprit. There's been a revolution in the moth class around getting the wand as far forward as possible, as it increases the gain on the sensor and thus responds to pitch changes more immediately. This enables the boat to be flown more confidently in big waves.
Both of these things benefit performance racers and recreational sailors. From a performance racers perspective, the combined effects enable you to race harder. From a recreational perspective, it makes the boat hardier and smoother in challenging conditions.
Sail: We found it necessary to add a full-length batten just above the clew to get rid of a set of creases that propagated upwards from the tack. Further we added a cutout for the clew to add an extra bit of leech tensioning capacity, as a tight leech is critical to going really really fast on foils. We also added a fillet bulb to the bottom of the endplate which assures a solid deck seal. This bumps up the efficiency of the sail by another increment. The front end of the fillet bulb additionally functions as a pouch to stow the halyard and other items, closing with Velcro.
Dolly: While the single-axle beachcat dolly is the best option for a catamaran, keeping the bunks upright and lining them up on both bows is more annoying than it should be. Further, while a retaining strap across the deck does hold the dolly, it's more trouble than it could be to tie on and untie. We found that the easiest usable configuration is a beachcat dolly with cylindrical pads and short tethers on either side, which clip to the gunwales. This makes the dolly easier to put on and take off the bottom. Further we concluded that a wider wheelbase made it easier to pull the boat towards a ramp on a reach, so we moved the wheels outboard of the hull. A tertiary benefit is that the new dolly from Dynamic Dollies packs exceptionally well.
Hiking straps: Outstandingly short sailors and outstandingly tall ones pointed out that the straps were either too far away or too close for them. Making their position adjustable solves this problem easily.  People also wanted the straps to stand up more, so that sliding a foot into one would be easier. To do this, we rigged them with rigid tubing, which causes the straps to stand up.
Cosmetics: While I personally often scoff at considerations like this, it's nonetheless an important feature to a good percentage of people and the UFO has gotten noticeably more spruced-up. While our original hull tooling was incapable of imparting a high gloss finish, the production tooling imparts a polished gleam to the gel-coat. Further, all the aluminum parts are anodized black, there's a little bit more exposed carbon in the package and a few more decals and bright colors.  In line with the UFOs alien aesthetic, the production sails are clear with neon green trim, which together with the white hull and black hardware, foils and spars yields a tri-tone neon green, white and black color scheme. The available deck pad color options are neon green, black and white and the gelcoat options are black or white.
The fully enumerated list of tiny updates, improvements, cleanups is too long to go into. This is merely the shortlist. Beyond that, it's the same old basic fun-machine we know and love.  And with that, I need to get back to the fight.
Cheers,
Dave Clark
President
Fulcrum Speedworks llc.
February 7th, 2017 by admin
Big Pimpin'
We're not sure just what the recipe is for smashing the ultra-high performance fleets like they seem to, but we send a hearty congrats to our carbon-spinning friends at CST Marine on a phenomenal 2016 for the Aussie mast builders.  Learn more about their dinghy development and winning ways here.
1st Moth World Championships
1st Moth European World Championships
1st Contender World Championships
1st Contender Australian Championships
1st I14 Australian Championships
1st 16 Foot Skiff State Championships
2nd 16 Foot Skiff Australian Championships
1st MG Australian Championships
1st NS Australian Championships
1st Sabot Australian Championships
1st F11 Australian Championships
February 7th, 2017 by admin
AMAC's long-developed and long-delayed 'Waszp' launch changed the foiling focus from outright speed to ease-of-use. Meanwhile, longtime  A-Cat and Little America's Cup Defender Steve Clark was working on something similar, but very different.  It also promises to be cheaper and far easier to launch and recover than any Moth…Check the thread for the latest on the new foiler, and head over to Newport next weekend to get up close and personal.  Steve sums up:
Wild speculation may now commence.  But a few details:
Weight is 52 Kg.
8 and change square meters of sail.
Two T-foils, wand on main foil.
Foils retract between the hulls for upright launch and recovery.
Floats upright at the dock.
Closer to the Laser price point than the Waszp price point.
Nifty little project which should have commercial legs.  Focus has been on ease of use and handling, not a demonstration of a unique foil configuration.  Plenty of original thinking  and some unique solutions to achieve performance and cost goals.
-SHC
September 2nd, 2016 by admin
T
he first sailor sickness has been reported due to Rio's sewery water, though according to London Bronze Medalist (Laser Radial) Evi Van Acker's coach, she caught it back in July training on the bay.  He also thinks Evi's dysentary has contributed to her poor results thus far.  The Belgian OC said "she has not fully recovered. It makes it difficult for her to go through long periods of sustained effort."  While several contacts with debris affected other racers, no other sicknesses have yet been reported.  Read the full story from our old friend Bernie Wilson (who's down at the Games) at the AP here.
Caleb, Pained
In another kind of unwell, the US team is performing exactly where the oddsmakers had them; on the outside looking in, without a single sailor in the top 5 of any class. US Finn rep Caleb Paine port-tacked the fleet yesterday on his way to a 2nd for the race and an awesome 4th overall – that is, until he was flicked from the race at an evening protest hearing for a port/starboard on that spectacular start.  Now he's in 15th, and the highest performing American team are the chicks' 470, with Annie and Bri in 6th.  Go here for the US Sailing daily report, and to get to know America's most likely medalist skipper, watch this just-posted Mr. Clean video interview with Annie from last summer in Rio.  Here are Team USA's standings as of Friday morning; number in parentheses is change from yesterday's standing (With special thanks to TFE):
RS:X M – 30 (same)
RS:X W – 12 (-2)
LASER M – 15 (same)*
LASER W – 7 (same)*
FINN – 15 (-8)
470 M – 10 (-2)
470 W – 6 (+1)
NACRA17 – 16 (-5)
49er M – *
49er W – *
*LASER M/W did not race Thursday. 49er M and W have yet to race; their first races are Friday.
August 12th, 2016 by admin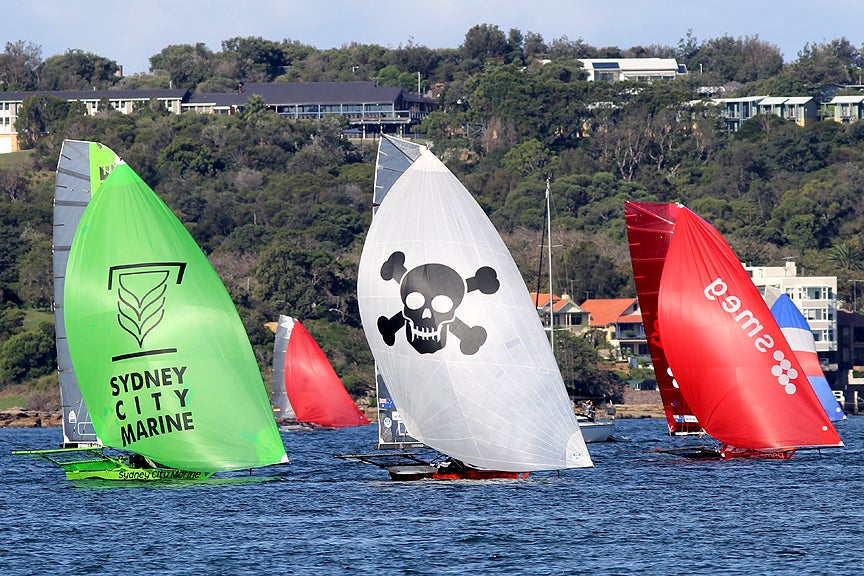 The spectacular racing of the 34th America's Cup was, at times, frustrating for we sailors, with an overhyped know-nothing commentator and an over-aged AC winner pointing out irrelevant facts and useless trivia in vain hopes of getting the 'mainstream' to buy into the live feed.  We got to see some of the most amazing sail racing ever captured on screen, but it was often better with the sound off.
This week's 18 Footer Worlds (also known as the JJ Giltinan Championship presented by Sydney City Marine) might feature some of the same faces; AC34 Regatta Director and AC35 Challenger of Record CEO Iain Murray is helping out with the commentary at times, while numerous AC sailors are spread throughout the fleet.
But this broadcast ain't for the landlubbers, it's for sailors only, and the boys behind the microphone make no bones about it.  So if you're a racer and you want to know who's on the inside of what shift, and who's got a slightly better kite drop than the other guy and the inside position at the Zone, this live coverage is for you.
Check out Day 3 of the JJ above, with all the news and current results from yesterday's racing here.  Scroll down the page for yesterday's video, and the highlight reels are here.
March 3rd, 2014 by admin