Posts Tagged 'dinghy'
AMAC's long-developed and long-delayed 'Waszp' launch changed the foiling focus from outright speed to ease-of-use. Meanwhile, longtime  A-Cat and Little America's Cup Defender Steve Clark was working on something similar, but very different.  It also promises to be cheaper and far easier to launch and recover than any Moth…Check the thread for the latest on the new foiler, and head over to Newport next weekend to get up close and personal.  Steve sums up:
Wild speculation may now commence.  But a few details:
Weight is 52 Kg.
8 and change square meters of sail.
Two T-foils, wand on main foil.
Foils retract between the hulls for upright launch and recovery.
Floats upright at the dock.
Closer to the Laser price point than the Waszp price point.
Nifty little project which should have commercial legs.  Focus has been on ease of use and handling, not a demonstration of a unique foil configuration.  Plenty of original thinking  and some unique solutions to achieve performance and cost goals.
-SHC
September 2nd, 2016 by admin
T
he first sailor sickness has been reported due to Rio's sewery water, though according to London Bronze Medalist (Laser Radial) Evi Van Acker's coach, she caught it back in July training on the bay.  He also thinks Evi's dysentary has contributed to her poor results thus far.  The Belgian OC said "she has not fully recovered. It makes it difficult for her to go through long periods of sustained effort."  While several contacts with debris affected other racers, no other sicknesses have yet been reported.  Read the full story from our old friend Bernie Wilson (who's down at the Games) at the AP here.
Caleb, Pained
In another kind of unwell, the US team is performing exactly where the oddsmakers had them; on the outside looking in, without a single sailor in the top 5 of any class. US Finn rep Caleb Paine port-tacked the fleet yesterday on his way to a 2nd for the race and an awesome 4th overall – that is, until he was flicked from the race at an evening protest hearing for a port/starboard on that spectacular start.  Now he's in 15th, and the highest performing American team are the chicks' 470, with Annie and Bri in 6th.  Go here for the US Sailing daily report, and to get to know America's most likely medalist skipper, watch this just-posted Mr. Clean video interview with Annie from last summer in Rio.  Here are Team USA's standings as of Friday morning; number in parentheses is change from yesterday's standing (With special thanks to TFE):
RS:X M – 30 (same)
RS:X W – 12 (-2)
LASER M – 15 (same)*
LASER W – 7 (same)*
FINN – 15 (-8)
470 M – 10 (-2)
470 W – 6 (+1)
NACRA17 – 16 (-5)
49er M – *
49er W – *
*LASER M/W did not race Thursday. 49er M and W have yet to race; their first races are Friday.
August 12th, 2016 by admin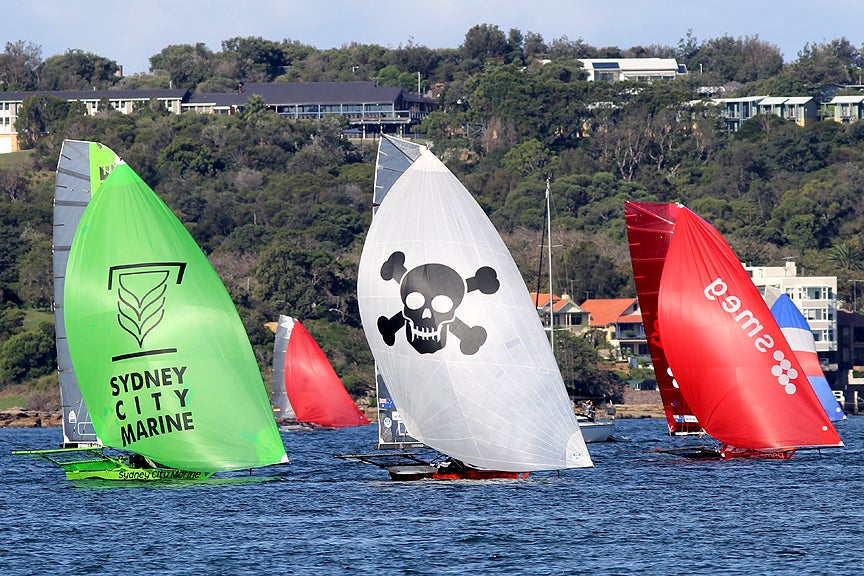 The spectacular racing of the 34th America's Cup was, at times, frustrating for we sailors, with an overhyped know-nothing commentator and an over-aged AC winner pointing out irrelevant facts and useless trivia in vain hopes of getting the 'mainstream' to buy into the live feed.  We got to see some of the most amazing sail racing ever captured on screen, but it was often better with the sound off.
This week's 18 Footer Worlds (also known as the JJ Giltinan Championship presented by Sydney City Marine) might feature some of the same faces; AC34 Regatta Director and AC35 Challenger of Record CEO Iain Murray is helping out with the commentary at times, while numerous AC sailors are spread throughout the fleet.
But this broadcast ain't for the landlubbers, it's for sailors only, and the boys behind the microphone make no bones about it.  So if you're a racer and you want to know who's on the inside of what shift, and who's got a slightly better kite drop than the other guy and the inside position at the Zone, this live coverage is for you.
Check out Day 3 of the JJ above, with all the news and current results from yesterday's racing here.  Scroll down the page for yesterday's video, and the highlight reels are here.
March 3rd, 2014 by admin