Posts Tagged 'design'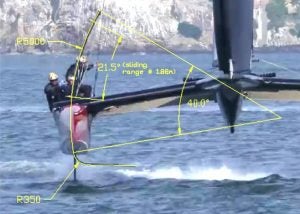 As the world awaits the big decision on what the AC75 monohull will look like, the man at the center of it all talks about the potential concepts and the details on how Emirates Team New Zealand crushed the world in Bermuda.  Here's 10 minutes with ETNZ Design Coordinator and former Formula 1 Vehicle Dynamics Engineer (McLaren) Dan Bernasconi from Radio NZ.
Concept 1 "…a fairly conventional but high performance monohull…"
Concept 2 "…a semi-foiling monohull…"
Concept 3 "…is it possible to get a really big yacht fully foiling. The sailors who are listening will know about foiling Moths which are single-handed fully foiling boats which are great. But on those you use a lot of your body weight to balance, and that is something which is really difficult to scale up."
Discuss the three options for the next Cup in the thread. 
October 11th, 2017 by admin
One of the desperation moves of the AC came when last week, Coutts brought in spanish superstar design consultant Juan Barcopero to help troubleshoot their massive speed disadvantage.  Fortunately, an OTUSA Anarchist caught it on video, and we've finally translated and subtitled it.  Enjoy this rare look inside the secret world of the Oracle Design Team.
June 27th, 2017 by admin
The best-kept secret in sailing (outside of ETNZ's wing control) comes at the end of a long press conference from Volvo HQ in Gothenburg, SWE.  Here's a synopsis of Mark Turner's speech, in order of importance (to us), and we encourage you to post any comments or questions you have for Turner and the VOR in the synopsis thread so Clean can fire 'em at Turner later for an interview to be published this weekend.
1) The offshore portions of the 2019 or 2020 Volvo Ocean Race will be contested in what the new design chief calls a 'Turbo IMOCA'; 60 foot foiling monohulls with adjustable-flap foils; while the in-port racing will happen in foiling cats.  The 60 footer will be 'convertible' to an IMOCA, and the VOR in-house design team led by Guillaume Verdier.  The cats are being opened up to a design tender process starting today at between 32 and 50 feet.
2) The 2020 Race has a wishlist of 8 teams, and all boats will be owned by VOR and leased to teams in an attempt to reduce the initial barriers to a new team/sponsor.  Turner says the new lease program and pooled services program allows a similar budget for future races to that of today's programs. This lease thing is a BIG deal, and speaks as much to Turner's cred with the Volvo Board as anything.  One paper calls the new moves (including the design and build process) a USD$50 million price tag for Volvo.
3) Sustainability looks to be a real goal this time rather than just more lip service to 'green' sponsors.  VOR spent the last ten years bowing primarily to the god of social media – their new pet deity is now a clean ocean, and they've got funding and support from 11th Hour, Akzo, and the United Nations, and their goal is a fleet of Zero Emission races.  2017/18 sustainable goals will be met with help of rules requiring team use of official RIBs, hydrogenerator minimums, fuel maximums, etc.
4) It's obvious the VOR has struggled pulling in team sponsors – that's why you saw the Hong Kong team's offer accepted yesterday, why there are still 3 empty boats, and why VOR is still trying to find someone to run a 'clean the oceans' entry for an all-women/all-youth/50/50 mixed team for the coming edition they say is already half funded.
5) Volvo and the VOR have formed a major partnership with World Sailing, principally to help create a pipeline for young sailors to become offshore pros and VOR crews.  This includes new VOR Academies (presumably in partnership with existing organizations) and keeps Turner and his hefty experience involved in the possibility of the offshore racing Olympic event that World Sailing has been chasing from the IOC.
6) Course may be radically different, especially for the 50th anniversary 2023 event.  More racing between races or a straight up 2-year race cycle, with race activity every year.  Maybe a crewed non-stop race around Antarctica.
May 18th, 2017 by admin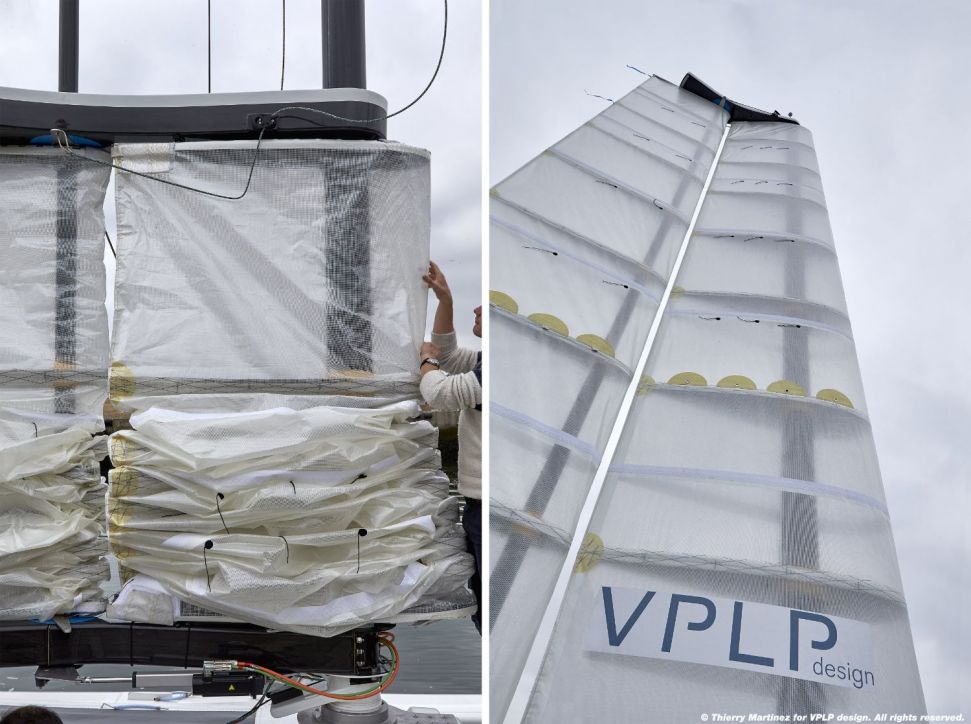 VPLP principal Mark Van Petegham has been super cagey with the development of the wing/sail prototype they French designers think may revolutionize open water cargo shipping but news and PR is now trickling out on what may finally solve the problem with the uber-efficient shapes of semi-rigid wings; reefing. Note from the photo that the solution isn't nesting flaps or morphing shapes – it appears to be a plain old, 19th century, halyard-and-sail-material solution.
Entirely automated, self-supporting and rotating 360°, Oceanwings® adapts its angle of incidence to the vessel's point of sail to ensure optimal propulsion. Power is managed by trimming camber and twist. "Not only does it provide exceptional control," explains Nicolas Sdez, the engineer in charge of the project, "it's also efficient to the point of halving the surface area required to propel a vessel under conventional sail." VPLP design is developing several concepts which use this patented technology, such as the Komorebi range, Komorebi 200' and EMC cargo ships.
We'll have more on it when we can get the tight-lipped VPLP to open up, but until then, check Marc's article on LinkedIn.
April 29th, 2017 by admin
Last week we asked you to identify an odd-looking part, and now that the new Star Wars is wrecking the box office, the timing is perfect to tell you what it is.  It's also a chance to remind you that the withering of print publishing (except for Seahorse, of course!) doesn't necessarily mean great writing is gone.  You just have to find it in new places, and some of the best bits of sailing news come from industry folks looking to educate and interest potential customers in what they do. 
News written by sailors with a business isn't necessarily better or worse that any other source, but there are a few companies and classes that are doing a great job writing interesting stories about the sport, and when it comes to design tech you can nerd out on, the boys at Stephens Waring Design are some of the best.  And with that, we bring you the full story of what they call the Millenium Falcon, a very complicated solution to ingress and egress on the whacked out Trump-colored sloop Foggy.  Original story here, and sign up for the SWD newsletter here.
Not that long ago, in a boatshop not so far away, our former co-workers at Brooklin Boat Yard gave us a plumb gig: Engineer probably the single most complicated boarding system for probably the most unique sloop on the planet: the 74-foot, Frank Gehry/German Frers-designed Foggy II. 
After a similar number of design hours that we'd put into the design of an average 40 footer — the Millennium Falcon was born.
The Falcon, as we have come to call it, is the central fitting for the do-it-all, transom-mounted articulated boarding stair that could also reach out and dock with a dingy,  tender, or other craft; and span straight aft, as a so-called passerelle, to act as a walkway for European-style wharves where boats dock stern-in.
And do all that, and still fold up and hide in Foggy's clean flush transom.
What our Millennium Falcon was born to do was tuck in neatly under the stop landing of the stair. See the big hydraulic ram that is on the left side of this drawing to the left? That is what has enough enough strength to bear the load of the stairs and lift the stairs and arm up and down. The entire structure moves in and out of Foggy's stern on rails, driven by a carefully designed worm-drive and bearing arrangement. The heart of the system is a hydraulic slew drive that is a modern update on the worm drives that date back to ancient Alexandria. Slewing drives systems are the muscle behind solar trackers, wind turbines, man lifts, and other systems that must move heavy things in specific, repeatable ways.
The tricky part — and what made the Millennium Falcon boffo around here — was how it  could be both strong enough to get shoved about by the slew drive, but accurate enough to properly align the articulated stair where needed. The serious engineering it involved, if you care to know, is in this exploded diagram.
What's happening here is the slew drive spins the Falcon fitting as it drives the ram and positions the underside of the top stairs to the rail system, the boat and the dock, tender or wharf as conditions merit.
Oh and did we mention, the whole contraption can carry enough load to work as perfectly suitable crane lift. The Millennium Falcon can help lift a 200-pound inflatable dingy up out of the water and plop it into the stern garage.
There's no need to use "The Force, Luke." Or Frank. Or for any body who steps on Foggy. The Millenium Falcon is engineered to do that heavy lifting for you.
December 18th, 2016 by admin