Posts Tagged 'dennis conner'
Early qualifications have 2015 SSL Finale winner George Szabo deep in the fleet, but the unique format gives him and the rest of the 25-boat strong fleet a chance at the big cash payout at the end of the event.  With a solid Bahamian forecast and commentary from Dennis Conner and Scottish superstar 470 skipper Luke Patience, the all-live streaming coverage of the SSL should be well worth watching, especially if you love keelboat racing.  Watch from 1100 EST above.
November 30th, 2016 by admin
Gary Jobson isn't the only 12-meter navigator drawn to the New England bricks this fall – DC's old Freedom (now owned by a foundation) joins the club after the crew put the old thing high and dry on the Hen and Chickens off Greenwich, CT this past Saturday.  The boat floated free at high tide with minimal damage (other than to egos), and the Connecticut Department of Environmental Protection (DEEP) used the grounding to publicize their new requirements to report ALL groundings to the government.  An interesting development for sailors, and if you're a 12 meter skipper, take note: This shit always happens in threes. And note to the owner: fire your bottom cleaner.
November 5th, 2016 by admin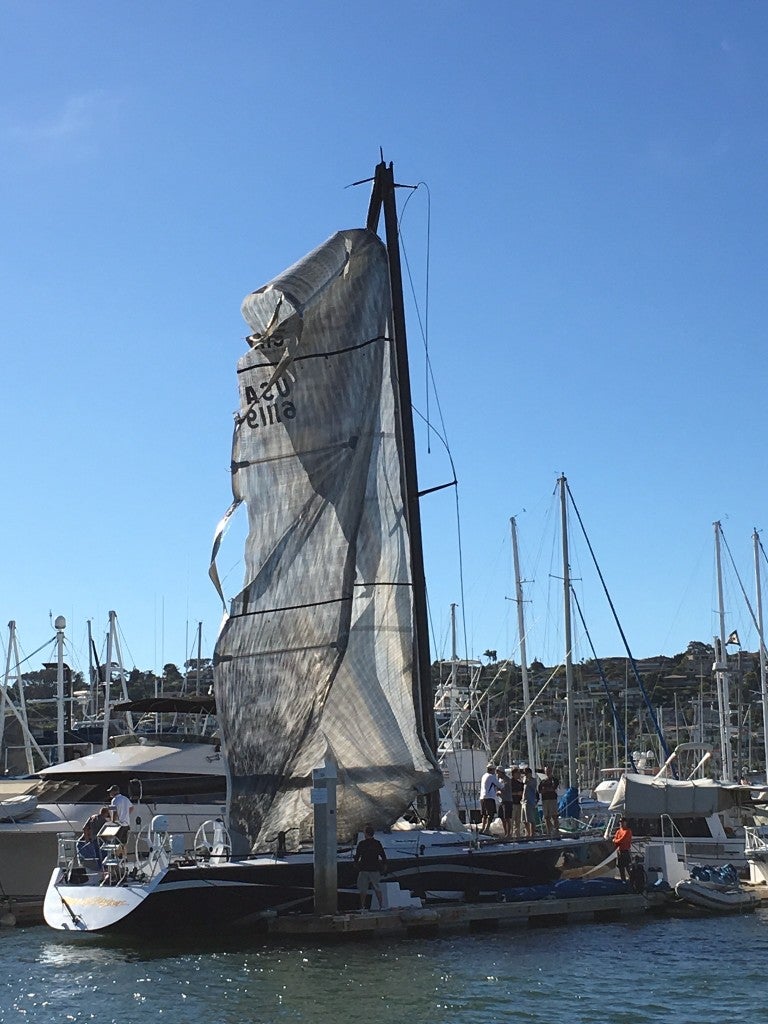 DC was dismasted today in San Diego's Hot Rum race; early reports suggest they were flying a masthead A-sail in a good breeze (12-15) on a close reach on the first leg when the tip broke off at the hounds.
UPDATE: We sent Dennis a note asking how it went down.  Here's his response:
Not sure as the top of the mast is suspended 40 feet above the deck,  We suspect the ball fitting on the end of the fitting attached to the D-3 at the top of the mast failed,  It will be difficult to know until we see it on the ground,  In any event it will be costly and time consuming to put back in a racing mode,  It could be spliced but would not be the same.    Possible it is the end of her career as a race boat,   Maybe best served as  a "head boat " doing whale watching! 
cheers dc
November 8th, 2015 by admin
It's about as different from the M32 Series we've been following as a sailing event can get, and its the kind of racing plenty of you have asked to see; a historic class sailing long course races with graphics, data, and commentary from Dennis Conner and Canadian Star performer Tyler Bjorn. We've got just the first day of the 4-day Star Sailors League from Lake Lausanne for you as a sampler, and it's live NOW.
September 9th, 2015 by admin