Posts Tagged 'denmark'
We jumped ahead a bit in the SA Podcast timeline to stay timely with the World Match Racing Tour Newport stage (which began yesterday), and today's two hours is with two of the leading lights in modern grand prix racing – both of them daily SA readers.
Sam Usher founded the UK-based production company Redhanded TV more than a decade ago, and in that time, he's produced live and highlight video for the America's Cup, the Volvo Ocean Race, the World Match Racing Tour, the GC32, and dozens more events.  Sam stands out not only for his willingness to hire the loudest voice in sailing as a talker, but for his disdain for 'the old way', a never-ending drive to push the boundaries of sailing coverage, and a belief that sailing is indeed a spectator sport if you just show it off right.  Sam is currently the Executive Producer of the WMRT's coverage.
Hakan Svensson needs little introduction, but we'll give it a try.  A passionate amateur yachtsman from the West Coast of Sweden, Svensson is a proper Viking.  He spent the first half of his career in the shipping industry and showed how to make B-to-B sponsorship work in the Volvo Ocean Race (Green Dragon, Puma), selling his company Berg Propulsion after the 2012 race.  A long time supporter of sailing at every level (including sponsorship of Freddy Loof and his London gold medal), Svensson wasn't someone to lounge around and live on interest payments – he helped Goran Marstrom and Marstrom Composites settle a long running battle over the Marstrom 32 catamaran and then bought the design.  Svensson also bought the troubled World Match Racing Tour as a showcase for his new catamaran, but also to provide a much-needed pathway that could both identify the next young Glenn Ashby as well as to help mentor them along their way.
The Ian Roman/WMRT photo below shows our studio at the edge of the water in Copenhagen.  Not a bad office for the evening!
May 31st, 2016 by admin
Penalty Box Productions' Petey Crawford and Melges 24 Class President Jens Wathne take a short break from the action at the M24 Worlds in Middlefart, Denmark, where moth and 49er rivals Bora Gulari and Chris Rast have been battling it out all week.  Rast capitalized on yet more mostly non-planing conditions to take three bullets today, with Bora losing positions to both the Rastaman and Italy's Andrea Rachelli.  Watch it live over here for a couple more days.
Petey's got a bang-up gallery of beauty shots over here and be sure to check in on the front page for more great work from Petey during next week's J/70 Worlds in La Rochelle, FRA.
July 2nd, 2015 by admin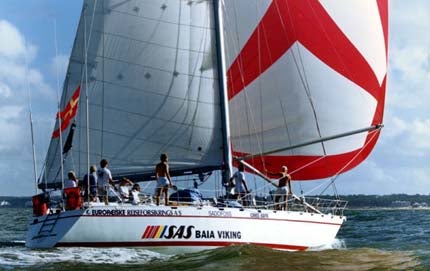 Sailing Anarchy only logs about 30,000 readers annually from beautiful Denmark, but we do love our Scandinavian friends – and one of them took issue with our Vestas Wind story yesterday. 
Dear Sir:
I would like to draw your attention to a small error.  You reported yesterday that the Vestas Wind boat is the "the first-ever Danish-flagged Volvo entry", but this is not true.  SAS BAIA VIKING, a Kjaerulff  50, competed in the '85/86′ Whitbread with skipper Jesper Norsk.
While we were technically correct (and mostly due to the handicap vs. box rule situation, we have always felt as though the Volvo Ocean Race was more of a descendent of the Whitbread than the same race),  our new friend Niels is certainly correct to point out the Danish history in this race; one boat, the smallest in that year's Whitbread, and it crossed the line last.  We hope and expect the Vestas Wind team to do quite a bit better…
The full story is here in "BaadMagasinet", including links and time stamps from the archived movie of the '85 race.
August 28th, 2014 by admin
Today we give you the best Video Friday we've had in quite a while! We've got launching Optis, dancing Minis, crashing SB20s, a massive storm, and the final Little AC wrap.  Enjoy them all, and enjoy your weekend from everyone here at Sailing Anarchy.  Got an awesome video for next week?  Send it in.
The Mothosphere

More foiling.  More crashes.  More interviews with some of the world's fastest men and women.  And of course, more Gretta.
You've been waiting for it patiently, so here's the full, 20 minute long, 2013 McDougall + McConaghy International Moth World Championship final highlight reel from Penalty Box Productions.  Enjoy!
Opti Crush
We don't know who he is, but this Seattle grommet has bigger balls than we do!  Check this Opti-crusher out on a 30-knot day in Shilshole Bay last week, and note his smile.  Also note the distinct lack of helmets, lawyers, and nanny-state, helicopter-parent sensibility.  And someone, please let us know who this grom is; he needs some SA gear and we're gonna get him some.
Hey Jude

The same St. Jude storms that threw the Mini Transat and TJV into such disarray also did a number on Scandinavia.   The storms were the most powerful to hit Northern Europe in more than a decade, and billions in property damage, hundreds of boats destroyed, and 16 deaths are the weather's legacy.  Here's a look at what 120 knot winds look like on the Svenburg Sund in Denmark, and there's more video here.
Target Rich Environment
Sometimes, hitting those puffy inflatable tubes is just too tempting.  This from last month's SB20 Worlds in Hyeres, where someone must have painted targets all over the RIB at the pin end of the line.  Chat here and thanks to Presuming Ed for this one.
Nothing To Do But Dance

With about 6 weeks of delays, postponements, and other misadventures, the Minis are indeed restless – none more so than the handful of prototype skippers who made it to Sada while the rest of the fleet ended up…elsewhere.  They put together this little tribute to the Mini Transat Race Committee; it's sort-of called "Where's The Race Committee" and it should crack you up even if you don't speak French.  Latest on the Mini fleet (including another boat lost on the delivery) here.  Thanks to the Moody Frog for this one.
November 8th, 2013 by admin