Posts Tagged 'death'
The multiple-fatality wreck of the Dipiu we told you about last week was hauled off the Rimini jetty over the weekend as documented by Manual Migliorini from Il Resto Di Carlino here. The Italian Coast Guard is now focusing on engine issues as the primary cause of the wreck.  One source told us the on-deck crew was actually washed off the boat in a breaking wave that also flooded the boat and shut down the engine, and the only crew to make it out alive were those stuck inside the boat when she was thrown onto the rocks.  We're also told one sailor tried to rescue his girlfriend, whose foot was stuck between two rocks on the jetty…they both drowned.  All in all, a horrible story that could have been entirely prevented by listening or reading one of dozens of forecasts and warnings available to everyone in the area for days.  One Anarchist says undue respect for a senseless tragedy doesn't do anyone any favors.  "Skol" writes in the thread:
My condolences to the families that are affected.  Given the comments in the forum, I feel somebody should speak up.  Terrorism is a tragedy. Gun violence is a tragedy.  This particular accident was caused by a suicidal, murderous asshole. The skipper paid the price? And what about his son-in-law or his grandchildren, or his (ex) wife?  What are they paying – respects? Bullshit.
The conversation here should be about the living and keeping them that way if facing similar conditions.  If that's done in acerbic and unpleasant terms, well tough shit. It's not a disrespect for the dead. It's a wakeup call to the people who potentially don't take their safety and their crew's safety seriously enough.  You know there was probably words of respect and moderation on board that boat before 4 people lost their lives, when what there should have been was a fucking mutiny.
So – how many of us have been out on a daysailing on a 30~40 foot pleasure yacht without adequate storm gear?  I'm guessing that's most of us. Putting aside the boneheaded choices that got them (or you) out there in the first place, what would you have done? 
[  ] not enough sea room for a sea-anchor, even if they had one 
[  ] not enough sea room to run downwind.  NE gale was perpendicular to the coast 
[  ] attempt to heave to (… on a fin keel boat close to lee shore, not the wisest option)   
[A] motorsail to windward under reefed main, sliver of furled jib, or any combo thereof. 
[B] attempt a broad reach parallel to the coast under reefed main 
[C] combo of a & b to maintain searoom until reasonable window for port entry 
Running for port just isn't on the damned list. Running for port under power without a scrap of sail up is doubly not on the goddamned list. If they left port with a damaged rig while under storm warning in the forecast, I'm sorry, but it was a suicide run from the beginning. It really makes my blood boil.  So again – for the sake of the living, please note!:
NO SAIL and NO MOTOR is NO CONTROL.  Add that recipe to a lee shore and you're finished.  
A sailboat auxiliary engine is just that: auxiliary.  Trust it only at GRAVE and MORTAL fucking peril! 
And finally, if the skipper is on a suicide mission, speak the fuck up. I don't care if it is your daddy, I don't care if it's your daddy's best friends. For fuck's sake say something. 
April 24th, 2017 by admin
April 20th, 2017 by admin
Nothing's quite as sad as the loss of a child, and SA'er BJ Porter shares some words about the 18 year old sailor and yacht crew Bethany.  We'll save the blame and conjecture for another time (or the thread, of course), but for now, our most deep condolences to all who knew or loved her.  Photo from Bethany's blog (That's her in the middle). Title shout.
She was a really neat kid. When we where in Trinidad we caught up with them – Bethany was about Will's age, and her younger brother is about my daughter's age. They'd met very briefly in St. Martin, but hadn't really connected there. But our first night in Trinidad we went out for dinner, and Bethany came up to us while we were sitting at the restaurant and made arrangements to hook up with our kids the next day. She knew what boat we were from and who the kids were even though they'd only really met once, briefly. They it it off instantly. So the four kids were hanging together literally every day we were there.
Bethany had one of those personalities that brightened any room she was in. A nice, sweet, cheerful young woman that you instantly liked. I know she also did some things like spend weeks away from volunteering to help with cleanup on another island after a hurricane hit and other things like that. While we were there, Bethany spotted smoke from a neighboring boat in the marina. Her quick action saved that boat, and maybe others. The boat owner took her and all her teenaged friends out for a pizza party.
She will be missed; her loss hits home in a lot of ways. Not the least of which is as parent of two kids of a similar age, with the family scattered around. Nobody plans for a funeral for a kid that age. And someone like Bethany, who was just such a lovely person, you don't even think about anything but her future.
March 17th, 2017 by admin
A beautiful obituary for what sounds like a beautiful character in a sport that's got quite a few of them.  With thanks to SA'er 'dacapo' for the notice and the photo.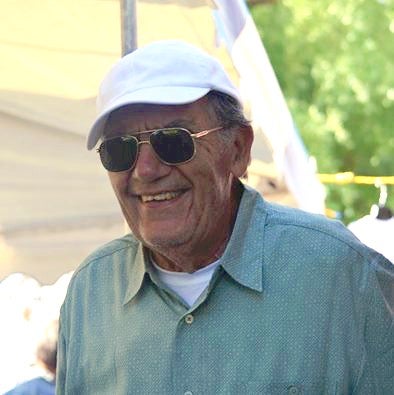 You may not have known know Sal, but I'm sure you knew someone like him.  Sal was a real competitor.  The twinkle in his eye as he herded you to the wrong side of the course to get stuck in a wind hole that only he knew was developing as he tacked back into pressure.  The loud crazy Italian whose arms flailed as he prodded his crew to work harder, faster as they win the start and never look back at the rest of the fleet.  The fountain of knowledge who would pull me aside and call me foolish for tacking too soon…as he sailed to the layline and made the perfect tack to the mark.
Sal won in whatever boat he owned at the time. In the 1960-70's, he raced a lightning with his family.  Then, for a short time in the 70's he regularly won in the  Ensign Fleet. As Sal got older, he bought a Catalina 25…and encouraged 6 other to do the same.  They raced in a O/D fleet until they all decided to go bigger…and they all traded up to Catalina 30's.  Mother Goose has won more races on the Hudson than any other club-owned boat that I know…correcting over the big boys with race boats was his favorite challenge. His boat sailed above its handicap; he could nudge out that extra 1/10 of a knot , when everyone else couldn't seem to find it.
Sal was the first person to call you a chooch if you fucked up, but he was also the first guy to lend you a hand if you needed anything.(except for extra crew 😉  Sal treated his crew like family. Making dinner for them every Wednesday evening before racing and bringing wine and cheese after every weekend race.
He knew the race results before the scorekeeper did.  He knew the standings and what it took to win a series or regatta.  his mind was always sharp.
Sal won his final race of the 2016 season 3 weeks ago, making him our 2016 overall club champion by percentage points and today he passed away from cancer.   I will miss Sal very much on and off the water.
8 Bells, my dear friend
October 21st, 2016 by admin
When I was little, we found a man. He looked like – like, butchered. The old woman in the village crossed themselves… and whispered crazy things, strange things. "El Diablo cazador de hombres." Only in the hottest years this happens. And this year, it grows hot. We begin finding our men. We found them sometimes without their skins… and sometimes much, much worse. "El cazador trofeo de los hombres" means the demon who makes trophies of men. 
This line from one of Hollywood's true classics is as silly now as it was when we first heard it in 1987, but somehow, it seems to describe the decaying situation in all of Brazil, but especially Rio.  With thousands of athletes on the ground training in the hot, stinky city, reports are beginning to come in showing crime, corruption, construction, and political chaos pushing towards a furious crescendo.
Nationally, President Dilma Roussef came out of hiding the other day giving her first big international interview to Glenn Greenwald, and she shows no sign of ending the political civil war that's led to millions of protestors in the street every few weeks, and a completely uncertain political future for the nation.
Closer to the Olympics, training for got a lot more hazardous recently.  One Spanish gold medal team was allegedly held up at gunpoint last week and robbed clean of gear, money, and papers last week by a band of banditos close to Olympic Sailing HQ at Marina De Gloria.  Their coach spent most of a day driving around with local police trying to find the thieves.
Also last week, a gunfight broke out in the Favela just above the grounds of the Rio Yacht Club in Niteroi; the training base for several national teams and Torben Grael's home club. The members and athletes seemed to think it was fireworks at first – until they saw the boat workers running for cover.  According to the article in Veja, authorities would have covered it up (as usual) were it not for the athletes witnessing the gunfight – including a bullet grazing the wall of the club.  Until this event, the Danish and other teams' request for more police security near the team bases were ignored.  Now, many of these teams just don't walk anywhere – a taxi takes them even when they need to go a half a mile.
Yet while the crime and political/economic uncertainty are ever-present, they're still something of a lottery; if you use your head and follow some basic rules, visitors to Brazil can minimize most risks  (and if inflation continues to skyrocket, you might actually get some incredible deals down there).  But there's one risk that no sailor can really get away from – the water.  And as the rain starts to fall, it's getting as bad as it ever has been.
On Tuesday, a new hue graced the bay – iridescent green, the color of anti-freeze, with a smell of 'burning chemicals and decomposition." (see pic below). One crew saw a huge sea turtle upside-down on the foamy green surface of the bay.  She was unsure whether it was the plastic entangling its face or the poisoned waters that killed it.
And then there is the pic that headlined this piece, shot on Friday smack in the middle of the Medal Race Course.  Well, we don't know where the dog was shot – or even if it was a gun that did him in – but the photo was definitely shot there.  If we didn't laugh, we'd cry, and aside from the poor bastards who have to compete there, our condolences go out to the proud Brazilians, their humiliation and shame on display to the entire planet – for three more months.
Brazil's current crises – and yes, that's plural – are likely to continue to worsen just as the world's eyes are all turned Southward, with the once-burgeoning economy getting pulled back into the morass that's defined so much of Central and South American politics and government for the better part of the past century.  Even if economic chaos is fairly common to much of Latin America, the confluence of factors hitting Brazil right now is something far worse.  The worst James Bond villain could never pull it all off; pollution, corruption, impeachment, Zika, a crime wave, and oil prices all crushing the country at the same time?  No way.
Were this the Winter Olympics, we'd end up shrugging our shoulders and saying, "oh, well, another fucked country," and maybe sparing a few thoughts for its inhabitants, but this time, it's different:  These are OUR friends and our families and OUR crews and our skippers in harm's way, and the more they know you're behind them, the more likely they are to stay safe.  We don't know how it is that the IOC and ISAF are immune to worldwide pressure to actually behave responsibly, but if you care about your athletes, please continue to push via social media on those organizations, the media, and the Olympic sponsors.
May 22nd, 2016 by admin
Thick fog apparently led to the death of two sailors not far from Cape Town on Monday, when skipper George Mills ran his 47′ yacht Tara onto rocks near Table Bay.  Mills and Rachel Daly from Ireland died as the yacht was broken up, her injured husband reached shore and eventual rescue.  Another reminder of how unforgiving some coasts can be, and how slim the margin for error is at the intersection of rock and open sea. Our condolences to Mills and Dalys' families.  Thread.
February 3rd, 2016 by admin
Our most sincere condolences to Valerie, Sandy, Ian and Ros and the extended family of Bob Oatley, who died on Sunday morning.  Of course we all know Bob is the man behind the Wild Oats line of racing yachts as well as wines, islands, and much more, but we loved him for his no-bullshit attitude and a commitment to the sport that's legendary.
Get into the thread and share your own Oatley story here.
January 10th, 2016 by admin
Sir Robin Knox-Johnston's Clipper Around the World Race has lost its first sailor; we just picked up the breaking news off the BBC that a crewmember aboard the IchorCoal entry died early this morning off the Portuguese coast.  Reports identify the UK's Andrew Ashman as the crew on the Clipper 70 who was knocked unconscious 'while trimming a sail' on the highly loaded, heavily-laden boat, and whether it was a clew or a boom that struck him, he didn't regain consciousness and the 'race' boat is diverting to Portugal to offload the body.
A past skipper of the race told us his only surprise is that it hasn't happened sooner.  "Anyone who's done the race will be reminding themselves of the number of unprepared skippers and crew they raced with and against,' he said.
Our condolences to Ashman's family and friends, and if you have loved ones on a Clipper boat, send an email to let them know you love 'em. We'll have more news as it develops.
UPDATE: OFFICIAL STATEMENT HERE.
September 5th, 2015 by admin
Not content with its 'provocative policing practices' igniting the biggest period of civil unrest in America in half a century, the animals running the Missouri Department of Highway Patrol have finally been called to task by a Senator for the attempted cover-up of the killing of a college student on Lake of the Ozarks last year by a 'marine trooper', whatever the fuck that is.
You may remember this story from last June, when the actions of State Trooper Anthony Piercy caused the death of 20 year old Iowan Brandon Ellingson, who flipped out of the trooper's patrol boat while handcuffed.  The cops' incompetent handling of the MOB killed Ellingson, yet a questionable coroner's inquest found no culpability on the part of Piercy, and the Trooper's video recording system was conveniently "missing its memory card."  In the meantime, Sargeant Randy Henry was demoted and disciplined by his supervisors for speaking out about the miscarriage of justice, and both Henry and the family of Ellingson are now in litigation with Missouri Highway Patrol over their mismanagement (and alleged corruption, report falsification, and deception).  Will the Senator's power bring a change to yet another American police department with a record of killing the innocent? We're not confident, but we encourage you to head over the Justice for Brandon Facebook Page to add your support, while telling America's police agencies that they need to train their fucking water cops better or expect consequences.  Boaters' lives matter, too.
Here's the August report from WHOTV:
New allegations have surfaced that the investigation into the death of Brandon Ellingson may have been botched, and that there was a cover-up based on a favor owed among Missouri law enforcement.

Ellingson, who was a Clive resident, was arrested last year for drunken boating at the Lake of the Ozarks. He was handcuffed, and then fell out of a police boat. He drowned before the arresting officer could save him. The same officer admitted he put on Ellingson's life jacket the wrong way.

Amanda Grellner was the special prosecutor. She investigated the case, but she never pressed any charges against that arresting officer.

Meanwhile, another trooper criticized the Missouri Highway Patrol over how the arrest was handled. Sgt. Randy Henry spoke out and was demoted. Henry hired an attorney and appealed that decision.

Now, Henry's attorney says he has found another investigation that involved Grellner, which may have influenced the Ellingson investigation.

The attorney says there was a botched rape investigation involving Grellner's son and claims there was a cover-up.

The attorney believes Ellingson's death was never fully investigated. He says that was Grellner's way of paying back the Missouri State Patrol. Grellner stepped down from the Ellingson case and a second prosecutor took over.

Props to NWA and Rage Against The Machine for the title inspiration.
September 3rd, 2015 by admin
August 19th, 2015 by admin