Posts Tagged 'CYC'
Ask yourself this question: How's the sport holding up in your neck of the woods over the past decade or so?  Because if it's falling off a cliff like it is in so many regions, it's time to do something about it.  For years Chicago has seen continually diminishing fleets despite an endless waterfront and a huge, prosperous populace, and five area yacht clubs have finally decided to do something about it.  We salute them and wish them luck, and knowing some of the guys behind the scenes, we have a lot of faith that the new CASRA will provide a new and successful model for turning the sport around, one region at a time.  Here's a FAQ from the new organization (with thanks to Meredith Block and the J/111 class for the photo):
WHAT IS CASRA?
CASRA, Chicago Area Sail Racing Association, is a newly created organization, comprised of a group of five yacht clubs, that will serve the interests of boat owners', racers' and yacht clubs', with a focus on the Chicago waterfront, to collaboratively coordinate and grow sail yacht racing. Some key words worthy calling out here are collaboration, growth, and a Chicago focus.
WHAT YACHT CLUBS MAKE UP CASRA?
Burnham Park Yacht Club, Chicago Yacht Club, Chicago Corinthian Yacht Club, Columbia Yacht Club, and Jackson Park Yacht Club.
WHAT IS THE PURPOSE, GOALS & OBJECTIVES OF CASRA?
Broadly speaking, the purpose of CASRA is to respond to the needs and desires of yacht clubs, boat owners, and racers. More specifically CASRA will coordinate sail racing activities of the yacht clubs in the City of Chicago, to promote growth of the sport and foster sail yacht racing, again, in the Chicagoland area. As to goals & objectives, the immediate tasks at hand include securing input from sail yacht racing owners and crew so that the yacht clubs can develop the 2017 race schedule with that input. CASRA seeks direct input from all constituencies and will employ a few different mediums, to be announced shortly. Longer term CASRA has thoughts on elevating sail yacht racing to an even higher caliber than exists currently with additional events for the entire boating community in Chicago.
WHO IS CURRENTLY INVOLVED WITH CASRA?
CASRA has just very recently been formed by five founding members; Burnham Park Yacht Club, Chicago Yacht Club, Chicago Corinthian Yacht Club, Columbia Yacht Club, and Jackson Park Yacht Club. As the CASRA organization is very new, at this point involvement is with the five clubs. However, CASRA has plans, discussed and agreed by the five clubs, in process to involve and engage all sail yacht racing participants: all sail boat owners; One Design fleets; racers that crew; other non CASRA clubs and racing organizations; and Regional Sailing Authorities that govern the sport.
WHAT DISTINGUISHES CASRA FROM OTHER SAILING ORGANIZATIONS?
There are a few key elements here. First, is the focus…its sail racing in the greater Chicagoland area. This is a fantastic sailing city and a skyline view from the water that is second to none. Chicago and the waterfront is a perfect canvas upon which to paint a greater more vibrant sail racing program. Second, is fostering and promoting growth of the sail racing sport, and more broadly boating in general. Whether via building upon current youth programs at the yacht clubs, adding new exciting sail racing events, or creating new events for the boating community in Chicago, growth is a key purpose of CASRA. Third, CASRA will bring innovation to all processes with an eye to reducing complexity in sail racing, and increasing availability and participation.
HOW WILL SAILBOAT RACING BE DIFFERENT IN THE CHICAGO AREA UNDER CASRA?
CASRA aspires to grow the sport, with a Chicago focus, and via the collaborative efforts of the five founding member yacht clubs, CASRA has the critical mass to effect change and make improvements. So simply being able to drive change via collaboration will be a big difference. More specifically, from an on the water perspective, racers will see more events, and events tailored to their desires, based on their input. New to racing sailors will see events tailored to them so they can realize more time on their vessels with family & friends. All will see complexities reduced.
HOW WILL CASRA ADDRESS PARTICIPATION LEVELS IN THE SAIL RACING SPORT IN CHICAGO?
Simply, CASRA will engage boat owners, clubs, harbor management, racing fleets, and sailing organizations of all types, to determine needs and desires, and then respond with offerings via the five clubs comprising CASRA. This means offering new events, offering events at optimal dates & times, reducing complexity, offering events for owners/sailors new to racing.
HOW WILL SAIL RACING FLEETS BE INVOLVED WITH CASRA?
CASRA has reached out requesting to meet with each sail racing fleet individually to seek their input as to what they would like to see in the 2017 racing season.
HOW WILL RACERS, WHETHER OWNERS OR CREW, AND IRRESPECTIVE OF FLEET AFFILIATION, BE INVOLVED WITH CASRA?
First, CASRA has launched a survey of all racers seeking their input. Second, a town hall meeting is being scheduled, likely date is Dec 10th at Columbia Yacht Club, where survey results will be shared and additional input will be sought. All will influence the 2017 race schedule.
WILL RACERS, BOAT OWNERS, AND CREW BE REQUIRED TO BE CASRA MEMBERS?
No.
SO RACERS, BOAT OWNERS, AND CREW, CAN RACE IN EVENTS ORGANIZED BY CASRA YACHT CLUBS WITHOUT BECOMING A CASRA MEMBER?
Yes.
WHAT WILL BE THE RELATIONSHIP BETWEEN CASRA & LMSRF?
CASRA will become a member of LMSRF, the Regional Sailing Authority, with direct linkage to US Sailing.
WILL CASRA DEVELOP NEW HANDICAPPING SYSTEMS?
No. CASRA will support utilization of existing handicapping rules & systems, primarily ORR & PHRF.
HOW WILL RACE SCHEDULING BE ACCOMPLISHED?
The five yacht clubs comprising CASRA will collaborate to develop a 2017 race schedule for the greater Chicagoland area, and plan to announce it on/before mid-January 2017. CASRA will also coordinate efforts with yacht clubs outside the greater Chicagoland area for events, current and/or new, that terminate at those other yacht clubs.
WHAT IS THE STRUCTURE OF CASRA AND HOW WILL IT BE GOVERNED?
CASRA is structured as a collaborative association of five clubs (Burnham Park YC; Chicago YC; Chicago Corinthian YC; Columbia YC; Jackson Park YC), governed by a set of concise by-laws. Each club will have one delegate to CASRA, appointed by the Commodore of the respective club. Each delegate will have one vote. CASRA's business will be led/facilitated by a President, who does not have a vote. Only the five clubs vote.
November 10th, 2016 by admin
After an ultraquick recordbreaker on the short side, the Big Mac, starting today, looks a bit more like the traditional freshwater hate mission.  Here's the very latest video weather update from the organizers, and we recommend keeping an eye on CYC's Facebook Page and the SA thread for the latest news.  This '5 Stages of Sailing The Mackinac Race" comes courtesy of yachtie/humorist 'blubberboy':
 1. Denial and Isolation – The first reaction to is to deny the reality of the situation. It is a normal reaction to rationalize overwhelming emotions. It is a defense mechanism that buffers the immediate shock. We block out the words and hide from the facts. This is a temporary response that carries us through the first wave of pain (before leaving the dock).
2. Anger – As the masking effects of denial and isolation begin to wear, reality and its pain re-emerge. We are not ready. The intense emotion is deflected from our vulnerable core, redirected and expressed instead as anger. The anger may be aimed at inanimate objects (winches and gear), competitors, or fellow crew members. Anger may be directed at the race itself. Rationally, we know the race is not to be blamed. Emotionally, however, we may resent the race for causing us pain, or for sucking us in to it's grips; year after year.. We feel guilty for being angry, and this makes us more pissed. ( at the starting area)
3. Bargaining – The normal reaction to feelings of helplessness and vulnerability is often a need to regain control –
-If only we had withdrew from the race earlier…
-If only we had just called in sick…
-If only we had just turned off our phone, and burnt all of our sailing gear….
Secretly, we may make a deal with God or our higher power in an attempt to postpone the inevitable. This is a weaker line of defense to protect us from the painful reality ( Right after your start).
4. Depression – Two types of depression are associated with the Chicago to Mackinac Race. The first one is a reaction to practical implications relating to the the race itself. Sadness and regret predominate this type of depression. We worry about the wasted time. We worry that, in our grief, we have spent less time with others that depend on us. This phase may be eased by simple clarification and reassurance. We may need a bit of helpful cooperation and a few kind words. ( First 5 miles in)
The second type of depression is more subtle and, in a sense, perhaps more private. It is our quiet preparation to separate and to bid our sanity farewell. Sometimes all we really need is a big kick in the ass (Second five miles in).
5. Acceptance – Reaching this stage of the race is a gift not afforded to everyone.  It is not necessarily a mark of bravery to resist the inevitable and to deny ourselves the opportunity to make our peace. This phase is marked by withdrawal and calm. This is not a period of happiness and must be distinguished from depression. Basically, is just an 'ah fuck it…'  moment.( A little before, or after the  Bahai Temple).
July 23rd, 2016 by admin
Sailing Anarchy is certainly the world's best source of sailing stories, the best place to buy or sell a racing yacht or sportboat, and a great place to find crew or a boat, but only when the community comes together to do interesting things does the SA community really shine.
One of those shining projects comes thanks to SA'er "MidPack" and his obsession with what we've (incorrectly) called the longest recurring freshwater race in the world – the 500-mile Midwestern hate mission known as the SuperMac – we've now got a comprehensive history of one of the most unique racing challenges in the US.  Head over here for the short-form history and pics of all the winners, and thank MidPack for the public service!
THE EVOLUTION OF THE "LONGEST FRESHWATER RACE ON EARTH"
The Super Mac is a non-periodic 568 mile (about 500 nautical miles) sail race from Chicago, IL to Port Huron, MI, or vice versa. Recent editions have been jointly sponsored by the Chicago Yacht Club, Bayview Yacht Club and Port Huron Yacht Club.
As of 2015, there have been 10 "Super Mac" sail races since 1975 of roughly 500 nautical miles. However, only the last 2 races were officially known as Super Mac sail races. Earlier editions varied slightly in name, start & finish locations, courses have evolved over many years as have the sponsoring yacht clubs, and only recently has the race actually been officially known as the "Super Mac."
The Super Mac has been run as an extension of the annual Chicago Race to Mackinac, with boats continuing directly on to Port Huron after crossing the Mackinac finish line, OR an extension of the annual Bayview Mackinac Race, with boats continuing directly on to Chicago after crossing the Mackinac finish line. For many decades, the Chicago and Bayview Mackinac races have been held one week apart, Chicago first and then Bayview in odd years, and Bayview first then Chicago in even years.
History
1975: The 1st Race – Port Huron, MI to Chicago, IL
The 1st race was known as the "Centennial Race" to commemorate the 100th anniversary of the Chicago Yacht Club. The 1st race was the longest at 632 miles due to rounding Cove Island, and began in Port Huron, MI on Saturday, July 19, 1975, finishing in Chicago. All participants first competed in the annual Bayview Mackinac Race, and after crossing the Mackinac finish line continued on directly to Chicago. The race turned into a long wait on Wednesday night with only 8 of the starting field of 160 yachts finishing before dark.
Chuck Kirsch's Scaramouche, a Frers 54 from Chicago Yacht Club, was the overall winner on corrected time. Lynn Williams' Dora IV, a Sparkman & Stephens 61 footer, was the first to finish in 104.006 hours. Dora IV was followed across the finish line by Frank Zurn's Kahili II, W. Bernard Herman's Bonaventure V, G. Craig Welch's Ranger, Scaramouche, Phil Watson's Namis, Joe Wright's Siren Song and Don Wildman's Heritage, a 12-Metre.
December 17th, 2015 by admin
Long before she was the CYC's head of Comms, sailing cheerleader Morgan Kinney was sharing her passion with the Anarchists.  She continues with this great story from last weekend's Chicago Yacht Club hosted IFDS Blind Sailing World & International Championship, presented by Wintrust. Here's her report, with gorgeous shots from Zachary James Johnston, with more here.
Fourteen teams from as far as New Zealand came to town for four days of racing in hopes of winning the Squadron Cup for their country and being crowned the new World Champion. Each boat had visually-impaired skippers and main trimmers, and two sighted crew – one tactician and one jib trimmer. Teams were then divided into three classes dependent on the extent of their vision loss, ranging from completely blind (Blind 1) to legally unable to drive (Blind 3).
In true Chicago fashion, the fall weather was completely unpredictable and two days of racing were canceled due to no wind, storms, high winds and higher waves.
After no wind and looming storms canceled racing on Thursday, Friday's course featured 22 knots of wind and six foot waves. Teams raced four to five races in their respective sections while I sat in awe, getting soaked onboard my 12′ photo boat. All I could think was how tough it was to just chase these yachts around the course; in the meantime, they were expertly sailing over, around, and through the huge waves. "It's a lot about the feel of picking the bow up and knowing how to drive to that," explained 2013 Blind Sailing Champion Lucy Hodges (GBR). "Downwind was a huge amount of fun. If you caught the wave just right and come off the top, you were surfing down to the finish."
Dave Allerton (NZL), remarked, "That piece of sea out there is more than just a lake – you could fit the whole country of New Zealand in there." When fellow Kiwi skipper, Russell Lowry heard that Saturday's wind and waves were supposed to be heavier and higher, he declared, "Bring it on, Chicago!"
And that, the Windy City did… Eight foot waves and 30 knots of breeze from the northeast squashed all hopes of another big day of racing.
With only one day left in the competition, the pressure was on the Chicago Yacht Club Race Committee to make up for the two days lost. With calmed seas and a rotating breeze, RC started firing off races one after another until a fourth race was started and promptly abandoned due to a sudden 90 degree wind shift. As boats reached back to the start line, our watches read 1:15 P.M., and we were looking at a 2:00 P.M. cutoff. Race Committee attempted to save the race and run one more, but the wind had died.
Duane Farrar (USA) was crowned the 2015 Blind Sailing World Champion. It wasn't easy for Farrar, though, as Canadian David Brown was giving the American a run for his money. "The Canadians were very competitive, and we started the day in a virtual tie with them. Before we got enough races for a drop, we were just about a point apart," said Farrar. "We  smoked the fleet in what turned out to be the last race of the day. We really needed that race to solidify our position."
Despite earning top slot in two out of three classes, the US lost the Squadron Cup to Team GBR. This is the fourth time that Great Britain has won the Cup in 18 years. Hodges, who was on the team the last time they won in Japan, said, "It was a very close running this time around – USA put on a really great performance. It will be great to take this Cup to Houston for the next running of the Cup in 2017."
September 17th, 2015 by admin
With Great Lakes ice cover now at 88% – 2% more than even the cold and icy 2013-4 winter – it may seem like the hundreds of thousands of Midwest sailors will never even get soft water.  But if the lakes do thaw out before July, there's some damned good long distance racing ahead thanks to the 500-plus boats that will race the two Mackinacs this year.
Chicago Yacht Club cemented their role as one of the forward-thinkers in offshore American sailing yesterday, announcing their amendment of the Chicago Mac rules to award the overall first-to-finish trophy to the first boat instead of the first monohull.  That's 65 years of historical mistake they're rectifying, and it's about fucking time.  In doing so, they make the countries other big-fleet distance races – The Cruising Club of America's Newport Bermuda Race and the Transpac – look positively mesozoic.
And while The Transpac does give a multihull trophy (first awarded in 1997 to Bruno Peyron in Explorer)  the TPYC's most prestigious trophy – the Barn Door – goes not to the first boat to finish, and not even to the first monohull to finish…instead, they give it to the tortured category of 'first non-power assisted yacht to arrive that isn't a multihull.'  That makes sense </sarcasm>. But hey – at least the Transpac allows multihulls to enter.  The Bermuda Race doesn't even do that.
On the other side of the lake, we've heard (but not yet verified) that Bayview's 'Easy Mac' – the shorter, more sheltered Port Huron-Mac – has opened up its rules as well, allowing smaller, more sporty boats to compete on the 200 NM shore course.  Melges 24s at dawn, anyone?  More smart thinking from adaptable Midwesterners, and more inclusivity on the water – never a bad thing, and a good explanation of why there are 500+ yachts distance racing over two weekends on the Lakes.  Nice work, Detroit and Chicago!
In a final bit of excellent Great Lakes news, the CYC also announced that 2015 would be a Super Mac year – that means the most intrepid teams will race from Chicago to Mackinac and then continue right through the finish line, sailing another 200 miles to the riverine entrance of the Port Huron Yacht Club.  We called it 'five hundred miles of freshwater hell' when we ran it aboard Bruce Geffen's Nice Pair the last time the race was held in 2009 – here's a full account of that one.
Where else in the world are you going to get a 500 mile course through water you can drink?  Check the CYC website for more info over here.
March 3rd, 2015 by admin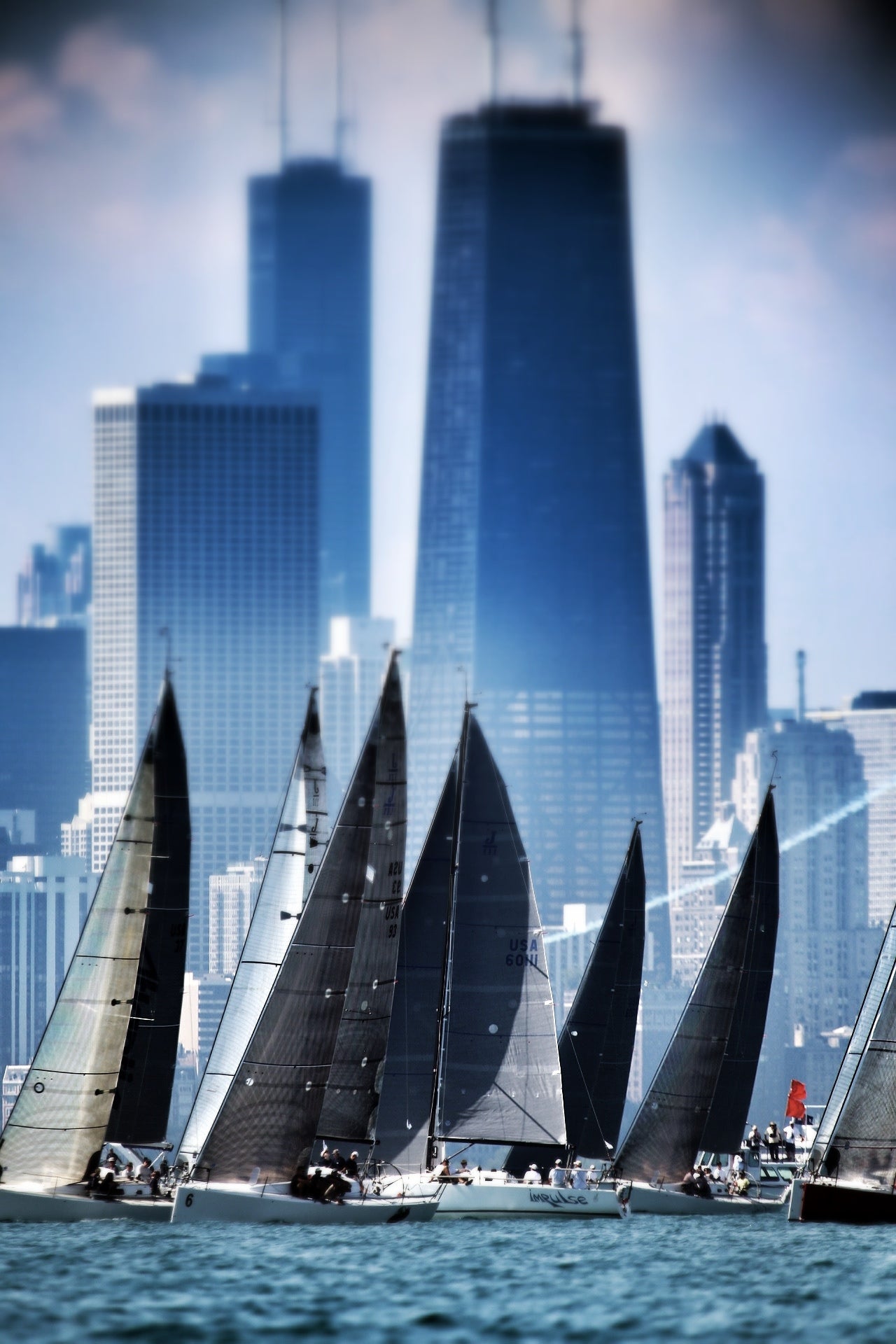 Just 1 point separates the top three boats going into the final day at the inaugural J/111 North Americans; we're rooting for the Lucky Dubie on the strength of their name alone but there's plenty of action despite the light wind in Chicago, as this beautiful Meredith Block photo shows.  That's what a great eye, a 600mm lens, and the world's best Whaler driver can getcha.  Follow the final races here.
August 18th, 2013 by admin
Len Siegal's Lucky Dubie is the world's best-named J/boat since Smokin' J was snuffed out years ago, and the longtime Chicago J/sailor tops the leaderboard at the first-ever major J/111 championship worldwide; their North American Championship.  14 boats from as far as Oregon, Florida, and Massachusetts is a solid turnout for a boat that toes the line between Grand Prix and amateur; just one pro is allowed aboard each of the light-but-not-extreme, quick-but-not-extreme J/111.
That's the good news.  The bad news?  Chicago in the summer might be better for fishing than it is for sailing, at least this week! J/fans can check it out live with full OTWA/Facebook video/interview/photo/updates coverage right here.  Meredith Block photo, event gallery here.  Big thanks to Skyway Yacht Works for the gin palace and Whaler that we're working from…check 'em out.
August 16th, 2013 by admin
Our old friend Bruce Geffen may have gotten rid of Nice Pair – the sexy black cat that he sailed to multiple consecutive multihull victories in the Mackinac races – but he's still a dark sider to the core.  This year, he's aboard the rebuilt 50-foot "Lucky Strike" as they head up the lake this afternoon.  Track the race here and if you've got an IQ below 80 check this video to learn how.  Stick to the CYC Facebook Page for an ongoing stream of information.  With On-The-Water Anarchy missing their first CYC Mack in years, it's good to see NBC Chicago filling in with live coverage for the Parade of Boats,. And of course go here for the latest weather and discussion.  The forecast is dire; we'll have the best reports from the fleet right here.
After having the aft crossbeam crack in the 2012 Bayview Mac Race, Manitou went through a complete refit and extensive rebuild.  Now named Lucky Strike, the 50′ Newick designed trimaran it's back and better than ever.  New rigging, complete new crossbeam and deck area, rebuilt cockpit, a new self tacking jib, and the entire deck area it's now clean and simple.  Her working area is user friendly, and the whole boat is stiffer than she ever was.  Freshly painted and the new press-and-stick non skid makes this cushy rocketship the prom queen of the multihull fleet as well as the Chi Mac fleet.  Fred Ball is the owner has brought together most of the crew from Nice Pair again due the third straight year.  On board is Jim Anderson, Kris Landman, father/son team of Earl and Hunter Lyden, and Bruce Geffen.  Looks to be an awesomely slow race this year, even by multihull standards.  Should be agonizing on a big yellow dump truck filled with lead!
Kiwis Andrew and Ken from Harbor Springs did the amazing rebuild of the boat.  Without their mastery and way over the top perfectionism, this would not have come to fruition so well.  These two are true craftsmen boat builders that are in a league of their own.
July 13th, 2013 by admin