Posts Tagged 'Cuba'
Despite King Orange's attempts to end Cuba's growing relationship with Americans (and the resulting disappearance of all the other Cuba races this year), Chris Woolsey and the SORC folks decided to run the third edition of the Miami Habana Race again this year, and some 21 yachts showed up for another great race on one of the best downwind race tracks anywhere.  Chris's report below, photos here, and results here.
Todd Stuart's White Rhino clinched SORC's Islands in the Stream series while Heidi and Steve Benjamin's TP52 Spookie set a new race record in the 2018 Miami to Havana Race, but first time Habana Race participant Joe Rome stepped straight into history: Upon his arrival at Marina Hemingway (after clinching the Multihull Class victory aboard his Simpson 48 Peregrine) Joe becomes the first Cuban-born American sailor to return to his homeland on his own boat in nearly 70 years! His trip included a visit to his childhood home and seeing a childhood friend he had not seen in decades. He closed out the experience by leading the first multihull team to finish the shorebound Castillo del Morro Race.
Maybe sometimes you can go home again.
The White Rhino team committed to the SORC Islands in the Stream Series early and jumped in with both feet, winning the first two races and hanging on to clinch the season in Havana with a one point margin over both Spookie and Senara, the Farr 395 owned by Jim Bill, Eamonn deLisser and Horst Baier.
It was a big year for Heidi and Steve Benjamin's TP52 Spookie, which shaved two hours off of the course record to stamp their names on the Trebuchet Trophy, winning First Monohull to Finish, first IRC and Best Overall Performance in the process. Lec Maj's Columbia 32 Oakcliff's Weegie torched the PHRF fleet, winning PHRF A over two-time defending race champion Michael Hennessy's Class 40 Dragon. Glenn Doncaster's Virginia-based team on the Sabre 42 Nanuq won the PHRF B Class, and Lowell Potiker's Hylas 70 Runaway stretched her legs to win the Racer Cruiser Class.
After moving the race HQ out of last year's venue, competitors enjoyed vastly improved onshore events at Friday night's Awards Party and dinner, and Saturday's "Amazing Race"-themed Castillo del Morro Race, won in a photo finish by Jason Siebert's team from the Olson 30 Concussion.
Watch for an announcement on next season's expanded SORC Islands in the Stream Series, and make plans early to spend next winter with us in the waters and on the islands surrounding sunny South Florida.
CW signing off from Havana.
February 24th, 2018 by admin
We were a little surprised at just how long it took, but El Naranjo Grande might have just made all those US-Cuba yacht races nothing but a memory with the help of sneaky "Little Marco" Rubio.  The Atlantic (and most other logically minded folks) expect Trump's new policy to fail miserably at whatever it hoped to accompish, but hey, Florida!
SORC says the Miami to Havana race is still on, but to expect a lot more red tape.
The SA Department of Magic 8-Ball Fact Checking rates that statement 'ask again later', but given how difficult the race already was for organizers and the new, strict restrictions on doing any business at all with GAESA-owned properties (like all marinas in Cuba) we'd advise you to not hold your breath!
June 16th, 2017 by admin
Second over the line to the Andrews 68 Simon Says (ex-Terrapin), first in class, and the overall winner for the second straight year, Michael Hennessy and the Dragon crew were first to the Hemingway Yacht Club bar by a long, long way, earning him the new nickname "Sr. Habana".  We'll have a full report on what's going on in Cuba and the Miami to Havana Race from Mr. Clean in an upcoming podcast; until then, check out our future Sailor Chick of the Week in this video with 13-year old Vieva Mulhall from aboard the PHRF C winning Testing Life.
Full results here.
March 24th, 2017 by admin
Clean Report
For episode # 20, we caught up with three guys who represent some of the brave new thinking in the sport of sailing.  Longtime SA'er Chris Woolsey runs the reborn Miami Havana Race for a reborn SORC, and we get into the whys and hows of recreating this complicated international race to one of the world's most unique race destinations.  After that, we catch up with Tim Fitzgerald, founder of Charleston's Fort2Battery Race, to talk about his motivations for creating the successful harbor sprint.  We also get into Tim's experience as one of the drivers behind Selden Masts growing dinghy business, discuss the first new hardware change in the 420 in years, and learn what Tim's learned about getting millennials and Gen Z excited about sailing.  Finally, we turn to one of those Z'ers, young Peter Cronin of the Mudratz.  This clever kid discusses the team's experience sailing amongst the big dogs in the Melges 24 and J/70 Class and the philosophy behind their growing Mudratz youth sailing movement in the Northeast.
Our next Sailing Anarchy Podcast will come to you from Havana Cuba, and you won't want to miss that one!  Don't forget to subscribe to the SA Podcast for instant notifications when each one drops.  (iTunes   Stitcher)
March 14th, 2017 by admin
It's damned tough to get any real info out of Havana right now, but a quick look at the results for the furiously promoted 'Revival of the Historic St. Petersburg to Habana Race' reveals that they probably should have waited another year.
Of the 80-odd entrants, just 22 boats finished, and we can't even tell who won – the Tampa Bay Reporter claims the TP52 Conviction led from wire to wire, while the USMMA Sailing Foundation says their pimped out, pro'd out chartered Carkeek 40 FOMO took line honors by a few minutes thanks to a better angle over the TP.  Actually, who are we kidding?  Of course we believe the King's Point guys over some fucking local news guy.  Thankfully, we've got the St. Petersburg Yacht Club's entire body of work on this high-profile race to show us what the reality was – all 19 seconds of it…
What we know for sure  is that nearly the entire fleet DNF'd, but how much is due to phantom registrations and how much is the fault of starting an ocean race in Tampa Bay: Where The Old and Wind Go To Die™ ? we'll  just never know.  More than half the boats were quick to fire up the donkeys and head to Havana for some legendary partying, so not all is lost.
If you're looking for a real race to Cuba, there's just one left in 2017, and it's the longest and raciest of them all.  And Sailing Anarchy will be there to tell you the story.
March 5th, 2017 by admin
Barely a year into its new relationship with American sailors, the addition of Cuba to the winter racing is already pumping new life into South Florida distance racing.  Today saw the start of the St. Pete-Havana Race, a predominantly cruising fleet of 70-odd boats headed to the Havana Yacht Club, while March will see the more race-oriented Miami to Havana Race swamp the communist island nation with sailors looking for a good time in a beautiful and unique country.
An interesting development in offshore navigation has been brewing in the background; longtime SA reader, Morning Light alum, SAR helicopter driver, and offshore navigator Chris Branning has been busy working in his spare time on something very cool for anyone who relies on GRIB files to cruise or race.  It's an app that provides a way to significantly increase the accuracy of the GRIBs you use to predict and route tour race, and hence significantly decrease your time on a passage or around a race course.  It's all hieroglyphics to many of us, but if you're the guy who runs the laptop or tablet, this shit is for you.
Chris put together a page of interesting meteorological and current info for those of you watching the St. Pete-Havana Tracker or headed to Cuba yourself next month – check it out over here.  Branning also invited Expedition users to drop him a line on Facebook  to learn more about the system he and his team created to make you a much faster navigator.
February 28th, 2017 by admin
The US stock market continues to celebrate the election of an anti-tax billionaire while the rest of us search for more substantive silver linings in the cloud that is a Trump presidency.  One small positive for sailors came minutes ago with the announcement of new Education Secretary Betsy Devos to his cabinet; Devos is a sailor herself as well as a member of the multi-billionaire Amway-founding, Quantum Sail owning Western Michigan family that's put so much time and money into sailboat racing over the past couple of decades.  Betsy is wife to Dick Devos, helmsman of the big MaxZ Windquest as well as the Quantum Racing TP52 and Melges 32, but while he was messing around trying to be Governor, she's been quietly and relentlessly pushing to radically change school systems for a long, long time.  Whether or not you agree with the politics (and we do not – ed.), it's always good to have sailors in high places and we wish Devos the best of luck with a tough job.
Unfortunately, that scintilla of good news comes with news of another appointment with potentially ugly repercussions for yacht racers in the Southeast; the lawyer who crafted Bush's rules ending the last open era with Cuba was just named to Trump's transition team.  He's called Mauricio Claver-Carone, and he ran a group vehemently opposed to Obama's recent moves to end America's closed-door policy with Cuba.  Clearly Trump did something to run up his Latino vote in crucial Florida, and if the appointment of Carone an indicator that he'll pay back the anti-Castro bloc with a hardline policy in Cuban relations, you'll be very happy if you bit the bullet and raced to Cuba in 2016, because it ain't gonna happen for at least 4 more years – if ever.
Maybe there's time for one more race to Havana, before mid-January…
November 23rd, 2016 by admin
If you're entered or have considered one of the races to Cuba this winter, rejoice! In an effort to make it difficult to undo his administration's US reconciliation with Cuba, President Obama is making big moves to help establish as many business relationships as possible with the island nation.  The first of those new moves was announced today, and it includes UNLIMITED PURCHASE OF CUBAN CIGARS!  That means you can offset some of your cost to race to Havana by loading your boat up with the finest Fidels…so long as they are for 'your personal use.'  Now we don't know about you, but personally, we could smoke a lot of cigars in a year…
Regular tobacco duties will apply, and here is a USA Today story outlining the other eased restrictions going into effect.
October 14th, 2016 by admin
Still reeling from the 2010 earthquake that displaced hundreds of thousands, Haiti is now underneath the first Cat 4 hurricane to make landfall on the unlucky island since 1963.  Matthew roared ashore early today with winds near 150 mph, and he's laying waste to a piece of coastline already facing a cholera epidemic, zika, and some of the worst poverty in the entire world.
Cuba's next in the crosshairs, and our thoughts go out to another island nation that can ill afford the nastiness they are about to see.  For a really excellent daily forecast on these storms, head over to Tropical Tidbits.  For more forecast, read on.
The Show Must Go On?
Our own resident 'cane 'caster, Mark "DryArmour" Michaelsen writes, "the 11AMs are in and at the top of the track there has been another adjustment to the left. At this time NHC has Wilmington, NC as ground zero. The trend at the top has been to the left the last few runs. That trend may continue and put Myrtle Beach, SC on the hit parade.  This has major implications for the US Sailboat Show this weekend in Annapolis, MD."
This latest 'up the coast' forecast also has major implications for the thousands of sailors making the annual run down the Intracoastal Waterway.  Whether you're headed to the show or planning on being on the water anywhere on the US Atlantic coast, be safe and ask Mark or the community for help in the Matthew thread.
October 4th, 2016 by admin
Michael Hennessey goes Latino with another great report, this time from Cuba, after his Class and overall victory in the first-ever Miami to Havana Race.
Photos from Marco Oquendo/SORC with full gallery on Facebook.
Apologies for the late update.  The complete lack of internet or phone service in Cuba got my head into a space where I was not really paying attention to modern conveniences, and the attitude persisted once back in the States.
First and foremost, kudos to Chris Woolsey and the gang at SORC. It is difficult to put together a first class event with participants from around the United States in the best of circumstances, and doing it in this situation had its own unique set of challenges. But from start to finish, this was a really great event.  It helped that the destination promoted itself, but that and SORC's reputation only meant there were entrants. Everything else came from the effort and commitment of Chris and his team.
I had prepped the boat in Charleston in late February, and then my all-star crew of Merf Owen and Ashley Perrin did the delivery to Miami on February 4.  They took advantage of the comfortable and romantic amenities aboard to get engaged on the trip, another first for the mighty Dragon.  Then Kyle Hubley and I joined up with the boat down in Miami.
The party and Skipper's meeting at Coral Reef Yacht Club was a great time, with a slick and fast check-in followed by what seemed like a never-ending open bar pouring cuba libres and mojitos all the rum you could drink.  A great band and a skipper's meeting that was notable for its limited time spent on bureaucracy and the rousing speech given by Commodore Jose Miguel Diaz Escrich, who clearly has picked up some rhetorical technique from Fidel.  The rest of the event was a great chance to catch up with various folks from all over the place who had come in for this race.
Race day saw us headed out early for a start that needed to be out to the south of the channel to take into account the draft of some of the boats.  Dawn had brought something that looked like 10 knot south westerlies, but that pretty quickly evolved into 5 knot north westerlies.  We went off the line under kite, VMG running.  Most of the leader pack through a quick gybe in to get off shore, where we chose to take it as far as we could to the west and benefited as the boats struggled a bit in what seemed like more current further out.  When they came back in, we had some gains on our Class 40 competitors but were struggling to shake the Santa Cruz 52 and the J111 and J120s that were in our division.  That cat and mouse game continued all the way down to the upper end of Islamorada as the wind gradually picked up into the teens and settled in for a near reach under Code 5 in westerlies.  Those conditions allowed us to pull away from the non Class 40s, but also allowed Amhas and Long Bow to pull forward for what was evolving into a drag race between us.  Long Bow turns out (no surprise) to be really fast in those conditions.
Routing from the Wednesday morning files suggested a near rhumb line race, with a departure from the reef somewhere between Islamorada and just below Key Largo.  Virtually all of the fleet seemed to follow that course, with the distinction of Decision to committed to the most easterly course.  Meanwhile, we pulled the 1800 hour files down and re-ran the routing.  The westerlies we were experiencing were forecast to back, making the rhumb line route much less attractive. It looked like it was going to play out well for Decision who could use it to get east in a hurry and then Gybe on the lift for a straight shot at Havana, but the rest of the fleet was going to be spending a lot of time gybing to the rum and all of it in the Stream with its adverse current.  We chose instead to use the lift to continue the follow the reef line us it curved to the southwest, maintaining maximum reaching speed and minimizing current.
That plan took us to well to the south of Key West, where Ashley called the layline from 57 miles out.  Even a mile less and we would have been gybing, and a mile more would have been wasted.  That last leg was a fantastic run under the A2 at 145 to 150 TWA in 12 to 17 knots.  We had some set to the east from the Gulf Stream as well as much as 2 knots of adverse, and the conditions of wind against tide did not help with the wave state that much.  But even with that, we did get enough wind driven wave action that we could get some lazy surfing during the run and kept up our average speeds.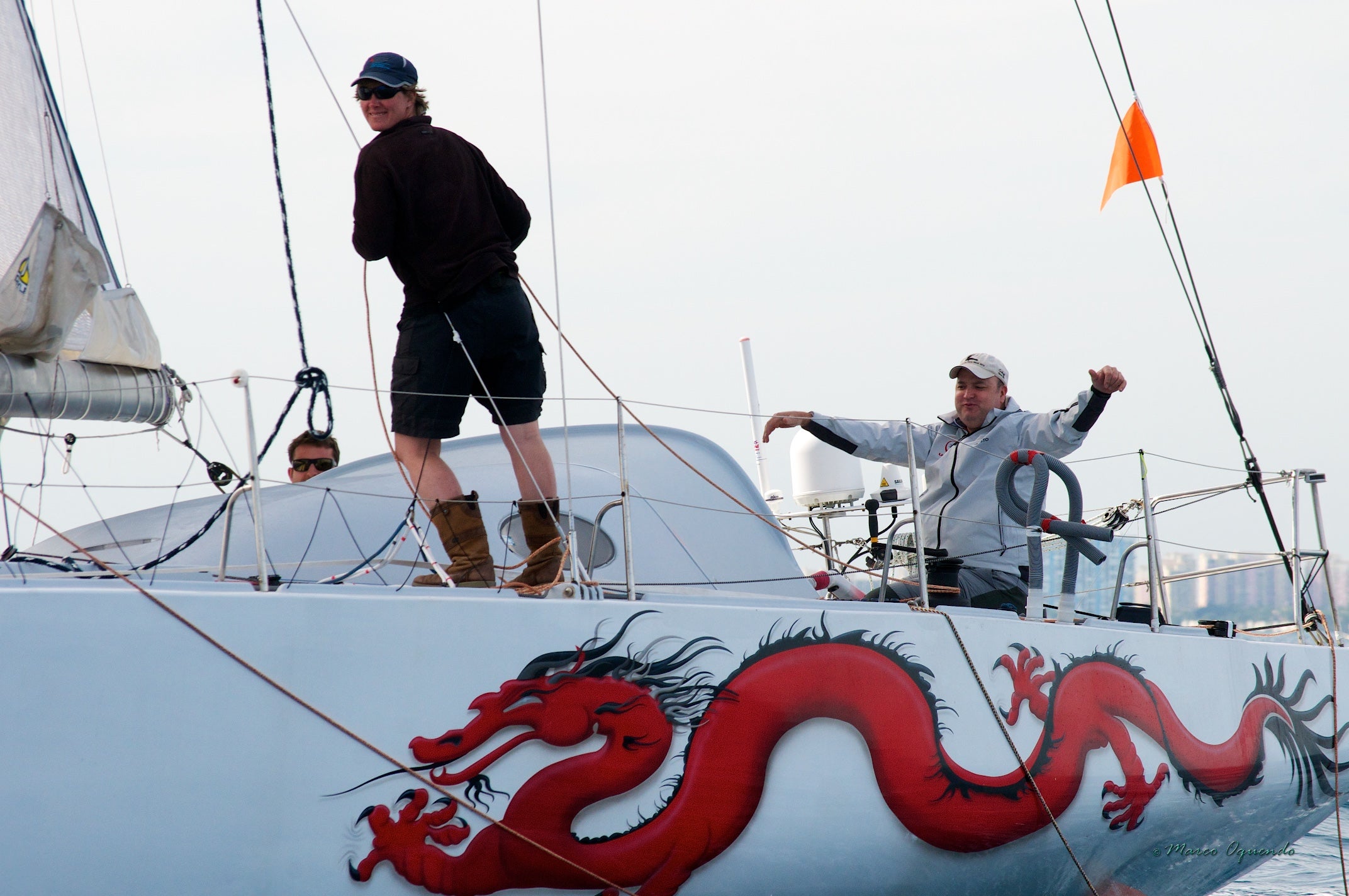 We had not checked the tracker during this race, and as we came up on the coast we were worried about the lack of any other sails on the horizon.  It was pretty clear that we were either going to be animals or assholes given the complete lack of any other boats.  The finish was a straightforward thing complicated only by a hostile lee shore that was just below the government mark where we took our own finish time. Once we got things stowed it was a well marked channel through the reef, with both day and night markers to line up on.  That took us into the manmade lagoon that is Marina Hemingway.  The combination of Customs, Immigration, Health, Vet and god knows what else were very easy to get through other than a lot of signatures.  They were polite and efficient, and the only thing they did that was unusual was to seal our satcomms with tape to prevent us from using them while on island.  Then to the dock, an interview with Clean and tidy up.  The hardest part was getting a taxi from the local hotel to a neighborhood closer to Havana where we had a Casa lined up through Air BnB.
Cuba is a time machine.  The cars are a good metaphor for the island, a rolling museum that is kept going through necessity, ingenuity, and a great deal of pride.   The buildings are a mix of worn but proud colonial architecture along side the American influenced Art Deco work of the early 20th century and some surprisingly well done modernist design of the 1950s.  There are more recent buildings from the time of Soviet patronage which are pretty much what you would expect, low quality and poor design.  In many respects the pre-revolutionary building are in better physical shape than anything that came after.   But the combination of cars and buildings create a mood that is unique, one where you don't have to stretch very hard at all to imagine yourself back 60 years.  The topper is a complete lack of advertising.  Not a single poster, billboard, commercial, or other form of media pushing you to buy or consume anything.  Coming from a world where we are encouraged to consume by messages on every available surface, this was perhaps the most subtle but also the most pervasive difference.  It makes all sorts of sense when you think about it in the context of a communist society with limited resources, but it was very unexpected.
All of the people we met are happy, positive and looking forward to the changes that are in motion.  The Caribbean Communism created by Castro is still evident everywhere. The vast majority of people still have jobs provided by the State, where the government official makes the same money as the driver that they are provided.  They still use ration cards, where each person is able to go to their local bodega (and only their local bodega) to buy food and clothing.  Anything else has to be purchased using the CUC currency meant for foreigners.  They don't have much, but they have enough.  And it is notable that we did not see a single homeless person, a single beggar or other person that did not look like they were at least cared for in some way.
In some respects, its interesting to compare Cuba and Puerto Rico when trying to judge the impact of the Revolution.  Two island states, with economies that struggle with similarly limited resources and options.  One has worked under the umbrella of the USA and unfettered capitalism for the past 60 years, and the other has been led by Castro with initially Soviet patronage and then some help from Venezuela in the past couple of decades.  Is Cuba really any worse off than Puerto Rico?  In many respects, they are better off.  Less abject poverty, far less debt and a far less precarious future.
The job system, and lack of ownership has created a culture that lacks ambition, but the desire for more had lead to a robust black market economy that has now been given legitimacy by Raul Castro.  Only in the past two years have they been able to own their own homes, and to start businesses.  Those that forego a state job to run a Casa, or the private restaurants known as Paladars or their own taxi service end up paying taxes to the State, somewhere in the range of 50%.  Which, when I think about it is about the same amount I pay in Federal, State and Local taxes.  Those allowances are driving a strong current of change.  There are signs all over Havana of grass roots efforts to renovate homes and buildings, along side what are clearly state sponsored efforts on bigger hotel projects.
It will be interesting to how Cuba navigates this evolution from Communism to a hybrid economy, and how thawing relationships with the USA impacts them.  One thing is for sure… there will be change and as a result some of the things that make it unique will vanish.  You should get there soon.
An epic awards party and pig roast on Sunday night ensured that we headed back on Monday with sore heads and bad stomachs, enjoying a 35-knot bash uphill to Fort Lauderdale.  Wind against Stream made it wet and uncomfortable but quick, and we pulled into the Cut just after dawn only to be hit by a ferocious front that saw sustained winds in the 50's and rain so hard that we could not see more than 50 feet.  Which is probably a good thing, since apparently a tornado touched down just to the north of us, and then another one to the south of us.
We saw Ashley and Merf off, got the boat cleaned up, fixed our fuel system and oil sender, and caught up on sleep.  We shortly shove off for what will hopefully be a 35 hour trip up to Charleston, and then back to the real world.
Viva Cuba!
February 18th, 2016 by admin