Posts Tagged 'cruising'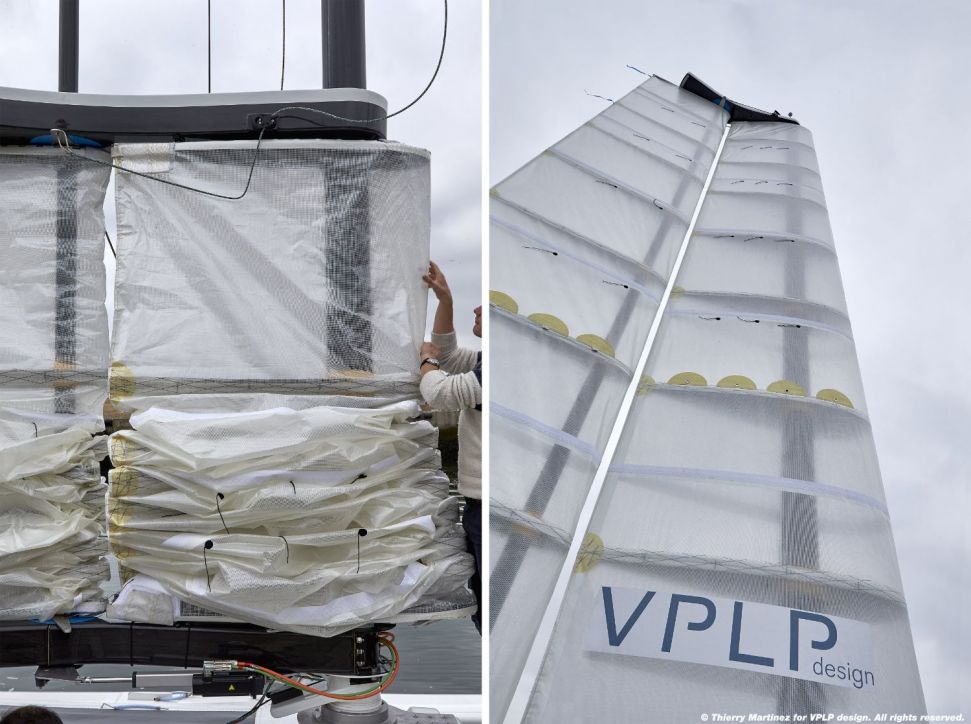 VPLP principal Mark Van Petegham has been super cagey with the development of the wing/sail prototype they French designers think may revolutionize open water cargo shipping but news and PR is now trickling out on what may finally solve the problem with the uber-efficient shapes of semi-rigid wings; reefing. Note from the photo that the solution isn't nesting flaps or morphing shapes – it appears to be a plain old, 19th century, halyard-and-sail-material solution.
Entirely automated, self-supporting and rotating 360°, Oceanwings® adapts its angle of incidence to the vessel's point of sail to ensure optimal propulsion. Power is managed by trimming camber and twist. "Not only does it provide exceptional control," explains Nicolas Sdez, the engineer in charge of the project, "it's also efficient to the point of halving the surface area required to propel a vessel under conventional sail." VPLP design is developing several concepts which use this patented technology, such as the Komorebi range, Komorebi 200' and EMC cargo ships.
We'll have more on it when we can get the tight-lipped VPLP to open up, but until then, check Marc's article on LinkedIn.
April 29th, 2017 by admin
It appears that the all-powerful "Filipino Trump" wasn't able to prevent German sailor Jurgen Kantner from being murdered by Abu Sayyaf, according to The Straits Times.  As we reported (and you started talking about) last week, Kantner's wife was murdered and Kantner abducted by the militant Islamist group, and after ransom talks broke down, police reported today that the German joined her.
"Despite efforts exerted by groups and the security forces, I have received reports about the alleged beheading of a German kidnap victim in Sulu (on) Sunday afternoon," said President Duterte's so-called peace adviser and chief hostage negotiator; the same Duterte who has been funneling the vast majority of police forces to his campaign of extrajudicial killing of suspected drug offenders (with our own President's alleged approval).  While Duterte's minions slaughter thousands of innocents in a drug war, Abu Sayyaf operates with impunity in large swaths of the Jolo and Basilian Islands of the Southwest Philippines, including in 2014 when they collected millions from another tourist ransom and the past year when they beheaded several abductees.
We get that Kantner's choice of travel locations wasn't great – he was also held for months after being abducted while cruising Somalia (wtf?) years back – but we're still sorry for the loss of anyone who knew this interesting character…and stay the hell out of  the Philippines until they solve the 40-year insurgency that caused this mess.
February 26th, 2017 by admin
We congratulate Vancouver SA'er "Zonker" and his family on recently completing a long circumnavigation, but we congratulate the parents more on raising an incredible young lady (and wonderful writer) en route.  We were blown away when we read a speech the home/boat-schooled Maia prepared for a group of female sailors; here's an excerpt:
As many of you know, I've been sailing around the world since I was little.
I've completed my circumnavigation, just a few days ago actually.
We left Vancouver, Canada when I was seven, and we've sailed 37000 nautical miles miles. I've spent over half my life on our catamaran, which isn't exactly a normal childhood. But it is a great one. There are ups and downs, as there are in anything, and it's taught me a lot about my self and the world.
Hopefully it's made me a better person, and at the very least, it's made me one with more exotic anecdotes than I might've had if we stayed on land.
I was nine when I did the Puddlejump, and most of my time was spent doing school, reading, constructing elaborate desserts out of play-doh, and counting the flying fish that had ended up in our nets.
Now that I'm older, things are a little different.
I still do school and I still read, but now I listen to podcasts, cook, clean, take watches, binge watch TV when I'm feeling lazy and write stories when I'm feeling productive.
Passages are a chance to take a break from the outside world and do all the things you've been meaning to do but never got around to.
So write. Read. Play an instrument, paint a picture. If you have good balance, do some yoga. If you're still in school, catch up on it. Fish. Make sushi if you catch a fish! I seldom catch fish.
Enjoy yourself and your time away from the world.
You're also away from the internet, which can be very, very hard. About three days out, I start getting twitchy.
What's happening? What are my friends doing? What's going on in the world?
But now I've begun to view my time away from the WiFi as a way to decompress, if you will. The internet is a marvellous tool but it can get stressful too. And another cool thing about crossing the Pacific Ocean is that you get serious bragging rights. That's something you can bring up at parties and at school for the rest of your life.
Kids on boats. I'm sure you all get a lot of questions from people who don't live on boats.
Are you just taking a break? Do you go to a new school everywhere you travel? How do you keep up with the world?
And at least with me, a more than a few people have assumed that I'm a maladjusted, anti-social weirdo because of my unconventional childhood.
But you know what; I think we're pretty cool.
We're seeing more of the world at this young age than many of our peers ever will.
Many of us make friends with people all over the world, and we learn more about the earth and its issues than you ever will by reading about it in a newspaper or a history book.
One of my favourite parts of cruising is the chance to meet women all over the world, from so many different backgrounds.
When I was in Fiji, we met the oldest female chief in the country and took part in a traditional sevu-sevu ceremony. She was in her nineties, and her skin was dark and worn from the sun. She smiled at me joyfully as I offered her the kava roots I held.
When I bought a sari in Sri Lanka, women would stop on the streets to offer their own ways of wrapping it and to tell me their stories of their first sari. A twenty year old plantation worker had helped me wrap it for the first time, busily folding and pleating the silk as she explained how most Sri Lankan girls would have a party to celebrate getting their first sari, similar to a Bat Mitzvah or a Quinceañera. I still have that sari, carefully tucked away and protected from damp. It still smells like fresh black tea, and I still remember practising wrapping it and folding it over and over again in the cockpit of my boat until I could do it in five minutes. The first time I tried it, it took about thirty minutes.
Read the rest of the speech here.
January 23rd, 2017 by admin
The fun coldweather cruisers at A Life Aboard put together a decent list of must-read websites for the sailing obsessed in 2017.  We reprint it in full below, and encourage you to check out Matt Garand's Maine-based blog for some of the most interesting maritime winter content around. 
1: S/V Delos: Slip away from your winter cocoon and follow along through inspiring videos and blogs as the crew of Delos sails around the world.

2: Sailing La Vagabonde: A young Australian couple films their adventures around the world sailing, fishing, and playing music.

3: Skip Novak's Storm Sailing Techniques: This is a fantastic multi-part series explaining the techniques and tools needed for exploratory cruising in rough weather.

4: Cruising World: The go-to magazine for cruising destinations, gear reviews, and fascinating stories.

5: Cruiser's Forum: A useful forum for everything from DIY projects to classifieds and gear reviews. An excellent peer-to-peer resource.

6: Sailing Anarchy: An alternative sailing site for all types of sailing, geared towards the fun, the different, and the exciting.

7: Sailing Totem: A family of 5 sailing around the world. They literally wrote the book on Voyaging with Kids!

8: Sailing Simplicity is a fantastic and popular blog by voyagers, liveaboards, and offshore sailing instructors Teresa and Benjamin Carey. For a glimpse into the voyaging world I highly recommend their movie One Simple Question!

9: Chasing Bubbles: "A documentary about the journey and spirit of Alex Rust, a farm boy turned day trader from Indiana who, at 25, abandoned his yuppie life in Chicago, bought a modest sailboat and set out to sail around the world, learning as he journeyed."

10:  Turf to Surf: Meet Tasha, a writer, sailor, adventurer, and filmmaker sharing stories from around the world.

11:  Marine How-To: A basic website with thoroughly detailed descriptions of projects for the DIY sailor.

12:  gCaptain: The go-to source for all marine news. Oriented to the commercial sector.

13:  Tall Ships America: Check here often for job postings and volunteer opportunities on tall ships!

14: Yacht World: This is where you go to dream about your next boat. I visit here way too often.

15: The Boat Galley: What started as a resource for cooking on a sailboat has grown into so much more. Excellent resource for DIY boaters, liveaboards, and cooks at sea.

16: Maine Boats, Homes, and Harbors: A Magazine and online resource for boating and coastal living in Maine.

17: Around Cape Horn: The tall ship Peking sails around Cape Horn in 1929 in this documentary narrated by Irving Johnson. A must see.
January 2nd, 2017 by admin
Big Pimpin'
We've all watched the world of big, high performance cruising cats come alive with a vengeance over the past few years, and Hudson Hakes has become one of the leaders of the continuing revolution.  In association with our friends at Seahorse Mag, here's more about what HH has in the pipeline.
Hudson Hakes HH66
Large performance multihulls offer the best of all worlds – sailing excitement, comfort and style, both racing and cruising – and are entering their next generation with the recent launching of the HH66 catamaran, built by Hudson Yacht & Marine. This is the latest in a long series of designs from Californiabased Morrelli & Melvin, who have been leaders in not only finding the right balance but also optimising the competing elements of speed, style and reliability into bold new innovative designs. Couple this design refinement with one of the world's largest integrated production builders in advanced composites and the results are spectacular.
Hudson's history in building large performance cats goes back several years, with eight 60ft fast luxury multihulls already under their belt. Builder Paul Hakes's own relationship with Gino Morrelli goes back further with the development of small, fast cats like the SL33, introduced in 2008 for the European lake sailing market. This fast 650kg, 10m design also caught the attention of America's Cup contenders of the day who were new to the multihull genre, both Luna Rossa and Team New Zealand getting their own boats to play with as they learned more about multihull sailing and design.
Yet Hakes and Morrelli actually go back further still, to Hakes's days at Cookson Boats during the building of Steve Fossett's Jules Verne-contender PlayStation, a 100ft monster from the late 1990s designed by Morrelli & Melvin. It was here that Hakes got a taste for the uniquely high static and dynamic loading inherent to big cats and the structures needed to accommodate these loads in an offshore performance context.
In design evolution Hakes says the HH66 differs slightly from its 60ft predecessors – they're not only larger for size sake, but based on feedback from the 60ft owners. 'They found that the 60ft design was large enough to accommodate the owners and their guests, but not to comfortably accommodate the minimum two full-time crew needed to manage a boat of this size and complexity,' said Hakes
'Many thought that one or at most two crew would be sufficient for boat handling and the maintenance and operation of simple onboard systems, but as these boats became more complex it became apparent that two pros were needed to allow the owner and guests a measure of comfort when making journeys of any significant length.'
Another important element in the new design is the evolution from centreboards to daggerboards. At 6m long and fabricated using 300kg of carbon, the latest boards are curved slightly inboard for efficiency. And this configuration is efficient, giving a 20% boost in lift/drag efficiency and generating up to 3 tons of lift. Fully deployed these boards yield a 4m draft; but when cruising in shallower waters the boat still performs well with them partly raised.
The T-shaped rudders of the HH66 contribute as well, generating 800kg of lift to help dampen pitching, in turn increasing comfort and speed. In total the foils generate nearly 4 tons of lift when the boat is at speed.
With all this load, the boards inevitably have to be robust: the designed static load limit is 8.5 tons and the dynamic load limit much greater. To ensure reliability, HYM fully test each board before installation. The daggerboard is also engineered to take 0.5m deflection at 17 tons of load, with a breaking strength of twice this amount. But it's important that the engineered maximum load is not too high: if the boat grounds at high speed the foil needs to break and not the boat.
This kind of tailored engineering is possible due to the scale of HYM's operation; there is complete digital control on the design, tooling and fabrication of parts both large and small. This vertical integration in the design process allowed Morrelli to nearly achieve his ideal design scenario, leaving the hull shapes to be the last element in the design process – because all the other constituent pieces of the boat, their weight and their position help drive the choice of hull shapes needed to maximise performance.
Having said this, the HH66 hull design is a bit more generous than seen on other similar cats, in part because Morrelli and Hakes agree that when owner specification and cruising gear inevitably tip the scales beyond the original design weight, the effects on hull trim are less pronounced with a less deleterious effect on performance.
There are other practical elements that make the HH66 distinguishable from the previous generation of this genre: for example, rather than install complex and enormously expensive co-generation electrical systems that limit fossil-fuel dependence but historically lead to myriad problems, the HH66 is powered by two old-school but highly efficient 80hp Yanmar marine diesels. Being easily driven, this big cat does not consume much fuel anyway; a calculation made for a client interested in trans-Atlantic crossings found that if the wind stopped completely and it became necessary to proceed under power, at a modest 6kt the boat would have a range of about 1,500 miles… not bad.
If a client does insist on having a carbon-free platform to cruise the world, HYM can accommodate it, having invested on the previousgeneration boats in the development of retractable skegs, lithium battery banks, dualpropulsion/ generation prop systems, solar panels, 280V electric engines and the energymanagement systems to control them all. Not such an easy fix on a remote Pacific isle, though…
Armed with a team of 25 in-house engineers and designers at HYM, Hakes is able to efficiently translate design concepts into reality across an entire project, since these boats are built from strong, stable carbon tooling to optimise longterm cost and production efficiency. This is particularly important, given that HYM now has no fewer than six of these 66-footers in production.
Yet, as Paul points out, 'production' is a relative term for these boats, when each of the owners and their project managers have specific requirements in their choices of deck and interior layouts, onboard equipment and the systems needed to support the functionality of each choice.
'Our in-house engineering and design staff work with our clients to lay out the options,' says Hakes, 'This makes the process easy and efficient. We integrate the design and engineering of the tooling and components, then put parameters on the options, so performance is not unreasonably sacrificed and the overall design concept is not compromised. This is important when we go through a fabrication process of several months, while we try to stay within reasonable timelines and deliver the quality the customer expects as well as the reliability to ensure problem-free sailing over the long term.'
An example of how HYM can customise a production boat is in steering station choices. The last generation of luxury performance cats had steering stations located forward in the boat, either fully or partially enclosed within the cabin structure. While certainly secure from the weather, this also limited the helmsman's ability to have any visceral feel for the boat, an element in sailing that every sailor needs. With the high speeds possible for these big fast cats, Hakes and Morrelli also felt that it would be safer to have weight trimmed further aft in the boat.
To address this and the practical matter of how to dock a boat that is nearly as wide as it is long, HYM's engineers came up with a clever solution in the helm station, where not only are there seats available to accommodate the helm on each hull, but the steering pedestals themselves rotate to allow greater visibility in close manoeuvres (see photo of HH66, above).
'This was a complex feature that we were only able to achieve with the help of efficient fabrication based on our digital design tools,' says Hakes. 'It would not have been practical without this facility.'
The helm detail is just one of many factors that elevate the HH66 and set her apart from her predecessors and other market offerings. State-of-the-art technical details, cutting-edge design, bestpractice construction and attention to detail combine, setting a new standard in the realm of luxury performance cruising multihulls.
HYM and Morrelli & Melvin have achieved a bold, yet refined, dualpurpose yacht that will undoubtedly propel the brand into the future. The first HH66 is already turning heads in Valencia and is sure to stun when she makes her official debut in Cannes this autumn.
Click here for more information on HH Catamarans  »
August 24th, 2016 by admin
We couldn't resist.  Got PIB (Pussy On Board) stories?  Here's the thread.
August 8th, 2016 by admin
Mankind has been decimating oceans since the first hominid figured out how to sew a net, and the net effect on sea life – fish stocks a tiny fraction of their size just a few decades ago, coral reef and major species extinction, and worldwide pollution – has been horrifying.  But one group of critters has not only dodged the bullet – they're thriving nearly everywhere.
That's the conclusion of a recent study in Current Biology, as reported by Gizmodo.
Something strange is happening to the oceans. As coral reefs wither and fisheries collapse, octopuses are multiplying like mad. As soon as they perceive weakness, they will amass an army and invade the land, too.

Okay, that last statement is probably pure paranoia. But it is a bit unsettling that cephalopods—squids, octopuses, cuttlefish—are booming, and scientists don't know why. An analysis published today in Current Biology indicates that numerous species across the world's oceans have increased in numbers since the 1950s.
There are plenty of theories to explain the "squid…squid…boom!" effect, but nothing concrete just yet.  We urge our Anarchist cruiser/fisherman friends to add these tasty cephalopods to your onboard fishing target list – they're mostly easy to catch compared to more gamey fish (the experience of reeling in a 10 KG giant squid on a rod-and-reel is a truly special one)  and they're a great source of protein.  Octopus require traps or spears, but squid are almost everywhere and you can learn to catch them here.
May 24th, 2016 by admin
This Question Of The Week comes from PNW sailor 'wristwister'.  Got your own hellish experience with a sewing machine or some advice?  Share yours.
"Do your own upholstery," they said.  "It'll be fun!", they said.
How hard can it be, right? Only 10 cushions down below to upholster. Pick up some fabric and piping, fire up the ol' sewing machine, and go for it!
The first cushion looks like absolute crap. I'll probably chuck it and do it again.
The second cushion is marginally acceptable, feeling pretty good about that one.
I completely botched up the third cushion last night. Tossed it in the trash.
…and early on I realized my old machine wasn't up to the task so I spent some bucks on a more suitable machine.
But I must say, the ladies down at the fabric store are getting a real kick out of me. A clueless man walks in and they kind of gather around and trip over each other trying to help me.
Any of you do your own upholstery? After you finished the boat, did you toss the machine and say "fuck that, never again"?!
March 28th, 2016 by admin
For every bikini-babe-clad voyage like Elizabeth's milk run or the No Expats assfest, there are a thousand sailors living real life on the water.  They live a cramped and stinky life, they never see the green flash (unless it's a bar name), they can't find the right key for the Yanmar, and they lose their forestay on the first open water passage.
While these are the rites of passage that every cruiser must face, no one has told the story better online than the crew of the Pestilence from the "Anarchy Yacht Clubb" with the documentary known as Hold Fast.  You can watch them keeping it 100% real in the full show above, and make no mistake – it's both very entertaining and a required reality check for the whole family thinking of heading to sea for an extended period of time.  Hold Fast is also a great reminder to prospective filmmakers out there that high-quality storytelling can overcome low quality footage, but never the other way around.
Blue Anarchy has some well-written and interesting how-to guides for basic cruising essentials as well; hit them up here.
December 21st, 2015 by admin
Long known to intrepid tropical cruisers, the nasty twin mosquito-borne diseases Chikiungunya and Dengue Fever have slowly been migrating from the Caribbean and Centròamerica towards the southern USA, especially the breeding ground for everything nasty; Florida.  One of the dozens of little obstacles to the future of Key West Race Week, Dengue hit the Keys a couple of years ago, and while some scientists are figuring out clever ways to sabotage the Aegypti mosquitoes that cause the diseases, Mexican doctors have gone a step further with their announcement on Friday that they'd gotten approval for the world's first Dengue vaccine for use in the general population.
This is huge news to the billions of folks who live where Dengue is something of an epidemic, where some 390 million cases hit every year;  the 'bone-breaking disease' may be ultra-rare in America but it's the scourge of the tropics, and anyone cruising tropical America or Pacific or Asia will not go long without meeting someone who's been effected.  So bravo to the Mexicans and let's hope the makers of Dengvaxia have something that really works!
Check out their release here, and if you're a world traveler with a date in the tropics, forward it to your doctor.
December 14th, 2015 by admin