Posts Tagged 'Cruising Anarchy'
World class sailing photog Sander Van Der Borch took a month off from his busy schedule for a cruise with his family, and like most people who live their passion, he just can't stop working.  Sander had the camera ready when a summer squall came overhead, and grabbed one of the prettiest sailing/lightning shots we've ever seen.  Time for new desktop background…
August 17th, 2015 by admin
The annual New York Yacht Club Cruise is back, and as usual, there's plenty of drama, and yet more reasons to watch it when you see the burgees coming through your piece of water.  This time, the drama is in limerick form, thanks to SA'er 'Left Hook'.  To add your own limerick (and there are already several good ones) or for the full story of the sinking of Concordia 40 #11, hit the thread hard.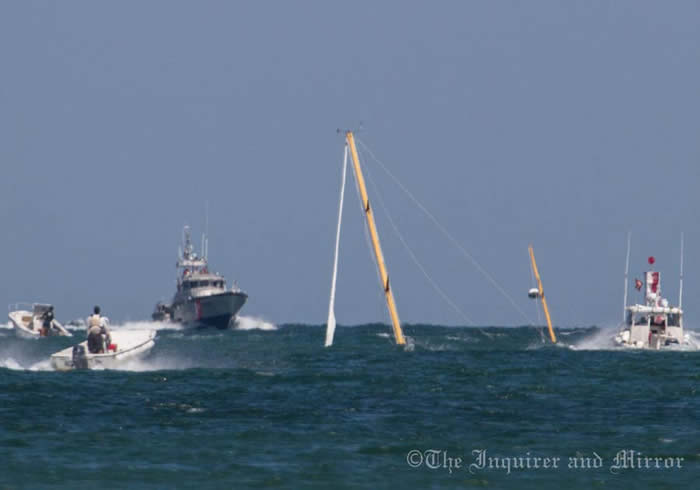 Title is more about Dice than limericks, but hey – fuck it.
There once was a man on Nantucket
Whose Swan was so big he said "fuck it!"
So he went down the line,
spied Winnie so fine,
and said "crap, we're on port, we should duck it!"
August 15th, 2014 by admin
Like Webb Chiles, SA's favorite war veteran/solo ocean racer/disaster magnet Ronnie Simpson does shit you never will, and he takes us along for a ride, just around the corner from Chiles, in Fiji.  Check out Ronnie's full story at his blog over here.  Photos are all Ronnie's.
Despite having racked up quite a few miles on fast offshore racing yachts, ocean sailing has never been quite as much of an adventure as it has been this season for me, cruising the wide Pacific on an engineless Cal 2-27 that I bought in Seattle for 4 grand. In yacht racing, when you set off on an offshore race, you generally have an idea of the outcome (to some reasonable degree): you'll sail hard with the boys (or girls, or solo), maybe blow up a kite or two and then you'll get to the club and get on the piss, regardless of your result. It's a good time.
When you set sail solo in a small engineless 4-knot shitbox to remote parts of the globe, without an organized event, the uncertainty and danger factor goes up just a tick, but it's a surprisingly good time. Cruising MONGO is the sailing equivalent of cooking meth: It's cheap, uniquely white trash, and highly addictive, and has the potential to leave me equally fucked in the end. Four months after dismasting near a lee shore on the island of Maui, i've slapped a new rig in MONGO and sailed 1-stop to Fiji, some 3,000 reaching miles away. Rocked up to paradise and moored out amongst the blue-water cruisers and mega yachts, it is Sailing Anarchy at it's finest.
Jokes aside, I take seamanship pretty seriously, and have made every effort to remain safe and self-sufficient during this voyage, which has now reached about 8,000 miles (having started in Seattle, WA). After a picture-perfect early-season passage from San Diego to the big island of Hawai'i and a windy passage to Maui, MONGO lost her rig while sailing out of Kahului Harbor, Maui on April 1 when a 5-month old lower shroud toggle failed. Anchoring in 50 feet of water on a lee shore, I was towed back into port by the Coast Guard an hour later sans rig, fortunate to still own a boat. I wrote a lengthy first-hand account of the ordeal in these very pages, and then the Ed pimped my plight on the Front Page and my PayPal account got hit up to the tune of $1,600 over the following two weeks. A sincere thank you to the SA community for helping me to continue my voyage.
With MONGO docked in a commercial harbor with no rig on Maui's windward side, I ended up finding a new mast on Maui's leeward side the very day after dismasting. 4 days after dropping the rig, the trades went light and with a boom-jury rig and borrowed outboard engine bracket and 4-horsepower short-shaft outboard, MONGO made the voyage over the top of Maui two-handed and with a cruising boat escort to Lahaina. With the boat on a mooring, I went to work for two months; working on the new mast, prepping the boat, freelancing as a sailing writer and helping with odd jobs in exchange for welding on the mast. In late May, I moved the boat into the harbor and myself and a hearty crew stepped my new turbo Morgan 27 rig using the rig of a 35-foot race boat. With a thoroughly prepped spar, all new rigging and hardware and a sprayed-on AwlGrip paint job, I managed to get going again for about $6,000. A bargain and one of my proudest sailing memories. On a larger boat, this would have been a game-ending dismasting for me. On the 27-footer, and thanks to the SA'ers, it was merely a speed bump. A local welder and sailor named Bob and the rest of the Lahaina sailing community taught me the meaning of 'aloha'. I would not have been sailing again so soon without the help of others. Thank you.
After shaking the boat down for 300 miles in Maui, Oahu and Kauai and 3 beer can races in Honolulu, I set off solo for American Samoa. After 9 days of windy easterly trades, the American nature preserve of Palmyra Atoll was 5 miles on the beam and it was mid-day, so I sailed towards the pass where I was met by the G-Men. After a Mexican standoff with Uncle Sam in the Northern Line Islands of the central Pacific, I was granted permission to anchor in the lagoon and work on my boat, but having not jumped through the hoops of an intense bureaucracy in Hawaii, I was not allowed to go ashore. Just like they did with firing rockets when I was in the Marines, the government somehow figured out how to make sailing to a remote central-pacific atoll totally un-cool. The silver lining was the 3/4 mile long, 50-meter wide dead-upwind coral reef pass that I had to negotiate before entering the deep-water, protected lagoon.  Another cheap hit of my meth.
In an ITCZ where I was becalmed for less than 8 hours total, MONGO sailed through the most intense squalls that i've ever witnessed, both during the night, at 8 North and 3 North latitudes. Bare ass naked with a safety harness on, I helmed MONGO through the constantly changing, still mostly easterly breeze, with a warm beer in hand and stereo pumping as I was treated to one of nature's most brilliant displays with intense wind, black clouds, an opening of the heavens and lightning strikes in every direction.
From 2 North to 5 South, MONGO sailed a close-reach to close-hauled course in 25 knots from the south-southeast and big seas, with multiple swells in the water. When the beating stopped, I found that we had sustained mast damage, which had not been there in Palmyra. In what was a stomach-in-your-throat, heart-beating-a-million-miles-per-hour discovery, I discovered two vertical cracks at the base of the mast and that the rig was now moving on the step. The damage occurred precisely in the middle of nowhere. Banding the rig with large hose clamps and sailing the boat more conservatively, I continued towards American Samoa. 200 miles out, I was expecting the breeze to go light and lift to an easterly beam reach. Instead, the wind died died while the barometer steadily declined before I met 15 knots out of the southwest which gradually shifted and built to a sustained 30-35 southeasterly for two days, with 40 knots for 8 hours. On a recently dismasted piece-of-shit boat with more rig damage and a low-grade gale blowing with Samoa upwind, it was clear that  I would not reach my destination. I cracked off and endured a stressful but exhilarating sail to Fiji in 25-30 knots almost the entire way.
MONGO is currently moored out in a surfing/ kite boarding mecca near the famed Cloud Break and conveniently has 4 surfboards and a kiteboard in the engine compartment. If I can manage to not get thumped off the reef too badly, it should be good fun.  And cheap.
Now to pull and repair the mast, Anarchy style, side-tied next to another boat on a mooring, to prepare for the next blue water crossing. I'm 'Straya bound next month with the hope of sailing in another Sydney- Hobart. Any Anarchists out there need experienced crew for Sydney- Hobart? I'm keen.  drop me a line at [email protected].
Bula from Fiji,
-Ronnie Simpson, s/v MONGO
August 13th, 2014 by admin
 Anchoring is easy.  95% of the time, all you need to do is drop the pick, let go a pile of line, and back down.  But what about the other 5%?  Unknown holding ground, a crowded anchorage, tidal swings, williwaws, a storm; any one of these issues can turn your boat into a pile of matchsticks.
Longtime Anarchist and longer-time world cruiser Evans Starzinger shared a Powerpoint presentation with the Cruising Anarchy forum that addresses all these problems; whether you're a racer thinking about cruising, a racer thinking about anchoring, or a cruiser looking for knowledge from one of the foremost cruisers in the world, we encourage you to first read the thread,  download the document, and then get back in the thread to ask Evans for details.  Another great resource from the kinder, gentler Cruising Anarchy forum, brought to you by BoatSmith.
August 14th, 2013 by admin