Posts Tagged 'crash'
Some days, you just gotta stay home.  This dude on Sydney Harbour had one of those days, but at least the Manly Ferry folks had some fun!
March 3rd, 2015 by admin
That's double gold medalist Shirley Robertson and her CNN Mainsail producer offering the first of many apologies to top US mothie and Luna Rossa Challenge team member Bora Gulari (Detroit, Michigan) after her media boat collided with his foiling moth.  Shirley's media boat destroyed the rudder gantry of Bora's Mach 2 during the carnage-filled pre-start to an aborted race yesterday while the CNN crew were facing the other way; they were filming a pre-start lineup with Nathan Outerridge and Paul Goodison.
CNN took Bora's foils to shore and then left him when help came along; Bora went into survival mode, with a club rescue RIB nearly running him over in an attempted recovery in wind-against-tide nastiness.  Finally, the ETNZ rescue boat came over and helped the American and his boat get to shore (along with helping about a dozen others, while event rescue boats milled about in some confusion).
While CNN may be used to being ridiculed, we're pretty disappointed in Robertson, who we know is a passionate, experienced sailor.  Given how lightly the responsible RIB got off (no injuries to Bora), Shirley would have certainly won our respect had she stood up and taken responsibility and assuring Bora that she would do what it took to get his boat back up to snuff.  Instead, she tried to divert blame from her, implying that the sailboat ran into her powerboat.   We understand that lawyers have made honesty something of a relic, but we would hope Shirley knows better.  Apparently not.
In contrast, Regatta Chair Peter Osbourne and the entire SSCBC team have been transparent and communicative, and this morning, we got a phone call assuring us that Bora would not be out of pocket for a penny.  That's how it should be done.  Top photo credit to Petey Crawford, rescue shot to Sander Van Der Borch.
Racing is cancelled for Wednesday, with 30-40 knots on Port Philip Bay.  Join us right here on Sailing Anarchy for all the live video action on Thursday and Friday as the Worlds Finals is packed into 2 short days.
January 13th, 2015 by admin
Remember when our Senior Editor was the closest witness to a multiple-death boat crash this summer on the river in Michigan?  Well, apparently there is some justice in the world, and it also means Mr. Clean won't have to answer that witness subpoena after all.
Brandon Verfaillie's blood alcohol was over 0.1 more than an hour after the crash according to police, and he he allegedly pled guilty to two counts of operating a vessel while intoxicated causing death and one count of operating a vessel while intoxicated causing serious injury; the maximum combined time he can be sentenced is 35 years, and the judge will hand it down in January.
Verfaillie is also facing wrongful death and other lawsuits.  His life is mostly over, but not over as the two people he killed.  Thankfully, while it's got its shortcomings, the system sometimes works.
December 9th, 2014 by admin
You thought rudder problems were an issue in your wee yacht? Well, when it hits one of the world's largest container ships as she enters Suez Canal, it's a whole different ballgame.  Check out the Colombo Express taking a chunk (and some containers) off the Tanjong in the spectator video above; the canal was shut down for about half a day with minimal pollution issues and no injuries; a lucky end to a collision that could have been a hell of a lot worse.  Thanks to SA'er 'pipe dream' for the heads up.
October 1st, 2014 by admin
Gary Green's Bennie 44.7 Green Dragon 2 takes a bite out of Jerry Finnegan's Cal 40 Celebrity during the Santa Barbara to King Harbor Race.  Grab some popcorn and enjoy.  Then talk shit.   Thanks to 'Par Avion' for the find.
August 6th, 2014 by admin
Just two hours before some of the the Cal 25 Nationals fleet would sail through the same spot on the way back to Bayview Yacht Club from Port Huron, MI, our own Mr. Clean was on hand to witness a horrific accident in the St. Clair River.  While a picture may say a thousand words, this was a truly bizarre one, and we go to Clean for more on yet another big summer boating accident.  The lesson to sailors? Never stop scanning your horizon for the marine environment's real killers: Go-fasts with drunken idiots behind the wheel.
In a lifetime on the water, I've never seen anything quite so nasty happen, and I just happened to have a front row seat.   Remember when that moron in the speedboat on the Lake of the Ozarks caught a wake at speed and nearly flipped, beating the hell out of the occupants?
We had a similar situation here last night but with much worse consequences, when a  25 or 30 foot Baja cigarette-style boat, running at least 50 mph, decided to go through the wake of a big Bayliner cabin cruiser without throttling back, and at a terrible angle.  I happened to be less than 200 feet from it all; having slowed down for the Bayliner's wake, I saw the speedboat approaching at mach 2 and decided to watch the action, actually saying to myself, out loud, "This is gonna be good."
It wasn't.
The Baja caught the first wave and got heeled to the left in the air, then caught the second at a worse angle, which launched it back in the air, now with 20 or more degrees of heel to the right.  By this time, even if the driver were still hanging on to the wheel, he was just along for the ride.  The Baja hit the third wave at a terrible angle – the boat was bow-up and heeled hard to the right when it hit – and it literally launched itself completely clear of the water by 4-6 feet – aimed directly at the Bayliner's flying bridge.  The heel on the Baja had rounded the boat up on the final wave, turning it to the left instead of straight through as intended by the driver.   The Baja didn't so much hit the Bayliner (and the six people on the bridge) as landed on top of it, then continued over it, and landed in the river.  The entire upper deck of the Bayliner was torn off its supports, and barely remained connected to the main deck by a few hoses and wires.
After calling 911, I moved.  The Baja was between the cruiser and me, so I snapped a pic of the culprits to make sure no one made a run for it.  They were pretty shaken up, and responded that 'everyone's fine' when asked.  I gunned it over to the stricken vessel, and they were shouting that there was someone in the water.  As I searched downriver and mentally tried to figure out how much water had moved in the 5 minutes since impact, (there is 2-3 knots of current in the river at this point), I kept yelling for every boat I saw to join in the search.  Shortly thereafter, with more than a dozen boats now on scene helping out (but still no official help) a woman's body was pulled out by a pontoon boat, and 20 minutes of CPR didn't help her.
As the body was pulled from the water, I noticed the Baja drifting downriver, nearly out of sight.  As I headed back to them, a crowd hollered at me on shore, and I ran over to a house to pick up the local Fire Chief, who I dropped off on the Bayliner to help with the rescue.  As I handed him off, I saw the second body in what used to be the cockpit of the boat – a man in his 50s – also unresponsive after a few minutes of CPR.  A third casualty – a woman in her 60s – looked to be going into shock, or cardiac arrest, or both.
I hung around for long enough to see the freighter traffic start to idle through the channel again, as it just didn't seem right to buzz over to the lake and go fishing after the carnage I'd just witnessed.  After giving my number and info to the Marine Police and USCG as a witness, I overheard the Sheriff who had the Baja's driver in custody talking to the neighboring police boat.  "You take the statements from the passengers; I'm taking this one in."  I couldn't hear the next question from the deputy, but the Sheriff's response made that clear.  "Yep, he's been drinking."
It's unlikely that a sober Baja driver would have done any better in that situation, but that's not the issue.  A sober person – at least one with an IQ over 50 – would never have taken that wake at that speed.  Once again, the equation holds: Horsepower + (Alcohol OR Youth) + Inexperience = Death.
Title comes from one of the 80′s best cult films, also about a river, death, and stupid people.
August 4th, 2014 by admin
UPDATE: From the forum…
7/23 – Wanted to let you all know that Bob Winson passed away this morning at about 3:30a.  He was surrounded by his family – as he was when this terrible accident occurred.  Bob was surrounded by family wherever he went.  He loved being on the water with Dale.  He was a wonderful man.  I miss him already.
Want to set the record straight – Pythagoras is owned by Dale Winson and his dad, Bob.  Dale and Bob have been ocean racing together for 40+ years. 
Pythagoras left Alamitos bay this past weekend with the entire family aboard for a Sunday sail.  While sailing on starboard tack, Pythagoras was struck by a charter sailboat on port tack.  Pythagoras did their best to avoid the collision, however, the bow of the sail boat – and bow anchor – struck Dale's 84-year old dad in the head as he sat on the leeward side.   
Bob was struck in the head by the bow anchor resulting in a massive brain injury from which he will not recover.  Dale and his family are by his father's side – they understand that he will pass away soon. This is a really sad tragedy and to speculate any further is just that – speculation.  Hoping you will all say a prayer for Dale and his family. 
The Olson 40 Pythagoras was the latest powerboat casualty in the world of yachting; according to Channel 16, she was run down by a powerboat off Alamitos Bay.  At least one crew member was injured and taken off by lifeguards, and the only news we can find is right here in the thread.
How many more people need to get wounded before we all decide to start carrying flare guns in our cockpits to fire at these motorboating yahoos?  Thanks to SA'er "LBC" for the shot.
July 22nd, 2014 by admin
We wonder if maybe folks should spend a little less time irritating the gods of the sea?  Check out this clip (and see the original here) of racing in the Transquadra aboard an Archambault 31, with subtitles from our own Mr. Clean.  The boat's name?  The White Whale.
And how about this one for a bit more whale fuck you?
July 7th, 2014 by admin
In what we can only imagine was a creative way to protest his rating, the 82-year old owner of the 31-foot cat Starquest destroyed about a third of the Emsworth Sailing Club's newly refurbished clubhouse last week.  Apparently, Captain Clifford "John" Caughey took two practice runs in his Volvo before backing up and launching his car into the Club at around 70 mph.  Since that was clearly not enough damage, the good Captain then got out of the car with a gas can and proceeded to douse the Volvo before setting it alight.
Caughey was taken to hospital before being arrested, and there were no other injuries besides those to one of the oldest sailing clubs in the world; it's already business as usual though at Emsworth; you just can't keep a good English sailor down.  Full story here at the Telegraph, Mike Walker photo, and thanks to JB for the heads up.
April 28th, 2014 by admin
This cat sailor got a closer look than he bargained for and set up this great football analogy after a capsize just downwind of the Viper fleet during the second day of Charleston Race Week.  Meredith Block Photo and an awesome gallery of 111 photos from Day 2 here.
 The HD Day Two Highlight Reel from Petey Crawford is here.  Results here.  Follow the final day of action on Facebook here.
April 13th, 2014 by admin
Spring has sprung and the sailing world is on fire!  Here are 5 vids for your weekend viewing pleasure.
the young ones

Charleston continues to show its uniqueness, and never mind the huge fleets or sportboat-gathering.  Where else outside the Olympics do you see 20-year old skippers beating up on Grand Prix fleets, and what other regattas have literally hundreds of gorgeous girls in attendance – both on the race course and at the parties?  That's right – there are none.  Check Petey's Day 1 highlight reel above.
C___ Tease

Do you want to go foiling at the 2015 ICCC Worlds/Little America's Cup in Lake Geneva, Switzerland?  Well, now you can.  The Canadian build team for the last 3 Little Cups will make it happen for less than you think.  Go check out patersoncomposites.ca for more
Wake Me

It's been a while since anyone did a good wakeboarding-behind-the-boat video, and this one has the added bonus of being shot and edited by one of the most beautiful cat sailors in the world and the longtime SAers aboard the Formula 40 Soma.  
Everybody Quant Some

We're not sure if the DSS system is every really going to be ready for prime time, but the Quant boats are different and quick enough that we're still watching.  Check it out above.
Just In Time

This container ship gives a new meaning to 'emergency stop'.  Hong Kong, last week, and very close to a bad day.
April 12th, 2014 by admin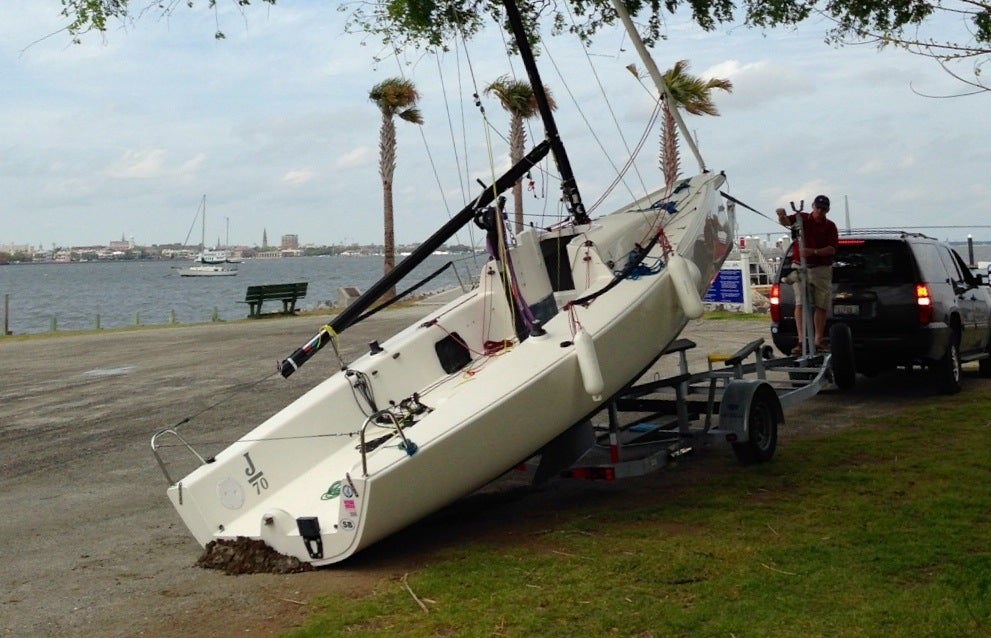 With 81 J/70s at Sperry Top-Sider Charleston Race Week – the biggest fleet by far in the 287-boat fleet - there's bound to be carnage; we just didn't know how soon it would start!  This driver forgot about the one tree at James Island Yacht Club at just the wrong time.  Racing starts tomorrow, and Clean and the team will be bringing you pretty much non-stop video and photo action all week long via the CRW Facebook Page.  There's plenty to see – big one-design fleets, four wicked-up Carkeeks racing in the HPR Class, a huge Pursuit fleet and for the first time ever, multihulls.  And no, you don't need to be a Facebook user to watch.
April 10th, 2014 by admin
Tired of constantly getting t-boned by port tackers?  Here's one solution.  Fun stuff from Ontario SA'er 'Gord262′; will it work?  Answer here.
October 25th, 2013 by admin
With the Youtube video approaching a million views (making it one of the most-viewed sailing videos in the history of the interwebs), a Southampton magistrate yesterday dropped a cool £100,000 penalty on navy officer Roland Wilson for breaking three COLREGS requirements before scratching the Hanne Knutsen's anchor.  (1) He failed to keep an adequate lookout, (2) he impeded a large vessel in a narrow channel, and (3) he impeded a vessel constrained by his draft.
The 100k (called 'costs' by the court) will likely be covered by Wilson's insurance policy, but he'll still need to come up with  another 3 grand in fines.  Wanna know more, or do you know more?  Hit the thread.  And before your next regatta in a TSS zone, you might want to read up on How To Avoid Huge Ships.
October 25th, 2013 by admin
St. Francis's Rolex Big Boat Series continues to cling desperately to a name that becomes less and less accurate each year; just half the fleet at last month's event – billed as the 'climax to the summer of sailing' – fit the 49-year old definition of the event's namesake craft, with just two modern racing monohulls over 50 feet entered in the regatta.
That's not a bad thing – well, not unless you're a title sponsor whose image depends on the exclusivity of big yachts, anyway – and it's a good sign that San Francisco's most prominent annual regatta is adjusting to the new American reality of sailboat racing.  Everyone we spoke to loved the action on the mixed course.  "It's just such an amazing place to race, and practicing with the Cup going on made it even better," said one J/boat sailor.  "We had a MOD buzz us, we traded gybes with a big cat, and all in the middle of a tight one-design fleet – what a blast," said another.  There's no doubt that the new formula works, even if the old courses and the old way of thinking doesn't.
But an incident between Melges 24 Rock n Roll and J/120 Chance and the resulting injuries raises an important question for this new reality:  How do you best insure that comparatively potato-chip sized boats don't get run down by big lumps of lead and fiberglass?
The crash happened along the city front during a race where the bigger boats sailed to a mark a mile or two downwind of the leeward mark for the Melges 24 fleet.  While the fleet of J/120s was coming upwind along the SF shore, the Melgi were planing downwind, three abreast, on final approach to their bottom mark.
While a passel of starboard-gybe Melgi doused their kites as they reached into the mark, the J/120 Chance was rolling upwind on starboard tack.  According to several eyewitnesses, and despite the fact that the 120 had room to pinch up and let the battle by, Chance never altered course as the cruiser/racer blasted through the port quarter of longtime Etchells and Melges 24 helmsman Argyle Campbell's Rock n Roll.
"It was maybe the most violent collision I've ever seen on a race course," said one witness.  "It was like a pit bull lunging through a chihuaua," said another.  Campbell was thrown to the deck, splitting his chin open to the tune of 11 stitches, with the bowman landing on top of him.  Tactician Charlie Enright, one of America's most promising young pro racers, suffered injuries to his back, and faces a month or two of recovery.
The J/120 went on to finish their race after untangling themselves from the Melges' sheets, finishing their class in 5th.  We're told they then requested redress for their score, and were thankfully denied.  There was no protest against Chance despite having done nothing at all to avoid a collision – because they never saw it coming.  Rock n Roll would have been DSQ for a W/L foul against the J/120 had they been able to finish their race, but with half the crew headed to the hospital that wasn't really an option.
Other than for Enright (and Charlie, our thoughts go out to you bro), the story has a mostly happy ending; Jeremy "Troll" Wilmot flew in as a last-second sub for Enright.  Boat captain Bill Wiggins and a pile of well-meaning Melges folks rebuilt the boat. Trimmer and Bowchick Charlie and Danielle are still getting married.  And Campbell went on to finish a solid 11th at the Worlds.  But it could have been much, much worse, in a place where "much worse" has happened way too often over the past few years.
Unsafe At Any Size
We're not sure if there's some kind of 'acceptable' threshold, but too many people have died while racing sailboats lately, and if some more careful course management and a little foresight can eliminate the potential for this kind of incident, then that's what needs to happen.  By the same token, both little boat and big boat skippers/tacticians must do a better job preparing for potential boat-on-boat issues when courses and start times are set up in a way that guarantees inter-fleet contact.  Better yet, if you see potential incidents when courses are announced, say something to your RO; they will probably appreciate the chance to make conditions safer for your fleet.  And remember: Failure to keep a proper lookout is a violation of Rule 14 as well as being a violation of COLREGS; if you crash into a boat you didn't see, regardless of ROW, you should be DSQ from the race and may even be partially liable for damages.
If you remember the Melges 32s vs the Optimists this summer in Lake Garda, you'll remember why it was so egregious; not because of the actual danger level, which was quite low.  The outrage came from the potential danger of a locomotive striking a potato chip which just happened to have a little kid hanging off it.  Port/starboard and windward/leeward concerns become a lot less important than common sense and seamanship when this kind of disparate destructive power is on a collision course, and organizers that fail to understand that will, sooner or later, have to send a funeral wreath instead of a 'get well soon' flowers.
Defenders of the St.FYC are already on the attack…Do you think we are we out of line?  Talk about it here.
October 7th, 2013 by admin
Coast Guardsmen are, with a few exceptions, pretty good seafarers.  But waterborne police are typically the worse kind of maritime morons.  Oftentimes equipped with ex-drug runners' overpowered rides and rarely trained in the kind of advanced boathandling techniques they need to know, water cops are frequently more dangerous than whatever it is they claim to be saving the rest of us from.  We all remember the murdering Perdock; here's a less deadly but equally idiotic case.
This Washington DC  police boat driver doesn't have the slightest clue what happens when you turn the wheel and open the throttle; watch him destroy the little runaboat in a second's stupidity.  CBS Baltimore reports the cop seemed to be "putting on a show for the crowd" as he sped off on another call, clipping two boats with his RIB.  One of the two boats hit sank at the dock, and the same idiot cop was reportedly heard telling the skipper of the boat – borrowed from his friend – to 'relax' a few minutes later.  We're guessing he didn't apologize.
USCG and police are 'investigating' what led to the crash.  Seriously?  We'll save them some trouble.  HEY DC:  YOUR SHITTY SELECTION, TRAINING, EQUIPPING, AND OVERSIGHT OF YOUR WATER COPS is what led to the crash.  Quit hiring cowboys too stupid or arrogant to understand the water and maybe you can save a few million on personal injury suits.  Props to  Trendsetter for starting the discussion.
September 2nd, 2013 by admin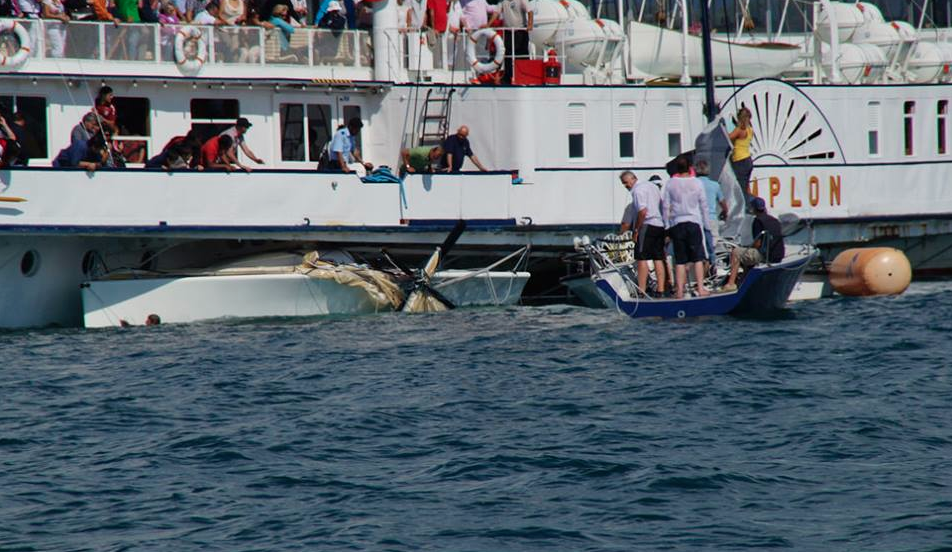 One of Lake Geneva's funky little one-design sporties – a Luthi 870 – wasn't so lucky on Saturday when a CGN ferry swallowed it up just after the start of some weekend racing.  Two of the five crew ejected into the water were injured, one seriously, and  reports from the course indicate the ferry was tooting away on his horn when the collision happened.  According to Le Matin, ferries on the Lake have right of way over all non-emergency traffic…bad news for the sailors and best of luck on their recovery, and Merci a Patrick Michel for the tip from the land of chocolate and cowbells.
September 2nd, 2013 by admin
more whale tales
The recent Marblehead-Halifax race was an unlucky one for two teams; the big canter Donnybrook, owned by the unlucky Jim Muldoon, ran full speed into a whale on their last night at sea.  Given the boat's history, the crew wisely jumped on deck and prepared the liferafts, but the boat was able to limp into Halifax and take second over the line.  Canadian biologists are seeking info about the whale; apparently the blubber stuck to the keel wasn't enough to identify it.
badfish stories
On the other end of the racing spectrum is the world-traveling Cookson 50 canter Privateer, who's won just about every ocean race she's entered at one point or another.  Those days are over thanks to a wrecked rig and a hull split open like a bratwurst on an open fire, and a fishing boat off Cape Cod was apparently the instrument of their destruction.
Details are sketchy, likely because of insurance/fault issues, but we're extremely bummed for the all-around champ and her owner and crew.  A bit more info and photos are in the thread.
July 19th, 2013 by admin
Performance Cruising Class, Banderas Bay Regatta, last week.  To leeward (with the kayak on deck) is Camelot, a Hunter 54.  Windward boat is J/160 Blue, with longtime Puerto Vallarta pro Mike Danielson on tactics. After Mike disappeared out of the frame, his legs were crushed between the boats, and we wish him a speedy recovery in beautiful Nuevo Vallarta.
The video speaks for itself, but what do you think?   You make the call.
April 10th, 2013 by admin