Posts Tagged 'Coutts'
Like a whirlwind of brilliance and carbon fiber, Russell Coutts leaves a path of devastation behind him.  First in NZ, where to many he is still one of the biggest traitors in the island's sporting history.  Then to Switzerland, where his divorce from Alinghi was so nasty there was a rule written specifically to ban only him from AC32.
Then to the US, where after a brilliant comeback and a great event in San Francisco, he found ways to completely alienate the majority of the team's American supporters for the recent Cup:
First by removing the competition from the country that won it; second by decisions that brought bad ratings and made it expensive (or downright impossible) for Americans to watch the majority of racing, and third by saddling San Fran with an unexpected, 8-figure bill – a move that ensured no US host cities bid for the event with even a fraction of what Bermuda came up with.
It appears that familiar old Coutts tornado has left another wrecked venue in its path now that results are in from the parliamentary election we reported about before the Cup that was held this week in Bermuda.
On Tuesday's General Election, the mostly white, ruling One Bermuda Alliance party (the OBA – jokingly called Oracle Booster Association in online chatter)  suffered a crushing defeat at the hands of the mostly black Progressive Labor Party, many of whose members had been strongly critical of the money spent to bring the AC to the island.
The election was a true landslide in the tiny island nation, with the PLP receiving 20,059 votes, or nearly 59 percent, while the OBA secured 13,832, with resigning PM Michael Dunkley complaining that the biggest issue in the country is its "racial divide."
While we are certain that there are much bigger, far reaching components to the OBA's thumping than just the America's Cup, it probably didn't help the race problem to spend millions and millions of dollars on perhaps the least racially diverse sport on the planet?
July 21st, 2017 by admin
With the Coutts money train out of steam, it looks like it's open season for those posting those ultra-restricted America's Cup videos.  They're all over Youtube and Facebook, and props to the RNZYS for letting the public watch what they want regardless of whatever bullshit deal ACEA sold to the networks. Here's the entire Race 9 as broadcast live last Monday.
It's not like anyone watched anyway, as you'll note from the final ratings for the last weekend of AC racing in US markets...beaten this time by drag racing, college baseball, and the US Track & Field champs, at a Nielsen number that's  roughly half the San Francisco ratings.  Bravo! [/sarcasm]
July 2nd, 2017 by admin
Clean Report
In what might be the ultimate metaphor for Russell Coutts' management of the America's Cup, we received yet another advertisement on Monday disguiseed as a press release.  In it, ACEA touted their amazing new media boat platform – the strange-looking XO powerboat, which would provide 'unequalled dignity' (or some similarly worded crap) for the handful of media granted accreditation at the event.  More non-news from an event that seems completely incapable of producing anything interesting at all (other than the racing) despite having some of the most interesting racers and yachts to ever compete on the water..
Something about the boat looked familiar though, and after a couple of hours trolling through the forums and Facebook, I found out why: Because an Official Media Boat loaded with Official Accredited Media had to be beached on a launch ramp after sinking in the savage waters of Bermuda's lagoon just a couple of weeks ago!
Watch the boat sinking here.  And if you're a sponsor looking for exposure, a prospect for an XO boat, or anyone thinking of getting on an ACEA media boat, beware!
June 16th, 2017 by admin
With the America's Cup struggling to get anyone, anywhere to pay attention to it, former Oracle Racing Exec and former GGYC Vice Commodore Tom Ehman continues to stir the shit in the AC bowl.  Ehman's post, reprinted to the left, points out yet another in a long line of sponsors to be burned out of the AC by Russell and friends.  We note that while the AC has indeed scrubbed Bremont from their site, there is still quite a lot of active AC content on the Bremont site (see here, and here, ironically including a countdown timer to the event).  More ironically, we note that Ehman is still listed on the GGYC website with his old job, so clearly web maintenance ain't high on either Bremont or the Golden Gate priority list.
There's still discussion amongst the diehards as well as a few spy pics of the new AC50s in the AC forum…go there if you absolutely must, or go and beat up on Ehman on his FB page.
January 17th, 2017 by admin
Once again our ever-reliable rumor mill was right, and Dr. Harvey Schiller's exodus from the top spot at ACEA came just before the AC organizers got smacked down by an arbitrator for breaking their contractual agreement to hold the AC Qualifiers in Auckland this coming February.
As we reported in August, Schiller and Coutts had been at odds for the better part of a year over Coutts' screwing his fellow kiwis over, and according to the NZ Herald, ACEA may have to pay Team New Zealand up to $5 million for breaking their contract.
Of course Coutts and pals are fundamental enemies of transparency and literally no one is allowed to say anything about anything.
Look for an announcement about this sometime right after…never.
October 11th, 2016 by admin
With the conclusion of yet another one-day sailing event, the 2015 America's Cup World Series is a memory, with the most memorable moment of the season coming Sunday when yet another incompetent America's Cup worker bee (a judge boat) crashed headfirst into Artemis Racing.  The crash removed the Swedish-flagged boat's bowsprit, unintentionally helping them to an event victory in a nice, non-gennaker Sunday breeze.  If that was Shirley Robertson, it would've been Nathan's fault.  Anyone still think Russell's 2-day, 4-race format is a success? Bueller?
There's no reason to search for footage of Sunday's ACWS action, such as it was – just watch the crash linked above and the excellent ETNZ video in the player for all the flavor you need.  You won't be alone, either – the piece of shit live viewing App being touted by the America's Cup has pulled a grand total of between 5000 and 10,000 installs on Google Play, with the IOS app page showing even less action, and with an average rating of 2/5 stars for the primary communications platform for the AC (and more than half of reviews at 1-star), it's no surprise that the world's interest in the America's Cup has been dropping precipitously.  Here are a few reviews, but we really encourage you to head over and read some of the 100+ nasty ones for some afternoon fun.
too expensive Paid for app then found they want more $ to be able to watch the Bermuda replays.
Absolute cr4p… Typical of the ACEA… $7.99 and no racing… lol can't even see the leader board. .. Oh well one day they'll get it right.
This is terrible for the sport…. shame on you.
Bad experience overall. Continually freezing during video. Sits on authorization screen (checking location) forever.
Clearly, humiliation and a similar reputation to FIFA doesn't bother America's Cup too much; maybe a post to their Facebook or Twitter feeds will accomplish something, but we doubt it…
October 20th, 2015 by admin
The only thing more consistent than Oracle Team USA and Russell Coutt's complete incompetence in the marketing and administration of the America's Cup has been the stellar work of longtime OTUSA photographer Gilles Martin-Raget.  The soft-spoken French photographer has apparently gotten the boot, according to an e-mail circulating on the web that says Raget has basically had all his passwords changed and gotten the axe without even the most basic explanation.
Thinking of working for the America's Cup?  Understand that no job is safe when there are idiot CEOs flailing around trying to divert blame for their very public failures.  Loyalty is for the weak…
September 22nd, 2015 by admin
It's taken less than two years to go from the fantastic AC72 to the ghost of an AC62 to an AC48 – the smallest boat conceived to sail in an America's Cup in the 165 year-history of the event.  The 48 will clearly be cheaper in every way, but is it the America's Cup?
One might well doubt it in view of AC48 Rule version 1.0 dated March 31st – this is a one-design rule, and one that the Defender – Oracle Racing – has been thinking about for some time.  Master illustrator and yacht designer François Chevalier and partner/historian/analyst Jacques Taglang analyzed the rule this morning, and their drawings give us a good comparison view of the new AC48 – and surprisingly, it looks like it won't even be as big visually as the AC45 (and the proportional drawing shows even more that the AC48 looks like a 'special' brother to the 45).  Here's a comment from the team.
What we have is a boat whose wing, sails, hulls, platform/crossbeams are standardised!  Same engine, same body, all engineered by Oracle's designer.
To reassure the world that the America's Cup still means something, the Rule throws the engineers and computer scientists a bone; they have a small amount of freedom to design the daggerboard/lifting foils, the rudders, non-structural aero fairings, and some parts of the wing and board control systems.
In other words, history showed us what the America's Cup is, and we all know of the Little America's Cup, so then this new AC-1D-48 should probably be called the Medium America's Cup.  Looking at the design drawings, you will see that the new boat is no longer visually special, and will probably be overlooked amongst the already large and growing number of multihull racing events.  Only the name of the trophy will maintain whatever legend remains.  Hence the Medium Cup!
Little Is Bigger

As a result of AC organisers' wholesale changes, the Little America's Cup (now called the Little Cup thanks to trademark claims by the AC organizers) raced with C-Class cats becomes the sole remaining event in which the inventiveness of yacht designers is still free.  The sole constraints in the C-Class: Length, width and sail area.
Let us say straight away: Vive the Little Cup!
April 6th, 2015 by admin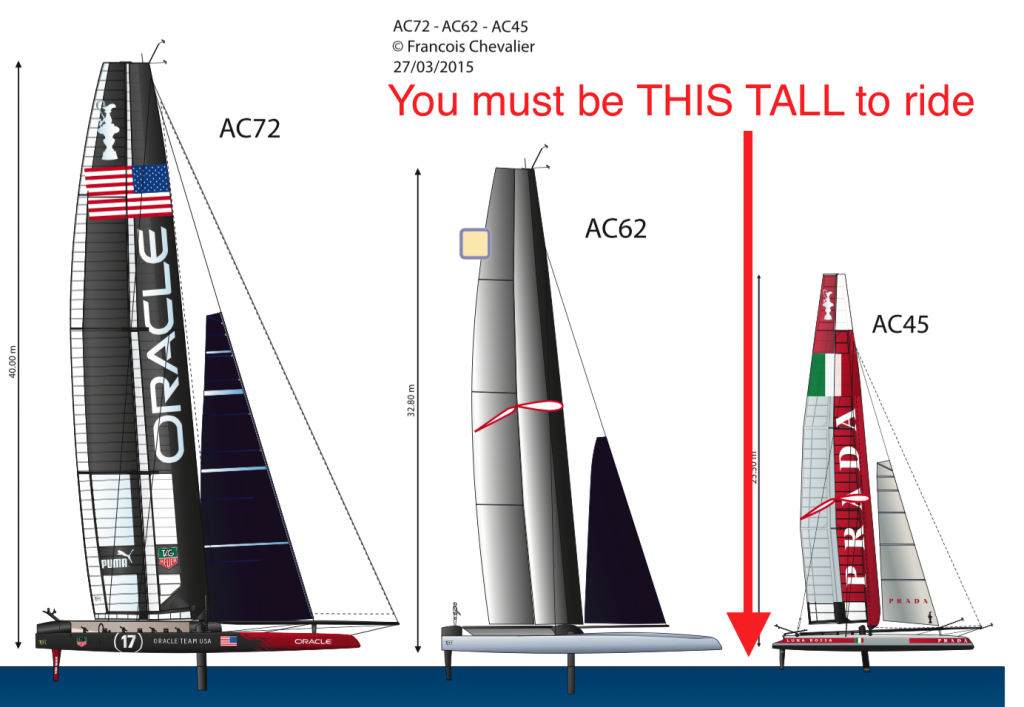 As Ferrari finally gives Italy something to cheer for in top level racing, the fanatical Italian fans are on the verge of losing their maritime standard bearer Luna Rossa thanks to the impending vote on the new America's Cup One-Design 48. That's right, folks, and you heard it here first, of course: The next AC will be sailed in one-design boats – at least if Tuesday's Challenger vote goes the way we forecast.  And Emirates Team New Zealand may follow Prada right out the door, making Russell Coutts the most hated man in New Zealand for the second time, and in Italy for the first.
The SA Army has been working overtime since Coutts' proposal reached the teams on Saturday, and we think we've nailed it thanks to some of our less enthusiastic friends inside (otherwise enthusiastic) teams.  So meet the new boat:
-Strict one-design hull/platform, 48 feet long x 30 feet wide,
-Strict one-design wing, similar proportions as Oracle AC45T,
-Strict one-design daggerboard location and case,
-Strict one-design rudder location and case,
-Open main foil design,
-Open rudder design (minimum horizontal area)
-Hulls and wings to be built by teams with strict ACEA controls (weight, dimension certs, etc.)
It may shock you readers who think we are perpetual AC antagonists, but we actually are fully in favor of the move to a smaller boat.  We have never and will never 'hate' the America's Cup – we're just embarrassed to part of a sport when open, public greed and repetitive incompetence govern the pinnacle event, and that's why we let them know constantly.  But we love fast boats, and we dig foilers, and we're stoked to see flying get so much love.
Meanwhile, the boat will be very sexy, but crucially, having the development dollars go exactly where they can be most effective – the foils – is extremely clever.  There should be no barrier to AC48s hitting similar speeds to the AC72s downwind and upwind, and while open-design foiling AC62s would unquestionably be quicker and a great deal more spectacular than the new 48, the majority of the public wouldn't be able to tell the difference.
While we like the new boat, and we like the idea of a fun regatta in beautiful Bermuda, we are quite sure AC35 will be a flop, if only because it's part of Russell Coutts Flying Circus.  We've learned to always bet against Russell when it comes to business and marketing, and never bet against him in sailing.
In addition, we can't help noticing that ACEA has caught itself in a massive conflict: On one hand, they have an edict from Larry to 'make the event self-supporting', in other words, MAXIMUM CASH INTAKE, and hence, Bermuda's $72M in cash and prizes.  On the other hand, Larry and Russell want to see an event with a long-term future, in other words, maximum public, TV and sponsor interest – which would mean a major population center in a transportation hub with tons of media.  That ain't Bermuda, and that's all you need to know about Ellison's priorities.
Tuesday morning, the five teams of the Challenger Committee will vote on the new design.  If, as we expect, Team France, Ben Ainslie Racing, and Artemis all vote 'yes', we should see another team enter – a Japanese entry that will be a partner to the Oracle boys.  Luna Rossa will probably make good on its promise, killing off the team with by far the most time and money in the next Cup and the AC62 design – something we think Russell has been wanting to do since they made him look like an incompetent boob in San Francisco.  It makes us sad, but we have ZERO pity for Luna Rossa – as the second-in-time challenge, they had the right to take over for the embarrassment that was Team Australia and become Challenger of Record and prevent ALL of this.  Instead, the Italians chose to sit on their ass and be part of a committee, and they have no one to blame except themselves.
As for ETNZ, despite Doc Harvey already saying that ACEA would ignore its written contract to bring the qualifiers to Auckland, we think Coutts will use this tremendous leverage to get ETNZ on board with the change.  Dalts can 'toe the line' for his Italian friends during the vote and still remain part of the new AC48 Cup, if it will get the qualifiers back in Auckland – and his coffers filled.
Many of the die-hards think this move is the death knell for the America's Cup, and if public sentiment depends on a real design competition, they're right.  We think the spirit of the AC died a long time ago, and this move could turn it into something useful, at least.  What do you think?
March 30th, 2015 by admin
Those of you who still think the 'second coming' story is real will probably not get this one either; instead, you might call your realtor to put in an offer…We promise we're not kidding when we tell you that this $2 million Bermuda America's Cup special 'fixer-upper' is actually named "Uppity".  Great views of the AC course top off this beauty – and according to the video walkthrough, she's selling at a discount.  Loaded African-Americans might want to look further afield…or at least change the name.
In other Cup news, Sailing Anarchy's new favorite is now Ben Ainslie Racing.  Not necessarily because we think they're going to win, but because BAR is the only team that's really thinking long term.  And with ETNZ's constant media shit show, they're now the most 'national' team – something that we find absolutely necessary if anyone is to turn around years of media, TV, and business model fails from Larry and Russell.  Ben would be a far better steward of the Cup and the competition than a confused old Ellison or the self-concerned Coutts.  Equally important is Ben's support – Portsmouth believes in him so much that they've given the BAR Portsmouth center 10 years of free rent Remember what San Francisco was prepared to give Larry after AC34?  A kick in the ass and a bill for $11M.
March 20th, 2015 by admin