Posts Tagged 'Coutts'
With the conclusion of yet another one-day sailing event, the 2015 America's Cup World Series is a memory, with the most memorable moment of the season coming Sunday when yet another incompetent America's Cup worker bee (a judge boat) crashed headfirst into Artemis Racing.  The crash removed the Swedish-flagged boat's bowsprit, unintentionally helping them to an event victory in a nice, non-gennaker Sunday breeze.  If that was Shirley Robertson, it would've been Nathan's fault.  Anyone still think Russell's 2-day, 4-race format is a success? Bueller?
There's no reason to search for footage of Sunday's ACWS action, such as it was – just watch the crash linked above and the excellent ETNZ video in the player for all the flavor you need.  You won't be alone, either – the piece of shit live viewing App being touted by the America's Cup has pulled a grand total of between 5000 and 10,000 installs on Google Play, with the IOS app page showing even less action, and with an average rating of 2/5 stars for the primary communications platform for the AC (and more than half of reviews at 1-star), it's no surprise that the world's interest in the America's Cup has been dropping precipitously.  Here are a few reviews, but we really encourage you to head over and read some of the 100+ nasty ones for some afternoon fun.
too expensive Paid for app then found they want more $ to be able to watch the Bermuda replays.
Absolute cr4p… Typical of the ACEA… $7.99 and no racing… lol can't even see the leader board. .. Oh well one day they'll get it right.
This is terrible for the sport…. shame on you.
Bad experience overall. Continually freezing during video. Sits on authorization screen (checking location) forever.
Clearly, humiliation and a similar reputation to FIFA doesn't bother America's Cup too much; maybe a post to their Facebook or Twitter feeds will accomplish something, but we doubt it…
October 20th, 2015 by admin
The only thing more consistent than Oracle Team USA and Russell Coutt's complete incompetence in the marketing and administration of the America's Cup has been the stellar work of longtime OTUSA photographer Gilles Martin-Raget.  The soft-spoken French photographer has apparently gotten the boot, according to an e-mail circulating on the web that says Raget has basically had all his passwords changed and gotten the axe without even the most basic explanation.
Thinking of working for the America's Cup?  Understand that no job is safe when there are idiot CEOs flailing around trying to divert blame for their very public failures.  Loyalty is for the weak…
September 22nd, 2015 by admin
It's taken less than two years to go from the fantastic AC72 to the ghost of an AC62 to an AC48 – the smallest boat conceived to sail in an America's Cup in the 165 year-history of the event.  The 48 will clearly be cheaper in every way, but is it the America's Cup?
One might well doubt it in view of AC48 Rule version 1.0 dated March 31st – this is a one-design rule, and one that the Defender – Oracle Racing – has been thinking about for some time.  Master illustrator and yacht designer François Chevalier and partner/historian/analyst Jacques Taglang analyzed the rule this morning, and their drawings give us a good comparison view of the new AC48 – and surprisingly, it looks like it won't even be as big visually as the AC45 (and the proportional drawing shows even more that the AC48 looks like a 'special' brother to the 45).  Here's a comment from the team.
What we have is a boat whose wing, sails, hulls, platform/crossbeams are standardised!  Same engine, same body, all engineered by Oracle's designer.
To reassure the world that the America's Cup still means something, the Rule throws the engineers and computer scientists a bone; they have a small amount of freedom to design the daggerboard/lifting foils, the rudders, non-structural aero fairings, and some parts of the wing and board control systems.
In other words, history showed us what the America's Cup is, and we all know of the Little America's Cup, so then this new AC-1D-48 should probably be called the Medium America's Cup.  Looking at the design drawings, you will see that the new boat is no longer visually special, and will probably be overlooked amongst the already large and growing number of multihull racing events.  Only the name of the trophy will maintain whatever legend remains.  Hence the Medium Cup!
Little Is Bigger

As a result of AC organisers' wholesale changes, the Little America's Cup (now called the Little Cup thanks to trademark claims by the AC organizers) raced with C-Class cats becomes the sole remaining event in which the inventiveness of yacht designers is still free.  The sole constraints in the C-Class: Length, width and sail area.
Let us say straight away: Vive the Little Cup!
April 6th, 2015 by admin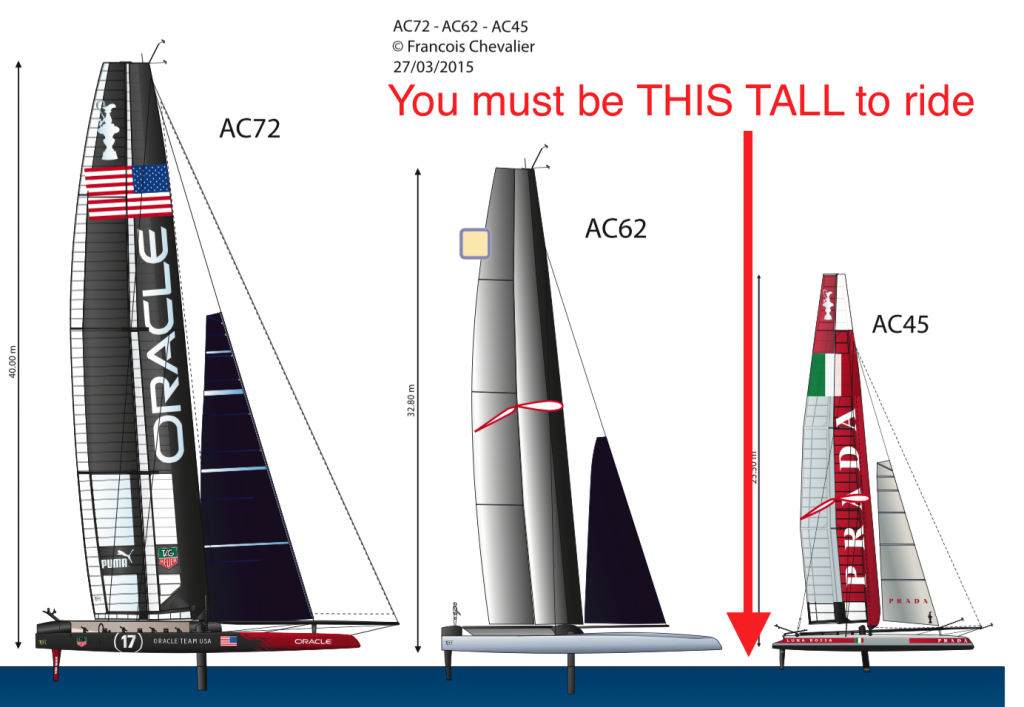 As Ferrari finally gives Italy something to cheer for in top level racing, the fanatical Italian fans are on the verge of losing their maritime standard bearer Luna Rossa thanks to the impending vote on the new America's Cup One-Design 48. That's right, folks, and you heard it here first, of course: The next AC will be sailed in one-design boats – at least if Tuesday's Challenger vote goes the way we forecast.  And Emirates Team New Zealand may follow Prada right out the door, making Russell Coutts the most hated man in New Zealand for the second time, and in Italy for the first.
The SA Army has been working overtime since Coutts' proposal reached the teams on Saturday, and we think we've nailed it thanks to some of our less enthusiastic friends inside (otherwise enthusiastic) teams.  So meet the new boat:
-Strict one-design hull/platform, 48 feet long x 30 feet wide,
-Strict one-design wing, similar proportions as Oracle AC45T,
-Strict one-design daggerboard location and case,
-Strict one-design rudder location and case,
-Open main foil design,
-Open rudder design (minimum horizontal area)
-Hulls and wings to be built by teams with strict ACEA controls (weight, dimension certs, etc.)
It may shock you readers who think we are perpetual AC antagonists, but we actually are fully in favor of the move to a smaller boat.  We have never and will never 'hate' the America's Cup – we're just embarrassed to part of a sport when open, public greed and repetitive incompetence govern the pinnacle event, and that's why we let them know constantly.  But we love fast boats, and we dig foilers, and we're stoked to see flying get so much love.
Meanwhile, the boat will be very sexy, but crucially, having the development dollars go exactly where they can be most effective – the foils – is extremely clever.  There should be no barrier to AC48s hitting similar speeds to the AC72s downwind and upwind, and while open-design foiling AC62s would unquestionably be quicker and a great deal more spectacular than the new 48, the majority of the public wouldn't be able to tell the difference.
While we like the new boat, and we like the idea of a fun regatta in beautiful Bermuda, we are quite sure AC35 will be a flop, if only because it's part of Russell Coutts Flying Circus.  We've learned to always bet against Russell when it comes to business and marketing, and never bet against him in sailing.
In addition, we can't help noticing that ACEA has caught itself in a massive conflict: On one hand, they have an edict from Larry to 'make the event self-supporting', in other words, MAXIMUM CASH INTAKE, and hence, Bermuda's $72M in cash and prizes.  On the other hand, Larry and Russell want to see an event with a long-term future, in other words, maximum public, TV and sponsor interest – which would mean a major population center in a transportation hub with tons of media.  That ain't Bermuda, and that's all you need to know about Ellison's priorities.
Tuesday morning, the five teams of the Challenger Committee will vote on the new design.  If, as we expect, Team France, Ben Ainslie Racing, and Artemis all vote 'yes', we should see another team enter – a Japanese entry that will be a partner to the Oracle boys.  Luna Rossa will probably make good on its promise, killing off the team with by far the most time and money in the next Cup and the AC62 design – something we think Russell has been wanting to do since they made him look like an incompetent boob in San Francisco.  It makes us sad, but we have ZERO pity for Luna Rossa – as the second-in-time challenge, they had the right to take over for the embarrassment that was Team Australia and become Challenger of Record and prevent ALL of this.  Instead, the Italians chose to sit on their ass and be part of a committee, and they have no one to blame except themselves.
As for ETNZ, despite Doc Harvey already saying that ACEA would ignore its written contract to bring the qualifiers to Auckland, we think Coutts will use this tremendous leverage to get ETNZ on board with the change.  Dalts can 'toe the line' for his Italian friends during the vote and still remain part of the new AC48 Cup, if it will get the qualifiers back in Auckland – and his coffers filled.
Many of the die-hards think this move is the death knell for the America's Cup, and if public sentiment depends on a real design competition, they're right.  We think the spirit of the AC died a long time ago, and this move could turn it into something useful, at least.  What do you think?
March 30th, 2015 by admin
Those of you who still think the 'second coming' story is real will probably not get this one either; instead, you might call your realtor to put in an offer…We promise we're not kidding when we tell you that this $2 million Bermuda America's Cup special 'fixer-upper' is actually named "Uppity".  Great views of the AC course top off this beauty – and according to the video walkthrough, she's selling at a discount.  Loaded African-Americans might want to look further afield…or at least change the name.
In other Cup news, Sailing Anarchy's new favorite is now Ben Ainslie Racing.  Not necessarily because we think they're going to win, but because BAR is the only team that's really thinking long term.  And with ETNZ's constant media shit show, they're now the most 'national' team – something that we find absolutely necessary if anyone is to turn around years of media, TV, and business model fails from Larry and Russell.  Ben would be a far better steward of the Cup and the competition than a confused old Ellison or the self-concerned Coutts.  Equally important is Ben's support – Portsmouth believes in him so much that they've given the BAR Portsmouth center 10 years of free rent Remember what San Francisco was prepared to give Larry after AC34?  A kick in the ass and a bill for $11M.
March 20th, 2015 by admin
After the ass-kissing statement of support released last week by the 'Euro 4′ AC35 challenger heads (Ainslie, Sirena, Percy, Cammas), we're unsurprised to learn that, according to AC authority and AP writer Bernie Wilson, Russell Coutts specifically told ETNZ to stay home from a major, confidential Challenger/Defender summit meeting later this week in London.
According to Wilson's piece, "the event authority is working with the teams "to further define an event based on the published protocol." Coutts said that after he heard from another team [emphasis ours -ed] the Kiwis didn't want to want to proceed on that basis, "I rang them up and said, 'It's best that you not come.' We have four other challenging teams and the defender that want to work together to have a great event this time and in the future."
We're not quite sure what Coutts' offered to get formerly logical and critical guys like Sirena on board with whatever failure-doomed plan Coutts is trying, now that his greed and hubris sent Iain Murray and Team Australia into the void previously occupied by Vincenzo Onorato.  Discounted entry fees?  Access to some of OTUSA's old data archives? It's gotta be something, because they all know that Australia's Challengus Interruptus makes Russell Coutts and Larry Ellison look like some of the biggest buffoons in international sport.
Coutts' latest bit of nastiness to his countrymen is just one more folly from a guy who is almost comically bad at the business of sport, and the same question is on every AC watcher in the world's lips:  Why would one of the world's best businessmen keep Russell Coutts at the head of the AC organization when he has failed at every single AC-related business decision he's ever made, including the most costly boondoggle in the history of modern sport?  It ain't the biggest newspaper in the world, but the Otago Daily Times has one possible answer: They say Coutts' contract may have a 'Bertarelli Clause', guaranteeing Coutts the top job until he gives it up himself.
Golden Gate Yacht Club members are not happy.  Notwithstanding their recent "support", Challengers are not happy.  Sponsors are not happy (or nonexistent).  And fans are not happy.  Hell, even Obama has a 40% approval rating.  But how long will the notoriously headstrong Larry Ellison continue to allow his reputation and the sport he loves to be screwed over by a piss-poor businessman who's proven that he is terrible at everything…except for one skill:  Winning the America's Cup?
Unless this is all part of the plan…screw everyone and you might not come so close to losing the next one?
Is there anyone in the world left that supports Russell Coutts?
July 28th, 2014 by admin
AC Breaking
UPDATE: It is indeed official – for the second straight time, The Challenger of Record has pulled out of the contest they helped to create along with Coutts & Co, and with no entries yet approved by GGYC, there is a real question whether the existing protocol will be able to exist in its current form now that the most important of the AC45 Challengers is out.  Here's what happens when the CoR takes a walk; and we read the official release quote from Ben Ainslie to mean that BAR will be the likely replacement for the Oatleys. Anarchist 'the truth' called it last week in America's Cup Anarchy; share your thoughts there.  

It's understood the Australian Challenger of record, the Hamilton Island Yacht Club, is withdrawing from the 35th edition of the race. The syndicate says the new Protocols set by challengers Oracle are too hard to prepare for when no dates or venue have been confirmed for the event. While prospective challengers continue to wonder what the hell Coutts has been doing for a year, Russell amazingly still says he needs until October to make the final decision.  Really?
Nice work, America's Cup.
July 18th, 2014 by admin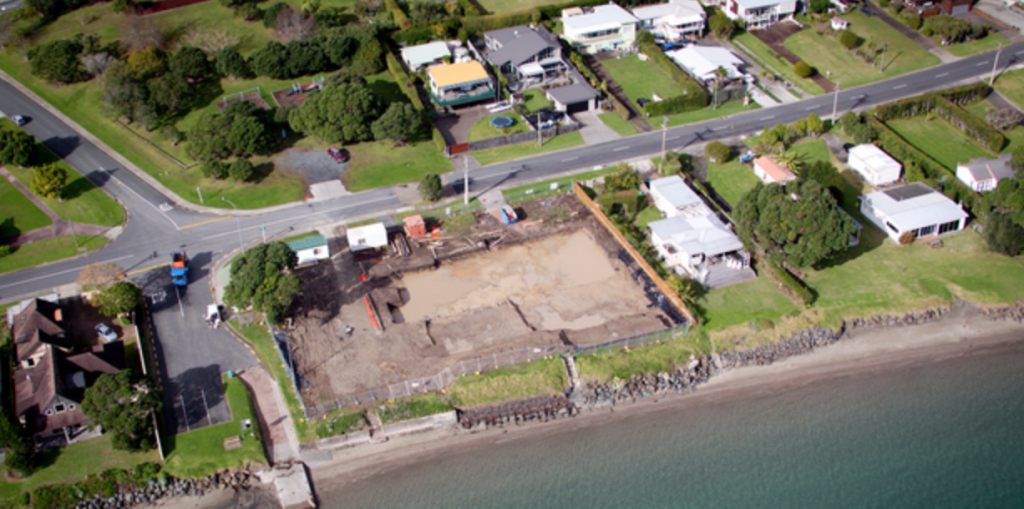 Any of you kids thinking about going into professional sailing after college?  Do it well, and you just might be able to build a $10M beachside mansion like Sir Russell Coutts!  Check it out; according to the NZ Herald, Coutts' contractors have just finished their demolition of the three houses on Tindall Beach in North Auckland to make the property ready for Sir Russell's 5-bedroom, 6-bath, 667 square meter (7200 s.f.) home.  This goes into a Coutts' real estate portfolio that includes apartments in Auckland and homes and farmland in Otago; he ain't Larry Ellison, but not too bad for a 52 year old sailor…
July 7th, 2014 by admin
San Francisco's demands to host the 35th America's Cup proved too much for Russell Coutts, who sent a letter to Mayor Ed Lee this morning.
""Given the tight timeline and demands from prospective teams to confirm the final venue, it has been necessary to continue reducing the shortlist of candidate cities," Coutts wrote. "We have therefore taken the difficult decision to no longer consider San Francisco as a possible candidate to host AC35."
Union wages, NIMBY bitching, and the lack of concessions on fire/police services and pier restoration money don't work with Coutts' mission to make the Cup sustainable – a mission that depends on 8-figure venue hosting fees, tax breaks, and long term subsidies from places that see the value in offering them, and we've learned that Bermuda is currently throwing the biggest pot of gold at Coutts & Co as of today.
Far be it for us to criticize the business acumen of a guy who just threw spent more money on a per-spectator/per-viewer basis than anyone in the history of sport with almost nothing to show for it, but is an island nation that has lost more than a third of its hotel rooms since 1990 and that, according to most sources, has less than 10,000 beds and 4,000 rooms, a good choice to host what they called a couple of years ago, the 'third most economically valuable sporting event in the world?'  Remember, this is an island where literally everything needs to be flown in from elsewhere, and it has one of the highest costs of living on Earth.
Maybe Russell is on to something here; after all, the only Bermudian industry bigger than tourism is tax avoidance and international banking; specifically, Bermuda is one of the world's top tax havens for businesses, and a great place to register your multi-million dollar yacht or plane.  Did Coutts finally come to the decision that millions of poor, downtrodden masses will never make the Cup pay?  Can the Cup reach commercial nirvana by catering only to the kind of ultra-rich folks who own super yachts and can write off million-dollar trips to schmooze in VIP tents in Bermuda?  It worked for Louis Vouitton – well, at least until Coutts' last big plan chased them out of the game…
Or is Coutts just completely out of his mind?
June 11th, 2014 by admin
While IMOCA figures out what to do with its future, some of its most legendary skippers are moving in another direction.  As first reported here on SA almost half a year ago, Franck Cammas is moving forward with his usual laser-beam focus on a French America's Cup bid, and an announcement at the Paris "Nautic" boat show may be the first indicator that he could succeed where Les Freres Peyron couldn't.
Picking up his second-annual French Sailor of the Year award last night, today Cammas pulled together a true 'who's who' in French racing history for this morning's announcement.  Michel Desjoyeaux will lead the technical team and Franck the sailing team, while Olivier de Kersauson and Stephane Kandler will handle the less exciting parts of the effort.
The team's "founding members" — in other words, the guys that have funded the initial sponsorship hunt and tried to open some boardroom doors — include big biz bosses Bruno Bich (Bic), Bertrand Méheut (Canal +), Thierry Martel (Groupama), Bruno Luisetti (formerly Kraft Jacobs Suchard) and Erik Maris (Messier Maris & Associés), but crucially no major sponsors were announced.  In other words, there's enough money to go looking for more, but not enough to start spending.  We also hear from les anarchistes in Paris that some of the veteran grinders are being asked to keep their schedules open for late 2014 and 2015's AC45 World Series, but no contacts have been signed…
The newly opened Team France thread is bound to be a big one; check it out over here.
Kiwi Kontinuity
While France throws its hat into the ring, Grant Dalton yesterday told 3News NZ that he was back in as well despite earlier question marks from the public and Dalts himself, and the bitter taste of a crushing defeat.  It's great news for AC35, as Team NZ continues to prove, year in and year out, that it's the most credible of challengers.  We're guessing he won't be on the boat this time, though Glenn Ashby has already re-upped and Dean Barker is a lifer.  Meanwhile, Dalts continues his publicly lukewarm face on the VOR, claiming the $30M he estimates necessary to win might be impossible to find in the current economic climate.  Then again, Dalts might just be pulling the old 'negotiation by media' option with VOR CEO Knut Frostad…
Pauly (on the) Shore 
Doing it's beat to leave the Paul Cayard-led disaster that was Artemis' AC 34 effort, the team  just announced that Nathan Outteridge and Iain "Goobs" Jensen are continuing with the team, which is currently preparing its bid for the 35th America's Cup. More. no word which teams are beating down the door to pay way too much for Cayard's incredible leadership skills.
World Series of Poke Her
The Bay Area Economic Council reported their final America's Cup economic benefit analysis on Monday, with around $364 million in total economic impact landing in the area over the roughly 3 month period of the event.  This is less than 30% of the original (and insane) $1.4B projection, and less than 40% of the revised $902M projection from March 2013 (and hopefully the City will tell ACEA to get fucked when they tote the same incompetent financial consultants to the table when negotiating the 2017 deal).  With this crap news and the embarrassing ratings for the entire "Summer Of Sailing" and even the incredible AC final (outside of NZ), Coutts is already hedging against big expectations for AC35 in recent softball interviews.
"We're considering having each of the teams host a World Series event", Coutts told AC33 and 34 PR staffer Peter Rusch, who's apparently playing reporter with Yachting World until his AC35 contract comes in.  Coutts says this "would be great in terms of generating excitement in their home countries," but let's be serious:  After dropping half the US military budget on incredible ACWS events, Russell is very clearly telling potential teams that they will be responsible for their own regattas in the future.  It's a shame, because the ACWS is the one part of the AC34 plan that provided awesome racing from beginning to end, and if OTUSA has the kind of massive advantage over AC35 challengers that we would have seen had they not had the big capsize, it might be the only exciting racing of the next Cup – especially if, as we have been hoping, the AC45s race as one-design platforms with unrestricted foils.
Thankfully Coutts cited a coming nationality rule, a welcome change to anyone (like us) who thinks patriotism and sport make great bedfellows.  But he's already preparing us for a small fleet, presumably because Ellison is shooting to keep the AC72 Class for AC35.  "I think we are better to aim at quality rather than quantity," he said, despite claiming that new cost reduction measures should cut overall team budgets by around a third.  Call us cynical, but there's no way in hell another AC72 program will magically cost 25-35 million less than the last time around, even if some one-design elements come into play and there is a joint logistics package.  If there's one thing that Russell Coutts has proved over and over again, it's that he always wins, and it always costs a lot more than he says it will.
Legal Beagle
In our final bit of Cupdate news, longtime Kiwi Cup lawyer (and architect of Alinghi's doomed CNEV challenge) Hamish Ross hit the news today after claiming in a piece in the NZ Law Journal last month that the New York Courts should have no place in deciding how the America's Cup is run.  Claiming that foreign litigants can't get a fair shake in the US courts (mostly because he personally can't seem to win one) Ross says that the Cup should be administered by ISAF instead.  Because of course ISAF is so very impartial, and of course unmotivated by greed or the millions if fees they seek from the AC.  Ross argues that the Deed of Gift and AC Trust are not even valid, and that they could perhaps be overturned by the Court if a strong plaintiff sued the current Trustee; it's been Ross's pet argument for a decade, and it's quite persuasive, until you realize Ross's theory rests on two centuries of hearsay, dicta, footnotes, quotes from irrelevant politicians, and courts of another country.  It's no wonder Ross can't win a case in the US – even after all this time, he still doesn't understand how precedent works here.
There's a thread to discuss the legal stuff, and you can download the full NZLJ piece here.
December 11th, 2013 by admin