Posts Tagged 'conservation'
Mankind has been decimating oceans since the first hominid figured out how to sew a net, and the net effect on sea life – fish stocks a tiny fraction of their size just a few decades ago, coral reef and major species extinction, and worldwide pollution – has been horrifying.  But one group of critters has not only dodged the bullet – they're thriving nearly everywhere.
That's the conclusion of a recent study in Current Biology, as reported by Gizmodo.
Something strange is happening to the oceans. As coral reefs wither and fisheries collapse, octopuses are multiplying like mad. As soon as they perceive weakness, they will amass an army and invade the land, too.

Okay, that last statement is probably pure paranoia. But it is a bit unsettling that cephalopods—squids, octopuses, cuttlefish—are booming, and scientists don't know why. An analysis published today in Current Biology indicates that numerous species across the world's oceans have increased in numbers since the 1950s.
There are plenty of theories to explain the "squid…squid…boom!" effect, but nothing concrete just yet.  We urge our Anarchist cruiser/fisherman friends to add these tasty cephalopods to your onboard fishing target list – they're mostly easy to catch compared to more gamey fish (the experience of reeling in a 10 KG giant squid on a rod-and-reel is a truly special one)  and they're a great source of protein.  Octopus require traps or spears, but squid are almost everywhere and you can learn to catch them here.
May 24th, 2016 by admin
While the public perception of 'yachting' and sailing as ultra-exclusive (thanks, Rolex!) is probably the biggest obstacle to the sport's growth in America, access to the water runs a close second, so we're stoked to see at least one area successfully fighting off the greed of yet another useless luxury development that will forever close yet another important sailing venue off for future generations.  From SA'er huntercutting:
This last week California State Commissioners refused to approve a $22 million public loan for construction of a private mega-marina in Clipper Cove at Treasure Island.
Deadlocked by a 2-2 vote on Wednesday, Commissioners for the California Division of Boating and Waterways (DBW) declined to endorse a DBW staff proposal to fund $4.2 million of the proposed $22 million loan as long as several staff-proposed conditions were met. The loan application had been submitted by Treasure Island Enterprises, the consortium of real estate speculators seeking to build the mega-marina. And the loan application had been endorsed by the Treasure Island Development Authority Board led by Board Chair Vivian Fei Tsen.
The champions on the DBW Commission who stood up for public use at Clipper Cove were Katherine Pettibone and Cecily Harris. Pettibone and Harris deserve applause for standing tough in the face of heavy pressure by developers.
Currently Clipper Cove is home to some of the best recreational and instructional boating on the San Francisco Bay, including youth sailing, disabled sailing, dragon boating, Olympic class racing, keel-boat raft-ups, kayaking, paddle boarding, high-school and collegiate competition and more. The Cove is also home to the non-profit Treasure Island Sailing Center which each year puts thousands of San Francisco public schools kids on the water – most for the first time ever.  The Cove also hosts national dinghy racing championships, such as the 2015 V15 nationals, the annual PCISA high school Golden Bear regatta, the Cal Sailing Team, and much more.
The DBW staff report noted "financial inconsistencies" in the loan application as well as "issues" regarding "public support" and "permitting." Numerous public interest groups spoke at the Commission meeting prior to the vote, urging Commissioners to postpone consideration of the loan. Groups urging postponement of loan approval included the U.S. Sailing Association, Save Clipper Cove, the Treasure Island Sailing Center, and the Sierra Club.
May 17th, 2016 by admin
Maligned as much for bad seamanship as they are for their over-the-top self-promotion, we admit to a serious soft spot for the Sea Shepherds.  Their methods are borderline piracy and their leader is a confirmed fruitcake, but no organization has done more to highlight the ridiculous fuckery on the high seas that is commercial (ahem…scientific) whaling.  We know marine mammals have incredible capacity for many of the same emotions and relationships we do and yet we continue to permit them to be slaughtered, imprisoned, and forced to jump for their dinner to the delight of millions of ignorant obese kids.
So it's good to see a nice PR win for the Shepherds with this humpback rescue, where they get to teach the world the dangers of gillnets while showing off one of the world's true maritime gems – the Gulf of California.
The writing is on the wall for the nasty company that's made billions in blood money from Shamu and his friends, but it's easy to put pressure on a place with a physical address.  For better or for worse, Watson and his group are the only ones making sure the world knows what happens on the high seas.  Meet their new ship here.
March 14th, 2016 by admin
We've told you once before, and we'll tell you again: NOW IS THE TIME TO HELP SAVE OUR SEAS.  You can do your part in any way you like; as Christopher Clarey wrote in yet another yacht-racing-related New York Times piece  last week, you can sponsor events or you can use your boat or club or class or race as a platform to bring awareness to the plight of the ocean.
But we want you to do something else with your money today.  We want everyone who loves the oceans to dig deep, right now, and help the Seabin boys get over the hump to bring their ultra-simple, ultra-useful, ultra-clever labor of love to the market.  You remember those affable Aussies who've dedicated their lives to cleaning up the ocean?  Sure you do.  And thanks in large part to you SA'ers, the Seabin have raised an awesome $205,000 of their $230,000 goal via IndieGogo!
So get to it, folks!  Volvo Ocean Race – this one is tailor-made for you!  America's Cup – we promise if you buy a few of these, we'll say something nice about you! And for the ordinary guy or gal, dig deep guys! Pledge another 100 bucks and proudly rock your Seabin t-shirt, or pre-order a Seabin for your Yacht Club today and help inspire both your members and your region to do their part and clean up our waterways!  Don't you want to be the first Yacht Club in your state/county/lake/ocean/world to be actively cleaning the water for future generations?
The video above gives the full story, and if you want more detail (and don't mind awful sound), check out Andy and Pete's interview with Mr. Clean at the METS show last month.
Shout to Sam Greenfield for the heads up.
December 29th, 2015 by admin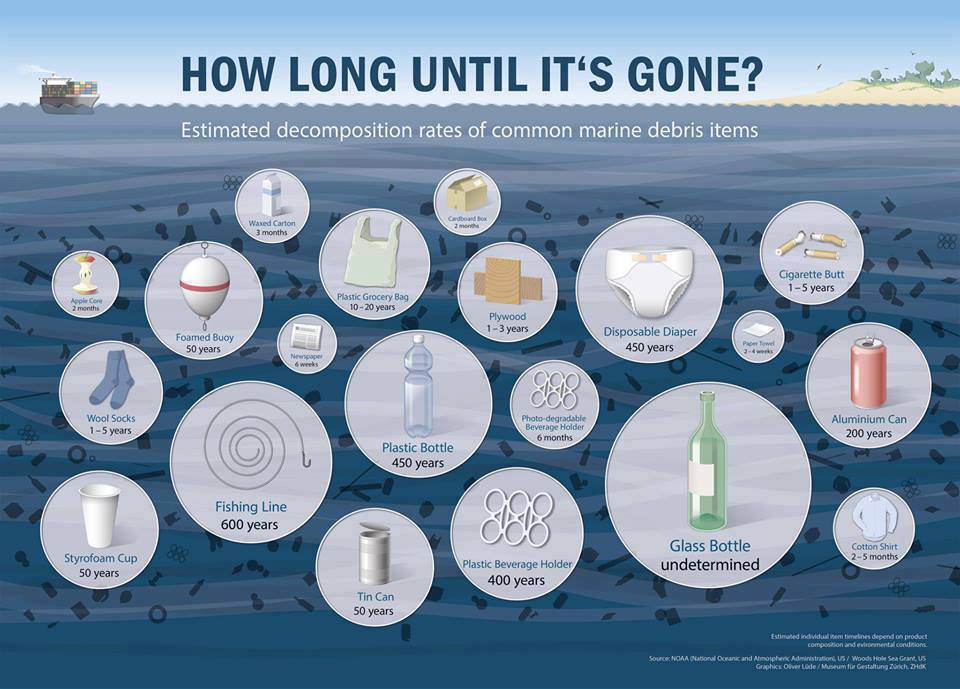 As lakes thaw and boats get loaded back into the water, take a minute to get your brain around this chart.  Maybe this year, you'll stop throwing cigarette butts over the side, or letting crew get away with tossing aluminum cans in the sea?  Everything lasts a lot longer than you might think it does, so keep it all on the boat.  Source: NOAA
April 8th, 2014 by admin
We've already explained how Rio's Olympic sailing venue is literally full of crap.  Yesterday, our friends at Sailors For The Sea took aim at this nasty little problem; check out Tyson Bottenus's take on it. 
Last December Alan Norregaard, a Bronze medalist from the 2012 London Olympics, was just barely edging out Nico Delle Karth for first place as he approached the windward mark in the 2nd race of the 2013 Intergalactic Championships in Guanabara Bay, a rather large protected bay outside of Rio de Janeiro.
And then disaster struck when his 49er shuddered to a halt. He and his crew watched helplessly as the entire fleet passed by. Backwinding their mainsail, they peered into the murky water to see what had happened and what they saw was both infuriating and outrageous: their 49er was stopped dead in the water by a large plastic bag wrapped around their centerboard, floating haphazardly in the bay.
"I have sailed around the world for 20 years and this is the most polluted place I've ever been," Norregaard told reporters after the race. He isn't the only one complaining. This February, the Irish Sailing Team put out a request for funding to bring a doctor with them to Rio de Janeiro to assess "potential health concerns posed by untreated sewage water." Stories and anecdotes are cropping up of dead horse carcasses and mattresses floating along the racecourse.
"The sewage is visible and we have identified it as a significant health risk to our athletes," said James O'Callaghan, ISA Performance Director, to the Irish Times this February.
In 2016, sailing teams from all over the world will descend upon Brazil to take part in the Summer Olympics. Individuals and teams from around the world have been training for most of their lives for their chance to earn a medal. The least that can be hoped for is clean waters to compete.
Human impacts dating back to the late 1880s were found by a team of researchers when they analyzed sediment samples from the bottom of Guanabara Bay. But when these researchers looked closely, they found a significant increase in heavy metals dating back to the 1950s – approximately when Rio's population began increasing exponentially. From 1950 onward, Rio's population has ballooned more than 400%.
The effects of this population growth can be seen. According to the Associated Press, nearly 70% of Rio's sewage goes untreated. Guanabara Bay is also the center point of a complex river drainage basin. Over 50 rivers flow into the bay bringing the untreated sewage and any disposed waste dumped from the 14,000 industries, 14 oil terminals, 2 commercial ports, 32 dock yards, more than 1,000 oil stations and 2 refineries that surround the bay.
A little more than a third of the 13,000 tons of solid waste produced every day in the Rio de Janeiro area is ejected directly into Guanabara Bay where it's expected to make its way out with the tide. (Haven't we learned that the solution to pollution is not dilution?) More often than not however, the trash ends up on Rio's beaches and enmeshed in the meager mangrove forests that are left along the coast.
On top of that, three major oil spills have left a dirty mark on Guanabara Bay. While entering the Sao Sebastiao terminal in Guanabara Bay in 1975, an oil tanker from Iraq ran aground and spilled 70,000 barrels of oil. At the time it was the worst oil spill to ever occur in Brazil.
Twenty years later the Brazilian refinery operator Petrobras reported that a leaking pipeline had spilled over five times that amount. This put an immense strain on fishermen and their livelihood on the bay. Three years later Petrobras again admitted fault in yet another oil spill, this time because they had failed to install modern sensors on their pipelines.
The result was utter devastation. Brazil experienced an economic downturn as Guanabara Bay's fisheries collapsed, leaving fishermen to find other sources of income. Environmental groups were furious at the level of incompetency demonstrated by Petrobras as Greenpeace protested by leaving oil-soaked birds and by chaining themselves to the railings outside of Petrobras's headquarters.
As of today, there are less than two years till the 2016 Olympics. Can Brazil clean up over a century of economic development in the blink of an eye?
The Olympic Games have long been derided from an environmental standpoint as an unsustainable event. Think about all the resources that go into making the Games happen. Stadiums need to be erected, ski slopes must be carved, vast quantities of bottled water need to be on hand. It's safe to say that the relationship between sport and sustainability is not always the most harmonious.
But if Rio is serious about it's commitment to cleaning up Guanabara Bay, then this commitment has the potential to change the relationship between sport and sailing. For the sailing to happen, change must happen alongside. Only time will tell what kind of legacy Rio 2016 will leave behind.
March 20th, 2014 by admin