Posts Tagged 'conrad colman'
We're not sure what it is about Conrad "The Crazy Kiwi/Friwi" Colman, but every race he enters becomes an Odyssian epic.  His Global Ocean Race, Barcelona World Race, and now Vendee Globe have been long, grinding, obstacle-strewn voyages, and through conquering them, he's proved to be one of the toughest sonofabitches in all of ocean racing.  Conrad arrived in Les Sables D'Olonne yesterday after a two-week slog under jury rig to finish his first Vendee Globe, the first by a kiwi skipper, and the first-ever round-the-world finish without using a single drop of diesel or gasoline, and if we could get the busy man on the phone, we might be able to bring you a full debrief.  Until then, we'll give you the full finish report from his media team.  Photo thanks to BRESCHI/Foresight Natural Energy with a full finish gallery over here.
After being dismasted late on the evening of Friday 10th February, when he was in tenth place and some 250 miles west of Lisbon, Portugal, Colman constructed and stepped a remarkable jury rig which has allowed him to sail the final 740 miles of the 27,440 nautical miles race which started from Les Sables d'Olonne on November 6th 2016. Since he was dismasted in what should have been his last big storm of his race, only three and half days from the finish line where he seemed assured of an impressive 10th place, Colman has run out of food and lasted out his final days on the survival rations from inside his life raft. On Wednesday he confirmed by radio that he had only two biscuits left.
Colman, a trained sailmaker and rigger, set one of the most efficient jury rigs seen in the history of ocean racing, working diligently and smartly to the end to improve the sheeting angles and hence efficiency of the rig which is constructed from his boom, part of his mainsail and his storm jib. Only Philippe Poupon and Yves Parlier have previously completed the Vendée Globe under jury rig, while others, like Mike Golding and Loïck Peyron had to set up jury rigs to bring their boats back to shore. He achieves his goal of becoming the first ever skipper to race solo non stop around the world completing the Vendée Globe using no fossil fuels, only renewable energies, his electrical power generated by an innovative electric motor, solar and hydro generated electricity and stored in a bank of high tech batteries.
Before leaving Les Sables d'Olonne he explained: "The objective is to have it as a reflection of my philosophies. Growing up in New Zealand I was aware of the hole in the Ozone layer there. I converted to become a vegetarian not especially because I care about cute lambs but because I was more concerned about the global impact of the chain, of food production and consumption. And so the project is a reflection of my ideals."
He also is first New Zealand born skipper to finish the epic solo round the world race, concluding a remarkable storybook adventure which has captivated race watchers from all around the world since long before the start. His finish reflects his incredible tenacity, drive and talent, the culmination of a dream which saw him move from the USA to France over 10 years ago to pursue his goal of competing in the legendary solo round the world race. From pursuing an academic and business career in the USA, where his late father was from, Colman worked different marine related jobs to expand his skillset to a level where he could achieve a competitive finish in the Vendée Globe.
Before the start he spoke of how he had staked his financial future in taking part in the race. He found an unloved IMOCA 60 designed by South African Angelo Lavranos which to date had a chequered, limited racing history where he lived in Lorient, where it was being used for day charter hires, and set about refitting and re-optimising the boat in order that he could realise the boat's true, untapped potential. Even a matter of ten days before the race start Colman did not have the funds to compete at what he considered to be the very minimum level of participation. But he was determined to go anyway. An absolute last minute call found support from the London based Foresight Group. His boat was only branded two days before the Sunday 6th November start.
On start day he said:  "I feel great. How could I not. It is the start of the Vendée Globe and it is a sunny day. It is a dream I have been chasing for years and years and I have it here in my grasp. It was hard to say goodbye to my wife. I hang my wedding ring in the cockpit so she is always with me." His spirit and skills have been tested in equal measure and on many occasions he has overturned situations which would have ended the Vendée Globe of lesser sailors. Even just days into his race he found an innovative way to repair a keel ram problem which jeopardised his race. An electrical fire damaged the wiring on his Foresight Natural Energy which sent his autopilots haywire. In one incredible 12 hour period he climbed his mast three times, spending hours aloft to repair sails.
The 33 year old has made mast climbing an almost commonplace skill among his extensive personal armoury of abilities required to compete in the Vendée Globe, despite the fact it was a fall from the top of a mast which took the life of his father whose legacy Colman holds dear.
In the middle of the Pacific Ocean, near to the most remote point on the race course, Colman was caught in the path of one of the biggest storms of this race. His forestay, which holds up the mast, became detached when a pin failed. His IMOCA was knocked flat and stayed over for some hours in huge seas and winds gusting to 40-45kts. He took four days to recover, replacing the forestay, finally losing touch with Nandor Fa, the Hungarian skipper with whom he raced the 2014-2015 on Fa's Spirit of Hungary who went on to take eighth place.
Conrad Colman's remarkable Vendée Globe
9th November Conrad Colman is a Political Sciences graduate of the University of Colorado. He reacted to the news of the election of Donald Trump. "It is a bit of a shocker. I thought my uncle was playing a joke on me when the news came through. It makes me happy to be out here."  Colman, 17th, conceded a place to Louis Burton after sailing close to him approaching Madeira. "It is great being at sea, getting to know the boat after three weeks not sailing together. It took a little while to get into the groove. It's good to be able to learn against Louis who has a slightly newer boat."
11th November He ended up closer to Madeira than he had hoped. "The local effects of the island really slowed me down. I had been trying to pass over the top of Madeira and really got stuck there. I got sucked in by the shifting winds."
12th November I hoisted my heavy weather furling spinnaker (which means it's rolled up around a flexible cable). Just before I finished hoisting, the sail started to unfurl. I had to continue hoisting quickly otherwise I risked breaking the rope and losing the sail into the water.
The time that it took to top of the sail however, all hell had broken lose at the bottom. Because the sail had unrolled prematurely, the furling unit blocked and wrapped itself up in a collection of tack line, furling lines and sheets to create a thick bar tight multistrand cable with an angry sail on the end of it. It took me over four hours of non-stop work to rig another line to secure the sail.
15th November It is very much a course of learning by doing. That is one of the advantages of ocean racing is that you have plenty of time to sort things out, to learn and try different scenarios. So I have been trying different sail set ups, different ways of trimming. The boat is good upwind and downwind, reaching is not so good.
16th November Leak in the hydraulic system
18th November Out of the Doldrums. "It was easy in the Doldrums – I never stopped, my strongest squall was about 30kts."
22nd November Four rookies in this part of the fleet put the pressure on the more experienced rivals around them – Frenchmen, Fabrice Amedeo and Stéphane Le Diraison, the Japanese sailor, Kojiro Shiraishi and the New Zealander, Conrad Colman are only a few miles apart.
25th November Climbs the mast to replace some lashing. "Going up the mast is the worst job to do onboard the mast. It's really scary, it's really dangerous. You're 100ft or 30 metres up in the air, so the slightest movement of the boat or the smallest wave sends the tip of the mast swinging through an enormous arc and the thing that's really tricky is there's no-one here to help us climb to the top. Every time I come down I'm heavily bruised because of the violent movement at the top."
Duel with Nandor Fa.
28th November At the latitude of Porto Alegre, struggling in light winds sometimes down to below six knots. "I'm fed up with the highs."
2nd December Conrad celebrates his 33rd birthday. "I'm celebrating my birthday by doing the Vendée Globe. I'm also celebrating by eating salad. It's made up of beansprouts, and I'm really excited to have fresh salad onboard. My wife also made me a special birthday food box containing some crusty dehydrated astronaut ice cream, which actually tasted terrible.
4th December Knocked flat. "An electric bypass destroyed one of the solar charge controllers and it damaged the electric cables next to it. It stopped the electronics and thus the pilot, and I lost control of the boat as I wasn't at the helm. By the time I got there the boat was on its side and the gennaker in the water."
"I saw black smoke and yellow flames leaping from behind the chart table. One of the solar charge controllers was burning and was in the process of taking down the entire electrical system. When the flames were gone I heard one beep from the autopilot and my world turned upside down. the boat bore away from the wind and did a crash gybe with me still inside, hands full of molten plastic."
8th December "I feel a little like I'm sitting on death row and my fellow competitors have already been taken to have their last meal. It's emotional and shocking to hear about Kito's rescue and to think that for the third time in a row he won't make it back to Les Sables under his own steam."
Losing oil from hydraulic ram. Electronics problems. Had to climb the mast again to repair damaged solent.
16th December Pacific storm. Two reefs and small jib and still reaching peak speed of 27 knots.
18th December Crosses the longitude of Cape Leeuwin. "As a Kiwi I cannot going celebrate going past Australia too much. I always think Cape Leeuwin is the runt of the litter when it comes to the three Capes. It does not belong in the same company as the Cape of Good Hope and Cape Horn."
27th December After working on his autopilot problems, Conrad had to prepare to face a storm. 36 hours of violent winds and the need to be quick to remain ahead of the worst conditions. His boat was knocked down and he ripped his J2.
2nd January 60 knot gusts. Damage to standing rigging. (forestay pin) Had to wait for quieter weather to carry out repairs. 3 days of work. Exhausted after doing that in 40 knot gusts and then continued towards the Horn. Boat knocked down during the storm and another sail shredded. "Physically I am shattered. Emotionally I am very disappointed I felt like I was doing everything right, I was sailing very conservatively at the time, I was let down by a technical failure."
12th January Colman rounded Cape Horn in 10th place at 0416 UTC after 66 days, 16 hours and 14 minutes
21st January Slow climb back up the coast of South America due to weather conditions and lack of sails.
30th January At 0845UTC Colman returns to the northern hemisphere
31st January Happy to be out of the Doldrums
5th February Looking forward to the final straight. Hard to find the route back across the North Atlantic. "My route to the finish in Les Sables d'Olonne looks like a dog's breakfast, a smorgasbord of options. I can either get hit on the head really hard, or get hit on the head really, really hard. I can go upwind in 40kts or downwind in 50kts. It is not an easy choice."
7th February After passing Madeira, back in European waters.
10th February 2200UTC dismasts 300 miles off the coast of Portugal. Waited for calmer conditions before inspecting the damage. Had to repair his boom to use it as a jury rig.
24th February Takes sixteenth place
February 26th, 2017 by admin
Unless Conrad Colman can figure out a jury rig and slog it out to the finish, the elusive 'first non-fossil fuel Vendee Globe finisher' may have to wait four more years, as today the Friwi dismasted just 300 nm from the Portuguese coast.  According to VG media, Conrad ditched the rig and saved the boom, and is sorting out the mess as he and his team figure out the next step.
Latest on the final few finishers in the thread, and note that Conrad's likely to have a truly epic write-up of his saga on Facebook when the time comes.
February 10th, 2017 by admin
Bill at Passageweather points out an incredibly rare front page error (ha!):
Hey guys, you state that Conrad's boat has "The first all-electric propulsion in the Vendee Globe".  That is not true, as Javier "Bubi" Sanso raced his IMOCA 60 "Acciona" in the last Vendee Globe with a 100% Eco-Powered system, including an electric motor and batteries charged by a system of solar, wind and hydro-generators.  I'm not trying to take anything away from Conrad, but credit where credit is due, and the first was Bubi Sanso back in 2012.
Bill is 100% correct, and we remember calling the boat "100% Tug-Powered" after his dismasting, rescue and salvage in the last race. Conrad only has 16,000 miles or so to go to become the first ever to finish a Vendee Globe without fossil fuels.
Here's Conrad's latest missive from the Southern Ocean, and please be sure to like Conrad to get his best-in-race updates.
The world has changed back to grey although conditions are still pleasant. Notice that I'm talking in general terms here because my instruments are still uncooperative so I have no notion of wind angle or speed other than my experience of years at sea. However it's not the air that bothers me at the moment, it's water. The hard stuff. The sea is really cold (again, no data sorry) and even short exposure to it during a sail change leaves my hands so cold and weak that I can't even rip open a soup packet!
 
Also, falling off the train that Stephane and Nandor are still on has forced me to dive south, close to the Kerguelen Islands and  close to an iceberg detected by satellites four days ago. As I write this I have just crossed over the waypoint for the observed 30 meter iceberg as I figured the best way to avoid a moving target is to sail exactly over the point where it was last seen!

In addition to my work on the boat, planning the navigation, trimming etc  I now turn my binoculars to the horizon at regular intervals looking for hard water. I saw an iceberg in my first race around the world in 2012 near Cape Horn and it was impressive and scary for all that it represented… a near invisible, undetectable by radar, solid dangerous lump! I have good visibility and only one target to miss so I'm not too concerned about this Vendee cocktail being served on ice, although an encounter would leave me both shaken and stirred!
 
December 13th, 2016 by admin
Conrad Colman continues to prove that he is an 'innovate or die' kind of dude.  The first all-electric propulsion in the Vendee Globe.  The first drone shots from a solo racer in the Southern Ocean.  And now – the first podcast from an Open 60, via Soundcloud.  The tech to pull this off has been around for the better part of a decade, and it's amazing no one has done it before now, but that's why Colman is one of our favorites – because he is always in search of new ways to share the sport with the world.
This one is only 3 minute long, but we really do suggest you find a good set of headphones and turn them way up before you click 'play' if you want a taste of what a Southern Ocean cold front feels like.
Shout out to one of the best kids' movies ever; a reminder that not all cartoons need to be corporatized drudge from Disney and friends.
December 8th, 2016 by admin
Sam Greenfield may have been the first yachtie to launch a drone off a racing boat, and in just a short time, the world has followed.  Quads have become required equipment for the world's biggest sponsored raceboats, and with good reason: In a race like the Vendee Globe, the ability to shoot yourself from the air at any angle adds an awesome new element to the experience for all of us back home, and the sponsors who pay for it.  Kudos to Conrad Colman for his pilotage; let's hope he has the balls to fly it in some breeze.  Colman's Foresight Natural Energy IMOCA sits midfleet.
Up-to-the-minute links and chatter about the Vendee Globe here.  Tracker here.
November 11th, 2016 by admin
Videographer Stan Thuret gives us this 2 minute tease of a longer NY-Vendee Race movie to come in a couple of weeks.  Pretty stuff from a pretty old boat and an Anarchist skipper we really dig.
August 4th, 2016 by admin
Few sailors have made the kind of sacrifices Conrad Colman has in his pursuit of solo ocean racing glory. We love his story, we love his passion, we love his attitude; "I'll sail the shit out of this boat, or die trying."  Conrad's looking for some love from the SA community, so give yourself something to root for in the next Vendee Globe and throw some cash his way.  Get to know Conrad in depth in this SA Innerview we did with him during the hate mission that was his Barcelona World Race, and enjoy his writing, as we do.
Sick of the election? Want to focus on something cool in November? Come vote with your wallet and help get me into the Vendée Globe. As some of you will know from previous posts here, I won the Global Ocean Race and co-skippered Nandor's boat in the last Barcelona World Race. I am now signed up for the Vendée Globe, the solo non-stop race around the world that starts in November. I have secured a boat, completed a refit, and will be sailing across the Atlantic next week to participate in the solo race from NYC at the end of May.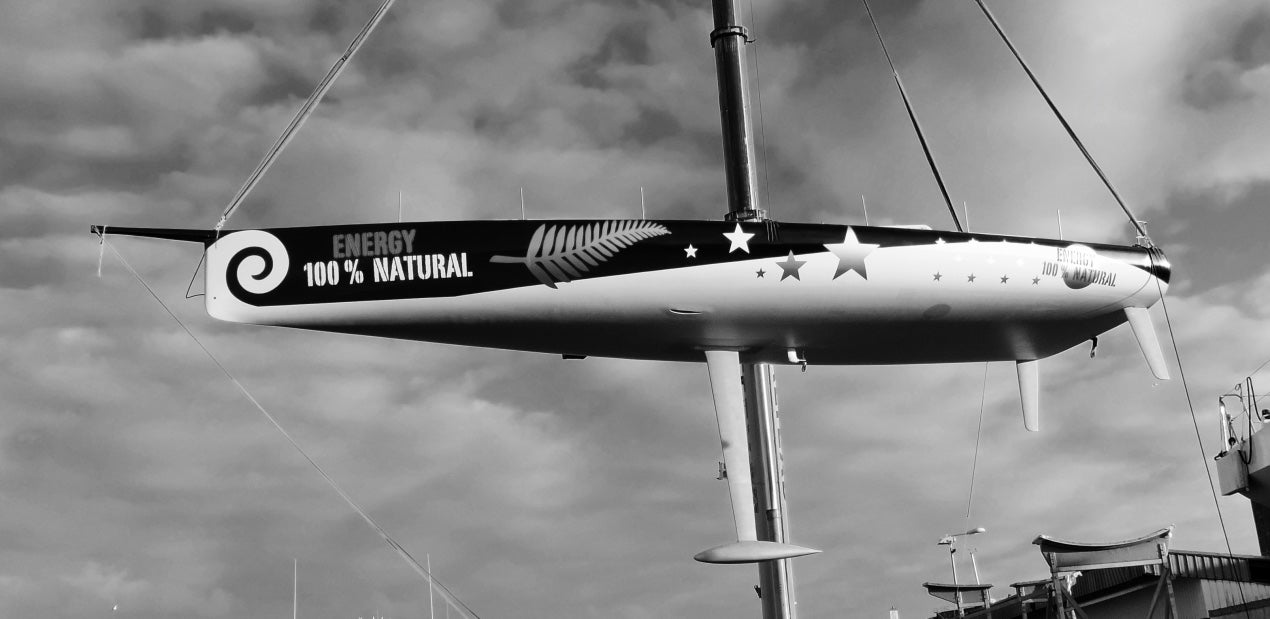 After the BWR I don't need to do another race to qualify but as one of the only English speakers in this class I am coming to the States to share my campaign and the Vendée Globe with as many of you as possible. I am still looking for a title sponsor and have launched a crowdfunding campaign to help keep the wheels on until I do. Please click here to participate by signing up for a T-shirt or to join me on board a real Open 60 for the pro-am races in Newport and NYC to experience life in the IMOCA fleet – first hand.
In a professional racing class defined by big budgets as much as fast speeds, I am one of the few projects scraping through on the smell of an oily rag. This winter most skippers checked in on their refits once a week whereas I have been pulling 16 hour days in the boatshed with one day off since the new year, and have personally sanded the bottom, painted, laminated, screwed, wrenched and cursed my way through the winter. Number of full-time employees at Gitana? 35. Number of full-time employees at team C? 3 (Me, my wife and one preparateur).
In addition to repainting the whole boat, repairing the mast, servicing the keel fin, replacing the electronics and redoing the rigging we ripped out the diesel engine! That's right, we're going fully electric and zero emissions for the race around the world. In partnership with Sailing Anarchy advertisers Oceanvolt, Power Sails, Super B batteries, Gori propellers and Fischer Panda (to get through the IMOCA tests) I will race around the world without burning diesel with only solar panels in my mainsail and the hydrogenerator function on the motor providing clean limitless energy.
Why go green? Because we should! Sailing is the only clean mechanical sport, and from Tesla to the COP21 the world is going electric and zero emissions. It's also lighter than an engine and fuel, with less moving parts and provides a huge buffer of stored energy that buys me time to find solutions in the case of problems. In comparison with the tricky prototypes on the Acciona boat four years ago, all the technology is off the shelf and I hope my race around the world will show that its a good solution for the general yachting population.
I hope you join me in this crazy adventure, either online here on SA, by participating in my crowdfunding campaign or by becoming a sponsor of the campaign. The Vendée is one of this year's biggest international sporting events, I'm one of the only English speakers and I have a TV deal to top it all off!
Send me an email if you would like to browse a sponsorship proposal, or if you have any ideas or questions about solo sailing, eco-friendly energy solutions, or just want to say 'hi'!
April 29th, 2016 by admin
You can be forgiven for not realizing that Jean Le Cam and Bernard Stamm won the Barcelona World Race the other day, and we congratulate them for finishing a task that's never easy, even if their only real competitor dismasted shortly after the start.  Stamm adds the BWR to his other major victory in the also sparsely populated 2005 Velux5Oceans (née Around Alone) Race, and he'll try to break a string of bad Vendee finishes next year.  Second place Guillermo Altadill and Jose Munoz will cross tomorrow, five days after the winner.  The rest of the 7-boat fleet is similarly spread out.
This episode of the BWR suffered from a small and widely varied fleet of Open 60s with a wide spread in performance, and because of this, the race seemed more about adventure than competition.  Fortunately, the lack of boat-on-boat battles has meant time for some of the skippers to write wonderful prose from the middle of the ocean as well as sharing their experiences with tens of thousands of Spanish schoolchildren involved through a science education program.  It may not have been a great race, but they've done great things with it.
The most compelling stories were unsurprisingly coming off a boat with the most problems; Nandor Fa and Conrad Colman's troubled Spirit of Hungary, and we caught up with our old pal Conrad during a repair stopover in Auckland a couple of weeks ago.  Colman is funny, smart, and honest, and he and Clean have an entertaining 40-minute chat about those troubles and much, much more, in the video above.  And be sure to dig through Conrad's full blog here – it really is some of the best race reporting we've ever seen.
We apologize for taking so long to get it up here, but with Hungary's 8,000 nm deficit in the race, we figured it wasn't all that time-sensitive.  Thanks to Petey Crawford for finally sorting us out and making the video pretty.  Get some of his top quality video work for your regatta here.
March 29th, 2015 by admin
SA Special IberianCorrespondent Jen Edney gives us some great insight from the Barcelona World Race start.  Enjoy it, and check back towards the end of the week for our first look at what she can do with a video report. Track the fleet here, and get all the latest chatter in the thread.
"Bye Oscar!"
"Bye!"
"Bye, Oscar!"
"Bye, Dad!"
IT was one of the most touching scenes I've seen in my coverage of the sport; Alex Thomson and his 4-year old son Oscar, seeing who could shout the loudest as Hugo Boss team headed out to the race course for their third Barcelona World Race.  Boss is the only team to sail all three editions of the race, and that same young Oscar is a big reason they're the odds-on favorite for this one: They've got unfinished business.
Oscar was born just before the 2011 race, and then Alex developed apendicitis days before the start, sending him to hospital and the strong Hugo Boss team scrambling for a last-minute replacement skipper. Wouter Verbraak, there to help with last-minute weather routing, was recruited, and he and Andy Mikeljohn never were able to get on the pace. The HB team's high expectations for a strong second edition turned into a disappointing mid-fleet finish despite a faster boat and bigger budget than many of the boats ahead.  It was tough for the team to handle, and it's a big part of what motivated them to put everything they had into winning this race.
The long goodbye is an emotional and touching sight, and when combined with Boss's BWR saga, it's enough to give me goosebumps.  These sailors are waving goodbye to their family, friends and fans for the next 100-odd days, with all the dangers that entails.  So many nonsailors ask me 'why would they do something so crazy?' I'd never really thought about it, and it seemed like a great question to put to the racers.
We Are Water's Bruno Garcia:"I really don't know! I've never considered it a sport, it's something more…"  Garcia thought about it for a minute, then gave me a modified version of Everest trailblazer's answer about mountain climbing.  "Because the sea is there."
Bruno will be sailing with his brother Willy around the world, and their 'family affair' highlights one of the nice things about this edition of the race; the accessibility of communications between the boats and their families, friends, and fans. "I have two kids. One daughter, 12 yrs. old and a 10-year old son," said Bruno. " Four years ago, it was not that difficult. Now they are older, they ask you about the dangers of the race, and 'what will you do if you fall in the sea. You have to be quite clever to discuss with them what happens on the boat and what you will be doing. But I know they support me a lot and I can I count on them."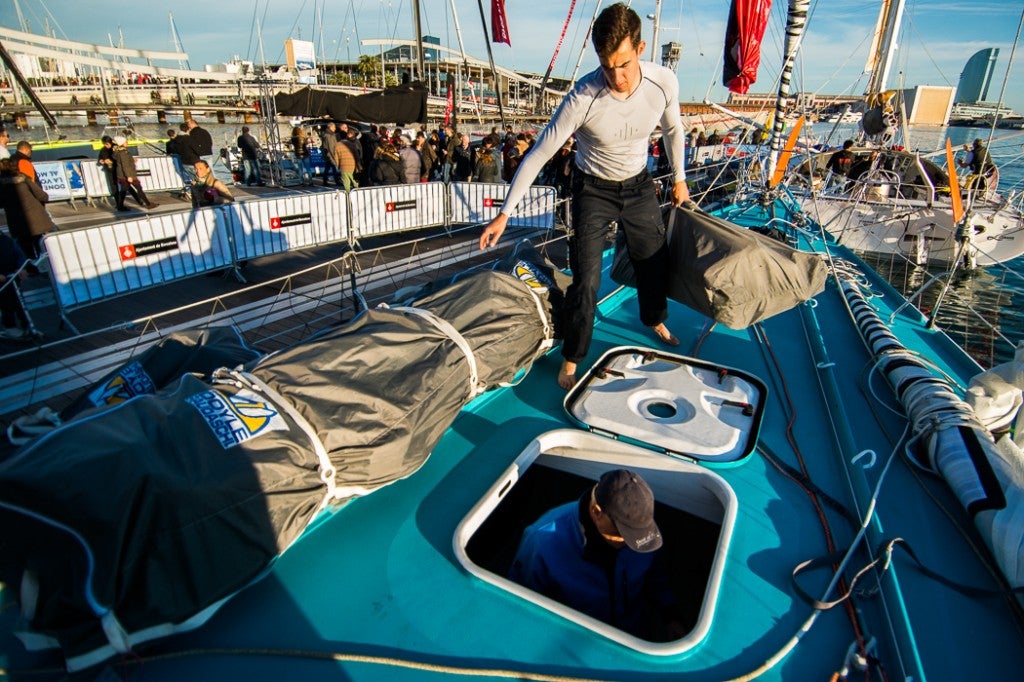 Sailing together is not new for the Garcia brothers, they grew up cruising with their parents and have been racing together since the 90s, but the world Barcelona World race is new for them. "My brother is one of the best gifts I've ever had in my life. He is a very good friend, a great brother and is also a great sailor. I trust him both on the sea and in the mountains. With him I have done many miles, many peaks, many courses..and trust we have is phenomenal…Since the last edition with Jean Le Cam I have learned that this type of racing is not just for those who go and sail but it is also for people like the shore crew and those who follow us. And there are many out there and my brother and I hope to reach out to them and have the public enjoy and share our adventure."
For some, like Nandor Fa's Spirit of Hungary, the entire team is a family affair, with his wife and daughter working full time for the project. "When I decided to return for racing, the family was the first I asked 'what do you think?' And they told me they supported me completely."  Nandor's wife is his media manager, and 22 year old Lili – a baby the last time he went racing – is now an adult and part of the support team.  Nandor's 'third daughter' is Spirit – the only home-built boat in the fleet. Lili says she is so busy that they have less time for worrying. "It is much better to be involved then watching from the outside, biting our nails!"  Lili has mixed emotions on his departure.  "I am going to miss him, but at the same time I am so happy for him because I know that this is his life, his passion and he's been stuck in Hungary for so long working hard and supporting his family…he really deserves to be at sea again."
Nandor is the oldest skipper in the fleet, and he's sailing with the youngest – Conrad Coleman, and they are already well in back of the fleet.  For them and many of the teams on the much slower Open 60s, winning isn't even a possibility; the journey, the challenge, the adventure – that's the victory for them.
For others, like Alex Thomson and Pepe Ribes on Hugo Boss, winning is everything.
And for me, watching and shooting and reporting on this human drama is winning too.  A huge thanks to all the teams for the unfettered access they provided, and an even bigger thanks to Isabel and Daniel and everyone at the FNOB for their constant support this week.
-Jen
January 4th, 2015 by admin