Posts Tagged 'college sailing'
We caught sight of a little controversy brewing in the Club 420 Class over the weekend.  Here's the post written by Class Prez John Morgan and Exec. Dir. John Vandemoer from the C420 Facebook Page, in full (with thanks to the photo from the C420 Class):
"And now, a word from our sponsor…"
We hear this phrase so often that it has just become part of the background noise of life. However, in youth sailing, sponsorship has very different connotations which are related to how we view amateur status in the sport. Sailing in the Club 420 class is intended to provide a level "playing field" for all interested youth on which to create and build sailing skills, sailing knowledge and safety, lifelong friendships and social networks.
The class views payment to any participant in a Club 420 sponsored events (over and above necessary expenses) as not aligning to the mission of the class and the goals of the youth sailors. Additionally, most of the sailors in the Club 420 class will go on to some level of college racing. In doing so, they become subject to Inter-Collegiate Sailing Association (ICSA) rules, individual college rules and in many cases, NCAA regulations. To be perfectly clear, accepting monetary compensation for participation in a Club 420 event could jeopardize a youth sailor's eligibility to pursue college team sailing.
How do we define amateur sailing?
As most of the sailors in the Club 420 class go on to some level of college racing, let's look at how the NCAA defines amateurs. An amateur, as defined by the NCAA, is someone who has not profited above his/her actual and necessary expenses or gained a competitive advantage in his/her sport. There are many details available on this definition in the NCAA By-laws (look for Bylaw 12), but the intent is to put education first, above sport, and provide a level playing field for all competitors.
As you progress in the sport, you will find there are opportunities to "professionalize your approach". In doing so, you may put your future sailing in jeopardy – either in college or even in the youth events in which you currently participate. While you can have necessary expenses covered to train and race; no member of a Club 420 team should receive compensation for their participation in a Club 420 regatta. The Class strongly urges you to remain an amateur and will continue to look to US Sailing, College Sailing (ICSA) and the NCAA for guidance in order to keep our events on that "level playing field".
Now let's go back to your previously scheduled program. See you at Mid-Winters!
on behalf of the Directors of the Club 420 Association.
January 30th, 2017 by admin
University of Michigan Sailing Team's Sarah Sloan has kept the SA'ers abreast of Midwest college sailing for the past couple of years, and she has a big announcement for all of you U of M parents and alums.  We're stoked to get the chance to help college sailors out whenever we can – let us know how we can help your team.

After three years of fundraising, the University of Michigan Sailing Team reached the first half of our $200,000 Capital Campaign goal and purchased a brand new fleet of twelve FJs.  The boats, scheduled to be delivered from Zim within the next week, can't come soon enough; the team's 420s (which are older than their freshman recruits) are on their last legs. There were a few collisions during practice and regattas last fall that required fiberglass work to fix, tillers were breaking left and right (one of which could only be salvaged into an award for our Halloween costume practice), and more mysterious cracks were discovered after removing the boats from winter storage last week.
There is something undeniably thrilling about being the very first people to sail in boats that cost more than most team member's cars, but the team can't sit back and enjoy their hard work for too long. The next step is raising the money necessary for an endowment to maintain the fleet for future teams and, more importantly, pay for a coach. The team's main focus is becoming more competitive within the ICSA, and it has become increasingly apparent over the past few seasons that they need a coach to compete at the level they want to on the east coast as Sailing World's #1 Ranked co-ed MCSA team. Even boats with sails that aren't rags and fiberglass that hasn't gone soft due to water damage can't change that.
On behalf of teams past, present, and future, thank you to all of our supporters and donors; none of this would have been possible without your help. We're look forward to finally unloading the trailer and taking selfies with the newest additions to the University of Michigan Sailing Team.
April 2nd, 2015 by admin
Leg 1 of the Volvo is over, the Rhum fleet screams towards the Caribbean, some Midwest college action, remembering the memories, and much more in this week's edition of Video Anarchy.
The King of the Atlantic
it was a different Banque Populaire Maxi that Loick Peyron took to the ultimate record smash, but today's accomplishment is almost as good; the affable Francais and SA fan is just a few hours from breaking the absolute Route Du Rhum record, more than a hundred miles ahead of the bigger, faster boat he once skippered!  Peyron needs to average around 15 knots to break the Lemonchois record (of 7d aboard a boat he was only recruited to sail a couple of months ago, and with Michel Desjoyeaux and Franck Cammas flailing around in their own pursuits lately, Peyron cements his legendary place as today's king of the Atlantic.  The Route Du Rhum thread just keeps getting better and better, especially now that Anarchist "Laurent" is back putting English translations on the best videos from the course like today's note from Loick; thanks Laurent! The latest page of the thread is here, or read from the beginning here.
Heart of Darkness
The last time we got excited about a sailing movie was when Peter Weir brought Patrick O'Brian's incredible Master and Commander to the big screen with the help of at least one Anarchist rigger.  The movie was badass to sailors and mostly well-received by critics, though it never got close to making up the USD$150 million it cost to make – part of the reason we haven't seen another big budget nautical movie in the intervening decade.
But now there's a new one, and it's based on the scariest fish story of all time.  Heart of the Sea is directed by one of the best of the generation, adapting a spectacular book written by a guy who once won a major Sunfish championship.  You can learn more in the thread, but for now, just click "HD" and turn the sound up.  This one is worth it.
Final Fourth
It's full of clips that any real Volvo fan saw days or weeks ago, isn't really targeted at knowledgable sailors, and occasionally forgets that it's telling stories about a race rather than a cruise, but the fourth installment of Volvo's Life at the Extreme TV series continues to improve on earlier episodes, even if only in fits and starts.  If anything, it's a great show to share with non-sailing squares – students at school or your friends, families, or whomever has shown an inability to really comprehend what you do on Saturdays and Wednesday nights, or why you always have bruises after some of those long weekends.  For our part we don't expect to embed these for you after this one – there's just better stuff coming from the teams and VOR and we prefer to highlight that.
We're not particularly bullish on cable TV and we don't expect to get bowled over by the race's American TV ratings now that NBCSN is running the series, but we're not at all sure it matters.  With over a million Facebook fans and a monster news, social media and video footprint right now, it's clear the investments they've made in staff, one-design boats and communications are paying.
The race's biggest problem is the typical Sailing Anarchy reader, because they need you.  It's your support that keeps interest up between races and it's yachtie brand-loyalty that sustains interest in this race over the decades.   But you know too much, you expect too much, and it's impossible to keep you happy, which is why we tell everyone that the Ocean Racing Anarchy forum threads are really the best tool to follow the race.  Let the Anarchists curate the information coming out of the boats and race HQ for you, and follow along there yourself.  Relive the leg 1 thread here, and be ready for Leg 2 by subscribing to the thread.  Check the short Leg 1 review reel here.  Those of you coming over to Cape Town for the festivities, the schedule is here.
The People's Skipper
Whitbread skipper, sailmaker, and everyone's favorite Cork character Joe English died last week, and we salute the Irishman with this short film following Joe and wife April's journey with the early-onset Alzheimer's that eventually took his life.  If the film (or Joe's memory) touched your life, consider donating to The Alzheimer Society of Ireland.  Thread here.
Big Fish/Little Pond
Our friend Sarah Sloan over at the Michigan Sailing Team hits us with a little news from the Big Ten Team Race last week in Ann Arbor; scores and details here, and thanks to U of M sailor Zachary Frankel for the movie.
Six months after the Worst Winter Ever and the resulting perpetually froze lake caused the University of Michigan Sailing Team to postpone and reschedule the Big 10 Team Race regatta, six teams from the MCSA came to Ann Arbor to compete for the top prize (in this case, a giant jar of Halloween candy and their name on an impeccably polished trophy).
In an uncharacteristic display of charity, Michigan Weather decided to provide us with exceptional fall weather and wind Saturday and Sunday. The University of Michigan, the University of Wisconsin, Northwestern University, Marquette University, the University of Notre Dame, and the Ohio State University sailed all day under blue skies and with a blowing breeze. Michigan ended the day undefeated in first, and everyone returned back to campus for a night of relaxation and warm showers.
Even though there was a decrease in temperature and wind speed on Sunday, the level of competition was still incredibly high, with the day ending in a sail-off between the University of Michigan and the University of Wisconsin. Michigan won the final race, but subsequently lost off the water when a protest brought to the judges went in the favor of Wisconsin, who clenched the top spot for the weekend.
It seemed, however, that everyone drove away Sunday afternoon feeling victorious. UofM isn't going to name names, but we overheard members of another team claiming they haven't had as much fun at a regatta as they did at Big Ten since they were freshman. It's hard to stay upset about your performance on the water when you put your accomplishments in perspective; how many college students can say they got to spend the weekend on the water with the coolest kids across the Midwest?
November 9th, 2014 by admin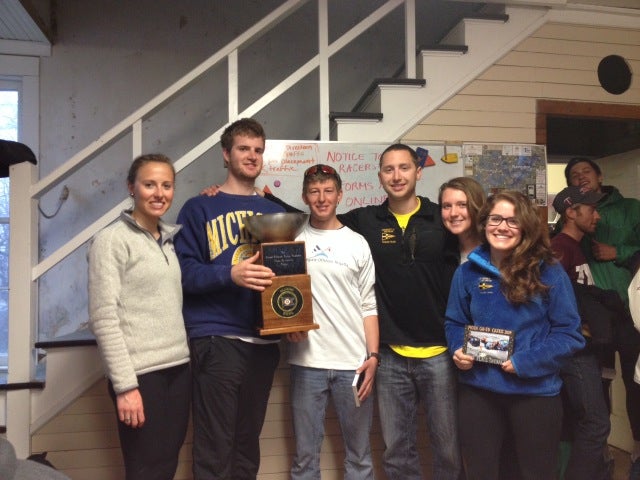 Sarah Sloan checks in from the tail end of the University of Michigan Sailing Team's season.  
You learn a lot about your teammates during car rides. Over the course of a season, you discover who is willing to take the graveyard shift, who likes the backseat, who has the smallest bladder, and who can actually ignore a car full of people talking about the effect windshield wipers and wind have on the flow pattern of rain over windows to study for exams. University of Michigan sailors are very familiar with long car rides, as they travel to the east coast for regattas nearly every weekend during the spring and fall. But last weekend, six Michigan sailors (Alex Ramos, Ryan Seago, Karinne Smolenyak, Liz Wallace, Will Cyr, and Sarah Sloan) packed up and headed the opposite direction to Minnesota for the MCSA Coed Qualifiers at Wayzata Bay on Lake Minnetonka.
The great thing about the Midwest is that everywhere reminds you of home, because over the course of an eleven-hour drive the scenery rarely diverges from the fields and rolling hills characteristic of middle America. The "Land of 10,000 Lakes" lived up to its name, however, and the sailors traveling from Ann Arbor felt the familiar twinge of jealousy that accompanies sailing on a lake in a school's backyard, as opposed to the half-hour drive that we Wolverines deal with daily. The feeling only intensified upon seeing the University of Minnesota's beautiful, fresh-off-the-trailer Z420s, and caused Michigan team members to fantasize about one shining day, just $39,000 from today when we, too, will host regattas with a brand new fleet of boats (hint…donate here).
Sailing on inland lakes keeps even the best skippers and crews perpetually on their toes, as puffs and shifts can come from seemingly nowhere and completely change the outcome of a race. The wind increased throughout the day from averaging ten mph to "hike-as–hard-as-you-can-as-long-as-you-can-or-face-the-wrath-of-your-skipper" speeds. Eight extremely close, extremely competitive races were completed within each division, and at the end of the first day the University of Michigan was in first by three points, followed closely by the University of Minnesota and the University of Wisconsin, who were separated by a single point.
Racing was cancelled on Sunday due to a torrential downpour turned thunderstorm. Despite having lost the opportunity to potentially change the final standings, the sense of camaraderie between teams was tangible as everyone waited in the boathouse for the award ceremony. MCSA sailors excel at leaving it all on the water; there are very few other organizations in college sports where eight teams will collectively sing Happy Birthday to an opponent, and even your fiercest rival on the water will put that aside once on shore to tell you they like your Sperrys or Patagonia pullover.
Every sailor begins the weekend wanting to sail their best races, and every team wants to win, but last weekend's top spot went to our team at the University of Michigan, who added another first-place finish to a season that included MCSA Match Race and Team Race victories. With exams wrapping up at the end of the week, team members will shift their focus toward College Sailing's Nationals, where they, along with the other four teams from the MCSA who qualified, will attempt to prove to teams from the east and west coast that freshwater sailors can be just as fast.
April 30th, 2014 by admin
University of Michigan racer Sarah Sloan reports on what college sailors go through to get on the water in the deep-frozen midwest.  a  U of M alums should come and support your team; see their full schedule here and donate something toward their boat fund here – it's tax-deductible!
No one understands cold quite like an MCSA sailor; early season practices can include pulling boats over patches of ice to reach open water, and it's imperative crews know how to melt the ice off frozen sheets by whatever means necessary (no one is above sucking on the Cunningham just minutes before a race).
Traditionally, winter is supposed to turn into spring come March, but much like the kid at the party who can't read between the lines when you say you're washing your hair every night for the rest of the semester, this winter couldn't take a hint.  Teams across the Midwest are still waiting for multiple feet of ice to thaw on inland lakes, and sailors have been forced to resort to extreme melting measures to salvage the spring season, because sometimes you need a friendly MCSA regatta and regatta party after numerous weekends competing against the big varsity teams on the East coast.
When it became increasingly apparent the snow wasn't leaving any time soon, The University of Michigan Sailing Team began to consider spring practice-alternatives in addition to ICSA regattas, chalk talks, intramural broomball, and even part-time modeling in the case of one of our co-captains.  The team initially tried to escape the Polar Vortex by driving to Norfolk, Virginia for a spring break training trip, but the miserable weather followed them twelve hours south. Temperatures dropped from seventy the day before their arrival to thirty the day after. The first day of sailing was cancelled due to the latest snowstorm locals could remember, and didn't rise much above forty the rest of the week. Fortunately for their hosts, the team took the bad weather back to Michigan, as temperatures rose to sixty the day of their departure.
Frustrated upon coming back to Michigan only to realize they'd have to drive to the east coast every time they wanted to sail, team members resorted to drastic measures to sail at home sooner. Members of the executive board ventured to Baseline Lake in mid-March to personally chop apart the 18-inch thick ice, with some even suggesting the Capital Campaign fund (which is less than $30,000 away from the $100,000 needed to purchase a new fleet of boats), should instead go toward space heaters and fireworks to help along the melting process.
While the rest of the team played with pickaxes, seven freshmen were fortunate enough to sail on the only open lake in the Midwest for the Freshman Icebreaker Regatta at Notre Dame. Determined to fulfill the legacy of excellence both on and off the water as established by their upperclassmen fore founders, the freshman dressed for success, looking dapper in the suits they will no doubt one day don as titans of business and industry. Some even took the plunge into Lake St. Joe's after a successful race and came out baptized into a new sailing faith.
If Michigan sailors know one thing, it's how to hope for the best and prepare for the worst. There is still time yet to salvage the season, and with temperatures reaching downright summery peaks of fifty-five degrees in Ann Arbor this week, this heat wave will likely make the lake sailable within the next two weeks, just in time for finals.
April 10th, 2014 by admin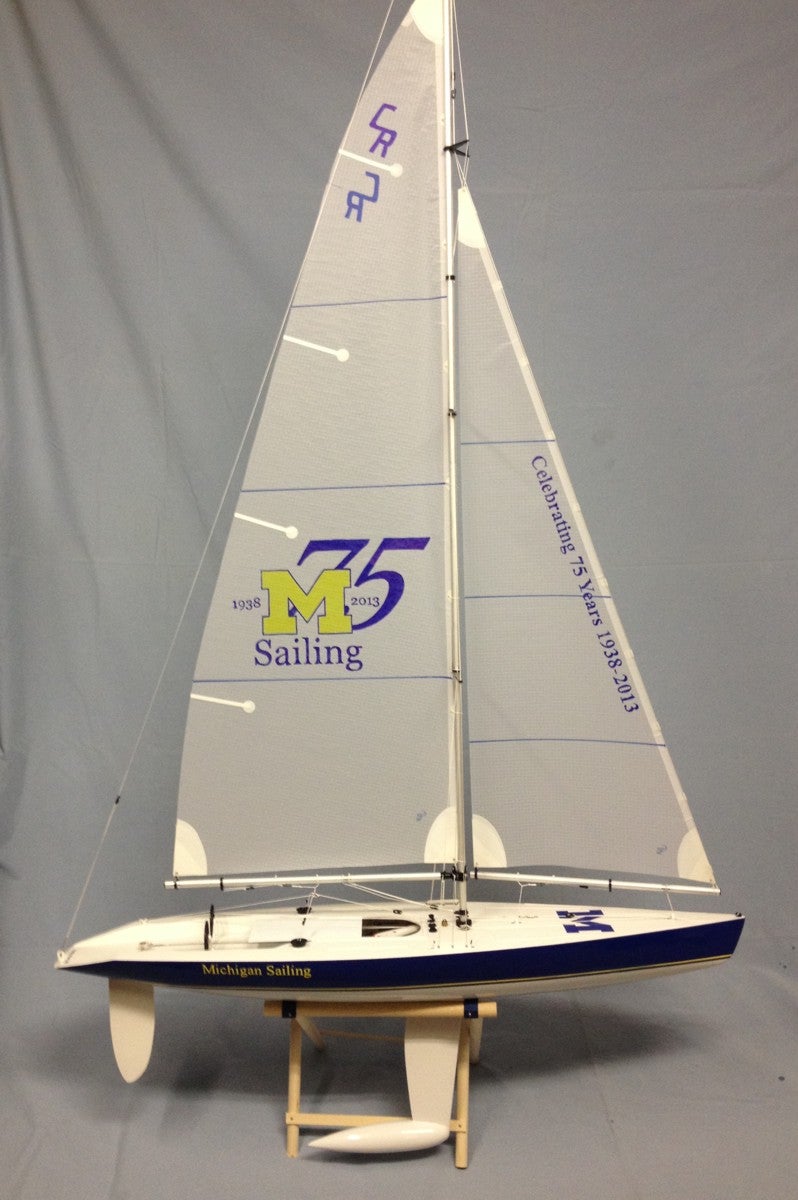 The University of Michigan's sailing team has a fleet of 20-year old FJ and 420s, and they are quite literally falling apart.  With one of the most active Alumni groups in the US, it should be so damned hard to have decent athletic equipment for the sailors, but rather than bitch, the U of M kids are doing something about it:  They're raising money by raffling off this cool radio control racer. More from Wolverine media kid Ryan Seago:
Painted in official U of M colors with a commemorative graphics package on the sails, this one-of-a-kind, 75th Anniversary Michigan Sailing CR-914 is worth $1200 and we're giving it away!  Built by CPM's David Ramos, all proceeds from this little beauty's raffle will go directly to support the Michigan Sailing Team.
Raffle tickets are just $25.00 each, and we'll be raffling the boat off at the Strictly Sail Chicago show at the end of January.  You do not need to be there to win! So please purchase your tickets now and help us get future University of Michigan sailors a little Christmas present:  New boats!
Get all the info on the raffle and buy tickets here, and follow Michigan Sailing on Facebook here.  And here's a shot of the smiling kids.
December 12th, 2013 by admin