Posts Tagged 'clipper race'
The UK's Marine Accident Investigation Branch continues their investigation into the death of Simon Speirs aboard the Clipper 70 CV30, and they took a break in their investigating to publish a very important safety bulletin identifying why, exactly, Speirs' tether didn't save him from getting washed off the boat and drowned.  Read carefully, and don't sail another offshore mile without ensuring your tethers can't be wrecked by your cleats.  Here's an excerpt:
The sailing yacht CV30 was taking part in the third leg of the Clipper Round the World Yacht Race having left Cape Town on 31 October 2017 bound for Fremantle, Western Australia. At about 1414 local time on 18 November 2017, the yacht was in position 42°30.3'S, 087°36.3'E, approximately 1500nm from Fremantle, when a crew member, Simon Speirs, fell overboard. He was attached to the yacht by his safety harness tether. The hook at the end of the tether that was clipped to a jack-line, deformed and released resulting in him becoming separated from the yacht. Simon Speirs was recovered unconscious onto the yacht but sadly could not be resuscitated.

INITIAL FINDINGS: Simon Speirs was using a three-point webbing tether attached to the integral harness of his lifejacket that allowed him to clip on to the yacht with a short or long tether. A safety issue identified during the investigation was that the hook on the end of Mr Speirs' tether had become caught under a deck cleat (see Figure 1), resulting in a lateral loading that was sufficient to cause the hook to distort (see Figure 2) and eventually release. The harness tether was certified under ISO12401 (Small craft – Deck safety harness and safety line – Safety requirements and test methods), which is the international standard applicable to this equipment. The standard contains detailed testing requirements that assume the tether and its hooks will be loaded longitudinally rather than laterally. The tether hook was of a conventional design and quality of build, and was commonly used by manufacturers of safety harnesses and tethers that were certified under ISO12401. When loaded longitudinally, the tether can withstand a load of over 1 tonne. However, when loaded laterally a tether hook will deform at much less load. It is important that tether hooks remain clear of obstructions and are free to rotate to align the load longitudinally.
January 12th, 2018 by admin
Love him or hate him, the first man to win a non-stop RTW race has certainly earned every sailor's respect in his long, long life, and his history isn't even the most interesting thing about him.  Our fascination with Sir Robin Knox-Johnston comes from how little he seems to give a shit about anything that ain't him.  If you ever get a chance to listen to some of his tales at a marina or a boat show (preferably after the gin starts flowing), we highly recommend it – just don't expect him to remember your name!  We share a short excerpt below from a very well-written profile on the Clipper Race boss from Avaunt Magazine; you can share your own RKJ stories in the thread.
"I was out sailing with my grandchildren in the harbour here, they were all in lifejackets and I wasn't wearing one, and the patrol came up and said, "You should be wearing a lifejacket. It's the law."

And I said "No it isn't. The reason I'm not wearing a lifejacket is that if one of them falls in, I want to be able to swim after them. A lifejacket would be a hindrance."

"Well our advice is that you should wear one."

And I said, "So what qualifications have you got?"

He said, "I've got my Boatman's Licence."

And I said, "Well I've got a class one Masters' Certificate, and I don't need advice from a ruddy boatman. So fuck off."
March 24th, 2017 by admin
Sir Robin Knox-Johnston's Clipper Around the World Race has lost its first sailor; we just picked up the breaking news off the BBC that a crewmember aboard the IchorCoal entry died early this morning off the Portuguese coast.  Reports identify the UK's Andrew Ashman as the crew on the Clipper 70 who was knocked unconscious 'while trimming a sail' on the highly loaded, heavily-laden boat, and whether it was a clew or a boom that struck him, he didn't regain consciousness and the 'race' boat is diverting to Portugal to offload the body.
A past skipper of the race told us his only surprise is that it hasn't happened sooner.  "Anyone who's done the race will be reminding themselves of the number of unprepared skippers and crew they raced with and against,' he said.
Our condolences to Ashman's family and friends, and if you have loved ones on a Clipper boat, send an email to let them know you love 'em. We'll have more news as it develops.
UPDATE: OFFICIAL STATEMENT HERE.
September 5th, 2015 by admin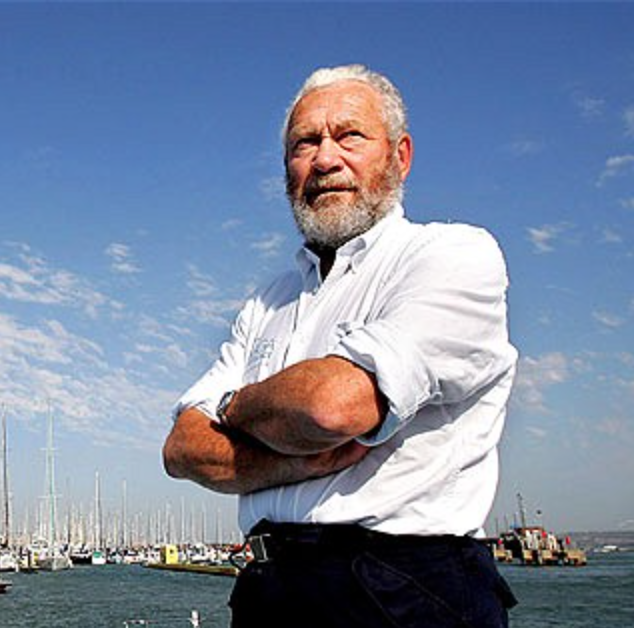 When Sir Robin Knox-Johnson crosses the Route Du Rhum finish line in Gaudeloupe in a little less than a week, he'll get some spectacular news; the lawsuit filed by English bottom-feeder lawyer Ruth Harvey against his Clipper Race was tossed out by a Havant judge earlier this week.  Harvey claimed she suffered sexual harassment and discrimination aboard Jamaica Get All Right (irie?), and sought protection as an employee of the Clipper despite having paid a shit ton of money to sail the race.  The judge disagreed.
Harvey dropped out after two legs and sued earlier in the year, and now that she's been dispatched, we encourage anyone seeing her on a boat to heckle her mercilessly.  Head over to the thread for pics and more information.
November 14th, 2014 by admin
With no one dying, no boats breaking of late, and nothing really special in their media output, we can be forgiven for forgetting the pay-as-you-go Clipper Race has been 'raging' for months, and as we speak, beginning its final points scoring leg.  Sir Robin's pay-as-you-go crew are quietly getting their work done, training newbies whilst racing 'round the world on their heavy 70′ racer/cruisers.  The boat's size and stability are two reasons we were a bit shocked by this knockdown-plus video from two days ago.
Very, very few sailors will ever find themselves actually inside a waterspout, and a huge thanks to Team GBR for sharing it with all of us.  Show up tomorrow (the 12th) in St. Katherine's to check out the fleet.
July 11th, 2014 by admin
Brian Carlin made this piece of wall art on the Brisbane – Singapore leg of the pay-to-play Clipper Race.  Less than three years into the sport, the diminutive Irishman has a long and brilliant career ahead of him – check out his site here.
February 16th, 2014 by admin