Posts Tagged 'Class 40'
IMOCA and Class 40 designer Merf Owen will race one of the 40s he designed to Cuba today, but something he posted this weekend  gave us a real smile.  We share it from Facebook and a huge congrats to two long time members of the SA family.  For on-the-water coverage of the Havana Race start, head over to SA Facebook and the SORC page.
Perhaps it was the beautiful sunset, or the sleep deprivation after a 40kt Atlantic blow. Whatever it was my thirty years plus of bachelor days are coming to an end. Passing Cape Canaveral the other evening, sailing double-handed with my darling girlfriend Ash, I found myself on my knees emptying 'the bucket' , turned around and she was framed in the hatchway. I proposed and happily with a laugh and big smile on her face she said yes ! She's now wearing the titanium and carbon ring I'd made her…happy couple.
February 10th, 2016 by admin
Michael Hennessey and Tristan Mouligne hit up the the irie-est race in the world aboard the Class 40 Dragon.  Results here, and more info on the Pineapple Cup/Mo Bay Race on the SORC Facebook Page. Nigel Lord Photo.
Here I sit on the beach of the Secrets resort next door to the Mo Bay Yacht Club, watching my boat sail off across the horizon towards the western tip of Cuba,  musing what marketing genius thought it was a smart idea to call a resort "Secrets".  Is there really that big a market for illicit affairs that they need 800 rooms and a full resort for them?   Or does 'Secrets' refer to the secrets that couples keep from one another; things like, "I'd rather be on that boat, eating freeze dried pasta and shitting in a bucket, than sitting on this white-sand beach?"
It really is a nice resort.  A collection of buildings, pools and beach that is hermetically walled off from the real Jamaica by concrete, iron, and security guards.  Plush rooms, plush towels, plush seat cushions.  The days seem to be centered around the tidal movement of people from food to beach to bar to food to pool to food.  Its a lot like what I would imagine a very nice cruise ship to be, but with trees, no kids, and apparently, lots of Secrets.  And I'd rather be on the boat.
Delivery crew Dan Valoppi and Kyle Hubley flew in yesterday and shoved off this morning, delivering Dragon back to Charleston.  A good number of boats departed yesterday, Oakcliff bound for Antigua and the C600, then Amhas and Miss Maris for Charleston.  Dragon will likely catch Miss Maris tonight, and then everyone will end up tied up in Lauderdale around Tuesday as they sit out a low that is going to fill in south of Hattarras.  Other than the stopover, it looks like a run down the Caribbean, a short motor off Key West as the wind flips around and then a reach up the Keys.  It's delivery mode, so they have books and music and long naps to look forward to.
This was my second time sailing the Pineapple Cup/Jamaica Race, and it is still my favorite race.  The course is unique and just long enough to feel like an ocean race. The vibe is low-key fun, warm hospitality and a welcome relief from the cold that has the Northern climes' balls in its icy grip.  We woke up on race day knowing that it was going to be an 'athletic' start, with most of us holding off our departure from under the bridge to spend as little time as possible being whipped around in the pre-start.  We already had our main loaded and our trinquette (staysail) plugged in before leaving the dock, so it was a fairly simple matter of slapping our way out of the breakwater and getting far enough the beach to know what the wind conditions really were all about for the first part of the race.
Which was a very, very shy reach.  Or rather, close hauled and fetching on port tack (ok, 55 degrees TWA in 25-30) with two full tanks of water ballast.  The start was uneventful for us, not so much for a few others that had some issues getting their headsails under control.  But the rust was showing, and it took us a good 2 or 3 hours of tweaking before we really got the boat moving close to its polars.  In that time, we fought off Oakcliff but let Amhas pick up a couple of miles on us.  The sea state coming across the Gulf Stream was a mess, with short steep waves coming from almost every direction until we got across.
Our bigger mistake was footing off a bit too much, ending up South of our first mark, Great Isaac.  So when we got there around midnight, we ended up having to put a 3 mile tack to the north – something none of our competition had to do.  Silly, stupid mistake on our part, followed by a much bigger one when I accidently auto-tacked the boat, and in doing so, dropped the bagged A2 in the water. Those bad boys get massively heavy when they get wet, and I still have the bruises from the lifelines where I leaned against them to get the kite back on the boat.   Then, proving that I am much less smart than I think I am, I managed to auto tack the pilot again an hour later.
Those three mistakes set the table for our entire race – a bummer, because we really didn't make any more for the remaining 800-odd miles.  But the first three mistakes put us behind Amhas by a good 15-20 miles, with the wind clocking the entire time. Once we got past Issac we were able to put a bit more South in, and then more once we got past Stirrup, but the entire time the wind kept clocking forward which kept us on the wind and going slow.   Meanwhile, the boats in front of us were able to get a little bit of cracked off sailing across the top of the Bahamas, and then once they got past Eleuthra, onto a full-on blast reach for five hours while we were still tight on the wind – translating into a 30 mile lead by the time we were able to crack off.   And when we got to the corner on Saturday night, the wind had already clocked forward, so while we got a reach, they'd had a broad reach.   It was a rich-get-richer story, most notably for the near record-setting Shockwave, but also for Amhas, Renegade, Vortices, and Oakcliff.
Down the east side of the Bahamas, it was a decent reach but never far enough back to get a code sail up.  The wind settled a bit at 18 to 25 and as a result it was a very wet ride, by the light of a giant moon that had just started to wane.  By Sunday morning we were down to the bottom of Cat Island – we chose to take it to the outside – then we had more wet, fun near-reaching through Sunday and into Sunday night.  Demonstrating how much better that point of sail is for high-stability Class 40s compared to conventional boats, we managed to erase a 15-mile lead that SC52 Renegade and J/145 Vortices had and pull in front of them by early on Monday morning.  This was as we approached Cuba, and judging from the thundercells building in the moonlight, we knew we were going to get plastered.  Nighttime cells in the Caribbean are always interesting; with too much wind on the edges and no wind in the middle and all of it shifting over 360 degrees.
That, however, was not really the bad news – which, instead, was a big shift on the other side.  We managed to get enough breeze to pull us within 2 miles of the eastern tip of Cuba by 7 am, but then the breeze shut off for 3 hours before it filled in from south west.  Seriously… we had been upwind for 550 miles only to literally reach the part of the course were we would make a 90 plus degree turn to the west and we end up with a wind shift that put the wind blowing straight out of our destination. Meh.
The tracker showed Amhas and Oakcliff as having gone South into the Caribbean, and the forecast called for less breeze down there. We were going to get no leverage out of following them, so we decided to rock hop down the Cuban coast.  In the end, they got about the same pressure that we got, and the tactic did not yield any meaningful results for us, but we did get to have a full day of sailing along one of the most beautiful coasts I have ever seen.  Well worth the price of admission, and something that maybe a lot more Americans will be able to see soon.  Throughout Monday, we continued to play tacking games with Vortices, the one boat that followed our lead down the coast.  Not surprising for a J145, they pointed a hell of a lot better than us and gradually legged it out in front of us.
Monday night gave us a chance to get to know our American servicemen as we ended up within two miles of the base at Guantanamo Bay.  The boys at Gitmo were unamused at our proximity to their exclusion zone, and they let us know via in no uncertain terms via VHF.  I suspect that had it been daylight, they probably would have paid us a personal visit.
Tuesday morning saw the sun rise behind clouds, and saw the breeze clock back to the East, freeing us to finally make some better VMC towards Montego Bay.  That continued to midday, when we had the front move through, the sky clear and the wind shift back to the WSW.  Yet another solent reach, and we started to chip away at the 14-mile lead that Vortices had built on us.  We caught one last tack to the West and then banged the layline from 80 miles out.  In an effort to keep up boat speed, Vortices footed off to below the finish line, while we were still making a knot on them, drag racing to the finish.  We thought for sure that we had them when they got to the beach a mile or so east of the finish line, but somehow they got lifted at the same time they went into some magical high point mode and they just pipped us at the line.
After a short motor to the dock (did I mention, free dockage?), we were met by our host family carrying a bucket of ice cold Red Stripe…at 3 Am in the morning.  I think it is that moment that best shows what this race is all about.  Jamaica is one of the most hospitable places anywhere in the world, and the members of the Montego Bay Yacht Club may be the best of all.  The restaurant stays open all night as boats arrive, every boat gets a host family that helps out with anything that might be needed, the members staff all the finish line duties, and they throw a cocktail party or dinner for the week of arrival to make sure that you have a chance to hang out and tell tall tales of your seafaring adventures.  It is the warmest, nicest bunch of people that I have had the chance to meet in sailing.
The Ocean Racing Anarchy thread on this race started out with a question about the state of this race and its relatively small size this year, and it's a good question.  The state of big boat racing in Florida, the longsuffering economy, and the RORC C600 have all conspired to pull a number of boats away from the bi-annual Jamaica Race.  Couple that with – let's face it – a weak marketing and communication effort over the past few years, and what you have is a decent little fleet – but not what it could or should be.
The reality is that the eastern Caribbean winter circuit is very enticing, but it is also a huge commitment of time and money.  In the meantime, the (hopefully) imminent opening of Cuba should create an opportunity to  build a mid-Caribbean circuit of three or four races that could follow Key West Race week and offer a lower cost, easier option to get winter racing in awesome waters.  I know there are some Anarchists working towards this end, and that the Montego Bay folks are keen to figure out a solution, and I look forward to seeing what they come up with.
I can confirm that the miles down here make it a lot easier to get through a cold winter, and while the Eastern Caribbean would be great, it just doesn't fit into my schedule or budget.  But the Pineapple Cup does, and I'll be back to do it all over again.
Until next time – Walk good and likkle more.
February 18th, 2015 by admin
A coiled-up fireball of enthusiasm and intensity and one of the smartest sailors you'll ever meet, Matt Scharl defies labels; the 43 year old commodities trader and math wiz is also a fitness freak and adventurer – and he looks about 20 years old.  Despite his financial acumen, Matt spends much of the months between June and October farming soybeans on his own acreage in the middle of Michigan.  The longtime shorthander has either won or broken a record for just about every singlehanded race in the Great Lakes, mostly on his neon-green former ride Gamera, an F-25C Corsair. He's also done well in the double handed Atlantic Cup, winning the last edition in a hard-fought battle and setting up his next big adventure – the Route Du Rhum.
With SA Favorite Mike Hennessey (Dragon) pulling his long-anticipated RdR plug after losing months due to his well-publicized prang of a well-known brick, just two American skippers are left to represent the USA in the world's most famous singlehanded transoceanic race, both in the Class 40.  Since one of them sounds French, we'll focus on Matt's attempt at the ultimate singlehanded glory outside the Vendee Globe.  He checked in with us a few hours ago from due East of Newfoundland; track Matt right here.
Picture the scene: Lying back on your Fatboy thinking about taking a nap, but it just won't come. Pan out a bit and you realize that you're on the ocean, on a boat with every ounce of weight stacked in the back, beam reaching at 13-18 knots on a Farr designed Kiwi Class 40…it's a Bodacious Dream, no doubt, and the song with the line "How Did I get Here?" comes to mind.
Flash back to Nov, 2012, while Dave Rearick was prepping for the round-the-world Global Ocean Race.  I had lunch with Jeff [Urbina, BDX co-founder] one day, mentioning the Route Du Rhum as a possibility once Dave finished his circumnavigation. He thought "Why not? The boat will be there anyway."  When the GOR got pushed back a year or two and Dave went off to fulfill his lifelong dream of solo circumnavigating,  I figured the Route Du Rhum opportunity was gone for four years, at least.  Then I was told that Dave would be finished in time for me to do the Route Du Rhum.
Upon Dave's return, the boat's been gone through with a fine-toothed comb.  Parts replaced, fixed, and purchased to get up to snuff for the most competitive race on the calendar.  I worked hard to secure sponsorship, getting some personal support and help from friends and family as well as Chicago's excellent Skyway Yacht Works, but was disappointed to find that, other than those mentioned above, none of the many companies I spoke to saw the value in such a sponsorship.  To those who did, I thank you from the bottom of my heart.
I left alone (not counting my monkey mascot) on Monday for my qualifying passage between Rhode Island and France, and it gives me some time to learn the boat better, test sail combinations and in general get a feel for longish time spent alone. Anyone who knows me knows I spend plenty of time alone, but this time it's been a little different – I'm leaving behind someone recently met but very special, thankfully she is very close to me in spirit even if I cannot feel her touch.
It took a few days to get in a rhythm, but I'm starting to feel it, moving well, motivated by making as much speed as possible. Thanks to an overheating generator I am learning to love the whine of the hydro-generator, even if that's had mounting issues too – fortunately, my Macgyvering skills are up to snuff thus far!  I generally hate deliveries – hence the trailerable trimaran I owned for years – but this is different.  I am not delivering to St. Joe's or Mackinac City – I am delivering to the Queen of solo racing; to crowds of over a million spectators; to the land where tiny frenchmen race 140-foot trimarans across the ocean alone.  I am delivering to the Route Du Rhum, and that's just fine.  I couldn't really believe it before, but I can now.
A final note: Without the extreme generosity of Gaye and Jeff, there's a whole pile of guys around the world – as far away as Finland and New Zealand – who are able to do some of the greatest adventures and races in the world. None of us – especially me – will be able to ever thank you enough.  We'll try, but it will still never be enough.  So thank you.
I'll be speaking to Mr. Clean later in the week via Satphone for a Sailing Anarchy Innerview, so feel free to post in the Route Du Rhum thread or hit my Facebook Page if you have anything you'd like me to address.
-Matt Scharl, Skipper
Class 40 Bodacious Dream 
September 4th, 2014 by admin
My second Atlantic Cup truly was a great experience. I love the event for so many reasons – it's really the only Class40 race in the US, with very special venues and phenomenal organization.  Charleston and Newport are great sailing towns with marinas, shipyards, and everything you could possibly need before a regatta, and New York – well, that's got New York City,  and it is a very special experience to approach the skyline from the sea after a few days offshore.  Knowing my friends and family were nearby during both the finish and start made it even better.
My Atlantic Cup experience started back in February, when USMMA Sailing Foundation boss Ralfie Steitz offered me the use of the Foundation's Class40; the pretty grey boat known to many of you as Icarus.  I was so flattered by the offer and was looking forward to getting on the boat, but with my winter regatta schedule and the horrible winter in the northeast, I only had two opportunities to sail the boat before the start of leg 1 (including the delivery to Charleston)! At the start of leg 1, we put up our race sails for the very first time. We had three serious problems during this leg. The first was our inexperience with the boat – this certainly hurt us, but also meant that our learning curve was steep as we figured out ways to make the boat go fast. Second, we encountered trouble with our electronics – none of them worked for the first three days of the race and we had a faulty iridium antenna so we couldn't download any weather information. And third, we blew up our A2 kite during the first day! With all of the trouble we encountered, we managed to keep a positive attitude. I saw how responsive the boat was and began to really understand its potential. All in all, while we would have loved to have had a better result, we were proud that we only finished just over three hours behind the leading boat.
While leg 1 was full of frustration, leg 2 was just the opposite. It was our time for redemption and our sailing was fantastic – our speed was fast and our navigation was spot on – the weather reporting we had from PredictWind's (one of www.jeffreymacfarlane.com sponsors) high resolution forecasts certainly helped. The race was incredibly tight – I slept for just a single hour and my co-skipper Jake took only two hours rest. I drove the entire time and Jake stayed busy taking care of sail and boat trim. We managed to squeeze out a win over Dragon by just 80 seconds.
While the first two legs of the Atlantic Cup are sailed double handed, the third and final leg – the inshore series – is sailed fully crewed. Making the transition to sailing with five other people is not an easy task, but our fantastic crew made it worth it! We sailed with Phil Garland, Chris Poole, Ross Weene, and Ervin Groove.  Phil focused on navigation and main trim. Phil knows the waters of Newport better than anyone and is an incredibly talented sailor. He and I communicate well on the boat and I was so pleased to have another opportunity to sail with him. With Chris's great match race experience, I asked him to focus on boat-on-boat tactics.
Chris and I both represent Oakcliff but this was the first time we've had the chance to sail together, and hopefully it will be the first of many. He made great decisions and was able to help position the boat in strong places. Ross works for Roger Martin and helped design the boat. He trimmed the jib and kite, always keeping his eyes forward, watching to see what needed to be done. Ervin was at mast and helped Jake with the bow. Both of them worked together to make sure the front of the boat stayed organized and they moved very fast. Ervin's height and strength coupled with Jake's quickness helped us avoid errors. Together, we won two of the races and took second place for the inshore series.
At the end of the two and a half week regatta, we scored 34 points, tying with Gryphon Solo 2 for first place. Unfortunately due to the tie breaking method, we took second place. Regardless we were pleased with and proud of the result. The Atlantic Cup gave us the opportunity to do some fantastic Class40 sailing close to home and I look forward to sailing in the race again next year.  Thank you to all of my sponsors and supporters for making it possible for me to sail in such an exciting event!
-Jeff Macfarlane
June 8th, 2014 by admin
By Saturday, Michael Hennessey's Class 40 Dragon was finally on a roll in the Atlantic Cup.  Tied for first place going into the final weekend of inshore racing in Newport, Dragon got a great start in the first inshore race today, with a great kite hoist leading to a 7 boatlength lead at the turning mark off Beavertail.  And then disaster struck; Dragon clipped a big rock just as bowgirl and former SCOTW Emma Creighton went out on the bowsprit to set up the douse.  The boat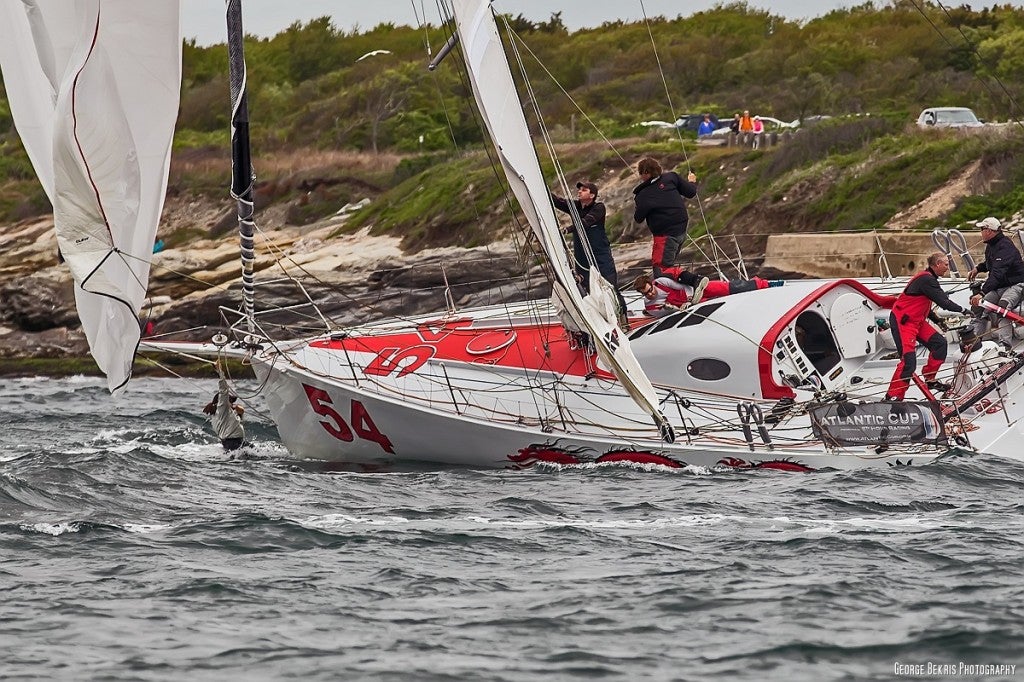 went from 12 knots to zero, knocking the crew off its feet and launching Emma off the bow, though the young Maine native's badassery knows no bounds, and somehow she held on, and no one was injured on the crew.
The boat is another story however; have a look here and you'll see what we mean.  Cracked keel box, cracked grid frames, wrecked fairing, and cracked glass around the keel entry.  Huge bummer on a beautiful Memorial Weekend sailing day, but it could have been much worse.
More info at the Atlantic Cup site here, huge thanks to SA'er "Mister Sail" for the shot of Emma to your left, and to Julianna for the keel shot.
May 24th, 2014 by admin
Thanks to a string of boat and mast problems in the Mini fleet, we've called young solo/shorthanded offshore racer Jeffrey Macfarlane 'one of the unluckiest guys in the sport', but as of Monday, Jeff's luck seems to be changing.  Below is an SA exclusive from Jeff on his victory and leg record on Leg 2 of the Atlantic Cup, with a Billy Black photo to the left, and galleries of the whole race here.  You can check in with the racers tomorrow night at the party at Jamestown FISH, and say hello to Clean and Mer if you show up.  And Newport locals can watch them out racing this weekend alongside the International Moths and the Open 60s.  
My co-skipper, Jake Arcand , and I were looking for redemption in leg 2 and we got it! Our first leg was disappointing. We blew up our A2 spinnaker and lost all of our electronics for the majority of the 600+ mile race. Thanks to generosity of Steve Benjamin we were starting leg 2 with a one spinnaker – he donated an old Spookie kite to our program [that's the one with the Swisher cigar logo -Ed] and we were able to get a last-second sail recut, just in time to replace our irreplaceable A2.
At the start of the second leg, the breeze was fairly light and we decided to stay on the south side of New York harbor to take advantage of a slightly stronger tide and freshening breeze. But, it was not until after the bridge that our strategy began to pay off and we started to leg out on Dragon and Pleiad, more to the North. We led the fleet out of the harbor and planned to take the Swash channel. Everything was going perfectly to plan, but after seeing Pleiad choose to take the more inshore Sandy Hook Channel, we reevaluated and decided to cover. Unfortunately, they were able to stretch some distance on us, but once we were clear of the channel we slowly began to chip away at their lead, eventually passing them.
Most of the fleet chose an offshore route on the way south to the Barnegat Light buoy, but I positioned us more on the beach side of the course, anticipating the wind shifting West. Our strategy worked, except for the brief period of time when there was no breeze in a wind transition. Mike and Rob on Dragon stayed very close to us and they handled the transition a bit better, reaching the new breeze before us.  We rounded the tuning mark just behind, and began the night jockeying positions with them. We took a northerly course from rhumb line anticipating the breeze would head us come morning, and when morning came we were a mile or two in front of Dragon. However, the wind did not head us like all of the weather models predicted and we found ourselves in yet another wind transition zone where Dragon, who was further offshore, managed to pass the transition zone quicker, and passed us in the processl. From then on, it was all drag race – a speed run to Montauk Point during which time we desperately tried to regain our lead. As we sailed inside Block Island we kept going higher in order to get more speed on Dragon. Frustratingly, she matched us until we both began to sail as deep as possible in order to make Point Judith. The breeze offered us ideal downwind conditions on the way to Point Judith and we sailed downwind straight to Newport at 15-17 knots.
As we approached Narragansett Bay, we were still just a few boatlengths behind Dragon on port gybe and very close to the shore. The wind began to lighten and we matched Dragon's every move, hoping to get an advantage on them. We did not get the advantage until we both gybed and they came out a bit higher. I was able to take a few puffs and soak just a few degrees deeper than them, and we were able to get below them on the inside gybe. We took advantage of any depth we could get and we tried to get more separation from Dragon, covering their every gybe. It worked! We ended up in very light winds approaching the finish just 80 seconds in front of Dragon. We not only won the leg, but we also set a new course record by over 6 hours.
Jake and I could not have been more pleased, and what a result for one of the oldest Class 40s in the fleet, donated for my use by the inimitable Ralfie Steitz from the USMMA Sailing Foundation.  Ralfie and the King's Point program continues with its mission to help young, up and coming sailors get more opportunities in the limited American shorthanded sailing scene.  By coupling his support with that of Oakcliff Sailing, our team has fulfilled this mission proudly.  There is a very long list of sponsors and supporters that have had an instrumental part in the success that I have had over the past few years.
We have a fantastic inshore team consisting of Phil Garland – our mast manufacturer and sponsor from Hall Spars, Ross Weene – one of the boat's designers from Roger Martin Designs, Chris Poole – fellow Oakcliff sailor and top ranked match racer, as well as Oakcliff graduate Ervin Grove. We are looking forward to combining our strengths to find more success in the final, inshore leg of the Atlantic Cup this coming weekend.  We are hoping to win the inshore series and pull out an overall Atlantic Cup victory.
Wish us luck!
-Jeff
May 22nd, 2014 by admin
Our old friend Mike Hennessy – owner/driver of Class 40 Dragon is one of at least two Americans to be sailing one of our all-time favorite races this year. It's a race named after booze, and every four years, the world's best offshore singlehanders use the race, known as the the Route Du Rhum, to test themselves against the Autumnal gales of the Atlantic.  
If you don't yet know Mike, he's been a member of the SA family for ages, and we've watched right here from the very beginning of his Dragon's racing program; Mike has shared the highs and the lows with all of us, and we will be there in St. Malo to wish him off again this coming November.  If you have some vacation time, it's one spectacle every sailor should see; not just because of St. Malo's beauty, the mouth-orgasmic seafood/wine/desserts/women, the offshore racing history, or the ability to see and touch everything from Tabarly's legendary yachts to the biggest racing trimaran every built – which will also be sailing to Guadeloupe with just one guy aboard.  No, the reason you go to St. Malo in November is for the crowd; nearly 1 and a half million people make their way through the race village in a week, with some 500,000 watching the start in person on race day.  It's a site worth seeing, and you only get it once every four years.

March 14th, 2014 by admin
Once upon a time sailors went to sea with just a sextant and a barometer to guide them across the oceans (oh and of course some rum), but nowadays we have come to rely on complex computer programs that when fed with high resolution gribfiles of different wind models at different altitudes calculate your optimal route.  We are also spoiled with a wealth of satellite and infra red imagery, wave models and ocean current data that we can download in seconds via our sat comms systems on board.  We would usually get at least 4 grib files a day and on the approach to the equator would be monitoring satellite images to make aninformed decision on the best place to cross the ITCZ.  Unfortunately for us that vital sat comms system that feeds us and our computer with all that important decision making data has decided to go on strike for now, so our forecasting materials have been somewhat down graded.
November 18th, 2013 by admin
After our forestay detached from our rig, we spent the better part of 30 hours getting to Lorient to try and fix the problem. When we arrived in Lorient we found three people waiting for us on the dock: Ryan Breymeier, a good friend and fellow American short-handed sailor, Yann Le Bretton, prepareteur who we met in Charleston this year at the Atlantic Cup and Yann's girlfriend who's name I didn't catch. As soon as we got to the dock they hopped on board. Ryan had a dock cart full of bits to sort out all of our trouble; a mast jack to jack up the rig so we could fix the forestay problem, vacuum bag material to fix our leaky rudder post, and a bunch of rigging bits to put it all together. On top of all of that they brought 2 large pizzas.
It's pretty awesome to be in another country, in a harbor you have never been in, pull in with a broken boat (and broken Rob but we will get to that in a minute), see two faces you know smiling at you telling it will all be OK and pull off the dock just 4 hours later with it all fixed. Ryan asked if I was OK because Hannah mentioned that I had hurt myself. So, sometimes I over do it. People that know me will laugh at that because maybe it's more than sometimes. Anyway, I think I pulled something too hard and both my forearms were swollen and really painful. Anytime I pulled or grabbed something I was in a lot of pain and of course sailing is all about pulling and grabbing so nedless to say, I was suffering. Ryan told me he had spoken to a doctor at the hospital and that I could go to the Emerrgency Room and walk right in. He said there would be no wait and that the doctor would sort me out. I ws thinking no way. I was just in a hospital in France 2 weeks ago getting stitches in my finger and it took 4 hours for 3 stitches. Yann's giirlfriend took me to the hospital, we walked in and the doctor took me in in less than a minute! They took some blood and spoke a lot of French words I didn't understnd and told me I pulled tthe tendons in my hands and forearms. They gave me some pills and cream and a splint for one arm and we were out the door in an hour.
When I got back to the boat, all the work was done. All the tools were being put away and they were tossing us our lines. As I write this, I am smiling from ear to ear. We have worked so hard to get here. We will never give up. As of now we are back on the race course, going down wind at about 14 knots! With the help of some friends and some good sailing from us, we will be right bck in this race very soon. Thanks to everyone for your support."
Follow Team 11th Hour's progress on the course with the online race tracker HERE.  For more news and information on Team 11th Hour Racing please visit their Facebook page and their Website. Print quality images of Team 11th Hour Racing can be found HERE
November 12th, 2013 by admin
Open 60-obsessed Ronnie Simpson gave us his look at the IMOCA fleet on Friday; Ryan Breymaier gets into the rest of the fleet below in a great 'insider' view of the Transat Jacques Vabre fleet, which is now postponed until at least Thursday with yet more nasty depressions battering the Atlantic.  Remember to get in touch with Ryan's Project USA if your company is looking for a new way to get some prime exposure, or some of your or contacts might be interested in helping fund his Vendee Globe bid.  TJV thread is over here if you want to talk about the race.
The TJV start in Le Havre has been very similar for the last several years.  Rain, with periods of clearing, windy, and squalls of hail.  In between dodging hailstones, there are plenty of interesting boats on display, attracting huge crowds of French fans  (mostly there for the crepes and pommes frites with a celebratory beer at the end of a lap of the huge basin), directly in the center of town.
The fleet this year includes 2 MOD 70s, 6 Multi 50 trimarans, 9 IMOCA 60s, and 25 Class 40s.   While the other classes are interesting in their own right, the 25 strong class 40s are the most interesting, with a large variety of designers  and boats.  They are also interesting because they represent the type of boat that most of the SA readers would have the easiest chance of getting involved with.
In a mirror of the situation facing the class today, the easiest way to have a look at the 40s is to split them into the pro teams with experience, boats and budgets allowing the possibility of a podium, and the largely amateur teams who are there to participate, but who either are missing one of the three factors above to get on the podium.
In alphabetical order, here are the teams in the first category:
| | | |
| --- | --- | --- |
| Campagne de France | Halvard Mabire, Miranda Merron | Pogo S2 |
| Concise 8 | Ned Collier Wakefield, Sam Goodchild | Ker Custom |
| DUNKERQUE-PLANETE ENFANTS | Bruno Jourdren, Thomas Ruyant | Tyker 3 |
| GDF SUEZ | Sébastien Rogues, Fabien Delahaye | Mach 40 |
| Mare | Jörg Riechers, Pierre Brasseur | Mach 40 |
| Tales Santander 2014 | Alex Pella, Pablo Santurde | Botin Custom |
Campagne de France  is perhaps the closest to the original spirit of the class.  Halvard and Miranda live aboard the boat much of the time, while still keeping it in pure racing trim, and have a very limited budget.  The huge experience of the two skippers and the careful tuning of a very strong  boat keep them in the leading pack.
Concise 8 is the newest boat in the fleet, and its two young English skippers will be giving it their all to be first to the line in Brasil.  Ker's first Class 40 design is notable for its huge batwings on the transom corners.  This feature is taken from the latest generation Volvo 70 designs as a way to dodge the average freeboard demanded by the rules,  as well as creating a better sheeting position for the gennakers.  The lower CG created by getting the freeboard down and the ACC style interior structure have allowed the Concise team to create a very powerful hull shape, which should, if they can keep it together for the first couple days of the race, stand them in good stead on the way to Itajai.  Teething troubles in a variety of areas have hampered their sailing days pre race, and Ned and Sam have been feverishly working to be in good shape come start day.
Dunkerque-Planete Enfants is the first example of the latest Verdier series design, the Tyler Evo 3.  Bruno Joudren and Thomas Ruyant are two very accomplished Class 40 sailors, and the Tyler is a great boat from French open designer Guillaume Verdier.  This boat is capable of winning the TJV, with perhaps a slightly easier passage through the waves than the Mach 40, which is the favorite of most observers.  The roof also offers significantly more protection than the Mach, which should allow the skippers to spend a bit more time outside monitoring boatspeed.
Skipper Seb Rogues has taken the experience of the first two Mach 40's and tried to improve on it with his GDF Suez  He has taken the same hull as Mare, moved the keel aft a little, added a bit more rake to the mast, and has eliminated the central winch, island and twin companionways in favor of just 2 winches on each side deck, with all lines lead around the roof through friction organisers.  He has also gone for a classic swept spreader rig, eliminating the controversial adjustable headstay and straight spreader rig that the two first boats featured.  His boat also lacks the kick up rudders of the first two; a lighter solution, but possibly a race ending choice in the event of a collision with debris.
Mare is the Mach 40 of German skipper Jorg Reichers and Pierre Brasseur, an excellent mini and Multi 50 sailor.  This is the most successful Class 40 of the last several years,  with wins in the Solidaire du Chocolat and Atlantic Cup [which Ryan was aboard for -ed], as well as a second in the Quebec St. Malo.  While not underestimating their skill and will to win, Jorg and Pierre have their work cut out for them against the other top boats, as Jorg's concurrent IMOCA 60 campaign has taken much of his time and resources, while the competition has been training hard and working continually on improving their boats.
Last but certainly not least is TALES Santander 2014, which combines the first effort off the drawing board of Marcelino Botin with a deck including a carbon copy of the Mach 40 cockpit.  This is intentional, the team came to the Solidaire start in 2012, and found the layout which they felt was the most ergonomic and efficient, and used that as a basis for the new design, having been new to the class.  An immaculate build, strong team, and great pedigree saw them far ahead of most of the fleet in this years Fastnet, with only Suez able to keep up.  In fact, they beat a custom IRC 46 to the rock upwind!  One to watch for sure.
These boats all have a great chance of being on the podium; the designs are all similar enough to keep up with one another, and the pre race preparation and skill of the skippers in mitigating problems along the way will be the deciding factor in the final rankings.
 Boat Porn
The two most interesting things I have seen in the Class 40 were the electric motor in ERDF – Des pieds et Des mains (see
pic).  The motor is the white Oceanvolt cylinder in the middle, and half of the 8 green batteries are visible in front of it.
It produces the same power as the diesel it replaces, and with the batteries, weighs the same.  It is recharged at the dock, and is nearly silent in operation.  It can be recharged by hydrogenerator or solar panels, and actually can recharge the batteries itself while sailing.  Obviously this is not done while racing as it produces significant drag, but is perfect for deliveries.  Best of all a lower center of gravity, and no fooling around with diesel tanks.
The other interesting thing is a new instrument system found on the Austrian entry Vaquita:
The displays look like Ipads but are not, and can change colors for night sailing, they are hard wired only for power, and the data transmits wirelessly.  They can take input from any NMEA source, and have their own dedicated brain.  Power drain is 1amp at 12 volts per display.  More at Sailmon.com.
As for the multihulls, the TJV start in Le Havre showcases the best of the French offshore scene for this year, with the notable exception of a couple MOD 70 teams who are recovering from capsizes.
MOD MODS
Remember that the MOD 70 is not really designed for shorthanded sailing, and a few modifications have been made to the two remaining boats to keep them from suffering the fate of the two MODs that have capsized already this season.
On deck, they have added constrictor rope clutches to the gennaker tack lines in order to not have to go on the bow to open the t-bone loop holding the 3:1 tackling.  As well, around the cockpit they have added diverter sheaves and camcleats on the fronts of the grinders and at each helm station for the headsail sheets.  This puts them in easy reach of the helmsman while on deck alone.
Virbac 70 was trialling a system (before her capsize) that included a 2:1 jibsheet of much smaller diameter, which would allow a much easier and more controlled ease of the jib in the event of sudden gusts.
In safety terms they have come up with one-line 'failsafe' to prevent any more capsizes; they now have a single line to pull to open the valves for both the mainsheet and rig transfer hydraulics, so that if they pull the line at the helm, the mainsheet eases, the canting rig transfers to leeward, and the valves remain open (easing) until the system is physically reset in the cockpit under the roof.  It's taken a couple of high-profile tips to get it working, but this system should make capsizing a much less frequent occurrence for the MOD.
They have also added a 350 liter water ballast tank in the transom of each boat, in the interests of keeping the bows out.  Unfortunately this might encourage the teams to push harder downwind!
They have also added curtains around the roof and repeater nav screens to the inside of the roof, allowing the skipper not driving to "live" under the roof and be in closer communication with the guy on deck.
The match race between Gitana and Oman Air will should be worth watching.
The Multi 50 class is enjoying a nice period of growth as well, testament to the low-tech class rule, and good management, as well as interest from many skippers in a boat which goes faster than an IMOCA 60, for less than half the price. (1.2-1.5m euros as opposed to 3.5-4m)
There are a wide variety of designs in the class, mostly from VPLP, with the most recent boat being an interesting looking and quick design from Neyhausser/Verdier, Region Aquitaine/Arkema.  This boat won this years Route des Princes, and its notable features are a complete lack of foredeck forward of the front beam, and a crazy looking, but probably very protective roof.  The foredeck is replaced by a net going from the bow pulpit to the front beam, with the hull coming to a point under the net with lashing connections for the headstays.
November 4th, 2013 by admin