Posts Tagged 'Chicago'
As the second Mac gets set to begin tomorrow, Our old pal Petey Crawford jammed together a video from the light air/downwind start of the earlier race, Bayview's Port Huron-Mackinac.  Bora Gulari returned from Sardinia for a couple weeks to give Phil and Sharon O'Niel's TP52 Natalie J her fourth straight overall (Cove Island Course) BYC-Mack win, and we've got an interview coming up with the rock star soon…for now, enjoy the stylings from Penalty Box.
UPDATE: Tim Lewin asked us to point out that, while Natalie J won four straight Cove Island overalls that she sailed, she actually didn't go macking in 2013 because she was on the Transpac.  Last year, Sledgehammer, a J/120 won the Overall for Cove Island.   
July 18th, 2014 by admin
Clean Report
After a five-year hiatus from covering the Midwest's second-biggest freshwater distance race, we're heading up to Port Huron, Michigan for the start of the Bayview Mackinac Race tomorrow.  With Luna Rossa Challenge's Bora Gulari aboard the TP52 Natalie J, Annapolite-turned ocean racer Ryan Breymaier joining the F-31 Cheekee and a pile of fun boats including the old VO70 Il Mostro, there will be plenty to see, and you'll be able to watch all the action via Sailing Anarchy's Facebook Page starting around 10 AM EDT tomorrow.
LINE UP
Years of live coverage of the Chicago Mackinac and the 4 hours we'll be spending on the water tomorrow have reminded us of conversations we've had over the years about the start of the Mack races, and a basic question we still don't know the answer to: What is the purpose of starting each section separately, with the slow boats first?  Sure, we understand that the slow boats will get there a bit sooner compared to the fast boats, but that seems like a silly reason for expending all the extra resources to involved in banging off 15 starts rather than a single one.  Think about it; that's 15 starts at 10 minutes each, or nearly three hours of starting.   The format guarantees a weaker experience for spectators (who rarely want to sit around watching 6-10 boats sail off a line every ten minutes), a tougher day for the Race Committee, a long, long wait for the racers on the water, and perhaps most importantly, a poor spectacle for the TV, print, and online media so important to getting new interest and keeping sponsors happy.
Think about the incredible action at a Sydney-Hobart start, with simultaneous guns over just three lines and course boundaries for spectators for a mile or so up the course to guarantee tacking or gybing in close proximity to the fans; contrast this with the Macks, where the Coast Guard sets a cordon to keep powerboats half a mile from the starting lines…not that there is much to see anyway. Nearly no boats chase the Mack fleet…because it's already so diluted at each start that there's not much to chase.
Our suggestion for the BYC and Chicago Macks:  Four simultaneous starts:  One for racing fleets,  one for cruising fleets, one for multihull fleets, and one for shorthanded fleets.  Win, win.
Shot of Lucky Strike (ex-Lucretia) sporting the SA flag yesterday on the Black River, thanks to Anarchist "Geff".
July 11th, 2014 by admin
One of Chicago's top sailors takes his shot at explaining why The Windy City was dropped in favor of The Windless City.  And then, of course, there's Bermuda…
I have been asked by many people about the AC being in Chicago and I could not ever see how it was ever a real or even potential possibility. I'm guessing by the lack of any real information about the "Chicago Bid," the team here never saw it as a real possibility either, but they did see a real potential for something. More on that later. Don't get me wrong: Chicago is an awesome place to sail part of the time, and frankly I saw that as the biggest hurdle.  Here's my list of 'issues' with the Chicago AC:
1) Think about it…In almost every real AC with a Louis Vuitton Series, teams were setting up at the venue site 15+ Months in advance! It has been rumored they want to hold the Cup races in July..Do you really see AC-62's or whatever they are sailing around Chicago during Strictly Sail Chicago? If you were here this year, you would have noticed one small issue with that…a foot-deep coating of glistening ice on the course.
2) Also, they have mentioned that Chicago has the facilities for teams and boats? I would like to know where that was going to be.  The lakefront is pretty jammed up with harbors, beaches and Navy Pier, and I can't see how there is room for these big beasts and their wings on the pier…go down there and check it out if you don't believe me.  Northerly Island? Well good luck with that…Either place would essentially have to be shut down and wow, would you need some very radical political support from the City, Mayor, Alderman, every tenant and business at Navy Pier etc…If someone was paying Chicago to host it would probably cost as much to fund both team NZL and Prada – and then some.
3) And what about the Race Area; is a 1.2 mile leg long enough for an AC62?  For a 45 sure, but for the new AC boat that sails at 45 knots…I doubt it. What if the breeze is out of the west or out of the east as it has been for so much of this summer? Anyone feel like watching 300 yard upwind legs?  Frankly, Oak Street Beach would be better.
4) $$$$$$….Where the hell is Chicago going to get the $ to host the Cup? We are maybe doing ok, but just barely…Frankly the money would have to come from the State and private backers and we know how that went in San Francisco.  Not well.
5) No matter what they say about Chicago being a very serious consideration, I'm guessing that was all lip service and never was for the actual Cup. They released the three candidate Cities' names and eliminated one pretty quickly – the ink had barely dried from the San Francisco elimination press release to the Chicago one.   If you asked was Chicago a serious consideration for an AC-45 event…for sure!  And in fact that would be a perfect fit without doubt, and I'm sure that is why Russell was here.
6) It makes perfect sense is for Chicago to host a AC-45 Event…Every reason above would not apply and frankly the 45, regatta is about a perfect fit, and that is not only doable, it would be simple and not cause too much disruption. It's a two to three week deal. I have always said an AC-45 will be the consolation prize and frankly one that makes good and frankly the best commercial sense for all involved.
Going forward to Bermuda vs SD….Well for sure, SD will get it. Bermuda will get an AC45 event. The one thing Bermuda has going for it is government backing (they can do that since they are Bermuda), and no doubt it would be great boost for the economy, but logistically for the teams it will be a nightmare! The only local draw will be that of the locals.
The thing with SD is its "local to the rest of CA" and easy to get to from the rest of the US, and world for that matter, though Europe becomes a bit more problematic.. If it did go to Bermuda it would be a real first and make for a very different Cup that is for sure…Would that be bad? It's a pretty nice place.
But if you think Coutts doesn't know exactly where the next AC will be held, you're crazy.  It's called 'getting a jump on the design game'…SD and Bermuda…Think they have similar conditions? Not liklely.
It's the same game that has been played for decades now. Not selecting a venue causes teams difficulty in raising money, putting challengers on their back foot…They now have another 5 months to keep people and syndicates guessing and losing time they need to study the conditions of the venue, to design and build the new boat. The guys at OR are not stupid, and they undoubtedly have confidentiality agreements with both locations to not leak anything.
Its all just logic…lets see how it all turns out, but not expecting any surprises nor should anybody else. The AC-45 is the real marketing deal from a global level, as the AC is a 'one and done' event rather than something that endures on an annual basis.
July 9th, 2014 by admin
AC Breaking
UPDATE: We were clearly dead wrong about San Diego losing their AC bid.  It was in fact Chicago that went down.  Our apologies for getting it wrong, and y'all can read the full press release here; it says that San Diego and Bermuda remain as the possible targets for Coutts and Ellison's "goal of hosting an exciting and successful America's Cup built on a strong commercial foundation."  We'll leave the text below as a lesson to ourselves…
Rest assured, San Diegans: You won't have to deal with any America's Cup crowds in 2017! Or is it?
With Anarchists reporting Russell Coutts traipsing around Navy Pier last weekend and an independent confirmation from Vsail's Pierre O, we can safely report that San Diego looks to be knocked out of the running to host the next America's Cup, and we expect a press release on Wednesday announcing just that.
Remaining will be Bermuda and Chicago, though we are nearly certain that Coutts is only keeping Bermuda on the hook as a negotiating tool.  At the end of the day, the months of national and international outrage that will erupt if  Coutts and Ellison carpetbag the Cup offshore will make Kingpost-gate look like a Sunday cartoon, creating the kind of unpredictable obstacle that can be near-impossible to overcome.  In other words, if Coutts wants to guarantee his vision fails and his wallet swells, he will choose Bermuda. If he wants a remote chance at commercial success, longevity, and a positive impact for sailing, Chicago's the only place left.
July 8th, 2014 by admin
We noticed our old 'friend' John Podmajersky III is back in the spotlight again; if the name is unfamiliar, we direct you to some fun facts about the man who famously sued the Chicago Yacht Club to get his name on a race trophy, and whose name became a noun describing any litigious asshole in the sport; for instance: "You remember that port-tacker who pulled a 'Podmajersky' on you after he t-boned you?  How's that case going?"
Well, Pod's been quietly building his real estate fortune and even more quietly sailing Etchells, but this week his name popped up again in court, and nothing seems to have changed in more than a decade.  Instead of suing a yacht club, Pod is now suing his younger sister in a bitter battle, accusing her of returning home to turn their parents against him so she could get a bigger inheritance. He says Lisa even barred him from their mother's memorial service last fall and refuses to tell him where her remains are kept, and Pod's pleading says Lisa was behind their parents removing him as manager of the family real estate business.
It's sordid stuff that could only ever be an issue for you if you get in a collision with him.  Or he wins a trophy. Or he enters your regatta.  Or…
June 17th, 2014 by admin
San Francisco's demands to host the 35th America's Cup proved too much for Russell Coutts, who sent a letter to Mayor Ed Lee this morning.
""Given the tight timeline and demands from prospective teams to confirm the final venue, it has been necessary to continue reducing the shortlist of candidate cities," Coutts wrote. "We have therefore taken the difficult decision to no longer consider San Francisco as a possible candidate to host AC35."
Union wages, NIMBY bitching, and the lack of concessions on fire/police services and pier restoration money don't work with Coutts' mission to make the Cup sustainable – a mission that depends on 8-figure venue hosting fees, tax breaks, and long term subsidies from places that see the value in offering them, and we've learned that Bermuda is currently throwing the biggest pot of gold at Coutts & Co as of today.
Far be it for us to criticize the business acumen of a guy who just threw spent more money on a per-spectator/per-viewer basis than anyone in the history of sport with almost nothing to show for it, but is an island nation that has lost more than a third of its hotel rooms since 1990 and that, according to most sources, has less than 10,000 beds and 4,000 rooms, a good choice to host what they called a couple of years ago, the 'third most economically valuable sporting event in the world?'  Remember, this is an island where literally everything needs to be flown in from elsewhere, and it has one of the highest costs of living on Earth.
Maybe Russell is on to something here; after all, the only Bermudian industry bigger than tourism is tax avoidance and international banking; specifically, Bermuda is one of the world's top tax havens for businesses, and a great place to register your multi-million dollar yacht or plane.  Did Coutts finally come to the decision that millions of poor, downtrodden masses will never make the Cup pay?  Can the Cup reach commercial nirvana by catering only to the kind of ultra-rich folks who own super yachts and can write off million-dollar trips to schmooze in VIP tents in Bermuda?  It worked for Louis Vouitton – well, at least until Coutts' last big plan chased them out of the game…
Or is Coutts just completely out of his mind?
June 11th, 2014 by admin
They're young and full of piss, vinegar, and anarchy, and with yesterday's release of the ISAF Open Match Race Rankings, they're now NUMBER ONE!
Yes, folks – with their win at the Chicago Cup, our friends on Taylor Canfield's USOne match racing team have just leapt over Ian Williams' GAC Pindar team – the perennial kings of the WMRT – for the world's top-ranked spot in the sport. Team media man Matt Knighton gives us a beautiful look at their success through his eyes, some excellent music, and the words of bowman Hayden Goodrich.  Want more?  Hit 'em up on Facebook.  No Facebook?  Hop on your dial-up AOL connection and check their site.
August 29th, 2013 by admin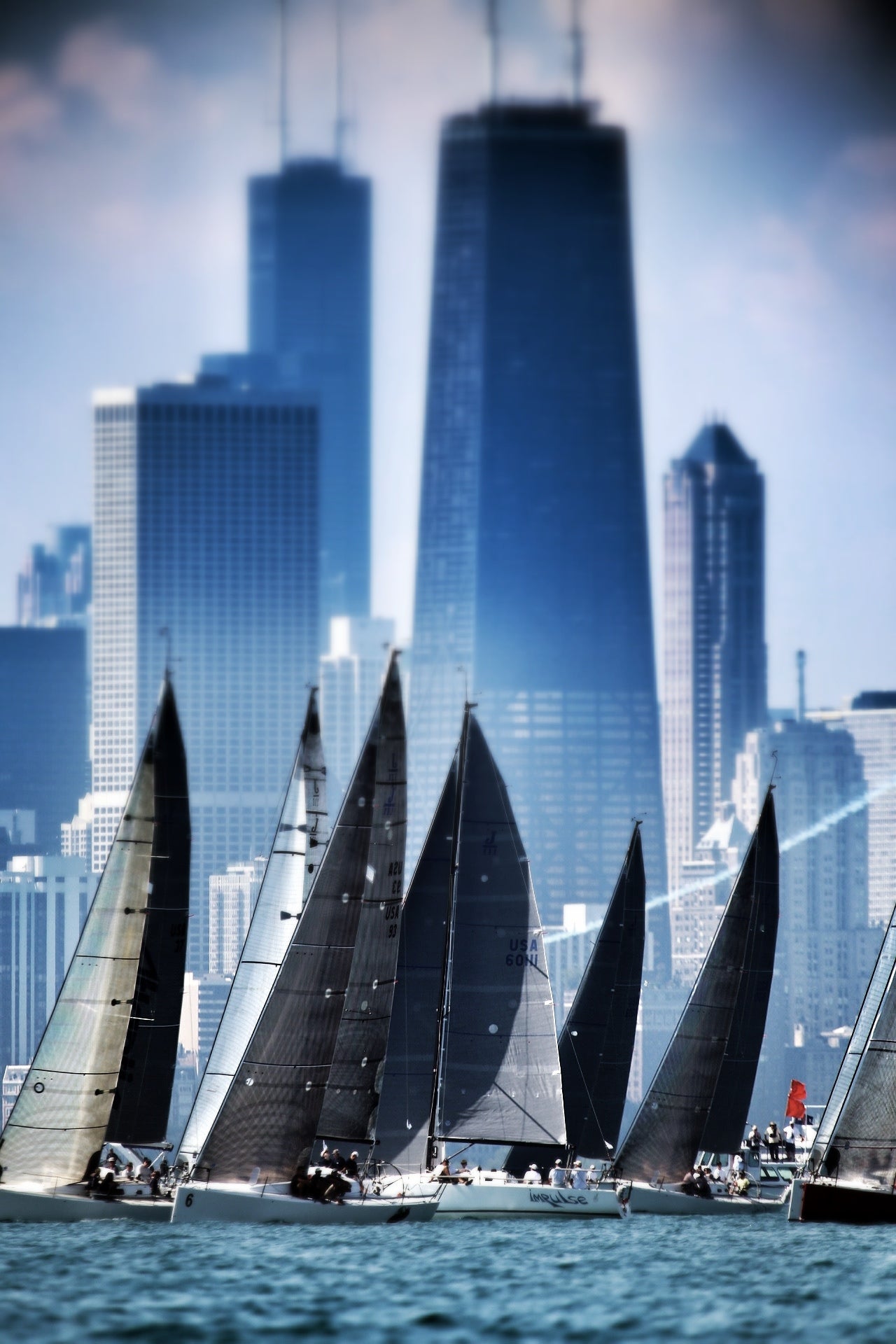 Just 1 point separates the top three boats going into the final day at the inaugural J/111 North Americans; we're rooting for the Lucky Dubie on the strength of their name alone but there's plenty of action despite the light wind in Chicago, as this beautiful Meredith Block photo shows.  That's what a great eye, a 600mm lens, and the world's best Whaler driver can getcha.  Follow the final races here.
August 18th, 2013 by admin
Len Siegal's Lucky Dubie is the world's best-named J/boat since Smokin' J was snuffed out years ago, and the longtime Chicago J/sailor tops the leaderboard at the first-ever major J/111 championship worldwide; their North American Championship.  14 boats from as far as Oregon, Florida, and Massachusetts is a solid turnout for a boat that toes the line between Grand Prix and amateur; just one pro is allowed aboard each of the light-but-not-extreme, quick-but-not-extreme J/111.
That's the good news.  The bad news?  Chicago in the summer might be better for fishing than it is for sailing, at least this week! J/fans can check it out live with full OTWA/Facebook video/interview/photo/updates coverage right here.  Meredith Block photo, event gallery here.  Big thanks to Skyway Yacht Works for the gin palace and Whaler that we're working from…check 'em out.
August 16th, 2013 by admin
Got a few minutes to screw around on your computer or phone today?  Tune in to the Chicago Match Cup quarterfinals live and see how Clean does with a real TV team to back him up.  The repechage will finish up by around 11, with quarterfinals beginning shortly before noon.  Tight racing, beautiful conditions, ultra-short courses, tens of thousands of fans, and young, knowledgable commentators; what more could you ask for?  Be sure to download the Livestream app if you're not at your computer. Results thus far are here; yesterday's highlight reel is here.  Check out the WMRT TV's channel for a collection of video clips from the event so far.
August 10th, 2013 by admin